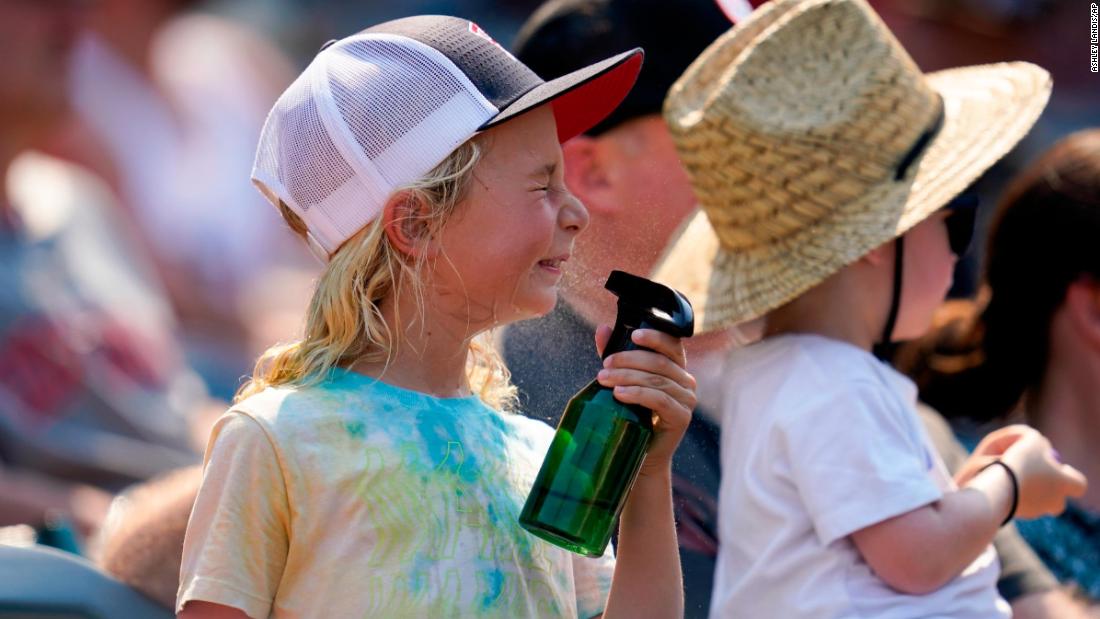 Parts of Southern California will see dangerously hot conditions on Thursday and Friday, as Kay causes strong, hot and dry winds to blow toward the Pacific coast from inland desert regions —
similar to Santa Ana Winds
, according to meteorologists. That hot air gets compressed as it moves through the mountains, causing temperatures to rise.
As a result, Los Angeles will push triple-digit heat Thursday and Friday, with temperatures between 100 and 112 — with overnight temperatures set to fall only to the mid-70s to mid-80s. San Diego is under an excessive heat warning, with temperatures up to 97 degrees forecast.
Meantime, Kay's winds could gust over 60 mph as winds around the storm begin to interact with the mountainous terrain of Southern California. That could spell further trouble for firefighters battling the fast-moving
Fairview Fire
, which has burned more than 19,000 acres since it started Monday.
Kay should remain a hurricane until it gets to around 250 miles from San Diego — something only four other storms have done since 1950, CNN meteorologists Derek Van Dam and Judson Jones said. It then "should reach a point about 130 miles southwest of San Diego Saturday morning as a weakening tropical storm," the National Weather Service in San Diego wrote Wednesday night, before petering out at sea.
The heat will then end "abruptly and unusually," the National Weather Service in Los Angeles said. That's when Kay's fringes are due to bring significant rainfall across Southern California and Arizona before pushing Saturday into Central California and Nevada, the Weather Prediction Center said.
Sweltering temperatures then are expected to give way to excessive rainfall, which can cause quick rises in creeks and rivers and could lead to flash flooding in Southern California and southwest Arizona.
"It's never a good thing to get too much rain all at once, a trait all too common among slow-moving tropical storms," the prediction center wrote Wednesday morning. "Thus, the flash flood potential is summarily also rapidly increasing."
Record temps threaten power outages
At least 10 places in California have set all-time high temperature records during the heat wave, while more set records for the monthly high temperature for September. On Tuesday, Sacramento hit 116 degrees, breaking the previous record of 114 set in 1925.
"This will be essentially the worst September heat wave on record, certainly in Northern California and arguably for the state overall," UCLA climate scientist Daniel Swain said Tuesday in a Twitter Spaces discussion. "By some metrics, it might be one of the worst heat waves on record, period, in any month, given its duration and its extreme magnitude."
"In some ways, this is the new normal," said Jan Null, a California meteorologist and owner of Golden Gate Weather Services.
Wildfires explode amid climate crisis
The extreme heat also means fires burn more intensely and for longer.
CNN's Rachel Ramirez contributed to this report.