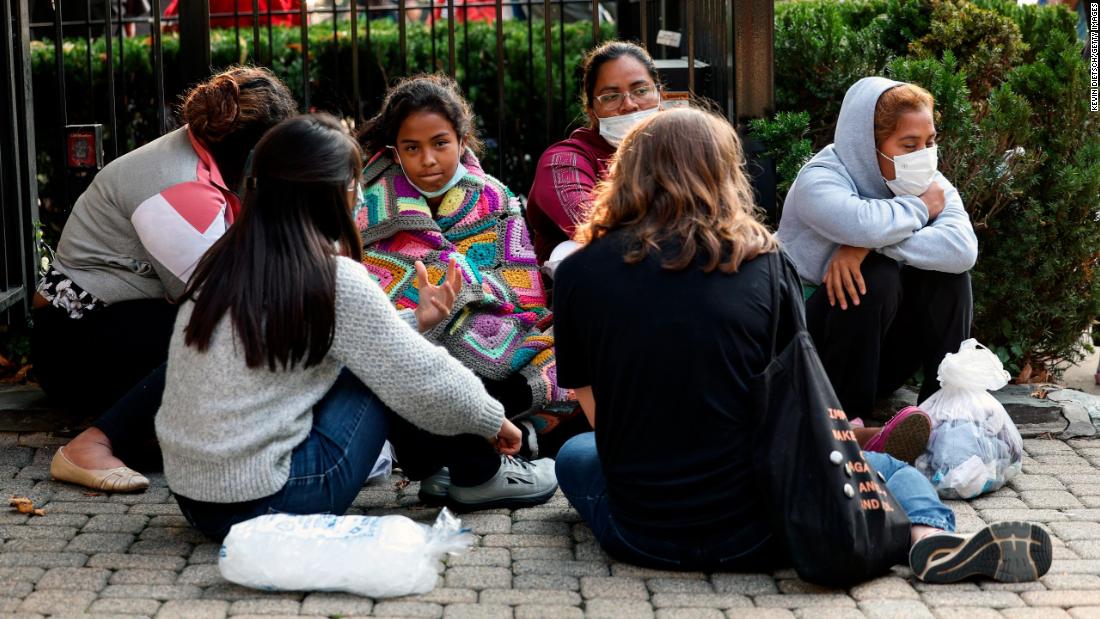 The drop-off temporarily left dozens of migrants — some of them carrying belongings in trash bags — standing on sidewalks and grass Thursday morning outside the gated US Naval Observatory in Washington while volunteers scrambled to make arrangements for them.
Texas Gov. Greg Abbott, one of at least three Republican governors who have been
busing
or
flying migrants
north this year to protest the Biden administration's immigration policies,
said
Thursday in a tweet that his state sent the buses to Harris' residence.
"VP Harris claims our border is 'secure' & denies the crisis," Abbott tweeted. "We're sending migrants to her backyard to call on the Biden Administration to do its job & secure the border."
Since Abbott started sending buses of migrants to Washington in April, those buses usually have dropped them off around Union Station, and volunteers were prepared to receive two buses Thursday at the station, they said.
But Thursday's buses stopped instead at the Naval Observatory, some four miles from the station.
SAMU First Response, one of the groups helping migrants in Washington, was not provided a heads up, according to the group's managing director, Tatiana Laborde.
"(The migrants) were physically and mentally fatigued from the journey, and they were also very nervous and anxious about the dropoff," volunteer Carla Bustillos told CNN.
Thursday's passengers included families and young men. Around 70% to 80% of the migrants are from Venezuela, according to volunteers.
Some are trying to go to other places in the US, such as Chicago and New York, but on Thursday were waiting to be picked up and taken to receive help, volunteers said. The migrants who arrived Thursday eventually were moved to a local church as they figure out where to go next.
It wasn't immediately clear whether Harris was at the residence when the migrants were dropped off. She had a morning event scheduled at the White House, roughly a 2.5-mile drive away.
DC mayor declared an emergency over arrivals this month
US grapples with uptick in Venezuelan migrants
Migrants who are released from government custody are allowed to move about the United States as they go through their immigration proceedings. The US has been grappling with an uptick of Venezuelan migrants who have fled a deteriorating situation in that country in large numbers.
Frosty relations between the US and Venezuela keeps the US from deporting certain people. Many Venezuelan migrants are also seeking asylum upon arriving in the US.
Two medical situations involving Thursday's passengers were reported: a diabetic who had not refrigerated his insulin in at least 40 hours, and a person with a rash believed to have come from crossing the Rio Grande, which separates Texas and Mexico, volunteers said.
CNN's Rebekah Riess contributed to this report.