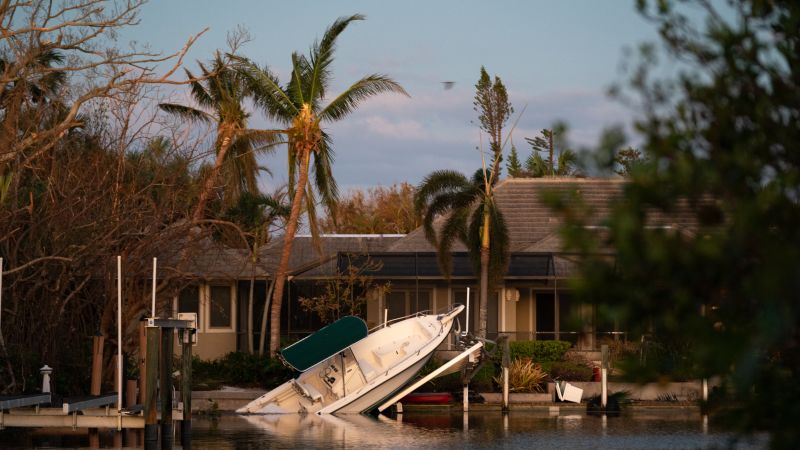 CNN
 — 

Residents of Florida's Sanibel Island are warned they could be shocked when they return by boat Wednesday morning to their hard-hit community to set eyes for the first time on the devastation wrought a week ago by Hurricane Ian whose damage zone President Joe Biden is due to visit later in the day.
"It is going to be emotional when they see their properties up close and the amount of damage that this storm inflicted upon them," City Manager Dana Souza told CNN of how residents and business owners may react on Sanibel Island, where Ian wiped out parts of the causeway to the mainland.
At least 110 people have been reported killed as a result of the storm – 105 of them in Florida and five in North Carolina. And it's not clear how many people are still missing as officials work to compile a list of those who remain unaccounted for, Florida Division of Emergency Management Director Kevin Guthrie said Monday.
More than 1,000 search and rescue personnel have combed through 79,000 structures across the Sunshine State, Gov. Ron DeSantis told reporters Tuesday, with more than 2,300 rescues logged.
Statewide, about 320,000 customers still have no power Wednesday, according to PowerOutage.us, many of them in hard-hit Lee and Charlotte counties. Many schools also remain shuttered, some hospitals are still struggling to provide care, and boil-water notices remain in place in some areas.
As Sanibel Island residents access their properties, the area is still "extremely unsafe," Mayor Holly Smith said. And houses that look fine from the outside may prove to be too damaged to live in.
But Dan and Tony Tabor were lucky. The couple returned to their Sanibel home prepared for the worst, with water, bleach and drywall cutters in tow to begin the rebuilding process.
Instead, they found it practically untouched by the storm, with the screens on their porch still in place and plants left outside still upright. If they wanted to, they said, they could spend tonight in the home. "We are so happy," Tony Tabor said, but "I feel so guilty, because our neighbors have seen so much damage to their houses."
Meanwhile, it could be some time before hundreds of residents of Naples, in Collier County, can get back in their homes, City Manager Jay Boodheshwar, told CNN.
"There was a significant amount of homes, in fact, an entire neighborhood was submerged at least with 3 feet of water. Some areas got 6 to 7 feet of water," Boodheshwar said. "I would guess it's probably hundreds of households that are going to be experiencing a period of time when they're not going to be able to be in their homes."
Many homes in the once-tranquil community on Sanibel Island "are not livable," Sanibel Fire Chief William Briscoe has said.
"There are places off their foundation, and it's very dangerous out there," he said previously. "There are alligators running around, and there are snakes all over the place."
Most of the electrical poles and transmission lines remain down, along with wastewater systems, Souza said. "Without those necessary infrastructure, it is difficult to sustain a community of 7,000 people year around," Souza added.
"It will be some time before we can resume normal life on Sanibel," he said.
The island's year-round population is about 7,000 people, growing to 35,000 during the high season that typically would begin in about a month, Souza said.
But it could take a month or longer just to restore power to some areas of Sanibel and Pine islands, Lee County Electric Cooperative spokesperson Karen Ryan told CNN.
"It will be much easier to restore power once we can gain access to the island," she said.
DeSantis directed transportation authorities to prioritize the repair of the Sanibel Causeway.
"Access to our barrier islands is a priority for our first responders and emergency services who have been working day and night to bring relief to all Floridians affected by Hurricane Ian," he said in a statement.
At Salty Sam's Marina in Fort Myers, owner Darrell Hanson and many of his employees – about 120 at this time of year and up to 200 at the height of tourist season – are working to salvage what they can, some of them dealing with the loss of their livelihoods and personal property.
"In the parking lot, we must have had about 12 feet of water. Everything on the first floor was … destroyed," said Hanson, who has so far been unable to access his own home on Sanibel Island. "All our gift stores and restaurants and everything, they've lost all their inventory. It's hundreds of thousands of dollars that each business lost."
"But the employees have all come together," he said, choking back tears. "They're all out there working their butt off."
Employee Ty Landers, who works on a pirate cruise at the marina, rode out the storm at his family's home in Fort Myers. Fortunately the home and his family are safe, he said.
But some of his coworkers weren't so lucky.
"Many of our employees, even on the pirate ships, my crewmates, they lost their houses, they lost everything," Landers told CNN. "Hopefully when the time's right they'll come back. But right now their lives fell apart, and they're putting it back together."
In Charlotte County, north of Fort Myers, public schools will be closed until further notice after several of its 22 schools were damaged by Ian.
"The storm lasted here for over 12 hours, just hammering away. Nothing is safe right now," Charlotte County public schools spokesperson Mike Riley said.
Florida hospitals have also been struggling. Emergency departments sustained damage, staffing is impacted as hospital workers were displaced or lost their vehicles, and some facilities lost reliable access to water.
"We were ready, we had our generators all ready. We had plenty of fuel. What we couldn't anticipate and didn't anticipate was the loss of water from our utility companies," said Dr. Larry Antonucci, president and CEO of Lee Health.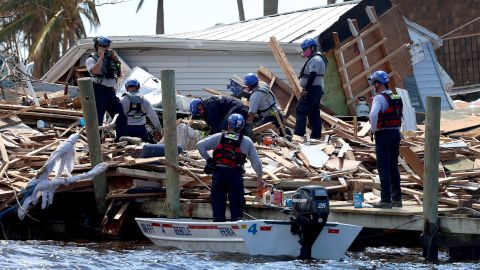 Many areas remain under boil water notices since the storm made landfall, damaging critical infrastructure, as well as homes.
Residents of Lee and Charlotte counties – the two counties with the highest death tolls from the hurricane – will be able to get temporary blue coverings with fiber-reinforced sheeting at no cost for their roofs to help reduce further damage, according to a Charlotte County news release.
Jessica Hernstadt, a resident of Fort Myers Beach in Lee County, said the community "looked like an apocalyptic disaster" when she made her way there after Ian slammed the shore, with cars, pots, pans and clothing littering the area.
Homes the storm tore from their foundations blocked the streets leading to her house, which she found ablaze when she arrived, she told CNN in an interview Wednesday.
Later, combing through the ashes, Hernstadt found just one item unscathed: a candlestick holder her great-grandmother carried in her pockets as she emigrated from Poland to the US.
"It was the simplest, most prized possession that I had, and it gave me a sense of hope, especially today being Yom Kippur," she said Wednesday, the holiest day of the year in Judaism. "We will survive. Our town will survive, and there's hope to rebuild."
Source link