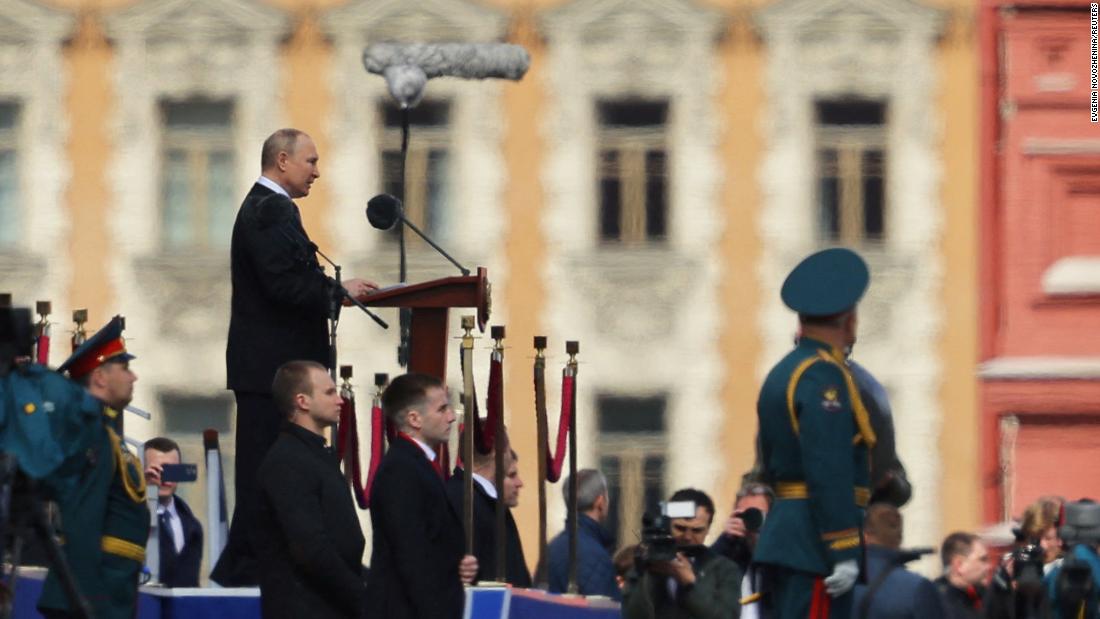 This is a country where anti-Russia sentiment runs very strong today and signs of support for Ukraine are everywhere. On Rustaveli Avenue, Tbilisi's picturesque and bustling main drag, elderly women sat selling pins, flags, wristbands and other merchandise emblazoned with the Ukrainian flag or pro-Ukraine messages.
Many restaurants have signs on their doors welcoming "all who believe Putin is a war criminal" and the blue and yellow of the Ukrainian flag, rather than the red and white of the Georgian flag. Blue and yellow now seem like the official colors of the country.
Tensions between Georgians and Russians in Tbilisi are high at times. One Georgian friend greeted me when we met for coffee by saying, "Welcome to Tbilisi, the most Russian city in the Caucasus." Another friend told me stories about Russians toasting their troops, and almost starting a fight, in a tiny Tbilisi restaurant.
Unlike today in Ukraine, the rest of the world did essentially nothing at the time. Some here fear the West would respond similarly if Russia invaded again. Others with whom I spoke believe the western unity and steadfastness against Russia and in support of Ukraine would extend to Georgia in the event of an invasion. Most would rather not find out.
Across the Georgian political spectrum, concern about another Russian invasion is palpable. One member of Parliament affiliated with the ruling party told me his fear had been that if Putin had gotten his quick victory in Ukraine, he would have turned to Georgia next. But several academics and activists have indicated that if Putin continues to struggle in Ukraine, he will need a quick victory somewhere and he might turn to Georgia.
An elder statesman of Georgian foreign policy and longtime Georgian diplomat cautioned that Putin was sufficiently unpredictable that he might invade Georgia at any time for any reason or no real reason at all.
In my conversation last week with Georgia's President Salome Zourabichvili, which took place in the presidential palace, the front of which is bedecked with giant Georgian and Ukrainian flags, she summarized Georgia's concerns. "Today they (Russia) may not do something, but tomorrow one cannot exclude that they may want to do something face saving," while adding that, for Georgia, "the prevention depends on unity within our nation and stronger ties with our allies."
The war has exacerbated existing political tensions in this very polarized country. People close to the government emphasized the need to avoid war — even if that meant not taking a rhetorically tough line on Russia — was essential. Several people closer to the opposition, including one member of Parliament with the leading opposition party, thought the government, despite participating in the US led sanctions regime, was being way too conciliatory towards Russia.
Strikingly, Saakashvili's plight and even the opposition drumbeat of accusations that the government was getting its marching orders from the Kremlin, seemed to fade into the background because of the war, as few Georgians with whom I spoke were focused on the endless feud between Saakashvili and former Prime Minister Bidzina Ivanishvili that has defined Georgian politics for over a decade.
Despite the daunting situation confronting Georgia, Zourabichvili saw a ray of light for her country because of newfound European unity against the Kremlin. "We have an opening and a chance that was not there before the war, which is an opening to the European Union, we have no right to forgo that chance," she told me.
NATO and the EU are unlikely to be in Georgia or Moldova's immediate future, but the war in Ukraine is changing international politics and geopolitical realities. If the war does not escalate, and Georgia and Moldova are spared further Russian invasion, it may indeed be possible for them to craft stronger security arrangements or accelerate longstanding foreign policy goals, but it is also possible that they could find themselves dragged into a war with Russia while being uncertain who, if anyone, will help them.
Source link