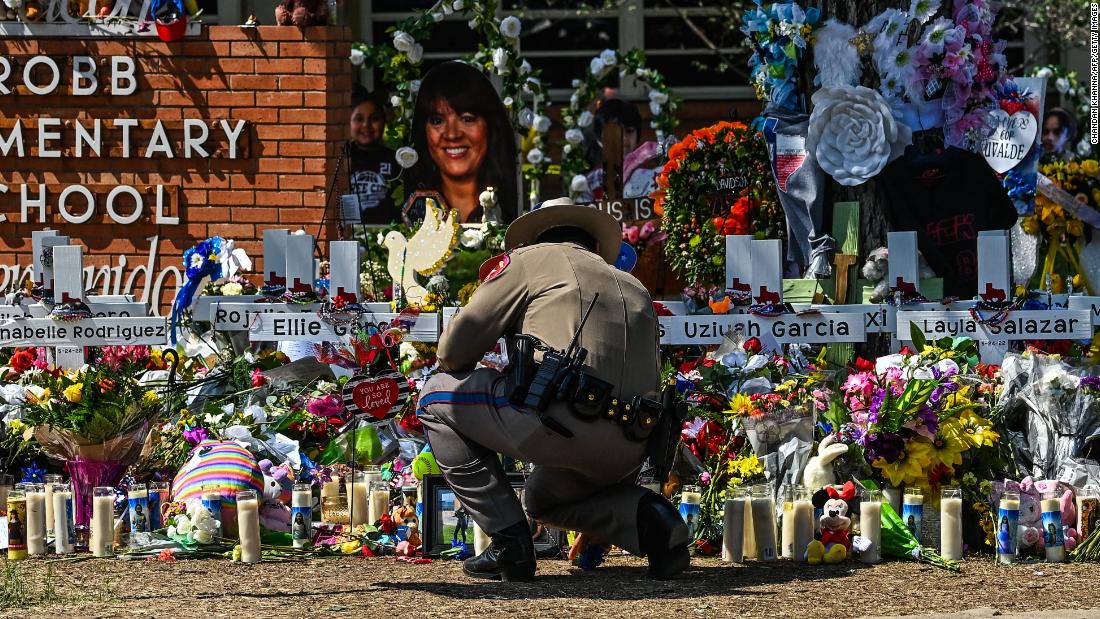 The last thing that law enforcement needs right now is another black eye, and it got one with the police response at that elementary school. Just about every cop I've talked to is pretty sick about the police response. Tragically,
19 children and two teachers
were killed in the May 24 shooting at Robb Elementary School.
Collectively, we in law enforcement hurt because in Uvalde, we failed the children. We failed the teachers. We failed the families.
After the shooting in Uvalde, police had to assume that there were a lot of wounded, innocent children inside those classrooms. Their duty was to gain access to those classrooms at all costs, neutralize the threat and take those children out of that classroom. Their task was to get those shooting victims to trauma centers and to try to save them.
In a mass shooting situation, you never operate under the assumption that everybody's dead unless you know that for a fact. You have to assume that people are wounded and require medical attention. The only way that shooting victims are going to get help is for police to confront the threat and neutralize it.
By not going in, the police in Uvalde absolutely made the wrong call.
You cannot fail to do whatever it takes to enter those classrooms. If you can't go in through one door, find another one. If you can't go in through the door, go through a window. And if you can't go through the window, crash through the drywall.
But even as we quite appropriately put a lot of focus on the police response, we also need to look at the failures of leadership by our elected officials — failures that created the circumstances that required a police response in the first place.
How was it that a troubled kid with homicidal thoughts was able to walk into a gun store right after his 18th birthday to buy assault rifles and high-capacity magazines with hundreds of rounds?
We need a comprehensive approach to dealing with the scourge of mass shootings in our country. If the law had prohibited the shooter from purchasing the firearms until he was 21, he would have never been able to wreak the carnage that he did.
I think the true cowards are the politicians who are afraid to put their political careers at risk to do the right thing. They could do something as simple as supporting universal background checks, or supporting robust red flag laws across the entire nation. Or they could support raising the age that someone should be able to buy weapons of war like the one used in Uvalde, from 18 to 21.
Instead, they've been talking about putting more police in the schools. But if 19 "good guys with a gun" standing out in the hall of that school couldn't get the job done stopping a heavily armed shooter, then clearly arming police in the schools is not the solution.
What we need is a comprehensive approach to deal with the scourge not just of mass shooters, but everyday gun violence.
Our elected officials have not just the authority, but the moral obligation to do something about the epidemic of gun violence. And yet, mass shooting after mass shooting, they've done nothing. These politicians focus more on winning the next primary than passing effective policy. They're afraid to lose their power, and they place keeping that power and their own interests ahead of actually saving lives.
The epic failure by police in Uvalde to meet the requirements of dealing with that horrific event calls attention to another problem: At some point, we have to rethink our policing model.
It would be wise to consider consolidating police services, instead of having 18,000 decentralized police departments with 18,000 separate chains of command and sets of policies. Consolidating police agencies committed to a regional approach to law enforcement would greatly improve efficiency, effectiveness and consistency — and we would achieve budgetary savings as well.
Policing is more challenging than ever. Police in the United States face weaponry that officers don't encounter in most civilized Western nations. But ultimately, whether they're able to effectively do the job is determined by whether they have the proper training and supervision, so that right decisions get made — including decisions about using the right equipment in the right circumstances and in the appropriate manner.
And the public also has a responsibility: Addressing gun violence needs to become the single most important legislative issue for voters.
Americans need to make it a litmus test issue when they go to the polls. They need to hold politicians' feet to the fire on the issue of solving our gun crisis, because ultimately it's about our elected officials' common sense, good judgment and moral decency — or lack thereof.
Until our society addresses these issues, we're going to be having heartbreaking conversations like the ones emerging from Uvalde for many years to come.
Source link