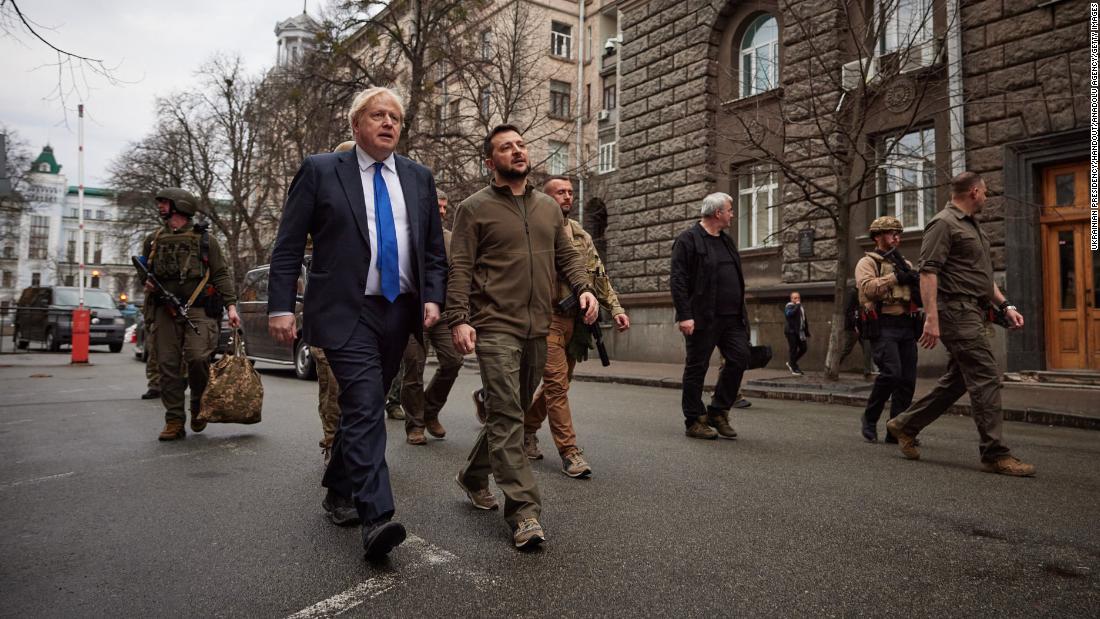 He's absolutely right about that. Right too when he
described
Ukraine as being on a "knife-edge" during a meeting with Canadian Prime Minister Justin Trudeau at the G7 summit in Bavaria this week.
Which is odd. Because Johnson has two things in common with Putin that serve the Russian president's strategic aims far more than his support for Ukraine threatens them.
Ukrainians are dying for the right to join the European Union — an international body Johnson fought to leave, and that Putin's worked hard to undermine.
Ukrainians are also seeking the protections afforded by international law — the rules-based global order that Johnson is
proudly tearing apart
— not unlike the former KBG boss who now runs Russia and who illegally annexed Crimea and invaded Ukraine.
The country that has stood up to Putin's invasion is now feeding its young into a Russian meat grinder that's slowly chewing its way into territory in the east.
The British Prime Minister has made two pilgrimages to Ukraine's capital, Kyiv, where he's promised arms, money, and unwavering diplomatic support for President Volodomyr Zelensky.
Johnson has long sought to channel Second World War-era British Prime Minister Winston Churchill. But he's convincing very few, no matter how welcome he's made in Kyiv, that he understands that many of the freedoms Ukrainians seek lie within the EU.
For years Johnson, the disheveled political magus, was the golden boy of Britain's Conservative Party. A favorite of comedy shows; the faux bumbling of Johnson delivered Brexit and a landslide general election win.
These domestic travails may explain his passionate interest in Ukraine. But he's studiously avoided any mention of the essence of its fight with Russia which is, deep down, Ukraine's desire to join the European Union.
For all his crowing about being the prime minister to break the political deadlock and "Get Brexit Done," Johnson's government has failed to secure a trade deal with Brussels.
Doing so will almost certainly breach international law. Plans to impose tariffs on steel imports to the UK risk breaking World Trade Organization Rules. And risks a trade war with steel-producing China, India and Turkey.
The World Trade Organization (WTO), the child of the General Agreement on Tariffs and Trade (GATT) was a very British vision. The Northern Ireland Protocol is a British-EU treaty intended to secure the Good Friday Agreement which brought peace to Northern Ireland.
Ripping into the fabric of these contracts undermines Britain's standing in the world.
A British Prime Minister's threat to leave the ECHR, a court the British helped set up to establish a pan-European legal system to prevent atrocities in Europe in the wake of the Second World War, must seem bizarre to Ukrainians.
They'd no doubt love a bit of ECHR right now.
Ukrainian investigators will seek the help of international organizations to pursue alleged war criminals. It's as committed to joining international organizations like the EU as Johnson is to leaving them.
Indeed it's Ukraine's desire to join the EU that provoked the revolution against pro-Putin anti-EU president Victor Yanukovich in 2014.
It's not a new argument and one NATO members will listen to.
But not from a British Prime Minister who's in trouble at home and cannot be trusted to keep even written promises abroad.