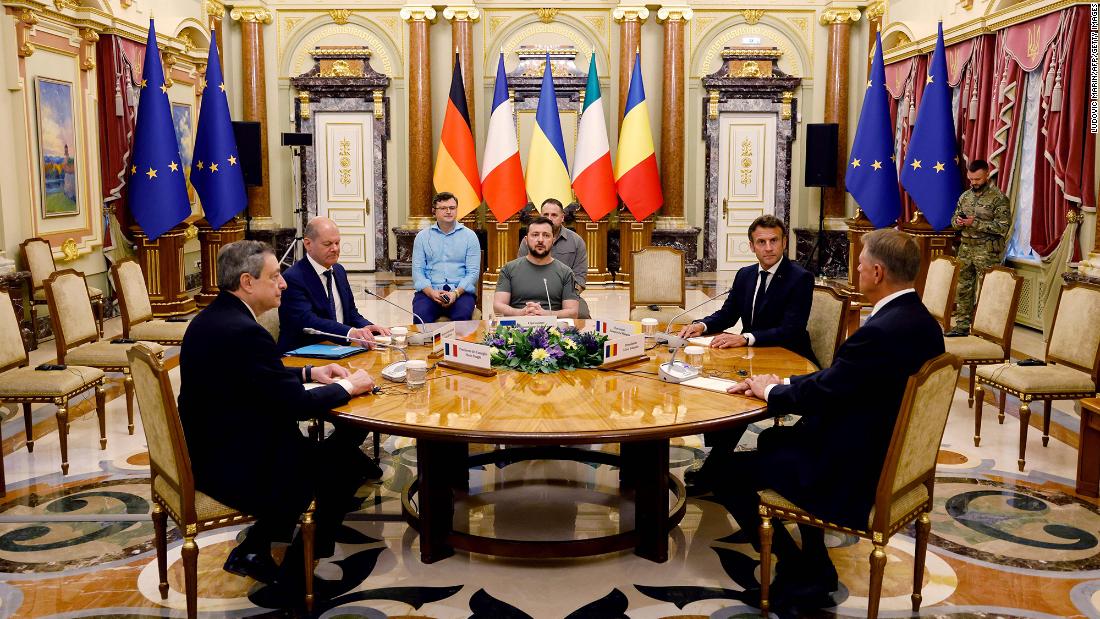 The bitterly cold weather was offset by the warm welcome refugees received, a short respite from the reality they were escaping. Those crossing the border were met by volunteers offering everything from a warm meal, blankets, hot drinks and medicine, to hygiene products, clothing and free transport to major cities in Romania. Some arrived late at night, soaking wet, and had to wait many long hours, most of the time well into the next day, to enter Romania. The freezing temperatures and daily snowfall made the long queues even harder to bear.
I saw women and children dropped off by husbands, fathers and partners, as able men were barred from leaving Ukraine, allowed only to accompany loved ones to the border and then return to fight. Couples reached for each other through the chain-linked border fence, in scenes that were at times surreal and cinematic.
For Eastern Europe, the Ukrainian tragedy strikes a deep chord — not only because of its proximity but because stories of Soviet occupation are still entrenched in the public mindset. In places like Romania, Bulgaria, Poland, Slovakia, and the Baltics, those memories intertwine with the momentous change of becoming European Union member states.
Now, as the war forces the EU to reconsider its defense strategy in the biggest shake-up since the Cold War, Eastern Europe has proven more determined than ever not to let Russia get away with its aggression.
These former communist countries, now European Union member states, know all too well what their warmongering eastern neighbor is capable of. When Ukraine came under attack, these former Eastern Bloc members feared they could be next. They responded quickly, helping the millions of Ukrainians fleeing war and sending weapons to assist Kyiv in its fight. Such a unity in response could very well help rejuvenate the European Union.
That said, for a region that has sought to align itself with the West, that process has not been an easy one.
As Ukraine pursues its hopes of joining the Western club, important lessons can be learned from the struggles of other former Soviet and Soviet-dominated countries that followed the same path.
In governance and wealth, an east-west divide lingers in the EU
It's been over 15 years since Bulgaria and Romania, Eastern Europe's newest EU member states, joined the bloc. The excitement of shrugging off their communist past ushered in a time of hopefulness and change. Yet, the reality remains complex.
Within the EU, an east-west divide lingers. Bulgaria continues to be EU's poorest member, followed by Romania, both light years away from their significantly richer Western counterparts.
Unity and liberalism in the face of war
But despite its economic woes, Eastern Europe has behaved admirably in handling the Ukrainian crisis. Calls to help Ukraine have echoed around the world, but in this region, action has been swift.
It is this very push that is slowly changing the face of the European Union. Eastern Europe is at its vanguard. In short, it has proven to be a moral leader in this crisis.
Hurdles ahead
But it's not all rainbows and sunshine.
Moldova a case in point
What challenges might lie ahead for Ukraine, as it hopes to join the Western club?
The good news is that if Moldova and other aspiring nations manage to curb corruption and enact reforms, joining the EU will provide them with much-needed resources to further develop. For example, Romania and Bulgaria managed to absorb tens of billions of euros from Brussels — money used to build new infrastructure and expand their economies.
EU membership has helped Eastern European countries stay on track. For future members, that looms as an added benefit. This is particularly significant for my home country of Romania, where European Commission supervision has helped keep up a functioning rule-of-law system.
Can Ukraine ever be part of the group?
The spotlight is on Eastern Europe now and is expected to remain so for a while.
The attention plays in Moldova's and Ukraine's favor. Besides their strategic importance, the EU needs their softer assets: It needs the heroism Ukrainians have shown as much as it needs Moldova's compassion in receiving the largest number of war refugees of any country in relation to its population size.
But this crisis has indeed shifted the EU's center of gravity to the east, and for good reasons.
Whether the rest of the EU can learn from all of this remains to be seen. What is certain, though, is that a stronger Eastern Europe is better for the EU and the entire free world.