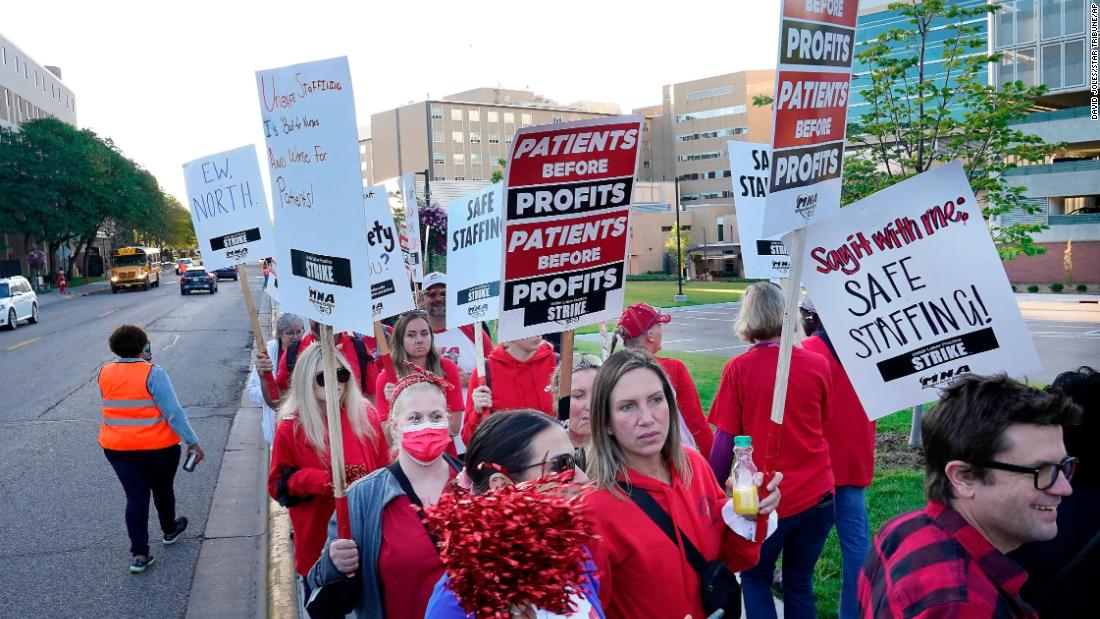 On the nation's freight railroads, strapped workers who must be on call seven days a week are at an impasse with railroads that have seen record profits during the Covid-19 pandemic. Unions representing more than 60,000 workers are on course to strike on September 16 unless Congress steps in, which seems unlikely.
The strike — which could halt nearly 30% of the country's freight — could put a devastating new kink in the nation's supply chain, snarling shipment of food and other products.
It's not the pay, it's the working conditions.
That's the same story
teachers in Columbus, Ohio
, told when they went on strike to start the school year. American workers want not only to be paid better but also to be treated better. That's the overriding theme of high-profile labor disputes this year.
CNN's Chris Isidore has been covering all things labor for CNN, and much of what's in this analysis comes from his many must-read stories:
A headache for Democrats heading into November. There's some irony in the fact that these flexes of labor muscle come as Democrats, labor's natural ally, control the White House and both chambers of Congress.
President Joe Biden has exhausted his options for preventing the rail strike after mandating a cooling-off period and appointing a special board to solve the impasse earlier this year.
Union leaders — like Dennis Pierce, president of the Brotherhood of Locomotive Engineers and Trainmen, and Jeremy Ferguson, president of the union that represents conductors — warned Democrats in Congress not to intervene. They say a strike is the only way to improve their working conditions.
"This is a chance for the Democrats to stand up for something they say they support, the working class and labor," Ferguson said.
However … At the same time, the Gallup survey suggests most nonunion workers in the US have little interest in joining a union — which will make it hard for unions to grow.
Isidore wrote about the few penalties companies face for actions that cut down on organizing. Starbucks has closed stores where union votes occurred or were planned. It's fired employees at a Memphis location for working with a local TV station reporting on union efforts.
The National Labor Relations Board, which oversees organizing votes at most US businesses, won a court ruling that the employees had been fired for their union activity, according to Isidore, but Starbucks is appealing. It's hard to see how that ordeal won't have a chilling effect on other efforts to unionize Starbucks locations.
Unions are more powerful in the public sector. About a third of public-sector employees, 33.9%, belonged to a union in 2021 — we're talking about everyone from teachers to firefighters and police.
Far fewer private-sector workers, 6.1%, belonged to a union.
Unions are more powerful in blue states. Southern states and red states, many of which have so-called "right to work" laws that make it more difficult for unions to organize, have fewer union members. In the most unionized states, New York and Hawaii, more than 22% of workers belonged to a union last year. In the Carolinas, the two least unionized states, membership was below 3%.
Union households made up about one-fifth of American voters in those elections, according to exit polls.
Source link