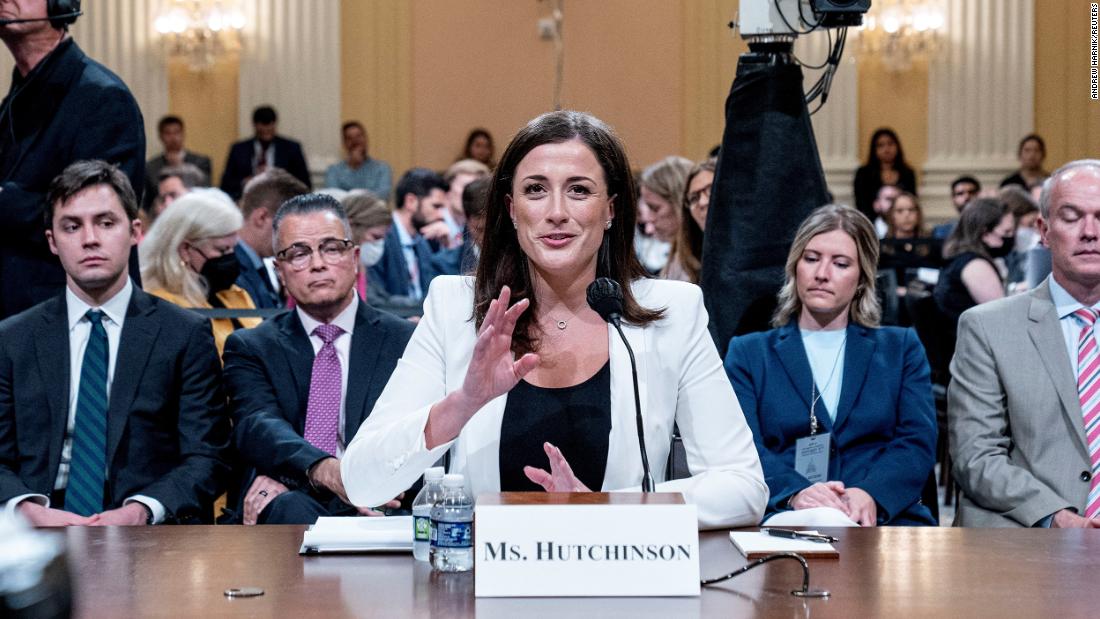 As the committee takes its own break — new hearings aren't expected until later this month — here are the most important things we've learned so far.
Rioters may be going to jail and the committee may be documenting the role of Trump and some of his allies in trying to undermine the 2020 election, but the insurrection is not exactly over, according to Rep. Liz Cheney, a Wyoming Republican who is the committee's vice chair.
Cheney is among the few Republicans to continue to loudly condemn Trump, and she is in danger of losing her GOP primary in Wyoming later this summer. She said other Republican leaders "have made themselves willing hostages to this dangerous and irrational man."
Trump wanted to take part in the march on the Capitol and Secret Service may have stopped him
While it was based largely on hearsay — things other former aides and a White House valet had told her — the allegations are incredible.
The most vivid of Hutchinson's statements was about Trump, angrily realizing he would not be taken to the Capitol on January 6, trying to grab the wheel of the presidential vehicle from a Secret Service agent. He wanted to lead the protesters. These are the same protesters who would ultimately storm in, threatening his vice president's life.
Trump had a temper after his loss
Her descriptions of ketchup flung on the White House wall, dishes thrown on the ground in fits of rage, speak to the emotions coursing through Trump as he faced losing power. This perhaps helps explain why it may have been so difficult for people inside the White House to influence him.
The investigation is not over
The committee's public hearings in June began with the feeling of a preplanned show stage-managed for the effect of indisputably proving that a conspiracy to overturn the election had occurred. But it's becoming clear the committee is learning new things and following leads.
Cipollone notably defended Trump in the former President's first impeachment trial but was, according to multiple witnesses, among the White House aides encouraging him to accept the election results and disputing the crackpot legal theory that Vice President Mike Pence could simply throw out election results from certain states.
Trump's orbit may be trying to influence the testimony
Pence was the key to the plot. And then he was a target of the riot
Protesters who stormed the Capitol got as close as 40 feet from Pence.
This is one side of the story
It is always important to remember that just two Republicans, Cheney and Rep. Adam Kinzinger of Illinois — both Trump opponents — sit on the committee. Neither may be around in Congress next year. Cheney could well lose her upcoming GOP primary (stay tuned) and Kinzinger is not running for reelection.
Democrats blocked Trump loyalists who questioned the validity of the election from being on the committee. Some of those Republicans, we now know, requested pardons from Trump for their efforts to undermine the election on his behalf.
Many of Trump's closest White House associates have refused to testify — although, as in the case of Meadows, some did provide the committee with key information like text messages.
Trump's effort to influence vote counting was widespread
We already knew from a leaked audiotape that Trump personally wanted Georgia officials to "find" votes and manufacture a win for him there after he lost the official vote count.
Trump's conspiracy theories shook the Department of Justice
Rioters thought they were taking cues from Trump after he refused to accept his loss
These hearings may be having an effect
"Trump is a disgrace," according to the paper. "Republicans have far better options to lead the party in 2024. No one should think otherwise, much less support him, ever again."
That's an important sentiment as Trump angles to run again for president, his current plan.
Source link