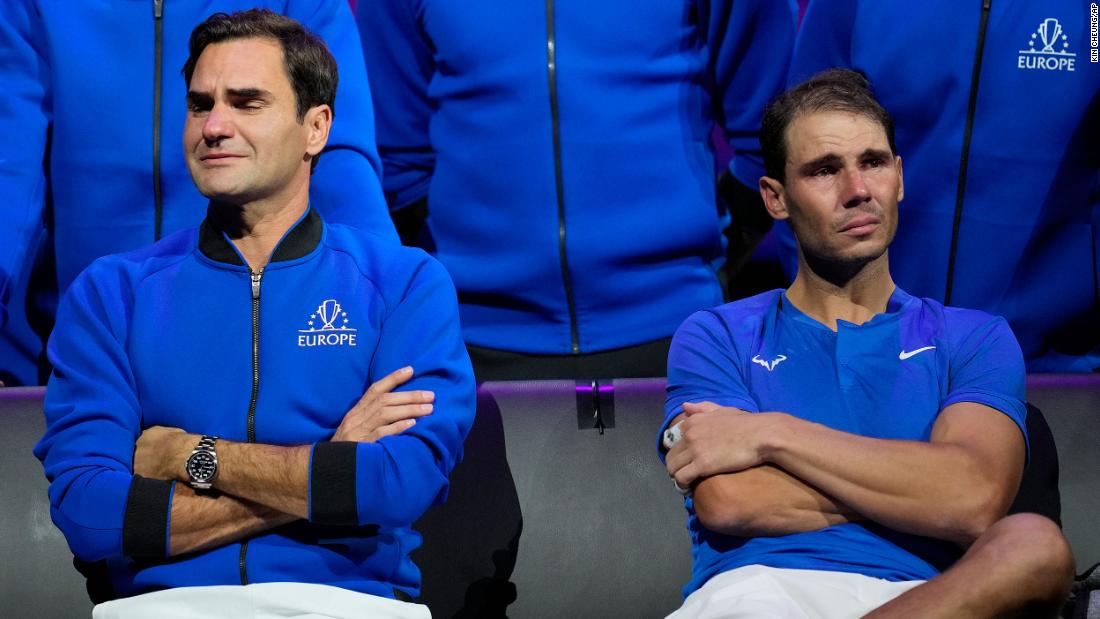 Roger Federer hits a backhand during the Wimbledon final in 2017.
A teenage Federer hits a shot while on his way to winning the junior title at Wimbledon in 1998.
Federer with his parents, Robert and Lynette, in 1998.
Federer hits a forehand at Wimbledon in 2003. He would go on to win the tournament, his first grand slam title.
Federer and Serena Williams pose with their Wimbledon trophies in 2003.
Federer celebrates after defeating Lleyton Hewitt to win his first US Open in 2004.
Federer signs a camera after a French Open match in 2005.
Federer, top, plays Andy Roddick during the 2005 Wimbledon final. Federer won five straight Wimbledons from 2003-2007.
Federer and Andre Agassi hit balls on the helipad of the Burj Al Arab hotel in Dubai, United Arab Emirates, in 2005. It was ahead of a tournament in Dubai.
Federer and his future wife, Mirka, hang out in Paris together. She was also a professional tennis player. They were married in 2009.
Federer kisses his trophy after he defeated Agassi to win the 2005 US Open.
Federer sits next to Vogue editor-in-chief Anna Wintour at a Marc Jacobs fashion show in New York in 2006.
Federer and Rafael Nadal play an exhibition on a half-clay, half-grass match in Spain in 2007. Federer has excelled on grass his entire career. Nadal is widely known as the "King of Clay."
Federer holds up his trophy to the crowd after winning his fifth straight Wimbledon in 2007.
Federer and Stanislas Wawrinka celebrate after they won Olympic gold in doubles in 2008.
Federer returns a shot to Novak Djokovic during a match in Monaco in 2008.
Nadal consoles Federer after defeating him in the 2009 Australian Open final. The two rivals pushed each other throughout the careers.
Federer falls to his knees after winning the French Open in 2009. The elusive title completed the career grand slam for Federer.
Federer plays a shot in the 2009 Wimbledon final.
Federer celebrates after winning Wimbledon in 2009. It was his 15th major title, which at the time was the most ever for a men's tennis player.
Federer poses with children in Kore Roba, Ethiopia, while visiting a school funded by his charity, the Roger Federer Foundation, in 2010.
Federer plays Andy Murray in the final of the Australian Open in 2010.
Federer greets Britain's Queen Elizabeth II while she attended Wimbledon in 2010.
Federer serves during the Australian Open in 2011. He won the tournament six times in his career.
After winning a tournament in Switzerland, Federer poses with ball boys and girls as they pick up slices of pizza in 2011. Federer, who once worked as a ball boy in Basel, hosted the pizza party.
Federer walks off the court with Murray after Murray defeated him in the final of the 2012 Olympics in London.
Federer walks onto the court for a match at the ATP World Tour Finals in 2013.
Federer signs autographs for fans in Shanghai, China, in 2013.
Federer falls over during his Wimbledon semifinal match against Milos Raonic in 2016. He had been struggling with a knee injury that year, and he hurt it again during the loss to Raonic.
Federer and Murray play a charity match on a raft in Zurich, Switzerland, in 2017.
Federer won the Australian Open in 2017, defeating Nadal in the final. It was his first grand slam title since coming off knee surgery.
Federer practices in Indian Wells, California, in 2017.
Federer is watched by his wife, Mirka, and their four children after winning Wimbledon in 2017. Federer has two sets of twins: identical twin girls and fraternal twin boys.
Federer tears up next to Martin Cilic after winning the 2018 Australian Open. It was the last grand slam title of his career.
Federer plays a backhand to Nadal during a French Open semifinal in 2019.
Federer and Williams take a selfie after competing together in mixed doubles in 2019.
Federer leaves Centre Court at Wimbledon after losing in the quarterfinals in 2021.
Federer and Djokovic attend centenary celebrations at Wimbledon in July.
Federer announced this month that his appearance at the Laver Cup would be the last match of his professional career.
Federer plays a backhand during the final professional match of his career at the Laver Cup in London on Friday, September 23. He was paired with fellow superstar Rafael Nadal.
Federer and Nadal tear up after losing their doubles match on Friday.
Federer is lifted into the air by his fellow players after competing in his final match on Friday.
Source link