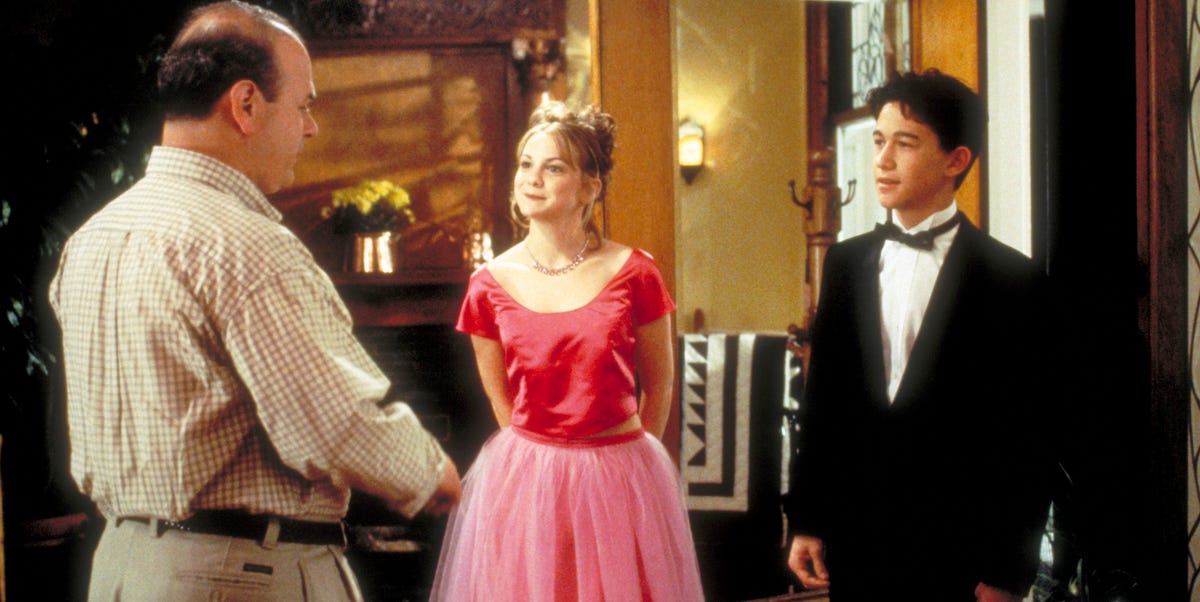 This Father's Day, some of us are spending more time with our families because we're quarantining with them. Others are far away from their moms and dads for multiple reasons. This Father's Day, settle in with a few movies dedicated to fathers being good fathers—or the not-so-good fathers who are learning to be better. Sometimes dads are more of the bumbling Colin Firth type, who mean well but don't really have a clue about what they're doing. Some kids, like Sophie Sheridan in Mamma Mia, get three whole dads, while others, like Mia Thermopolis in The Princess Diaries, are missing their late fathers. Fathers and father figures look different depending on the family, but there are enough movies to celebrate all these differences. This Father's Day, binge some of these 40+ films to celebrate the dads in your life, no matter what "dad" means to you.
Fathers' Day (1997)

Jack (Billy Crystal), a cynical lawyer, and Dale (Robin Williams), a depressed writer, have one thing in common: Collette (Nastassja Kinski), the woman they each dated. When Collette enlists them to help her search for her runaway teenage son, Scott, there might also be a little paternity issue at stake.
Watch Now
The Half of It (2020)
Ellie Chu (Leah Lewis) is a shy, smart student living in a small, small-minded town in Eastern Washington where she moved with her single father, a Chinese immigrant, so he could take the only job he could get. Ellie makes extra money to help pay the bills by writing papers for students, and she helps a jock at her school get the attention of popular girl Aster Flores (Alexxis Lemire) while secretly crushing on Aster, too. This movie isn't exactly about father-daughter relationships, but it's clear Ellie's dad is the person she loves most in the world: She grapples with going to college nearby so she can live and help out at home, and she and her dad have Old Hollywood movie nights.
Watch Now
Mr. Mom (1983)
When Jack Butler (Michael Keaton), an auto engineer in Detroit, loses his job in a recession and his wife, Caroline (Teri Garr), finds work, Jack has to take over the responsibilities at home—thus becoming "Mr. Mom." Remember that this movie was made in the 1980s, when other revolutionary films such as 9 to 5 (1980) and, later, Working Girl (1988) helped change the concept of the American workplace (that is, it's perfectly normal for women to have titles other than "secretary").
Watch Now
What a Girl Wants (2003)
Daphne Reynolds (Amanda Bynes) grew up in New York City's Chinatown with her very cool mom Libby (Kelly Preston), but she's always been missing one thing: a father. She knows the man is Lord Henry Dashwood (Colin Firth), a member of British nobility running for political office, but they've never met, and Henry doesn't know Daphne exists. So the summer after Daphne graduates high school, she hops across the pond to meet him, much to the shock of Henry and his stuffy wife and stepdaughter-to-be. Daphne soon wins over even the stiffest-lipped Brits, but it's still clear her world and her father's are nothing alike. Someone's going to have to bend if they have any chance of the father-daughter relationship Daphne's always wanted.
Watch Now
The Princess Diaries (2001)
Mia Thermopolis (Anne Hathaway) lives in San Francisco with her mom in a restored firehouse. Her father, whom she wasn't close with, recently died. She's almost 16 and feels invisible at school, especially to her crush (Erik von Detten). But, out of nowhere, her estranged grandmother (Julie Andrews), comes to town with huge news: Mia's a princess ("Shut. Up!"). Soon, her whole world changes, and she has to decide if the royal life is something she wants. She obviously can't talk to her father about it, but she still manages to find his guidance along the way.
Watch Now
Parenthood (1989)
There's something about Steve Martin and a movie about fatherhood. Before the Father of the Bride movies, there was the Ron Howard-directed Parenthood. Gil Buckman (Martin) is a sales executive who already feels over his head with work and his children, who are having issues for which Gil blames himself. When his wife, Karen (Mary Steenburgen), reveals she's pregnant with their fourth child, Gil becomes fearful he won't be able to handle one more kid, and—the ultimate fear—that he's becoming his workaholic father.
Watch Now
Big Fish (2003)
Edward Bloom (Albert Finney) and his son William (Billy Crudup) have always had a strained relationship, because Edward told big, elaborate stories that William never believed. When Edward falls ill, William, a journalist, returns home, and in the final days of his dad's life, William investigates these tall tales and learns more about his dad than he ever expected.
Watch Now
National Lampoon's Vacation (1983)
As Clark Griswold (Chevy Chase) and his family (Dana Barron, Anthony Michael Hall, and Beverly D'Angelo) make their way from Illinois to a California amusement park, the family runs into some road blocks—including the death of a family member. By the time they make it to L.A., Clark worries his family will veer off track again and takes matters into his own (well-meaning but misguided) hands in order to make sure they make it to the park.
Watch Now
10 Things I Hate About You (1999)
Kat (Julie Stiles) and Bianca (Larisa Oleynik) Stratford have a very strict single dad who forbids them to date. This isn't a problem for Kat, who couldn't care less about the teen boys at her high school. But Bianca wants nothing more than to be like the rest of the popular set. When their father decides Bianca can date only if Kat does too, he inadvertently sets off a grand plan from new kid Cameron (Joseph Gordon-Levitt) to get bad boy Patrick Verona (Heath Ledger) to date Kat, so Cameron can take out Bianca. Basically, the plot of this entire movie revolves around a stern father and his archaic rules, so there you have it: Father's Day movie.
Watch Now
Father of the Bride (1991)
In this father-daughter classic (and remake of Vincent Minnelli's original from 1950), Steve Martin gets the age-old case of fatherly envy when his one and only daughter finds a guy she likes spending time with more than him—her fiancé! Daddy's little girl is all grown up, which makes Martin's George Banks a little cuckoo. It's endearing and hilarious to watch Martin go through wedding panic and have a full breakdown at a grocery store while tearing through bags of hot dogs and hot dog buns. Another comedic delight here is Martin Short, playing a European wedding planner who pronounces cake like "cock."
Watch Now
Indiana Jones and the Last Crusade (1989)
All Indiana Jones movies are arguably dad movies, but The Last Crusade is the dad-est of them all, as it features Harrison Ford as our favorite archaeologist working side by side with his father, Professor Henry Jones, played by the equally iconic Sean Connery. There's some good ol' father-son rivalry as they end up sleeping with the same woman (yikes), but it's nothing they can't set aside to fight the big bad guys (Nazis, in this case).
Watch Now
Mission: Impossible (1996)
There's nothing really dad about this movie except that dads seem to love it—at least, mine does. Every new Mission: Impossible movie is dad bait to get him to go to the movies with you, but nothing quite beats the first installment, directed by Brian De Palma. It's never not thrilling watching Tom Cruise's Ethan Hunt infiltrate the CIA, hanging by rope, just one sweat drop away from blowing the entire thing. Or heck, watching a helicopter chase a train inside a goddamn tunnel.
Watch Now
The Tree of Life (2011)
Perhaps this is for the dad who gets late-career Terrence Malick, but I'm sure even a Malick rookie can be persuaded by the fact that Roger Ebert declared this one of the ten greatest films ever made. Ever. While some parts of the movie look like Windows desktop images (the whole Big Bang sequence), The Tree of Life is, at the end of the day, about something far more intimate: family, specifically the relationship between father and son. Brad Pitt and Sean Penn star—though the former is the father (in flashback). This may not be your typical "good dad" movie, but it's a poetic depiction of the complexities in their relationship and how father and son mirror each other.
Watch Now
Heat (1995)
Gotta include Heat on this list as it is, according to my own father, "the greatest movie ever made." First of all, the cast: Al Pacino and Robert De Niro. The two finally share screen time after a missed opportunity in The Godfather, Part 2, in which they shared a bill but never actually appeared in the same scene. In Michael Mann's Heat, Pacino, the cop, and De Niro, the crook, face off in an epic, nearly three-hour-long crime drama, which includes unforgettable lines ("She's got a GREAT ASS!") and an even more unforgettable shoot-out.
Watch Now
Mamma Mia! (2008) / Mamma Mia! Here We Go Again (2018)
Why just settle for one dad when you can have three? In the classic ABBA musical Mamma Mia!, Sophie (Amanda Seyfried) reads her mom's old diary to try to figure out who her real dad is so he can walk her down the aisle at her wedding. Turns out her mom Donna (Meryl Streep/Lily James in the subsequent movie) had quite a busy summer when Sophie was conceived, leaving her with three paternal options: Sam, Harry, and Bill.
Watch Mamma Mia!
Watch Mamma Mia! Here We Go Again
Morris From America (2016)
In this endearing coming-of-age story, first-time actor Markees Christmas plays title character Morris, a 13-year-old black kid from New York living in Germany—adding a whole new challenge to the notion of growing up and fitting in. While all his classmates love dance music, Morris fancies himself a rapper, writing in-his-dreams rhymes like "fuckin' all the bitches, two at a time" and humping his pillow for practice during his awkward puberty phase. He gets relentlessly made fun of by his dad, played by Craig Robinson, who, between polar opposite appearances on The Office and Mr. Robot, finds the perfect balance of drama and comedy in this Chad Hartigan indie.
Watch Now
Eighth Grade (2018)
Ugh, dads don't understand! Sometimes you just wanna plug in your earphones at the dinner table to tune them out. In Bo Burnham's coming-of-age comedy, there are plenty of memory-triggering tween moments (especially involving crushes), but the emotional gut-punch of it lies in Kayla's (Elsie Fisher) relationship with her single dad (Josh Hamilton), whose heart-to-heart speech at the end will surely get the waterworks going.
Watch Now
The Royal Tenenbaums (2001)
Gene Hackman beguiles us all as a trickster dad who uses the guise of terminal illness to bring his weirdo family members back together under one roof again. Luke Wilson, Gwyneth Paltrow, and Ben Stiller play the Tenenbaum kids, who all possess quirks that can only be described as extremely Wes Anderson. Also extremely Wes Anderson are the supporting players (Anjelica Huston, Bill Murray, Danny Glover, Owen Wilson) and the killer soundtrack, which has Paltrow's Margot Tenenbaum getting off the bus in her iconic fur coat to Nico's "These Days." The Royal Tenenbaums is not just Wes Anderson's greatest achievement, but whimsical family dramedy at its best.
Watch Now
Bicycle Thieves (1948)
If you're not already watching this Vittorio De Sica classic because of Master of None, it's a good one to save for Father's Day. Bicycle Thieves is not only a central film for the Italian neo-realism genre, it's a heartfelt tearjerker that follows father and son on the streets of Rome as they look for the stolen bicycle their livelihood depends on. The father, Antonio (Lamberto Maggiorani), stoops to thievery himself in desperate times in this portrait of impoverished post-war life. Watch with your own papa, but if the tears come, don't say I didn't warn you.
Watch Now
Kramer vs. Kramer (1979)
Okay, maybe don't watch this one with mom in the room. Robert Benton's Kramer vs. Kramer has become a somewhat contentious movie since its 1979 release, but it's still full of impeccable performances. Dustin Hoffman (one of the titular Kramers) initially starts off as a reluctant dad but finds fatherhood worth fighting for in a custody battle with the other Kramer, played by Meryl Streep. Hoffman and Streep are all-timers, but the kid (Justin Henry) is pretty damn good too, and earned himself an Oscar nomination at the tender age of eight.
Watch Now
Taken (2008)
If you had to choose a movie dad to save you from trouble, you probably couldn't do better than Taken's Liam Neeson, a retired government agent who must tap back into his "very particular set of skills" to track down and rescue his daughter (Maggie Grace) after she's abducted and auctioned off into a sex trafficking ring during her Parisian vacation. Taken is the pinnacle of Neeson's rebranding as an older action star, and the manner in which he kicks ass (remember that electrocution scene?) makes him the baddest dad in town. And why not make it a marathon with Taken 2 and 3?
Watch Now
The Lion King (1994)
There are so many Disney movies in which a mother is the key parental figure, but this jungle-set Hamlet adaptation is a heart-wrencher for the tragic loss of Simba's father, Mufasa. It is impossible to watch the stampede scene without fully sobbing—a great Father's Day activity if you ask me. But it won't be a downer all the way through: Hakuna Matata will get you through.
Watch Now
Die Hard (1988)
While he doesn't do much on-screen fathering until the later films, Bruce Willis is a dad in this movie. (Sorry, but he's, like, busy trying to take down German terrorists at his estranged wife's holiday party, okay?) Die Hard has become a beloved Christmas movie, but it's also a great Father's Day movie, and heck, it's just a great movie to watch any day. Yell "Yippee ki yay, motherfucker" with your own dad as you root for Bruce Willis to take down the villainous Hans Gruber (played by the late, great Alan Rickman).
Watch Now
Sinister (2012)
If you have a dad with a sick sense of humor, who also happens to like trashy horror flicks, then go with Sinister, which set up Ethan Hawke as the hot horror movie dad of the season (see: the following year's The Purge). Hawke plays a crime writer who moves his family into a new home, where he finds a bunch of creepy Super 8 films—then strange things start to happen in the middle of the night. No spoilers here, but playing this movie for Dad on Father's Day would be a pretty sick prank.
Watch Now
The Fast and the Furious (2001)
Fact: Dads love cars. Sure, you can watch any of the eight F&F movies (and the latest one does have a strong fatherly motif), but there is a nostalgic simplicity to the first one, in which Vin Diesel, Paul Walker, and the rest of the fam were just drag racers. Pop open a beer with dad, kick back, and enjoy.
Watch Now
Air Force One (1997)
Dad + President = the biggest dad of all. At least, that's the case in Air Force One, a plane thriller that has Harrison Ford's President James Marshall and his family mile-high and held hostage by a group of terrorists led by Gary Oldman. When Air Force One gets hijacked, Marshall must tap into his military training to get his family to safety.
Watch Now
Toni Erdmann (2016)
Whose dads is this? Another trickster father can be found in this critically acclaimed German film. Dad jokes are taken to the extreme when Winfried (Peter Simonischek) dons a terrible wig and a set of fake teeth and appears as his alter ego "Toni Erdmann" in a way to reconnect with his workaholic daughter Ines (Sandra Hüller). They bicker like any father and daughter, but find a strange, touching middle ground that involves an epic Whitney Houston rendition and a Bulgarian folk monster costume.
Watch Now
The Godfather (1972)
What's an offer your dad can't refuse? An invitation to watch The Godfather, of course. During production, this Francis Ford Coppola masterpiece was a disaster—with setbacks, studio drama, and a crew that didn't know what it was doing. So The Godfather is, in many regards, a miracle. Watching it now, you'd never know it was expected to fail. Mafia violence and the decapitated horse head are now classic elements of the movie, but it's also truly about family politics, especially of the patriarchal kind.
Watch Now
Call Me By Your Name (2017)
By the end of Call Me By Your Name's swooning summertime romance, the viewer may feel a deep emptiness as Elio becomes Oliver-less all too swiftly. Elio's not only heartbroken but also confused about his sexuality after his first same-sex relationship, but some gentle reprieve comes in the form of his understanding father, who gives a warm, non-judgmental, non-pushy speech at the end. He advises Elio to listen to his feelings and nurse them rather than withdraw altogether. "I will have been a terrible father if, one day, you'd want to speak to me and felt the door was shut, or not sufficiently open," he says. What a sweet dad.
Watch Now
It's a Wonderful Life (1946)
In this humanist film, which is as warm as an open fire on Christmas day, Jimmy Stewart plays the selfless George Bailey, who faces financial ruin and contemplates suicide in order to save his family. Not so fast—this is actually a feel-good movie. A guardian angel helps George see what life would be like if he wasn't around. It's a life-affirming picture with a gold-hearted father at the center.
Watch Now
Face/Off (1997)
Actually, maybe not one to watch with dad, thanks to the creepy, incestuous-ish (but not actually incestuous) dad moment in this movie. After FBI agent Sean Archer (John Travolta) and evil terrorist Castor Troy (Nicolas Cage) switch bodies, Sean's daughter (Dominique Swain) is rightly creeped out when her dad busts into her bedroom. (Are you following?) But 20 years later, Face/Off remains an incredible film—though not one for the incredulous. Not only do the foes' faces come off, but they also…face off…against each other. Bravo.
Watch Now
Somewhere (2010)
Johnny Marco (Stephen Dorff) is a disillusioned Hollywood star who spends his days drinking, schmoozing, and having strippers entertain him in his Chateau Marmont room. A great father he is not, but he has to at least try when his 11-year-old daughter Cleo (Elle Fanning) unexpectedly visits, completely charming him with her ice-skating, egg-cooking, and Guitar Hero skills. There is no saccharine happily-ever-after in which Johnny suddenly becomes a world-class dad, but their brief time together does change him.
Watch Now
He Got Game (1998)
Maybe you're not a sports person, and that's been a barrier in bonding with your dad. But the good news is that sports movies are a whole other thing. Go for Spike Lee's late '90s basketball melodrama, which features Denzel Washington as a father on parole who tries to convince his son Jesus (played by NBA player Ray Allen) to play college basketball at Big State, with the promise of a shortened sentence if he succeeds.
Watch Now
Train to Busan (2016)
This Korean box-office smash hit didn't make too big of a wave Stateside, but Father's Day is a good as time as any to belatedly appreciate this apocalyptic blockbuster. Actor Gong Yoo stars as a workaholic father who takes his daughter on a weekend getaway when a zombie outbreak derails their trip. He wants to protect his daughter at all costs, which becomes increasingly difficult in this thriller.
Watch Now
Mrs. Doubtfire (1993)
Sometimes fatherly love means dressing in drag to get to spend more time with your children. When divorcé Daniel Hillard (Robin Williams) is given limited face time with his children, he comes up with a plan to still be their parent—kind of. He dresses up as an old woman and gets hired as their nanny, of course. Mrs. Doubtfire is one of Williams' iconic roles, and it's still a squirmer to watch him switch between his dad self and his alter-ego, getting in and out of wigs and sticking his face in cakes.
Watch Now
Armageddon (1998)
Liv Tyler's real father, Steven Tyler, makes a brief appearance in this apocalyptic film, but the heart of this asteroid-headed-for-earth story is the relationship between Liv Tyler and her movie dad, Bruce Willis. Willis, naturally, saves the day, and I'll be damned if that last convo between father and daughter isn't an absolute tearjerker.
Watch Now
Field of Dreams (1989)
Another sports movie, though a much weirder one, is Field of Dreams, in which Kevin Costner's Ray Kinsella hears voices and builds a baseball field. Ray's father died when he was a teenager, but do not fret—they still get to play catch, in, um, ghost form. It's far better than it sounds, I promise.
Watch Now
A Little Princess (1995)
Sara, daughter of an aristocrat, grows up as daddy's little princess and gets top treatment at her boarding school—until it's reported that her father died in action during World War I. She gets sent to the attic and is treated like an orphan until she reunites with her father, who did not actually die but was injured and experienced amnesia. Sara's tearful pleading as she tries to bring back her dad's memory marks one of the most heartbreaking scenes ever.
Watch Now
Beginners (2010)
This is the film that got Christopher Plummer his extremely belated Oscar win, and for good reason. In Mike Mills' Beginners, he plays Hal, an elderly man who comes out of the closet to his son, Oliver (Ewan McGregor), and pursues a younger man in his new life. A closer bond forms between father and son, and even after Hal's death a few years later, Oliver feels inspired by him to pursue his own love, with the beautiful French actress Anna (Mélanie Laurent).
Watch Now
Daddy Day Care (2003)
This early 2000s comedy stars Eddie Murphy as the ultimate stay-at-home dad. After losing his job, Charlie Hinton (Murphy) is conflicted about how to care for his young son, and settles on starting a home childcare center for him and other neighborhood children. He might have to deal with overprotective parents, mischievous kids, and the threat of getting shut down by the authorities, but he still gets to spend quality time with his son.
Watch Now
The Lost City of Z (2016)
Based on a true story, this period film starring Tom Holland, Sienna Miller, Robert Pattinson, and Charlie Hunnam follows the story of British archaeologist Col. Percy Fawcett (Hunnam) and his exploration of the Amazon. Obsessed with finding a lost, ancient city, Fawcett leaves his family behind, although he is later joined by his son for dangerous expeditions into the jungle.
Watch Now
The Pursuit of Happyness (2006)
Remember when Jaden Smith was just a wee little thing? In heartstring-puller The Pursuit of Happyness, he starred alongside his IRL father Will Smith, who plays a down-on-his-luck salesman named Chris Gardner. One bad thing happens after another and he's left to take care of their five-year-old after his wife leaves him, even as they're forced to stay in homeless shelters. Through all the hardships, Chris remains a loving dad to his son, and the ending is sure to make you cry.
Watch Now
Logan (2017)
Warning: This R-rated film isn't for the softest, tenderest of dads. This 2017 X-Men movie, starring Hugh Jackman as Logan (a.k.a. Wolverine), is an action-packed adventure with a twist on the dad–daughter theme: The tired, aging superhero must protect and join forces with a young mutant who, like him, has claws and experiences waves of rage.
Watch Now
Cheaper by the Dozen (2003)
An iconic American family manages to steal our hearts despite their crazy antics in this 2003 comedy. Steve Martin stars as the head of an unusually large household, which has to relocate thanks to his character's new job. After settling into a new town, new house, and a new school, the kids face the challenge of making friends, battling bullies, and sticking together as a family.
Watch Now
Interstellar (2014)
When the earth is dying, a father will do anything to try to save his children. Matthew McConaughey stars as Cooper, a former pilot who agrees to join a specialized team attempting to find another habitable planet. With a genius daughter (Jessica Chastain) trying to work out the problem on the ground, Cooper faces unexpected challenges, including dangerous new terrains, a devious team member, and the possibility of never seeing his family again.
Watch Now
Big Daddy (1999)
Sonny (Adam Sandler) is 32 but doesn't act his age. That is, until he has to care for an abandoned five-year-old (played by baby Dylan and Cole Sprouse), who turns out to be the biological child of his out-of-town roommate. Sonny fills in as a paternal figure in the meantime and ends up teaching the kid some, um, unconventional lessons. But it's Big Daddy who does most of the growing up.
Watch Now
Finding Nemo (2003)
Some dads, like clownfish Marlin (Albert Brooks), will literally swim the entire ocean to find their children. Sure, there's not a ton of father-son screentime—it is all about Marlin and Nemo (Alexander Gould) getting separated from each other—but this Pixar classic takes you on a wild, hilarious, and moving ride as they each try to make their way back to each other.
Watch Now
Three Men and a Baby (1987)
Before Big Daddy, there was Three Men and a Baby. New York City bachelors Peter, Michael, and Jack (Tom Selleck, Steve Guttenberg, and Ted Danson) step up as patriarchs when someone leaves a baby on their doorstep, complete with a note saying it's Jack's. Jack happens to be out of town and the other two suddenly face a task they're totally unequipped for: child-rearing.
Watch Now
Hilary Weaver
Hilary Weaver is a freelance writer based in New York who writes about politics, queer issues, Meryl Streep, Glenn Close, and every woman the Queen has ever made a dame.
This content is created and maintained by a third party, and imported onto this page to help users provide their email addresses. You may be able to find more information about this and similar content at piano.io
This commenting section is created and maintained by a third party, and imported onto this page. You may be able to find more information on their web site.
Source link