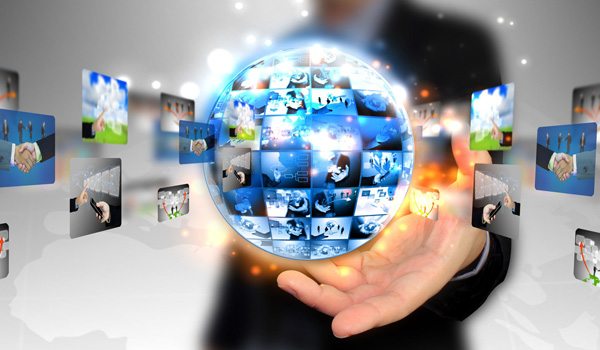 The impact of technology on 21st-century life has been undeniable.
In many ways, things have been simplified and made convenient, while other aspects of living seem more complex and confusing.
Entrepreneurs know this balance well, applying new tech to their businesses at every turn. This is what a handful of industry leaders had to say about the impact of technology on their business and the economy at large.
AI Assistance
We're seeing many companies put a high-tech twist on everyday items that people want and need, using AI to personalize products and create a totally novel experience. Skincare products are just one example.
"The technology that goes into our ability to use artificial intelligence to create customized skincare formulas has been absolutely vital for our business," said Ming Zhao, CEO and Co-Founder of Proven Skincare. "Without this technology we would not be able to serve our customers at the rapid rate that we do. Within just three minutes, our customers can discover from our online quiz the unique formula that will work for their skin based upon their skin type and a variety of lifestyle factors." 
This can be applied to other healthcare products, fashion, food, even entertainment. AI and algorithms make it all possible.
Seamless Adjustment
An underrated advantage of technology is how quickly it allows you to make shifts during times of crisis. We watched this unfold with the pandemic of 2020, as many companies focused their efforts online and achieved major digital success for the first time.
"When covid began, we had to adjust just like every other business," said John Berry, Co-Founder and Managing Partner at Berry Law. "We did so in a reasonably seamless way through virtual conferences with clients and our employees, and by updating our software with time tracking tools for smoother internal communication. Much of our work is done in the courtroom. These tools have allowed us to remain efficient throughout the pandemic. The pandemic also saw a large increase in telehearings. The technological advancements in video conferencing over the past decade has slowly enabled litigation and court hearings to proceed remotely which has spawned a new era in law."
Not all companies are suited for digital-only operation, but it's good to see so many operations making the adjustment.
Everything Accelerated
Time is of the essence in every area of business, especially high-ticket sales like real estate. If technology can speed up just one step in the process by a few days or hours, that's a huge value-add for everyone in space.
"In the real estate sector, technology has accelerated every aspect of how business gets done, whether you're buying, selling, facilitating deals, or running a third-party service that assists these efforts," said Tyler Forte, Founder and CEO of Felix Homes. "Things are more competitive now, but this simply means that there's more opportunity to advance and gain an advantage in the market."
The next time you're browsing for houses or just renting an apartment, think about how tech makes everything so much easier in every way.
Easy Automation
We've been warned about the dangers of automation, but why not talk about some upsides? Put simply, automation simply means reducing the amount of busy work we have to do to get the desired result. That spells big savings and efficiency gains for businesses everywhere.
"Automation has helped us tremendously," said Dan Potter, Co-Founder of CRAFTD London.  "For any company that manufactures and distributes a product, having enough material to fill orders is fundamental. Automating your inventory database streamlines the process and will, in turn, save your business time and money. It automatically updates shipping and purchase lists, sending alerts when an order is placed and received."
There's no doubt that your own business is benefitting from automation to some degree – how are you implementing it, and what's the next stage?
Remote Infrastructure
The leap to a remote work environment has been a huge change this past year, and there's no way it could have happened without years of tech groundwork established beforehand.
"Technology has made it much easier to do business, especially over the past year," said Ben Cook, Jr., Vice President and General Counsel of Cook Capital Group and Printed Kicks. "We are now working with Slack software as our main communication system at our company. It makes running the corporation much more efficient. It really beats the old email-only systems from the past. I can also now effectively run my entire company on my iPhone simply by using Zoom, Slack, and shared cloud drives." 
We don't know how many companies will stick with remote work post-pandemic, but at least we know it's possible.
Reason for Being
This is an obvious one, but important still – the tech industry itself is tremendous, and creates over $5 trillion in value every single year on a global scale. From hardware giants to small tech startups, more are getting involved now than ever.
"Technology has had a huge impact on our business. I started working early on in ecommerce, and after I relocated to Los Angeles, I got into building web products," said Dennis Hegstad, Co-Founder of LiveRecover. "With my company, LiveRecover, we now have more than around 9,000 merchants who have installed our app. Our company offers a human-powered, text message-based abandoned cart recovery tool for ecommerce. It's a truly conversational marketing tool that utilizes Shopify, live human chat and personalization. What we do wouldn't be possible without technology."
With tech training and coding courses upending traditional education, we're looking at a much more tech-driven future from top to bottom.
Every Facet of Business
Look at any department at your company. We doubt any of them are still operating strictly on landline telephones, notepads, and rolodexes. There's charm in the old-school approach, sure, but tech is just a no-brainer for efficiency and output.
"Technology has made any business operation that you can think of become streamlined over the past year," said Steve O'Dell, CEO and Co-Founder of Tenzo Tea. "With innovations happening all around us, our lives have become more and more easy as new inventions in the business world have emerged. Whether it be a better way to track backlinks, better communicate with team members or find new clients, technology, especially over the past year has made it so much easier to get work done at a quicker rate." 
Experts say we've only just begun the digital revolution, so we're eager to see what's to come.
Marketing to the Max
Of all the business units affected by technology, its impact on marketing has to be among the most profound. Marketers have an enormous wealth of resources to draw from at every stage, from automated email and social media campaigns to targeting, segmenting, and analyzing results in real time.
"Without established channels of digital marketing and our coordinated efforts to promote our products online, our business would simply not be where it is today," said Ashwin Sokke, Co-Founder of WOW Skin Science. "We use everything from Facebook and Instagram to Google Ads and a range of analytics software to create and monitor our campaigns. That has been instrumental in our success so far, and will surely continue into the future."
The best part about marketing tech is the user-friendly interface of all these tools. Just some basic training and anyone can unleash their creativity on the web.
Employee Connection
Prior to the tech revolution, most employee communication was face-to-face or over the phone. This worked fine, although delays and misinformation were too common. That's all different with today's tools, which make communication fast, easy, and accurate.
"Communication has definitely improved with new technology that emerged over the past year. Technology has been the saving grace for businesses that shifted to online platforms over the past year," said Joshua Tatum, Co-Founder of Canvas Cultures. "Applications such as Slack and Signal have kept businesses in the loop with one another and kept connections strong amongst employees. Video conferencing has become the most important aspect of the virtual office and without the advancements made, the nation would have been in a far worse place."
You've probably used several different communication tools today without even thinking twice. The result? Better business in every way.
Ready for Adaptation
The unspoken rule about tech is that the more you advance, the easier it is to make quick pivots and changes when the pressure is on. Businesses that lag behind are destined to falter and fail.
 "Become a change-ready organization," said Keith Kitani, CEO of GuideSpark. "This goes beyond being able to deploy a new tool or process – it means building a culture and communication structure that is ready, willing and able to adapt to any change. After all, the rate of change and evolution in business and technology is only going to continue and even pick up speed."
Being change-ready is about infrastructure, but also about attitude and a willingness to go all-in.
Profit Capabilities
With the right tech implementations, your business can dramatically boost bottom-line profits and come away with more earnings quarter over quarter. It's no exaggeration – this happens all the time when done correctly.
"Without today's online infrastructure and advanced supply chains, a company like ours just wouldn't be able to exist," said Michael Fischer, Founder of Elite HRT. "We are able to operate efficiently and discreetly to give our customers excellent products and services, operating with minimal overhead and with maximum transparency every step of the way. The technological leaps still never cease to amaze me."
It may take some time and money up front to set the wheels in motion, but the long-term ROI of the right technology is undeniable.
Campaign with Confidence
Remember a time when marketers had basically no visibility into their campaigns once they were launched. It was like watching a boat pass over the horizon and hoping for the best! Now, things have drastically improved, both in campaign quality and analytics potential.
"Technology has expanded the reach of all marketing campaigns for our business," said Melissa South, CMO of SwingTie. "With new advancements and the expansion of social media, our marketing department has expanded their efforts in ways that we could ever have imagined. Not only have the platforms that we advertise on expanded our reach, but the tools that we track our retention have grown as well. With both aspects evolving over the past year, we have a great understanding of how well our business is operating from different angles. 
Marketers are living in a great time of innovation, so businesses should give their staff the resources they need to leap ahead.
Staying Productive
When they say there's an app for that, they really aren't kidding. Apps are improving constantly, whether for personal productivity, team management, education, and of course, plenty of distractions and sideshows. Be careful what you download!
"Technology has impacted my business in the sense that I can save hours every week, simply by downloading a few productivity apps," said Timmy Yanchun, Co-Founder of LTHR Shaving. "Organization is key when you're running a business, so being able to access a number of important programs straight from my smartphone has also helped out on a number of occasions. The bottom line is – technology is there to help. There's no reason not to take full advantage of that."
Pick a few powerful apps to help you stay productive and stick to the plan for amazing results.
Analytics Empowerment
Before the introduction of analytics, how were you supposed to know whether to adjust a campaign on the fly? In fact, you couldn't even make a change if you wanted to! Now, anything is possible, with full control of campaigns at every turn.
"Technology has affected every business, but when it comes to ecommerce, the effects are very obvious," said Heidi Robinson, Chief Operating Officer of Because Market. "Never before in history have we been able to use technology to run reports, look at buyer's statistics and a variety of other tasks that not only keep our companies going, but save us time along the way. With the click of a button, we can easily assess a particular campaign, and then decide whether to continue it or make a pivot."
The one downside here – no blaming external factors when everything is in your hands!
Total Transformation
Now that it's obvious the digital standard is here to stay and expand, it will be interesting to watch how legacy institutions respond. Their operations are old and slow, and widespread upgrades will be expensive and labor-intensive.
"I've been on more sales calls with more CEOs in the last two months than at any time in my career, and there's universal agreement among them: Digital transformation, while this isn't a one app [solution], it's a must-have," said Marc Benioff, Founder and CEO of Salesforce. "Organizations and governments around the world have a digital transformation imperative like never before, and many of them are accelerating their plans for a digital-first work-from-anywhere environment."
This is where small brands have a huge advantage with speed, youth, and adaptability.
Opening New Doors
Speaking of the next generation, technology is allowing first-time business owners to hit enormous targets and build massive followings with just a bit of capital and effort. What a time to do business!
"Technology has opened doors for many startups and young companies, offering them insight into valuable information that they need to grow their companies," said Travis Killian, Owner and CEO of Everlasting Comfort. "And for well-established businesses, they already use technology every day, which is probably why they're so successful to begin with. In regards to ecommerce, being able to follow customers' purchasing patterns and understanding the products that they need with the features they want has been made much simpler and more convenient through the use of the right apps and software. Technology has made all of that possible."
Just look at platforms like WordPress, Shopify, and even YouTube – money is being made everywhere, with minimal overhead and big returns.
Cross-Department Coordination
Bringing together staff members into a single team unit is tough enough, and doing so on an organizational level is even more challenging. The best tech services finally make sense of cross-department management and yield results like never before.
"We've worked hard to infuse the latest technology into every facet of our operations, from product development and project management to marketing, sales, and customer service," said Kelli Lane, Chief Marketing Officer at Genexa. "In today's competitive business climate, you really have no other choice. The right tech implementations can save you tons of time, money, and just operate more efficiently to stay ahead of the curve."
Tech will only take you so far, of course – leadership and talent still need to be the foundation of success.
Task Management and More
You've got deadlines looming, stakeholders asking questions, and the pressure is mounting. Where does everyone stand on their projects, and are you ready for crunch time? Certain software gives you the insight you need to make tough decisions and win the day.
"To save time and be even more productive, following technology trends and keeping up-to-date with the latest productivity apps is crucial," said Rachel Jones, Head of PR at Hope Health. "And, if you have numerous team members working on tasks together, project-management apps can keep everyone on the same page – literally. Now, team members can communicate from their smartphones using business messengers, as well as assign tasks and organize their projects." 
With more visibility into your team production and timelines, you always have a better handle on the situation.
Getting Discovered
That small store you scrolled across on Instagram or Facebook? Yeah, it was founded last year, and it's making thousands of dollars a month in profits already! Stories like these are more common than ever, so what are you waiting for?
"Technology has made it possible for people from all across the globe to shop from my online store, and to find the unique, quality products that they never even knew existed," said Jared Zabaldo, Founder of USAMM. "With programs and apps to help you create a stunning ecommerce store in far less time than you'd anticipate, many entrepreneurs are realizing their goals and providing consumers with the products that they need – and deserve." 
Entrepreneurship is still no easy task, but the barrier for entry has never been more accessible.
Project Mastery
Some projects are small and last a day, while others are years in the making. No matter the scope or size of a project, there is software that will help you plan, track, and execute key tasks that need to be done, when they need to happen.
"Technology has completely optimized how we operate as a business," said Jim Beard, COO of BoxGenie. "After a long year of remote work, we've really leaned on softwares such as Teams to keep in constant communication with our employees and clients. We can share files easily, chat instantly, and collaborate on projects effortlessly. I think this software is what has given us continued success and I'd recommend anyone entering the business world to utilize this as much as possible."
It should be no surprise how drastically technology has altered the business world, but these entrepreneur insights should serve as a poignant reminder and beacon for the future.