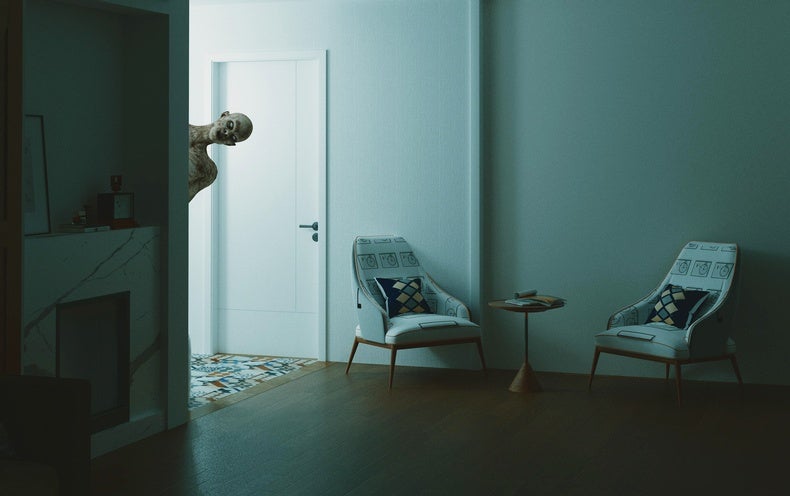 Maddie Bender: This is Scientific American 60-Second Science. I'm Maddie Bender.
In central Texas, in the back of a blacked-out government bus, three health workers stood over coughing patients. They had 10 minutes to put on personal protective equipment and perform nasal swab on the infected.
Nurse: "So right here, sir. And we're gonna go back down…and twirl this around. I'm so sorry. Okay, and not we're going to do one on the other side, and that'll be it. Alright, you did good."
Bender: This, sadly, might sound like a voice we've heard over the last year as we received a nasal swab for COVID-19.
Participant One: "Talk to us about how you were feeling through this entire scenario, with these patients who are coughing…and we don't know what this virus is.…
Participant Two: "Very nervous. I was scared because I didn't know exactly what to do…."
Bender: The thing is—none of this was real. The patients were mannequins, and this was done in 2019. But it sure turned out to be prescient. And more importantly, according to new research, it helped a health care system prepare for when the actual deadly pandemic arrived in the United States in 2020. All because of escape rooms and zombies.
[Zombie sounds]
Bender: Chances are you've been to or heard about escape rooms, which are timed games where teams find clues and solve puzzles, with the goal of getting out of a room. Today, there are tens of thousands of them worldwide.
But in 2017, Kristy Causey and Grace Boseman wanted to bring a different kind of escape room to the Central Texas Veterans Health Care System. They designed an interactive experience to highlight the importance of hand-washing and proper use of personal protective equipment, or PPE.
Two years and five iterations later, they changed the theme to pandemic influenza. But when they were first starting out, they took inspiration from a popular TV show at the time.
Kristy Causey: We had zombie sounds playing throughout the room. We had simulated blood that we had placed on the walls. Somebody donated a projector that had zombies kind of looking like they were trying to come through a window, so we put that up.
Bender: That's Causey, whose official role is the simulation educator for the Central Texas Veterans Health Care System. She says that boring PowerPoints to teach clinicians about infection prevention simply weren't cutting it, so when Boseman came to her with the idea for a zombie-themed escape room, she says it was a no-brainer—if a novel approach.
Causey: We started looking for articles, and at that time found only one article in the literature that said they'd even attempted to do an escape room within a healthcare setting.
Bender: Causey and Boseman wanted to draw attention to these highly effective infection prevention practices—and what happens when you don't follow them:
Grace Boseman: When they peel off the dressing of a wound, Christie pushes a button and whoever is close by get sprayed with water.
Bender: That's Boseman, an infection prevention specialist at the Central Texas VA. PPE adherence wasn't just taught through jump scares—the duo incorporated best practices into the fabric of their escape rooms.
For instance, Causey and Boseman noticed that clinicians often suit up without checking their gear, so they wrote one of the clues on a disposable glove. They taped a capsule with another clue to the base of a sink, so that it would fall out when participants went to wash their hands.
According to Boseman, it was important that the learning didn't end in the room. She and Causey led staff through a debrief, where they talked about PPE do's and don't's. But they wanted to do more than just tell them—they wanted to show how pathogens can spread without effective PPE. They spread dollar-store dish soap laced with fluorescent Glo-Germ over surfaces and mannequins that were standing in for infected patients.
Listen what happened when they shone a UV light on participants' gloves and gowns after a round in their 6th escape room held in 2019—just months before the real pandemic hit:
Causey: We're going to turn out the lights now.
Boseman: So now for the moment of truth, let's take a look at your gloves and your PPE to see if you have any on your, so stick your hands out for me and let's see. You've got some spots there….
Participant One: Oh, wow.
Participant Two: You mean if i didn't have this on I would take this home?
Boseman: Correct. Yes, sir.
Participant Two: Oh my.
Bender: Did the flashy demonstration work long-term, though? Causey and Boseman sent around a survey to escape room participants—three months after the experience, 61% of staff said they were washing their hands more because of the activity. The pair presented these results recently at the annual meeting of The Association for Professionals in Infection Control and Epidemiology.
Boseman says that ironically, many of the participants thought the scenario was unlikely to ever happen in real life:
Boseman: The scenario that we had for the flu bus was that we were overrun by patients in our facility, so we had to transport them to Dallas. And that really happened a year later when we got the second surge of COVID in our facility and really did have to transport patients to our Dallas facility.
Bender: Due to the pandemic, the pair had to put the rooms on pause. But with vaccinations on the rise, they're hopeful that they can bring the room back in time for October—with a few changes, of course:
Boseman: We're running out of clues, so we need to get more creative.
Bender: Thanks for listening. For Scientific American 60-Second Science, I'm Maddie Bender.
Source link