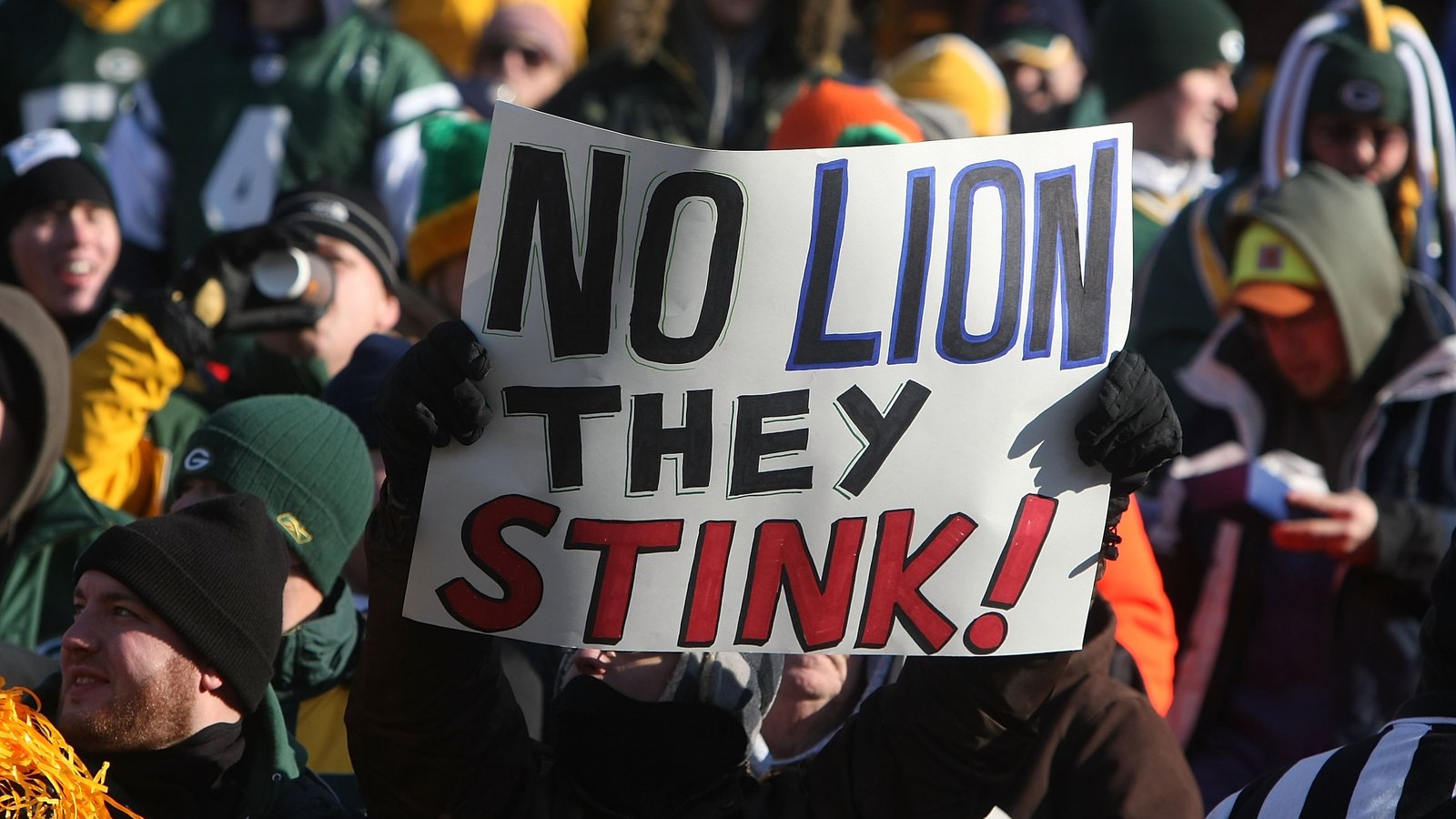 With the 2020 season featuring some woeful teams impact Trevor Lawrence's projected destination, it feels like a good time to reevaluate the least successful seasons in modern NFL history. Here are the worst squads assembled since the 1970 AFL-NFL merger.

1 of 25
25. 2004 San Francisco 49ers
Jesse Beals-Icon Sportswire
The 49ers' two-decade-plus string of Pro Bowl quarterbacks and near-two-decade run of employing an all-time receiving talent abruptly stopped in 2004. Terrell Owens forced his way out of town, and the 49ers cut Jeff Garcia that offseason. With Tim Rattay and ex-Miami QB1 Ken Dorsey at the controls, the 49ers went 2-14 under Dennis Erickson. Both wins came in overtime over the Cardinals, who won six games that year. San Francisco's minus-193 point differential in '04 is the franchise's worst in the Super Bowl era. Despite its Alex Smith and Frank Gore picks in 2005, it took the franchise several years to craft a rebuild.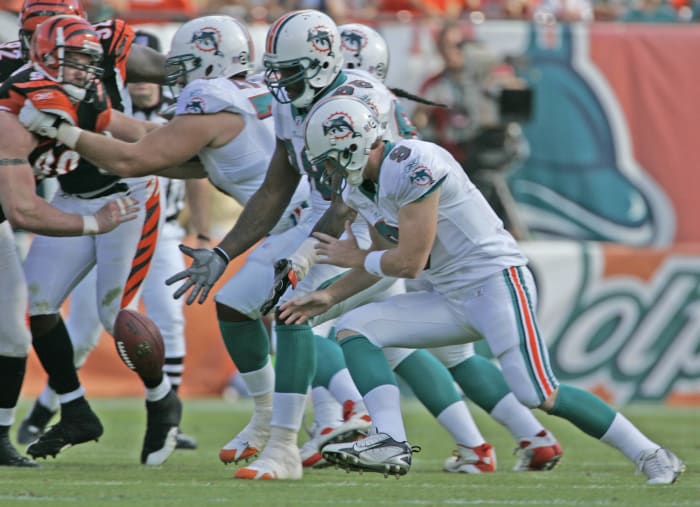 Gary Rothstein-Icon Sportswire
The Dolphins (1-15) required an overtime walk-off touchdown to avoid stealing the 2008 Lions' thunder. The Nick Saban-era Dolphins whiffed badly at quarterback, botching a Drew Brees pursuit and signing Daunte Culpepper. The '07 team barely tried; the result reflected it. A second ugly-looking Trent Green concussion left Cleo Lemon and John Beck at the helm. The Dolphins ended up losing to the Culpepper-led Raiders when the ex-Viking totaled 75 passing yards and two INTs. Hall of Famer Jason Taylor's 11 sacks were irrelevant in Cam Cameron's one-and-done season. The Tony Sparano- Chad Pennington pair had Miami in the 2008 playoffs.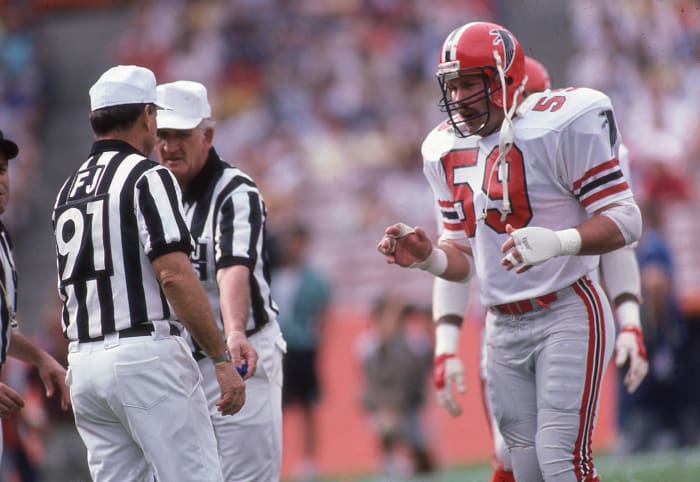 Owen C. Shaw-Getty Images
The Falcons green-lighting a second Marion Campbell head-coaching stint did not work out. Swamp Fox 2.0's first season unfolded strangely. The Falcons (3-12) started five quarterbacks but had an All-Pro O-lineman (right guard Bill Fralic) and saw Gerald Riggs also make a Hawaii trip. Atlanta ranked last on offense and defense but beat eventual Super Bowl champion Washington a week before the players' strike. The Falcons' scabs won a game; their full-timers went 2-10 and were outscored by 22 points per contest. Campbell still lasted two more seasons.
Jeff Moffett-Icon Sportswire
Roster-wise, this team does not belong here. The Chiefs sent six players to the 2012 Pro Bowl, including Jamaal Charles and Justin Houston. And the 2013 Chiefs, equipped with the newly arrived Andy Reid-Alex Smith duo, finished 11-5 and began the ascent that launched them to the NFL mountaintop. But Kansas City's Scott Pioli-Romeo Crennel power structure ran a semi-talented 2012 team into the ground. The Chiefs finished 2-14 and were outscored by a franchise-record 214 points. Matt Cassel and Brady Quinn combined for eight TD passes. One of the Chiefs' wins came a day after Jovan Belcher's horrifying murder-suicide.
5 of 25
21. 2011 St. Louis Rams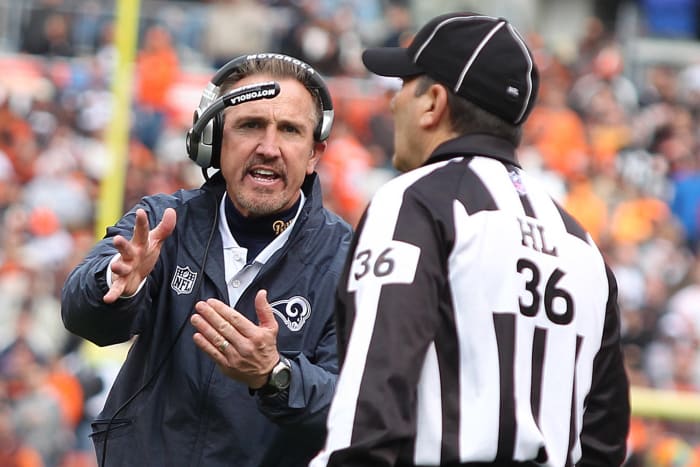 Aaron Josefczyk-Icon Sportswire
Issues with other non-Patriots franchises displayed Josh McDaniels' bigger-picture issues; this season is his biggest production black mark. The one-and-done Rams offensive coordinator oversaw a unit that threw nine TD passes. This happened despite 2010 Offensive Rookie of the Year Sam Bradford starting 10 games. This Rams edition (2-14) was not even the worst of Steve Spagnuolo's three St. Louis squads, but it ranked last in scoring (two 20-point games all year) and 26th defensively. Steven Jackson somehow still rushed for 1,145 yards. Jeff Fisher, jokes and all, elevated the Rams from this disastrous place beginning in 2012.
6 of 25
20. 2000 San Diego Chargers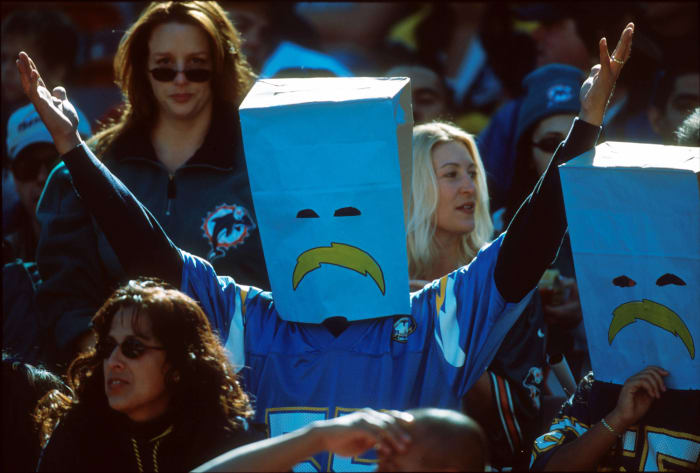 John W. McDonough-Icon Sportswire
These Chargers nearly beat the 2008 Lions to the 0-16 punch. The Ryan Leaf-saddled team needed a game-winning field goal to beat a Chiefs team starting a backup quarterback (44-year-old Warren Moon) to avoid an 0-fer. These Bolts rostered Junior Seau and Rodney Harrison and lost eight one-score games, helping Mike Riley receive a third season as head coach. But this was the end of the line for Leaf, the 1998 No. 2 overall pick who threw 18 INTs in 11 games. The Chargers cut him months later and used their No. 1 draft slot to trade down and acquire LaDainian Tomlinson and Drew Brees. Good came out of this mess.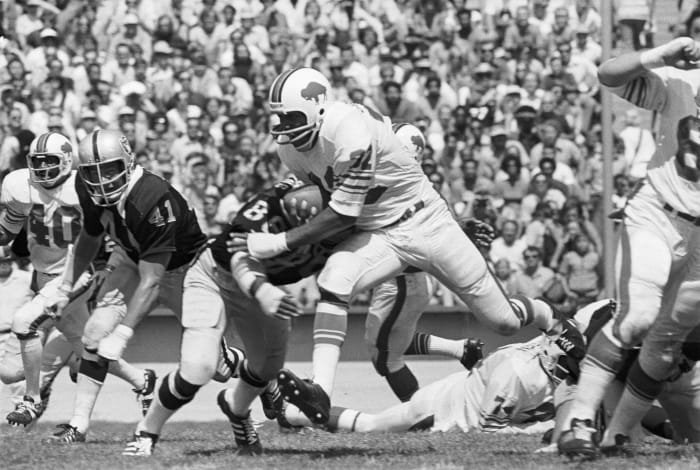 Bettmann-Getty Images
Although the Bills had O.J. Simpson and talented wideouts Haven Moses and Marlin Briscoe, they went 1-13 — the worst record in franchise history. An offseason trade of defensive lineman Ron McDole to Washington caused a rift between coach John Rauch and owner Ralph Wilson, leading to Rauch's summer resignation. Replacement Harvey Johnson, who went 1-10-1 as a Bills interim HC in 1968, did not fare well. Buffalo ranked last offensively and defensively. Dennis Shaw finished with an 11-26 TD-INT ratio, and Simpson ended a third straight season under 800 rushing yards. Lou Saban's 1972 return helped lead Buffalo out of this hole.
8 of 25
18. 1982 Baltimore Colts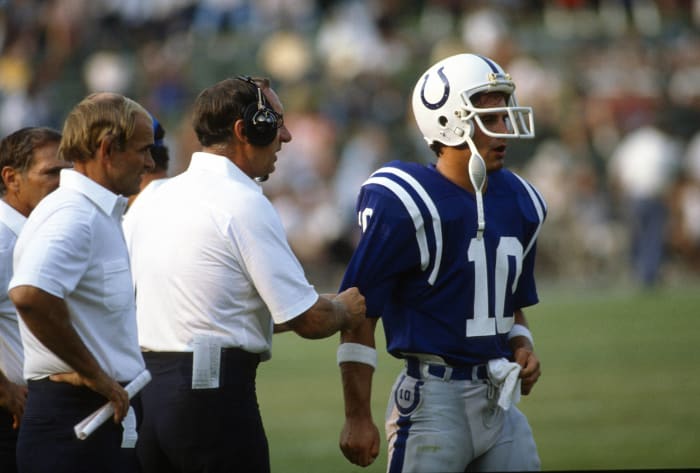 Focus on Sport-Getty Images
One of the NFL's most quietly miserable stretches featured the post-merger era's second winless season. These Colts went 0-8-1, and while they might have won a game had a strike not intervened, their minus-123 point differential moves to minus-246 when extrapolated to a full season. The Colts used Mike Pagel as their starter throughout, with No. 4 overall pick Art Schlichter beginning his run as a notorious QB bust. Frank Kush's first Colts team was so unappealing it prompted John Elway to deploy his infamous baseball leverage play to avoid playing in Baltimore in 1983. The Colts left for Indianapolis in 1984.
9 of 25
17. 2006 Oakland Raiders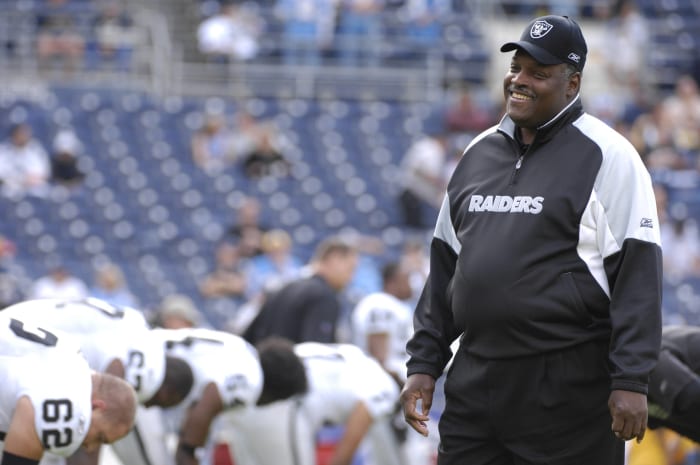 Matt A. Brown-Icon Sportswire
Two Hall of Famers were on this team; it mattered not. Although Warren Sapp was near the end, the Raider defense ranking third in yards allowed prevented this squad from "Worst team ever" discussions. An unenthused Randy Moss was a non-factor on an offense that scored 10.5 points per game — the second-worst figure this century. A floundering coaching search led Al Davis to rehire Art Shell, who had not coached in six years. Shell's offensive coordinator hire, Tom Walsh, had not coached in the NFL since 1994. The Raiders did not recover in 2007 when Davis traded Moss to the Patriots and drafted JaMarcus Russell.
Kidwiler Collection/Diamond Images-Getty Images
This veers into a strange place, at least compared to the "everything is terrible" genre that comprises much of this list. These Patriots beat eventual NFC champion Washington to move their record to 2-1. Then, the rollercoaster malfunctioned. New England (3-11) lost its next nine, bottoming out against Super Bowl VII's other entrant — a 52-0 loss to the unbeaten Dolphins, leading to coach John Mazur's resignation — and finished the season with a minus-254 point differential. That ranks as the sixth-worst all-time mark. Jim Plunkett finished with an 8-25 TD-INT ratio. The Pats did use this disaster to draft Hall of Fame guard John Hannah.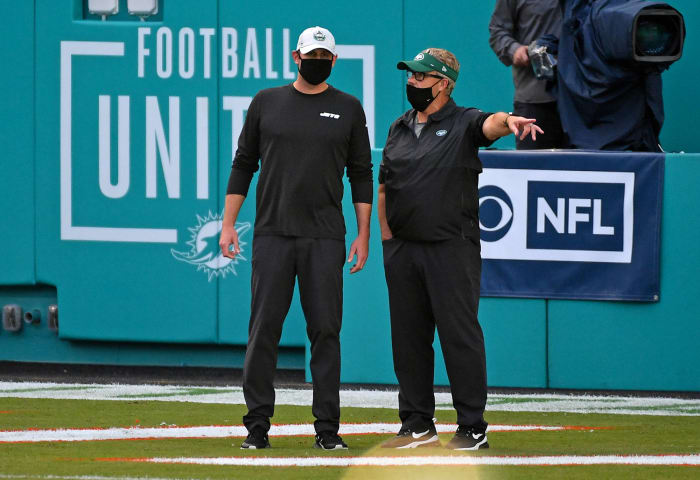 Jasen Vinlove-USA TODAY Sports
Thanks to a stunningly bad Rams showing, the Jets avoided an 0-16 season. But they have been outscored by 207 points. The trade of Jamal Adams and C.J. Mosley's opt-out wounded the Jets defense, and Year 2 of the Adam Gase-Sam Darnold pairing tanked former top-five pick's stock. Gregg Williams' stupefying all-out blitz call cost the Jets a win over the Raiders, leading to his immediate ouster. The Jets' upset in L.A. will likely cost the franchise Trevor Lawrence, but in their defense, it is extraordinarily rare for a team to win one game and not hold the following year's No. 1 pick. A slightly less horrid Jaguars team is playing for keeps.
12 of 25
14. 1976 New York Jets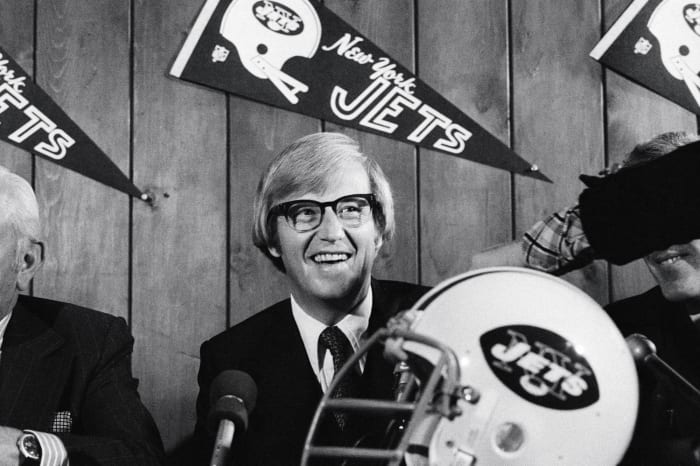 Bettmann-Getty Images
It took games against the expansion Buccaneers and the 2-12 Bills to elevate these Jets to a not-historically horrendous-looking 3-11. That is deceiving. New York finished with a franchise-worst (for now) minus-214 differential, and QBs Joe Namath and Richard Todd combined for seven TD passes and 28 INTs. Lou Holtz lasted 11 games before leaving for Arkansas, giving Bobby Petrino a clear blueprint. Holtz composed a fight song and tried other college gimmicks before later admitting the NFL was not for him. This was Namath's 12th and final Jets season; the franchise shipped him to the Rams in 1977.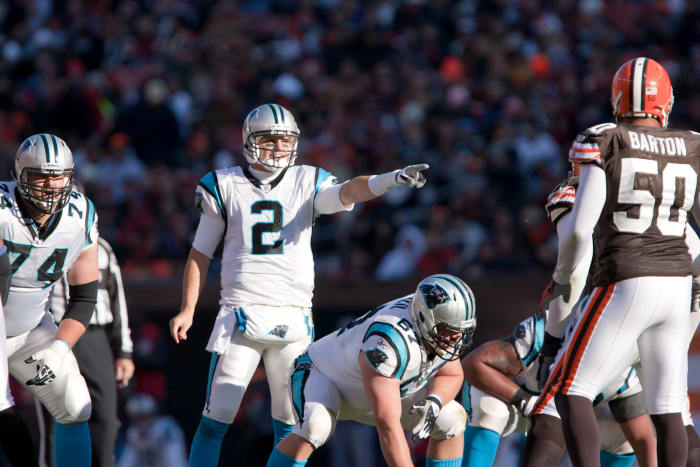 Frank Jansky/Southcreek Global/Zuma Press-Icon Sportswire
In between the Jake Delhomme and Cam Newton eras, the Panthers went through a rough autumn. Forced to use one-time elite recruit Jimmy Clausen and future QB2 mainstay Matt Moore, Carolina finished with a minus-212 point differential. These Panthers combined for nine TD passes and had four games with fewer than 80 passing yards. The Panthers (2-14) finished two games worse than anyone else that year. A second-round rookie, Clausen was done as a starter after this season. And former NFC champion coach John Fox was out after nine years. This season led to the Panthers taking Newton atop a loaded 2011 draft. 
Rick Stewart/Allsport-Getty Images
The Buccaneers had access to Bo Jackson and Steve Young in 1986. By 1987, both players were happier in California. Irked at Bucs ownership, Jackson followed through with the John Elway plan by spurning a No. 1 draft pick salary for baseball. Young, a USFL refugee tethered to the Bucs because of the supplemental draft, was forced to pilot a 2-14 team. The Bucs ranked last defensively, allowing 20-plus points in every game, and followed this season up by trading Young to San Francisco and going with 1987 No. 1 pick Vinny Testaverde. The franchise remained woeful for the next decade.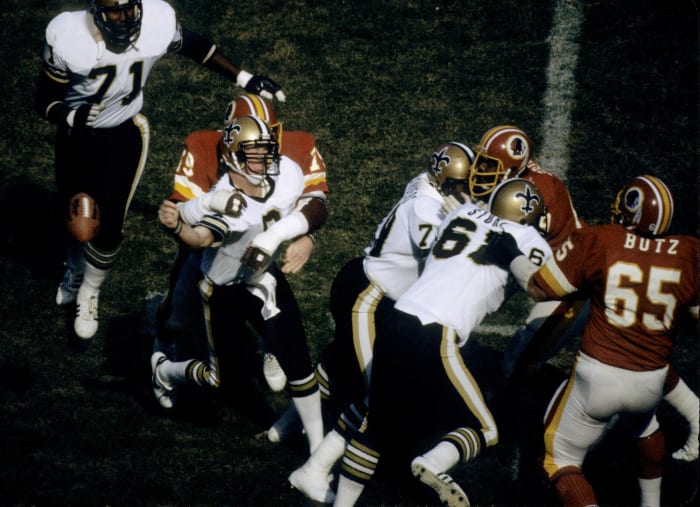 Nate Fine-Getty Images
Archie Manning's career became perhaps the closest NFL equivalent to "Space Jam"-universe Michael Jordan's would-be reality had the Toon Squad not prevailed in that fateful matchup. A quality talent tethered to terrible teams, the Manning patriarch finished in the top 10 in TD passes and passer rating in 1980. New Orleans' defense allowed 487 points — the second-most in the '80s — and these Saints, a year away from George Rogers' arrival, had no 400-yard rusher. The Saints started 0-14 and were a game-winning Tony Galbreath TD away from 0-16. In Week 14, they blew a 28-point lead — still a regular-season record — to the Joe Montana-led 49ers. 
16 of 25
10. 2009 St. Louis Rams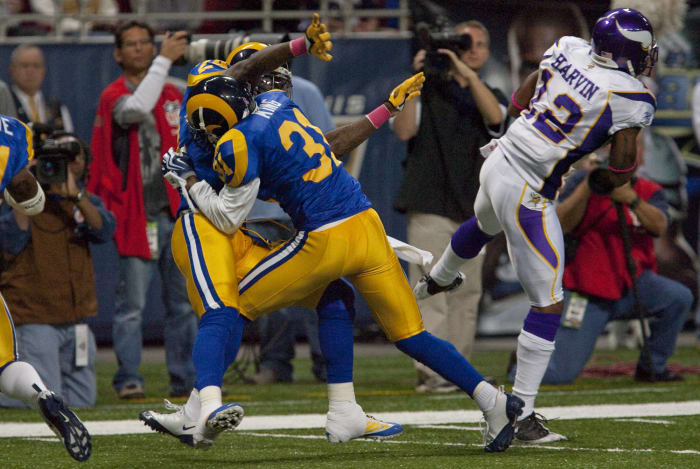 Icon Sportswire
Steve Spagnuolo needed his 2019 reconstruction of the Chiefs defense to rehabilitate his career. He submitted one of the worst head-coaching tenures in NFL history . Spags' Rams debut ended with a 1-15 record, complete with a 21st century-worst minus-261 differential. Former playoff starting QB Marc Bulger's tenure ended in 2009, with an injury ushering in less effective backups Kyle Boller and Keith Null. These Rams produced more shutout losses than 20-point games, but the indefatigable Steven Jackson gained 1,416 rushing yards. The Rams did pick the right time to bottom out; the Lions' futility overshadowed this descent.
17 of 25
9. 1973 Houston Oilers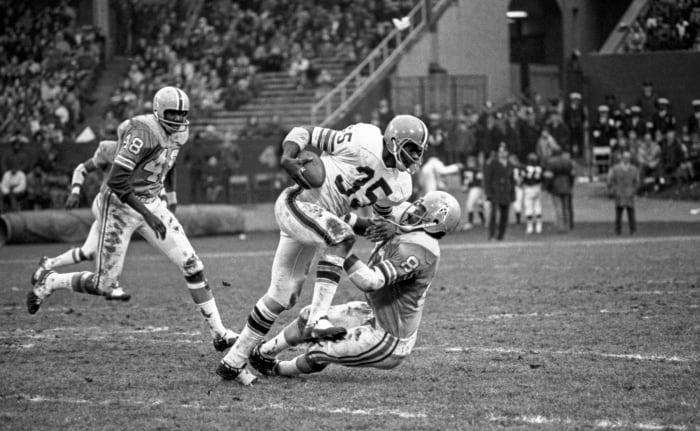 Ron Kuntz Collection/Diamond Images-Getty Images
The Oilers erred upon hiring coveted college coach Bill Peterson in 1972, beginning a 2-24 span. Peterson made it only through Week 5 in '73 — the worst season Houston history. The Oilers traded future Hall of Fame safety Ken Houston that year but still had fellow Canton-bound defender Elvin Bethea. They gave up 31.9 points per game — fourth-worst in the Super Bowl era — and the Dan Pastorini-piloted offense needed a game-winning drive to beat the 4-10 Colts to avoid an 0-14 slate. Even offensive mastermind Sid Gillman, Peterson's interim replacement after five games, could not save this bunch.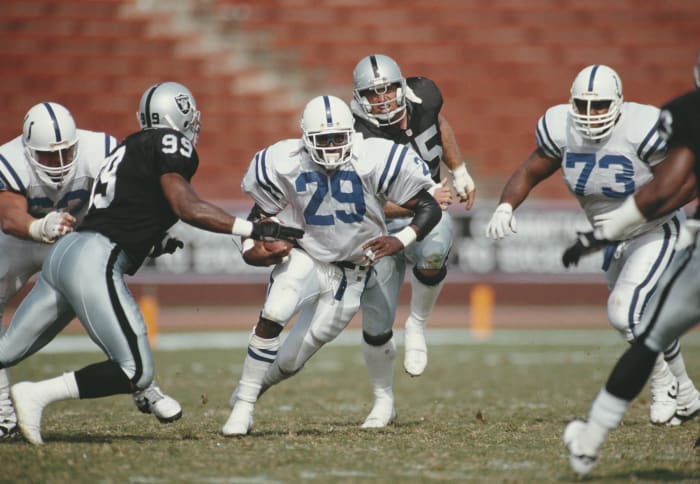 Stephen Dunn/Allsport-Getty Images
The Colts' 1987 Eric Dickerson trade helped them to the playoffs that season, but the relocated franchise tailed off into the '90s. Their nadir came when they scored the second-fewest points in the 16-game era (143). Indianapolis (1-15) scored double-digit points five times and only did so once during Ron Meyer's nine games. The Colts won in interim HC Rick Venturi's debut, beating the playoff-bound Jets 28-27. Second-year QB Jeff George started every game, providing a good indication the mega-trade the Colts made to land him was a mistake. This was Dickerson's final Colts season; the team traded George in 1994.
19 of 25
7. 1981 Baltimore Colts
Focus on Sport-Getty Images
An owner stealing play-calling responsibilities, teammates feuding, and the end of former MVP Bert Jones' Colts tenure highlighted a full-on freefall for the then-Maryland-based franchise. After going 7-9 during the 1980 season, the Colts set an NFL record by allowing 533 points in '81. Mike McCormack's team went 2-14, losing 14 straight games in between Week 1 and Week 16 victories. Baltimore set a then-NFL record with just 13 sacks, and the Colts' minus-274 differential still ranks second all-time. Within the next two-plus years, owner Bob Irsay traded John Elway against his GM's wishes and followed through on his threats to move the Colts.
Scott R. Galvin-USA TODAY Sports
The 0-16 Browns' minus-176 point differential is merely the franchise's fourth-worst since rebooting. But Hue Jackson's team finished three games back of the field in 2017. Ownership tried a new-age rebuild approach, the most blatant tank effort a team has attempted in this era, and Jackson was left with DeShone Kizer at quarterback. The future journeyman backup led the NFL with 22 INTs, and while Gregg Williams' defense was not as big of a problem, the future Jets DC was present for this winless mess too. Owner Jimmy Haslam fired de facto GM Sashi Brown that December. Successor John Dorsey is already gone.
21 of 25
5. 1999 Cleveland Browns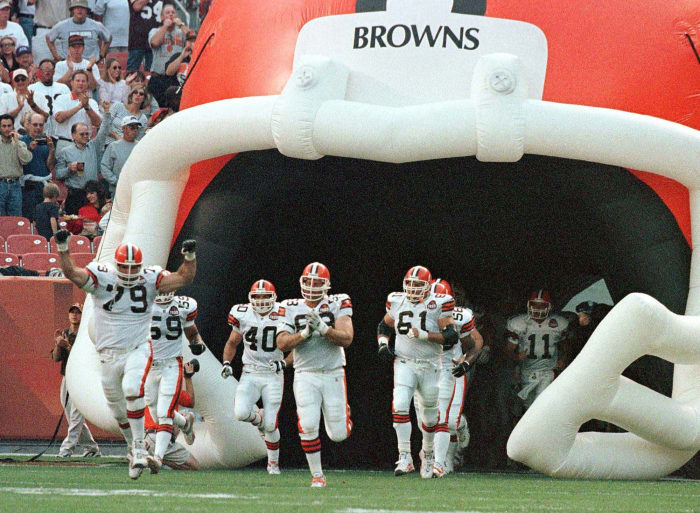 DAVID MAXWELL/AFP-Getty Images
The initial Browns 2.0 squad was worse. After the Jaguars and Panthers received smoother expansion on-ramps in 1995, the NFL landscape was not as friendly for the Browns' return. The result: a 2-14 season that flirted aggressively with 0-16. Given the other teams' dregs in the '99 expansion draft, the Browns gained 40 yards and recorded two first downs in their opener — a 43-0 loss to the Steelers. The Browns started 0-7, beat the Saints on a Tim Couch-to-Kevin Johnson Hail Mary, and won the Steelers rematch two weeks later on a game-winning field goal. Opponents outscored this Cleveland squad by 220 points. 
22 of 25
4. 2000 Cleveland Browns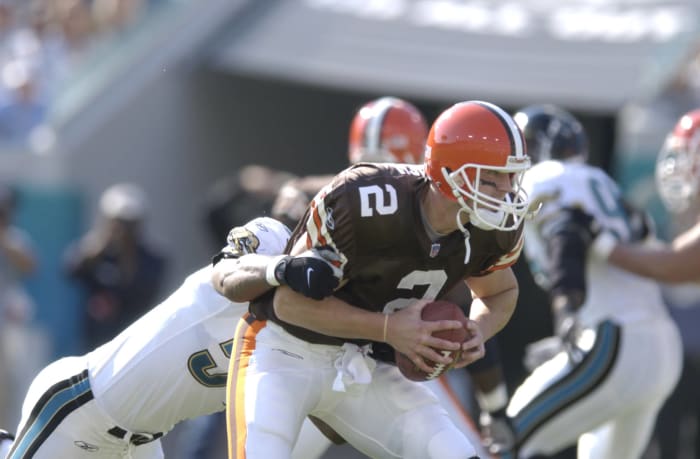 Stephen Morton-Icon Sportswire
It somehow worsened in Year 2, despite the Browns having another No. 1 overall pick (defensive end Courtney Brown). This Cleveland edition scored a 21st century-low 161 points. Part of the reason behind this: a Couch injury forced Doug Pederson to make eight starts. Couch threw seven TD passes in seven starts; Pederson managed two. Five of those games ended without Browns TDs. This team also endured four shutouts. Its 3-13 mark provides somewhat of a floor, but Browns 2.0's sophomore season has a sneaky case as the second-worst team ever. The Browns fired head coach Chris Palmer at the season's end.
Allen Fredrickson-Icon Sportswire
Matt Millen's final season provided a culmination of the worst Lions period, with the Rod Marinelli-coached team finishing with a minus-249 differential and sticking the long-avoided 0-16 landing. Calvin Johnson managed a 1,300-yard season, but an evolving QB circuit — long-post-prime Daunte Culpepper, Jon Kitna, and Dan Orlovsky — limited much else from being accomplished offensively. Each member of that trio lost at least four games, and Orlovsky's end zone exit proved key in a two-point Vikings loss. Future Super Bowl starter Cliff Avril was also present for this, but Marinelli's defense allowed 48 more points than anyone else. 
24 of 25
2. 1990 New England Patriots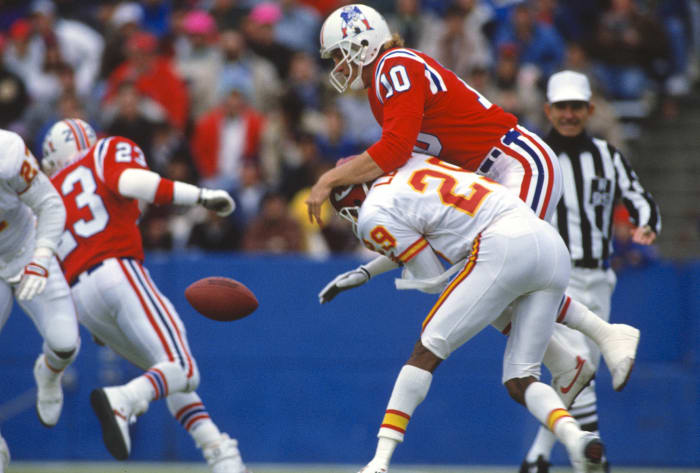 Focus on Sport-Getty Images
As a 13-year-old Tom Brady rooted on a hopeful 49ers three-peat, his future franchise was the NFL's worst at the 1990s' outset. The second-longest-tenured QB in Patriots history — Steve Grogan — unfortunately concluded his career on this 1-15 squad. One-and-done Rod Rust won his debut, lost 15 straight, and the Pats finished with the third-worst margin of defeat (minus-265) ever. Grogan started in the lone victory; ex-Raider first-rounder Marc Wilson was present for six losses in what became his final season. The Pats only fielded the NFL's second-worst defense, however. Most of this roster was gone by Bill Parcells' 1993 arrival. 
25 of 25
1. 1976 Tampa Bay Buccaneers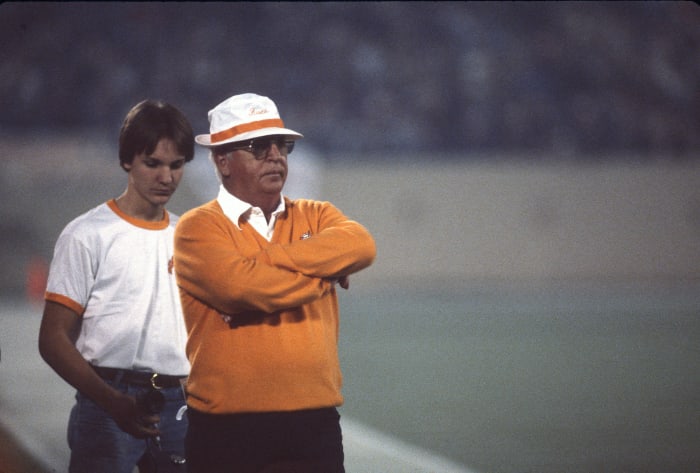 Focus on Sport-Getty Images
Enhanced by soundbite machine John McKay's presence, the expansion Bucs effort will live on as long as the NFL does. The ex-USC coach's two-plus months of two-a-day practices set a bad tone for Tampa Bay's inaugural season, with injuries further weakening the NFL's worst modern-era roster. The 0-14 Bucs' minus-287 differential is the worst ever. The Steve Spurrier-quarterbacked team came within one score just twice — once to the expansion Seahawks — and lost five shutouts. The Bucs did not notch their first win until Week 13 of 1977, but McKay's rebuilt defense did lift the '79 team to the NFC title game.
Sam Robinson is a Kansas City, Mo.-based writer who mostly writes about the NFL. He has covered sports for nearly 10 years. Boxing, the Royals and Pandora stations featuring female rock protagonists are some of his go-tos. Occasionally interesting tweets @SRobinson25.