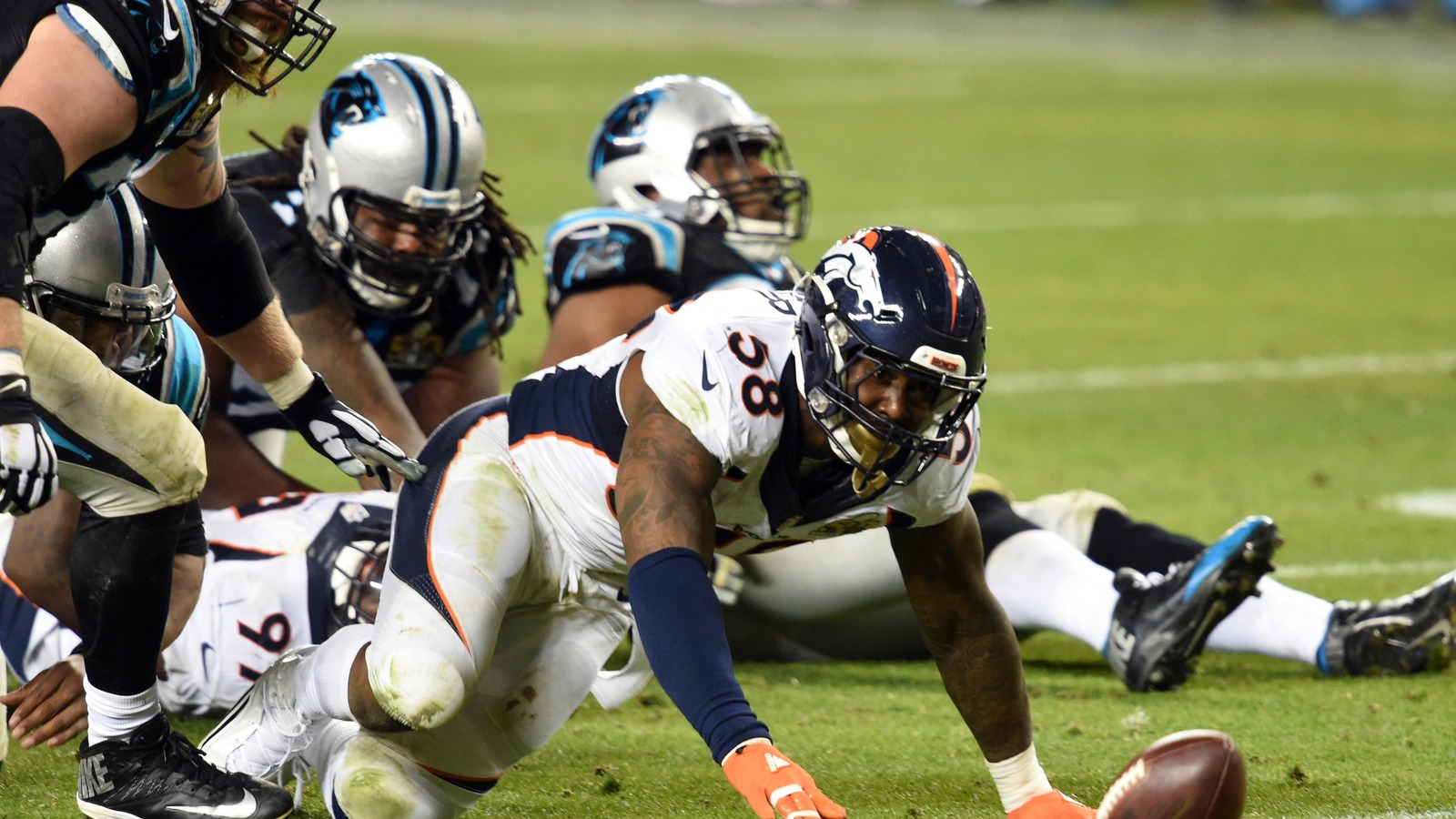 The saying goes that defense wins championships and most years that appears to be the case. While the Super Bowl MVP typically goes to an offensive player, defenders do earn the honors on occasion, and even when they don't certain defensive players always rise to the occasion.

Here are the best individual defensive performances in Super Bowl history.
1 of 40
DeForest Buckner: Super Bowl LIV
Matthew Emmons / USA Today Sports Images
Buckner's 49ers came on the losing end of a 31-20 game against the Chiefs in Super Bowl LIV, but the defensive lineman still had a fantastic game with 1.5 sacks, three quarterback hits, and six tackles. It would be Buckner's final game with San Francisco, as he was traded to Indianapolis following the season.
2 of 40
Stephon Gilmore: Super Bowl LIII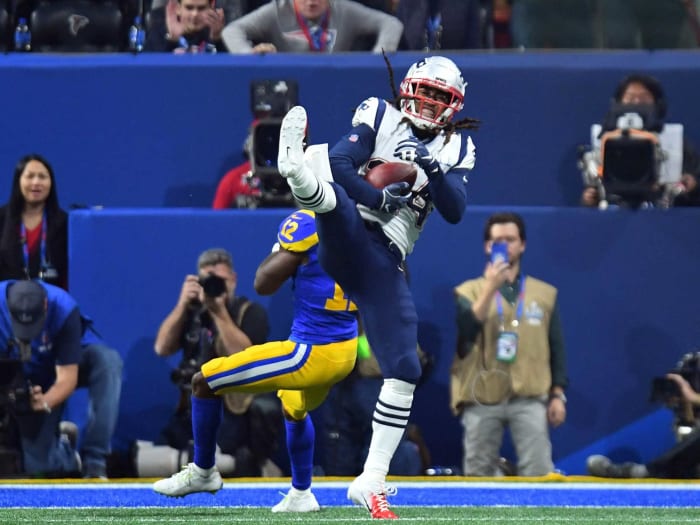 Christopher Hanewinckel / USA Today Sports Images
The Patriots suffocated the Rams vaunted offense in Super Bowl LIII, led by cornerback Stephon Gilmore's great play. He had one interception, one forced fumble, three passes defensed and five tackles in the 13-3 win.
3 of 40
Robert Alford: Super Bowl LI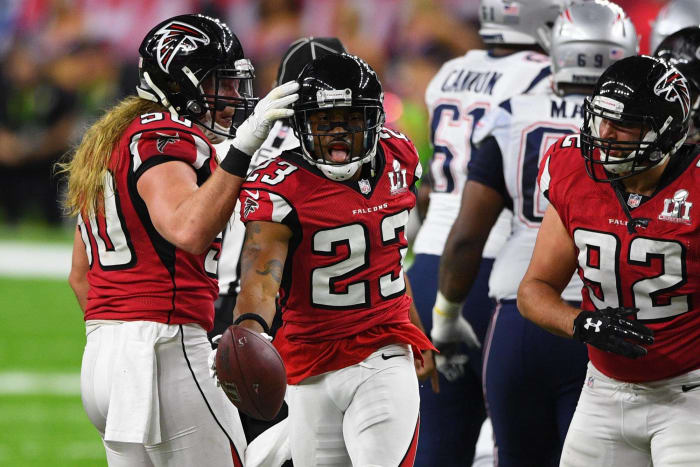 Bob Donnan / USA TODAY Sports
While it might be surprising that any defender played well in a 34-28 shootout that went to overtime, one Atlanta Falcon really did shine despite his team's historic collapse. Even in a losing effort vs. the Patriots, cornerback Ricardo Alford had a heck of a game, notching an 82-yard pick-six in the second quarter to give the Falcons a 21-0 lead. He also had nine tackles and recovered a fumble.
4 of 40
Von Miller: Super Bowl 50
Streeter Lecka / Getty Images
Miller won MVP of Super Bowl 50 in a dominant performance by the Denver defense against Carolina. He had 2.5 sacks, five tackles and two forced fumbles.
5 of 40
Luke Kuechly: Super Bowl 50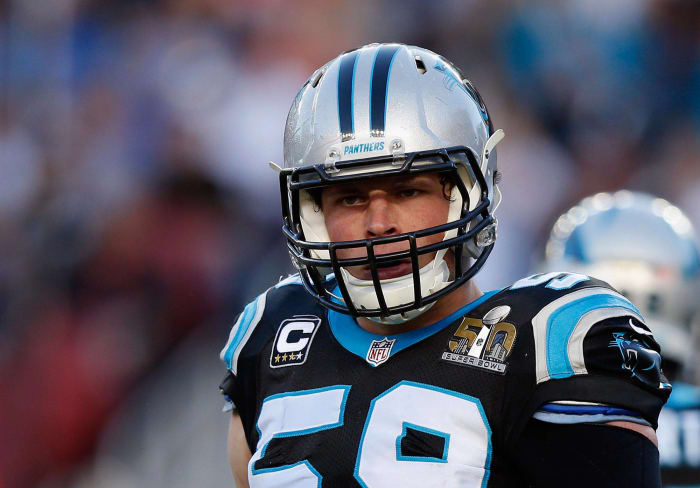 Ezra Shaw / Getty Images
Kuechly regularly posted eye-popping stats when he was on the field, and that was the case in Super Bowl 50. Carolina's defensive leader had seven tackles and one sack despite the team's loss to the Broncos. It will be his only Super Bowl appearance, as he recently announced his retirement.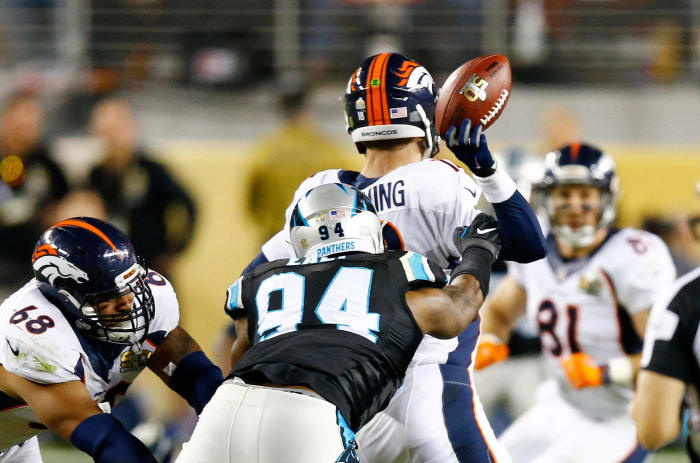 Al Bello / Getty Images
The relatively unknown Ealy had his coming-out party in the Super Bowl for the Panthers. The defensive end had three sacks of Peyton Manning in Super Bowl 50, along with a forced fumble and a fumble recovery.
7 of 40
Malcolm Butler: Super Bowl XLIX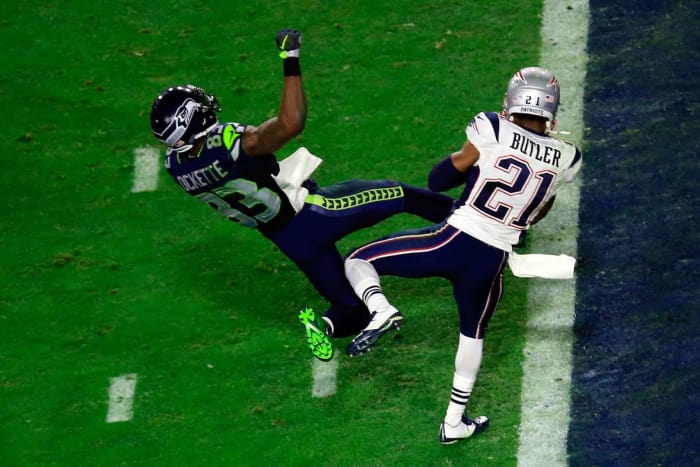 Jamie Squire / Getty Images
A relatively unknown rookie, Butler made the play of his life with a gutsy pickoff of Russell Wilson at the goal line in Super Bowl XLIX. The interception won the game for the Patriots, while the Seahawks were heavily criticized for not handing off the ball to running back Marshawn Lynch.
8 of 40
Bobby Wagner: Super Bowl XLIX
Focus on Sport / Getty Images
Perhaps the most underrated player on the Seattle defense, Wagner had a huge game in Super Bowl XLIX with 10 tackles alongside teammate K.J. Wright.
9 of 40
K.J. Wright: Super Bowl XLIX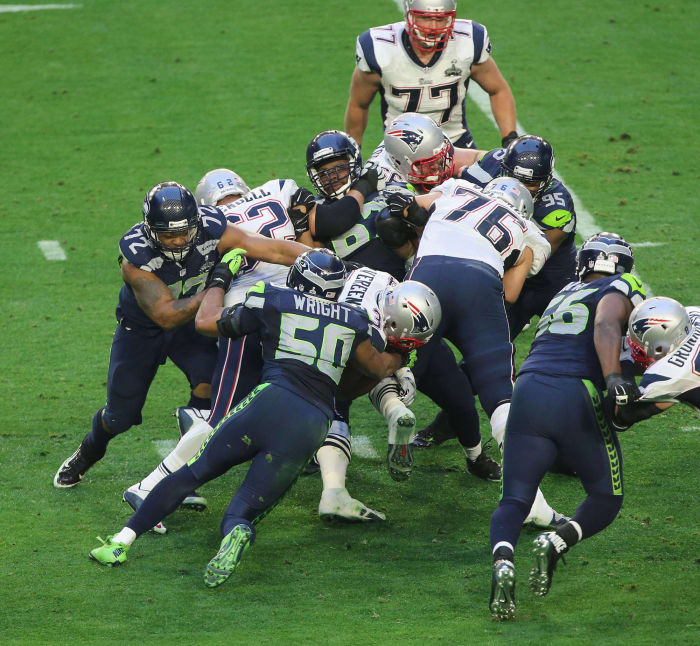 Al Pereira / Getty Images
Wright had 10 tackles in Super Bowl XLIX. Seattle fell just short in the game to the Patriots, 28-24.
10 of 40
Malcolm Smith: Super Bowl XLVIII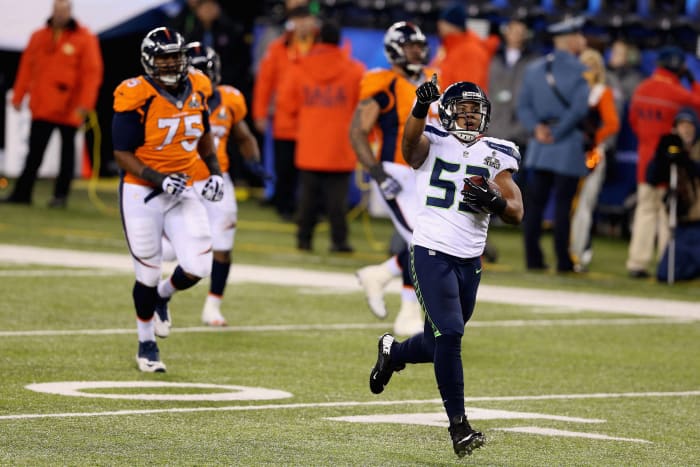 Christian Petersen / Getty Images
A complementary linebacker for the Seahawks in Super Bowl XLVIII, Smith won game MVP after running back a Peyton Manning pass 69 yards for a touchdown and also recovering a fumble.
11 of 40
Nick Collins: Super Bowl XLV
Mike Ehrmann / Getty Images
Green Bay defeated Pittsburgh by a thin margin, winning 31-25 in Super Bowl XLV. Nick Collins had a 37-yard interception return for a touchdown in the first quarter, giving Green Bay an early 14-point lead.
12 of 40
Tracy Porter: Super Bowl XLIV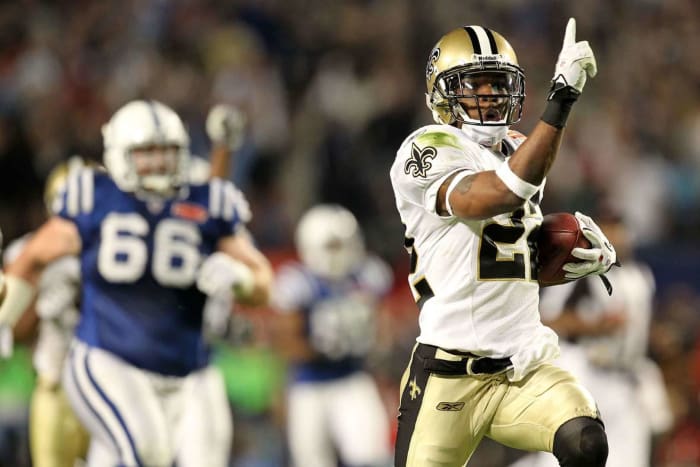 Ronald Martinez / Getty Images
Porter has been a journeyman corner in the NFL since entering the league in 2008. Saints fans will always be thankful for his contribution in Super Bowl XLIV, when he picked off Peyton Manning and returned the pass 74 yards for a touchdown.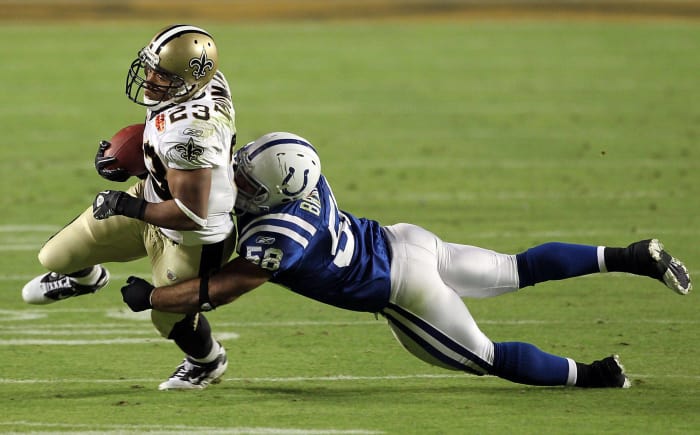 Ezra Shaw / Getty Images
Despite a losing effort, Brackett was everywhere in Super Bowl XLIV. He finished the game with a record 12 tackles against the Saints.
14 of 40
James Harrison: Super Bowl XLIII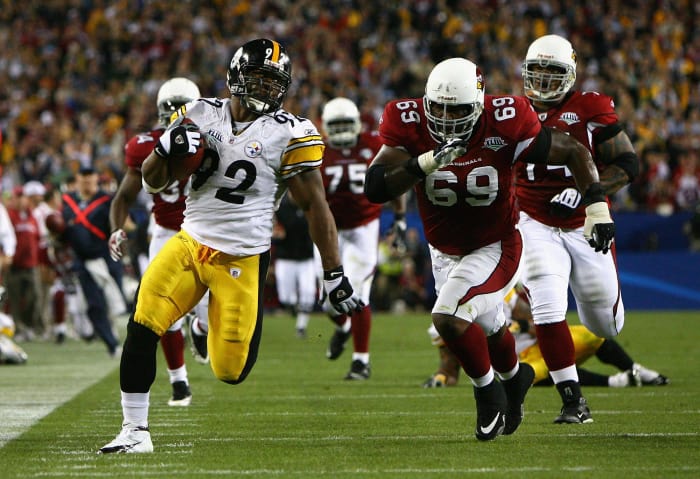 Al Bello / Getty Images
Harrison made one of the biggest defensive plays in Super Bowl history, returning an interception 100 yards for a Steelers touchdown as time expired at the end of the first half. Pittsburgh ultimately defeated Arizona, 27-23, in Super Bowl XLIII.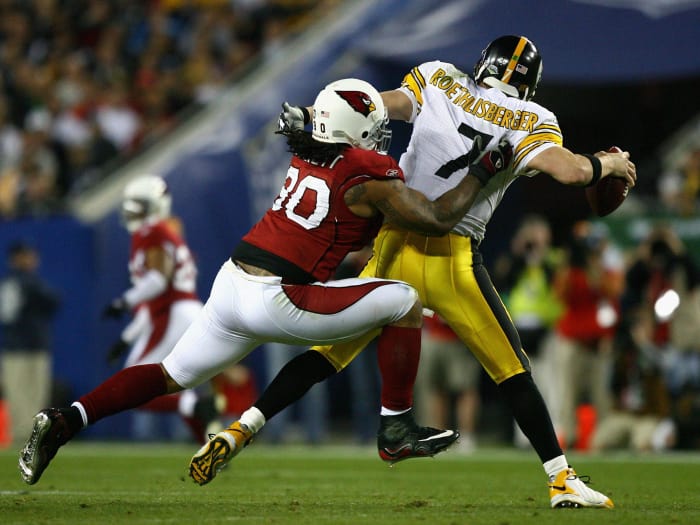 Al Bello / Getty Images
Dockett, a three-time Pro Bowler, had a dominant performance for the Cardinals in Super Bowl XLIII. Despite the losing effort, Dockett finished the game with five tackles and three sacks.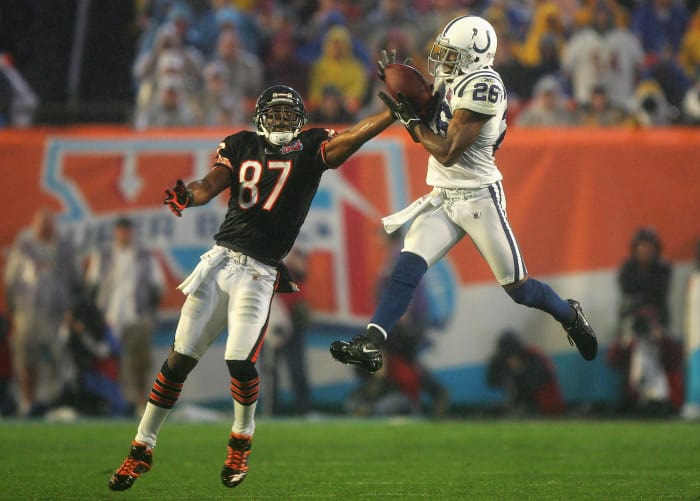 Jed Jacobsohn / Getty Images
Bears quarterback Rex Grossman threw two interceptions in Super Bowl XLI, including a fourth-quarter pick by Hayden that was returned 56 yards for a touchdown. The score sealed the game for Indianapolis in a 29-17 win.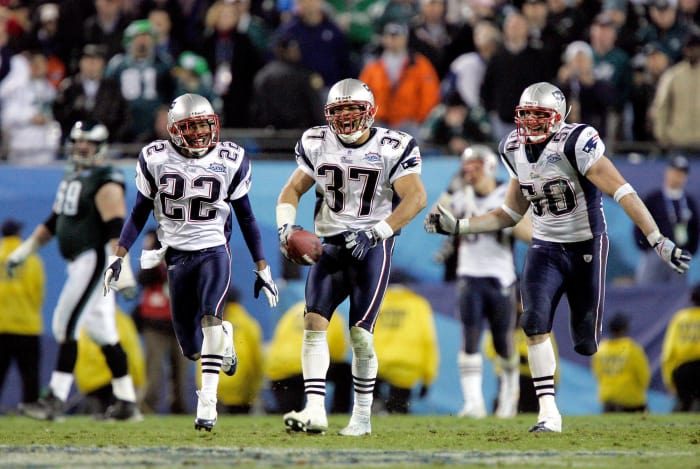 Brian Bahr / Getty Images
Harrison had a huge evening in Super Bowl XXXIX against the Eagles, with two interceptions and one sack of Donovan McNabb in New England's 24-21 win.
Al Bello / Getty Images
The dominant Tampa Bay defense performed up to its reputation in Super Bowl XXXVII, and Jackson won MVP. The safety had two interceptions of Raiders quarterback Rich Gannon.
19 of 40
Dwight Smith: Super Bowl XXXVII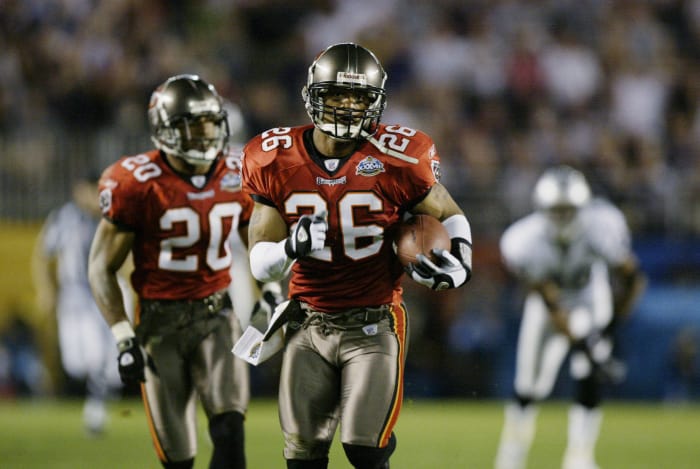 Donald Miralle / Getty Images
Smith was one of two Bucs defensive backs with a pair of interceptions. He ran back both of the pickoffs for touchdowns.
20 of 40
Derrick Brooks: Super Bowl XXXVII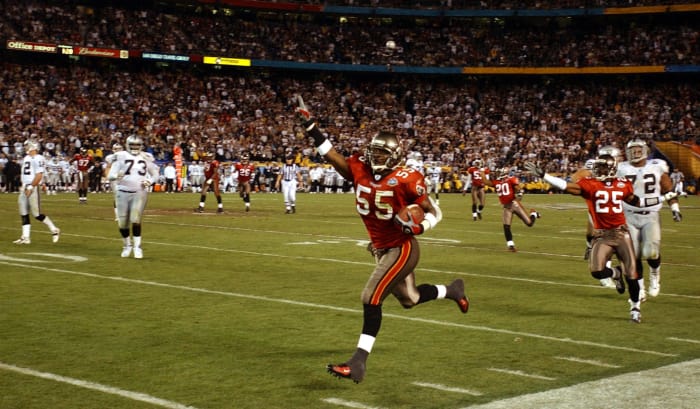 Wally Skalij / Los Angeles Times
A Hall of Fame linebacker, Brooks contributed to Tampa Bay's dominant performance against Oakland in Super Bowl XXXVII with a 44-yard interception return for a touchdown.
21 of 40
Ty Law: Super Bowl XXXVI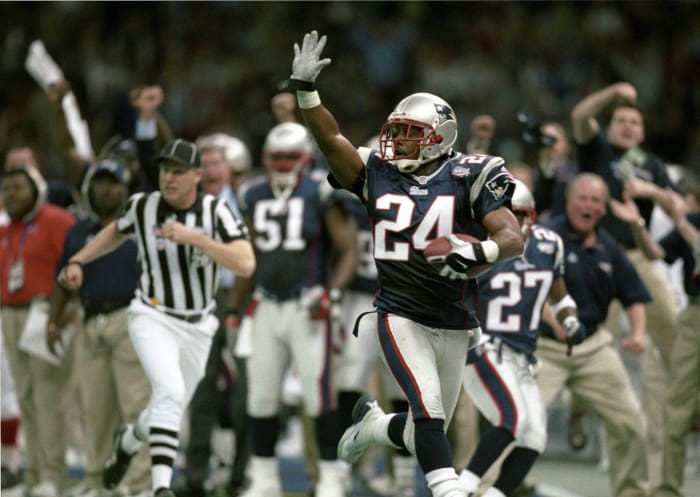 Nancy Kerrigan / Getty Images
A five-time Pro Bowl cornerback, Law led the NFL in interceptions twice during his career. However, none of his other pickoffs was bigger than his interception for a touchdown of Kurt Warner in Super Bowl XXXVI, helping the Patriots pull off a huge upset of the Rams.
22 of 40
Ray Lewis: Super Bowl XXXV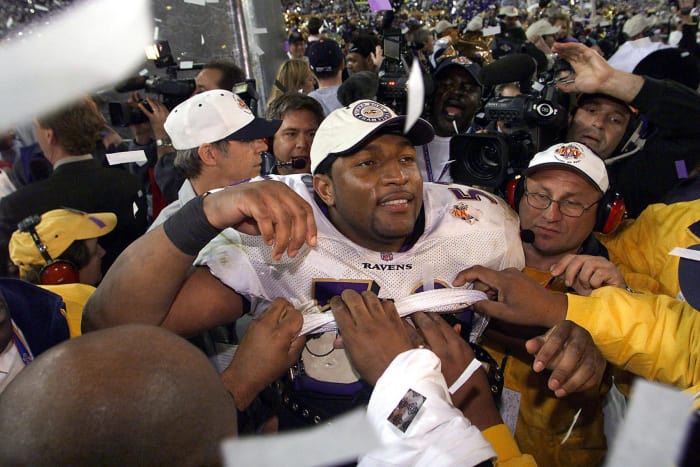 Jeff Haynes / AFP
Lewis was the fitting honoree for Super Bowl XXXV MVP after a dominant performance by Baltimore's defense. He had three tackles and four passes knocked down in the Ravens' 34-7 win over the Giants.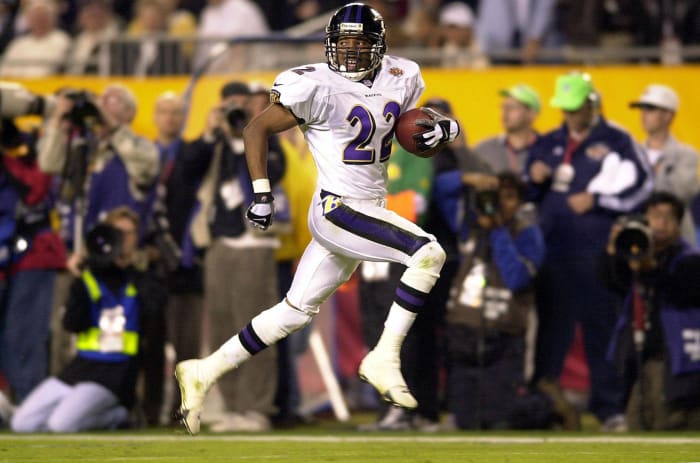 Roberto Schmidt / AFP
Starks was an interception machine in his four seasons with Baltimore. However, none of his interceptions was more significant than his pick in Super Bowl XXXV that he ran back against the Giants. Starks had three interceptions during Baltimore's four-game playoff run in 2000-01.
Tom Hauck / Getty Images
Jones had a productive 12-year career, but he will forever be remembered for one play. He made a touchdown-saving tackle of Kevin Dyson at the goal line to clinch St. Louis' 23-16 win over the Titans in Super Bowl XXXIV.
25 of 40
Darrien Gordon: Super Bowl XXXIII
Allen Kee / Getty Images
Gordon made a huge contribution for the Broncos in Super Bowl XXXIII, returning two interceptions for a total of 108 yards. Denver defeated Atlanta, 34-19.
26 of 40
Reggie White: Super Bowl XXXI
Lutz Bongarts / Bongarts
Arguably the greatest pass rusher ever, White showed why in Super Bowl XXXI against the Patriots. He had three sacks of Patriots quarterback Drew Bledsoe.
27 of 40
Larry Brown: Super Bowl XXX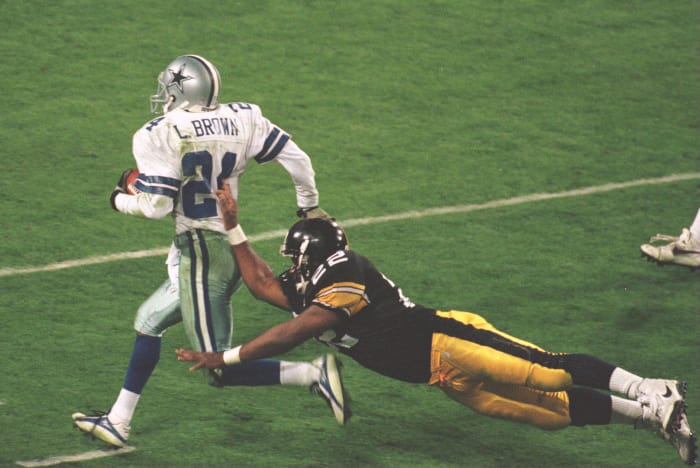 Al Bello / Getty Images
Brown was the surprise hero of Super Bowl XXX with two interceptions of Steelers quarterback Neil O'Donnell. The cornerback won Super Bowl MVP.
28 of 40
Thomas Everett: Super Bowl XXVII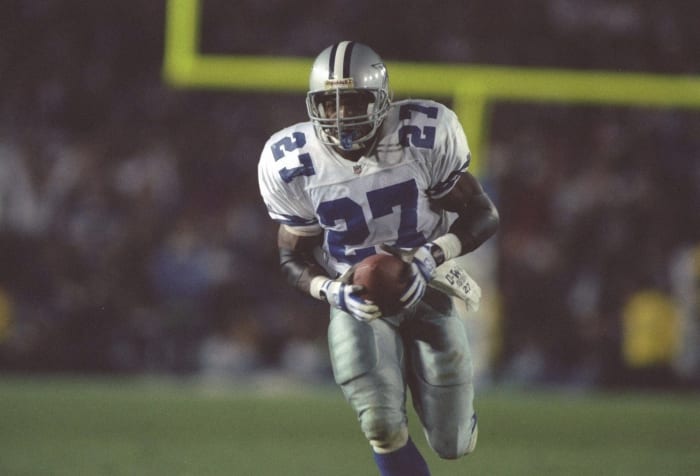 Rick Stewart / Getty Images
Dallas blew out the Bills, 52-17, in Super Bowl XXVII, and Everett made his contributions with two interceptions and one sack for the Cowboys.
29 of 40
Brad Edwards: Super Bowl XXVI
The Washington Post
Bills quarterback Jim Kelly threw four interceptions in Super Bowl XXVI, two to Washington safety Brad Edwards. He helped the Redskins win, 37-24.
30 of 40
Barry Wilburn: Super Bowl XXII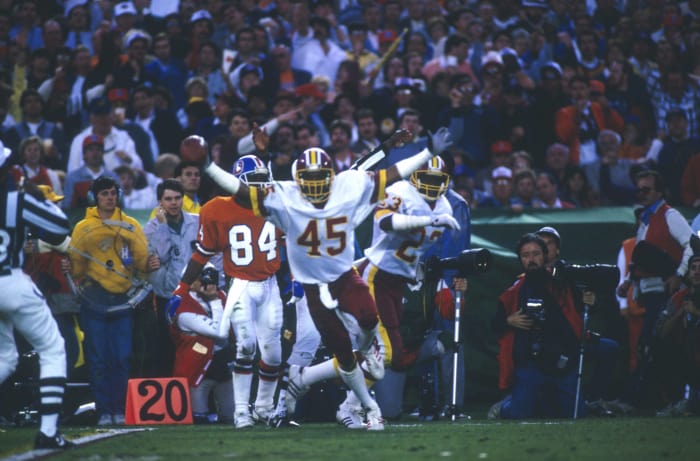 Focus on Sport
Wilburn picked off John Elway twice in Super Bowl XXII, helping Washington to a 42-10 victory over Denver.
31 of 40
Richard Dent: Super Bowl XX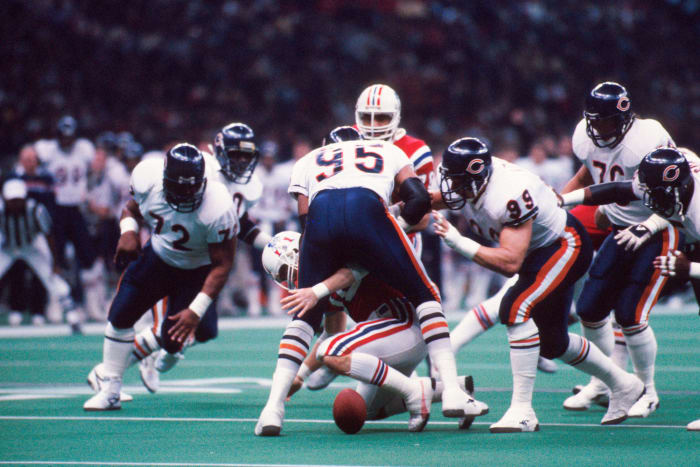 Kidwiler Collection / Diamond Images
Dent was named the MVP of Super Bowl XX after having 1.5 sacks, two forced fumbles and one blocked pass in Chicago's 46-10 win over New England.
32 of 40
Reggie Phillips: Super Bowl XX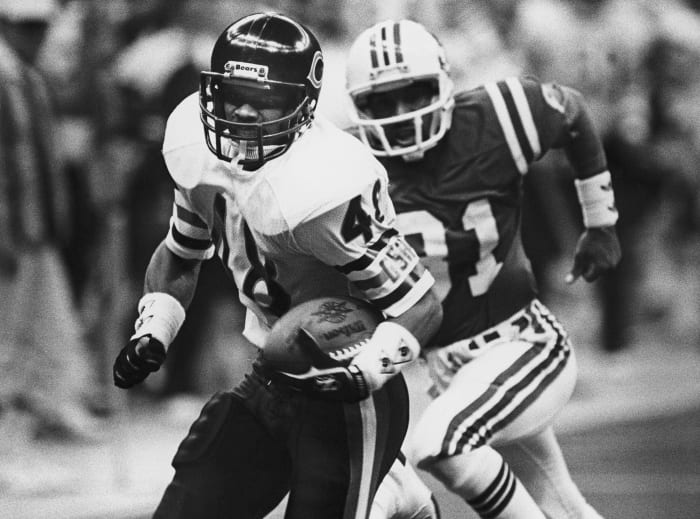 Jonathan Daniel / Getty Images
Phillips played only four seasons in the NFL, but he will forever be remembered for his interception for a touchdown in Super Bowl XX for the vaunted 1985 Bears defense.
33 of 40
Jack Squirek: Super Bowl XVIII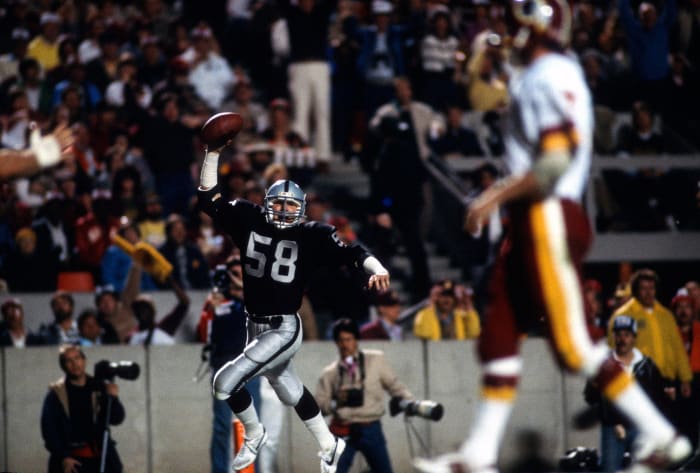 Focus on Sport / Getty Images
Squirek made a famous play for the Raiders in Super Bowl XVIII, picking off Joe Theismann's screen pass for a touchdown just before halftime.
34 of 40
Rod Martin: Super Bowl XV
Focus on Sport / Getty Images
Martin still holds the record for most interceptions in a Super Bowl with three, as the Raiders had their way against the Eagles in Super Bowl XV with a 27-10 win.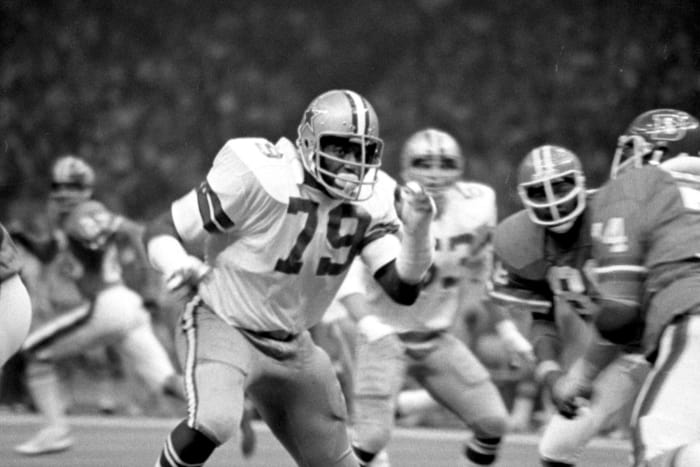 Diamond Images
Martin was co-MVP of Super Bowl XII alongside Randy White. Martin had two sacks in the game and affected another pass that led to an interception in the Cowboys' 27-10 win over Denver.
36 of 40
Randy White: Super Bowl XII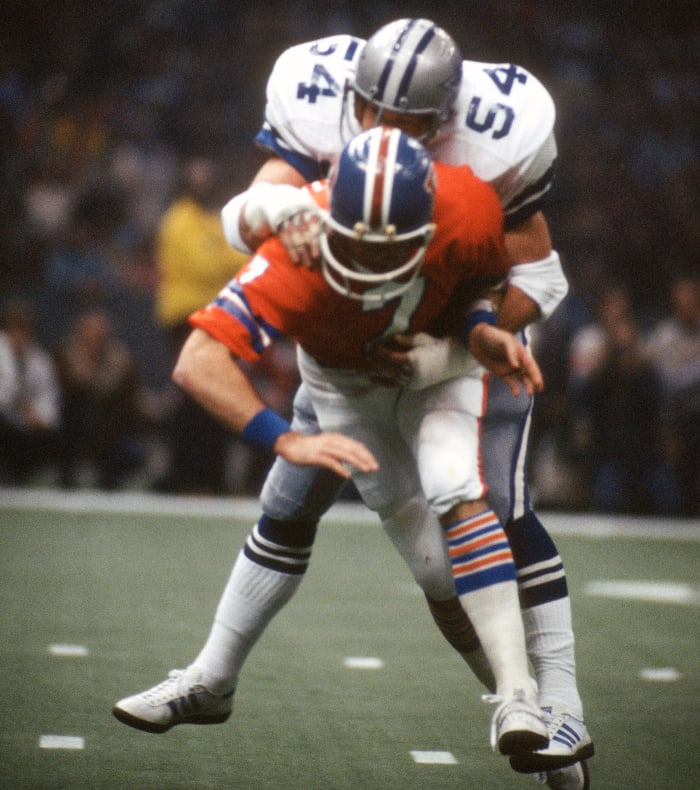 Focus on Sport / Getty Images
White joined Harvey Martin as the co-MVP of Super Bowl XII with one sack in the game.
37 of 40
Willie Brown: Super Bowl XI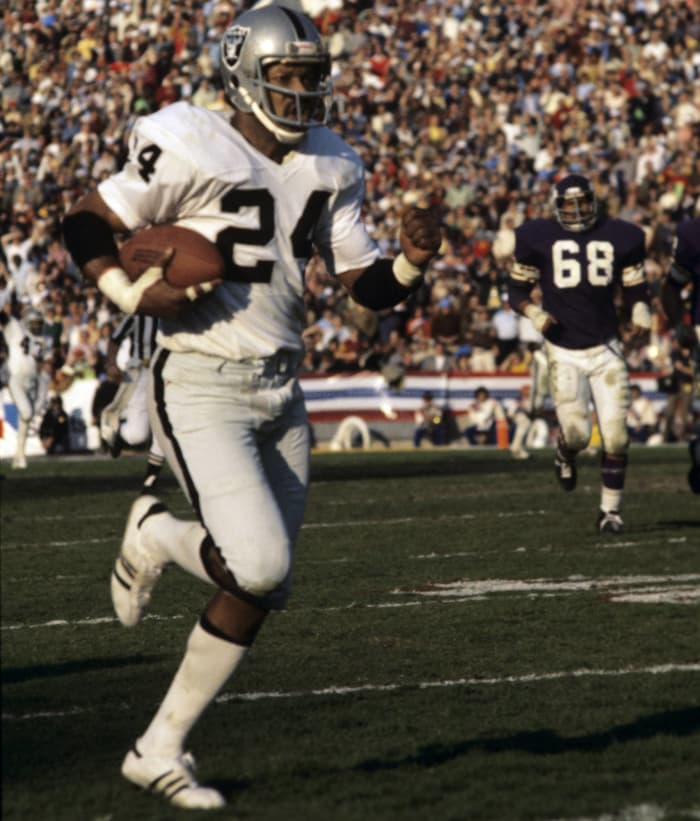 Tony Tomsic / Getty Images
The Raiders beat Minnesota easily, 32-14, in Super Bowl XI. Brown had a giant contribution with a 75-yard interception return for Oakland.
38 of 40
L.C. Greenwood: Super Bowl X
Diamond Images
A four-time Super Bowl champ with the Steelers, Greenwood's best performance was in Super Bowl X. He sacked Cowboys quarterback Roger Staubach four times, still a Super Bowl record.
39 of 40
Jake Scott: Super Bowl VII
Nate Fine / Getty Images
Miami capped off a perfect season with a 14-7 win over Washington in Super Bowl VII. Scott won game MVP with two interceptions.
40 of 40
Chuck Howley: Super Bowl V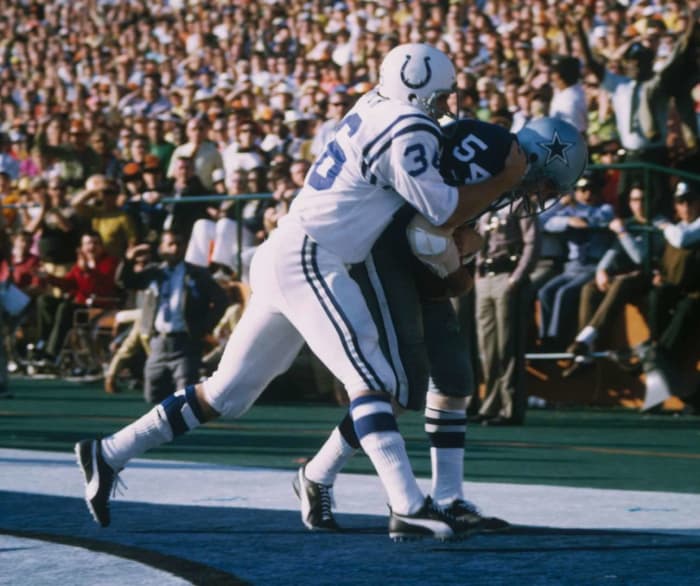 Focus on Sport
Super Bowl V was an offensive struggle for the Colts and Cowboys, with Baltimore emerging as the 16-13 winner. Howley won Super Bowl MVP with two interceptions despite being on the losing end with Dallas.