With Super Bowl LV looming, it seems like a good time to see what Chiefs and Buccaneers players must do to make a play that can rank among the best in the game's history. Here are the top 25 plays from the NFL's ultimate game.

1 of 25
25. 'Ambush' catalyzes Saints' comeback
Jonathan Daniel-Getty Images
Sean Payton's "Ambush" onside kick call to start Super Bowl XLIV's second half turned the tide in a game in which the Saints trailed at the time. The 2009 season saw Bill Belichick go for a fourth-and-2 on his own 28-yard line rather than punt to MVP Peyton Manning. Payton operated similarly; his gamble worked out better. Colts wideout Hank Baskett could not corral Thomas Morstead's surprise kick, and Saints defensive back Chris Reis fell on it . The Saints' stolen possession ended with a Drew Brees-to-Pierre Thomas touchdown connection and, unlike the Steelers' Super Bowl XXX surprise onside, this kick led to a championship.
2 of 25
24. The Super Bowl's immaculate reception
Focus On Sport-Getty Images
In a game that featured a whopping 11 turnovers, points proved difficult to come by. So perhaps the weirdest touchdown in Super Bowl history — which went from Hall of Famer Johnny Unitas to Hall of Famer John Mackey — deserves entry, as it played a key role in the Colts exiting this game as victors. Unitas' pass ricocheted off Colts wideout Eddie Hinton and Cowboys Hall of Fame cornerback Mel Renfro, skipping to Mackey. The longtime Colt tight end galloped 75 yards for a second-quarter touchdown. Baltimore won, 16-13, overcoming seven giveaways.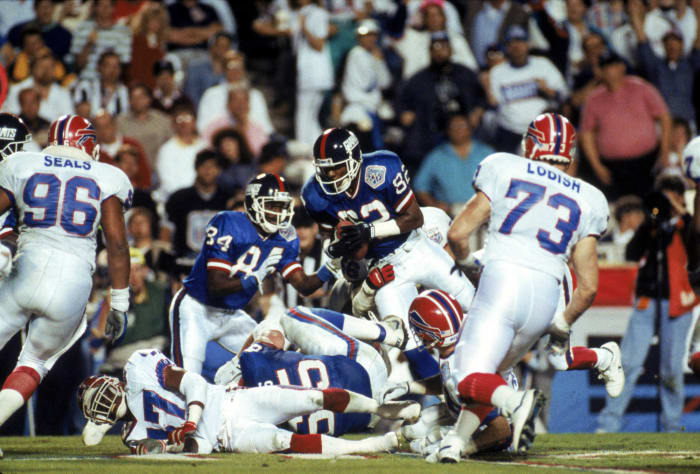 George Rose-Getty Images
Not part of the Giants' 1986 Super Bowl team, Ingram did not squander his lone Super Bowl opportunity a few years later. The 1987 first-round wide receiver caught a third-and-13 pass from Jeff Hostetler on the Giants' opening second-half drive of Super Bowl XXV and proceeded to make half the Bills defense miss on a 14-yard gain that featured some of the slickest maneuvering in Super Bowl history. The Giants scored to take a 17-12 lead on a near-nine-minute march, keeping the Bills' elite offense on the sideline. The father in the Mark Ingram father-son tandem played an essential supporting role in New York's 20-19 win.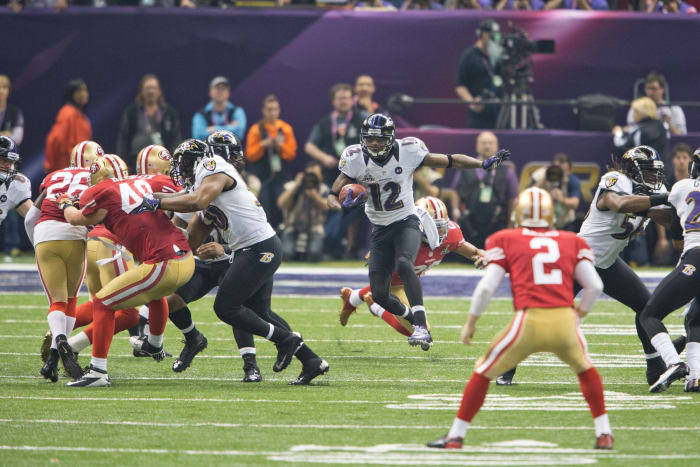 Jeff Lewis-Icon Sportswire
Jones put an exclamation point on a stunning postseason in 2013's Harbaugh Bowl. Baltimore's All-Pro kick returner had already secured Joe Flacco's Mile High Miracle heave to stun Denver two rounds earlier, and in Super Bowl XLVII's second quarter, Jones caught a 56-yard TD pass. To start the second half, the backup wideout took a kickoff 108 yards back for a touchdown. This gave the Ravens a 28-6 lead. It is the longest play in Super Bowl annals by 8 yards. Considering how close the 49ers came to completing a comeback, Jones' dash proved massive in cementing the Ravens' second championship.
6 of 25
20. Max McGee scores first Super Bowl touchdown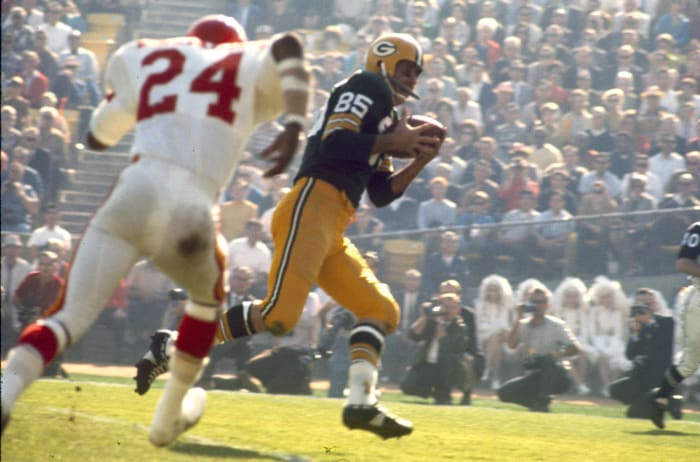 James Flores-Getty Images
Not expecting to see much action in the first Super Bowl, the backup Packers wide receiver took part in a long night out in Los Angeles on the eve of the first AFL-NFL showdown. But after an early injury to Packers starter Boyd Dowler, the 34-year-old McGee sauntered into action and turned in one of the great clutch performances. The most memorable sequence featured the 13th-year Packer snaring a Bart Starr pass with one hand and coasting in for a 37-yard touchdown — the first in Super Bowl history. McGee scored twice in the Packers' 34-10 win over the Chiefs.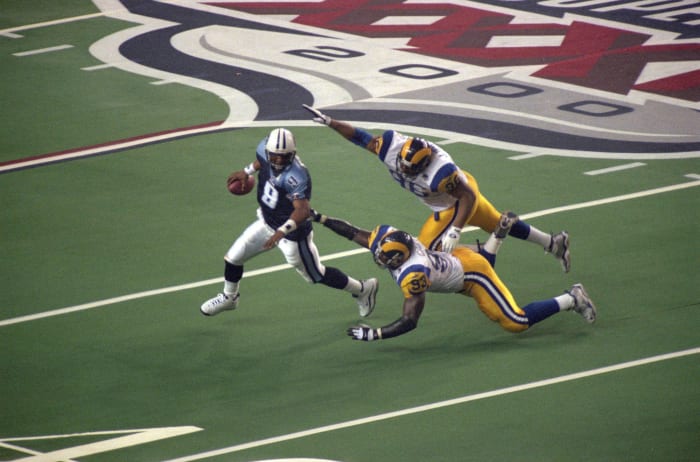 Sporting News-Getty Images
After erasing a 16-0 deficit, the Titans allowed the Rams to break a 16-all tie late in the fourth quarter. The Titans facing a third-and-5 at the Rams' 26-yard line with 22 seconds left, and with Tennessee's play broken, its quarterback needed to improvise. McNair kept the play alive for several seconds, escaping a certain sack (and near-20-yard loss) from Rams defensive linemen Jay Williams and Kevin Carter — the latter a 1999 All-Pro — and found Kevin Dyson for a 16-yard gain to set up a game-tying touchdown try. The Rams holding off the Titans helped make this one of the NFL's forgotten great plays.
8 of 25
18. Circus catch nearly saves Seahawks
Mike Ehrmann-Getty Images
Just prior to Malcolm Butler making Super Bowl XLIX's signature play, he could not deter Jermaine Kearse from a catch that nearly saved the Seahawks' bid at a repeat championship. Russell Wilson's first-down lob to Kearse — a Washington native who caught on with Seattle as an undrafted free agent — preceded two caroms and included the third-year wideout falling down, sitting back up and nearly running in for a go-ahead touchdown. Kearse had a brief window at a go-ahead TD, which would have averted the subsequent Seahawks disaster. But this remains an all-time catch.
10 of 25
16. Von Miller begins Bronco defense's coronation
Matthew Emmons-USA TODAY Sports
In a game predicted to be Cam Newton's finishing touch on an MVP season, an underdog Broncos team quickly showed how difficult that would be. Miller foiled a third-down Panthers sequence by zooming past Panthers right tackle Mike Remmers and ripping the ball from Newton's grasp. Newton watched as the ball rolled into the end zone , where Denver D-lineman Malik Jackson covered it to give the Broncos a 10-0 first-quarter lead on a Panthers team that came into Super Bowl 50 at 17-1. The game's MVP, Miller recorded 2.5 sacks and two forced fumbles in one of the most important defensive performances in NFL history.
13 of 25
13. Throwback Elway scramble ignites Broncos
Kevin Reece-Getty Images
Although John Elway was a quarterback prodigy, he was certainly not the same athletically by Super Bowl XXXII. But the 15th-year passer orchestrated a 92-yard drive that ended with a Terrell Davis go-ahead touchdown. The play Elway may be most remembered for extended this march. After realizing Denver's third-and-6 play call would not work against Green Bay's coverage, the 37-year-old quarterback took off. The end result: an 8-yard gain that featured Elway helicoptering through LeRoy Butler, Mike Prior and Brian Williams' tackle attempts. An 11.5-point underdog, Denver prevailed, 31-24, to win its first championship. 
17 of 25
9. Taylor game-winner secures 49ers title No. 3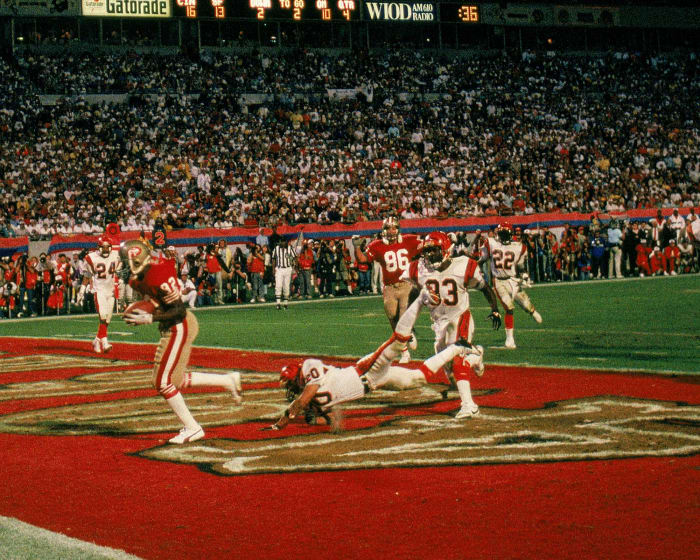 Rob Brown-Getty Images
On his way to MVP honors, Jerry Rice finished Super Bowl XXIII a Super Bowl-record 215 yards on a then-record 11 catches. Longtime sidekick John Taylor ended the game with one reception; it's one of the most memorable plays in NFL annals. Joe Montana guided a 92-yard drive to erase a three-point Bengals lead, and with the 49ers on the AFC champions' 10-yard line with 39 seconds left, Taylor was lined up at a tight end position. Montana found the 1986 third-round pick, who was not yet a full-time starting wideout, in stride for a game-winning touchdown to give the 49ers their third title.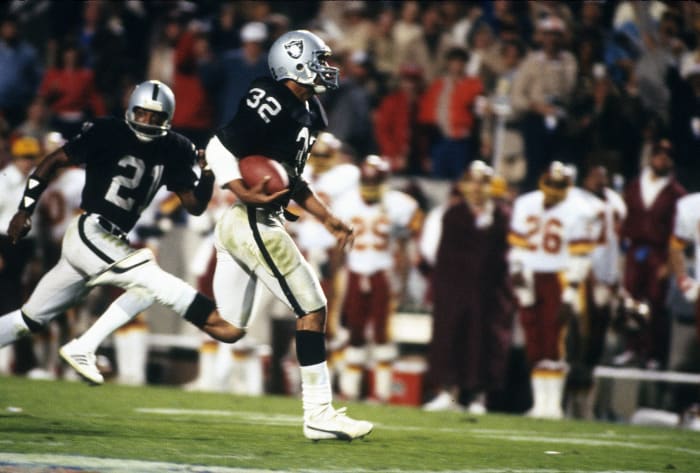 Focus on Sport-Getty Images
Then the highest-scoring team in NFL history, Washington endured a rough January 1984 night in Miami. Already up 28-9, the Raiders made it worse on one of the NFL's defining runs. Marcus Allen, a second-year former Heisman winner who immediately became a Raider superstar, took a handoff on the third quarter's final play. His field-reversing 74-yard sprint made Super Bowl XVIII a full-on blowout and cinched up the Raiders' third Super Bowl title in eight seasons and only conquest in their Los Angeles years. The game's MVP, Allen finished with a then-Super Bowl record 191 rushing yards and two TDs.
25 of 25
1. Still the king
The Sporting News-Getty Images
The top play of the NFL's first 21 seasons of the 21st century, David Tyree's catch denied the Patriots their slot as the greatest team ever. After catching a fourth-quarter TD pass, the 2007 Giants' 12th-leading pass catcher tilted this century's defining game. Eli Manning's third-and-5 heave to the career special-teamer soared into dangerous territory over the middle. The 32-yard catch required not only Tyree pinning the ball against his helmet but also somehow completing this act while falling to the ground with Rodney Harrison blanketing him. It made Plaxico Burress' game-winner an impossibly overqualified footnote in the titanic upset.
Sam Robinson is a Kansas City, Mo.-based writer who mostly writes about the NFL. He has covered sports for nearly 10 years. Boxing, the Royals and Pandora stations featuring female rock protagonists are some of his go-tos. Occasionally interesting tweets @SRobinson25.