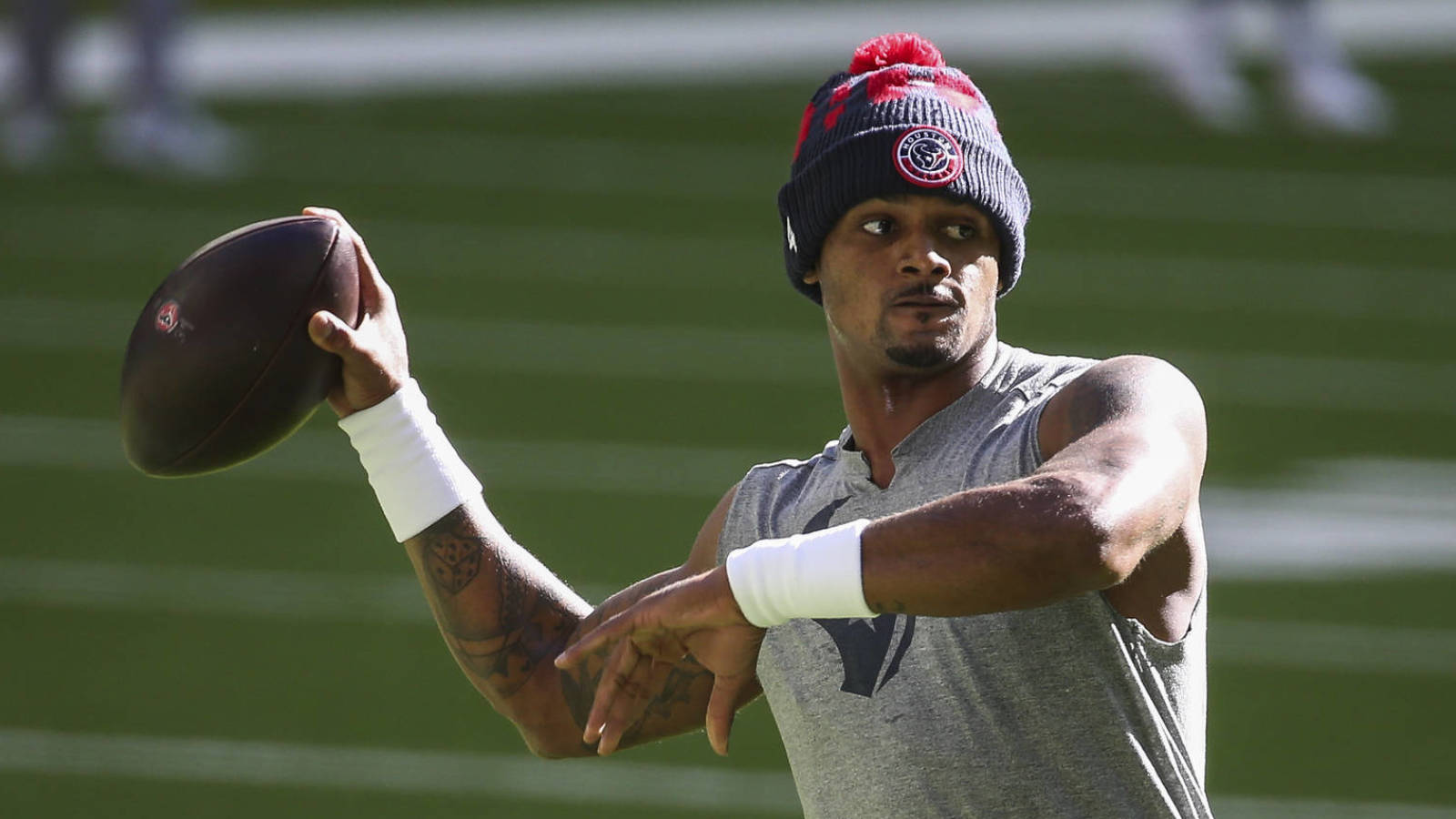 Deshaun Watson isn't pleased with the Houston Texans, rejecting the organization's phone calls after management backed down on its promises made before the offseason. Unfortunately for the NFL star, his chances of getting out of Houston reportedly aren't promising.
Ever since speculation first emerged regarding a Watson trade, rumors have swirled about the relationship between the franchise and its star quarterback. At a time when the Texans don't have a head coach, uncertainty regarding Watson's willingness to remain in Houston made the situation even more complicated.
If fans have started to worry that Watson's days in Houston might be over, a recent report might help ease those concerns as the offseason rolls on.
According to Pro Football Network's Benjamin Allbright, sources in the Texans organization insisted Watson won't get traded. Allbright added that his conversations around the league led to a belief that there likely won't be a blockbuster move.
While Watson may have some leverage over the Texans, given he is one of the NFL's biggest stars, there might not be enough to force the franchise into a move. The new collective bargaining agreement, approved by the NFL Players Association, makes it extremely cost-prohibitive for a player to hold out during training camp and the NFL season.
The 25-year-old has every right to be angered by the organization. He put up with Bill O'Brien for years, watching Houston's head coach inexplicably obtain more power and eventually becoming general manager. Once O'Brien had the reigns over roster control, the Texans' future was blown up in the Laremy Tunsil trade, and Houston gave away DeAndre Hopkins.
Watson was furious about the Hopkins' trade, especially since he learned about the move on social media. It was the spark in a deteriorating relationship between Watson and the organization. But, when the offseason began, team owner Cal McNair reportedly vowed to give the franchise's star a voice in the process to find a general manager and head coach.
Instead, despite Watson pitching prospective candidates, the Texans reportedly ignored him. In fact, Houston didn't even listen to the search firm McNair hired. While Korn Ferry recommended Pittsburgh Steelers VP of football and business administration Omar Khan and ESPN analyst Louis Riddick to become the next general manager, McNair hired Nick Caserio.
Watson learned about the hiring on Twitter, reportedly without even getting a chance to meet with Caserio to share what his teammates were seeking in an organizational change. On top of that, the Texans refused to interview Eric Bieniemy for head coach. Finally, just this week, they put in an interview request.
Coming off an MVP-caliber season, with 4,823 passing yards and 37 total touchdowns, Watson has every reason to want out of Houston. Unfortunately for him, that seems unlikely to happen.
Even if the Texans are willing to move him, other teams may not like the asking price. According to the team source, per Allbright, the Texans would need three first-round picks, three second-round picks and a Pro Bowl-caliber player to consider a deal.
If that's the asking price, only the Miami Dolphins could afford to trade for Watson. Given the team they've already built, however, perhaps it might be the kind of move that makes them a Super Bowl contender.
For the time being, Watson will remain with the Texans. With that said, this is a delicate situation, and it's evident why NFL coaching candidates have concerns about taking this job.