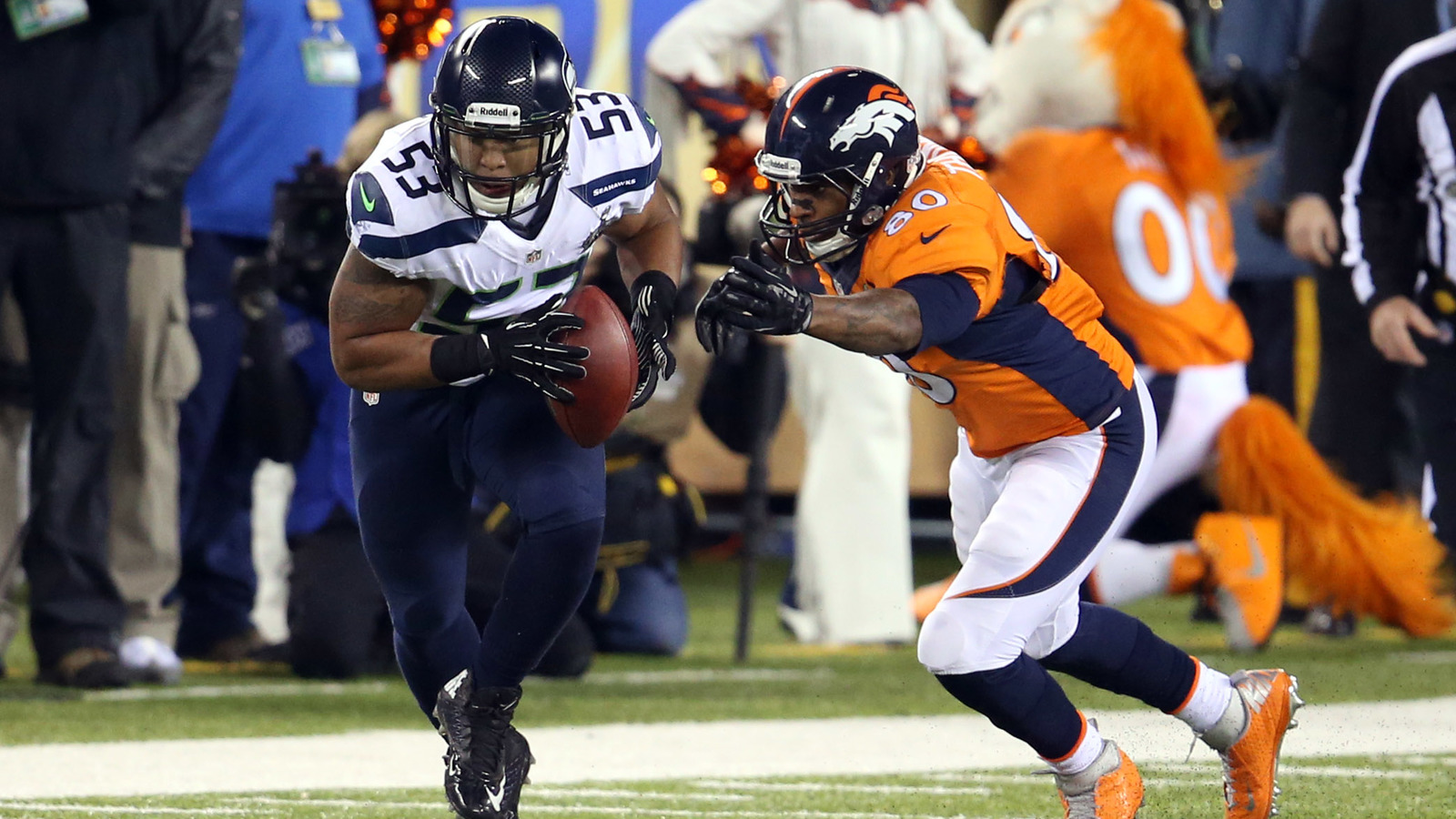 Everyone hopes that the Super Bowl, with so many eyes glued to televisions, will deliver a compelling contest. Recently it has done so more often than not, with wild comebacks, big plays, and huge upsets thrilling viewers around the world. That said, there have been plenty of stinkers mixed in throughout the years, with the only entertainment being the commercials and the halftime show. With that said, it's time to rank the 20 least competitive games in Super Bowl history.

1 of 20
20. Super Bowl XXXI: Green Bay 35, New England 21
Focus On Sport/Getty Images
This game perhaps doesn't fit the "one-sided" bill on paper, but in reality it was devoid of any drama for the entirety of the fourth quarter. The Patriots had cut the deficit to 27-21 in the late third quarter, courtesy of a Curtis Martin touchdown run, but Desmond Howard took the wind out of their sails and squashed any remaining drama by returning the ensuing kickoff 99 yards for a touchdown. After that, Green Bay's defense took over, harassing Drew Bledsoe and holding the Pats scoreless for the final 15 minutes.
2 of 20
19. Super Bowl XII: Dallas 27, Denver 10
Focus On Sport/Getty Images
Get used to seeing the Denver for the next few minutes, because the Broncos are the patron saint of Super Bowl blowout victims. This time Dallas jumped out to leads of 13-0 and 20-3, and just when the Broncos had cut it to a 10-point deficit in the fourth quarter and had gotten the ball back, they turned it over and immediately gave up the game's final touchdown on a halfback pass. Down 17 with less than half of the fourth quarter left to play, the Broncos were all out of comebacks and went down quietly the rest of the way.
3 of 20
18. Super Bowl XXXIII: Denver 34, Atlanta 19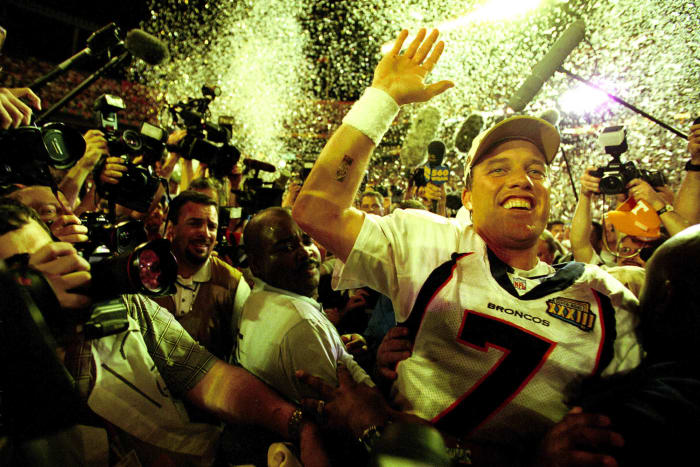 Allen Kee/Getty Images
For once, the Broncos were on the good side of a rout in this one, as they turned a 17-6 game at the start of the fourth quarter into a 31-6 rout in short order. Howard Griffith barreled in for a score on the first play of the fourth, and Denver turned a Darrien Gordon interception of Chris Chandler into a John Elway touchdown run. Tim Dwight took the ensuing kickoff all the way for Atlanta, but by that point the damage was done. A late Chandler touchdown pass made the final score look better, but this one was over well before the final whistle.
4 of 20
17. Super Bowl XV: Oakland 27, Philadelphia 10
Sylvia Allen/Getty Images
Jim Plunkett came out firing, passing the Raiders to a quick 14-0 lead that they would never relinquish. Plunkett's third touchdown toss of the day, a 29-yarder to Cliff Branch, who caught two of the three scores, put Oakland up 21-3 in the third quarter. The Raiders stretched the lead to 24-3 and responded to Philadelphia's only touchdown with a time-consuming field goal drive that put this one well out of reach in the early fourth quarter. 
5 of 20
16. Super Bowl II: Green Bay 33, Oakland 14
Focus On Sport/Getty Images
The Packers picked up where they left off in Super Bowl I, jumping out to a 13-0 lead and then ripping off 20 unanswered points after the Raiders cut the deficit to 13-7. Bart Starr shined yet again, efficiently carving up Oakland's defense, and the Packers were never seriously threatened. Even in Vegas there was minimal drama, as Green Bay easily covered the 13.5 point spread. 
6 of 20
15. Super Bowl XIX: San Francisco 38, Miami 16
Focus On Sport/Getty Images
Dan Marino's only Super Bowl appearance was an inauspicious one, as his Dolphins started strong then faded quickly against Joe Montana and the 49ers. Montana turned a 10-7 deficit into a 28-16 halftime lead and proceeded to put the game away with 10 unanswered third quarter points. Miami never seriously threatened in the second half, and the fourth quarter was completely devoid of any drama or suspense.
7 of 20
14. Super Bowl VIII: Miami 24, Minnesota 7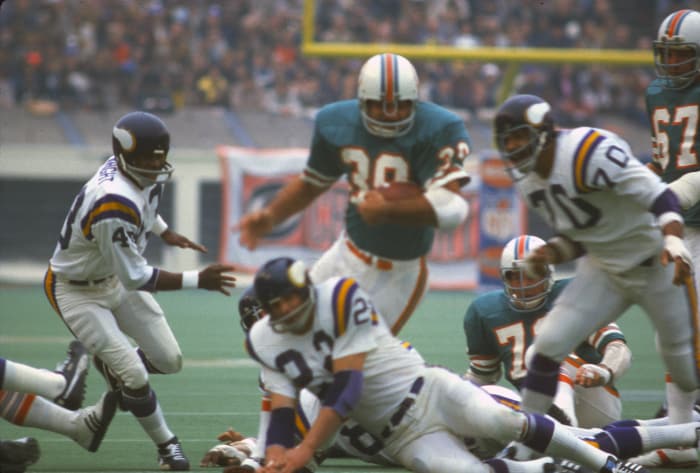 Focus On Sport/Getty Images
Bob Griese didn't have much to do in this one, attempting only seven passes, as Larry Csonka carried the load for the Dolphins to the tune of 145 yards and two touchdowns. Miami scored the game's first 24 points before Fran Tarkenton finally scampered in for a touchdown early in the fourth quarter. By that time, though, the game had long since been decided, with Minnesota never able to generate a consistent rushing attack and Tarkenton running for his life most of the afternoon. 
8 of 20
13. Super Bowl VI: Dallas 24, Miami 3
Focus On Sport/Getty Images
The Cowboys defense ensured that this game would have little suspense by the time the fourth quarter rolled around. Dallas suffocated Bob Griese in the passing game and also bottled up Jim Kiick and Larry Csonka on the ground. In all, Miami finished with a measly 185 total yards. By the time Mike Ditka scored the game's final touchdown, the outcome had long been decided, depriving fans who braved cold conditions at Tulane Stadium from seeing a thrilling finish.
9 of 20
12. Super Bowl XI: Oakland 32, Minnesota 14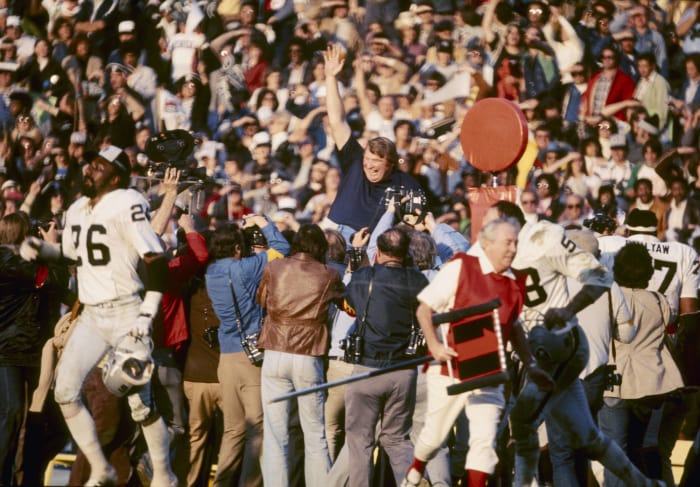 Nate Fine/Getty Images
The Vikings didn't get on the board until late in the third quarter, by which point they already trailed, 19-0. Any hopes of a miracle comeback were thwarted, however, when Oakland notched the next two scores, including a back-breaking, 75-yard pick-six by Willie Brown that pushed the Raiders' lead to 32-7. Minnesota's final score came with under a minute left in the game, which means that this Super Bowl was even more lopsided than the final margin would indicate.
10 of 20
11. Super Bowl I: Green Bay 35, Kansas City 10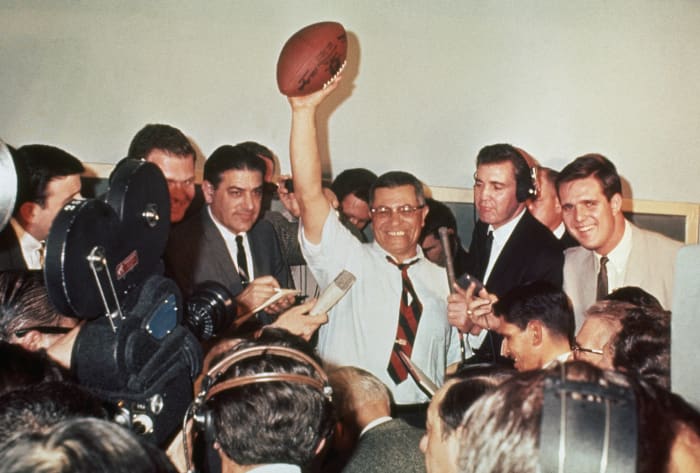 Bettmann/Getty Images
The first Super Bowl lived up to its impressive name — for 30 minutes. Kansas City played the powerhouse Packers tight for the first half, but Max McGee's touchdown catch in the third quarter, his second of the game, swelled Green Bay's lead to 28-10. The Pack tacked on another score in the fourth, and the final quarter or so of the game had precious little drama. 
11 of 20
10. Super Bowl XVIII: Los Angeles Raiders 38, Washington 9
Focus On Sport/Getty Images
If the Broncos are the team that took the most beatings, the Raiders (along with the 49ers) might be the team that most regularly dished them out. Los Angeles never trailed in this one, and with the score 28-9, Washington's John Riggins was stopped on fourth-and-1. On the next play, Marcus Allen sealed the Redskins' fate with arguably the most spectacular run in Super Bowl history, reversing his field on the way to a 74-yard score and a 35-9 lead. The rest was academic.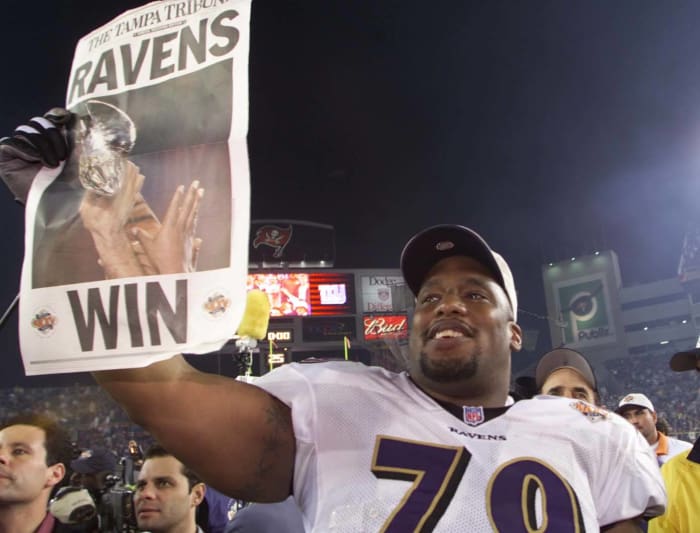 Tom Hauck/Getty Images
The Ravens jumped out to a 17-0 lead thanks to a Duane Starks pick-six late in the third quarter. Ron Dixon responded by returning the ensuing kickoff for a touchdown to cut Baltimore's lead to 17-7, but Jermaine Lewis countered that by returning the subsequent kickoff for a score of his own, restoring the Ravens' lead to 24-7 and effectively extinguishing any hopes the Giants had of staging a rally. New York ended the game with a paltry 152 yards of offense.
13 of 20
8. Super Bowl XXXVII: Tampa Bay 48, Oakland 21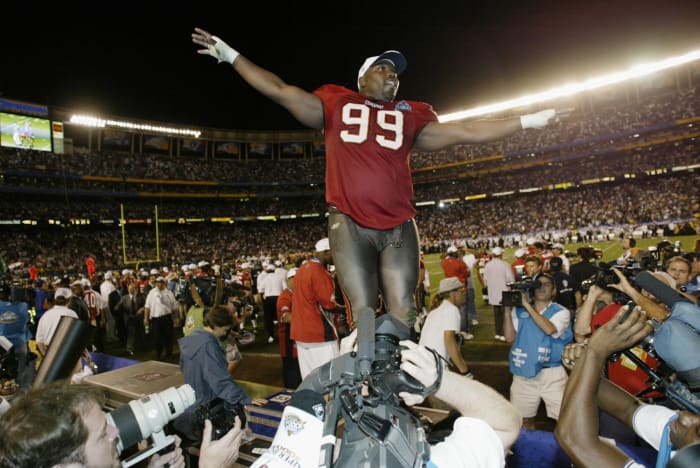 Donald Miralle/Getty Images
All you need to know about this one is that Rich Gannon threw more touchdowns to Buccaneers defenders than he did to Raiders receivers. Gannon threw five interceptions in all, and Tampa Bay raced out to a 34-3 lead in the third quarter. Three straight Oakland touchdowns could have made things interesting, but the Raiders failed on all three two-point conversion attempts, and the Bucs sealed things with, what else, two pick-sixes.
14 of 20
7. Super Bowl XXI: New York Giants 39, Denver 20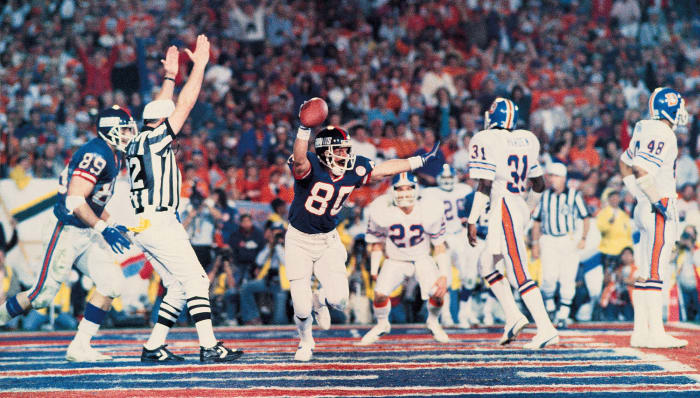 Sporting News Archive/Getty Images
Denver started the second quarter with a 10-7 lead, and things were looking up. The Broncos were subsequently outscored 32-10 the rest of the way, and it would have been worse without a late, meaningless touchdown for Vance Johnson. This game was notable for the fact that Phil Simms was nearly flawless for New York, completing 22 of 25 passes. His 88 percent completion rate remains the highest single-game mark in Super Bowl history.
15 of 20
6. Super Bowl XLVIII: Seattle 43, Denver 8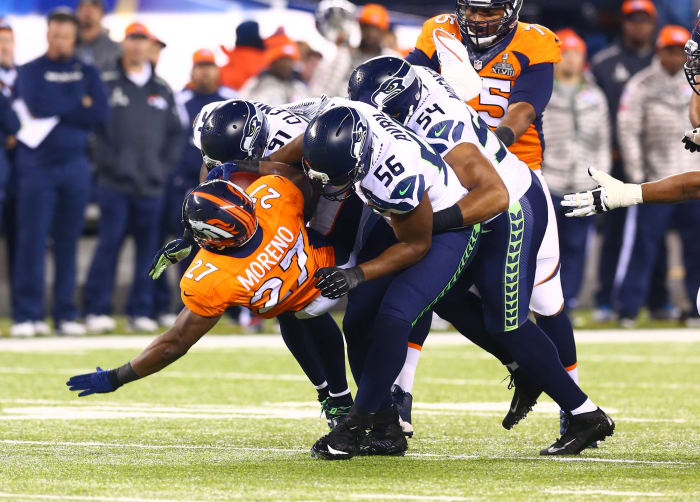 Mark J. Rebilas-USA TODAY Sports
Few predicted this result, as Peyton Manning was coming off a spectacular year in which he threw an NFL-record 55 touchdown passes with just 10 interceptions. However, the game would serve not as a coronation for Manning but as a coming-out party for the Legion of Boom. Seattle's defense harassed Manning all night, including a pick-six shortly before halftime that completely deflated the Broncos. The second half was a mere formality.
16 of 20
5. Super Bowl XXIX: San Francisco 49, San Diego 26
Focus On Sport/Getty Images
No one expected the Chargers to make it to this game, and they quickly set about proving that they didn't belong. San Francisco opened as a 17.5 point favorite, finished as an 18-point favorite and was out to a 42-10 lead by the middle of the third quarter. Jerry Rice caught three scores, and Steve Young threw for a Super Bowl-record six touchdowns, as San Francisco flexed its muscle throughout one of the most anticlimactic Super Bowls ever played.
17 of 20
4. Super Bowl XXII: Washington 42, Denver 10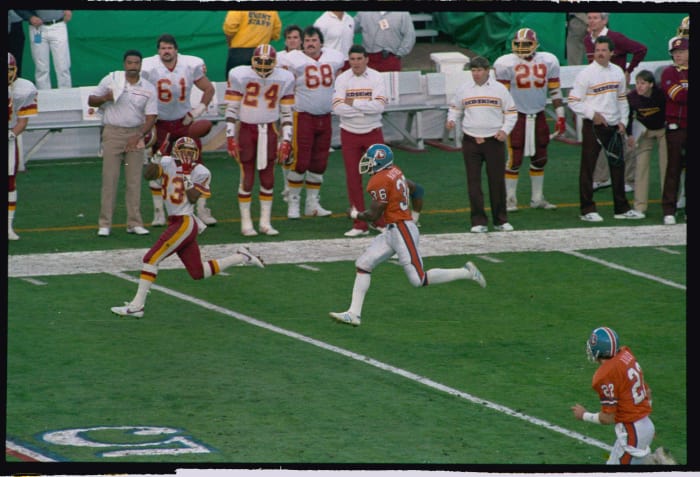 Bettmann/Getty Images
The Broncos jumped out to a 10-0 lead after one quarter. Everything was going great! And then the second quarter happened. When the dust settled at halftime, Washington was up 35-10, having scored a single-quarter, Super Bowl-record 35 points. Redskins rookie Timmy Smith, in an all-time, out-of-nowhere performance, tore up Denver's defense for 204 yards on 22 carries, and Doug Williams threw four second-quarter touchdown passes to win the MVP Award and become the first African-American starting quarterback to win a Super Bowl.
18 of 20
3. Super Bowl XXVII: Dallas 52, Buffalo 17
Sporting News Archive/Getty Images
Participating in their third straight Super Bowl, the Bills delivered their worst performance, falling in humiliating fashion at the Rose Bowl. Dallas was up 31-10, and when Buffalo closed to 31-17 the Cowboys poured it on, scoring 21 unanswered points in the fourth quarter to turn the game into a true rout. The only saving grace for Buffalo fans was that Don Beebe was able to strip Leon Lett as he jogged toward the goal line for a would-be touchdown, but even that famous play was a small comfort in the midst of a total thrashing.
19 of 20
2. Super Bowl XX: Chicago 46, New England 10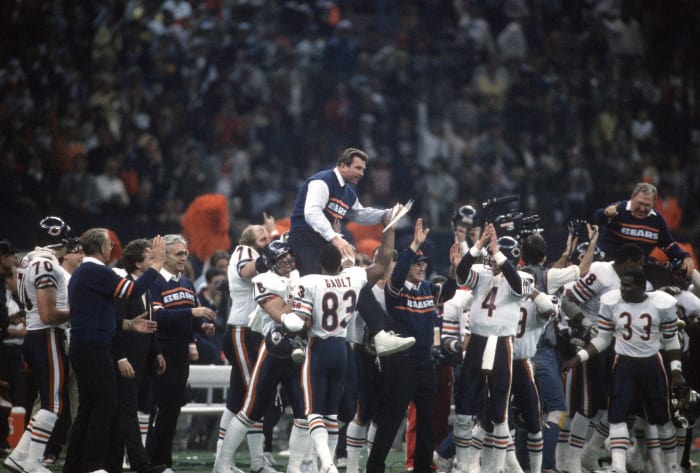 Focus On Sport/Getty Images
New England scored the game's first points on a field goal to take a 3-0 lead. That was the extent of anything positive for the Pats, as they proceeded to surrender 44 unanswered points on the way to what was, at the time, the most lopsided Super Bowl loss in history. About the only drama in this one involved Mike Ditka's decision to let Refrigerator Perry plunge in for a 1-yard touchdown, while Walter Payton finished the game without a score. 
20 of 20
1. Super Bowl XXIV: San Francisco 55, Denver 10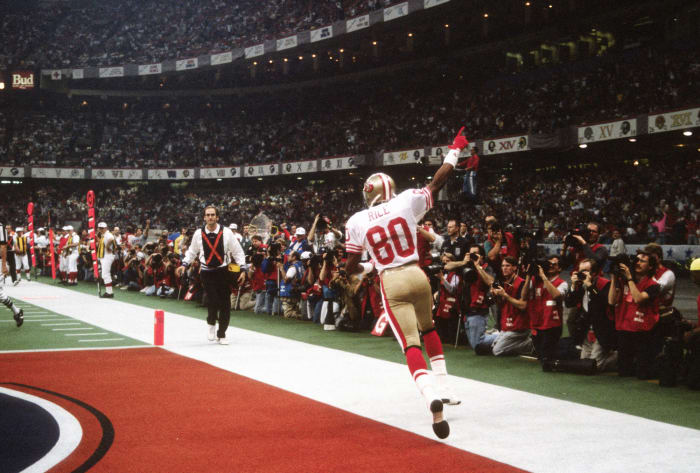 Focus On Sport/Getty Images
The late 1980s were not kind to John Elway and Co. This beating still stands as the worst in Super Bowl history and can accurately be described as noncompetitive from moment one. Joe Montana threw a then-record five touchdown passes, Jerry Rice caught three of them and the 49ers were never threatened. Fortunately for Denver fans, John Elway's next appearance in the Super Bowl would go a little better.
Chris Mueller is the co-host of The PM Team with Poni & Mueller on Pittsburgh's 93.7 The Fan, Monday–Friday from 2-6 p.m. ET. Owner of a dog with a Napoleon complex, consumer of beer, cooker of chili, closet Cleveland Browns fan. On Twitter at @ChrisMuellerPGH – please laugh.