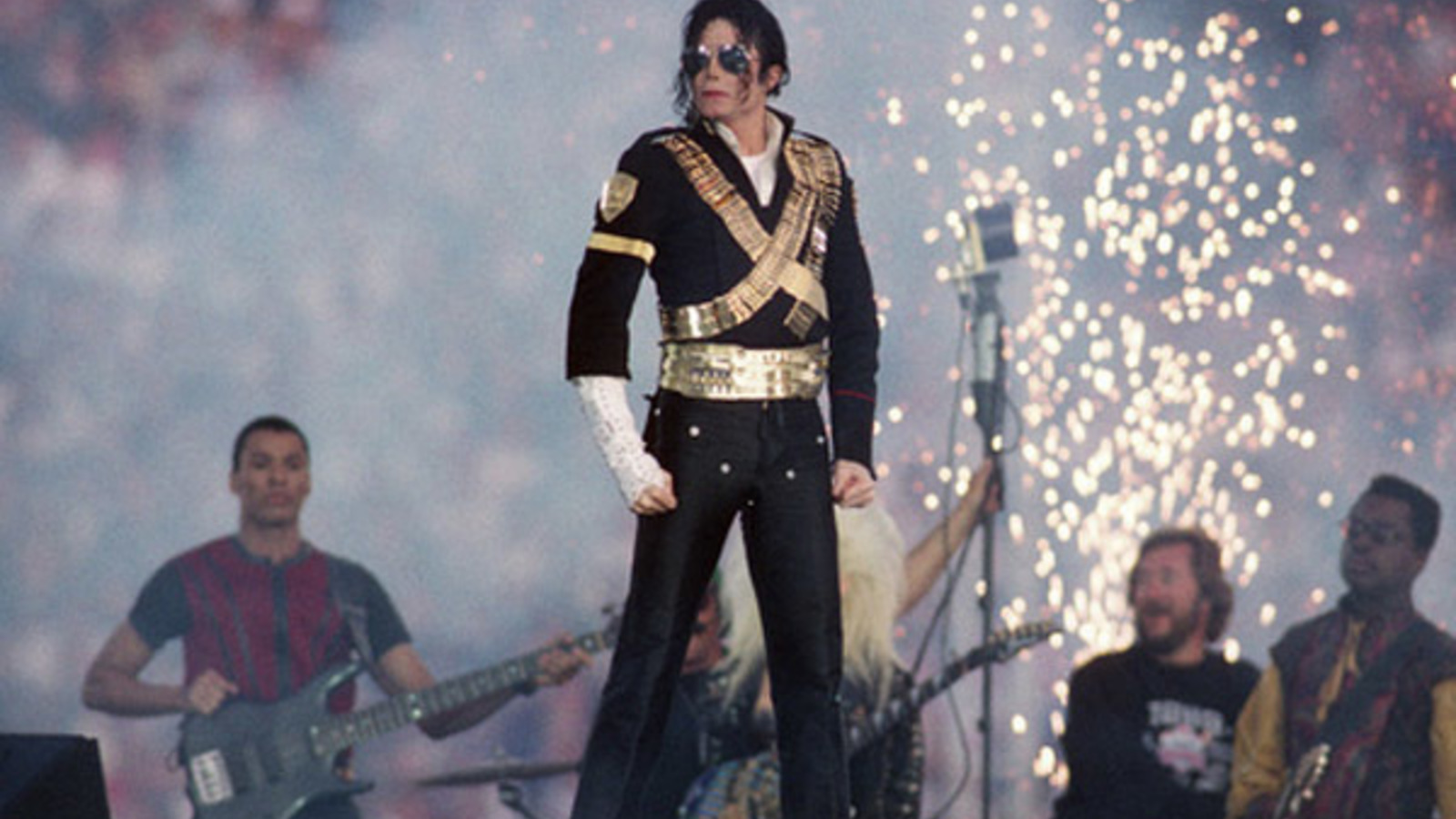 The Super Bowl will always start and end with football. Sure, crowning a champion at the end of a long season is fun and satisfying for fans (mostly those whose team won). However, the Super Bowl halftime show is something everyone, not just football fans, can enjoy and/or criticize.

Super Bowl halftime shows have evolved from low-production affairs to 15-minute mini-concerts with some of the world's brightest stars performing for a global audience. Whether it's a wardrobe malfunction or a heartfelt tribute, the halftime show always has a surprise that has people talking days after — for better or for worse.
Here are the rankings for every Super Bowl halftime show.
1 of 38
38. Super Bowl X, XIV, XVI, XX halftime show – Up with People
Mike Powell/Getty Images
This Super Bowl X halftime performance is the first of four by Up With People, who also were featured at halftime of Super Bowl XIV, Super Bowl XVI and Super Bowl XX. We grouped them together because they were all basically the same thing: grown adults singing and dancing with cult-like enthusiasm and soulless eyes. These will forever be the worst and probably most terrifying series of Super Bowl halftime performances ever.
2 of 38
37. Super Bowl XIII halftime show – Ken Hamilton and various Caribbean bands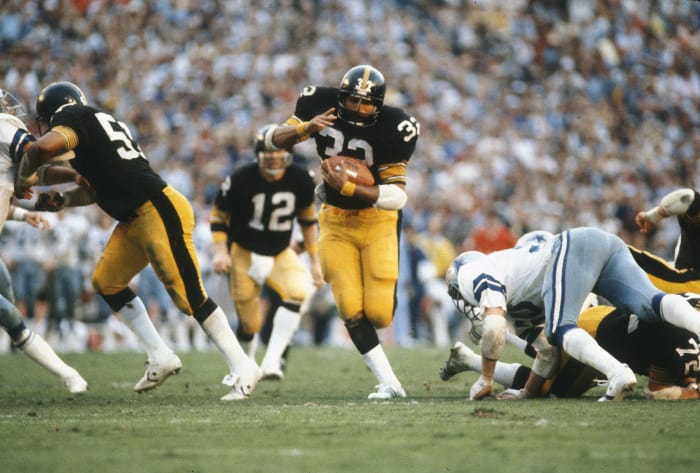 Focus on Sport/Getty Images
There are a lot of forgotten Super Bowl performances, but this one may be at the top. After an extensive search on the Google machine, not one picture of the halftime show could be found. The only thing that was discovered is this vinyl record of the performance on sale and this supposed YouTube post of the audio. One thing is for sure, though: The riders for those bands must have been very…green.
3 of 38
36. Super Bowl XXIII halftime show – Elvis Presto
Rob Brown/Getty Images
You'd be forgiven for thinking that Elvis Presto (a Presley impersonator) would have performed songs by the King for this year's halftime show. (He didn't.) Back then halftime shows didn't feature big mainstream pop acts…and wouldn't until Michael Jackson's famous 1993 performance. 
4 of 38
35. Super Bowl I-III, V, VII-IX, XI-XII, XV, XVII-XIX, XXI halftime show – Marching bands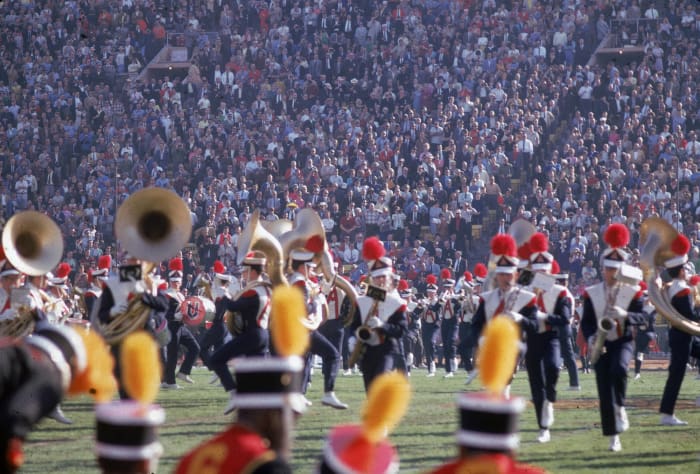 Robert Rigor/Getty Images
In the beginning the NFL wasn't exactly America's pastime, so it had to get a little creative with the halftime entertainment. What's more creative (read: cheap) than a bunch of students playing instruments? To be fair, those bands were accompanied by accomplished musicians like Mercer Ellington and Pete Fountain as well as singers like Helen O'Connell, so there was some fanfare at least.
5 of 38
34. Super Bowl XXIV halftime show – Pete Fountain
Michael Ochs Archives/Getty Images
Super Bowl XXIV's New Orleans location made for an all-Louisiana halftime show cast, featuring clarinetist Pete Fountain (who also performed in the Super Bowl XII halftime show), fiddler Doug Kershaw and singer Irma Thomas. The Peanuts gang also helped with the festivities.
6 of 38
33. Super Bowl VI halftime show – Ella Fitzgerald
Mary Delaney Cooke/Corbis via Getty Images
The First Lady of Song headlined the "Salute to Louis Armstrong" performance at Super Bowl VI along with Carol Channing, trumpeter Al Hirt and the United States Marine Corps Drill Team. Fitzgerald and Hirt doubled up to perform a rendition of "Mack the Knife," a song that Armstrong introduced to the U.S. in 1956.
7 of 38
32. Super Bowl IV halftime show – Carol Channing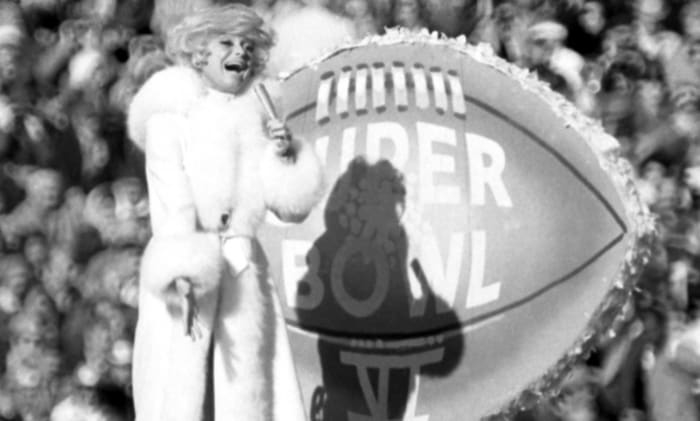 Kidwiler Collection/Diamond Images
Carol Channing is notable as the first celebrity to headline a Super Bowl halftime show and the first to have a second performance, as she co-starred in Super Bowl VI.
8 of 38
31. Super Bowl XLV halftime show – The Black Eyed Peas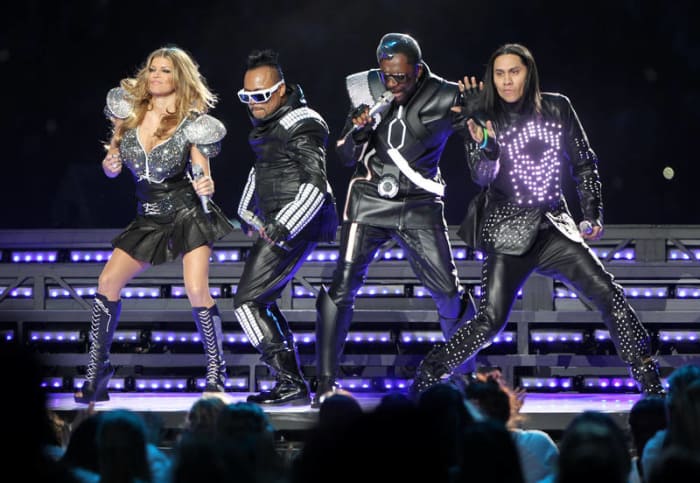 Christopher Polk / Getty Images
The Black Eyed Peas dominated the pop charts in the 2000s, and their Super Bowl XLV appearance came just as their output began to wane. The group performed a medley of its biggest hits such as "I Gotta Feeling," "Boom Boom Pow" and "Let's Get It Started." Guns 'N Roses guitarist Slash made an appearance, as did Usher, for an all-around, star-studded show.
9 of 38
30. Super Bowl XXXVII halftime show – Shania Twain
Al Bello/Getty Images
This halftime show was headlined by Shania Twain, No Doubt and Sting, all of whom performed a medley of their own hits, including, respectively, "Man! I Feel Like a Woman!" "Just a Girl" and "Message in a Bottle."
10 of 38
29. Super Bowl XLIV halftime show – The Who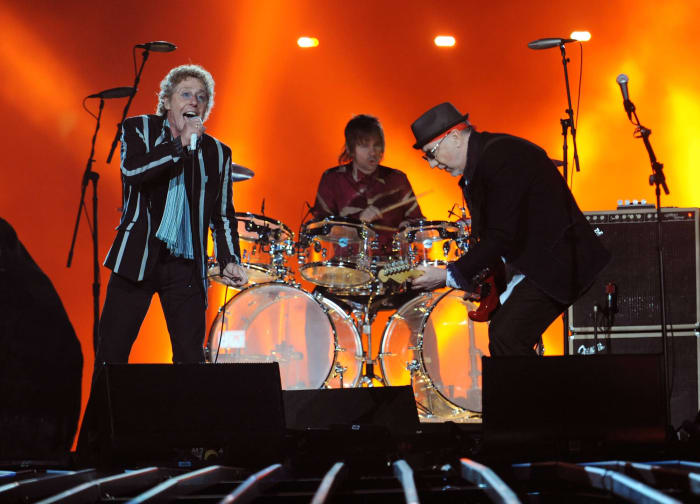 Kevin Mazur/WireImage
Super Bowl XLIV marked the last time a legacy rock act performed the Super Bowl halftime show. The Who, down to only two founding members (Roger Daltrey and Pete Townshend), performed the requisite medley of the band's hits, including "Pinball Wizard," "Baba O'Riley" and "Won't Get Fooled Again." The performance also was the first since Super Bowl XXXIV that had no crowd surrounding the halftime show stage.
11 of 38
28. Super Bowl XXVI halftime show – Gloria Estefan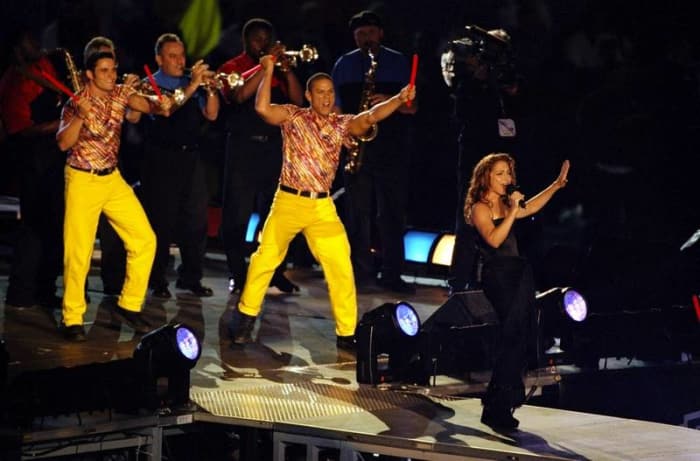 Jamie Squire/Getty Images Sport
Dedicated to the then-upcoming 1992 Winter Olympics, this show featured figure skaters Brian Boitano and Dorothy Hamill and was capped off by a performance by Gloria Estefan. As nice as the citizens of Minnesota are, these elements were a tough sell when combined.
12 of 38
27. Super Bowl XXII halftime show – Chubby Checker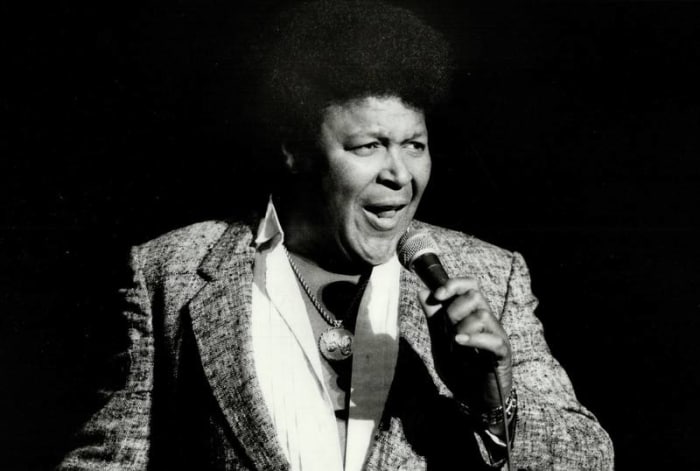 Ken Faught/Getty Images
Chubby Checker and the Rockettes performed this year's Super Bowl halftime festivities, produced by Radio City Music Hall. The field full of grand pianos was a unique touch and could be heard booming when Checker was belting out his classic song, "Let's Twist Again."
13 of 38
26. Super Bowl XXXIV halftime show – Christina Aguilera and Enrique Iglesias
Jeff Haynes /Getty Images
Produced by Disney with an Epcot theme, this year's halftime show was notable for its multigenerational and genre-busting lineup, featuring Phil Collins, Christina Aguilera, Enrique Iglesias, Tina Turner and Toni Braxton.
14 of 38
25. Super Bowl XXXIII halftime show – Stevie Wonder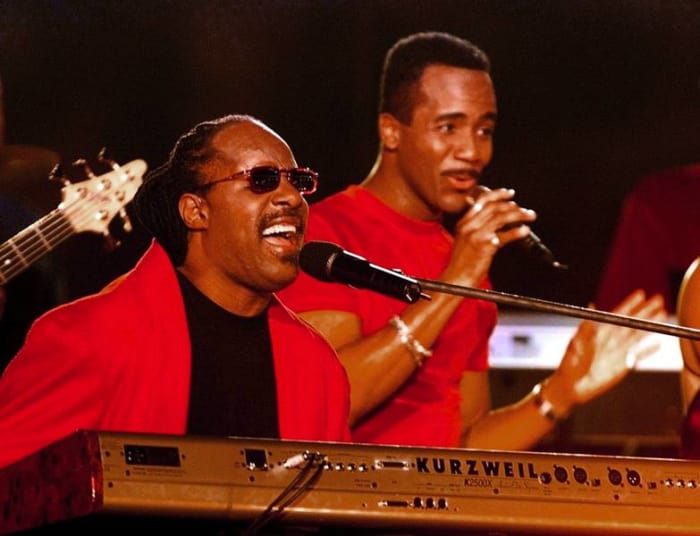 Jeff Haynes/Getty Images
15 of 38
24. Super Bowl XXV halftime show – New Kids on the Block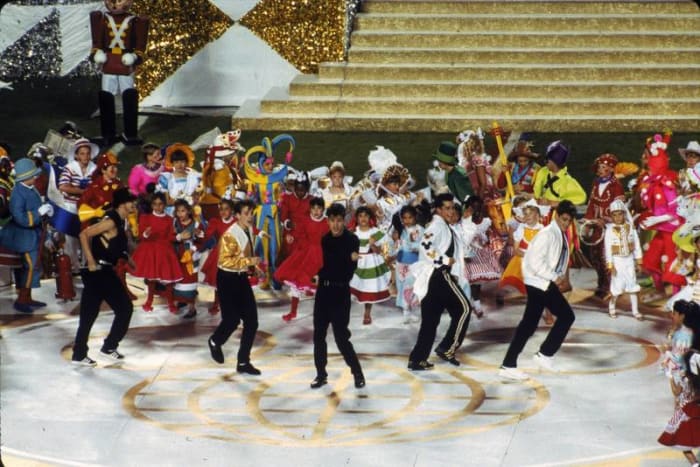 Gin Ellis/Getty Images
Disney packed this year's halftime show with over 3,000 children in its "A Small World Salute to 25 Years of the Super Bowl," with New Kids on the Block serving as the headliner.
16 of 38
23. Super Bowl XXVIII halftime show – Clint Black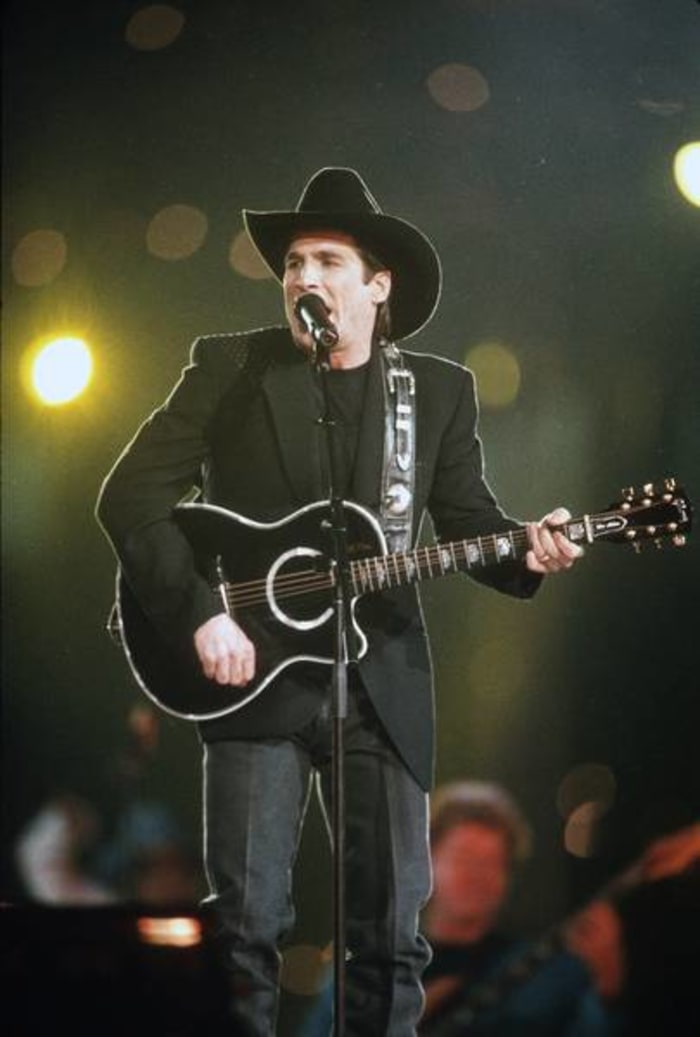 Focus On Sport/Getty Images
The last halftime show for some time to feature country music at its center (the most recent being Shania Twain in Super Bowl XXXVII), this year featured the Judds, Clint Black, Tanya Tucker, Travis Tritt and Brooks & Dunn. The performance felt like a 10-minute square dance. Make of that what you will.
17 of 38
22. Super Bowl XXXV halftime show – Aerosmith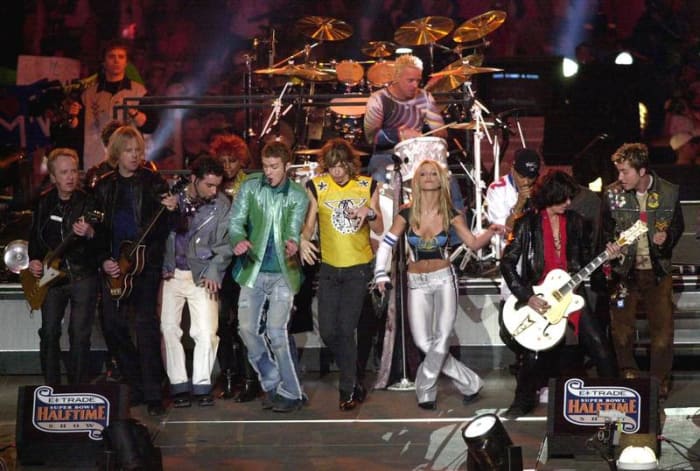 Doug Pensinger/Getty Images
Aerosmith was tapped to perform this year, joined on stage by a pastiche of early-2000s stars, including N'Sync, Britney Spears and Nelly. The sight of Aerosmith joining a boy band in a medley of N'Sync songs probably earned a lot of eye rolls from dads across America.
18 of 38
21. Super Bowl LII halftime show – Justin Timberlake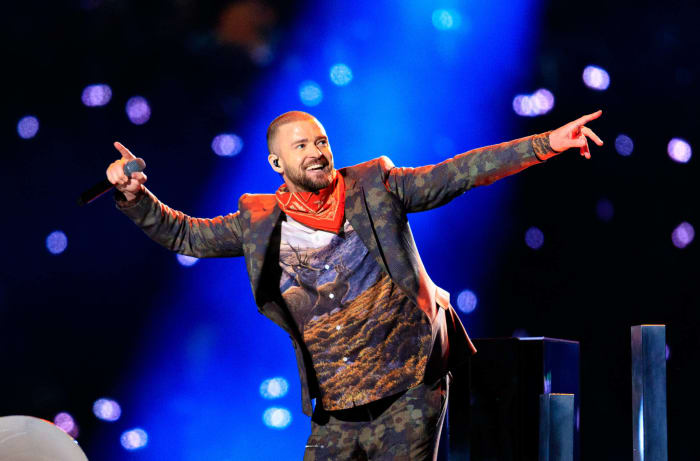 Christopher Polk/Getty Images
Fourteen years after his last Super Bowl appearance (we'll get to that one later), Justin Timberlake returned to the biggest football game in the world to wow the crowd. His third performance focused on his "Man of the Woods" album, which was hardly subtle as his camo suit clearly showed. While many begged for him not to do a Prince tribute, he still honored the Purple One in the middle of his set — a tribute that was tasteful with a light touch. However, aside from "the kid" having trouble taking a selfie with Timberlake, there was little that would qualify as earth-shattering. 
19 of 38
20. Super Bowl XXXI halftime show – James Brown and The Blues Brothers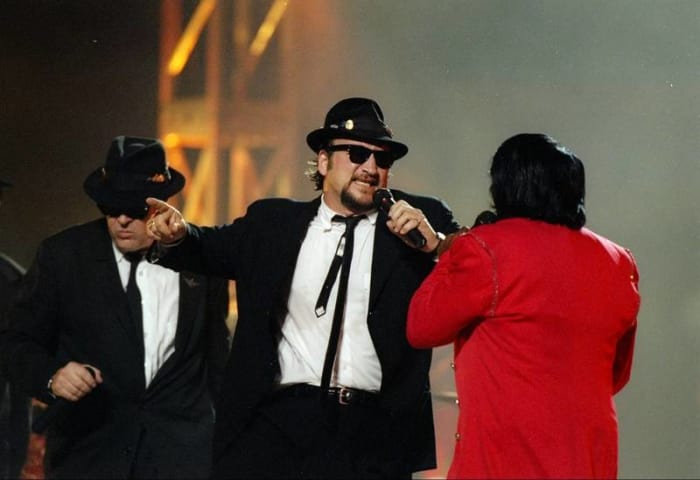 Doug Pensinger/Getty Images
The Super Bowl XXXI halftime show was titled "Blues Brothers Bash" and featured "Blues Brothers" (and "Blues Brothers 2000") actors Dan Aykroyd, John Goodman and Jim Belushi, who also were joined by ZZ Top and the Godfather of Soul himself, James Brown.
20 of 38
19. Super Bowl XXIX halftime show – Tony Bennett and Patti LaBelle
Doug Collier/AFP/Getty Images
Another Disney-produced halftime show, this year's performance started with basically a live commercial for Disneyland's newest attraction, Indiana Jones and the Temple of the Forbidden Eye. But afterward, LaBelle was joined onstage by Tony Bennett and Gloria Estefan and the Miami Sound Machine at the 1995 Super Bowl. It was a fun show aside from the shameless plug.
21 of 38
18. Super Bowl XLIX halftime show – Katy Perry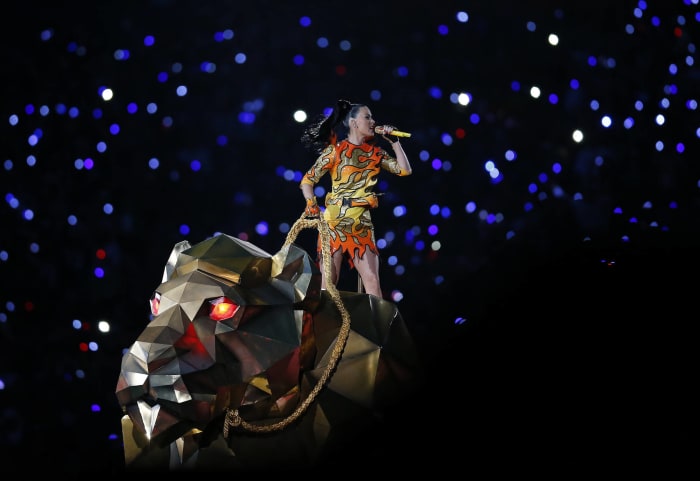 Tom Pennington/Getty Images
Two words: Left Shark. In what probably can be considered the most bizarre halftime performance to date, pop star Katy Perry put on a trippy performance for the ages. From coming out on some sort of mechanical lion to odd sharks dancing in the background, it was quite the "Fireworks" display, if you will, and is currently the highest-viewed Super Bowl halftime show in history.
22 of 38
17. Super Bowl LIII halftime show – Maroon 5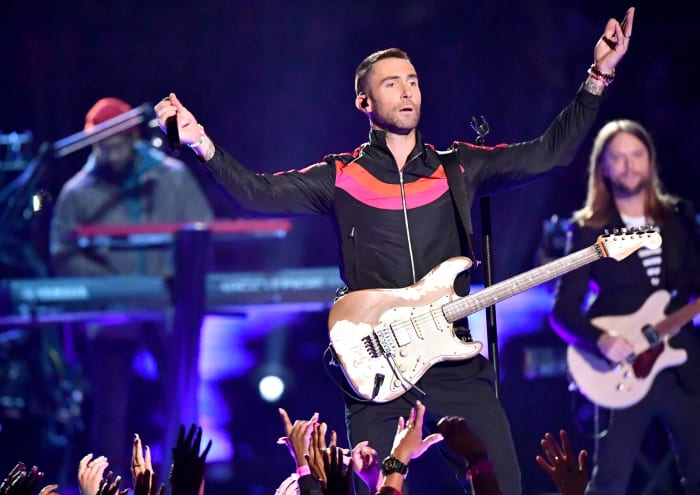 Jeff Kravitz/Getty Images
You know when you order a Coca Cola at a restaurant and the waiter asks if Pepsi is OK, and you greet that news with a shrug and a slightly disappointed, "that's fine?" That is what it was like when Maroon 5 was chosen for the appropriately named Pepsi Super Bowl LIII Halftime Show. Multiple artists reportedly declined the chance to perform, including Rihanna, who was allegedly standing in solidarity with protesting NFL quarterback Colin Kaepernick. The headliner's performance was vanilla, but special guests like Atlanta music legend Big Boi, Travis Scott and SpongeBob SquarePants saved the day.
23 of 38
16. Super Bowl XXXVIII halftime show – Janet Jackson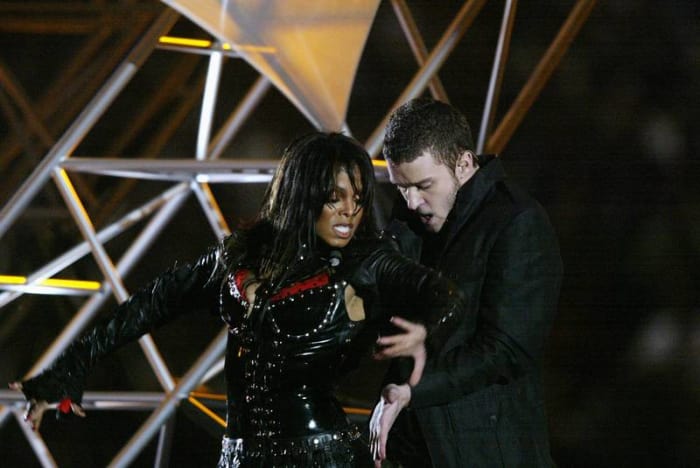 Donald Miralle/Getty Images
Never before or since has a Super Bowl halftime show been so widely discussed. Janet Jackson headlined the Super Bowl XXXVIII show and was joined by Justin Timberlake for a duet. Already fairly risqué for the Super Bowl, the performance closed with the final line of the song "Rock Your Body," which went, "I'm gonna have you naked by the end of this song." Timberlake then tore off a part of Jackson's costume, exposing her right breast and a piece of nipple jewelry. Despite CBS' efforts to cut away from the shot, the damage was done. The FCC and CBS received numerous complaints, Jackson's career was derailed (though Timberlake emerged relatively unscathed and became more popular than ever shortly after), and the American public made the moment the most rewatched moment in TiVo history.
24 of 38
15. Super Bowl XL halftime show – The Rolling Stones
Theo Wargo/Getty Images
The Rolling Stones, in their 44th year as a band, performed three songs at Super Bowl XL, including "(I Can't Get No) Satisfaction." "Here's one we could have done at Super Bowl I," Mick Jagger quipped at the song's introduction. As a result of Janet Jackson's infamous Super Bowl XXXVIII performance, ABC and the NFL imposed a five-second delay on the broadcast and had the Stones agree to the delay and censoring of the band's lyrics.
25 of 38
14. Super Bowl 50 halftime show – Coldplay
Focus On Sport/Getty Images
After changing from Roman numerals to a regular number for the first time ever, Super Bowl organizers were hoping not to take any Ls — even in the halftime show. They had international rock band Coldplay headline the show and brought back two of the better performances from recent years in Beyonce and Bruno Mars. Beyonce stole the show with the live debut of "Formation," but it was otherwise an uneventful performance.
26 of 38
13. Super Bowl XLIII halftime show – Bruce Springsteen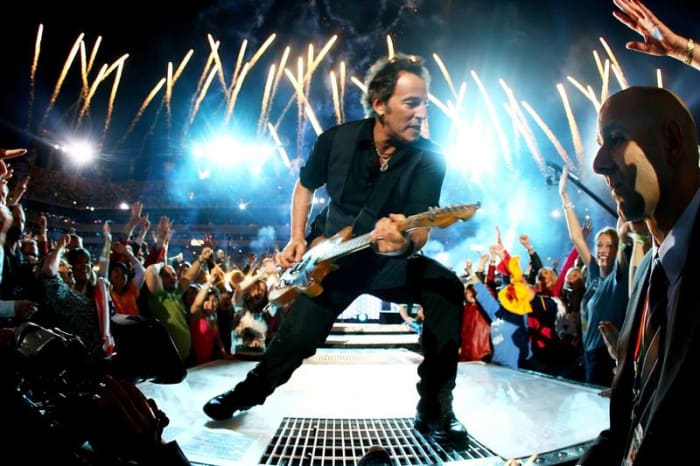 Jaime Squire / Getty Images
Bruce Springsteen and the E Street Band took the halftime stage for Super Bowl XLIII, accompanied by The Miami Horns and a gospel choir. To keep within the allotted 12 minutes, the Boss and Co. played only four songs, each with a minute excised to fit the run time. Bob Costas remarked that he felt Springsteen would be too old to have a physical performance; Springsteen jumped on the piano in the opening number to prove him wrong.
27 of 38
12. Super Bowl XLVI halftime show – Madonna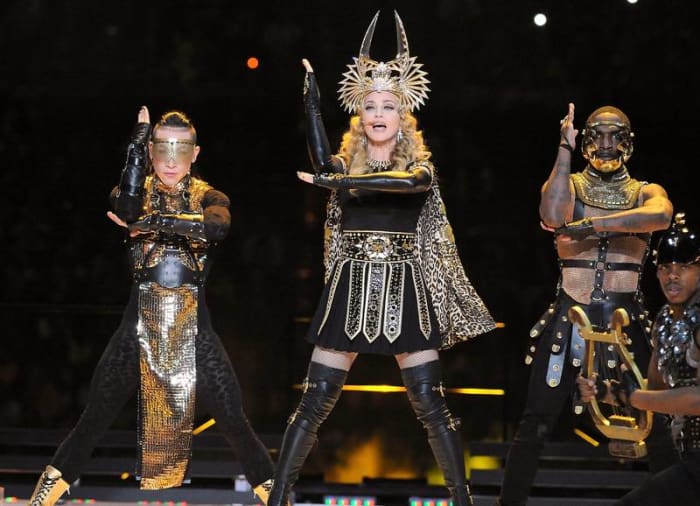 Jeff Kravitz / Getty Images
Madonna's Super Bowl XLVI halftime show was most notable for an incident involving one of her fellow performers. M.I.A. and Nicki Minaj were both tapped to accompany Madonna, along with LMFAO and CeeLo Green. During the performance of "Give Me All Your Luvin," M.I.A. flipped off the camera and went on to be sued by the NFL to the tune of $16 million. The singer and the league later settled, though the terms were not disclosed to the public.
28 of 38
11. Super Bowl LI – Lady Gaga
Patrick Smith/Getty Images
Lady Gaga's rendition of "God Bless America" and "This Land is Your Land" were notable not just for Gaga's typically stirring vocals but also for the fact that she sung them from the top of Houston's NRG Stadium before diving from the rooftop to the stage below. A-plus for showmanship, and it was certainly nothing surprising given Gaga's caliber as a performer. With a look purposely evocative of recently passed David Bowie's character, top-notch choreography and a wall-to-wall medley of hits (including her empowerment anthem "Born This Way") make hers one of the best in recent memory as well as the second-highest rated Super Bowl halftime show behind only Katy Perry's.
29 of 38
10. Super Bowl XXXII halftime show – Boyz II Men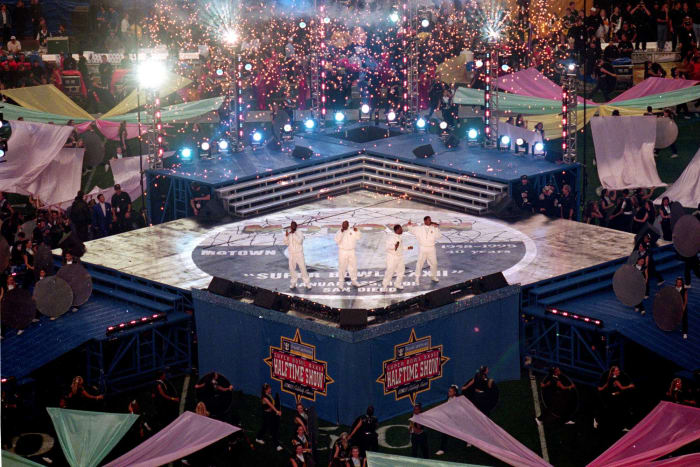 Jamie Squire/Getty Images
As a tribute to Motown's 40th anniversary, this year's halftime show — appropriately titled "A Tribute to Motown's 40th Anniversary" — featured Boyz II Men, the Temptations, Smokey Robinson, Queen Latifah and Martha Reeves. Smokey Robinson led the Temptations for a few minutes. It was awesome.
30 of 38
9. Super Bowl XXXIX halftime show – Paul McCartney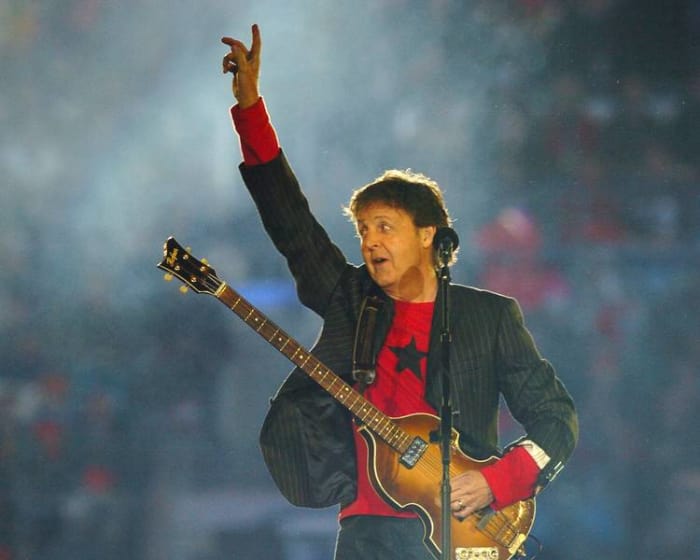 Theo Wargo/Getty Images
Super Bowl halftime show producers searched for a safe choice to headline after the Janet Jackson "Nipplegate" debacle the year prior. Paul McCartney was chosen and performed a medley of Beatles songs, including "Hey Jude," as well as Wings' "Live and Let Die."
31 of 38
8. Super Bowl XXX halftime show – Diana Ross
Al Bello/Getty Images
32 of 38
7. Super Bowl XLVIII halftime show – Bruno Mars
Elsa/Getty Images
One of the most watched Super Bowl halftime shows in history featured singer Bruno Mars, who was joined by the Red Hot Chili Peppers. Mars played a string of his own hits, accompanied by the Red Hot Chili Peppers, who also performed their 1991 hit, "Give It Away." Because Super Bowl XLVIII was the first to be played outdoors in a cold-weather city, logistics planners worried the show might not go on. Fortunately, that wasn't the case.
33 of 38
6. Super Bowl XLII halftime show – Tom Petty & the Heartbreakers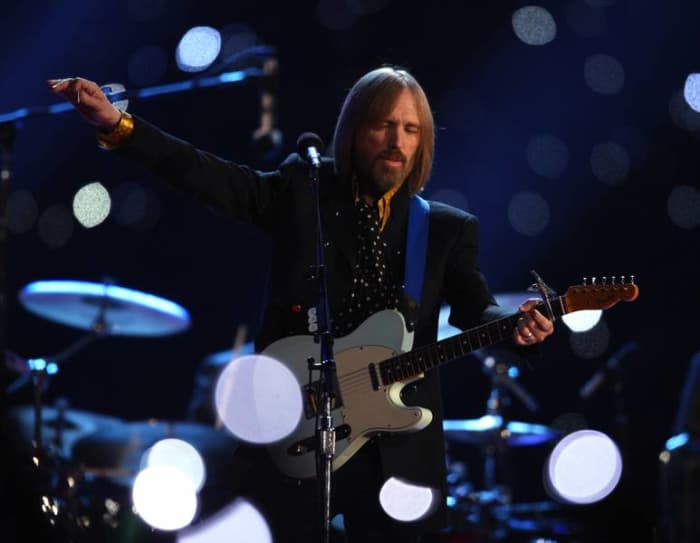 Timothy A. Clary/Getty Images
Tom Petty and the Heartbreakers signed on to perform the Super Bowl XLII halftime show after the selection committee passed over Norah Jones, Bruce Springsteen (who would play the halftime show the following year) and the Eagles (who were said to have turned down the offer). Bon Jovi also expressed interest.
34 of 38
5. Super Bowl LIV halftime show- Shakira & Jennifer Lopez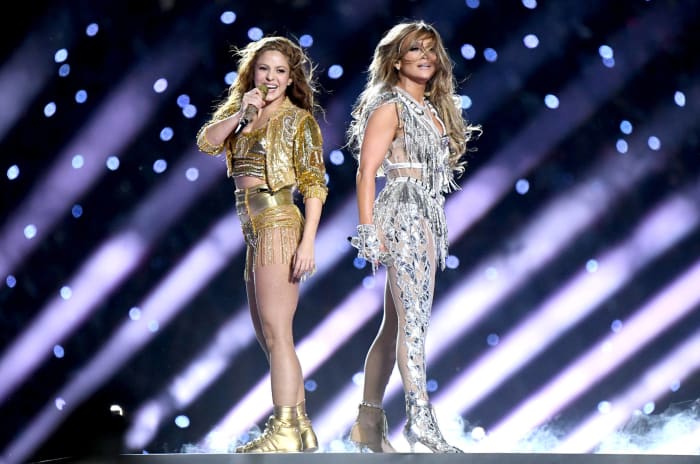 Jeff Kravitz/FilmMagic
With the Super Bowl back in Miami, the NFL, Jay Z and Roc Nation delivered a halftime show that rocked South Beach with Latin flair. Shakira and Jennifer Lopez brought together a multicultural Super Bowl LIV halftime show with unmatched energy and impeccably executed choreography. The unbridled joy both artists exuded was contagious, making this one of the most fun halftime shows ever.
35 of 38
4. Super Bowl XLVII halftime show – Beyoncé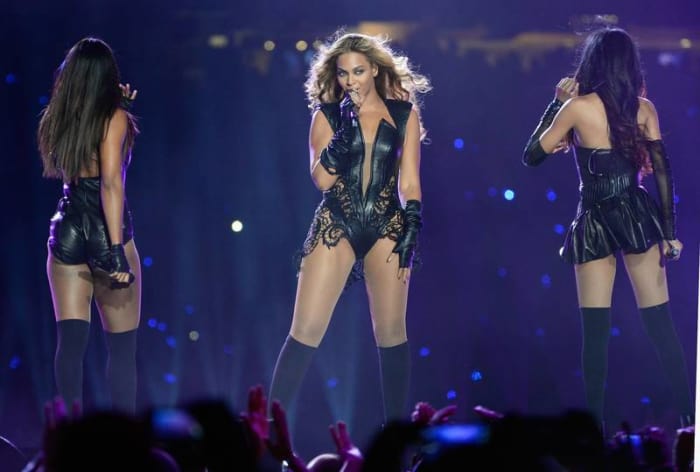 Kevin Mazur / Getty Images
Beyonce, arguably the world's foremost pop star, was tapped in October 2012 to head the Super Bowl XLVII halftime show. Despite rumors that her husband, Jay Z, would potentially perform with her, he did not appear. However, Beyonce reunited with the members of Destiny's Child to perform a number of the group's old hits, though the majority of songs were Beyonce's solo work. After her electrifying set, the lights at the Superdome famously went out for 34 minutes.
36 of 38
3. Super Bowl XXVII halftime show – Michael Jackson
Steve Granitz/Getty Images
The King of Pop was one of the few acts ever to perform solo for the Super Bowl halftime show, memorably being catapulted on stage for his opener and performing some of his biggest hits, including "Billie Jean" and "Black or White." For his finale, Jackson featured an audience card stunt, a video montage of his humanitarian efforts around the world and a 3,500-member choir of local kids singing "We Are the World." Notably this was the only halftime show in Super Bowl history where audience numbers grew during the show rather than during the game.
37 of 38
2. Super Bowl XXXVI halftime show – U2
Theo Wargo/Getty Images
In the first Super Bowl since the 9/11 attacks, U2 performed three songs for the Super Bowl XXXVI halftime show. The band altered lyrics in the song "Where the Streets Have No Name" to avoid any potential controversy, as the names of the 9/11 victims were projected on a screen behind the band during the performance. To close, Bono opened his jacket, revealing an American flag printed on the lining. The performance was widely acclaimed as one of the best, if not the best, ever.
38 of 38
1. Super Bowl XLI halftime show – Prince
Jonathan Daniel/Getty Images
Who needs the King of Pop when you can have Prince? The legendary musician's halftime performance featured covers of Creedence Clearwater Revival, Bob Dylan, the Foo Fighters and Queen, along with his signature songs "Let's Go Crazy" and "Baby, I'm a Star" and an appropriate closing with "Purple Rain," delivered in a Miami downpour. In true Prince form, the incredible performance had a little controversy due to an "unfortunately placed" guitar in a silhouette shot. You can guess as to where it was placed. Also, Prince played with live instruments, which is rarely (if ever) done in modern Super Bowl halftime performances, and he strutted around the slick stage wearing high-heeled boots. The man is a demigod.