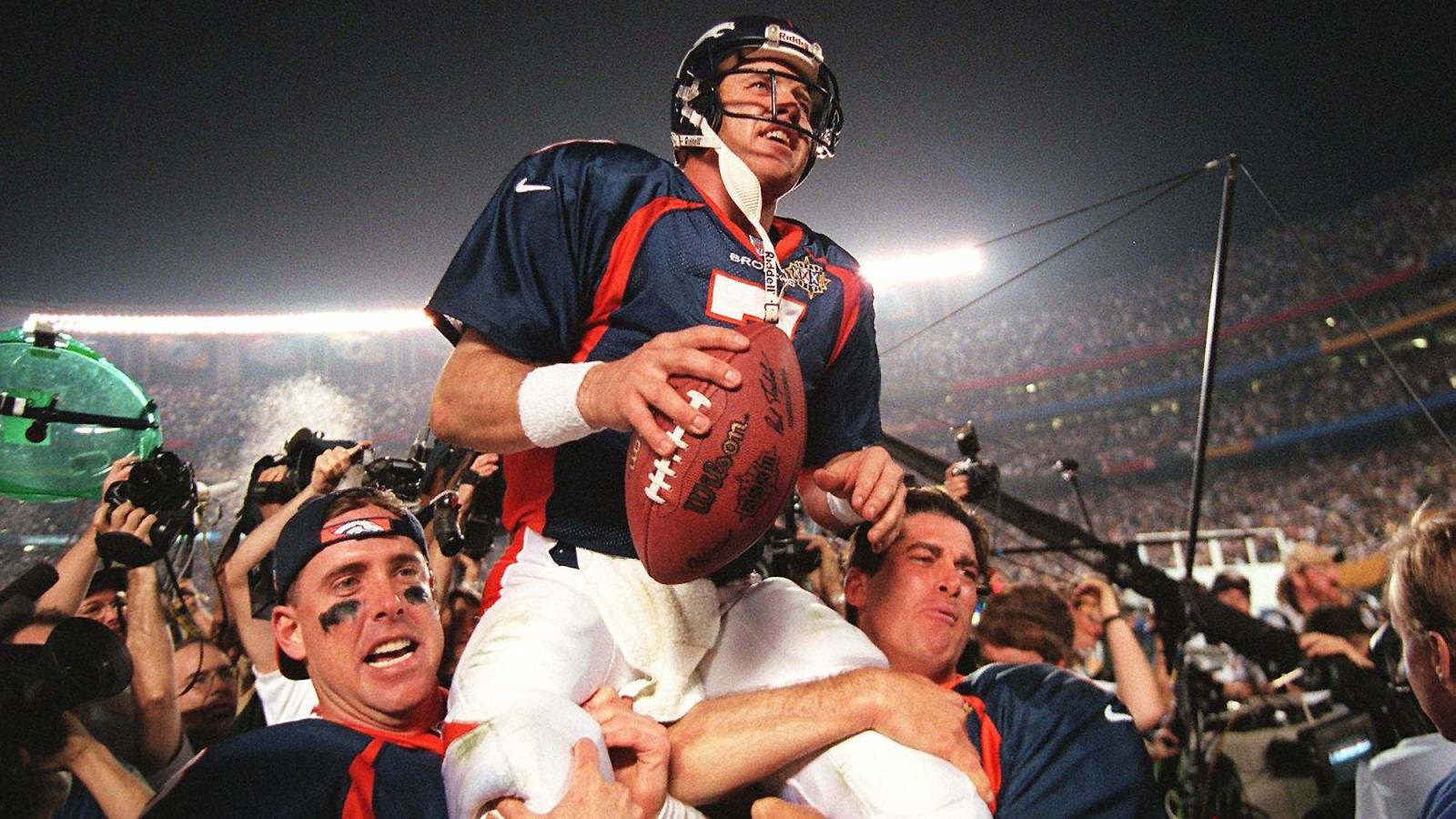 We now have 54 Super Bowl champions. As No. 54 begins its title defense, here is how the previous Super Bowl winners' follow-up teams stack up historically.

1 of 55
Ranking every Super Bowl champion's title defense
TIMOTHY A. CLARY/AFP via Getty Images
We now have 55 Super Bowl champions. As No. 55 begins its title defense, here is how the previous Super Bowl winners' follow-up teams stack up historically.
2 of 55
54. 1982 San Francisco 49ers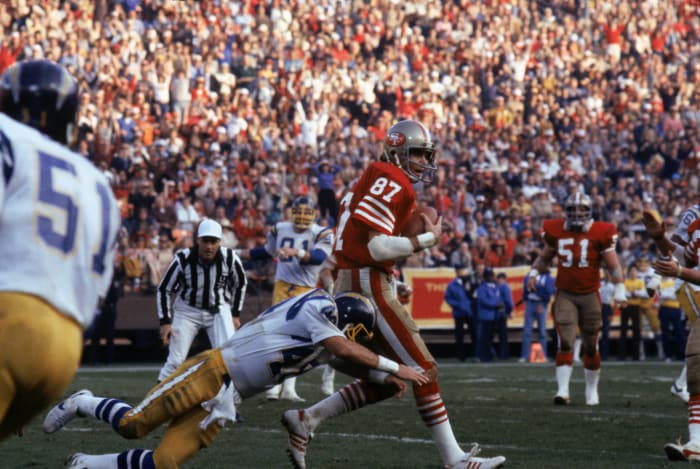 Michael Zagaris-Getty Images
The 49ers followed up their 1981 emergence with an odd journey back toward the NFL's basement. San Francisco's first Super Bowl title defense came in a strike-shortened season, and it failed to come close to meeting expectations. Joe Montana started all nine games in 1982, and his storied partner on "The Catch," Dwight Clark, was an All-Pro. The 49ers still went 3-6. Their defense plummeted from second in points allowed in '81 to 23rd a year later. Bill Walsh's team lost its first two games, before the strike, and did not have as much time to recover when play resumed in November.
3 of 55
53. 1981 Oakland Raiders
Focus on Sport-Getty Images
Just ahead of their first awkward Oakland exit, the 1981 Raiders finished 7-9 and suddenly had a quarterback controversy. Despite Jim Plunkett leading Oakland to the Super Bowl XV title, he started for the Raiders in three straight shutout losses early in the '81 season. Tom Flores (and Al Davis, essentially) benched Plunkett and went with 1980 first-round pick Marc Wilson, who never found his footing in the NFL. Oakland's offense ranked 25th. Plunkett eventually regained his job and led the Los Angeles Raiders to a Super Bowl title three years later.
Patrick Smith-Getty Images
An Orioles game prevented the Ravens from the customary post-Super Bowl Thursday home game, and the result set a bad tone for the season. Peyton Manning shredded the Ravens for an NFL-record seven touchdown passes in Denver, and they slogged through an unremarkable 8-8 slate. Joe Flacco threw 22 interceptions — by far a career-worst mark — and three-time Pro Bowler Ray Rice averaged only 3.1 yards per carry in what became his final season. The Ravens had playoff hopes in December, when a four-game win streak included a rapid-fire Vikings shootout, but were blown out by the Patriots and Bengals to close the year.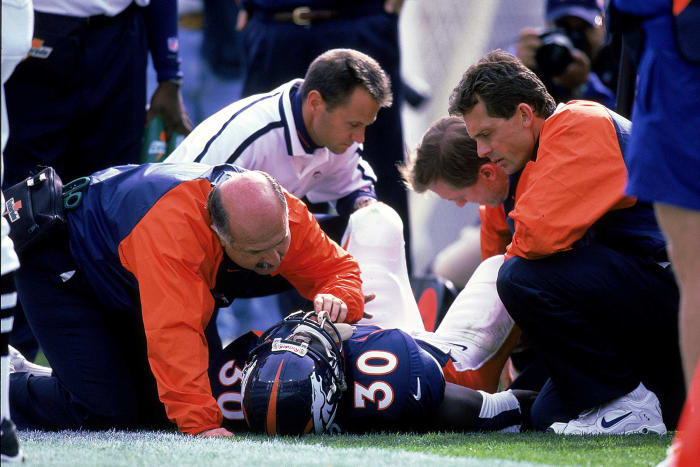 Brian Bahr-Getty Images
John Elway's retirement prior to the 1999 season left the Broncos in big trouble, and Mike Shanahan opted for untested second-year quarterback Brian Griese over veteran backup Bubby Brister. The two-time defending champions lost reigning league MVP Terrell Davis and fellow future Hall of Famer Shannon Sharpe to season-ending injuries early, Davis never recovered fully from his severe knee malady, and an 0-4 start buried the Broncos. They finished 6-10 — the most losses for a defending Super Bowl champion — but lost eight of those games by one score and were just minus-4 in point differential.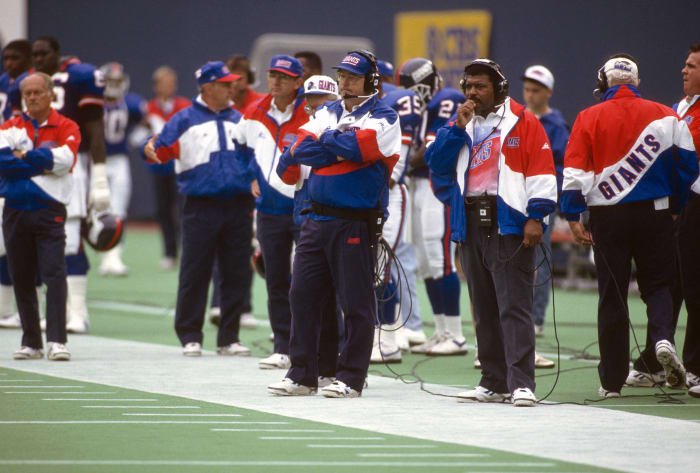 Focus on Sport-Getty Images
Losing a Hall of Fame coach and a future Hall of Fame assistant, the 1991 Giants were a freefall candidate from the start. The aftermath of Bill Parcells' and defensive coordinator Bill Belichick's exits was uneventful. New York went 8-8 under overmatched head coach Ray Handley, fired after the 1992 season, and lost its defensive muscle following Belichick's move to Cleveland. The Giants inexplicably played longtime backup Jeff Hostetler over Phil Simms for much of the season. Handley never coached again after his dismissal.
7 of 55
49. 1988 Washington
Jonathan Daniel-Getty Images
The most unique of the 1980s-'90s NFC powers, Washington won Super Bowls with three different starting quarterbacks. The transition from No. 2 (Doug Williams) to No. 3 (Mark Rypien) began in 1988. Joe Gibbs benched Williams for Rypien, whose full-time starting run lasted until 1993. A severe injury to running back Kelvin Bryant, and Timmy Smith being unable to replicate his Super Bowl rushing-record form doomed Washington's run game. Its defense also ranked as the NFL's third-worst unit. Washington went 7-9 but recovered. Several starters from this team were around for the franchise's 1991 Super Bowl return.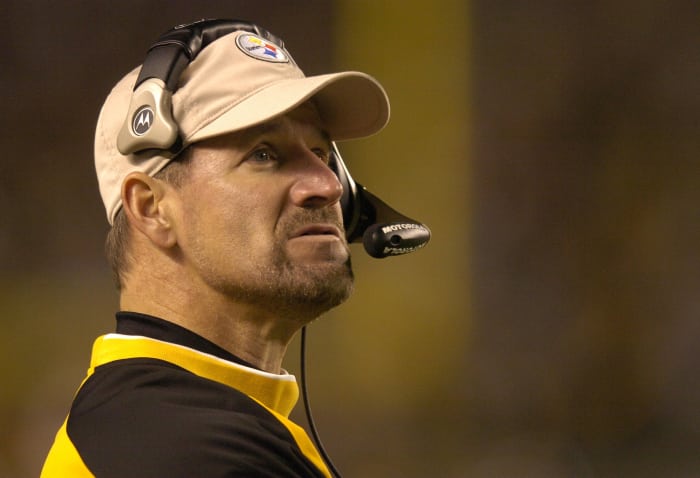 Glenn Asakawa-The Denver Post via Getty Images
Ben Roethlisberger's offseason included a motorcycle crash and an appendectomy, and the 2006 Steelers could not get right either. Their top-tier Super Bowl defense regressed to 11th in '06, and Big Ben finished with 18 touchdown passes and a league-high 23 interceptions. Pittsburgh started 2-6 and could not recover in an 8-8 season. Bill Cowher retired after the season, but the Steelers rebounded quickly under Mike Tomlin — making the playoffs in 2007 and winning their sixth Super Bowl a year later.
Focus on Sport-Getty Images
Vince Lombardi stayed on as Packers general manager after retiring following Super Bowl II, but the nucleus he built years prior was aging could not stay its nearly unparalleled course. Following a run of three straight NFL championships, the 1968 Packers went 6-7-1 under new coach Phil Bengtson. The '68 team still had Hall of Famers Bart Starr, Ray Nitschke, Herb Adderley, Willie Wood, Forrest Gregg, Henry Jordan and Jerry Kramer. But this season officially concluded Green Bay's 1960s dynasty.
Eliot J. Schechter-Getty Images
Two years before the Eagles effectively kicked Terrell Owens off the team, the Buccaneers set up a blueprint with a disgruntled Keyshawn Johnson. A diva wideout before Owens and Randy Moss took the label to the next level, Johnson played 10 games with the Bucs that season — his last in Tampa. The '03 Bucs went 7-9, and though they still carried a top-level defense, it could not match the Super Bowl unit's all-time dominance. Jon Gruden coached the Bucs until 2008, but Super Bowl XXXVII remains his most recent playoff win.
11 of 55
45. 2016 Denver Broncos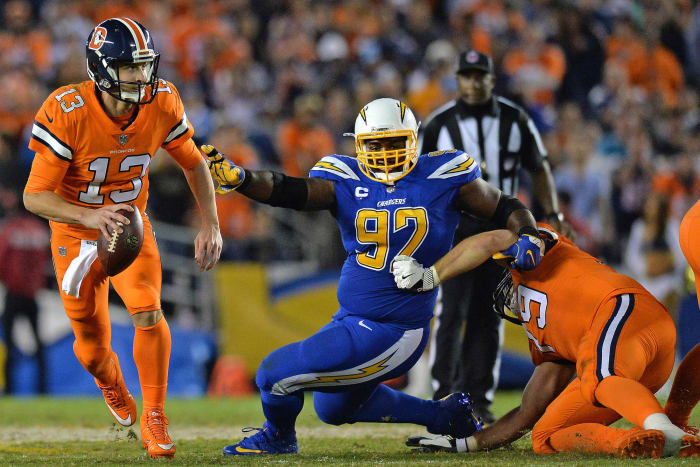 Jake Roth-USA TODAY Sports
The Broncos have a stranglehold on quarterbacks going out on a high note , and their Peyton Manning successor was far more obscure than John Elway's. Trevor Siemian became easily the most random quarterback given the keys to a Super Bowl title defense. The Northwestern alum fared OK given his seventh-round pedigree, but the Broncos' struggles on offense and run defense doomed them. Von Miller, Chris Harris and Aqib Talib earned All-Pro honors for a historically dominant pass defense that nearly dragged Denver (9-7) to the playoffs. QB issues worsened for the Bronco teams to come.
12 of 55
44. 1987 New York Giants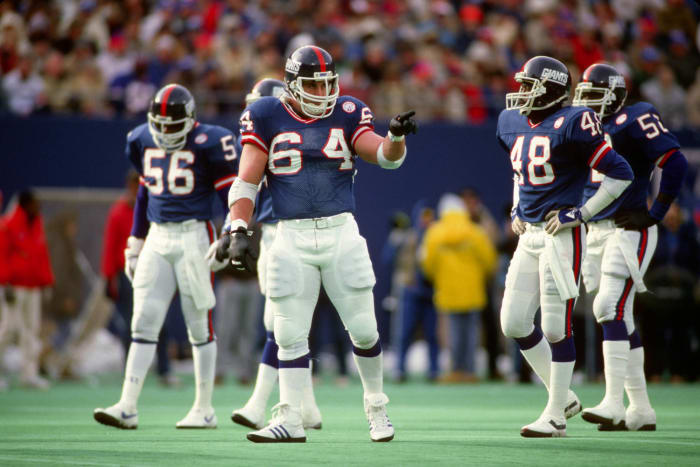 George Gojkovich-Getty Images
While the 1987 players' strike ignited Washington to a Super Bowl title (and loosely inspired 2000's "The Replacements"), it doomed the defending champions' season. Already 0-2 prior to the strike, the Giants saw their replacement squad dig the regulars an 0-5 hole. The team ended up 6-9. Bill Parcells said this turn of events still bothers him. Standout tight end Mark Bavaro did at least earn All-Pro acclaim in this lost season. The Giants missed the playoffs in 1988 before rerouting their operation and winning Super Bowl XXV to close out the Parcells era in 1990.
13 of 55
43. 2012 New York Giants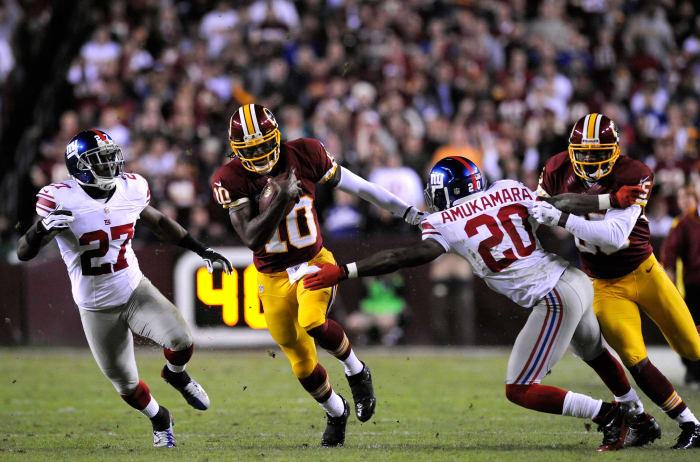 Patrick McDermott-Getty Images
Football Outsiders' DVOA metric rated the 2012 Giants as better than the 2011 version. But the '11 team had a chance to come together in the playoffs. The '12 Giants were not as explosive offensively. Victor Cruz still played well but never again resembled his dominant 2011 self, and Hakeem Nicks began to see injuries lead to an early career conclusion. After the 2011 team's NASCAR package stormed Tom Brady and Co. in Super Bowl XLVI, no Giant registered more than 6.5 sacks in 2012. Blowout December defeats to the Falcons and Ravens ended Big Blue's repeat hopes. They finished 9-7.
14 of 55
42. 2009 Pittsburgh Steelers
David Eulitt/Kansas City Star via Getty Images
The modern-era Steelers champions have not produced successful encores. After the 2008 team fielded an all-time defense, the '09 version finished 12th in points allowed. A knee injury limited Troy Polamalu to five games. Ben Roethlisberger located Hines Ward and Santonio Holmes often (2,465 combined air yards), and Rashard Mendenhall broke out in Year 2. But the Steelers went 9-7, doomed by a five-game late-season losing streak that included losses to the four-win Chiefs and five-win Browns. Mike Tomlin's next squad, with its defensive mojo back, voyaged to Super Bowl XLV.
15 of 55
41. 1980 Pittsburgh Steelers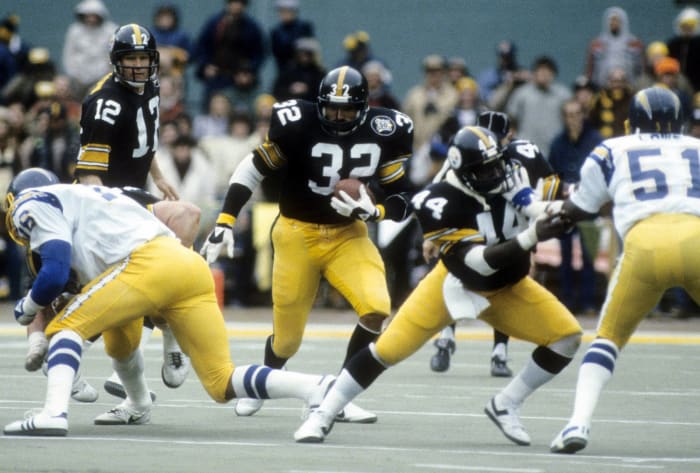 Focus on Sport-Getty Images
Age caught up with the Steelers in the early 1980s. Eleven of their starters entered the 1980 season north of 30, and the once-vaunted Steel Curtain was now a middling defense. John Stallworth missed 13 games, and Lynn Swann was the Steelers' third-leading receiver. He retired after the 1983 season. This Pittsburgh iteration went 9-7 and finished behind the Browns and Oilers in the AFC Central. The Steelers recovered to make the 1984 AFC championship game, but most of the '70s stalwarts were gone by then.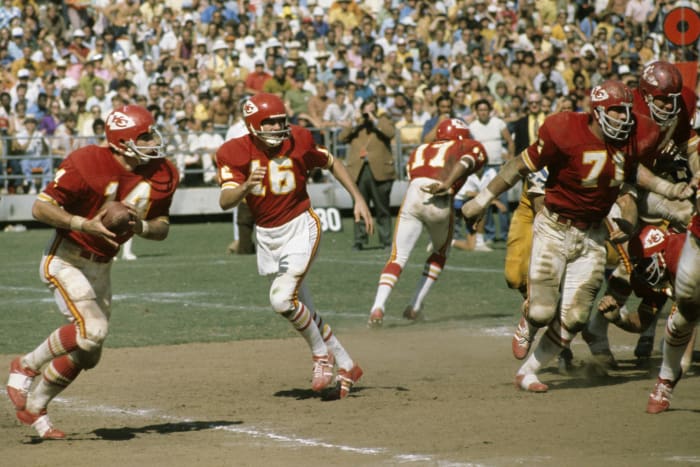 Charles Aqua Viva-Getty Images
The Chiefs' first year in the NFL did not go too well. The Vikings exacted revenge for Super Bowl IV with a 27-10 Week 1 win, beginning a hangover season. Other than the unearthing of running back Ed Podolak, a rookie backup in 1969, little went well for a Chiefs offense that ranked 15th. Kansas City couldn't reignite its team — one that still had seven Hall of Famers — and finished 7-5-2. The Chiefs rebounded in 1971, returning to the playoffs for a marathon battle with the Dolphins, but then hit nearly two decades' worth of tough sledding until Marty Schottenheimer's arrival.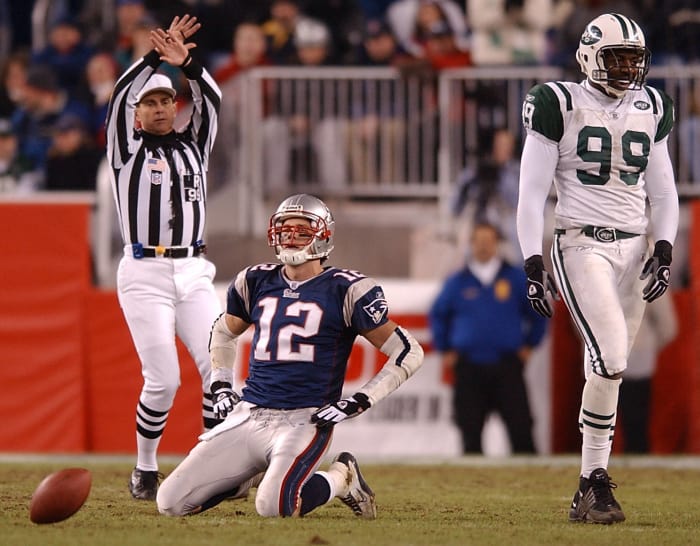 Matthew J. Lee-The Boston Globe via Getty Images
The initial Patriots title defense sputtered. Amazingly, this was the last time New England missed the playoffs with a healthy Tom Brady. The 2002 season marked the Pats' worst defensive performance (17th in scoring) in the Brady-Bill Belichick partnership's 20 seasons. Brady failed to make the Pro Bowl, while predecessor Drew Bledsoe — whom Belichick traded to Buffalo that April — made his fourth. New England lost two of its final three games and finished 9-7, allowing Miami to win the division. The Patriots won the next two Super Bowls and 16 of the next 17 AFC East titles. Good turnaround.
18 of 55
38. 2001 Baltimore Ravens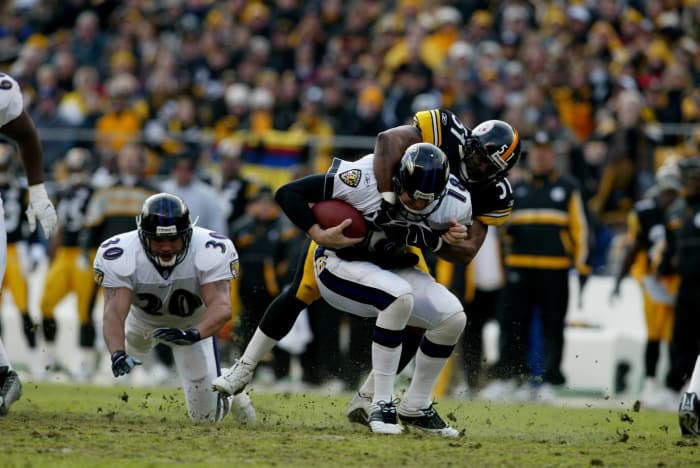 Andy Lyons-Getty Images
After a storied defense carried a Trent Dilfer-piloted offense to a Super Bowl title, the Ravens' follow-up (the "Hard Knocks" guinea pig) signaled this imbalance wasn't going away. Baltimore ditched Dilfer for Elvis Grbac, who threw 15 TD passes and 18 INTs before retiring at season's end. The defense-fueled Ravens went 10-6 but lost twice to the woeful Browns — in their third season post-reboot. After a Ravens wild-card win in Miami, the Steelers easily handled their rivals, 27-10. Baltimore did not win another playoff game until Joe Flacco's rookie year.
19 of 55
37. 2018 Philadelphia Eagles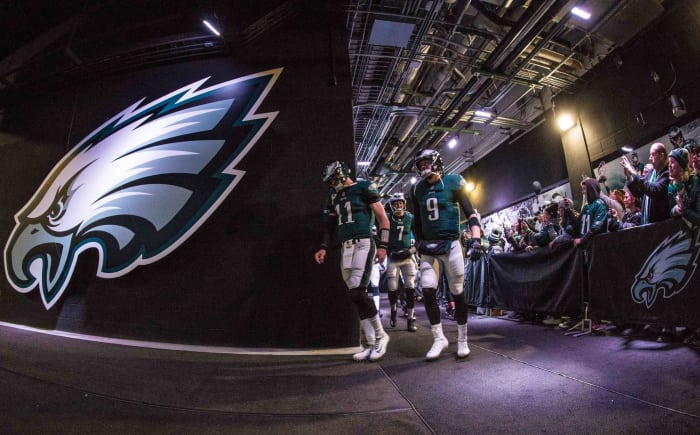 Bill Streicher-USA TODAY Sports
The Eagles' first Super Bowl title defense underwhelmed. Philadelphia went 9-7 and did not rank in the top 12 in scoring offense or defense. Carson Wentz's starts produced a 5-6 record, and the 2017 MVP frontrunner saw another season end early due to injury. Nick Foles steered a rescue effort, piloting Philly to three December wins — one over the NFC champion Rams in Los Angeles — and a playoff berth. This resurgent team won the "Double Doink" game in Chicago and had the Saints on the ropes in Round 2. But the franchise fallen far since this playoff berth. Two years later, Doug Pederson is gone and a Wentz divorce is imminent.
20 of 55
36. 1992 Washington
Focus on Sport-Getty Images
A case can be made for Washington's 1991 team as a Mt. Rushmore NFL squad. Joe Gibbs 1.0's finale in '92, however, wasn't as laudable. Although Washington beat the eventual Super Bowl champion Cowboys, it went 9-7 and ranked 14th in points (a year after the '91 powerhouse led the league). Mark Rypien's acclaimed wideouts (Art Monk, Gary Clark and Ricky Sanders, "The Posse") were all over 30 by now and none eclipsed 1,000 yards for the first time since 1983. After a wild-card win in Minnesota, Washington lost to the No. 1-seeded 49ers a week later. The franchise did not return to the playoffs until 1999.
21 of 55
35. 2005 New England Patriots
Mike Ehrmann-Getty Images
After going a preposterous 28-4 between the 2003-04 seasons, the Patriots regressed in their three-peat bid. Tom Brady in Year 6 was still not yet on his prodigious level, and Belichick — who has deployed 17 top-10 defenses since 2001 — did not coax his usual stoppage success (17th) in '05. The Pats lost four games by double digits and went 10-6. They beat the Jaguars handily in Round 1 but saw Champ Bailey's 100-yard INT return, which featured an unusual conclusion, represent one of five turnovers in the Broncos' 27-13 divisional-round win — the Belichick-Brady era's first playoff blemish.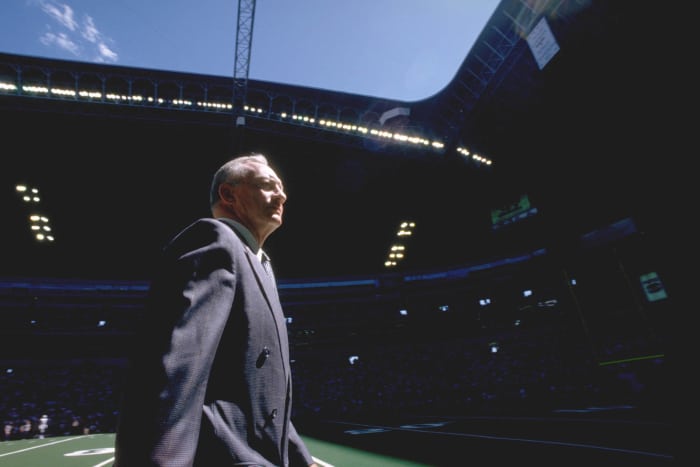 Sporting News via Getty Images
The last of the 1990s' quality Cowboy teams, this one went 10-6 and showed signs of decline. Emmitt Smith averaged a Cowboys-years-low 3.7 yards per carry and did not make the Pro Bowl despite scoring 15 TDs. Dallas' offense ranked 25th, after boasting the No. 3 attack during the Barry Switzer Super Bowl season, and Troy Aikman threw just 12 TD passes. The Cowboys did beat the Super Bowl champion Packers and mustered a final playoff salvo — a 40-15 first-round win over the Vikings. But they lost to the Panthers in Round 2 during a game that featured a Michael Irvin opening-drive injury. Dallas has won three playoff games since.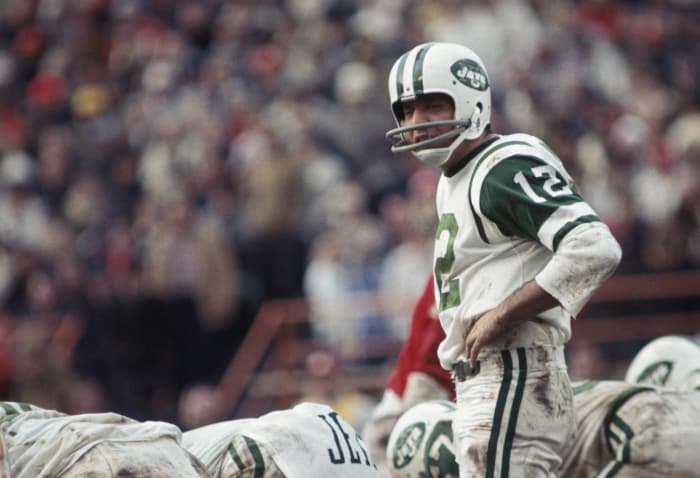 Focus On Sport-Getty Images
A year after pulling off one of sports' iconic upsets, the Jets went 10-4 and won the AFL East division in the league's final season. However, 1969 produced an expanded four-team playoff format. Instead of division winners meeting for the AFL crown, they needed to navigate wild-card teams. The 11-3 Chiefs, a wild card, edged the Jets 13-6, beating the defending Super Bowl champs for a second time that year en route to their Super Bowl IV victory. This was the Joe Namath era's final playoff game; New York did not return to the postseason until 1981.
24 of 55
32. 2019 New England Patriots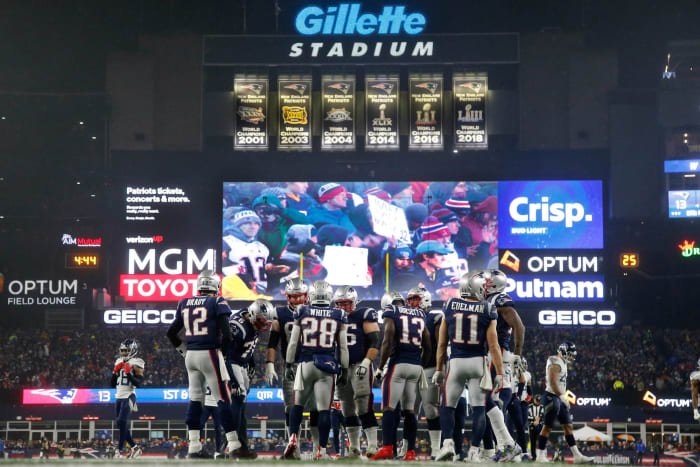 Winslow Townson-USA TODAY Sports
Despite starting 8-0 and fielding a No. 1 defense, this team became the rare Patriot outfit to fold in high-stakes situations. The 12-4 Pats padded their plus-195 differential against a favorable schedule, facing multiple rebuilding AFC East teams, the 2-14 Bengals and an all-time bad NFC East quartet. Tom Brady struggled during Rob Gronkowski's WWE sabbatical, and the team's big-name receiver shuffle (from Antonio Brown to Josh Gordon to Mohamed Sanu) produced little of consequence. The understaffed Dolphins' Week 17 upset preceded a Round 1 loss to the Titans. Brady (feat. Gronk) then left for Tampa and ring No. 7, leaving the Pats in QB purgatory.
25 of 55
31. 1984 Los Angeles Raiders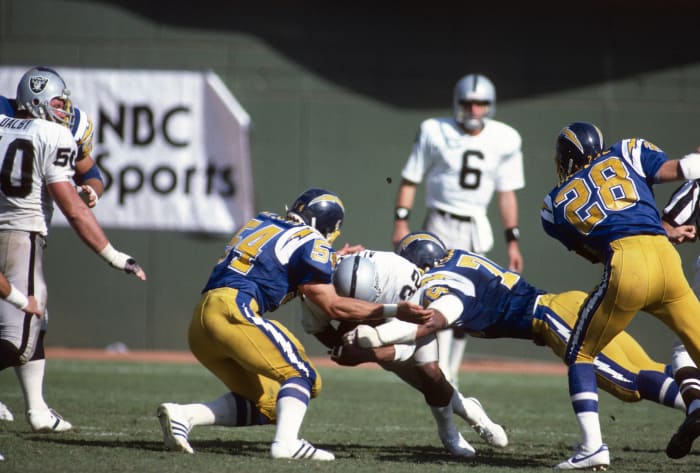 Focus on Sport-Getty Images
Fresh off his Super Bowl MVP showing, Marcus Allen churned out another dominant season. The L.A. native amassed 1,926 scrimmage yards and scored 18 touchdowns. The TD total bettered Eric Dickerson's mark in his rushing-record campaign. The Raiders ranked fourth defensively but performed more QB shuffling. Los Angeles gave Marc Wilson a long look after a Jim Plunkett injury but went back to the veteran before its playoff opener. The 11-5 team beat the AFC champion Dolphins but had to trek to Seattle for a wild-card date. The Seahawks exacted revenge for the previous year's AFC title game, beating the Raiders 13-7.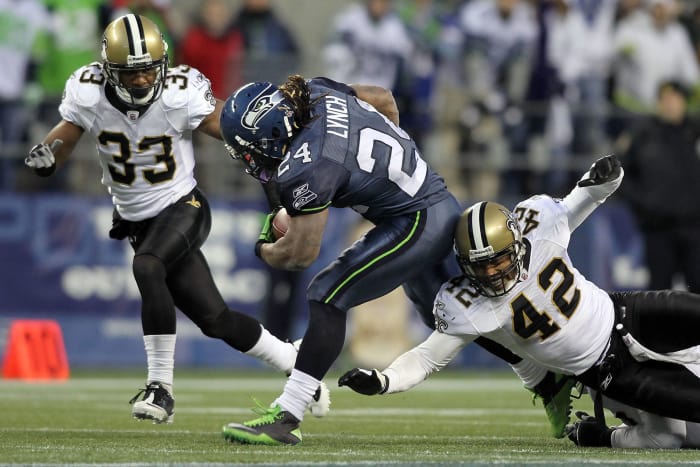 Jonathan Ferrey-Getty Images
One of the best Saints defenses in the Drew Brees era endured a rough night that has been difficult to escape. The 2010 Saints ranked seventh in scoring defense. They beat both the AFC champion Steelers and the NFC's top seed, the Falcons, in the regular season. But NFL rules mandated their 11-5 squad travel to face a 7-9 team in the playoffs. The Seahawks' 12th Man went mainstream that night, unfortunately for the Saints. Matt Hasselbeck outdueled Brees, and Marshawn Lynch's "Beastquake" run catapulted Seattle to a 41-36 win. Several painful Saints playoff losses followed in the 2010s.
27 of 55
29. 2000 St. Louis Rams
Joseph Patronite-Getty Images
These Rams rocketed to a 6-0 start behind reigning MVP Kurt Warner, who threw 17 TD passes in that span, and eventual MVP Marshall Faulk (then-record 26 TDs). However, Warner broke a finger on his throwing hand in Week 7, and the Trent Green-led Rams — their No. 1 offense held down by the last-ranked defense — went just 2-3 while Warner rehabbed. Mike Martz's first Rams team edged the Saints in Week 17 to make the playoffs at 10-6. However, an Az Hakim muffed punt deprived the league's No. 1 offense from a game-winning drive chance in a Round 1 rematch in New Orleans. The Rams improved on defense to win the NFC in 2001.
28 of 55
28. 1985 San Francisco 49ers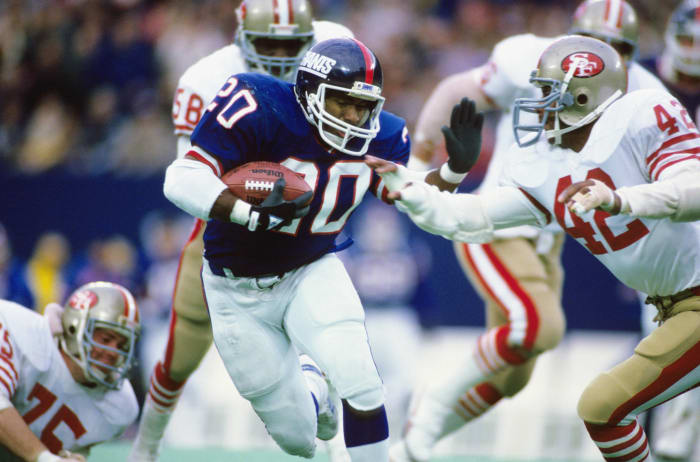 Ronald C. Modra/Sports Imagery/Getty Images
This was a forgettable 49ers team, illustrating that dynasty's firepower. They routed the NFC West champion Rams and the AFC's top seed, the Raiders, but much like their 1988 Super Bowl team, they were inconsistent. This year is best known for Roger Craig's trailblazing 1,000-1,000 season, Jerry Rice's shaky rookie showing and the injury that induced Ronnie Lott to partially amputate a finger. Joe Montana still threw 27 touchdown passes, just three to the future wide receiver deity, and guided the 49ers to a 10-6 record. The Giants beat the 49ers 10-7 in a wild-card game and eliminated the '86 49ers as well.
29 of 55
27. 1972 Dallas Cowboys
James Flores-Getty Images
These Cowboys made it to the NFC championship game without Roger Staubach getting a start. The starter during Dallas' 1971 Super Bowl stretch run separated his shoulder months later and did not get his job back upon return. Craig Morton, whom Staubach usurped in '71, started throughout the year. The Cowboys went 10-4, but the future Hall of Fame QB came off the bench in the fourth quarter of a divisional-round game to lead a 15-point fourth-quarter comeback and stun the 49ers. Washington blew out Dallas a week later, but Staubach's job security was never again threatened.
30 of 55
26. 1971 Baltimore Colts
Focus on Sport/Getty Images
Carried by a defensive unit that yielded just 10 points per game, the Colts extended their Super Bowl V title defense into the following year's AFC championship game. A 38-year-old Johnny Unitas and 37-year-old Earl Morrall split the snaps in the regular season — a 10-4 Colts showing — before Unitas won his final playoff game, helping Baltimore to a 20-3 win over Cleveland. He threw three INTs in what would be his last postseason appearance — a 21-0 loss to the Dolphins and former Colts coach Don Shula. Morrall soon joined his old coach and played a key role on Miami's perfect 1972 team.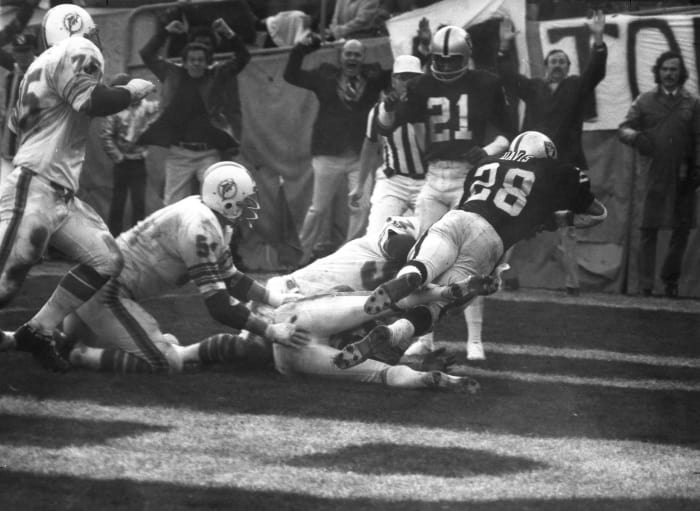 Michael Zagaris-Getty Images
The AFC in the 1970s featured three superpowers. The best game between two of them occurred in 1974. Gunning for a third straight Super Bowl title and fourth consecutive Super Bowl, the 1974 Dolphins finished 11-3 and were top six on offense and defense. Paul Warfield and Nat Moore helped a ground game that was a cut below previous Miami attacks; both wideouts scored touchdowns against the Raiders in the playoffs. But Oakland prevailed 28-26 in the "Sea of Hands" divisional-round game, with Clarence Davis' game-winning TD ousting the Dolphins and ending the greatest run in franchise history.
32 of 55
24. 2008 New York Giants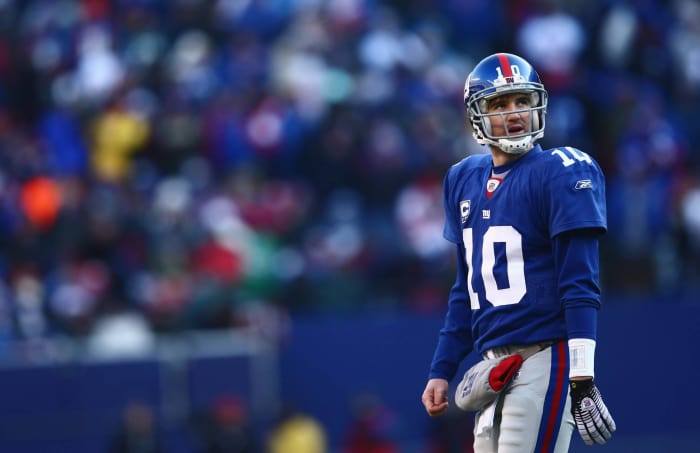 Chris McGrath/Getty Images
The '08 Giants were better than their Super Bowl XLII team. Despite Osi Umenyiora missing the season, the Giants deployed a top-five defense. They also ranked third in points scored and had two 1,000-yard rushers in Brandon Jacobs and Derrick Ward. New York beat all four of 2008's conference championship teams and the 12-win Panthers. However, the Plaxico Burress November gunshot incident wounded the Giants as well. They were 10-1 when that happened but finished 12-4. The Eagles upset them in Round 2, denying a loaded New York team a chance to host an NFC title game for the only time in Eli Manning's career.
33 of 55
23. 2017 New England Patriots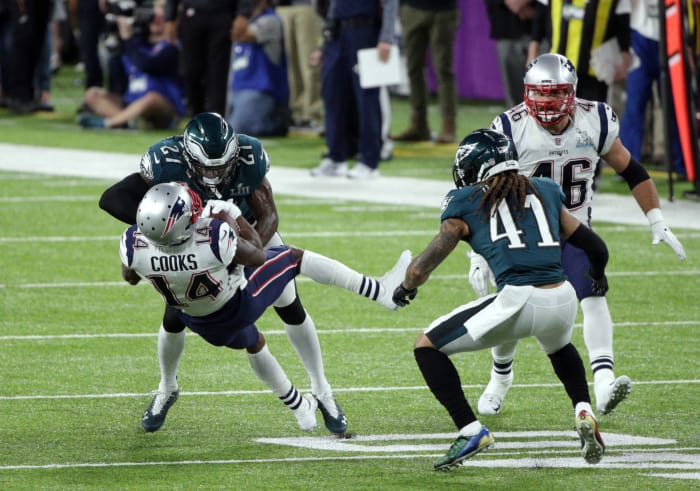 Brad Rempel-USA TODAY Sports
An early appearance on this list for a Super Bowl team, but New England reaching Super Bowl LII was more about favorable circumstances than pure dominance. A down AFC and lower-tier QBs residing on the 13-3 Pats' January docket paved one of the coziest roads a Super Bowl entrant has traveled. New England's playoff QB docket: Marcus Mariota, Blake Bortles, Nick Foles. This came after a controversial win in Pittsburgh lifted New England to the AFC's top seed. MVP Tom Brady and Rob Gronkowski carried this squad and nearly compensated for the odd Malcolm Butler benching in a shootout Super Bowl loss.
34 of 55
22. 2015 New England Patriots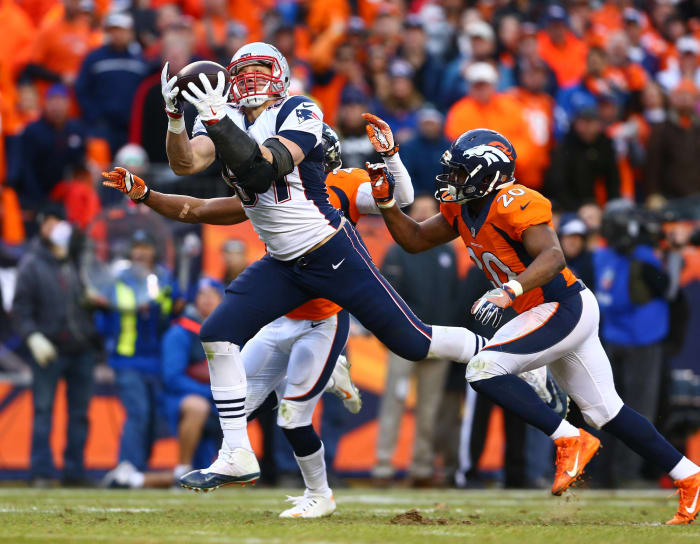 Mark J. Rebilas-USA TODAY Sports
New England's 2015 team (12-4) graded exactly the same in DVOA as its 2017 squad did (22.6 — tied for 10th-best of the Belichick era). This one zoomed to a 10-0 record and gave one of the greatest defenses in NFL history all it could handle in a 20-18 AFC title-game loss. This team had it fairly easy in the regular season, playing one 10-win team (and losing), but Brady and Gronkowski were atop their games in 2015. And by pushing the eventual champion Broncos — home underdogs in that championship game — to the limit, the Pats proved again they were this era's toughest playoff out. 
35 of 55
21. 1995 San Francisco 49ers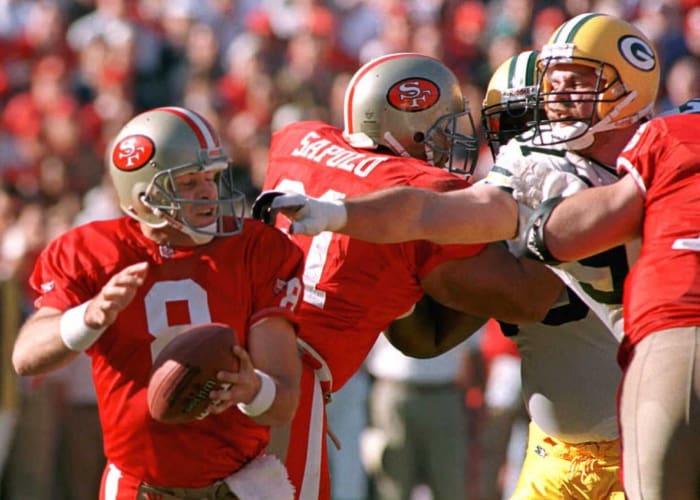 Jeff Haynes-Getty Images
Although the Cowboys prevailed for '90s supremacy, the 49ers ended the era by beating their nemeses three straight times. They routed the 1995 Super Bowl champs with Elvis Grbac in for reigning MVP Steve Young, led the league in scoring and sported the NFL's second-best defense (coordinated by Pete Carroll). The 49ers (plus-199) went 11-5, but those losses occurred by a combined 15 points. And a Week 17 loss in Atlanta denied San Francisco home-field advantage. The Packers did not allow the 49ers to reach a fourth straight NFC title game, dominating in a divisional-round win — the first of four straight Packers-49ers playoff meetings.
36 of 55
20. 1977 Oakland Raiders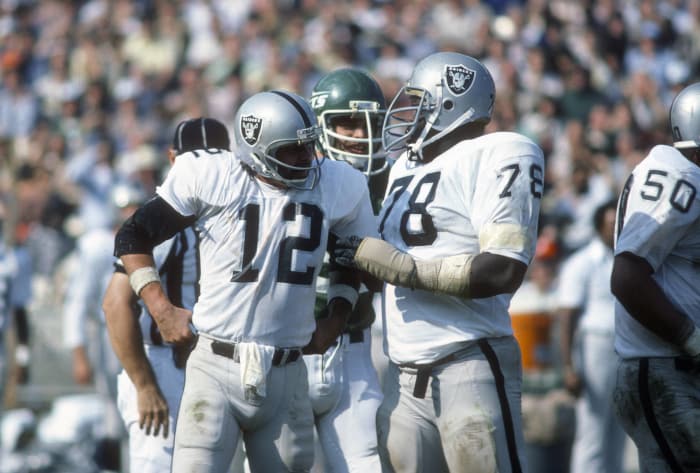 Focus on Sport-Getty Images
These Raiders came close to back-to-back Super Bowl appearances. Fueled by a career year from fullback Mark Van Eeghen (1,273 yards), the Raiders started 8-1. The one blemish in that stretch forced them to leave the Bay Area for the AFC championship game. The 12-2 Broncos beat the 11-3 Raiders in Oakland in Week 5 and held on for a 20-17 AFC title game win in frigid Denver, aided by a questionable forward-progress call. This came a week after Oakland's double-overtime "Ghost to the Post" triumph in Baltimore, which ended up being John Madden and Ken Stabler's final playoff win. 
37 of 55
19. 1994 Dallas Cowboys
Anacleto Rapping-Los Angeles Times via Getty Images
In a unique period where a Cowboys-49ers arms race hovered on a competitive plane above the rest of the NFL, the two-time reigning champs parted ways with Jimmy Johnson. Barry Switzer's first Cowboys team (12-4) was still so talented it marched to the precipice of a three-peat. Dallas' offense scored the NFL's second-most points; its defense allowed the third-fewest. But the 49ers, retooled with a Deion Sanders-led free agent armada assembled to beat the Cowboys, defeated their rivals twice in 1994 en route to a Super Bowl blowout. A disputed Sanders pass interference no-call helped end Dallas' comeback hopes in a 38-28 loss.
Streeter Lecka-Getty Images
The sports world received four Peyton Manning-Tom Brady AFC championship game matchups but was deprived of the best possible duel. The unbeaten Patriots awaited, but the Chargers upset the Colts — who saw two dropped passes turn into INTs on a three-turnover day — in the divisional round. The Patriots beat the Colts 24-20 in the regular season, but that year's AFC No. 2 seed started 13-2 before resting starters in Week 17. Indianapolis ranked third in offense and first defensively and had a better point differential (plus-188) than it did in its 2006 and '09 Super Bowl seasons. A wounded Bolts team lost to the Pats a week later.
39 of 55
17. 2011 Green Bay Packers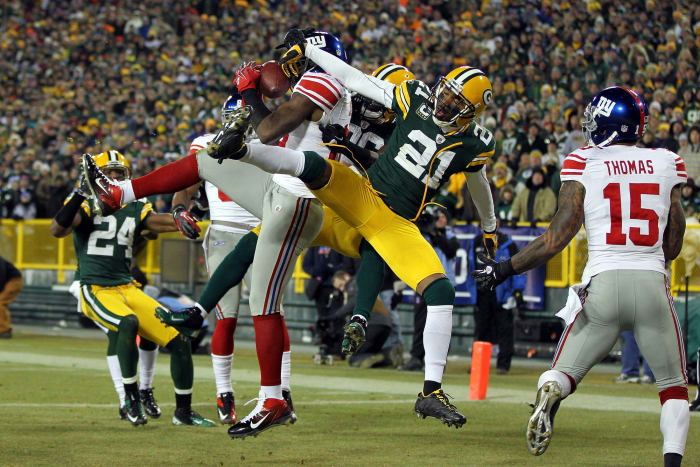 Jamie Squire-Getty Images
The only team to go 15-1 and fail to win a playoff game, these Packers fielded a much better squad in their Super Bowl title defense than the 10-6 team that became champion. Helping the Packers to the NFL's fourth-highest single-season point total (560), MVP Aaron Rodgers set a still-standing passer rating record (122.5) and finished with a 45-6 TD-INT ratio. Green Bay's defense, however, ranked just 19th. In a harbinger of things to come for the Rodgers-era Packers, that burned this squad against a surging Giants team. Hakeem Nicks' apex afternoon ended in a 37-20 Giants divisional-round rout at Lambeau Field.
40 of 55
16. 2020 Kansas City Chiefs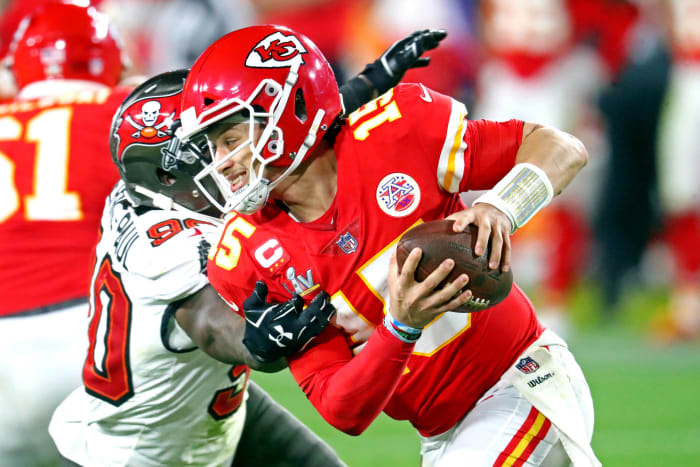 Mark J. Rebilas-USA TODAY Sports
The runaway AFC favorite redeployed a terrifying passing attack. Patrick Mahomes continued his historic pace and found Tyreek Hill and Travis Kelce for a combined 26 TDs, with Kelce shattering the single-season tight end yardage record in just 15 games. The Chiefs went a franchise-best 14-2 but kept inferior competition in games, sporting a plus-111 differential (14th-best in team annals). An order-restoring AFC title game romp over the Bills proved costly, with the Chiefs losing left tackle Eric Fisher. The Bucs preyed on a Chiefs team down both tackles, handing Mahomes his first blowout loss. This is the sixth defending champion to lose a Super Bowl.
41 of 55
15. 1978 Dallas Cowboys
Ross Lewis-Getty Images
Known mostly for Jackie Smith's touchdown drop and Thomas "Hollywood" Henderson's entrance into the bulletin board-material pantheon, the '78 Cowboys (12-4) were one of the decade's best teams. Headlined by first-team All-Pros Randy White and Cliff Harris, nine Pro Bowlers came from this roster. This was also Tony Dorsett's breakout year (1,703 scrimmage yards). The Cowboys crushed the Rams, 28-0, in the NFC title game and nearly rallied after Smith's drop in Super Bowl XIII, but the Steelers' 35-31 win entrenched them as the 1970s' premier team. 
42 of 55
14. 1983 Washington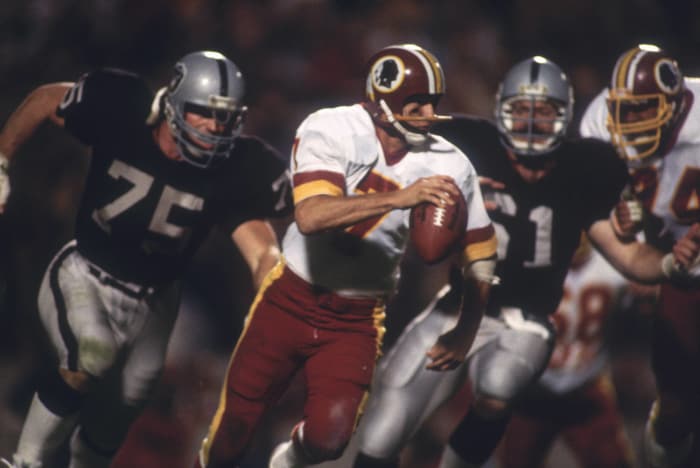 Focus on Sport-Getty Images
The 2013 Broncos hold the single-season scoring record; the '07 Patriots held it for six years. The '98 Vikings, the pre-Pats record holders, chased a team that presided atop the points list for 15 years. Washington's 1983 outfit went 14-2, scored 541 points, saw Joe Theismann win MVP and a 34-year-old John Riggins rush for a then-record 24 TDs. Washington nearly blew a 21-point lead against San Francisco in the NFC title game and received some friendly officiating in a 24-21 win. Washington had beaten the Raiders in a Week 5 shootout, but Los Angeles' 38-9 drubbing in Super Bowl XVIII diminishes this team's place in history.
Jonathan Daniel-Getty Images
While the 1985 Bears are maybe the NFL's most celebrated team, the '86 defense was statistically superior. It yielded 11.7 points per game (down from 12.4 in '85) and, led by All-Pros Mike Singletary and Wilber Marshall, housed four Pro Bowlers. However, a Packers defender altered Bears history. Charles Martin's horrifying late hit on Jim McMahon knocked Chicago's starter out for the season in November. Mike Ditka turned to three other QBs, lastly an overmatched Doug Flutie. Washington ousted the QB-limited Bears (14-2; 6-0 with McMahon) 27-13 in the divisional round. This is a quality NFL "what if?"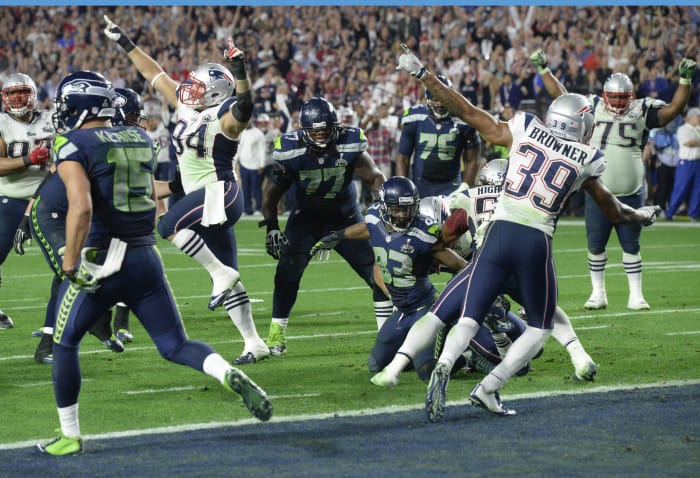 Robert Deutsch-USA TODAY Sports
It is hard to come up with a sequence that made a bigger impact on two teams' trajectories than Malcolm Butler's interception in Super Bowl XLIX. These Seahawks (12-4) were not as good as the 2013 squad, losing to three non-playoff teams. But the defensive power re-emerged with a six-game win streak to close the regular season and rallied from 16 points down in the NFC championship game. In Marshawn Lynch's last great year (17 TDs, 1,672 yards from scrimmage), OC Darrell Bevell's fateful play call likely denied Seahawks a title. Seattle players criticized the decision, and it began the final leg of the Patriot dynasty.
45 of 55
11. 1990 San Francisco 49ers
Otto Greule Jr.-Getty Images
These 49ers still featured all-time greats in Joe Montana, Jerry Rice, Ronnie Lott and Charles Haley. Montana won his second straight MVP, Rice was amid an astonishing 10 All-Pros-in-11-seasons run and the 49ers closed out a record-setting, 18-game road win streak in a 14-2 season. This wasn't the best 49ers team (eighth in scoring), but it was the toughest out among Super Bowl-era three-peat pursuers. A Montana injury in the NFC title game opened the door to a 15-13 Giants upset. The 49ers' dominance lasted several more years, but Leonard Marshall's hit marked Montana's last relevant action in San Francisco.
46 of 55
10. 1997 Green Bay Packers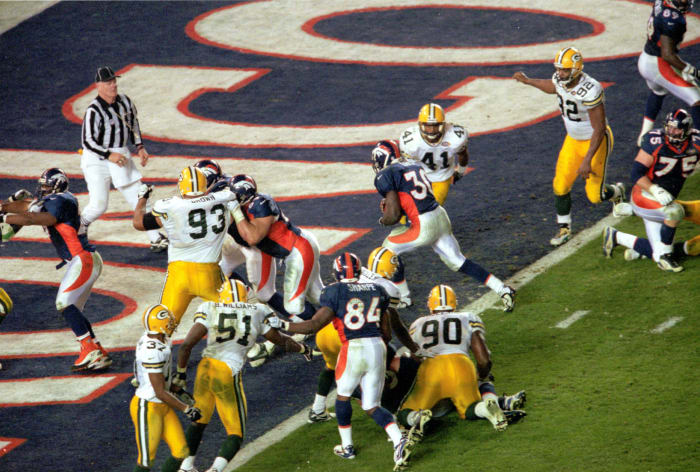 Kevin Reece-Getty Images
While not quite as good as their stacked predecessor, the 1997 Packers rolled to a second straight 13-3 season. Brett Favre won a third consecutive MVP — the only player to do so — and helped Green Bay notch seven wins over playoff-bound teams and stampede through the NFC playoffs. After winning a stacked NFC Central, the No. 2-seeded Packers outscored the Bucs and 49ers 44-17 en route to Super Bowl XXXII and were 11-point favorites over the Broncos once there. Denver's zone-blocking scheme gashed Green Bay's defense in a 31-24 upset, but the Packers traded scores until the end.
47 of 55
9. 1967 Green Bay Packers
Bettmann / Contributor
This may have been the weakest of Vince Lombardi's five championship squads, but his veteran bunch won arguably the most iconic game in league history and thrashed the AFL's Raiders 33-14 in Super Bowl II. Having moved on from its famed Jim Taylor-Paul Hornung ground attack, Green Bay went 9-4-1. Led by Bart Starr and a host of Hall of Famers, the Packers still routed the 11-1-2 Rams in the NFL semis and mounted a 68-yard drive to derail the Cowboys, 21-17, in the "Ice Bowl." This marked the end for the aging nucleus' playoff access, but the Packers are the only team to three-peat in the playoff era (1934-present).
48 of 55
8. 1979 Pittsburgh Steelers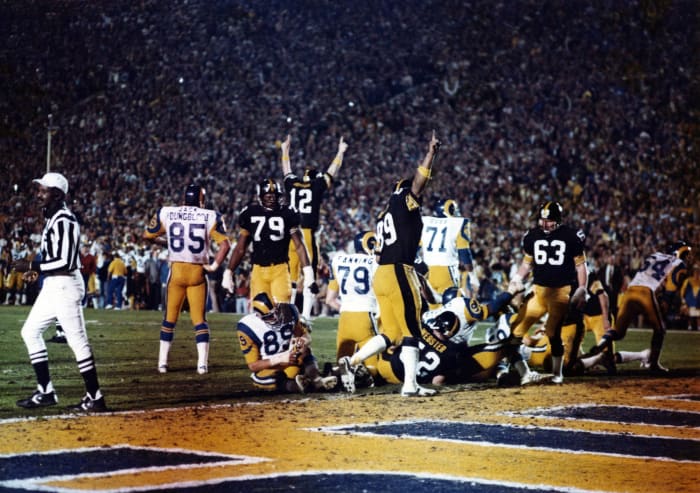 Robert Riger/Getty Images
The last of the Steelers' 1970s Super Bowl triumphs was geared more around offense, which made sense after a Steelers-aided rule change helped passing attacks. Of the four Chuck Noll title teams, this 12-4 squad scored the most points (416, a franchise record until 2014). It allowed the most of the championship teams, too, but Terry Bradshaw and John Stallworth (1,183 receiving yards) compensated for the slight Steel Curtain slippage. The Steelers routed the Dolphins before catching an officiating break against the Oilers. Bradshaw threw for 309 yards and two TDs in his Super Bowl swan song, a 31-19 win over the Rams. 
49 of 55
7. 1976 Pittsburgh Steelers
Focus on Sport-Getty Images
After a 1-4 start, the Steelers won nine straight games behind the most dominant defensive stretch in NFL history. In those games, the Steel Curtain allowed two touchdowns. Two. Joe Greene, Mel Blount and Co. pitched five shutouts and permitted only field goals in three other games. The Steelers bulldozed the Colts 40-14 but lost 1,000-yard rushers Franco Harris and Rocky Bleier during the divisional-round win. The Raiders ended the run with a 24-7 victory to squash the Steelers' three-peat hopes. At 9.9 points allowed per game (3.1 during the streak), this was a signature stretch of football regardless of the season's ending.
50 of 55
6. 1993 Dallas Cowboys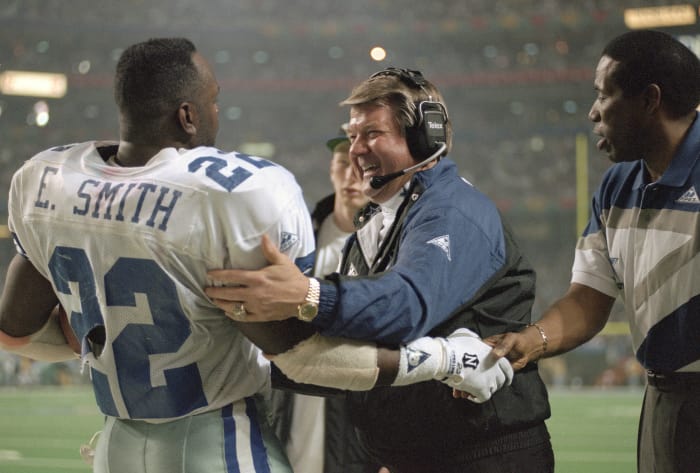 Focus on Sport-Getty Images
Missing Emmitt Smith due to a holdout, the Cowboys started 0-2. They rebounded to go 12-4 and claim a repeat championship. Smith returned in Week 3, and headlined by his separated-shoulder Week 18 showing (229 scrimmage yards in an OT win over the Giants that clinched home-field advantage), he earned NFL MVP acclaim. Still buoyed by 1989's Herschel Walker trade, the Cowboys ranked second on offense and defense and dominated the 49ers in the most one-sided of the Cowboys-49ers 1990s NFC title games. The Bills rematch ended in another clear victory, but Jimmy Johnson's ensuing exit altered the Cowboys' path.
51 of 55
5. 2004 New England Patriots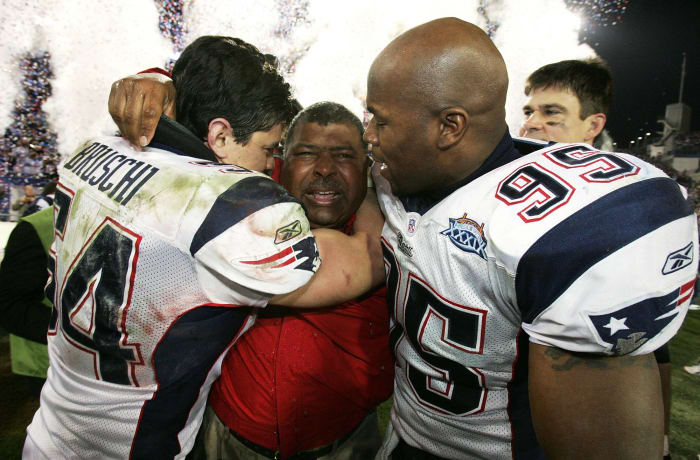 Andy Lyons-Getty Images
The Patriots' super-high-floor 2010s work notwithstanding, the best Pats stretch occurred in the mid-2000s. This era crested in 2004, when the Patriots finished off an NFL-record 18-game regular-season win streak and went 14-2. Corey Dillon rushed for a career-high 1,645 yards, and New England's stout defense ranked second in points ceded. Peyton Manning's supercharged Colts offense scored just three points in the Patriot defense's divisional-round masterpiece, and the Pats were not seriously threatened by the Steelers or Eagles going forward. Although Spygate will be attached to this team, the on-field product was nearly flawless.
52 of 55
4. 1998 Denver Broncos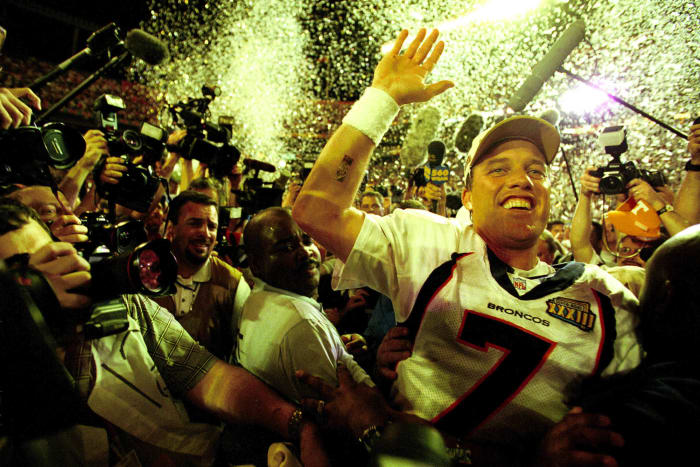 Allen Kee-Getty Images
No NFLer amassed more scrimmage yards in a season than Terrell Davis in the 1998 Broncos' 19 games (2,762). Denver (14-2) beat 12 opponents by double digits, started 13-0 and outscored playoff opposition 95-32. John Elway missed four games, but Bubby Brister steered the ship to a 4-0 mark. Rod Smith and Ed McCaffrey surpassed 1,000 receiving yards, and Shannon Sharpe scored 10 TDs. Miami beat Denver by double digits that December but lost 38-3 in the divisional round. The Broncos, better than their '97 champion, led the Falcons 31-6 at one point in Super Bowl XXXIII and cruised to a repeat title in Elway's finale.
53 of 55
3. 1975 Pittsburgh Steelers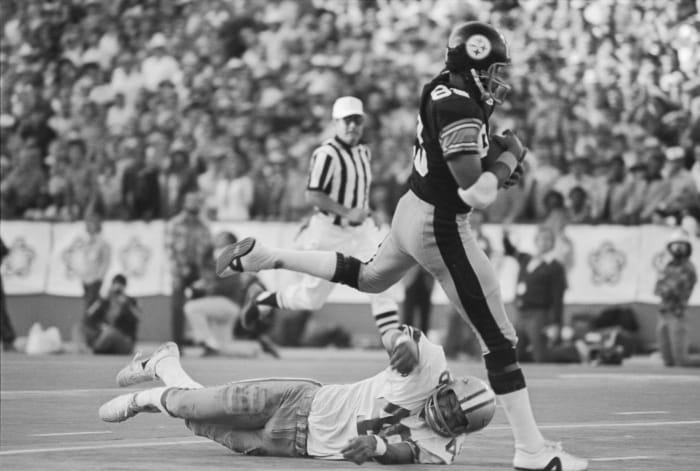 Getty Images
The 1979 Steelers offense was far better; the '76 team submitted supreme NFL defense. This title-defense season went through the best set of opponents and revealed dynasty potential. Franco Harris ran for 1,246 yards, Lynn Swann made his first Pro Bowl and the Steel Curtain was wire-to-wire great in a 12-2 season. Pittsburgh allowed 11.6 points per game, outscored opposition by a team-record 211 points and limited the Colts and Raiders to 10 apiece in the AFC bracket. Swann came through with, impact-wise, the greatest wideout showing in Super Bowl history and lifted the Steelers to a 21-17 win over the Cowboys in Super Bowl X.
54 of 55
2. 1973 Miami Dolphins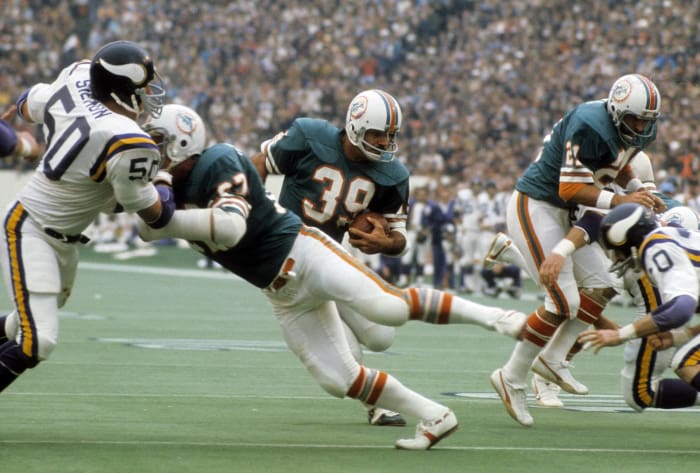 Focus on Sport-Getty Images
This is the best Dolphins team ever assembled. The 1972 version won all its games, but no regular-season win came against a team with a winning record. Miami in '73 (12-2) beat five and after Super Bowl VIII had defeated the four other premier 1970s franchises: Pittsburgh, Oakland (twice), Dallas and Minnesota. Pro Bowlers Larry Czonka and Mercury Morris both eclipsed 950 rushing yards in 14 games, and Paul Warfield caught 11 TD passes. No playoff opponent came within two touchdowns of the Dolphins, and Bob Griese needed to throw only seven passes in a dominant 24-7 Super Bowl win over the Vikings.
55 of 55
1. 1989 San Francisco 49ers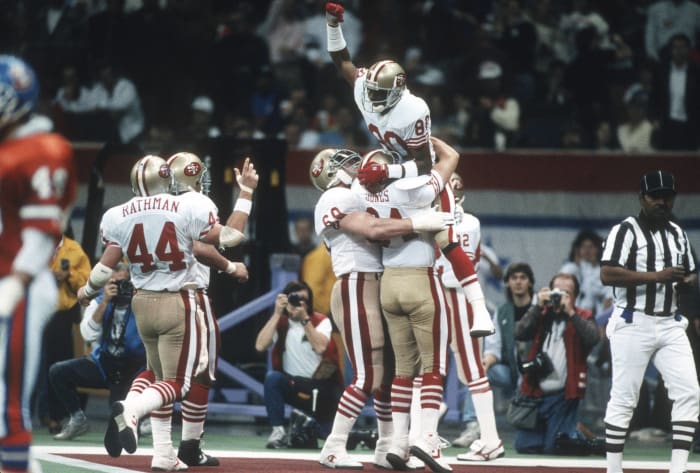 Focus on Sport-Getty Images
Joe Montana's QB GOAT case starts here. At the peak of his powers at age 33, the 49ers icon was on his own tier in 1989. His completion percentage (70.2), yards per attempt (9.1) and passer rating (112.4) look confusing when compared to his peers. Apex Jerry Rice (17 TDs), Roger Craig and John Taylor made 1989 the West Coast Offense's masterwork, despite Bill Walsh having retired after the '88 season. The defense ranked third, too. The 49ers went 14-2, losing by five total points, and obliterated the Vikings, Rams and Broncos by a 126-26 margin in the playoffs. George Seifert's debut team may be the NFL's best ever.