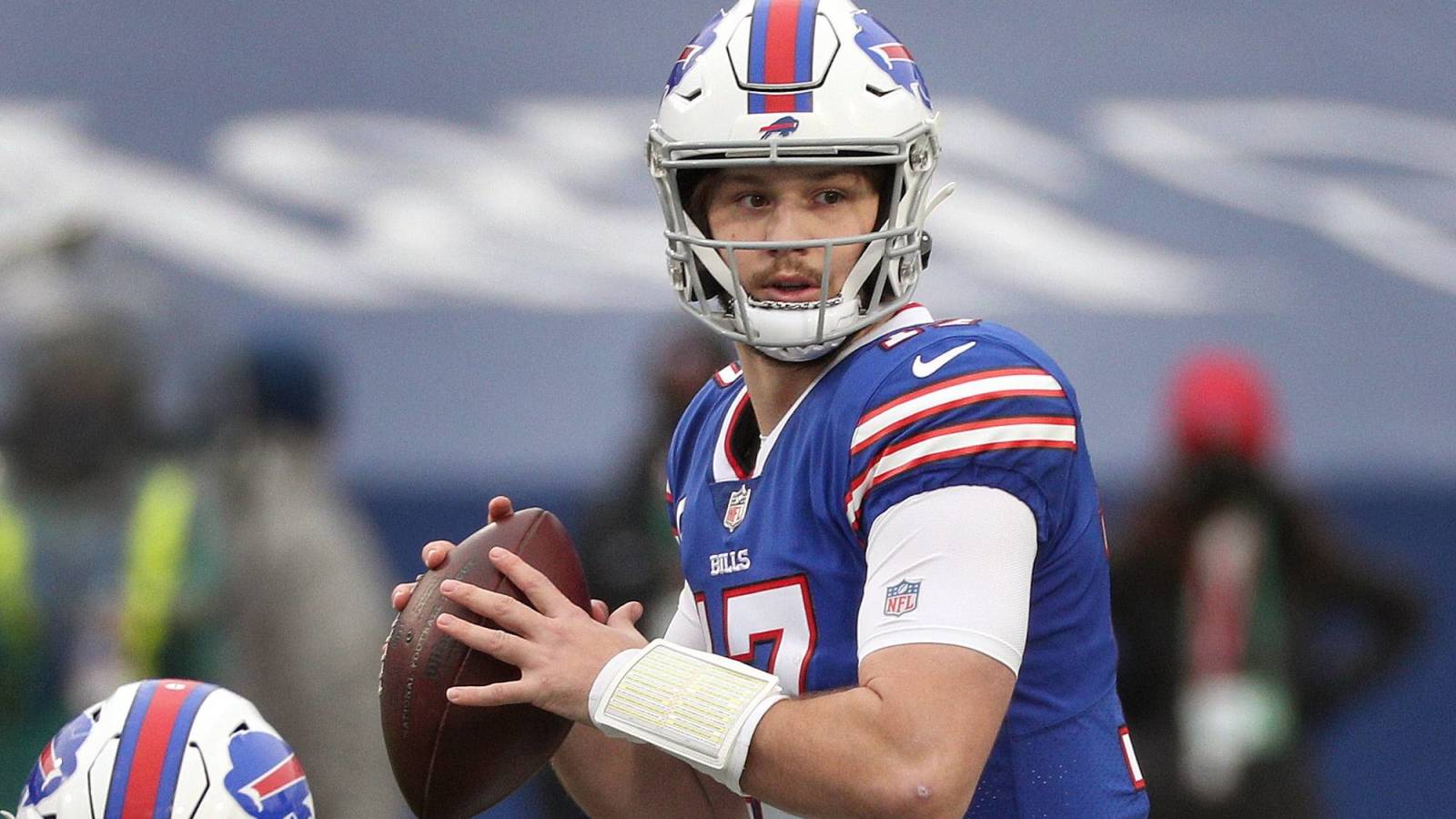 The NFL made it through their 256-game regular season without any cancellations – just ask them – but not without plenty of COVID-related headaches, and games that were closer to farce than football as a result of the virus. Nevertheless, the playoffs are here, and for the first time in league history, the Wild Card round will feature three games from each conference, and not two. The Chiefs look like the obvious favorites, and Vegas agrees, but they and the Packers get to cool their heels for a week. Cleveland is back in the playoffs for the first time since the 2002 season, but they'll be without their head coach, Pro Bowl left guard and a handful of other coaches and players. The Rams might not have Jared Goff, while the Ravens and Buccaneers both look dangerous. Buffalo and Baltimore come in on torrid streaks, while the Seahawks and Colts, respectively, have been laying in the weeds, not receiving much attention. Oh, and the Bears are in the playoffs, too. Let's take a look at this weekend's games.
Point spreads are from BetOnline.ag and are current as of 4 p.m. ET Thursday.
Pick with spread is in bold.
☆         ☆         ☆         ☆         ☆         ☆        ☆         ☆         ☆        ☆        
INDIANAPOLIS (11-5) AT BUFFALO (13-3) (Saturday, 1:05 p.m. ET)
TV: CBS        LINE: Buffalo -6
What you need to know: The Colts are an interesting bunch, possessing both a solid offense and defense, but no distinctive calling card. That may have changed over the final quarter of the season, one that saw the team go 3-1, with a second-half collapse against Pittsburgh standing between them and 4-0. The Colts started to run the ball with aplomb, topping 125 yards in all four games and going for 212 and 273 against the Raiders and Jaguars, respectively. When Indianapolis can achieve balance like that, they become very difficult to beat. The Bills look like the best team in the AFC at the moment. The Bills have won six games in a row, all of them by at least 10 points, and have beaten their last three opponents by 29, 29, and 30 points. Since the calendar turned to December, Josh Allen has completed 70 percent of his passes, tossed 15 touchdowns, run for two more, thrown just two interceptions, and posted a passer rating of 117.5. One point of concern for the Bills is the injury status of Stefon Diggs and Cole Beasley; the team's top two receivers didn't practice Wednesday, which might cause some issues. That said, while the Colts should provide a test if Buffalo plays the way they have been, it shouldn't matter.
On the spot: Colts LB Darius Leonard. The Bills are tough enough to beat even when most everything goes right for their opponents; they're nearly impossible to stop if defenses miss tackles. Leonard has to try to contain Allen when things go off-script, and can't allow the Bills' receivers to roam free across the middle.
Bills WR Gabriel Davis: With several of Buffalo's receivers banged up in one form or fashion, Davis could take on a significantly expanded role in this game; that wouldn't be a bad thing, necessarily – his seven touchdowns are second on the team, trailing only Diggs.
The pick: Bills 31 Colts 23
☆         ☆         ☆         ☆         ☆         ☆        ☆         ☆         ☆        ☆
LA RAMS (10-6) AT SEATTLE (12-4) (Saturday, 4:40 p.m. ET)
TV: FOX        LINE: Seattle -3.5
What you need to know: No one has any idea whether or not Jared Goff is going to start for the Rams in this game. Sean McVay is keeping that information close to the vest, though John Wolford played with aggressive abandon in his first-ever NFL game. Wolford's legs were an issue for Arizona; he ran for 56 yards and kept the Cardinals off-balance. No matter which quarterback starts, the real story for the Rams' offense, as it always is, is McVay. If he can dial up some mismatches, he should be able to create a handful of big-play opportunities against a much-improved but still suspect Seahawks defense. Los Angeles' best play is to try to turn the game into a defensive battle and run the ball effectively to keep the ball away from Russell Wilson. For their part, the Seahawks will luck out again if Goff doesn't play, because their defensive resurgence has been built largely against bad teams and bad quarterbacks. Since stifling Kyler Murray, they've faced Colt McCoy (who beat them), Sam Darnold, Dwayne Haskins, Goff, and C.J. Beathard. Are their vastly improved numbers really a byproduct of better play, or worse competition?
On the spot: Rams CB Jalen Ramsey. If Los Angeles is going to win, it is going to be with defense, and Ramsey's ability to shut down whoever lines up across from him is integral to that effort. Aaron Donald should be able to take care of the pressure, but Ramsey must ensure that Wilson can't hit any plays over the top.
Seahawks S Jamal Adams: The Rams want to run, and even if Goff plays, they likely won't try to throw the ball all over the yard, particularly since his thumb isn't likely 100 percent. That means that Adams' physicality and blitzing prowess will be even more important. If he wins his battle with Los Angeles' offense, the Seahawks should win the game.
The pick: Rams 23 Seahawks 21
☆         ☆         ☆         ☆         ☆         ☆        ☆         ☆         ☆        ☆
TAMPA BAY (11-5) AT WASHINGTON (7-9) (Saturday, 8:15 p.m. ET)
TV: NBC        LINE: Tampa Bay -8.5
What you need to know: The Buccaneers look like the team many thought they would be; it just took them over half a season to get there. The Bucs ended the season on a four-game winning streak and averaged 37 points per game in the process. The competition was admittedly weak, but points are points, and moreover, Tom Brady looked razor-sharp. Mike Evans' status is still up in the air for this game, but considering what it looked like when he got hurt, that he might play at all has to be seen as a win for Tampa. Even if he doesn't, Brady won't lack for targets. Antonio Brown has four touchdowns in his last three games and is coming off his first 100-yard game in the season finale against Atlanta. Tampa should also have little trouble stopping Washington on the ground and forcing Alex Smith to try and beat them with a steady short passing game. Washington's pass rush and secondary are their only chance in this game. They won't win a shootout with the Bucs – few teams would – but they should be able to get to Brady better than just about any team Tampa has seen all year. Jalen Hurts' running ability gave Washington problems, but Brady will be stationary by comparison, so that won't be an issue. The question for the Football Team is simple: Can the secondary hold up long enough for the pass rush to get home?
On the spot: Buccaneers T Tristan Wirfs. Wirfs started every game as a rookie, and if he holds up in pass protection, particularly whenever fellow Big Ten alumnus and first-round draft pick Chase Young is opposite him, Tampa Bay will have a very good chance to win, and win comfortably.
Football Team DE Chase Young: Young said this after Washington clinched the NFC East: "Tom Brady, Tom Brady, I'm coming! I want Tom! I want Tom." Young is great, a superstar in the making, and he made no apologies for what he said. If he backs up his words, Washington has a chance to pull a stunner. If not? It could get ugly.
The pick:
Buccaneers 27 Washington Football Team 10
☆         ☆         ☆         ☆         ☆         ☆        ☆         ☆         ☆        ☆
BALTIMORE (11-5) AT TENNESSEE (11-5) (Sunday, 1:05 p.m. ET)
TV: ESPN        LINE: Baltimore -3.5
What you need to know: The Ravens come into this game firing on all cylinders, having obliterated five straight opponents, the latest a hapless Bengals team that provided no resistance. The Ravens' competition might have been subpar, but there's no denying the degree of their dominance. John Harbaugh's team rushed for 404 yards against Cincy, and only Jacksonville held them under 200 yards during their five-game winning streak. What's more, Lamar Jackson looks as good as he has all year, both running and throwing the football. Jackson topped 1,000 yards rushing for the second straight season, and threw 11 touchdowns with just three interceptions while rushing for 430 yards and four more touchdowns during the team's current winning streak. Tennessee should come into this game with confidence; the Titans are the last team to beat the Jackson-led version of the Ravens, and the win was no fluke. Derrick Henry ran for 133 yards and Ryan Tannehill threw two touchdowns. That's going to be Tennessee's formula in this game; the Titans want to protect a weak defense, perhaps the worst of any playoff team, by possessing the ball and hitting big plays on play-action throws. This game, despite each team's throwback way of moving the football, might turn into a "who has it last"-style shootout.
On the spot: Ravens QB Lamar Jackson. Remember all those platitudes you just read about him 30 seconds ago? They won't mean much if he remains winless in the playoffs.
Titans WR A.J. Brown: Brown is likely going to attract the attention of Marlon Humphrey, one of the league's best and most physical corners. Brown is a major run-after-catch weapon, but Humphrey's punch move is a reliable turnover creator. Their individual matchup will go a long way towards determining the outcome.
The pick: Ravens 31 Titans 28
☆         ☆         ☆         ☆         ☆         ☆        ☆         ☆         ☆        ☆
CHICAGO (8-8) AT NEW ORLEANS (12-4) (Sunday, 4:40 p.m ET)
TV: CBS        LINE: New Orleans -10.5
What you need to know: Don't believe whatever passes for Mitch Trubisky hype. The Bears' quarterback has been better of late, but not that much better. What's more, his skill cast has been doing much of the heavy lifting, with Chicago ranking near the top of the league in both broken tackles and yards gained after the catch. Trubisky is going to have to put some points on the board, because while the Bears' defense is solid enough, it is by no means great, particularly against the pass. Drew Brees might not test the team downfield the way Aaron Rodgers did, but he and Alvin Kamara will still be dangerous. Matt Nagy needs to have a special game plan to have a chance. The Saints come into the playoffs with the league's fifth-best scoring offense and defense. The defense has been even better than the offense, however, ranking fourth in yards allowed. There is no weak spot on that side of the ball, and if New Orleans can get Trubisky off his game early, there is plenty of potential for the game to get ugly. It remains to be seen how much if at all, missing some games affects Brees' arm strength in this contest, but if the ball comes out with plenty of steam on it, that's even more reason to fear the Saints. In that scenario, the Bears will be heading to the first tee before they know it.
On the spot: Bears QB Mitch Trubisky. All the hopeful talk about how Trubisky has improved and how perhaps he might still have a future with Chicago is just that – talk – unless he does something special in these playoffs. Beating New Orleans in their house would be a big start.
Saints CB Marshon Lattimore: Lattimore is New Orleans' best corner, and he'll likely draw Chicago's, Allen Robinson. Robinson is by far the Bears' best offensive player, but if Lattimore takes him away, the Saints will be all but guaranteed a victory.
The pick: Saints 30 Bears 16
☆         ☆         ☆         ☆         ☆         ☆        ☆         ☆         ☆        ☆
CLEVELAND (11-5) AT PITTSBURGH (12-4) (Sunday, 8:15 p.m. ET)
TV: NBC        LINE: Pittsburgh -6
What you need to know: To say that the Browns are short-handed would be an understatement. The team won't have head coach Kevin Stefanski, or Pro Bowl guard Joel Bitonio, or a host of other assistant coaches and players. They'll have Baker Mayfield, Nick Chubb, Kareem Hunt, Jarvis Landry, and Myles Garrett, so they have puncher's chance, but that same group – with Bitonio and Stefanski – barely beat the jayvee Steelers in Week 17. Bitonio's absence will be felt in particular; he is the leader of Cleveland's line, and Mayfield struggles badly against interior pressure. Cleveland's best chance to win, outside of a gut-check offensive performance? Hope "bad" Ben Roethlisberger shows up. The Steelers, along with the Rams, have the best, most dynamic defense of any team in the postseason. Injuries to Bud Dupree and Devin Bush haven't derailed the team, and they're still capable of wreaking havoc and forcing turnovers. As for the offense? It's all about Roethlisberger, and which version of him shows up. If it's the guy who struggled mightily for most of the last month of the season, the Steelers' postseason visit could be over after 60 minutes. Conversely, if he's the guy who showed up after halftime against the Colts, Pittsburgh is a real threat to win not just this game, but much more.
On the spot: Browns DE Myles Garrett. Cleveland has to find a way to get field-flipping plays and momentum from its beleaguered defense. The only way that happens is if Garrett, one of the best players in the league, has the game of his life.
Steelers QB Ben Roethlisberger: For better or worse, the Steelers' offense is all Roethlisberger. There's no semblance of a running game, no other option if Roethlisberger's arm isn't enough. The Browns, despite being in disarray, still are dangerous and can score; Roethlisberger needs to decisively outplay Mayfield to ensure a Steelers victory.
The pick: Steelers 27 Browns 23