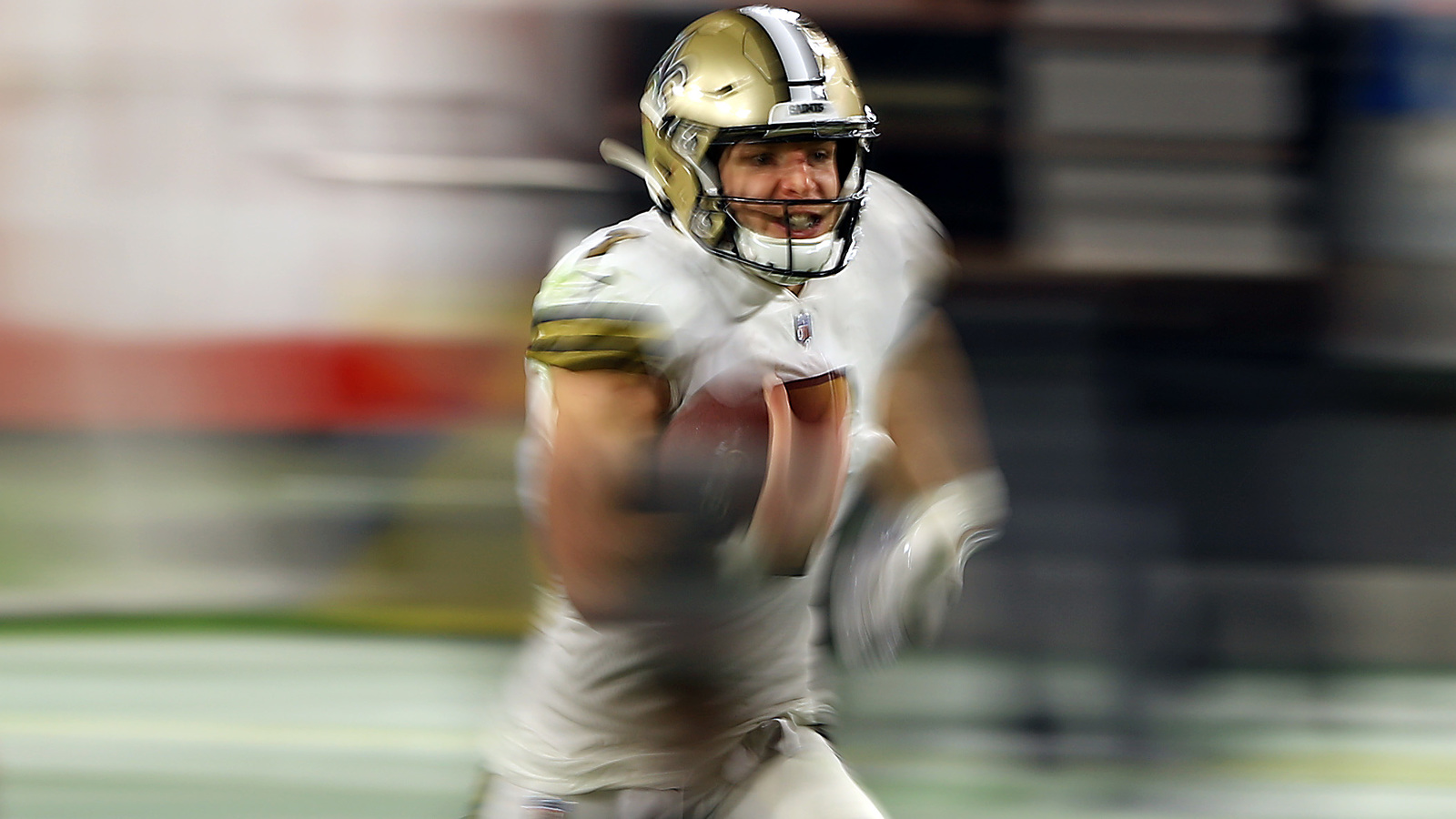 The Saints' masterful performance in Tampa headlined Week 9's Sunday slate, which also featured a quality QB battle in Arizona and the Steelers remaining unbeaten. Here is a look at each team, along with grades for each of the squads that have played thus far this week.
1 of 32
NFC favorite re-emerges
Kim Klement-USA TODAY Sports
After winning two games without either of their Pro Bowl wide receivers, the recharged Saints put together the season's best half. Drew Brees completed passes to 11 receivers in less than 20 minutes and threw four TD passes in the 31-0 half; Marshon Lattimore held Mike Evans catchless for the third straight time in their matchup history (to the great delight of Marshon Lattimore) in a defensive dismantling. The Saints (6-2) have won five straight and face just one more team with a winning record (the Chiefs on Dec. 20). Despite their run of January shortcomings, the Saints have proven resilient and once again appear the NFC favorite.
SAINTS GRADE: A-plus | NEXT: vs. 49ers (Sun.)
2 of 32
Tom Brady endures rare big-stage humbling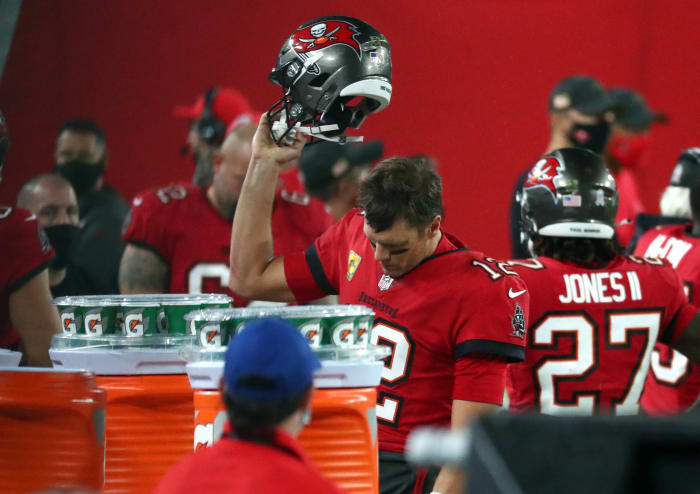 Kim Klement-USA TODAY Sports
In being thoroughly outplayed by Drew Brees, Brady did the most to ensure Tampa's first "Sunday Night Football" experience in 12 years went poorly. Brady's lobbying for mandating? Antonio Brown created the most talented skill corps of his career; poor timing with AB resulted in one of Brady's three Sunday INTs. This marked the first time a divisional opponent has swept a Brady-led team; the Bucs also attempted fewest handoffs (five, one coming on a kneel down) in an NFL game. This likely nixes any Brady MVP candidacy. The Bucs (6-3) cannot be counted out, but Brady will probably be in road whites in Round 1 for the first time in his career.
BUCCANEERS GRADE: F | NEXT: at Panthers (Sun.)
3 of 32
Heavy burden catches up with Wilson
JAMIE GERMANO/ROCHESTER DEMOCRAT AND CHRONICLE via Imagn Content Services, LLC
It should be noted the Seahawks have outfitted Russell Wilson with a statistical nightmare of a defense and the usual unremarkable offensive line. In being forced to carry this team again, the future Hall of Fame quarterback saw his MVP candidacy take a major hit. Wilson's four turnovers (two INTs, two sack-strips) led to 16 Bills points, squandering a day in which the Seahawks sacked Josh Allen seven times — the team's most since its 2013 championship season. Seattle (6-2) has given its leader a potentially untenable task, and Sunday revealed the outcome when he cannot hit the weekly high bar this roster sets.
SEAHAWKS GRADE: C-minus | NEXT: at Rams (Sun.)
4 of 32
Josh Allen's career day helps Bills flip switch
Mark Konezny-USA TODAY Sports
Using the embattled Seahawks defense as a tonic after an unimpressive stretch, Allen again displaying the Bills (7-2) can hit this gear proves important for their status as Super Bowl contenders. Allen entered 2020 without a 300-yard passing game; he has four now. Despite Wilson's turnovers shrinking the field, the third-year Bill sliced up Seattle's defense for 415 yards and four TD passes on 31 completions. Buffalo's 44 points double as the most Seattle has ceded in Pete Carroll's tenure. Re-equipped with a healthy John Brown, Allen used his full arsenal well Sunday and reignited Buffalo's offense.
BILLS GRADE: A | NEXT: at Cardinals (Sun.)
5 of 32
Practice a luxury for Ravens defense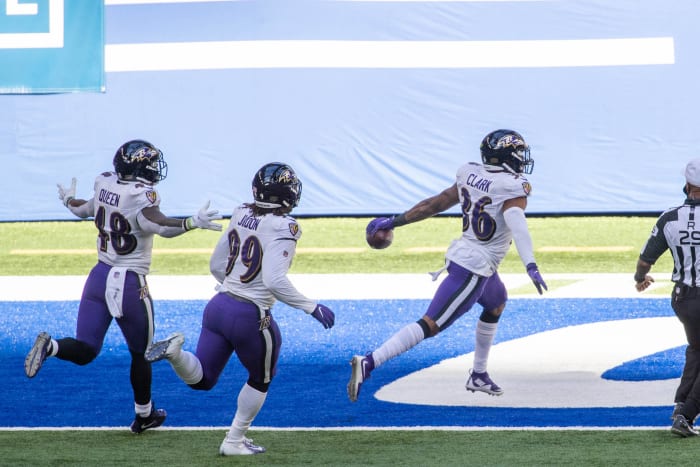 Trevor Ruszkowski-USA TODAY Sports
Marlon Humphrey's COVID-19 contraction shelved Baltimore's All-Pro cornerback Sunday, forced Matt Judon to miss practice time and caused three other starting defenders — Patrick Queen, L.J. Fort, DeShon Elliott — to miss an entire week of workouts. The Ravens (6-2) rendered that meaningless by forcing two Colts turnovers, both via by Marcus Peters — his sixth and seventh of the season — and creating a noticeable quality gap between the AFC contenders after halftime. With the Baltimore offense still well off its 2019 form, more will be on its defense. Against most teams, that formula works fine.
RAVENS GRADE: B-plus | NEXT: at Patriots (Sun.)
6 of 32
Colts well off script at midseason point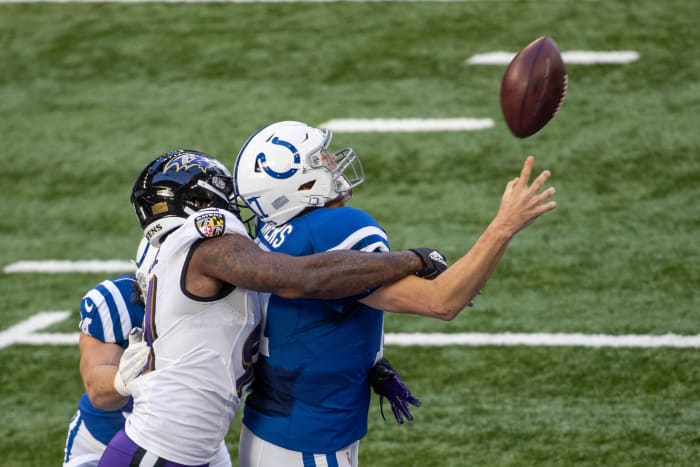 Trevor Ruszkowski-USA TODAY Sports
Entering Sunday 22nd in offensive DVOA, the Colts confirmed their trouble status after the Ravens further exposed a suddenly flawed foundation. The Colts' run-centered identity has veered off the rails; Philip Rivers threw 43 passes and Jonathan Taylor logged six carries (with a key fumble). Indianapolis' soon-to-be 39-year-old quarterback can no longer lead victories over good teams, and he certainly cannot do so with the supporting cast the Colts have in place. The formidable offensive line and dominant run game the Colts sold Rivers on are not currently operational. Until they are, this is not a true contender.
COLTS GRADE: C | NEXT: at Titans (Thu.)
7 of 32
Panthers' skill cadre pushes Chiefs to limit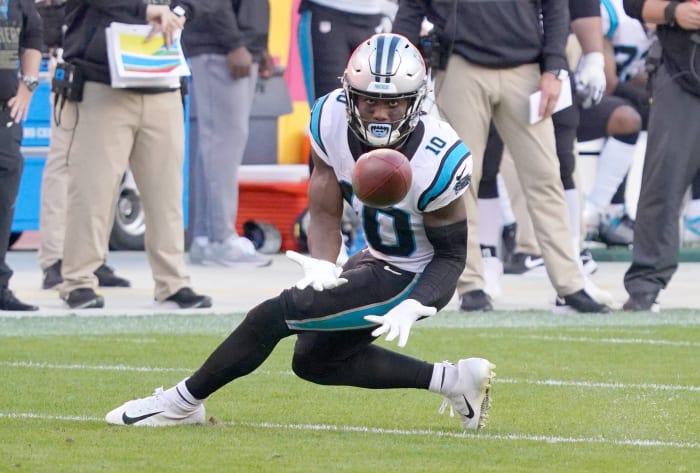 Denny Medley-USA TODAY Sports
Cam Newton led the Panthers to Super Bowl 50 with a far worse skill-position array than what Teddy Bridgewater has. Bridgewater also enjoys the luxury of a hotshot play-caller (Joe Brady). Those advantages showed up Sunday, when the Panthers (3-6) faced one of the few superior arsenals Sunday. But Christian McCaffrey's didn't miss a beat (151 scrimmage yards, two TDs) which shows the potency a CMC-Robby Anderson-D.J. Moore-Curtis Samuel quartet supplies. Samuel totaled 118 yards on 12 touches. This setup put a scare into the Chiefs, and it is probably Carolina's most balanced skill group in over a decade.
PANTHERS GRADE: B-plus | NEXT: vs. Buccaneers (Sun.)
8 of 32
Kelce riding shotgun for Mahomes' MVP push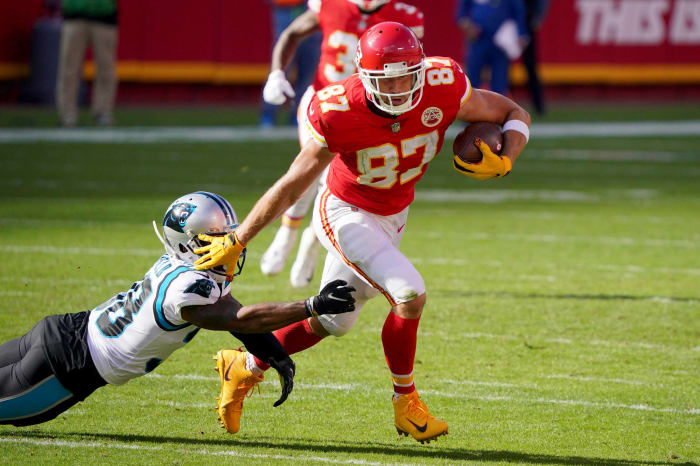 Denny Medley-USA TODAY Sports
The NFL's third-leading receiver at the midseason point: Travis Kelce. His 769 yards are, wait for it, 395 more than the next-closest tight end. Patrick Mahomes' most reliable target did what he pleased against the Panthers, catching 10 passes for 159 yards. Kelce caught at least three passes from the tight end position, the slot and as a boundary wideout and beat eight Panthers in coverage Sunday. The only tight end in NFL history with four straight 1,000-yard seasons, Kelce has helped Mahomes post a 25-1 TD-INT ratio this year. He is also riding the superstar quarterback to a Hall of Fame push.
CHIEFS GRADE: B-minus | NEXT: at Raiders (Nov. 22)
9 of 32
Saquon-less ground attack springs to life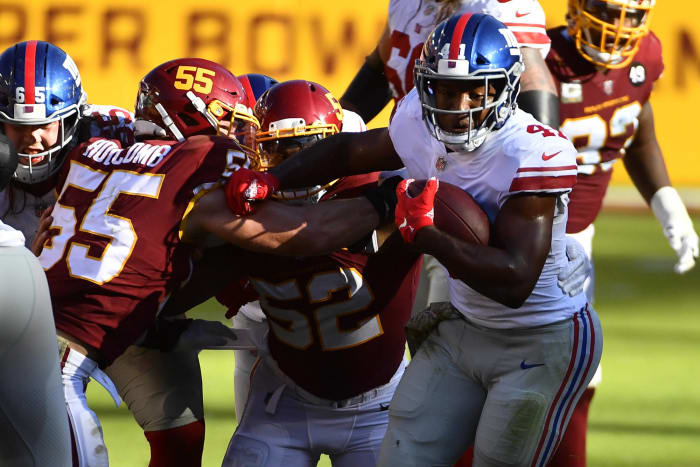 Brad Mills-USA TODAY Sports
The Giants' seemingly below-average post-Saquon Barkley run-game components morphed into an oddly reliable chain-moving tool Sunday. After surprising the Buccaneers with some up-the-middle success, the 2-7 Giants' Wayne Gallman-Alfred Morris duo wore down Washington for a season-high 166 rushing yards. A positive example of a journeyman back getting work at 31, Morris averaged 7.4 yards per carry to create a "five years later" revenge scene in Washington. New York's ground crew aided Daniel Jones to his fourth win over Washington. Related: he has lost 16 straight games to the rest of the NFL.
GIANTS GRADE: B | NEXT: vs. Eagles (Sun.)
10 of 32
Alex Smith comeback story no longer subplot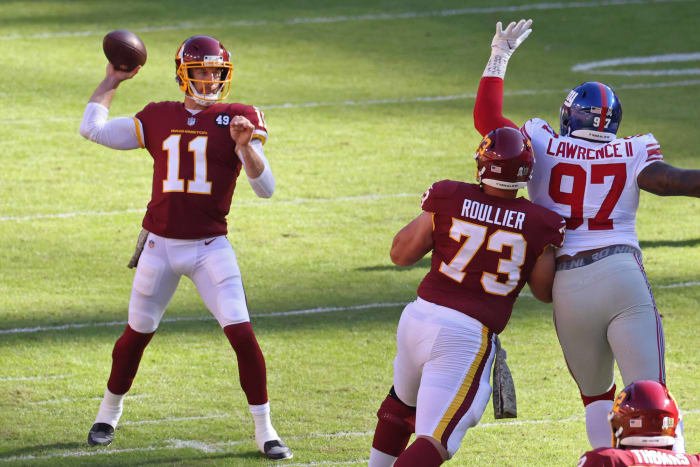 Geoff Burke-USA TODAY Sports
For the second time this season, an NFC East QB1 left a Giants game with a gruesome ankle injury. Kyle Allen following Dak Prescott in this unfortunate regard opened the door for a backup who suffered a far worse injury two years ago. Smith lit up the Giants for 325 yards, moving Washington (2-6) into comeback range. His three INTs closed that door, but this represented considerable improvement from the 36-year-old's return against the Rams. Smith being back in a starter's role is a stunning development, and his Sunday showing indicates he can aid the WFT skill corps' progression  in a way Dwayne Haskins could not.
WASHINGTON GRADE: C | NEXT: at Lions (Sun.)
11 of 32
Stafford cannot win uphill battle; Lions going nowhere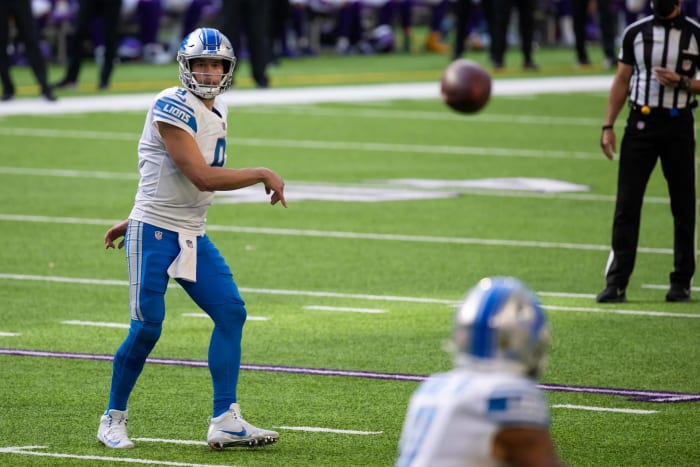 Brad Rempel-USA TODAY Sports
Despite their 1-5 start, the Vikings have usurped the Lions as the NFC North team best equipped to make an unlikely playoff run. The Lions were without Matthew Stafford all week because of his placement on their reserve/COVID-19 list, and his two INTs — along with horrendous run defense — kept the Lions (3-5) on the wrong end of a blowout. In yet another Stafford prime year, the Lions will be playing out the string. With a new regime certain to take over in 2021, will it view the rocket-armed 32-year-old passer as a player to build around? 
LIONS GRADE: D-minus | NEXT: vs. Washington (Sun.)
12 of 32
Rushing leader, fantasy hero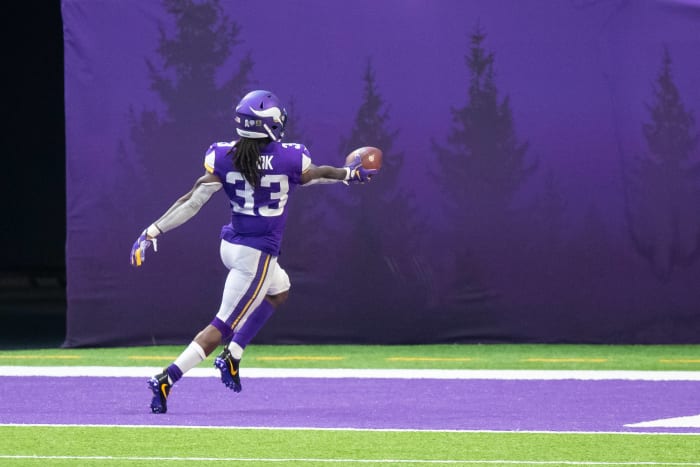 Brad Rempel-USA TODAY Sports
Dalvin Cook missed Week 6 because of an injury he suffered midway through the Vikings' Week 5 game. The Vikings (3-5) also had their bye already. In just 6 1/2 games, Cook leads the NFL with 858 rushing yards. He gouged the Lions for career-highs on the ground (206) and from scrimmage (252) and allowed Kirk Cousins to throw just 20 passes and resemble his optimal 2019 version for a second straight week. Cook's 70-yard TD run gave him 11 for the season; he scored 13 in 14 games last year. Chuck Foreman's 45-year-old franchise record (22, set in 14 games) should be in play. 
VIKINGS GRADE: A | NEXT: at Bears (Mon.)
Dale Zanine-USA TODAY Sports
As another Broncos season spirals away from the playoff race, observing their first- and second-round wide receivers' development will be maybe the second-most important task for fans of the downtrodden team. While Drew Lock (task 1) offers mixed signals about his future, Jerry Jeudy and K.J. Hamler combined to catch 13 passes for 200 yards Sunday. Jeudy is Denver's most exciting receiver prospect since at least Demaryius Thomas, while Hamler has made an instant impact despite missing extensive time with injuries. This duo having a full season of work before complementing Courtland Sutton is promising for the Broncos (3-5).
BRONCOS GRADE: C-minus | NEXT: at Raiders (Sun.)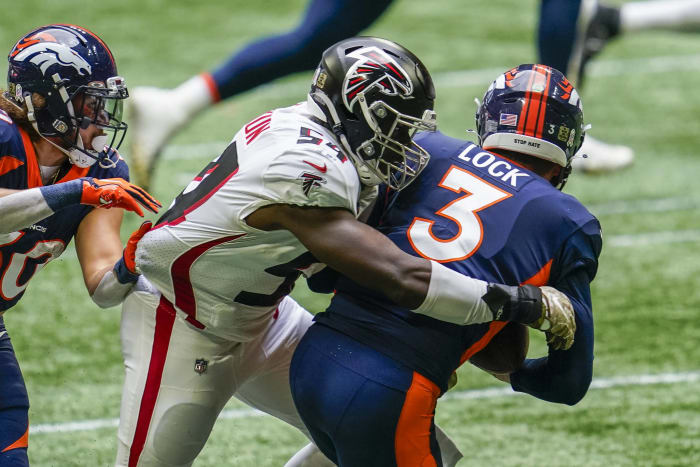 Dale Zanine-USA TODAY Sports
After making two fourth-down stops in Atlanta's win over Carolina, Foyesade Oluokun kept his breakout season going by leading the Falcons in tackles Sunday. An off-ball linebacker, the 2018 Round 6 pick dropped Lock for a sack — after smashing through a Phillip Lindsay block — and hit the Denver passer a team-high four times during a game the Falcons led by three scores until garbage time. De'Vondre Campbell's replacement alongside Jones, Oluokun leads the Falcons (3-6) with 64 tackles and three forced fumbles. Although Raheem Morris' defense led to Dan Quinn's firing, his troops have played better since the coaching change.
FALCONS GRADE: B | NEXT: at Saints (Nov. 22)
15 of 32
Bears will need to reinvest in ground attack
George Walker IV / Tennessean.com via Imagn Content Services, LLC
The Bears rank 30th in rushing — an ignominious standing considering they have yet to have their bye. A thin depth chart forces David Montgomery to receive almost every carry Chicago authorizes, but the former Round 2 pick's days as the Bears' starter should be numbered. After his 14-tote, 30-yard day, Montgomery is averaging 3.6 yards per carry after a 3.8-YPC 2019. He failed to convert on an early fourth-and-1, and his lost fumble gave the Titans a 17-0 lead. The Bears (5-4) were missing three starting O-linemen, but the Montgomery experiment was not working at full strength. This constrains a team already limited at quarterback.
BEARS GRADE: C-minus | NEXT: vs. Vikings (Mon.)
16 of 32
Signs of life from retooled Titans defense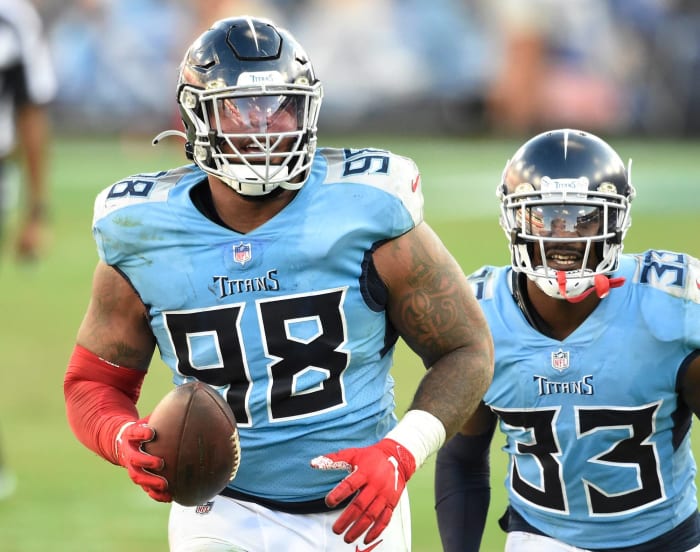 George Walker IV / Tennessean.com via Imagn Content Services, LLC
The Titans came into Week 9 on pace to be one of the worst third-down defenses in modern NFL history. They rearranged some parts this week, cutting Vic Beasley and Johnathan Joseph and trading for underrated nickel back Desmond King. Also without Jadeveon Clowney, the Titans (6-2) ran into the right offense to at least pause their futility slide. They held the Bears to 2-for-15 on third downs and had the Nick Foles-led team down 24-3 with under 4 minutes to play, remaining atop the AFC South. King's fumble-return TD also provided a nice start for a push at an interesting free agency bid.
TITANS GRADE: B-plus | NEXT: vs. Colts (Thu.)
Reinhold Matay-USA TODAY Sports
DeAndre Hopkins' ex-wingman is enjoying by far the best season of his career and about to put the Texans to a decision. Fuller's 77-yard sprint helped the Texans (2-6) beat the Jaguars, and the fifth-year receiver now has four 100-yard games this season. Fuller has been pivotal to Deshaun Watson's capabilities, and if he can avoid the injuries that have defined his career, Houston will be forced to decide if the 26-year-old talent is worth near-WR1 money (somewhere north of $16 million per year). The recent trade chip — he of zero 700-yard seasons — has the support of the franchise's most important power broker.
TEXANS GRADE: B-minus | NEXT: at Browns (Sun.)
18 of 32
QB switch halts D.J. Chark's slide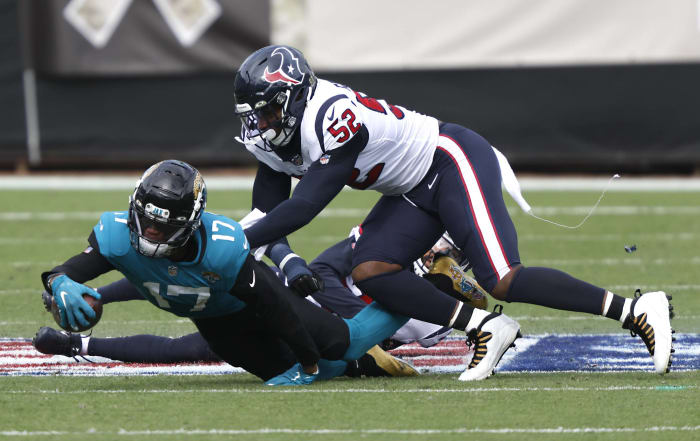 Reinhold Matay-USA TODAY Sports
The Jaguars' roster indicates they cannot be overlooked in the Trevor Lawrence pursuit, and while Jake Luton profiles as a backup at best long-term, Chark will be one of the TBD 2021 Jags starting quarterback's key weapons. Luton connecting deep on a touchdown with Chark and making the slumping wideout a mid-range priority resulted in a seven-catch, 146-yard day for the third-year target. Sunday marked Chark's first 100-yard game in nearly a year. Will it be Lawrence, Justin Fields or Trey Lance throwing him passes in 2021? The Jags (1-7) and Jets are the only zero- or one-win teams left.
JAGUARS GRADE: C-plus | NEXT: at Packers (Sun.)
19 of 32
A start two years in the making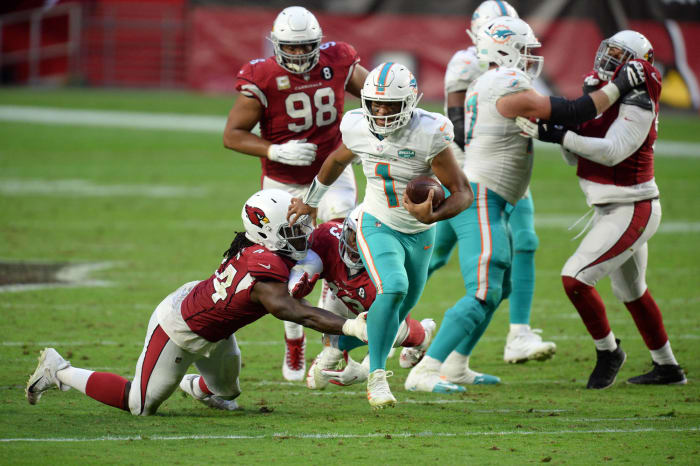 Joe Camporeale-USA TODAY Sports
The Dolphins (5-3) avoided taking a quarterback in the 2019 draft, targeting Tua Tagovailoa in 2020. The Alabama-developed prodigy delivered the most exciting outing by a rookie Dolphin passer in 37 years, though he navigated his duel with Kyler Murray a bit differently than Dan Marino would have. Tagovailoa showed scrambling chops that were not his forte in college, and showed much more with his arm than he did in his debut. Tua capped off a 93-yard game-tying drive with a toss to Mack Hollins that, per Next Gen Stats, rated as the toughest Dolphins completion since 2017.
DOLPHINS GRADE: A-minus | NEXT: vs. Chargers (Sun.)
20 of 32
For first time, Cards have superstar QB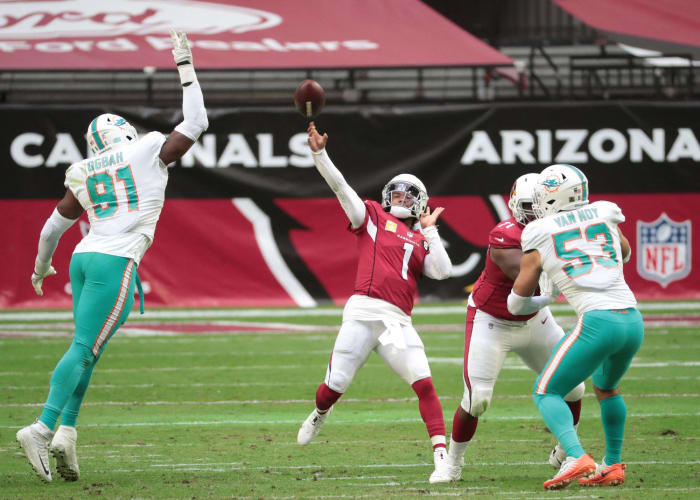 Michael Chow via Imagn Content Services, LLC
Like the Dolphins' Tua pick, the Cardinals selecting the would-be Oakland A's farmhand has changed the franchise's course. Even if Sunday doubled as a setback to their playoff aspirations, the Cards have an elite dual-threat quarterback. Murray mixed in 106 rushing yards with his 283 through the air, blending his historic (for a QB) speed with passing chops that exceed Lamar Jackson's. Murray continues to develop a rapport with Christian Kirk, who has five TDs in his past three games. The second-year QB's scoring strike to the third-year wideout traveled a career-high 56.2 air yards. 
CARDINALS GRADE: B-minus | NEXT: vs. Bills (Sun.)
21 of 32
Familiar routine, unfamiliar circumstances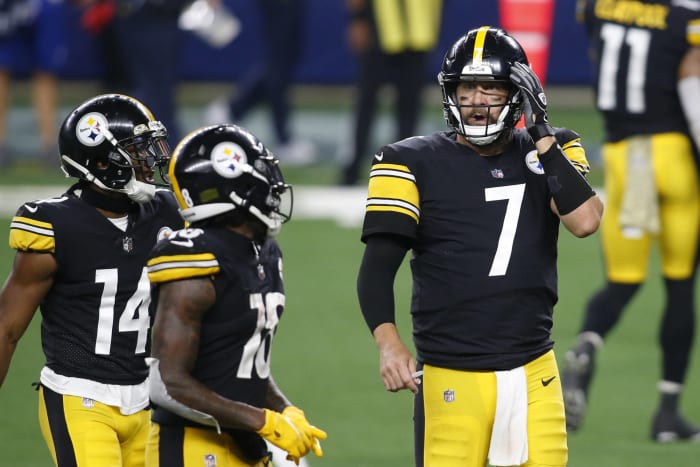 Tim Heitman-USA TODAY Sports
Various lower-body maladies have plagued Ben Roethlisberger throughout his career, though they have not forced him to miss much time. The Steelers quarterback suffered another knee injury Sunday but returned to do just enough to push the team to the first 8-0 start in its 88-year history. Big Ben has a deep collection of chain-movers, and he relied on them to erase a 19-9 deficit on a day when the Cowboys bottled up James Conner (22 rushing yards). This gutty performance (306 yards; 7.3 Y/A) showed how valuable the 38-year-old QB remains, even if this Steeler offense lacks Chiefs-level aesthetics. 
STEELERS GRADE: B-minus | NEXT: vs. Bengals (Sun.)
22 of 32
Cowboys staring at attractive draft pick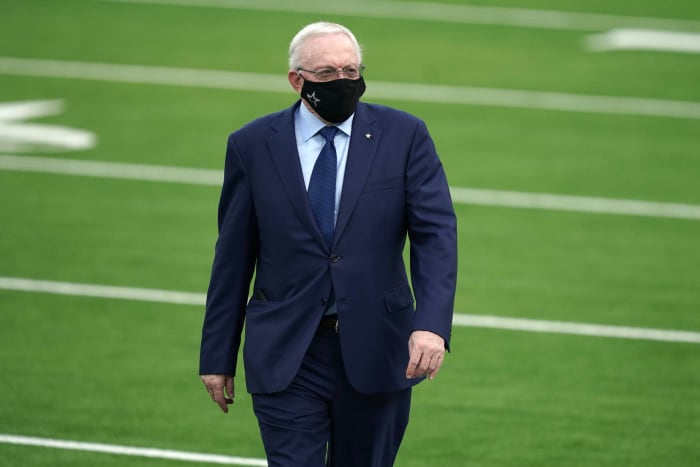 Kirby Lee-USA TODAY Sports
Andy Dalton could interfere with the Cowboys landing a high draft pick, though his Dallas work thus far showed little evidence he will do so. Garrett Gilbert fared better than Dalton or Ben DiNucci, but the Cowboys are 2-7 and moving toward their highest draft pick since Tony Romo's final QB1 season — abbreviated by collarbone issues — led to Ezekiel Elliott. The Cowboys have only botched two first-round picks over the past decade, and two of their three top-10 choices (Elliott and Tyron Smith) have combined for 10 Pro Bowls. A best-defender-available pick — to join a Dak Prescott-led lineup — now becomes the priority.
COWBOYS GRADE: C-plus | NEXT: at Vikings (Nov. 22)
23 of 32
Bench mainstay saves Raiders
Kirby Lee-USA TODAY Sports
If the Raiders return to the playoffs, a seldom-used cornerback will have provided one of the defining sequences that enabled such a trek. Injuries forced second-year cornerback Isaiah Johnson to play 50 of Las Vegas' defensive snaps Sunday — after he had played 30 all season — and the Chargers pinpointed him. The 2019 fourth-round pick doing just enough to interfere with Mike Williams and the 6-foot-8 Donald Parham's (would-be) game-winning touchdown grabs in the final seconds moved the Raiders to 5-3. They play three teams with winning records (all at home) in their final eight games.
RAIDERS GRADE: B | NEXT: vs. Broncos (Sun.)
24 of 32
Chargers halt rookie's development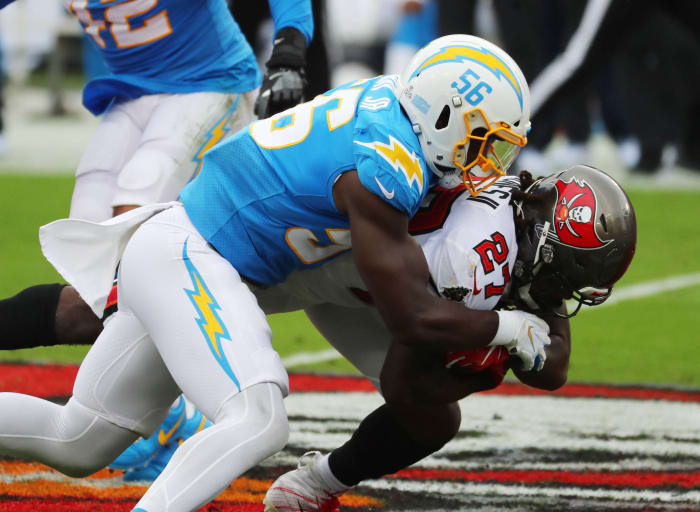 Kim Klement-USA TODAY Sports
Kenneth Murray played between 97-100% of the Chargers' defensive snaps from Weeks 5-8, but Anthony Lynn and defensive coordinator Gus Bradley demoted the first-round pick Sunday. They minimized Murray's second-half role, limiting the rookie linebacker to 26 defensive plays Sunday for what Lynn called "communication issues." Sixth-year inside 'backer Denzel Perryman replaced Murray, who struggled against the Broncos as well. With the Chargers now 2-6, ensuring possible core players see extensive time should be critical. Murray's benching is certainly a setback. 
CHARGERS GRADE: C-plus | NEXT: at Dolphins (Sun.)
25 of 32
Jones-Adams combo best of Rodgers' career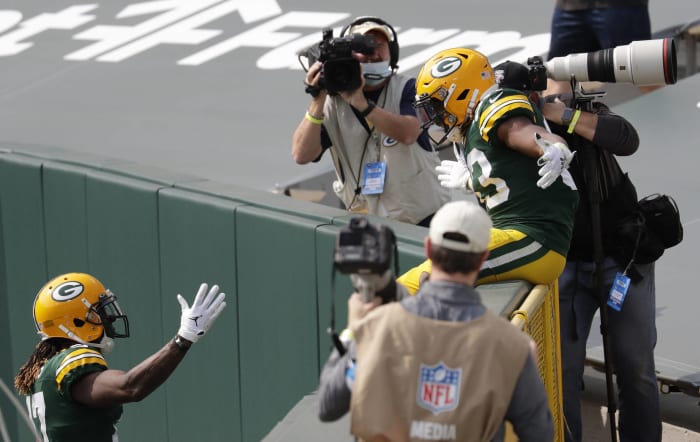 Appleton Post-Crescent-USA TODAY NETWORK via Imagn Content Services, LLC
Aaron Jones is the best Packers running back of Aaron Rodgers' tenure. Davante Adams has just one 1,000-yard season, but his present arrow points as high as any Rodgers receiver's has. The Packers (6-2) lack skill depth, but Jones' return and Adams' 173-yard night in San Francisco illustrate this duo's potency. It is not a reach to say the 2020 versions of Rodgers, Jones and Adams make for the most talented Packers triplets set in the franchise's modern history. Sterling Sharpe did not team with a Jones-level back; Ahman Green lacked an Adams-caliber receiver. Keeping Rodgers' top guns healthy could produce special results.
PACKERS GRADE: A | NEXT: vs. Jaguars (Sun.)
26 of 32
One 49er thriving amid injury chaos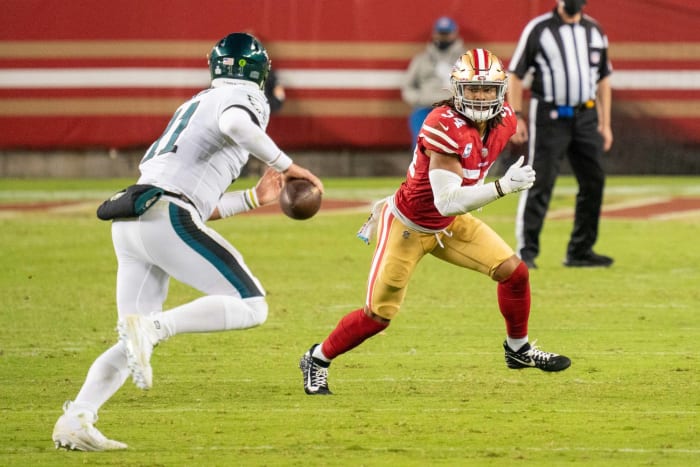 Kyle Terada-USA TODAY Sports
The 49ers deployed a historically productive linebacking duo in the early 2010s, in Patrick Willis and NaVorro Bowman. But injuries broke up that combo before either turned 30. The 49ers may have found their next dominant linebacker. Fred Warner made 13 tackles in the preposterously depleted team's loss to the Packers, and Pro Football Focus' No. 2 coverage 'backer has garnered league-wide praise. Rodgers believes Warner is a future All-Pro . The 2018 third-round pick is eligible for an extension in 2021. The 49ers (4-5) shedding Kwon Alexander's contract opens up a salary slot for their next cornerstone 'backer.
49ERS GRADE: D | NEXT: at Saints (Sun.)
27 of 32
Beginning of the end for All-Pro in New England?
Paul Rutherford-USA TODAY Sports
Bill Belichick has cut bait often on standout defenders, trading Richard Seymour and Chandler Jones and letting Darrelle Revis and Trey Flowers walk in free agency. The Patriots (2-5) balked at dealing Stephon Gilmore at the trade deadline, but with 2021 being the final year on Gilmore's Patriots-friendly contract, this season points to the last act for Gilmore as a Patriot. Though the Pats gave him a $5M raise this year, the reigning Defensive Player of the Year will want to cash in ahead of his 31st birthday — especially after Jalen Ramsey and Marlon Humphrey blew the lid off a stagnant cornerback market.
MONDAY: at Jets, 8:15 p.m. ET
28 of 32
Jets puzzle pieces coming together (sort of)
Jasen Vinlove-USA TODAY Sports
With Jamison Crowder and Breshad Perriman expected to suit up against the Patriots, it will mark the first time the Jets (0-8) have featured their top three receivers — those two and second-round rookie Denzel Mims — in a game together. Injuries to all three foiled this, and those eight losses kind of diminish this occurrence's relevance. Crowder's 95.8 receiving yards per game rank third in the NFL, however, and Mims has flashed early in his run. The Jets at least have this to look forward to tonight. But, in Jets fashion, Joe Flacco is expected to throw these players passes. 
MONDAY: vs. Patriots, 8:15 p.m. ET
29 of 32
Missing cogs en route?
Mark J. Rebilas-USA TODAY Sports
The Browns are hopeful both Nick Chubb (MCL) and breakout guard Wyatt Teller (calf) can suit up in Week 10. When both were in the lineup, the Browns (5-3) led the NFL in rushing. They have not eclipsed 101 yards over the past three games. The Browns averaged 6.8 yards per carry with their starting right guard and just 3.9 YPC without him . PFF still rates Teller, a Bills castoff a low-level deal last summer, as its No. 1 overall guard. He has provided a surprise boost to a team that used its top 2020 investments on O-linemen — in tackles Jack Conklin and Jedrick Wills — and already has two other blockers (Joel Bitonio and J.C. Tretter) on veteran deals.
NEXT: vs. Texans (Sun.)
30 of 32
Bates solidifying status as long-term Bengals piece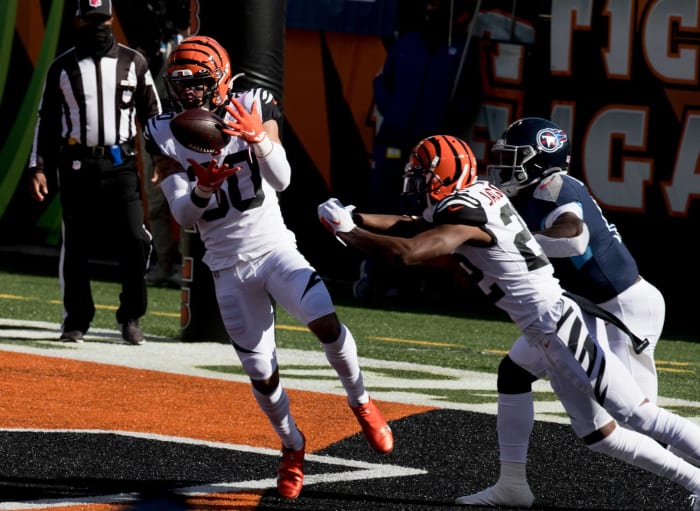 Albert Cesare / The Enquirer via Imagn Content Services, LLC
The Bengals doled out an abnormal (for the conservative franchise) amount of cash to help their defense this offseason, and it has helped a bit. Cincinnati (2-5-1) ranks 20th in scoring defense. The team will need to earmark a payment for Jessie Bates, who becomes extension-eligible at season's end. Bates is dominating this season, allowing QBs to complete just 39% of their passes while accumulating a 13.5 passer rating when targeting Bates. Closing in on his third 100-tackle season, Bates has emerged as a top-tier safety. At just 23, he will demand a deal north of $15M per year to become the highest-paid player at the position.
NEXT: at Steelers (Sun.)
31 of 32
Rare Philly sight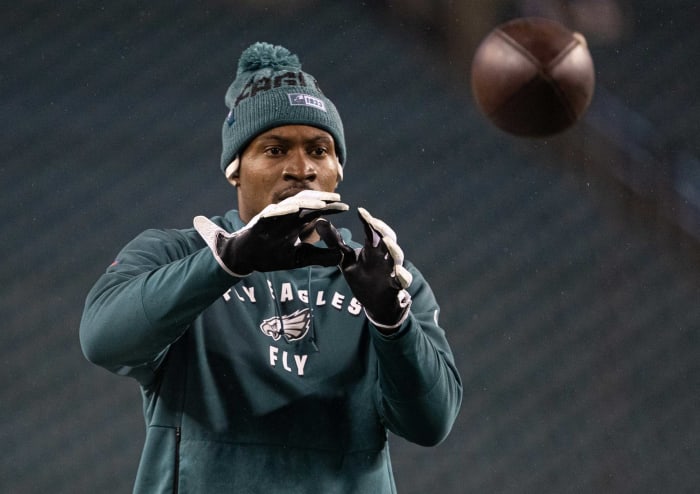 Bill Streicher-USA TODAY Sports
Carson Wentz will exit the Eagles' bye week with an NFL-high 12 INTs. But in Week 10, the Eagles are poised to be as healthy as they have been this season. Wentz has missed Miles Sanders, Jalen Reagor, Dallas Goedert and Alshon Jeffery for part or all of this season. All are expected to play next week and join fantasy waiver superstar Travis Fulgham (87 yards per game; seventh in the NFL). Even without Zach Ertz and DeSean Jackson, this will be the healthiest Wentz support staff since Week 13 of last season. Good news for the prospect of the Eagles not carrying a sub-.500 record into the playoffs.
NEXT: at Giants (Sun.)
32 of 32
Crucial re-signing elevates unit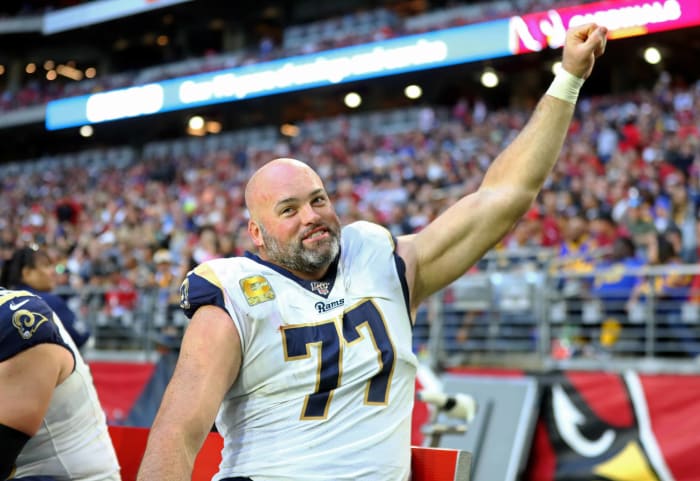 Mark J. Rebilas-USA TODAY Sports
Consistency continues to elude Jared Goff, but the Rams have helped him out this season. Their decision to re-sign Andrew Whitworth has moved the team closer to its high-end 2018 offensive line form. PFF rates Los Angeles' soon-to-be 39-year-old left tackle fourth at the position, and Football Outsiders slots the Rams' O-line second in its top run-blocking metric. Last year's line ranked 19th by this measurement (adjusted line yards). Whitworth and a stabilized front have paved the way for Darrell Henderson (4.8 yards per carry) to provide more ground support than Todd Gurley did last season.
NEXT: vs. Seahawks (Sun.)
We Thank To Our Readers For Your All Contributes. We Still Seek Your Support In Pandemic CoronaVirus.
Donate Bellow For Better Future
[charitable_donation_form campaign_id=57167]