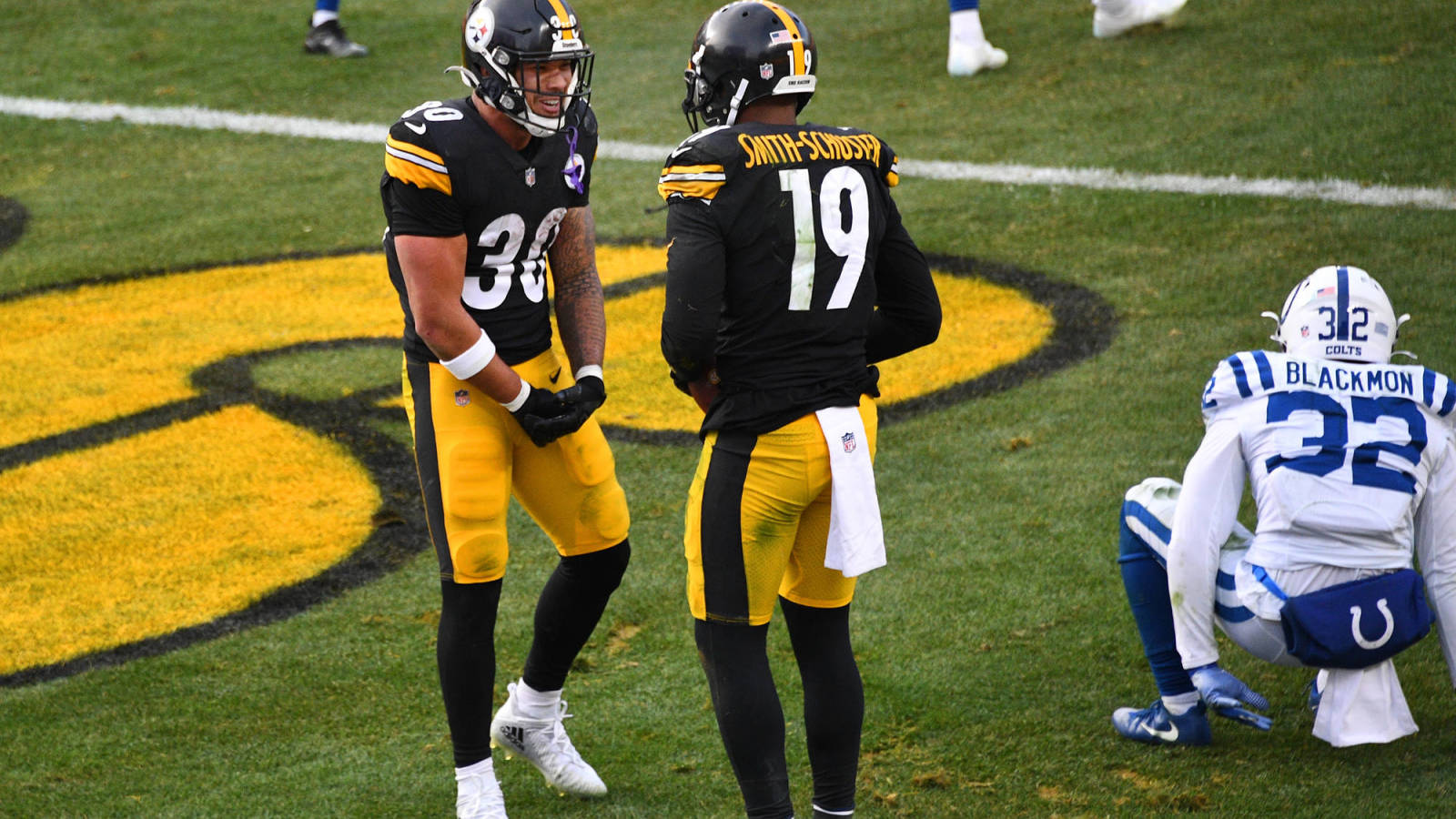 Week 16 brought considerable changes to both conferences' playoff scenarios, which will require more starters suiting up for regular-season finales. Here are the Sunday grades for each team and a look at where each of the 32 NFL franchises stands during the 2020 season's penultimate week.

1 of 32
Colts cave in, open door to historically unlucky finish
Charles LeClaire-USA TODAY Sports
Despite missing both starting tackles, the Colts did as they pleased in a one-sided first half. They then folded on all fronts, abandoning a successful run game — leading to the kind of imbalance that has impeded Philip Rivers this year — and seeing its No. 8 DVOA defense shredded by an offense the Bengals stifled Monday. While multiple questionable second-half penalties plagued Indianapolis (10-5), this loss could redefine a successful season. Only the 1985 Broncos and 2008 Patriots have finished 11-5 and missed the playoffs; it would be baffling for the Colts to join them given 2020's expanded bracket. 
COLTS GRADE: C-minus | NEXT: vs. Jaguars (Sun.)
2 of 32
Mysterious Steelers reopen Super Bowl door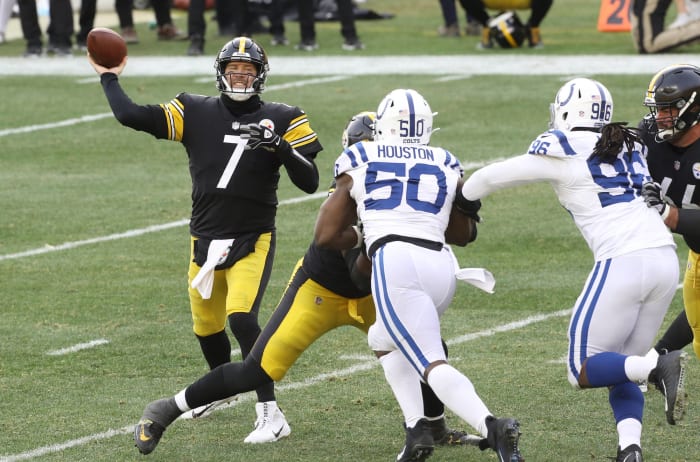 Charles LeClaire-USA TODAY Sports
Midway through a historic late-season freefall, the Steelers at least will justify their playoff entry. Ben Roethlisberger's throwback second half gives Pittsburgh (12-3) a live-underdog path to a deep postseason run. Big Ben's 22-for-29, 244-yard half — without any run threat, per usual — included chunk plays to Chase Claypool and JuJu Smith-Schuster and a 50-air-yard TD dime to Diontae Johnson. A much-needed reprieve from the weekly shallow-cross exhibitions allowed for the first Steelers 17-point comeback since a 2002 wild-card game, and Roethlisberger's vintage display should prevent them from being a rare 12- or 13-win January lame duck.
STEELERS GRADE: A-minus | NEXT: at Browns (Sun.)
3 of 32
Browns unable to overcome challenging circumstances
Vincent Carchietta-USA TODAY Sports
Thrust into a rich man's version of the Broncos' QB-less game, the Browns could not overcome being without their top four wide receivers. They might have missed left tackle Jedrick Wills and right guard Wyatt Teller just as much. Despite the presence of both Nick Chubb and Kareem Hunt, Cleveland rushed for four yards on eight carries in the first half. Two Jets sack-strip turnovers, the second of which coming after backup left tackle Kendall Lamm was beaten late in the game, hampered the Browns' effort. But falling behind the Jets 20-3 under any circumstances is a bad look. The 10-5 Browns appear poised to carry a negative point differential into the playoffs, should they beat the Steelers.
BROWNS GRADE: D-plus | NEXT: vs. Steelers (Sun.)
4 of 32
One thing previous Jets management did right
Vincent Carchietta-USA TODAY Sports
Amid Mike Maccagnan's spree of missteps, the ex-GM's Jamison Crowder signing has paid off. Crowder accounted for 149 yards Sunday, contributing as a passer, runner, and receiver in the Jets' second straight upset win. The experienced slot receiver has been by far Sam Darnold's most reliable playmaker, and given the events of the past two weeks, the duo may be set for a third season together. Regardless of whether the Jets (2-13) draft Darnold's successor at No. 2 overall or trade the pick for a bounty, the 27-year-old receiver will be a key asset for Gang Green's 2021 quarterback.
JETS GRADE: A | NEXT: at Patriots (Sun.)
5 of 32
Giants limping into strange showdown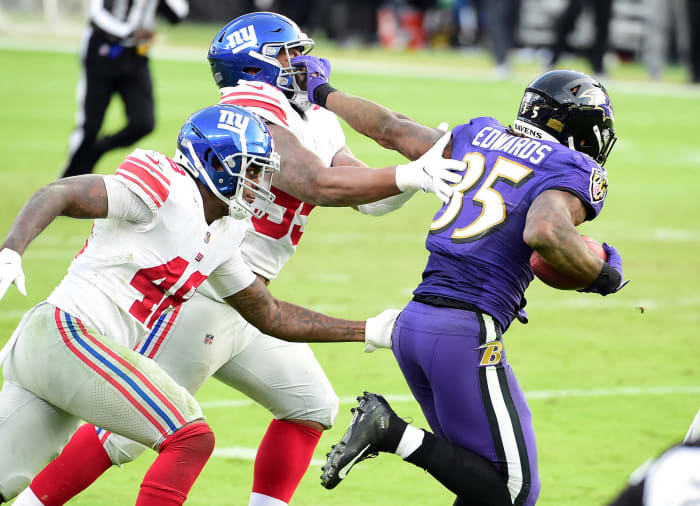 Evan Habeeb-USA TODAY Sports
Gashed through the air against the Browns and on the ground against the Ravens, the Giants' defense has slipped since its unexpected surge. Baltimore moved the chains throughout a one-sided win, gaining more rushing yards (249) than any Giants opponent in six years. The Giants also failed to contain Mark Andrews, allowing a limited passing offense to do damage. That said, beating the Cowboys at home will be easier. The Giants (5-10) making a mockery of the NFL's playoff setup — via home win and Washington loss — is an easily imaginable scenario. They are not exactly steamrolling into this unusual opportunity, however.
GIANTS GRADE: D | NEXT: vs. Cowboys (Sun.)
6 of 32
Ravens entrance would stack AFC playoff field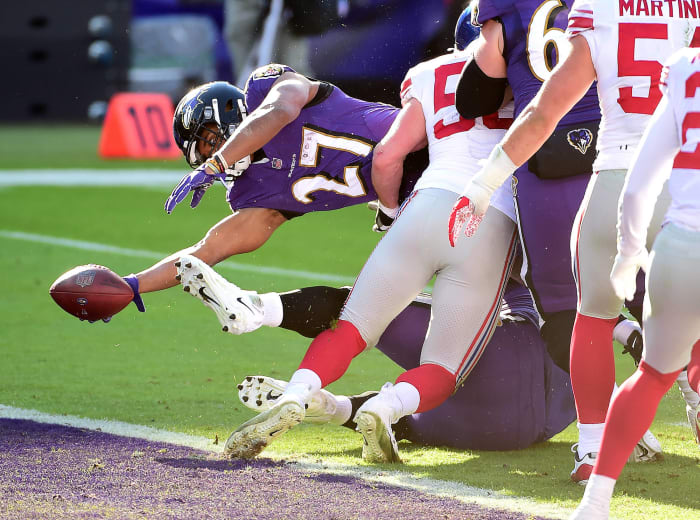 Evan Habeeb-USA TODAY Sports
While the optimal AFC playoff bracket would probably include the Colts instead of the Dolphins, the Ravens (10-5) now have an easy postseason path. A four-game stretch of de facto playoff games has moved them to an NFL-best plus-130 point differential, and Sunday showed they are one or two tiers higher than the Giants. Gus Edwards, Lamar Jackson and J.K. Dobbins each surpassed 77 rushing yards, giving the Ravens 43 straight 100-yard rushing games — second all-time behind only the 1974-77 Steelers. Barring a Bills collapse, the Ravens' reward for this late-season surge: Round 3 against a shaky Steelers squad.
RAVENS GRADE: A-minus | NEXT: at Bengals (Sun.)
7 of 32
Near-miss a fitting 2020 Falcons microcosm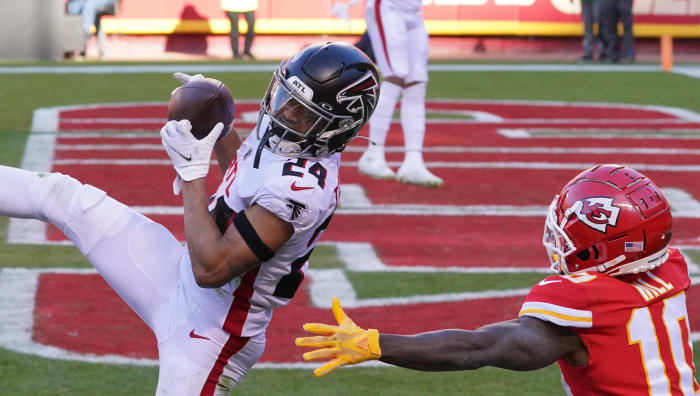 Denny Medley-USA TODAY Sports
Two slick INTs from Keanu Neal (on a Sammy Watkins pass) and Foyesade Oluokun, and Matt Ryan outplaying Patrick Mahomes for much of Sunday's first meeting of these QBs, put the Falcons in position for their best win in years. Then, they ran into familiar trouble. The Falcons (4-11) missed out on their top Mahomes INT when first-round cornerback A.J. Terrell's inability to "survive the ground" allowed the NFL's QB1 another chance to throw a go-ahead touchdown pass. This led to Pro Bowl kicker Younghoe Koo's brutal 39-yard miss. A full-on Falcons finish epitomizes a 2020 season chock full of letdowns.
FALCONS GRADE: B-minus | NEXT: at Buccaneers (Sun.)
8 of 32
Chiefs pass rush creates escape route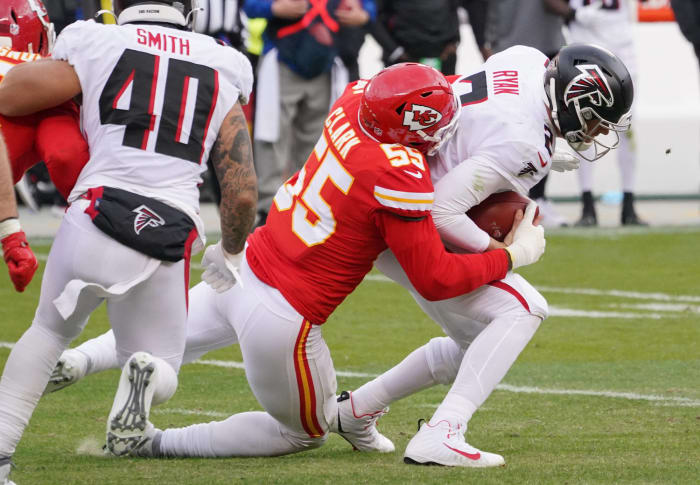 Denny Medley-USA TODAY Sports
An out-of-sync Chiefs offense — by their standards — needed help Sunday, and their pass rush provided just enough. On the heels of a bizarre Pro Bowl nod, Frank Clark registered a sack and three hits on Ryan. Chris Jones had a sack and four hits. Blossoming rookie D-back L'Jarius Sneed came through with a sack and a forced fumble. En route to the first 14-win season in team history, Kansas City (14-1) hit Ryan 12 times to interrupt an otherwise quality road effort. The Chiefs' plus-128 point differential does not match up with their record, but they now essentially have two weeks to prepare for an imposing title defense.
CHIEFS GRADE: B-minus | NEXT: vs. Chargers (Sun.)
9 of 32
Glass-half-full Bears view presents consequences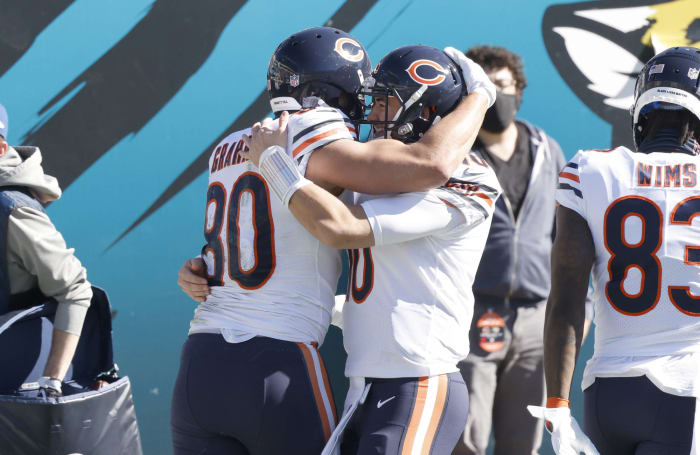 Reinhold Matay-USA TODAY Sports
The Bears' three-game win streak transformed a team that went from 5-1 to 5-7 with a broken offense. Another quality outing — against a Jaguars team with a generational incentive to lose — has Mitchell Trubisky in the conversation to receive a Blake Bortles-esque extension. Matt Nagy and GM Ryan Pace are also on safer ground. The Bears (8-7) have scored 30-plus points in four straight for the first time since 1965. A pessimistic lens provides perspective; each of these outings came against bottom-five defenses. If the Bears can beat the Packers and sneak into the playoffs, there will be a dangerous temptation to keep a flawed foundation in place.
BEARS GRADE: A-minus | NEXT: vs. Packers (Sun.)
10 of 32
A brief primer on Trevor Lawrence's destination
Kirby Lee-USA TODAY Sports
Ruthlessly securing the 2021 No. 1 overall pick, the Jaguars are set to land the top quarterback prospect since Andrew Luck. GMs and head coaches may well want to work with the Clemson phenom , but this is a tough situation to enter. Sunday's loss drops the Jags to 1-14 and 39-104 under Shad Khan. The ninth-year owner let overmatched GM Dave Caldwell stay in place for far too long, has one 10-win season on his resume, and committed the Jags to two London games per year. This franchise has not made back-to-back playoff berths since 1998-99. Reviving the Jaguars will be a task for Lawrence, but he would have a chance to be the undisputed franchise icon.
JAGUARS GRADE: F | NEXT: at Colts (Sun.)
11 of 32
Allen, Taylor on way to 2021 Cincinnati gigs?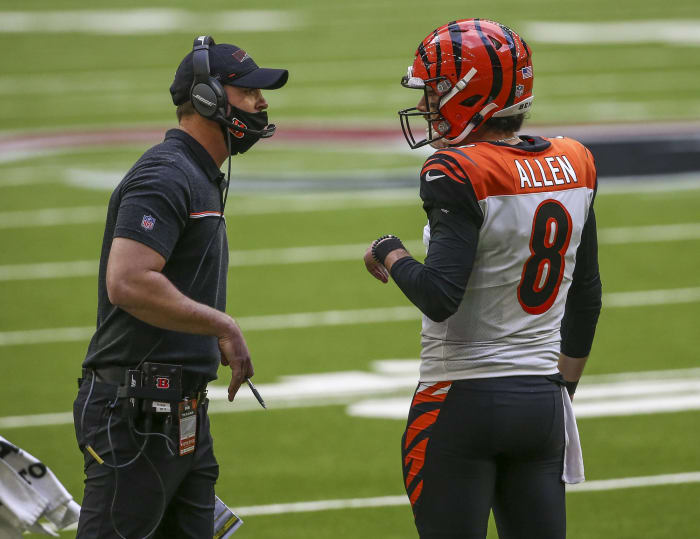 Troy Taormina-USA TODAY Sports
Joe Burrow is far from a lock to be ready to start the 2021 season. Brandon Allen, a 2016 draftee with of zero NFL snaps until last season, helped his cause to be the Bengals' placeholder option in the event Burrow's rehab drags into next fall. Allen sliced up a woeful Texans defense for 371 yards and two TD passes, leading the Bengals (4-10-1) to a 540-yard day — their most since October 2016. With no buzz about the conservative franchise firing Zac Taylor (6-24-1), his two-win week sans Burrow points him to a third season leading the team. This might not be for the best, but this looks like how the Bengals will proceed.
BENGALS GRADE: A-minus | NEXT: vs. Ravens (Sun.)
12 of 32
Texans defense hits bottom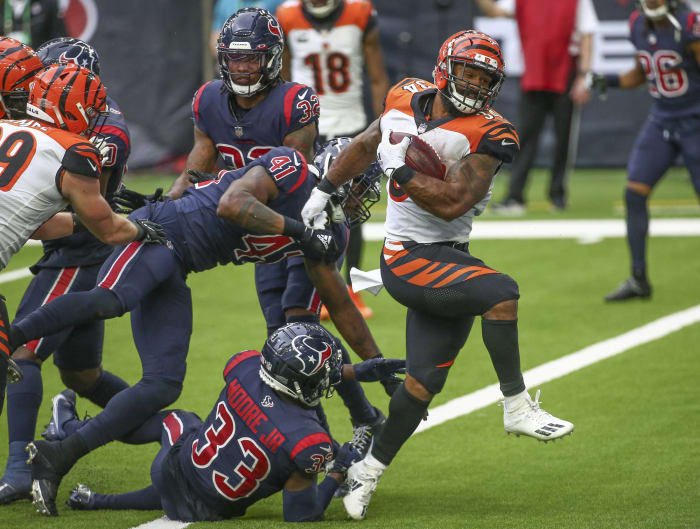 Troy Taormina-USA TODAY Sports
While the Texans are without starters Bradley Roby, Benardrick McKinney, and Whitney Mercilus, giving up 37 points to the Burrow- and Joe Mixon-less Bengals represents a new low for a team that allowed 600-plus yards to the Titans and gave up 36 points to the Mitchell Trubisky-led Bears. The Texans (4-11), particularly if they trade J.J. Watt, have needs on all three defensive levels. And Bill O'Brien's trade binge leaves the Dolphins in possession of their 2021 first- and second-round picks. A "Help Deshaun Watson" effort will not be easy to start. 
TEXANS GRADE: F | NEXT: vs. Titans (Sun.)
13 of 32
Washington, NFL need Alex Smith, badly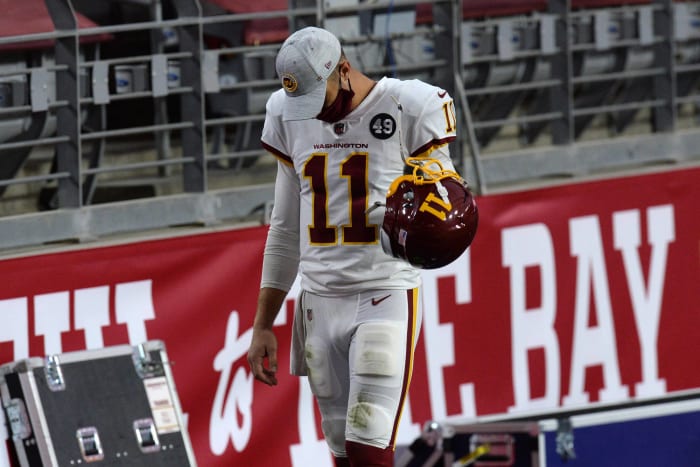 Joe Camporeale-USA TODAY Sports
Grim postseason timeline 1: The Cowboys enter at 7-9 and overshadow everything else about the NFC bracket
Grim postseason timeline 2: The Giants become the first 10-loss division champion, dunking on the NFL's playoff format
Dwayne Haskins or Taylor Heinicke starting next week obviously opens the door wide for one of these scenarios. The NFL's mega-happy ending in this embarrassing NFC East plot would involve Smith returning from a life-threatening injury to start in the playoffs. If he is not ready by Sunday, the offensive display Washington (6-9) offered against Carolina opens the door to a weird reality playing out. And, wow, did Bruce Allen misfire with Haskins.
WASHINGTON GRADE: D | NEXT: at Eagles (Sun.)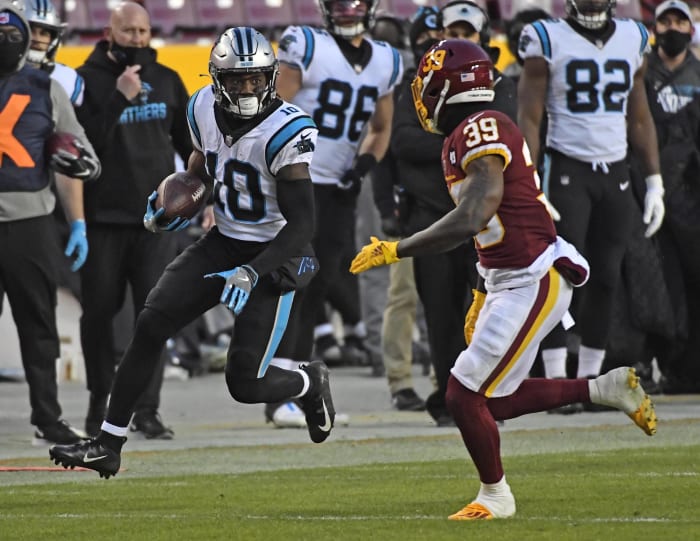 Brad Mills-USA TODAY Sports
The 2021 free-agent wide receiver class will include many of the following: Allen Robinson, Kenny Golladay, Chris Godwin, A.J. Green, T.Y. Hilton, JuJu Smith-Schuster, Corey Davis, Sammy Watkins, Antonio Brown. Samuel continued his push to join this deep contingent, wounding Washington with a career-high 158 scrimmage yards. Showing elusiveness and power while working out of the backfield and at receiver, Samuel will offer versatility if the Panthers (5-10) — who have Robby Anderson under contract and D.J. Moore to pay — let him walk. Though, a potential buyer's market may not close the door on a Samuel Carolina return.
PANTHERS GRADE: A-minus | NEXT: vs. Saints (Sun.)
15 of 32
Cowboys wideouts smoke Eagles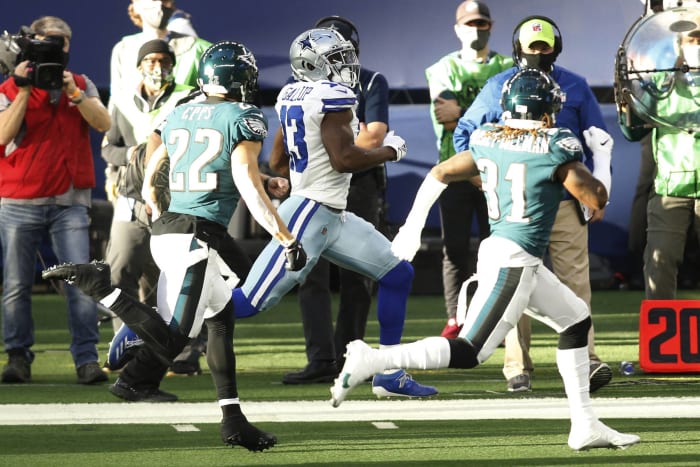 Tim Heitman-USA TODAY Sports
Keeping their increasingly interesting playoff hopes alive and showcasing a receiving corps that will help a presumably better 2021 team, the Cowboys (6-9) cooked the Eagles with big plays. Andy Dalton ruthlessly targeted Eagles rookie corner Michael Jacquet, who gave up the second-most yards when targeted in a game this season (182), during a 377-yard outing. Each member of the Amari Cooper-Michael Gallup-CeeDee Lamb trio broke loose on lengthy catch-and-run jaunts; they combined for 307 yards. Dak Prescott should have each at his disposal in 2021, and this group will be trouble for the Giants in a suddenly crucial game.
COWBOYS GRADE: A | NEXT: at Giants (Sun.)
16 of 32
Will Eagles designate a fall guy?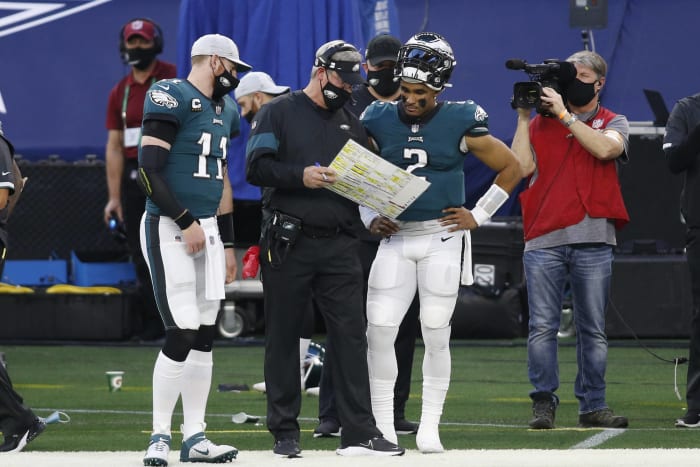 Tim Heitman-USA TODAY Sports
As the Jalen Hurts experiment fizzled late in an embarrassing Cowboys loss, a miserable Eagles season is guaranteed to end this week. It will be difficult for the franchise to move on from Doug Pederson — a Super Bowl winner who is 3-for-5 in playoff berths — or GM Howie Roseman. But the Eagles (4-10-1) melted down in Dallas, have failed to score 30 points in a game, and have seen their augmented secondary repeatedly torched. This marks another year gone for the Super Bowl LII holdovers in their 30s, and without major staff changes (personnel moves will be tougher because of this cap situation ), how can the Eagles run it back, Pederson-Roseman-Carson Wentz?
EAGLES GRADE: F | NEXT: vs. Washington (Sun.)
17 of 32
Jeudy's bad day moves Broncos to 10 losses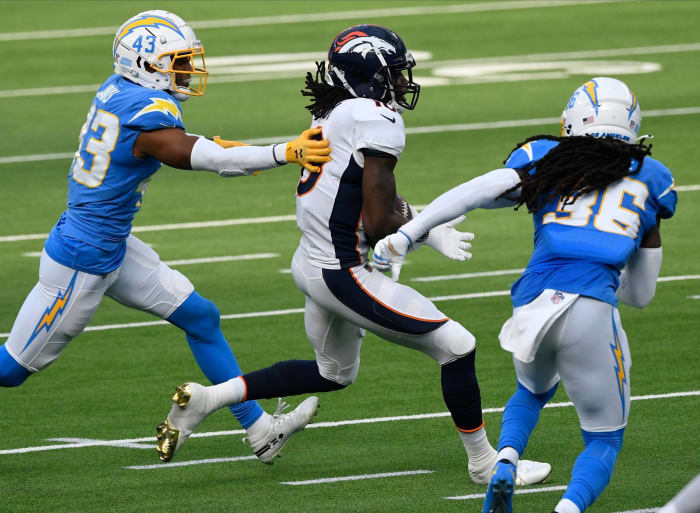 Robert Hanashiro-USA TODAY Sports
Losers of 10 games three times in four seasons for the first time since their AFL days, the Broncos (5-10) ran into an issue with their first-round pick. Drew Lock and Jerry Jeudy have struggled to form a rapport this season; the former has taken deserved heat for it. But the ex-Alabama star helped hand Denver its 10th loss Sunday with a spree of drops — highlighted with a touchdown misplay and a final-drive slip-up. While Jeudy (15 targets, six catches) has done well to break open routinely in a season (712 yards) that has him poised to finish with the second-most rookie-year yards in Broncos history, consistency has eluded him.
BRONCOS GRADE: C | NEXT: vs. Raiders (Sun.)
18 of 32
Chargers facing critical decision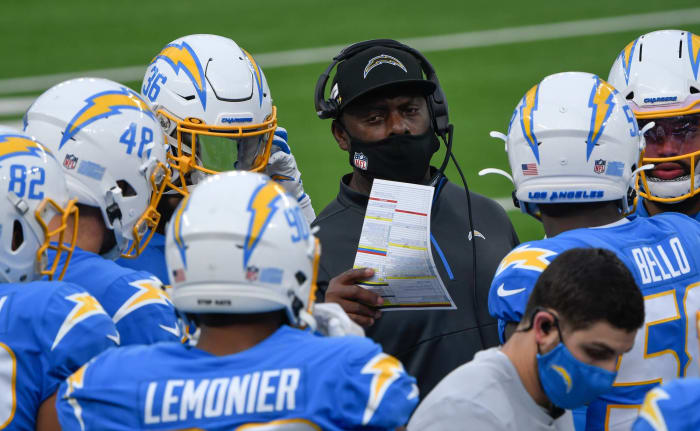 Robert Hanashiro-USA TODAY Sports
A close game went Anthony Lynn's way for a second straight week, but the Chargers nearly blew another big lead. A Broncos team missing its top three cornerbacks and top two pass rushers limited the Bolts (6-9) to four field goals and erased a 13-0 halftime deficit. The result worked in Los Angeles' favor, but the franchise must think long-term. Although Justin Herbert is 22, the Chargers' core consists of prime-years talents — Joey Bosa, Keenan Allen, Derwin James among them. This is not a rebuilding team. Green-lighting another season from a well-liked but overmatched coach could disrupt a strong talent nucleus next year.
CHARGERS GRADE: B | NEXT: at Chiefs (Sun.)
19 of 32
Rams about to break emergency glass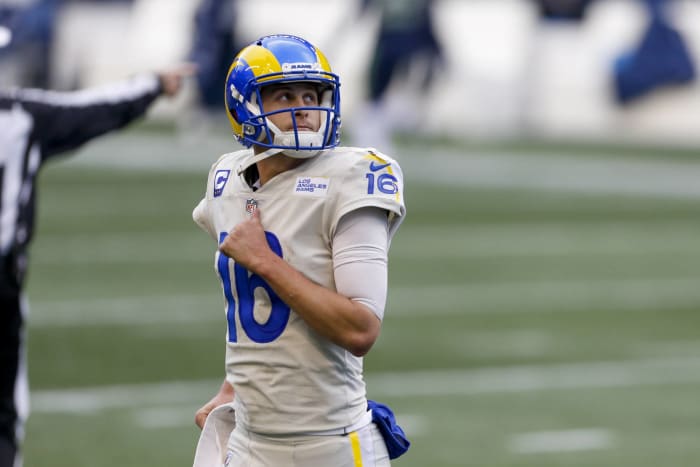 Joe Nicholson-USA TODAY Sports
The past two weeks have dropped the Rams from a team with an outside shot at the NFC's bye to one with a chance to miss the playoffs. A Jets-aided descent may now include an 11th-hour QB replacement. Jared Goff's broken and dislocated thumb is expected to keep him out of Week 17, summoning former Wake Forest and Alliance of American Football QB John Wolford — the player for whom the Rams ditched Blake Bortles. Goff was shaky Sunday before the injury, but he has never missed a start due to an ailment since taking the reins in 2016. With the Rams able to back into the playoffs with a Bears loss, Wolford may be needed for two January games.
RAMS GRADE: C | NEXT: vs. Cardinals (Sun.)
20 of 32
Goal-line stand unveils rejuvenated defense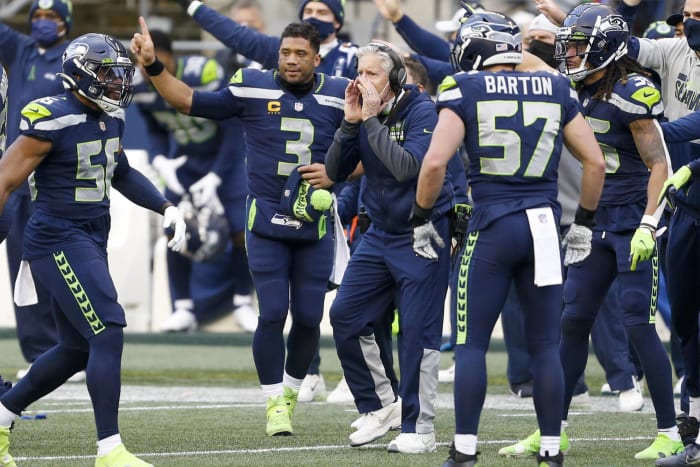 Joe Nicholson-USA TODAY Sports
Steadily recovering after an abominable start, the Seahawks defense showcased its late-season form for a wide audience by shutting down a Rams team it failed to contain weeks ago. The breakout point was clear: a goal-line stand that featured four failed Ram runs from inside the 5-yard line. Seattle's latest off-grid Round 1 pick — linebacker Jordyn Brooks (team-high eight tackles) — led the charge in stuffing Los Angeles' final two tries on the defining third-quarter sequence. The team finished the effort by amassing 24 pressures — the most heat Goff has faced in his pro career. Seattle (11-4) has not allowed a 20-point game since Week 11. 
SEAHAWKS GRADE: A | NEXT: at 49ers (Sun.)
21 of 32
Titans defense will be playoff liability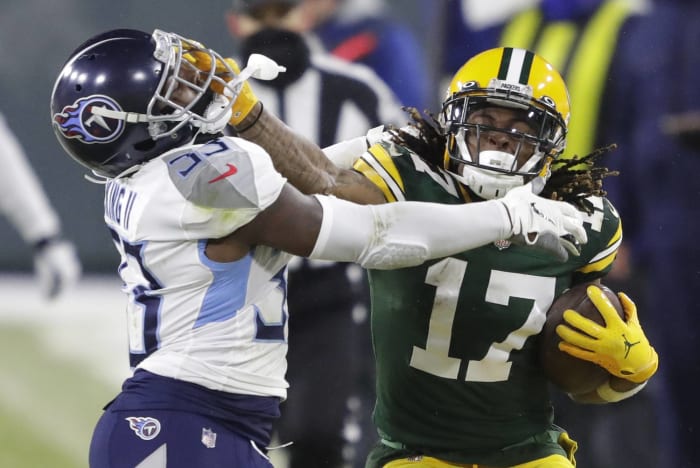 Dan Powers/USA TODAY NETWORK-Wis via Imagn Content Services, LLC
Yes, multiple bad calls — a bogus offside infraction negating a blocked field goal and Aaron Jones' game-breaking run including a (non-challenged) step out of bounds — played a role in the Titans' blowout loss. But Aaron Rodgers and Davante Adams toyed with Tennessee's long-suspect defense. The Titans (10-5) hit Rodgers just twice and, despite big cornerback investments, could not deter Packer pass catchers. This looked like a snowier version of the Titans' pressure-less Browns performance. Titan playoff prospects aside, Derrick Henry's average Sunday outing means he needs 223 yards for 2,000 against a horrid Texans run defense. Game on.
TITANS GRADE: D-minus | NEXT: at Texans (Sun.)
22 of 32
Packers unleash fresh ground option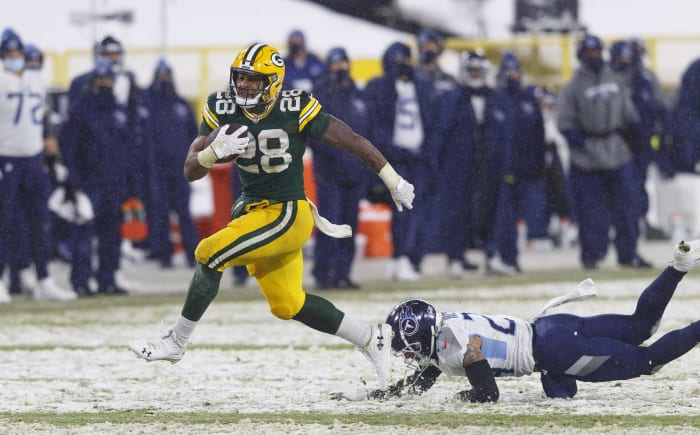 Jeff Hanisch-USA TODAY Sports
The Packers' criticized draft included Jordan Love and an old-school running back in Rounds 1-2. While this strategy should remain scrutinized, the latter pick has emerged as a potential playoff weapon. A.J. Dillon powered through the Titans in the snow, showcasing a clear complementary skill set to Aaron Jones. Dillon's Lambeau Leaping issues notwithstanding, the bruising rookie turned 21 carries into 124 yards and two TDs and showed he may offer more than current RB2 Jamaal Williams. If nothing else, Dillon will be a mainstay next season. The Packers (12-3) have been hesitant to pay running backs, and Jones and Williams are on expiring deals.
PACKERS GRADE: A-plus | NEXT: at Bears (Sun.)
23 of 32
Vikings will need to consider TE baton pass
Chuck Cook-USA TODAY Sports
Although the Vikings' Christmas Day game devolved into an Alvin Kamara rampage, second-year tight end Irv Smith Jr. continued to show how he could help the team save money and expand its passing attack. The agile pass catcher caught six passes and added two TDs, giving him five this season. While a starting role for Smith would mean saying goodbye to the longest-tenured Viking — Kyle Rudolph — saving $5 million in a year when the cap will decline may be an obvious move for a Vikings team (6-9) that cannot afford to carry a 32-year-old tight end on a near-$8M salary.
VIKINGS GRADE: F | NEXT: at Lions (Sun.)
24 of 32
Kamara on early Hall of Fame map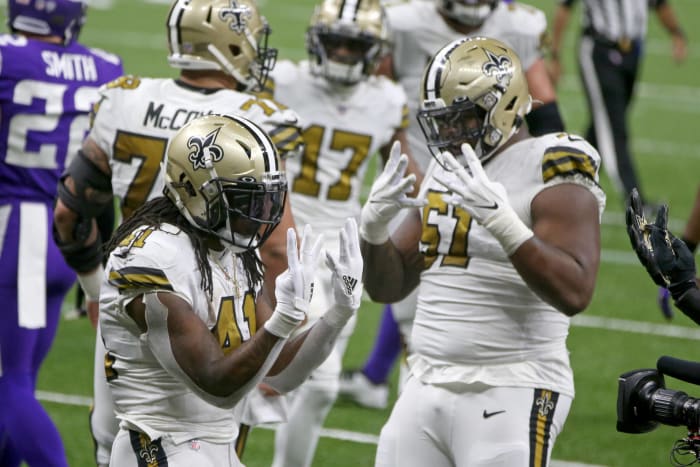 Chuck Cook-USA TODAY Sports
In the latest "Running back extensions: not all bad" chapter, Kamara's record-tying six-TD day gave him an NFL-most 21. The fourth-year back has also surpassed his single-season scrimmage yards high by nearly 100 (1,688) and has done so on fewer touches (270). Kamara is 4-for-4 in Pro Bowls and has the ideal modern skill set, one that will help the Saints (11-4) after Drew Brees' retirement. The $15M-per-year runner will obviously be vital for New Orleans' Super Bowl hopes this season, but his fit in Sean Payton's system and non-feature-back workloads point to longevity that will create a Hall of Fame resume one day.
SAINTS GRADE: A-plus | NEXT: at Panthers (Sun.)
25 of 32
Buccaneers on course for friendly playoff matchup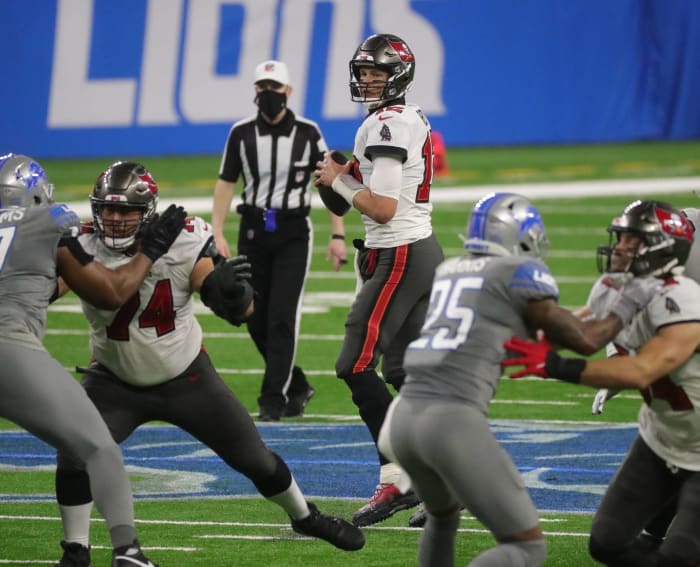 Kirthmon F. Dozier via Imagn Content Services, LLC
As long as the Buccaneers (10-5) avoid a home slip-up against the Falcons, they will have an excellent chance to advance to Round 2 of the playoffs. Their demolition of a COVID-19-affected Lions team set up a clear avenue to the NFC's No. 5 seed and an unusual road trip to face the NFC East champion in Round 1 (without fans, unless the Cowboys are the opponent). Tom Brady encountered Tim Tebow, Brock Osweiler, and Marcus Mariota in divisional-round games between 2011 and 2017; this is routine for him. But for a Bucs team that has not made the playoffs since 2007, this represents an amazing opportunity.
BUCCANEERS GRADE: A-plus | NEXT: vs. Falcons (Sun.) 
26 of 32
Lions issue provides warning for NFL ahead of playoffs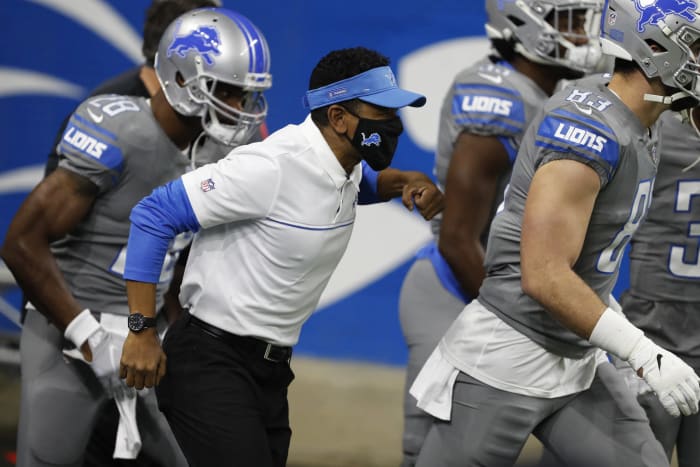 Raj Mehta-USA TODAY Sports
The NFL and NFLPA could not agree on a playoff bubble setup. With COVID-19 cases at record levels for the past several weeks, and with a post-holiday surge warned, situations akin to those the Browns and Lions dealt with this week figure to emerge in the postseason. The Lions (5-10) were down several coaches — including interim HC Darrell Bevell and DC Cory Undlin, leaving wideouts coach Robert Prince and research/analysis assistant Evan Rothstein as their replacements — and it showed in a 47-7 loss that could have been much worse. On its current plan, the NFL will likely see multiple teams' playoff destinies determined by mass coronavirus absences.
LIONS GRADE: F | NEXT: vs. Vikings (Sun.)
27 of 32
49ers unlikely to pay for RB anytime soon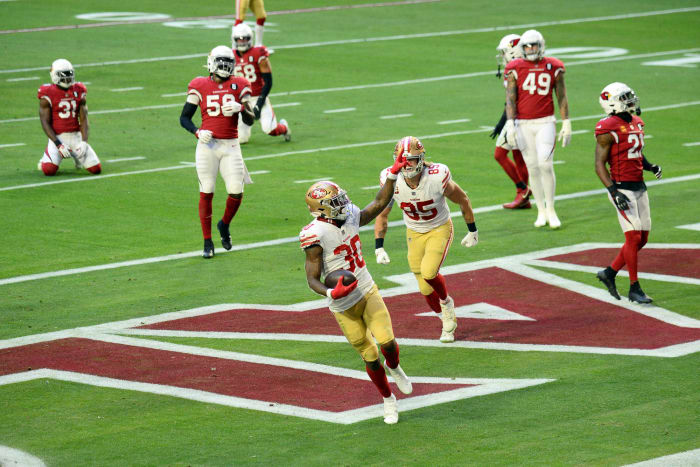 Joe Camporeale-USA TODAY Sports
This year, the 49ers saw a career special-teamer torch the Packers for 220 yards and four TDs in the NFC championship game and a 2018 UDFA tattoo the Cardinals for 204 scrimmage yards Saturday. Both Raheem Mostert and Jeff Wilson should be back in 2021, with Mostert under contract and Wilson a restricted free-agent-to-be. The 49ers (6-9) will certainly say goodbye to higher-priced non-factors Tevin Coleman and Jerick McKinnon and roll with basement-level contracts. While injuries to Mostert and Wilson this year should prompt the 49ers to add another piece, do not expect it to be remotely expensive.
49ERS GRADE: A-minus | NEXT: vs. Seahawks (Sun.)
28 of 32
Cardinals among NFC's flawed contender sect
Billy Hardiman-USA TODAY Sports
While all non-Chiefs squads present notable flaws, three clear tiers have formed in the NFC: the A-listers (Packers, Saints, Seahawks, Buccaneers), limited hopefuls (Rams, Bears, Cardinals) and the NFC East. The Bears' Week 17 Packers assignment — and the Rams' likely Jared Goff-less status — give the Cards (8-7) a reasonable playoff route. But they just gave up 204 yards to Wilson and let third-string QB C.J. Beathard throw three TD passes in a near-must-win game. Arizona had shown some promise in its post-Chandler Jones portion of the season, but its issues against Beathard and Jalen Hurts confirm a slim margin for error come January.
CARDINALS GRADE: D-plus | NEXT: at Rams (Sun.)
29 of 32
Dolphins risking a lot with QB arrangement
Mark J. Rebilas-USA TODAY Sports
While notoriously streaky, Ryan Fitzpatrick probably gives the Dolphins a better chance of upsetting the Bills next week. Tua Tagovailoa has gained valuable intel this season, but he has ground the Dolphins (10-5) to a halt in multiple games. A bad Raiders defense bedeviled the rookie with stunts, just as the Broncos did when Brian Flores previously yanked Tagovailoa for his "reliever." This starter-closer setup does make for a captivating Week 17 subplot, and Tua would benefit from DeVante Parker's potential return. But in a potential Bills shootout for a playoff spot, the Dolphins may not be able to endure a multi-quarter dry spell.
DOLPHINS GRADE: B-minus | NEXT: at Bills (Sun.)
Kirby Lee-USA TODAY Sports
Having gone from a free agency flier to No. 1 wide receiver, Agholor did enough to lift the Raiders to victory Saturday. While his third 100-yard game ended up being insufficient, the ex-Eagle has rebooted his career in Las Vegas. The Raiders (7-8) and Agholor (career-high 839 receiving yards; 17.9 YPC) face uncertainty going forward. A loaded receiver free agency class opens the door to Agholor being available for a Vegas return on a midlevel deal, but the Raiders have Henry Ruggs and Bryan Edwards in development. Jon Gruden's affinity for veterans will put the coach/czar to an interesting decision soon. 
RAIDERS GRADE: C-plus | NEXT: at Broncos (Sun.)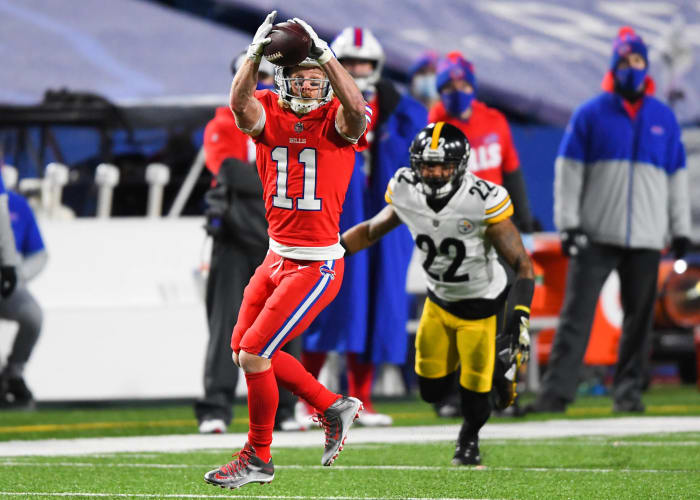 Rich Barnes-USA TODAY Sports
With 50 more receiving yards, Beasley will surpass 1,000 for the first time. With Stefon Diggs already over 1,300, the duo would become the third in Bills history to go 1,000-1,000 and first since Eric Moulds and Peerless Price in 2002. Beasley only topped 700 yards once in seven Cowboys seasons, and the veteran slot presence turned 30 before debuting in Buffalo last year. Signed to a four-year, $29 million deal that looked like the kind of overpay necessary to entice free agents to trek to Buffalo (11-3), Beasley has provided incredible value as a consistent option for the rapidly ascending Josh Allen.
MONDAY: at Patriots, 8:15 p.m. ET
32 of 32
Edge help needed in New England
Rich Barnes-USA TODAY Sports
No Patriots pass rusher enters Monday's Bills rematch with four sacks or 10 QB hits. While Bill Belichick continued to form elite bend-don't-break defenses after edge rusher departures — of recent note: the Chandler Jones trade and Trey Flowers' free agency exit — the exits of Kyle Van Noy and Jamie Collins and Dont'a Hightower's opt-out have created a slight issue. Somehow, the Patriots (6-9) rank fifth against the pass despite just 21 sacks (28th). Their 128 pressures rank 16th. But the team could stand to acquire a bit more assistance on the outside during what will be a busy offseason.
MONDAY: vs. Bills, 8:15 p.m. ET