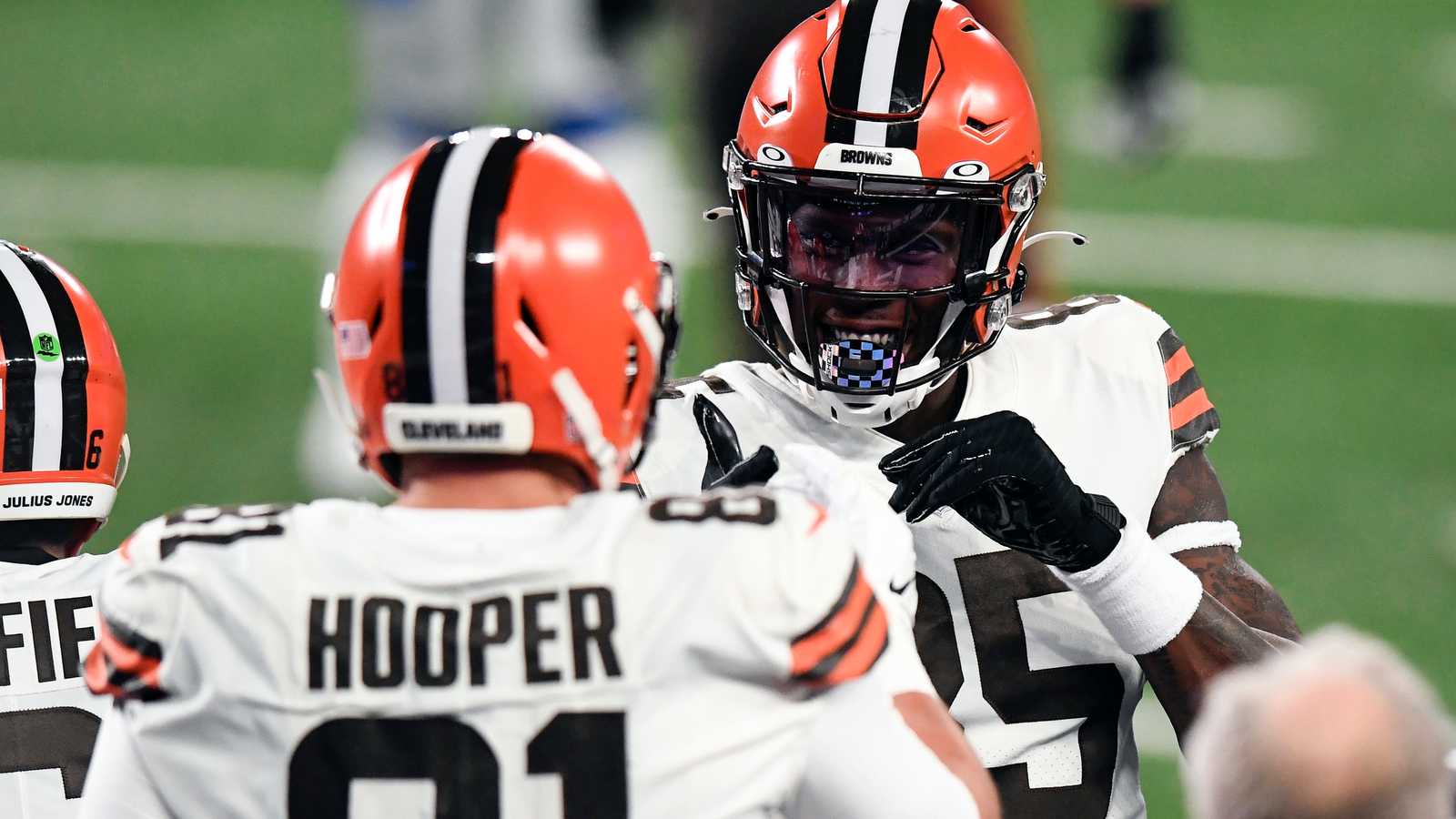 Trevor Lawrence has a new projected destination, while Drew Brees' return did not go as hoped for the Saints against the Chiefs. Here are the rest of the key developments from Week 15, along with grades for every team.

1 of 32
Current Jets squad upends long-term outlook
Kirby Lee-USA TODAY Sports
Marcus Maye's leaping pass breakup to stop a potential Gerald Everett touchdown derailed a likely 0-16 season. Maye is a 2021 free agent and, like Adam Gase and his staff, could be elsewhere next year. This Jets team pulling off the season's defining upset — as 17.5-point underdogs — obviously could have generational consequences. The Jaguars are now the Trevor Lawrence team to beat. This will certainly not matter to outgoing Jet cogs, who escaped NFL ignominy. In defense of the Jets (1-13), no team that has finished with one win since the 1970 merger — in a non-strike season — has failed to obtain the No. 1 overall pick. 
JETS GRADE: A | NEXT: vs. Browns (Sun.)
2 of 32
Inconsistency set to hold Rams back come January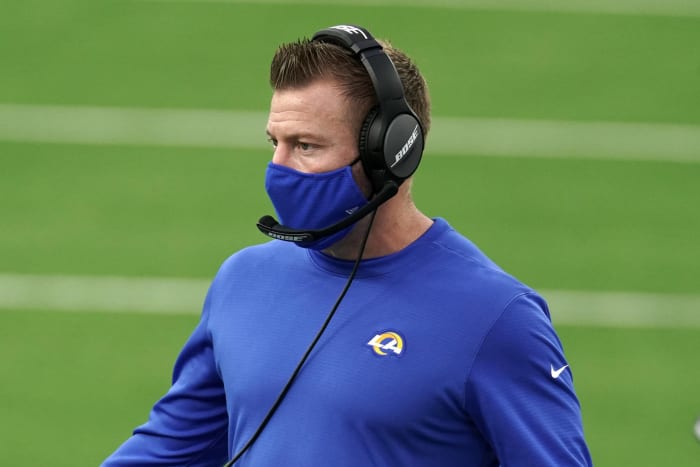 Kirby Lee-USA TODAY Sports
Jared Goff's 2019 regression revealed the width of the tightrope Sean McVay must walk when designing game plans for a quarterback-constrained offense. It has become difficult to imagine McVay's 17th-ranked offense doing enough to win back-to-back playoff games. The Rams (9-5) have looked like a top-tier team at times — against the Buccaneers and Seahawks — but their loss to the Jets and struggles in both 49ers games reveal how undependable this offense is. The unit's inability to get one first down when a potential game-winning drive began in Jets territory was emblematic of its season. 
RAMS GRADE: D | NEXT: at Seahawks (Sun.)
3 of 32
Patriots' playoff streak ends, bringing more questions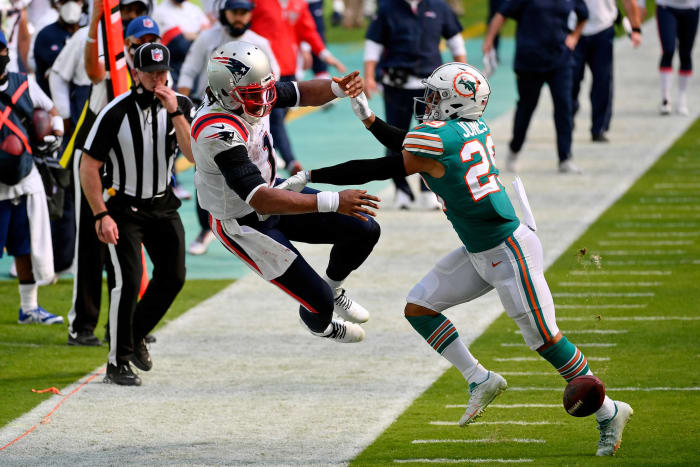 Jasen Vinlove-USA TODAY Sports
The Dolphins eliminated the Patriots (6-8) from playoff contention, halting an NFL-record 11 straight appearances. Cam Newton and Co. did not provide much resistance as the Miami ground attack took over the game. The Pats are down their leading rusher, their left tackle, and a host of defenders. But Damien Harris is about the only playmaker that can be expected to produce in 2021. Julian Edelman will be 35 next year, and the Patriots have seen little from N'Keal Harry or their rookie tight ends. Even with reasonable upgrades here, the Pats need a new quarterback too. The franchise has not faced this many issues in two decades.
PATRIOTS GRADE: D | NEXT: vs. Bills (Mon.)
4 of 32
Dolphins backfield keeps playoff journey on course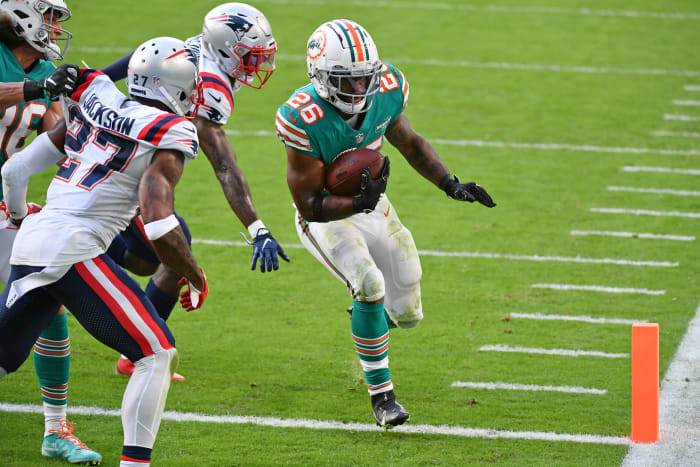 Jasen Vinlove-USA TODAY Sports
AFC contenders may be rooting for the Dolphins to keep the Ravens out of the playoffs, but the surprise postseason threat controlled a Bill Belichick defense without most of its skill players. Down DeVante Parker, Preston Williams, Mike Gesicki, and starting running back Myles Gaskin, the Dolphins (9-5) dominated in the second half to keep their if-the-season-ended-today playoff spot. Salvon Ahmed and Matt Breida led a 250-yard ground attack — the most the Pats have yielded in seven years. This is a good sign for a depleted Miami team that entered with the NFL's worst yards-per-carry figure (3.6).
DOLPHINS GRADE: A-minus | NEXT: at Raiders (Sat.)
5 of 32
Jaguars back on schedule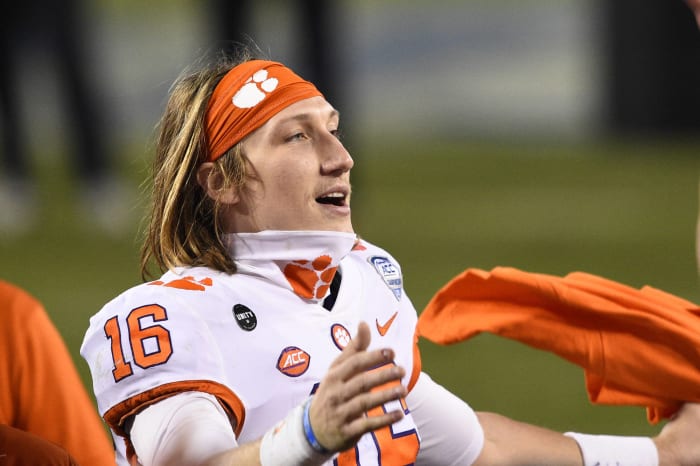 Bob Donnan-USA TODAY Sports
The preseason favorites for Trevor Lawrence won in Week 1 and rode shotgun in this race for three-plus months, but they appear set to do what needs to be done. The Jags (1-13) are on track to avoid a winless season AND land Lawrence's rights. Their easier strength of schedule gives them the tiebreaker over the Jets. Jacksonville jettisoned most of its "Sacksonville" defense and did not pursue a QB upgrade this offseason. They put themselves in position for this reward, and due respect to past Jags first-round QBs Byron Leftwich, Blaine Gabbert, and Blake Bortles, Lawrence would be the most important pick in team history.
JAGUARS SUNDAY GRADE: F 
JAGUARS LONG-TERM GRADE: A-plus 
NEXT: vs. Bears (Sun.)
6 of 32
Ex-'Sacksonville' cog leads sack brigade
Will Newton-Getty Images
One of the players the Jaguars dealt from their swarming pass rush exacted revenge on his former employer. Yannick Ngakoue dropped Gardner Minshew twice Sunday, forcing a fumble during a Ravens five-sack day. Matt Judon's safety highlighted this surge over a hapless Jaguars team, but Ngakoue — who has been with three teams this year — won the day after his lengthy feud with the Jags ended in a summer trade. With the Vikings and Ravens (9-5) this year, Ngakoue has eight sacks. While his QB hit number (10) is not impressive, the Ravens rental is on track to try his hand at free agency for the first time come March.
RAVENS GRADE: A | NEXT: vs. Giants (Sun.)
7 of 32
AB finally shows up for fourth NFL team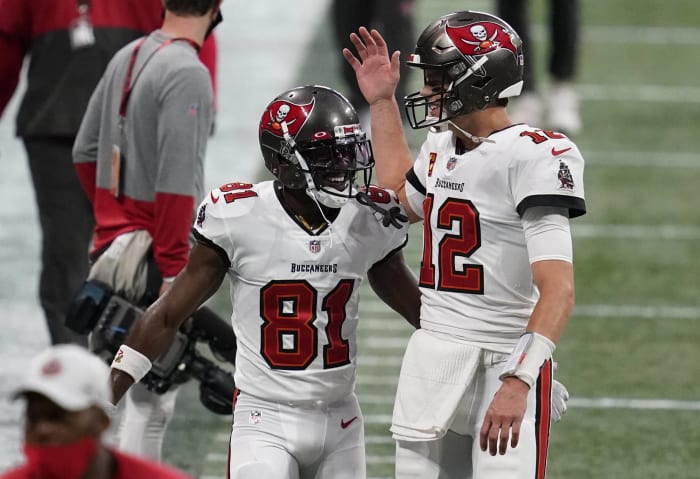 Dale Zanine-USA TODAY Sports
Antonio Brown entered Sunday's game averaging 8.7 yards per catch — a figure well south of anything he submitted as a Steeler. He did help the Bucs (9-5) escape an upset loss, beating a backup Falcons cornerback on a 46-yard touchdown catch that finalized a 17-point comeback win. Brown effectively forced young deep threat Scotty Miller (15.5 YPC) off the field and is in decline. But the mercurial superstar came through Sunday during a 390-yard Tom Brady performance. This marks the highlight of the 32-year-old's surprisingly light-on-headlines Tampa stay, and it represents progress for the Bucs' high-profile yet inconsistent aerial attack.
BUCCANEERS GRADE: B-minus | NEXT: at Lions (Sat.)
8 of 32
Latest Falcons collapse will send staff packing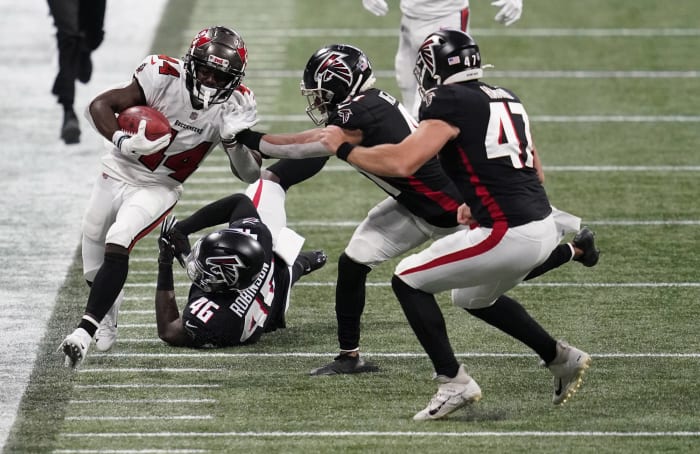 Dale Zanine-USA TODAY Sports
Any hopes Raheem Morris had of turning an interim head coach tag into the full-time job should be considered unrealistic after another Falcons collapse. The Falcons (4-10) have big money (Grady Jarrett, Deion Jones, Dante Fowler) and high draft capital (A.J. Terrell, Keanu Neal, Isaiah Oliver) invested on defense. Most of those players suited up Sunday, but the Falcons — who blew 19- and 16-point second-half leads earlier this season — allowed Brady to amass more passing yards in a half (320 in the second) than any NFL QB this year. Despite improvement under Morris, the organization was likely going in a new direction anyway. It certainly will now.
FALCONS GRADE: C | NEXT: at Chiefs (Sun.)
9 of 32
Montgomery, maligned O-line keep Bears in playoff race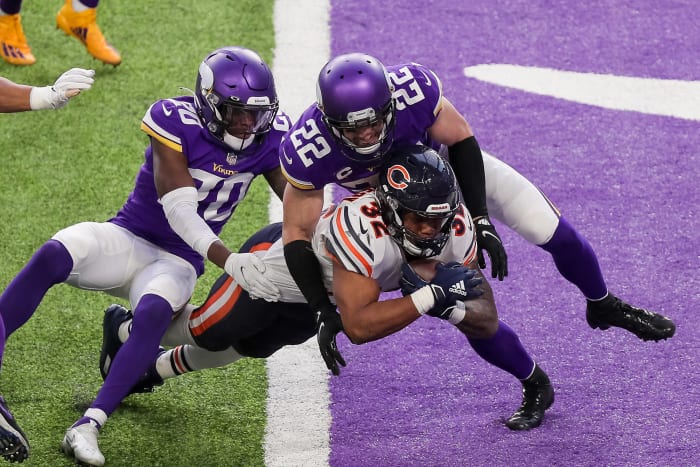 Brad Rempel-USA TODAY Sports
Few offensive lines fared worse than the Bears' last season, and GM Ryan Pace surprisingly left the unit largely unchanged this year. It could be that the Bears (7-7) have played the Lions, Texans, and Vikings over the past three weeks, but their O-line keeps winning battles. These trench conquests are unleashing David Montgomery. The second-year back totaled a career-best 146 rushing yards Sunday. In 13 games this year, he has 906 ground yards — eclipsing his 16-game rookie-year number. Montgomery's work in Minnesota kept Chicago in playoff conversations, and his December surge may save some jobs.
BEARS GRADE: A-minus | NEXT: at Jaguars (Sun.)
10 of 32
Zimmer's first undependable defense foils Vikes' playoff hopes
Brace Hemmelgarn-USA TODAY Sports
The Vikings' skill-position troops delivered their usual effort in an attempt to keep the team's 2020 games relevant, but a defense short on talent interfered. Mike Zimmer's first six Viking defenses had never ranked outside of the top 11 in points allowed; this one will exit Week 15 25th in that area. After a pathetic 149-yard showing against the Vikings (6-8) in November, the Bears amassed 397 Sunday. The Vikings lost their top three cornerbacks in the offseason and have not had Danielle Hunter all year. They are down Eric Kendricks and Anthony Barr as well. Their defensive descent was inevitable. 
VIKINGS GRADE: C-minus | NEXT: at Saints (Fri.)
11 of 32
Waiver claim benefiting Seahawks defense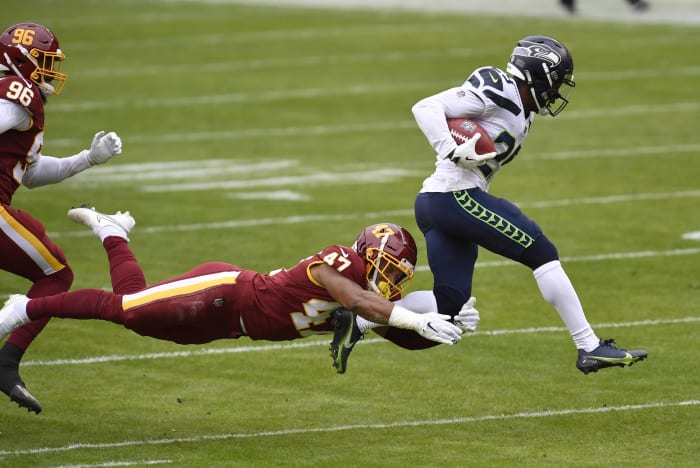 Randy Litzinger-Icon Sportswire
A torn pectoral muscle ended D.J. Reed's two-year 49ers career; the defending NFC champions designated him as waived/injured in August. After three months off, Reed is aiding a 49ers rival. A starter after injuries to cornerbacks Quinton Dunbar and Tre Flowers, Reed helped rescue the Seahawks (10-4) in a game that featured little from Russell Wilson. Reed broke up three passes — including one intended for Terry McLaurin in the end zone — and logged an interception and a fumble recovery. A former fifth-round pick, Reed is making a case for more playing time when Seattle is at full strength at corner.
SEAHAWKS GRADE: B | NEXT: vs. Rams (Sun.)
12 of 32
Washington may need Alex Smith to make playoffs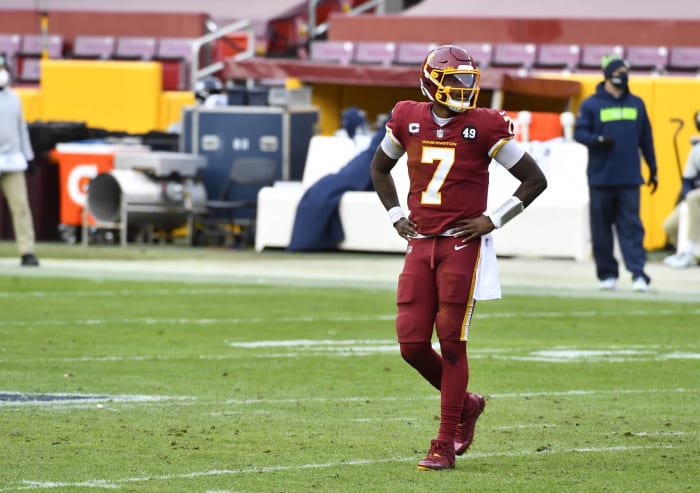 Brad Mills-USA TODAY Sports
Although Washington's final two games are against the Panthers and Eagles, Dwayne Haskins may threaten to prevent the NFC East from being gift wrapped to his team. Back in action due to Smith's calf injury, Haskins entered the fourth quarter with less than 100 passing yards. And his two INTs gave the Seahawks a 20-3 lead. While Haskins rallied Washington (6-8) to two scoring drives and finished with 295 yards, the team with the NFC East's top defense could not steal a game in which it held Wilson to 121 yards. If Haskins is forced to make another start, Washington is vulnerable.
WASHINGTON GRADE: C-plus | NEXT: vs. Panthers (Sun.)
13 of 32
Familiar ending does not detract from dominant season
Trevor Ruszkowski-USA TODAY Sports
The Texans are quite bad, but their quarterback continues to thrive regardless of the players around him. Deshaun Watson lit up the Colts for 373 yards and two TDs, and although a Keke Coutee goal-line fumble provided an eerily similar Texans-Colts conclusion, Houston's quarterback is playing at a career-best level. And he is doing it without Will Fuller (PED ban), Randall Cobb (IR), or Kenny Stills (cut). Or DeAndre Hopkins. Watson now has a career-most 27 TD passes, and his 8.8 yards per attempt leads the NFL. The Texans (4-10) have the most important piece but lack almost everything else.
TEXANS GRADE: B-minus | NEXT: vs. Bengals (Sun.)
14 of 32
Elite defensive duo keeps Colts on track
Trevor Ruszkowski-USA TODAY Sports
DeForest Buckner and Darius Leonard blew up the box score and kept the Colts (10-4) on course for the playoffs and perhaps their best record since Peyton Manning's exit. Buckner dominated the Texans' overmatched O-line for a career-high three sacks, one of those dislodging the ball from Watson and leading to a Colts TD. Leonard's dislodging sequence — stopping a game-tying Coutee score — doubled as his 12th tackle. The star off-ball linebacker will be in position for a Bobby Wagner-level contract ($18 million per year) at the end of the season. The Colts have their best defensive duo since at least Dwight Freeney and Robert Mathis. 
COLTS GRADE: B | NEXT: at Steelers (Sun.)
15 of 32
Titans carve up limited Lions defense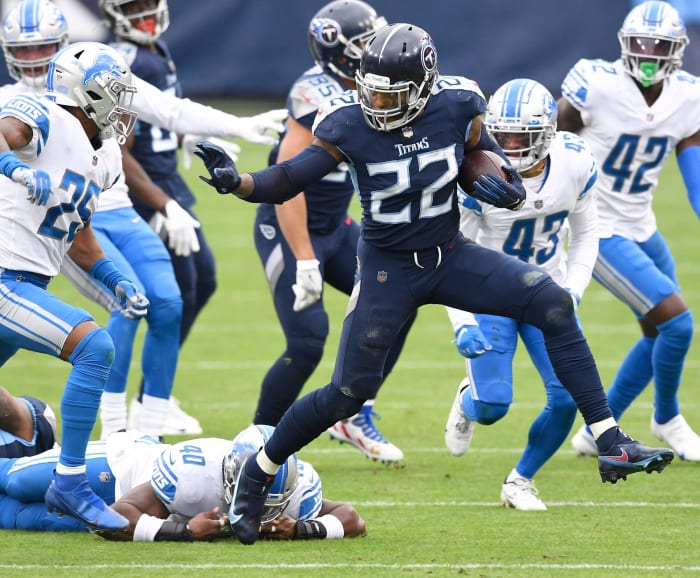 George Walker IV / Tennessean.com via Imagn Content Services, LLC
While the Lions have one top-10 finish in scoring defense since 1998, they did play without six defensive starters Sunday. As expected, the Titans had little trouble with a defense that was not good at full strength. After Tennessee's 46-point game, no team has allowed more points than Detroit (31.1 per game). Five of the Lions' top seven 2021 salary cap numbers are devoted to defense, thanks partially to Bob Quinn and Matt Patricia's penchant for ex-Patriots. The next Lions GM will have to address the Matthew Stafford and Kenny Golladay questions, but a lot of work needs to be done on a long-unreliable defense.
LIONS GRADE: D-minus | NEXT: vs. Buccaneers (Sat.)
16 of 32
Ryan Tannehill's mid-career breakout: quite legit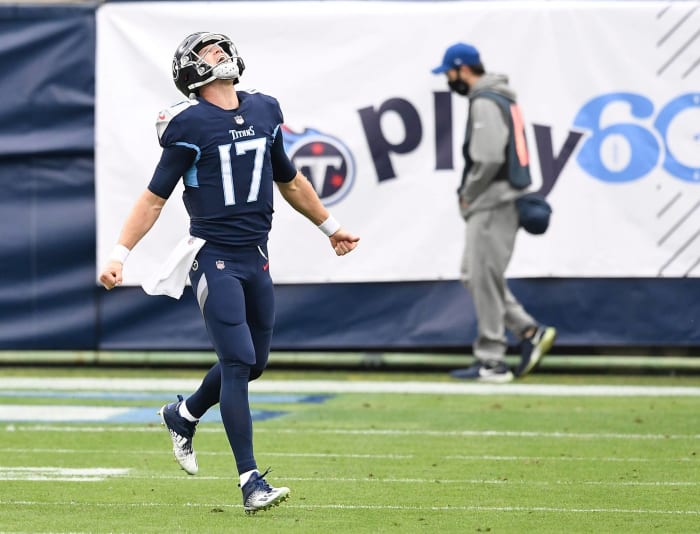 George Walker IV / Tennessean.com via Imagn Content Services, LLC
Twenty-four starts into Tannehill's Titans tenure, it is safe to say he has moved past the skepticism stage. The injury-prone quarterback accounted for five touchdowns against the Lions, including two on the ground, and is up to 31 TD passes this season. That is four more than he threw in any season with the Dolphins. His 27-TD slate in 2014 ended with 590 attempts; the 32-year-old passer sits at just 430. Tannehill is five TD passes away from George Blanda's 59-year-old franchise record. Tennessee (10-4) sending Miami a fourth-round pick last year was a franchise-changing move.
TITANS GRADE: A | NEXT: at Packers (Sun.)
17 of 32
49ers' QB2 future may need tweaking
Tim Heitman-USA TODAY Sports
Now at 12 interceptions and six fumbles in just eight starts, Nick Mullens has done well to epitomize an off-the-rails 49ers season. The defending NFC champions are eliminated from playoff contention, and after Mullens' three-turnover day, they rank 31st in turnover differential (minus-11). A 2018 UDFA, Mullens should not be expected to fill in especially well. And he has enjoyed moments. But if the 49ers (5-9) give Jimmy Garoppolo another year — which seems iffy — they should investigate the sudden buyer-friendly QB2 market. Kyle Shanahan could certainly get more out of a few veterans who will be available.
49ERS GRADE: D-plus | NEXT: at Cardinals (Sat.)
18 of 32
Pollard helps Cowboys (somehow) stay in playoff race
Tim Heitman-USA TODAY Sports
With Dwayne Haskins currently Washington's pilot and the Giants unable to score in double figures, the team most expected to win the NFC East is suddenly back in the mix to do that. Though it would take two WFT losses and two Dallas wins, the Cowboys (5-9) have won two straight and close the season with Eagles and Giants tilts. Tony Pollard aided Andy Dalton en route to win No. 5, gaining 132 scrimmage yards and scoring twice. Ezekiel Elliott's speedy backup is averaging 4.7 yards per carry (to Zeke's 3.9) and has five TDs on 111 touches compared to the All-Pro's seven on 256.
COWBOYS GRADE: B-plus | NEXT: vs. Eagles (Sun.)
19 of 32
Dominant pass attack set for more responsibility
Derick E. Hingle-USA TODAY Sports
Barring injury or a COVID-19 issue sidelining one of the Chiefs' three offensive cornerstones, it will take an A-plus game to stop them from repeating as Super Bowl champs. The Saints disrupted Patrick Mahomes often Sunday, but the Chiefs (13-1) rediscovered their ground attack. Clyde Edwards-Helaire played a key role in Kansas City's road win, rushing for 79 yards, but his late-game leg injury looked bad. Mahomes, Travis Kelce, and Tyreek Hill represent a historically formidable troika, but the Chiefs losing CEH may put too much on a declining Le'Veon Bell's shoulders. Rich man's problem, yes, but the rookie is by far K.C.'s best back.
CHIEFS GRADE: B-plus | NEXT: vs. Falcons (Sun.)
20 of 32
Can Saints formula make it to February?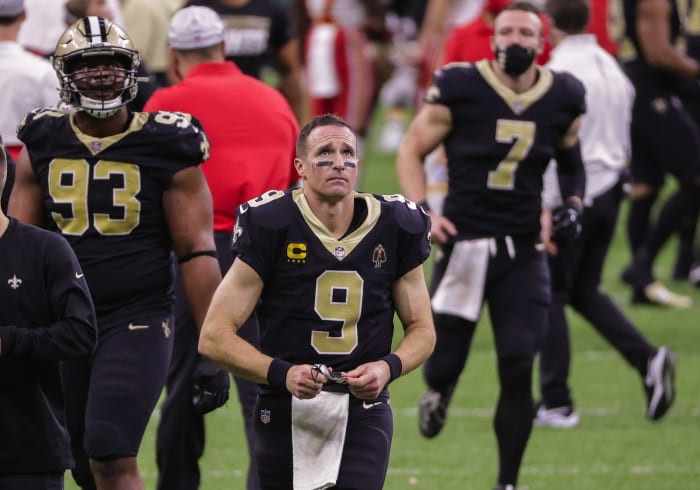 Derick E. Hingle-USA TODAY Sports
These might be the final weeks of a glorious Saints era, with Drew Brees set to turn 42 amid another injury-marred season. The veteran QB started 0-for-6 and threw 19 incompletions in Saints' Week 15 loss. But the Saints defense enjoyed moments throughout, showing the roster talent that helped the franchise reignite the Brees era in the late 2010s remains. The Saints (10-4) forced 21 Mahomes incompletions largely without blitzing. New Orleans' Super Bowl formula depends on a much better Brees, who has not been great in the past two Saints postseasons. This stacked roster faces the prospect of its window closing without a Super Bowl berth.
SAINTS GRADE: C-plus | NEXT: vs. Vikings (Fri.)
21 of 32
Hurts further complicating Eagles' future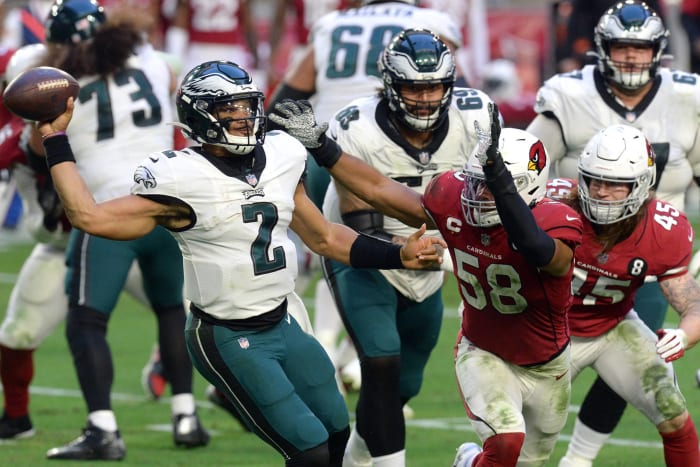 Joe Camporeale-USA TODAY Sports
Jalen Hurts took six sacks, lost a fumble, and was responsible for one of Sunday's four safeties thanks to an intentional grounding call. He still smashed his career-high with 338 passing yards and accounted for four TDs, blowing up fantasy playoff brackets. Long-term, Carson Wentz with a healthy O-line and better receivers may be a superior QB option. But the Eagles (4-9-1) went with O-line combination No. 13, Hurts took his ignition of this offense into another gear. Wentz's contract does not become remotely easy to move until 2023. This and Hurts' rawness give the Eagles one of the most confusing QB situations in recent NFL history.
EAGLES GRADE: C-plus | NEXT: at Cowboys (Sun.)
22 of 32
Hopkins keeps vengeance season on track for playoffs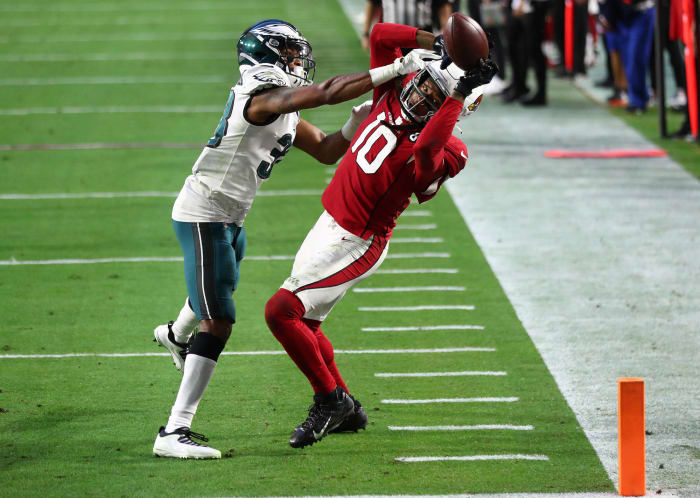 Mark J. Rebilas-USA TODAY Sports
DeAndre Hopkins' 169-yard day recaptured the NFL receiving lead from Travis Kelce, with "Nuk" now at 1,324. Roasting an Eagles team down Darius Slay, Hopkins went up over double coverage for a 45-yard grab and delivered a 20-yard game-winner well worth a slot in his career highlight montage. Hopkins, 28, has competition for one of the three first-team All-Pro spots allocated to receivers. Such an honor would be his fourth — three more than Hall of Famer-to-be Larry Fitzgerald. Either way, the Cardinals (8-6) would not be on the playoff precipice without the Texans' increasingly insane-looking trade.
CARDINALS GRADE: B-plus | NEXT: vs. 49ers (Sat.)
23 of 32
Coach of the Year favorite resides in Cleveland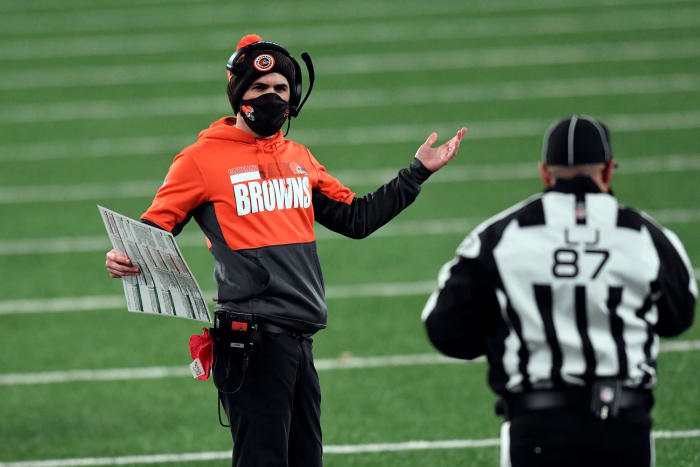 Danielle Parhizkaran/NorthJersey.com via Imagn Content Services, LLC
There will be competition, but the Browns' rare NBC game thrust Kevin Stefanski into the lead for Coach of the Year. Baker Mayfield (98.3 QBR) was lethal against the Giants, finding mid-range targets at will. The third-year passer was 14 of 16 against blitzes and completed 11 of 13 throws of more than 10 air yards. Mayfield threw 21 INTs in Freddie Kitchens' discombobulated offense last season. The Browns (10-4) are about to secure their first playoff berth in 18 years, doing so a year after their overhyped team went 6-10. In the 38-year-old Stefanski, the Browns have finally made a good hire.
BROWNS GRADE: A-plus | NEXT: at Jets (Sun.)
24 of 32
Dreadful offense plunges Giants back to reality
Danielle Parhizkaran/NorthJersey.com via Imagn Content Services, LLC
A Browns defense that gave up 45 points to the Ravens allowed six to the Giants, despite New York possessing better aerial weaponry — Evan Engram and wideouts Sterling Shepard, Darius Slayton, and Golden Tate — than Baltimore. Granted, Colt McCoy was involved. But this offense has taken an unacceptable step back no matter the QB. The Giants (5-9) are 31st in scoring and total offense. They have nine TD passes, a year after Daniel Jones and Eli Manning combined for 30. The Jason Garrett- and (on Sunday) Freddie Kitchens-orchestrated offense must be examined; it has undercut Big Blue's defensive improvements.
GIANTS GRADE: D-plus | NEXT: at Ravens (Sun.)
25 of 32
Chargers finding future complementary pieces
Mark J. Rebilas-USA TODAY Sports
Justin Herbert dissected the Raiders without much help from Keenan Allen and Mike Williams. With the Chargers (5-9) seeing their starters battle injuries, backups Jalen Guyton and Tyron Johnson stepped up — as they have in similar spots this season. The UDFAs combined for seven catches for 152 yards — each topping 20 per grab. A rookie, Guyton's 16.9 average targeted air yards figure ranks second in the NFL. He looks like a promising Bolts WR3 for 2021. He and Johnson, a practice squad cog last season, may prompt GM Tom Telesco to consider allowing the injury-prone Williams to move on after his 2021 fifth-year option season.
CHARGERS GRADE: A-minus | NEXT: vs. Broncos (Sun.)
26 of 32
Raiders rebuild running into trouble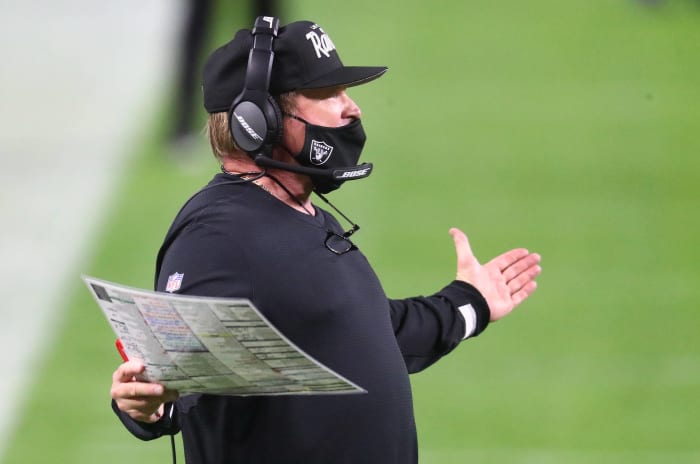 Mark J. Rebilas-USA TODAY Sports
Jon Gruden can thank his early-2000s rise to prominence for the 10-year contract he is on as the 2020s begin. Although the Raiders have shown flashes during his three-year tenure back in command, they will be 0-for-3 in playoff berths under their walking-soundbite leader. The Raiders (7-7) have axed another defensive coordinator but have major personnel issues on that side of the ball. Herbert exposed those — against an admittedly depleted unit — Thursday, and the Chargers certainly have the quarterback with the second-highest upside in the AFC West. Gruden is nowhere near a hot seat, but any other coach would be. 
RAIDERS GRADE: C-plus | NEXT: vs. Dolphins (Sat.)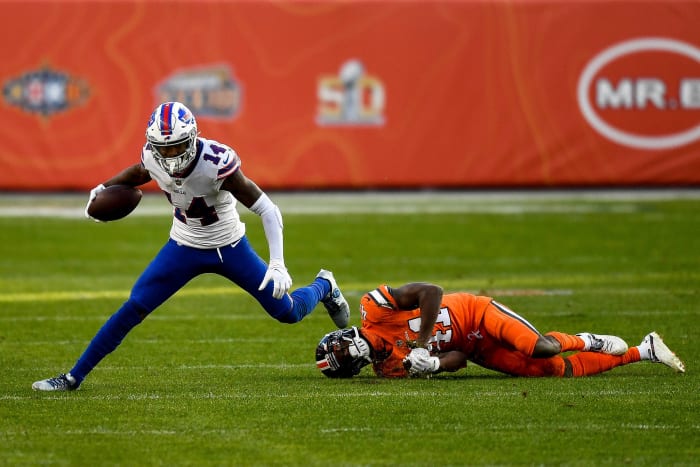 Dustin Bradford-Icon Sportswire
Not much was expected out of the 2019 Bills in the postseason. One significant transaction will send them into this year's bracket as a Super Bowl threat. Diggs toyed with the Broncos' set of backup cornerbacks Saturday, catching a season-high 11 passes. His 111 receptions are a career-high and lead the NFL. The 27-year-old target has changed the Bills' trajectory, aiding Josh Allen's ascent from criticized gunslinger to future MVP candidate and elevating the Bills to their first division title in 25 years. Diggs may well be the Bills' best weapon since Andre Reed and Thurman Thomas' primes ended more than 20 years ago. 
BILLS GRADE: A-plus | NEXT: at Patriots (Mon.)
28 of 32
Vic Fangio should keep job, but Broncos still trapped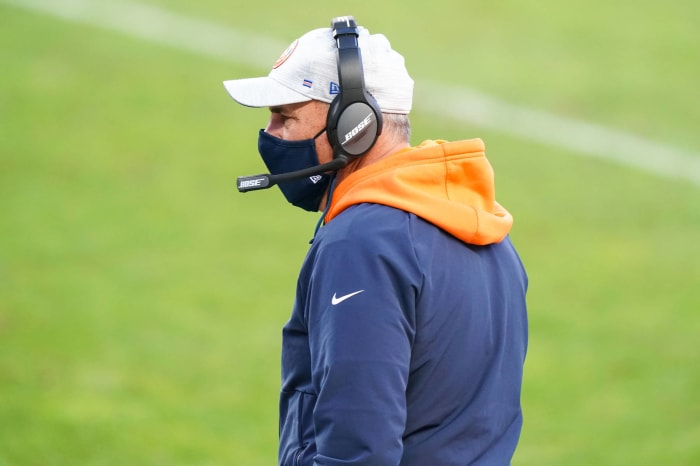 Troy Babbitt-USA TODAY Sports
Given the Broncos' brutal spate of player unavailability this season, Fangio should receive a third year. Bigger problems reside in the GM's office and at quarterback, and the former Bears and 49ers defensive coordinator's schemes equip the Broncos well. But Denver (5-9) has endured five losses by at least three scores this season, and Fangio's team has folded fairly quickly in multiple spots — not counting the Kendall Hinton game. The Broncos gave up a season-most 534 yards against the Bills. While Fangio should get a chance to coach Von Miller and Bradley Chubb together at least once, his seat will be flaming entering 2021.
BRONCOS GRADE: F | NEXT: at Chargers (Sun.)
Dan Powers/USA TODAY NETWORK-Wis via Imagn Content Services, LLC
The Packers quarterback may still have a slight edge on Patrick Mahomes, but his 143-yard Saturday night did not help his cause. Brian Burns and Derrick Brown combined for four of 4-10 Carolina's five sacks. Regarding pure pass-rushing performance, Pro Football Focus rates Burns as this season's fifth-best edge rusher. He exits Week 15 at a career-high eight sacks and 20 QB hits. Brown has not fared as well, but beating Green Bay's acclaimed interior offensive line for his first two NFL sacks is a bonus for a player who will be part of the next few Carolina D-lines.
PANTHERS GRADE: C-plus | NEXT: at Washington (Sun.)
30 of 32
Injury reflects better Packers postseason plan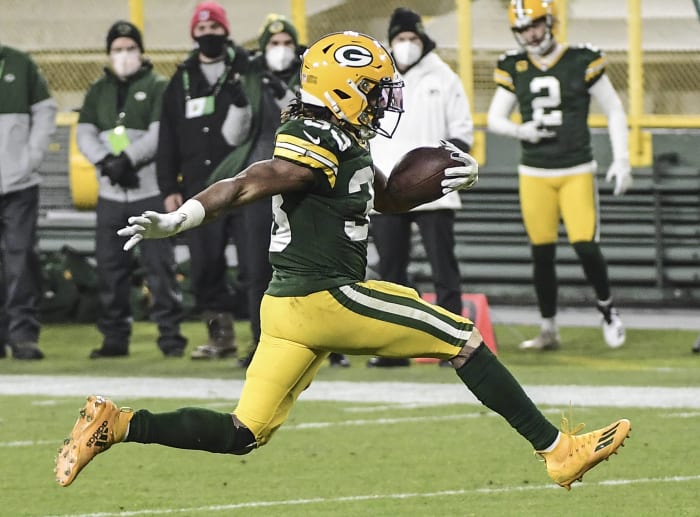 Benny Sieu-USA TODAY Sports
Aaron Jones held a 198-142 touch edge on Jamaal Williams going into Saturday's game — a figure not indicative of the skill disparity between the two fourth-year Packer backs. Matt LaFleur's Week 15 touch distribution better reflected the gap. Although it took a minor Williams thigh injury to create the 23-3 touch ratio between Jones and his backup, the Packers starter's 158 scrimmage yards and two TDs illustrate the possibilities Jones brings when used as a true RB1. Averaging 5.4 yards per carry to Williams' 4.2, Jones seeing more playoff work would boost the 11-3 Packers' Super Bowl chances.
PACKERS GRADE: B-minus | NEXT: vs. Titans (Sun.)
31 of 32
Big Ben's issues paralleling Steelers' decline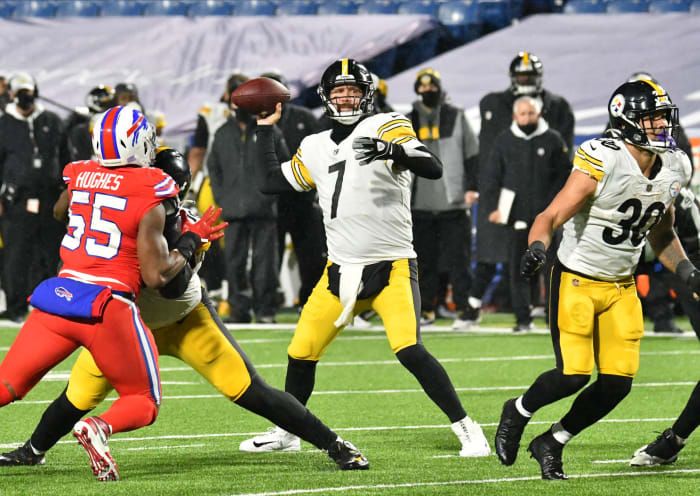 Mark Konezny-USA TODAY Sports
The Steelers (11-2) cannot run and have missed offensive linemen at various points, but their inability to beat defenses deep as of late has contributed to a season-threatening swoon. Ben Roethlisberger enters Monday's game with the same average completed air yards figure (4.5) as his woeful backups (Mason Rudolph and Devlin Hodges, the latter no longer a Steeler) carried last season. Some of this can be attributed to Pittsburgh's quick-strike attack, which features a barrage of shallow crossers, but that chain-moving style has become more difficult to execute as the 38-year-old quarterback struggles with longer strikes.
MONDAY: at Bengals, 8:15 p.m. ET
32 of 32
Bengals may provide Roethlisberger necessary time
Charles LeClaire-USA TODAY Sports
Transitioning from their decade-long Carlos Dunlap-Geno Atkins pass-rush pairing to younger talents, the Bengals (2-10-1) have not seen this process lead to much production. Contract-year defensive end Carl Lawson (4.5 sacks) is the only Bengal with more than two. Sam Hubbard, a third-year talent who is critical now that Dunlap is in Seattle and Atkins is on IR, has one in 10 games. As a team, Cincinnati's 15 ranks only ahead of Seattle's 14. One of many problems afflicting the Bengals as another poor season winds down.
MONDAY: vs. Steelers, 8:15 p.m. ET