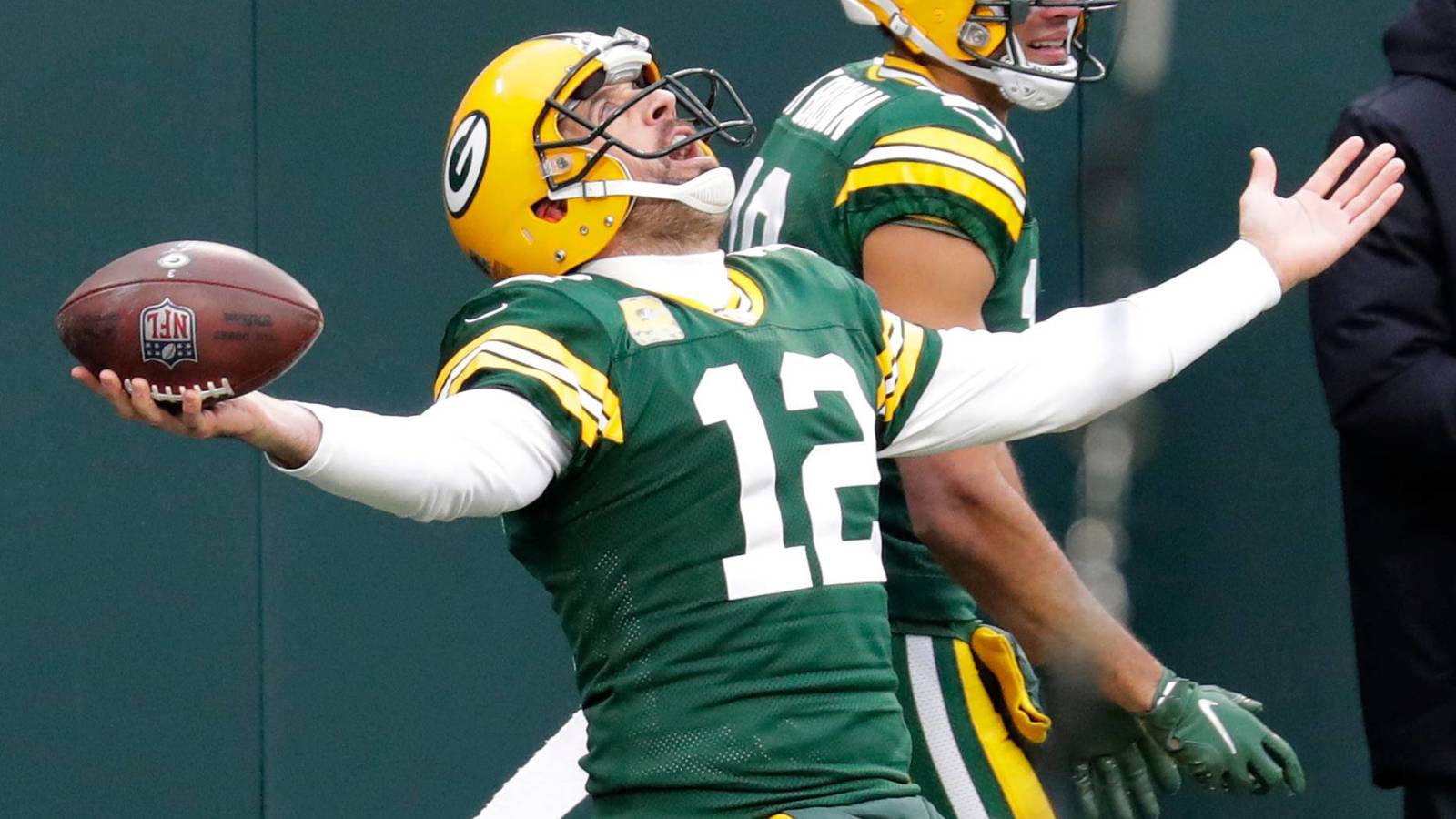 The NFC playoff picture observed some changes in Week 13, and the Jets-Jaguars race for Trevor Lawrence heated up. Here are the grades from the Sunday games, along with a look at each of the other teams going into the three Monday and Tuesday contests. 
1 of 32
Reborn Giants defense passes biggest test yet
Chris Pedota, NorthJersey.com via Imagn Content Services, LLC
For the first time since November 2017, the Giants beat a winning team that had its starting quarterback available. But Russell Wilson hardly resembled his perennial Pro Bowl version. The Giants' cover men flustered the one-time MVP candidate, resulting in five sacks (2.5 from Leonard Williams), 10 QB hits and a rattled Seattle offense. First-year Giants defensive coordinator Patrick Graham's game plans continue to generate success — from a unit that ranked 30th last season and fielded big holes entering 2020. Graham has helped patch them, and the NFC East leaders (5-7) are threatening to become the first 1-7 team to make the playoffs. 
GIANTS GRADE: A | NEXT: vs. Cardinals (Sun.)
2 of 32
Pedestrian RBs gash top-tier Seahawks run defense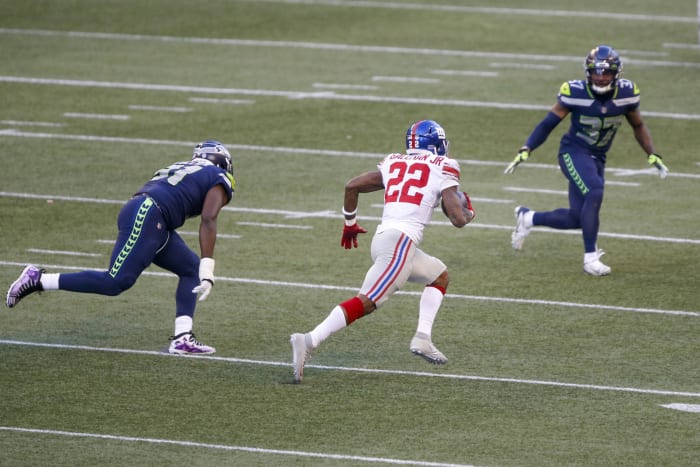 Joe Nicholson-USA TODAY Sports
After taking a 5-0 lead into halftime, the Seahawks could not derail Saquon Barkley's moderately talented replacements. The Giants offensive line kept clearing lanes for Wayne Gallman, whose 135 yards topped his previous career high by over 40. Gallman and journeyman Alfred Morris led the Giants to a 190-yard rushing day, oddly using the NFL's No. 3-ranked run defense to spearhead a comeback. Double-digit favorites, the Seahawks (8-4) allowed Colt McCoy to win his first game in six years and throw for just 105 yards in doing so. Seattle has too leaky a pass defense to handle days like this. A troubling late-season outing.
SEAHAWKS GRADE: D | NEXT: vs. Jets (Sun.)
Danielle Parhizkaran/NorthJersey.com via Imagn Content Services, LLC
Henry Ruggs' stunning game-winner saved the Raiders' season, but Waller did the work that kept the Jets on the Trevor Lawrence track. Waller dropped a 13-catch, 200-yard, two-touchdown performance in New Jersey, joining Shannon Sharpe, Jackie Smith and Rich Caster as the only tight ends with 200-yard, two-TD days. Lining up out wide, in the slot or at tight end, the former Ravens receiver prevented the Raiders (7-5) from an ugly upset. Waller had topped 40 yards just once in his previous five games, but he confirmed his value Sunday. A franchise big on reclamation projects will rely on this one to make the playoffs.
RAIDERS GRADE: B-minus | NEXT: vs. Colts (Sun.)
4 of 32
Spooky yet sensible Jets ending
Danielle Parhizkaran/NorthJersey.com via Imagn Content Services, LLC
The Jets (0-12) are the only team to send an eight-man rush in the final 30 seconds of a 2020 game. No team in the past 15 seasons had sent more than five rushers when up between four and eight points in the final 15 seconds with at least 40 yards to work with, per ESPN Stats and Info . Ruggs' 46-yard TD with 5 seconds left doubles as an all-time stupefying Jets moment; a downright spooky ending. The Jets fired DC Gregg Williams on Monday. This season is now about more than a meaningless December game. The Jaguars may not win again. Would this win have been worth missing out on Trevor Lawrence? No. 
JETS GRADE: C-minus | NEXT: at Seahawks (Sun.)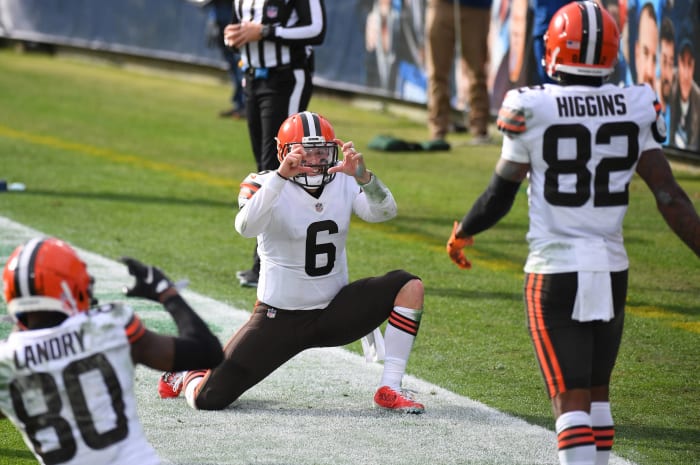 Christopher Hanewinckel-USA TODAY Sports
The first Browns quarterback since Otto Graham to have a four-touchdown pass first half, Mayfield now has two four-TD halves this season. Both came without Odell Beckham Jr. After a reckless 2019 offseason threw Mayfield off track, Cleveland's smart offensive tackle additions and the hiring of Kevin Stefanski have stabilized the maligned quarterback. Mayfield was only pressured once in the first half, and the Browns' 38-point explosion doubled as the most in a half in team history. The Browns (9-3) still have a minus-15 point differential, but they are the post-hype sleeper some envisioned entering the franchise's biggest game in 13 years.
BROWNS GRADE: A | NEXT: vs. Ravens (Mon.)
6 of 32
Titans defense threatens to torpedo season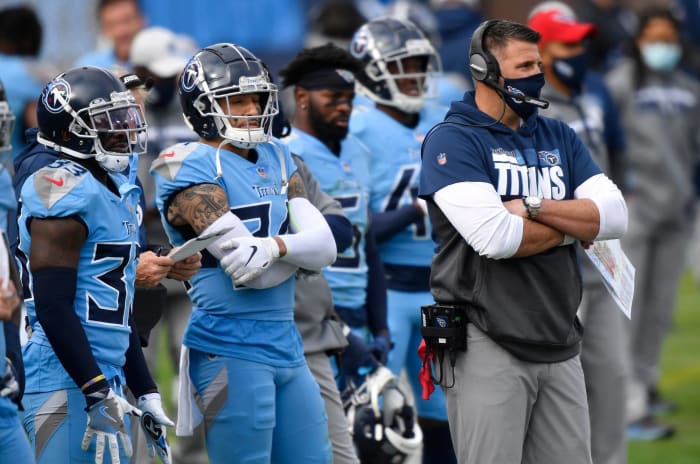 Andrew Nelles / Tennessean.com via Imagn Content Services, LLC
After subduing the Colts to retake the AFC South lead, the Titans submitted an unacceptable performance. A week after intercepting a pass, ex-UDFA Breon Borders became a Browns target. The Titans (8-4) could not pressure Mayfield, hitting him just once all game, to allow for a Browns first-half clinic. Cleveland's 10 third-down conversions revived Tennessee's issues here, and no help is on the way. Jon Robinson's Jadeveon Clowney signing, like the GM's Vic Beasley addition, is now a bust. Clowney is out for the season. This defense may render whatever edge Derrick Henry provides irrelevant.
TITANS GRADE: D-minus | NEXT: at Jaguars (Sun.)
7 of 32
Taysom Hill's run burnishing Sean Payton's reputation
Dale Zanine-USA TODAY Sports
The Bears and Broncos' front offices would likely not feel great if the Saints can actually make a Drew Brees-to-Taysom Hill baton pass. The Saints (10-2) moved closer to that stunning reality Sunday, seeing their gadget player gash the Falcons for the second time in three weeks. Hill showed more as a passer this time, completing 27 throws for 232 yards and two TDs. Adding 83 rushing yards, the former undrafted free agent gave Sean Payton his eighth straight win without Brees. Hill and Teddy Bridgewater's run of starts will represent an important stretch when the Saints coach, Bountygate aside, is enshrined in Canton.
SAINTS GRADE: B-plus | NEXT: at Eagles (Sun.)
8 of 32
Falcons at least have found a kicker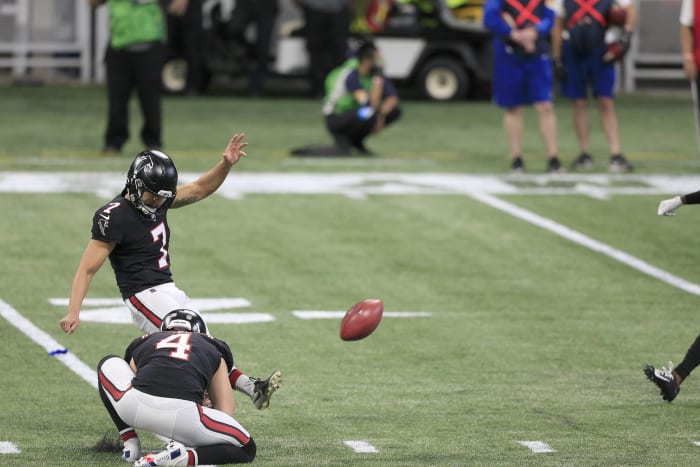 David J. Griffin-Icon Sportswire
Younghoe Koo's 2017 Chargers stint nearly chased him out of football, but three years later, he has displayed the chops to be the Falcons' long-term answer. Koo went 3-for-3 on field goals Sunday; his 53-yarder gave him a 7-for-7 make rate from beyond 50 yards. The South Korean specialist, who went two years without an NFL job, is 32 of 33 this season. On track for Pro Bowl honors, the free agent-to-be looks like he will secure an extension to be Matt Bryant's successor. With so many big-picture problems yet to be solved, the Falcons (4-8) fixing this one doubles as a nice checkmark.
FALCONS GRADE: B-minus | NEXT: at Chargers (Sun.)
9 of 32
Veteran Colts WR1 resurfacing at ideal time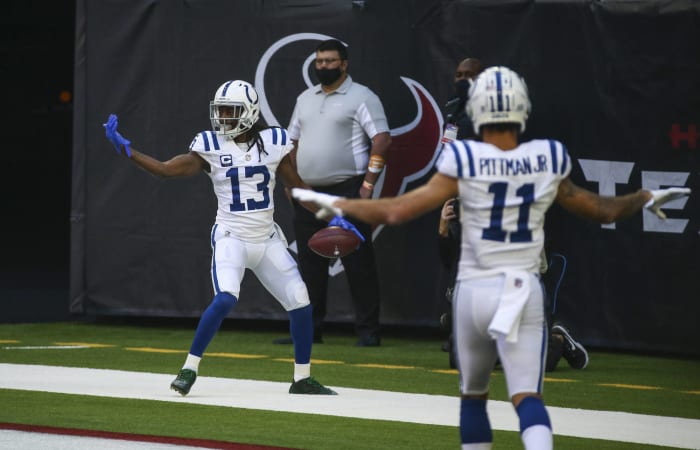 Troy Taormina-USA TODAY Sports
Andrew Luck's No. 1 target for most of his time in Indianapolis, T.Y. Hilton has not shown his Luck-era form much during the past two seasons. But the 31-year-old weapon has come through at a crucial juncture for Luck's replacement. With Philip Rivers battling a severe foot injury, Hilton again delivered at NRG Stadium. Three of Hilton's top four games have occurred in Houston, and although his eight-catch, 110-yard outing is off that level, the effort helped a Colts team (8-4) recapture the AFC South lead. After doing little for two-plus months, Hilton has 191 yards and two TDs in his past two games. Good timing for the 2021 free agent.
COLTS GRADE: B-plus | NEXT: at Raiders (Sun.)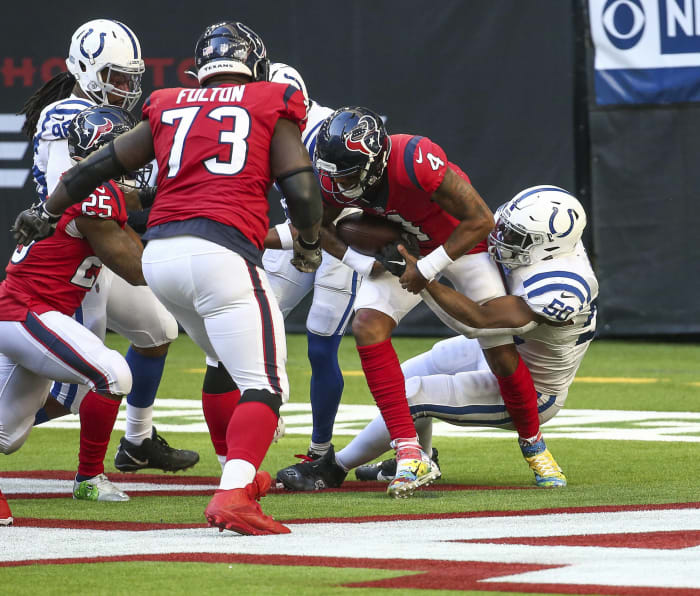 Troy Taormina-USA TODAY Sports
It took an outlandish trade for the Texans to solve one of their offensive line issues. Their next GM needs to find troops to help Tunsil. Deshaun Watson took five sacks Sunday — including Justin Houston's fourth  career safety — and his botched exchange with center Nick Martin cost the Texans (4-8) a game-winning TD try. Bill O'Brien splurged on supporting-cast wide receivers and a declining David Johnson this offseason, but the Texans' non-Tunsil O-line investments are (again) not impressing. Watson turned a Chad Hansen (zero games in 2018-19) into a 100-yard wideout; more resources must be allocated up front in 2021.
TEXANS GRADE: C | NEXT: at Bears (Sun.)
11 of 32
Jaguars, Jets in high-stakes duel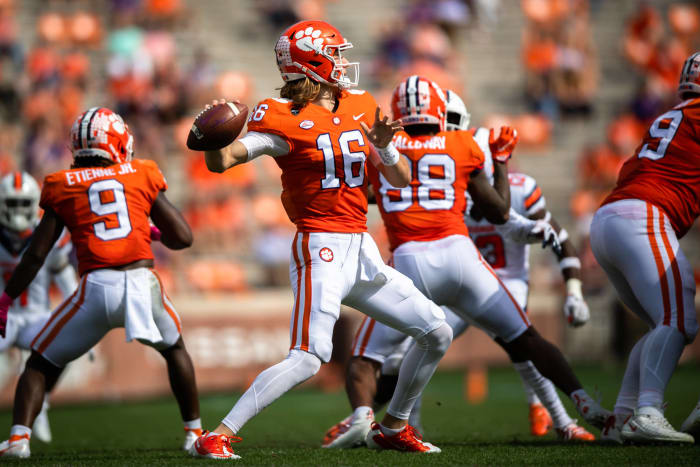 Ken Ruinard-USA TODAY Sports
Coaching staffs on the verge of being fired care little about their respective franchises' futures. Doug Marrone could undermine the Jaguars' hopes at outflanking the Jets for Trevor Lawrence. Mike Glennon throwing an overtime INT right to Harrison Smith came shortly after the Jets sneakily lost their 12th game. Jacksonville (1-11) played well in Minnesota; Joe Schobert dominated in a 12-tackle, one-sack, one-pick-six game. But the Jags hold the draft tiebreaker over the Jets as of now, thanks to their easier schedule strength. Expect more IR moves in the weeks to come; the Jags' staff eking out one more win likely sends Lawrence to New York.
JAGUARS GRADE: B | NEXT: vs. Titans (Sun.)
12 of 32
Less flashy Vikings rookie keeps them in playoff race
Brad Rempel-USA TODAY Sports
While Justin Jefferson continued his historic first-year pace by amassing the second-most receiving yards (1,039) in his first 12 games in NFL history, another Vikings rookie helped save the home team Sunday. Third-round pick Cameron Dantzler intercepted a Mike Glennon pass to stop the Jaguars from building on a 9-0 lead, and his late-game strip of Chris Conley pushed the Vikings' advantage to 24-16. Part of Mike Zimmer's cornerback rebuild — after offseason exits of nearly the entire previous corner corps — Dantzler has submitted an up-and-down season. But he came through to help the 6-6 Vikings' hopes to become the fourth 1-5 team to make the playoffs.
VIKINGS GRADE: B-minus | NEXT: at Buccaneers (Sun.)
13 of 32
Can Bengals green-light another Zac Taylor season?
Jasen Vinlove-USA TODAY Sports
Although the Browns and Cardinals' Freddie Kitchens and Kliff Kingsbury hires overshadowed it, the Bengals going with the Rams' inexperienced QBs coach was a huge gamble in 2019. It has backfired. Sunday's loss drops Taylor to 4-23-1. He joined a poorly run team, yes, and Bengals brass understaffing their offensive line led to Joe Burrow's injury. But some of this is on Taylor. The Bengals (2-9-1) have allowed every coach during the Mike Brown era to start at least three seasons, but their free agency spending this year has generated scant improvement. Giving Taylor another year to mold Burrow is a very tough sell.
BENGALS GRADE: D | NEXT: vs. Cowboys (Sun.)
14 of 32
Patriot Way piece powers Dolphins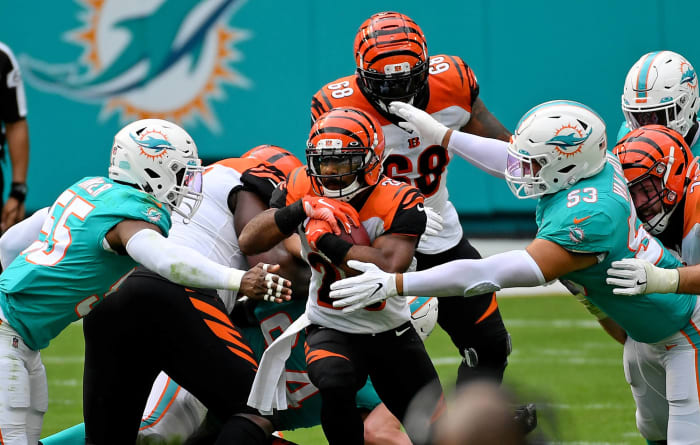 Jasen Vinlove-USA TODAY Sports
The Dolphins (8-4) stocking their front seven with midlevel signings looked like a strange rebuilding tactic, but Brian Flores' pass rush continues to succeed. Van Noy led a six-sack charge Sunday, registering a career-high three. He dropped Brandon Allen on an inside blitz and brought down Ryan Finley from a defensive tackle spot. Flores' New England linebacking import now has six sacks and this season; his 23 pressures are second among non-pass rushers this season. He and fellow UFA additions Emmanuel Ogbah and Shaq Lawson have 18 sacks; Miami's entire team produced 23 last season. 
DOLPHINS GRADE: A-minus | NEXT: vs. Chiefs (Sun.)
Mike Dinovo-USA TODAY Sports
In a game that either will help convince new Lions management to keep Stafford or allows the to-be-determined execs to hike his trade price, the Lions' 12th-year quarterback sizzled Sunday. Down Kenny Golladay for the seventh time this season, Stafford nevertheless nuked a talented Bears defense for 402 yards and three touchdown passes. The 32-year-old passer's laser TD strike to rookie Quintez Cephus and the direction of a 96-yard fourth-quarter drive showed he still has plenty left. Though the 5-7 Lions are non-contenders again, this Darrell Bevell-coached stretch will be key for Stafford's future.
LIONS GRADE: B-plus | vs. Packers (Sun.)
16 of 32
Bears defense suddenly unreliable amid historic collapse
Dennis Wierzbicki-USA TODAY Sports
The last time a Coach of the Year recipient received walking papers two seasons later, Marty Schottenheimer had the 2006 Chargers at 14-2. Matt Nagy's Bears are now 5-7, after a sixth straight loss. But the offense-oriented coach managed to give his defense 30 points; the Bears haven't lost after scoring 30-plus points since the Super Bowl champion Patriots beat them 38-31 in 2018. The Khalil Mack-led defense has carried the Bears for years, but it has now looked quite vulnerable in back-to-back games. Giving Nagy the same number of years as the Bears gave John Fox seems wrong, but this franchise is lost. 
BEARS GRADE: C-minus | NEXT: vs. Texans (Sun.)
17 of 32
Special teams-crazed Patriots find another gem
Robert Hanashiro-USA TODAY Sports
While Bill Belichick's undermanned defense disrupted yet another young quarterback's ascent, the Patriots received two special teams touchdowns in their shutout of the Chargers. Writers may be looking up the how to spell the Pats punt returner's name for a while, because were it not for a questionable call last week, Gunner Olszewski would have two punt-return TDs and a 61-yard non-TD return in his past two games. Devin McCourty added to the special teams-obsessed Pats' advantage Sunday by returning a blocked kick for a TD — all of this helping a team that again received under 100 passing yards from its QB1.
PATRIOTS GRADE: A-plus | NEXT: at Rams (Thu.)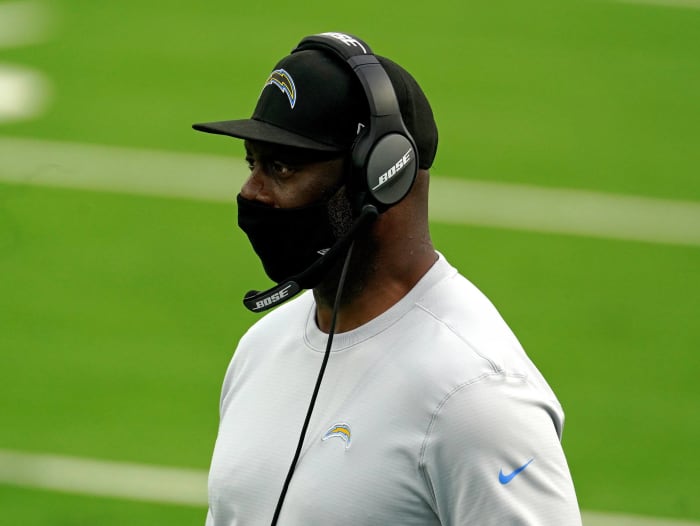 Kirby Lee-USA TODAY Sports
A 45-0 loss for a hot seat-stationed coach will be the end, regardless of his players' view of him. Anthony Lynn has shown poor game-management skills this season; the Chargers are too talented to be 3-9. And the stakes are higher with Justin Herbert's development doubling as this franchise's centerpiece component. Lynn (29-31 in Los Angeles) will not receive a fifth season, and Sunday's utter mismatch with Belichick cemented this. The Bolts' next hire will be more important, given the combination of Herbert's young age and a roster ready to win now. 
CHARGERS GRADE: F | NEXT: vs. Falcons (Sun.)
19 of 32
Freefalling Eagles run into conundrum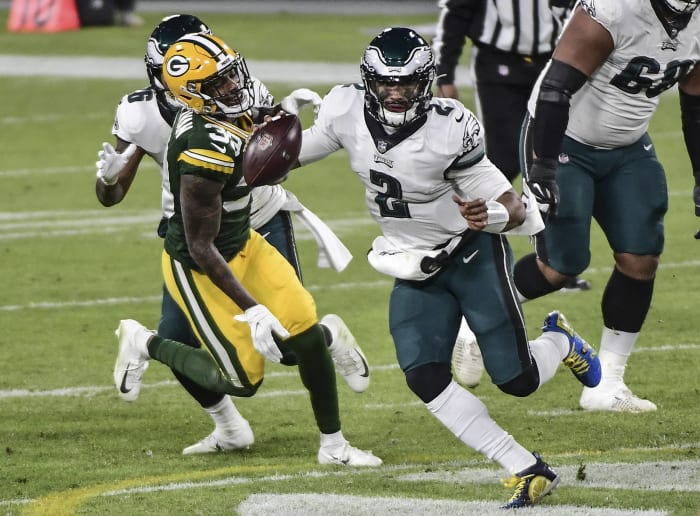 Benny Sieu-USA TODAY Sports
Carson Wentz cannot be moved in 2021, and his contract would still force the Eagles to eat a ton of cash with a 2022 exit. But the Eagles used a second-round pick on Jalen Hurts, who seemingly represented strange resource allocation. After a promising outing — albeit in garbage-time circumstances — the former Alabama-Oklahoma dual-threat star at least profiles as a player who warrants a longer look. Hurts could at least provide a fresh weapon for defenses to account for, and his elusiveness will help a currently bad O-line. Regardless of who plays QB, the Eagles (3-8-1) are a mess as 2020 winds down.
EAGLES GRADE: D | NEXT: vs. Saints (Sun.)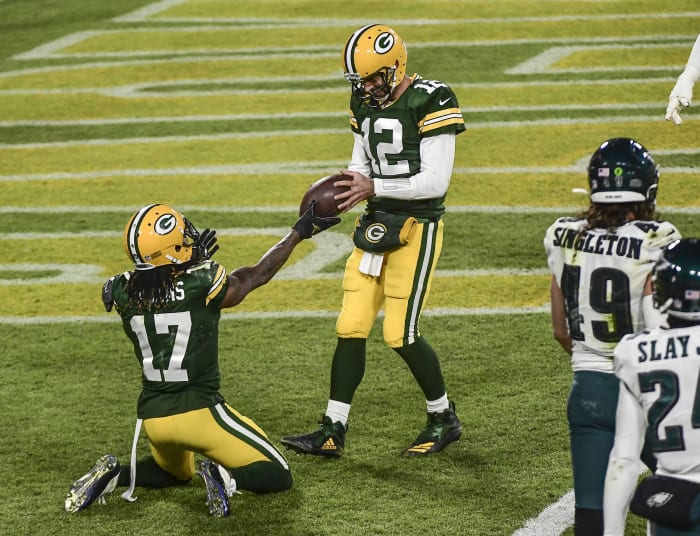 Benny Sieu-USA TODAY Sports
If parallel NFL universes placed Kirk Cousins on the Chiefs and Packers, which team has the better offense? Is it especially close? The Packers drafted a first-round quarterback who is now well off the radar and did not add a notable pass catcher; Rodgers still has a 36-4 TD-INT ratio and leads the NFL in passer rating. The 37-year-old QB is more important to his team than Patrick Mahomes, and his top non-Davante Adams pass catcher would be the Chiefs' fifth-scariest. (And the Andy Reid-Matt LaFleur gap is … wide.) Regardless of Rodgers' MVP status, the Hall of Famer having this Packers team (9-3) on the home-field advantage cusp is an amazing achievement.
PACKERS GRADE: A | NEXT: at Lions (Sun.)
Joe Camporeale-USA TODAY Sports
Darious Williams rates as Pro Football Focus' No. 3 overall cornerback, and Troy Hill now has two touchdowns in two weeks. Jalen Ramsey's sidekicks are a critical part of the Rams' defensive reload. Hill broke up a pass to stop a first-half Cardinals drive, leading to a Rams TD, and produced a score himself by taking a Kyler Murray fourth-quarter pass back for six. The Rams (8-4) giving Ramsey a corner market-resetting contract requires low-cost coverage mates; Hill has proved a bargain in that department since last year's Marcus Peters trade. Cornerback play is a major cause of the Rams' No. 3 pass defense ranking.
RAMS GRADE: A | NEXT: vs. Patriots (Thu.)
22 of 32
Cardinals fading fast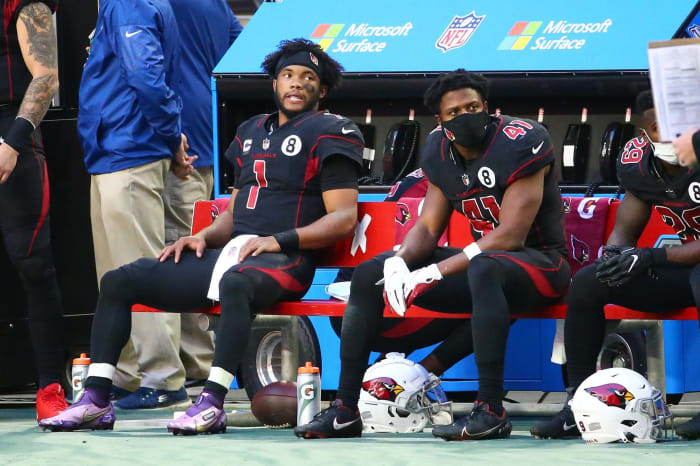 Rob Schumacher/The Republic via Imagn Content Services, LLC
It did not seem realistic for the Cardinals to mount a playoff run without Chandler Jones, and recent weeks have the hot-starting squad on the verge of a collapse. Murray's second straight dud featured two turnovers, and the past four games — one "Hail Murray" away from four consecutive losses — have opened the door for some unlikely teams to resurface in playoff discussions. If Murray's shoulder injury is preventing him from running (five carries, 15 yards), an Arizona playoff formula looks unlikely. The Cards (6-6) may be underdogs to three of their final four opponents. 
CARDINALS GRADE: D-plus | NEXT: at Giants (Sun.)
23 of 32
Broncos must consider veteran QB in 2021
Jay Biggerstaff-USA TODAY Sports
Rather than Drew Lock showing signs of a future franchise passer, the ex-second-round pick's issues restrained the Broncos from ending their now-11-game losing streak against the Chiefs. Lock's 151-yard night showed how far away he is. Despite missing three games, Lock has 13 INTs — second-most in the NFL. Expecting to hit on a passer at pick No. 42 was shaky given previous issues filling this post, and the Broncos (4-8) cannot sit out the veteran QB market again in 2021. Competition at least needs to be there next year. Vic Fangio's defensive chops and a promising array of skill talent matter little because of John Elway's latest QB choice. 
BRONCOS GRADE: C-plus | NEXT: at Panthers (Sun.)
24 of 32
Honey Badger's career rehab has transformed Chiefs
Jay Biggerstaff-USA TODAY Sports
Tyrann Mathieu came to Kansas City after a middling Houston season, which transpired after Arizona cut bait on Mathieu's then-safety-record extension. The Chiefs would not be where they are without the Honey Badger, who has provided Steve Spagnuolo with an ace secondary bastion that has spearheaded a two-year defensive turnaround. Mathieu's two INTs, two pass breakups and a key tackle for loss stalled the Broncos on Sunday. The Chiefs are 11-1 for the first time in 17 years. This would not be the case, nor would Kansas City reside as the defending Super Bowl champion, were it not for Mathieu's 2019 free agency landing.
CHIEFS GRADE: B | NEXT: at Dolphins (Sun.)
25 of 32
Washington D-line now has surprise contributor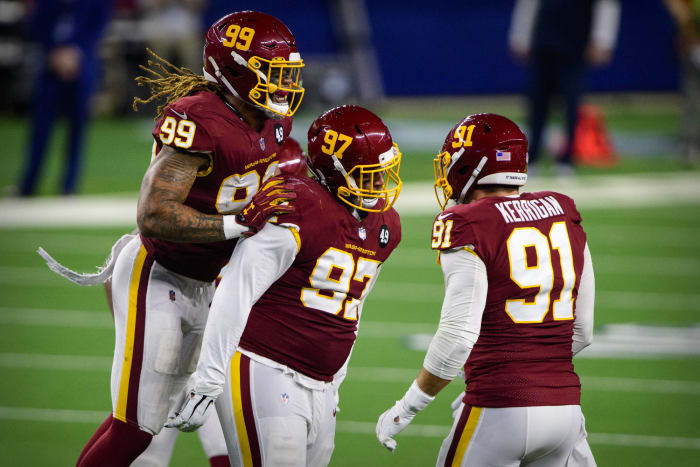 Jerome Miron-USA TODAY Sports
Already infused with five first-round picks, Washington's defensive line needed no surprise contributors to solidify its potency. But it has one. Third-year defensive tackle Tim Settle now has five sacks — third-most among Washington rushers — and four have come in the past five games. A former fifth-round pick, Settle grades as PFF's No. 14 overall interior defender. Although Washington (4-7) lost standout inside rusher Matt Ioaniddis for the season, the team is flush with up-front talent. This remains one of the NFL's must-watch position groups, even if it is operating in a historically unwatchable division.
MONDAY: at Steelers, 5 p.m. ET
26 of 32
Will Steelers need to run table to land No. 1 seed?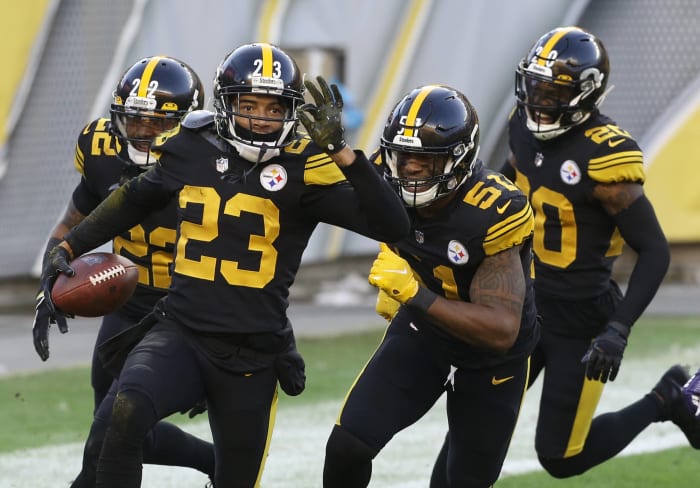 Charles LeClaire-USA TODAY Sports
In 2004, the Patriots went 14-2 and did not earn the AFC's top seed. The 15-1 Steelers did. Given the Chiefs' firepower, the current Steelers have little margin for error. The Chiefs (11-1) still play the Dolphins and Saints, but the Steelers still have the Bills, Colts and an improved Browns team. They will play the Bills on a second straight short week. And Pittsburgh will face these teams without Devin Bush and Bud Dupree. Normally, 11-0 teams enjoy a much cozier journey to January. The Steelers are instead set for a tightrope trek to land a much-needed playoff bye.
MONDAY: vs. Washington, 5 p.m. ET
27 of 32
Bills depending on Panthers North mission's LB piece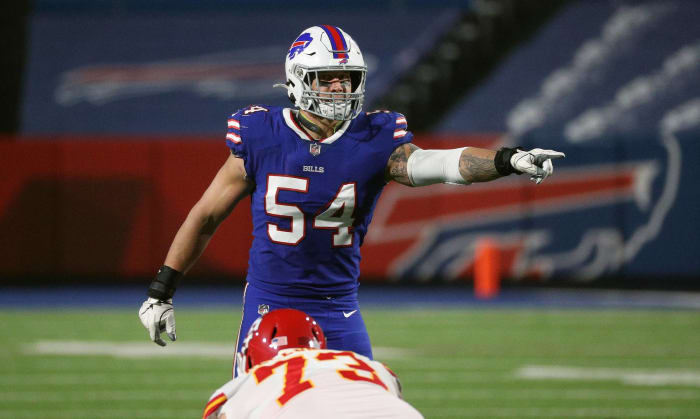 JAMIE GERMANO/ROCHESTER DEMOCRAT AND CHRONICLE via Imagn Content Services, LLC
Sean McDermott and Brandon Beane's Panthers North mission added Josh Norman, Mario Addison, Vernon Butler and Daryl Williams. Ex- Luke Kuechly backup A.J. Klein, who signed an off-radar Bills deal in March, has arguably been the group's most valuable piece. Playing as a near-full-timer after Matt Milano's IR trip, Klein leads the Bills (8-3) in sacks with five and forced two fumbles. Doing this as an off-ball player is quite difficult, but the 29-year-old defender — given a three-year, $18 million contract — has proven to be a vital enhancement for a Bills team saddled with a less dominant pass defense.
MONDAY: at 49ers (in Arizona), 8:15 p.m. ET
28 of 32
Another odd 2020 development for 49ers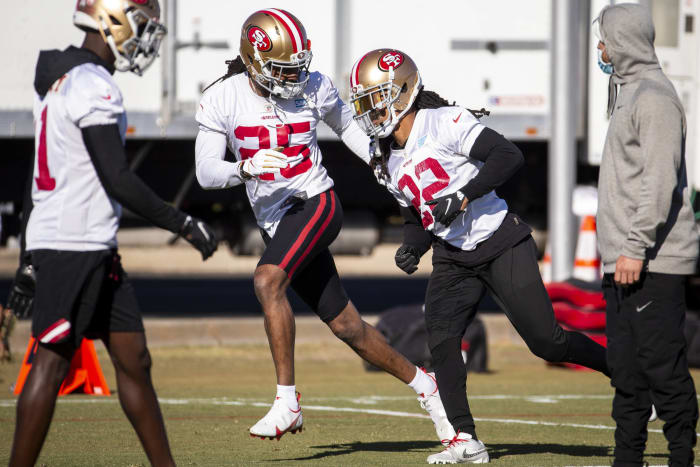 The Arizona Republic-USA TODAY Sports
In a year in which few 49ers have stayed healthy, Jason Verrett bizarrely has. After a customary two-week absence to start the season, the injury-prone cornerback is having a breakthrough year well after being written off. A 2014 Chargers first-round pick, Verrett was one of the 2010s' least reliable players — along with fellow 2020 49er Jordan Reed. Verrett missed an unbelievable 72 games from 2014 until September but has started every game since returning, grading as PFF's No. 5 overall corner. The 49ers (5-6) are still not at full strength here, but this has a stealth health bright spot for the not-yet-eliminated team.
MONDAY: vs. Bills (in Arizona), 8:15 p.m. ET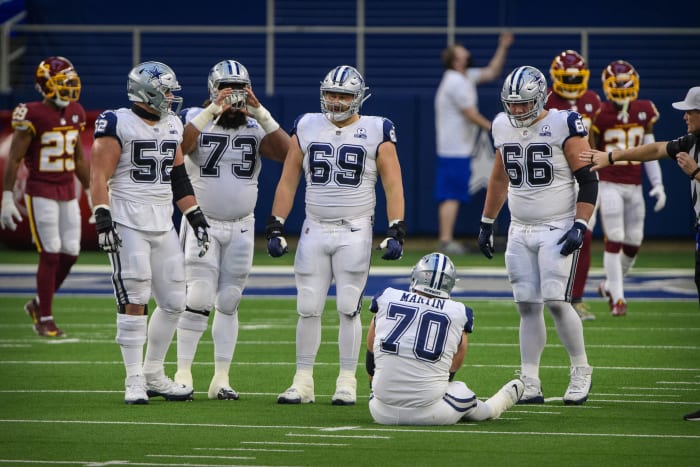 Jerome Miron-USA TODAY Sports
Andy Dalton has three wins in Baltimore — the most notable coming in the 2017 regular-season finale that reshaped the AFC playoff bracket — but the 10th-year quarterback will face a desperate Ravens team and do so without All-Pro guard Zack Martin. The guard/emergency tackle is out with calf injury, and tackle starter Cam Erving will miss Tuesday's game too. The Cowboys (3-8) had three All-Pro O-linemen at this point last year and for most of their December games over the past six years. They are down to a journeyman, Connors and UDFAs.
TUESDAY: at Ravens, 8 p.m. ET
30 of 32
Ravens need Lamar rescue effort
Paul Rutherford-USA TODAY Sports
Already having taken a major step back, Lamar Jackson is set to start a game less than two weeks after testing positive for COVID-19. Cam Newton laid the blueprint here — one that went poorly — so it will be interesting to see how Jackson looks. This is a friendly spot for the dual-threat Raven, with the Cowboys ranking last in points allowed and rush defense, but Baltimore (6-5) needs more from Jackson (23rd in QBR) to salvage its season. The Ravens' once-cozy-looking finish involves suddenly formidable Browns and Giants outfits, making Tuesday's Cowboys game an obvious must-win.
TUESDAY: vs. Cowboys, 8:00 p.m. ET
31 of 32
Secondary among Bucs new problems
Kim Klement-USA TODAY Sports
Jared Goff completed 39 passes in Week 11, and Tyreek Hill surpassed 200 receiving yards in the first quarter of Week 12. The Buccaneers have yielded 832 passing yards over their past two games. Tampa Bay's secondary has pivoted back to its easier-access ways of the late 2010s, and while the Bucs (7-5) do have a lighter closing schedule, upcoming foes Kirk Cousins, Matt Ryan and Matthew Stafford remain quite capable of testing DBs. Tampa's young group is allowing a 69.7% completion rate (second-worst) and has given up 38 20-plus-yard passes (10th-worst). 
NEXT: vs. Vikings (Sun.)
32 of 32
New Carolina duo showing long-term upside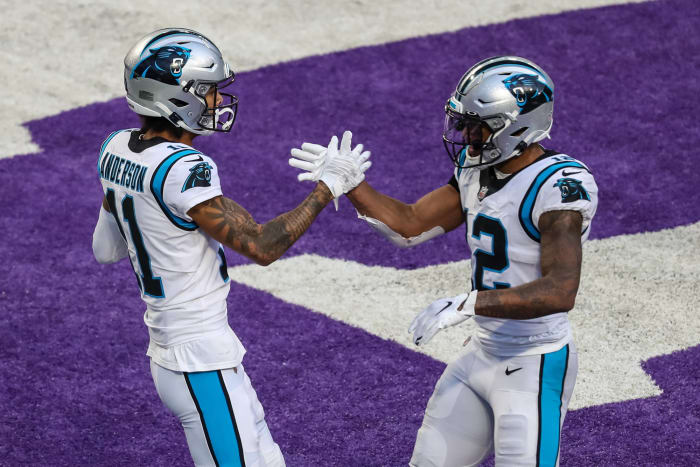 Brace Hemmelgarn-USA TODAY Sports
Although Steve Smith logged seven 1,000-yard years, he never played with a 1,000-yard wide receiver teammate. Only once in the Panthers' 25 previous seasons — Muhsin Muhammad and Patrick Jeffers in 1999 — did they unleash two 1,000-yard wideouts. A new tandem will soon top this makeshift list, and the newly formed D.J. Moore-Robby Anderson tandem has shown it will help future teams' causes. The Panthers (4-7) are the only team with two 900-yard wide receivers this season; both Moore (924) and Anderson (912) are on pace for 1,200-plus. Anderson still has two seasons left in his 20s.
NEXT: vs. Broncos (Sun.)