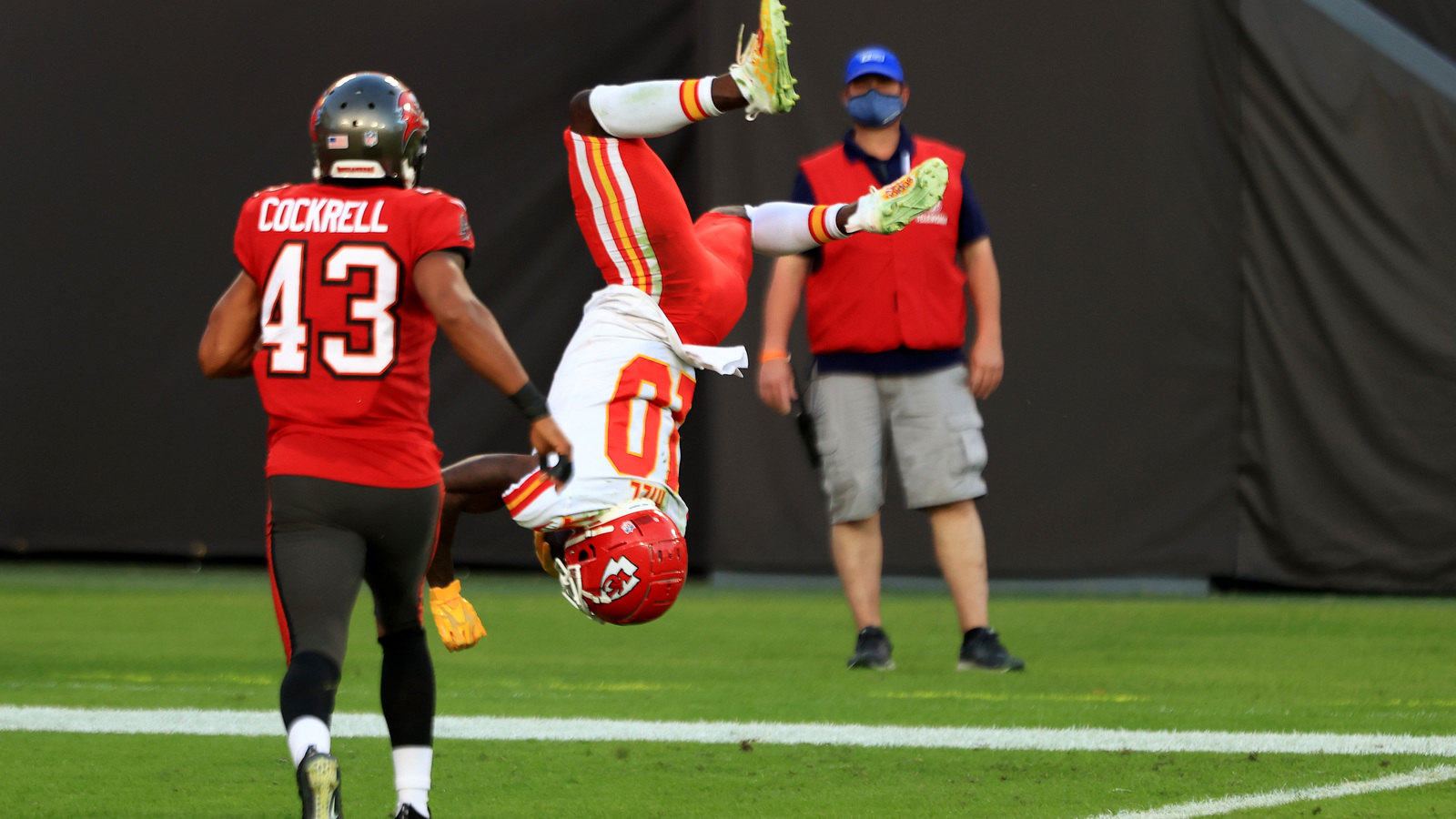 Tom Brady could not outduel Patrick Mahomes; Bill Belichick's troops did manage to contain Kyler Murray, and the Broncos were forced to play without a true quarterback on less than 24 hours' notice. Another eventful NFL Sunday. Here are grades for all the teams that have played this week and a look at each team entering Week 12's Monday game.

1 of 32
Tyreek Hill shows off Chiefs' unrivaled dimension
Kim Klement-USA TODAY Sports
While Patrick Mahomes showed last season he is fine without the NFL's top deep threat, pairing the two gives the Chiefs (10-1) a historically lethal dimension. The MVP-to-be found the league's fastest player twice for breakaway first-quarter TDs, giving Hill 203 receiving yards in the opening stanza. Hill's 13-catch, 269-yard, three-TD game made him the NFL's first 1,000-yard receiver in 2020. He and Travis Kelce rank first and second (1,021, 978) in receiving yardage. Hill's off-field controversies will follow him for the rest of his career, but the Chiefs' defense-reshaping threat should reside on the way-too-early Hall of Fame radar.
CHIEFS GRADE: A-minus | NEXT: vs. Broncos (Sun.)
2 of 32
Should Bucs be catering more to Brady?
Kim Klement-USA TODAY Sports
Tom Brady fared better with deep passes Sunday than he did over a ghastly previous month of long-range accuracy (an NFL-worst 0-for-22). But seeing his rapport with Chris Godwin, and the Buccaneers (7-5) rostering aging but still effective coverage-beating assassins Antonio Brown and Rob Gronkowski, they must take a hard look at tilting their offense toward Brady's preferred short- and mid-range attacks during their bye. Bruce Arians and Byron Leftwich need to better accommodate Brady down the stretch, because the weapons are there entering the final month of what could be the 43-year-old's last above-average season.
BUCCANEERS GRADE: C-minus | NEXT: vs. Falcons (Dec. 14)
3 of 32
Missed kicks change Cardinals' outlook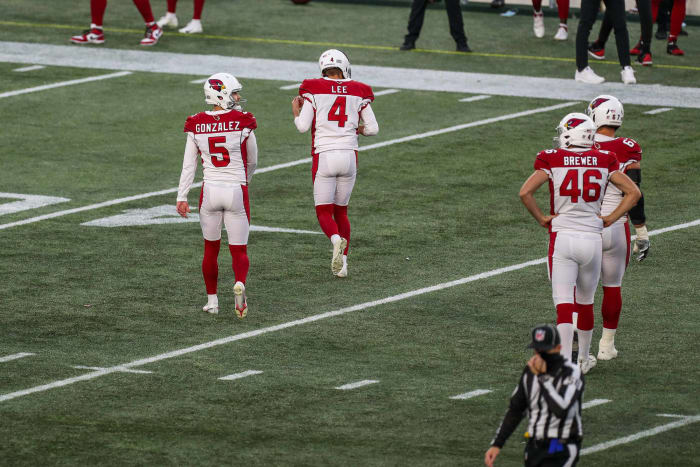 Paul Rutherford-USA TODAY Sports
Zane Gonzalez's fourth NFL season has included a 16-for-21 success rate and eight makes from 40-49 yards. But two of his misses have reshaped this Cardinals season. Gonzalez's go-ahead 45-yard attempt late in Sunday's loss sailed wide right, allowing a Patriots team with 179 yards of offense to escape. It coming after Gonzalez's game-tying 49-yarder against the Dolphins bizarrely fell short applies some pressure on the Arizona kicker, who does have a history of losing his job in-season. The Browns cut him after a bad September 2018 day. Two years later, he has made the 6-5 Cards' playoff journey tougher.
CARDINALS GRADE: C-plus | NEXT: vs. Rams (Sun.)
4 of 32
Belichick's troops rebound to flummox Murray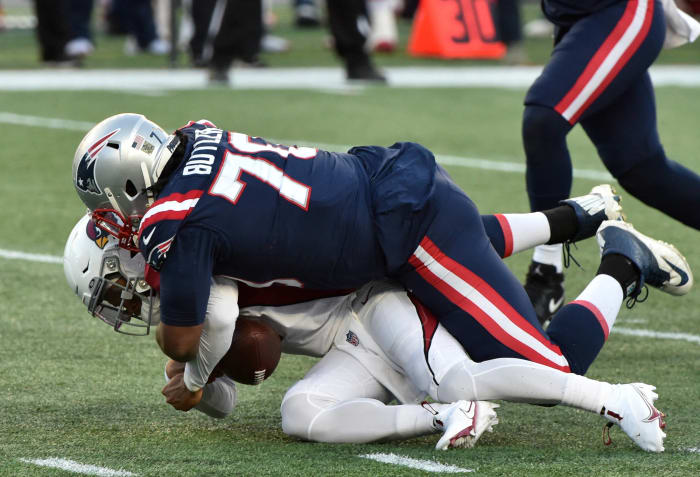 Bob DeChiara-USA TODAY Sports
A week after Deshaun Watson toyed with a depleted Patriots defense, the unit minimized fellow ascending superstar Kyler Murray. Cam Newton's 84-yard, two-INT showing would sink most teams, but the Pats (5-6) won. They did so in large part because of Murray's mediocrity. The Pro Bowl-bound passer had accounted for at least two touchdowns in every game this season; he produced none in Foxborough. Pats defensive tackle Adam Butler sacked Murray, and his deflected pass landed in Adrian Phillips' arms to set up a first-half field goal. The ex-undrafted D-lineman's effort helped keep a flawed Patriots squad on the playoff fringe.
PATRIOTS GRADE: B-minus | NEXT: at Chargers (Sun.)
5 of 32
A tool no AFC contender can match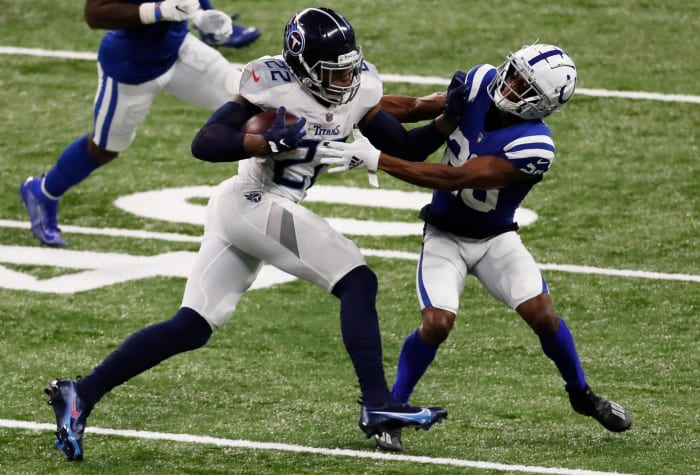 Grace Hollars/IndyStar via Imagn Content Services, LLC
With Derrick Henry and A.J. Brown in this form, Titans games are must-watch events. While on pace for an alarming 372 carries, Henry is also on track blow past his 2019-best 1,540 rushing yards. The Titans punisher's 178-yard outing Sunday upped his 2020 total to a league-leading 1,257. The Titans (8-3) being on their third-string left tackle mattered little — especially against a Colts defense missing DeForest Buckner — and Henry gained 119 of his yards after contact to give Tennessee a three-TD halftime lead. No AFC contender has a ground weapon in this realm, and the past two weeks point to the Titans unleashing it again in the playoffs.
TITANS GRADE: A-plus | NEXT: vs. Browns (Sun.)
6 of 32
O-line injuries limit immobile Rivers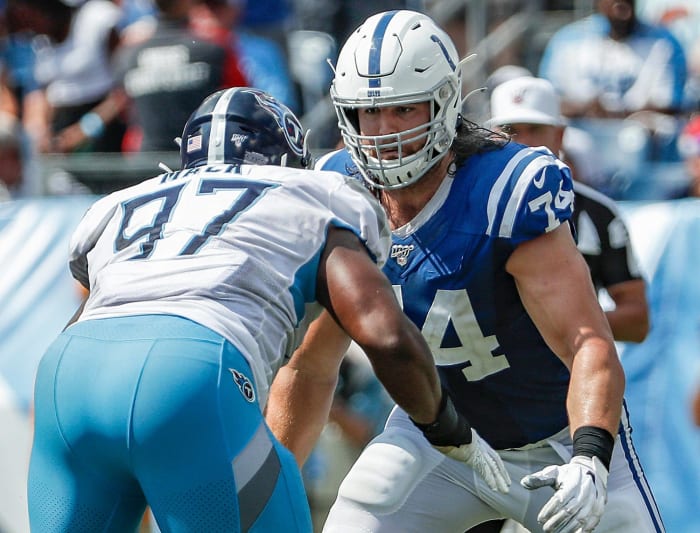 Matt Kryger/IndyStar, Indianapolis Star via Imagn Content Services, LLC
This era's least mobile quarterback signed with the Colts in large part because of the offensive line upgrade he would receive. Sunday, the Colts (7-4) lost a second standout blocker due to injury. Left tackle Anthony Castonzo's second-quarter knee injury led to the Titans turning a potential shootout into a romp. Philip Rivers failed to produce much of consequence behind replacement left tackle Le'Raven Clark. Rivers, however, was 7-for-8 for 108 yards before Castonzo's exit — in a game without Pro Bowl center Ryan Kelly. The duo is expected back soon, but their absences Sunday could swing the AFC South.
COLTS GRADE: D-minus | NEXT: at Texans (Sun.)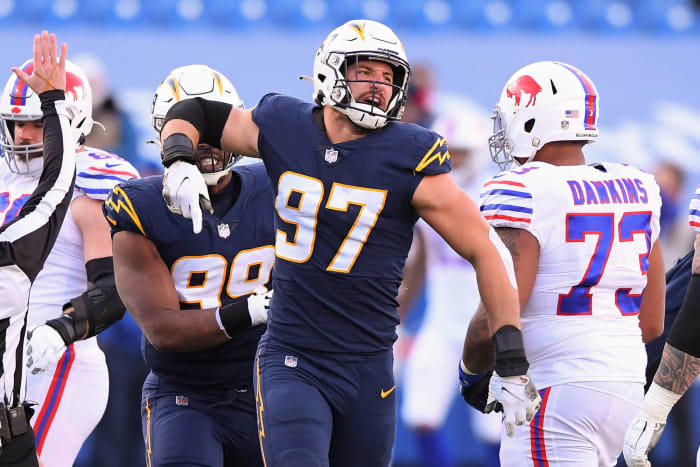 Rich Barnes-USA TODAY Sports
Bosa would be a bigger star were he not playing for the team housing the smallest NFL fanbase in generations. His dominance often occurs in close losses, and while the Chargers (3-8) did not quite make Sunday's defeat close, they squandered one of this season's best individual outings. Bosa bulldozed Bills offensive linemen for three sacks, six tackles for loss and a fumble recovery. Playing on both edges, Bosa frequently disrupted Buffalo's aerial attempts and run plays and was the best player on the field Sunday. With Justin Herbert showing superstar potential, Bosa should soon be in higher-stakes games.
CHARGERS GRADE: C | NEXT: vs. Patriots (Sun.)
8 of 32
Once-elite Bills pass defense resurfaces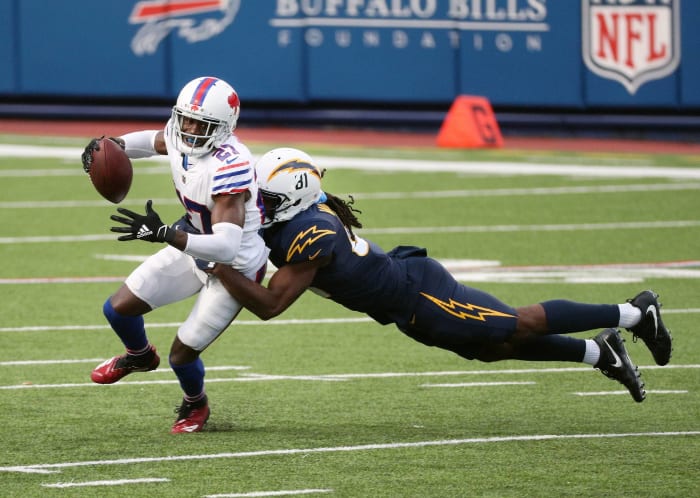 JAMIE GERMANO/ROCHESTER DEMOCRAT AND CHRONICLE via Imagn Content Services, LLC
Following the "Hail Murray" disaster, the Bills defense bothered Herbert — the NFL's best against-pressure passer this season — and gave their uneven offense time to solidify a win. Buffalo's pass defense ranked first in 2018 and fourth last season but came into Sunday 17th. The Bills (8-3), however, managed to prevent the Chargers from forging a comeback despite the visitors forcing three second-half turnovers. Ed Oliver's sack-strip preceded a fourth-quarter punt; Tre'Davious White intercepted a pass to prevent any trouble emerging from a Josh Allen INT. The Bills are a surefire Super Bowl threat if their defense can play at this level.
BILLS GRADE: B | NEXT: at 49ers (Mon.)
9 of 32
Browns in strange position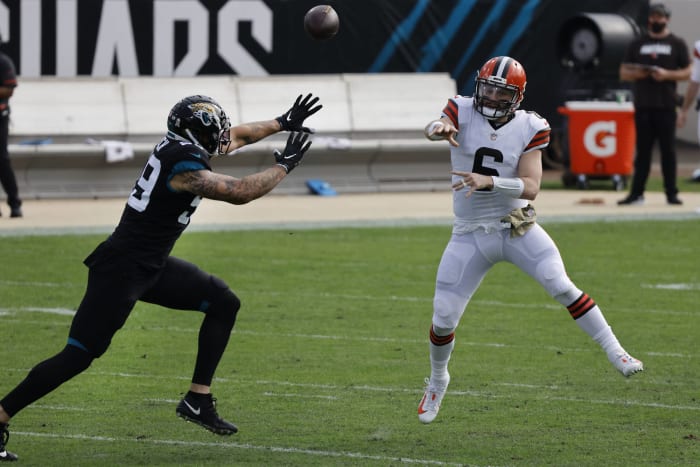 Reinhold Matay-USA TODAY Sports
The Browns clinched their first non-losing season since 2007 and have compiled enough wins to sit as the AFC's top wild-card team exiting Week 12. But Cleveland (8-3) improved its point differential to just minus-21 with a two-point win over a team blatantly tanking. The Jaguars are without their best pass rusher, top two cornerbacks and highest-paid offensive lineman. While the Browns were missing Myles Garrett and Denzel Ward, this effort — aided by more uneven Baker Mayfield play — casts more doubt about the team's contention viability. But in Cleveland, this non-terrible season should certainly be appreciated.
BROWNS GRADE: C-plus | NEXT: at Titans (Sun.)
10 of 32
How did it take this long?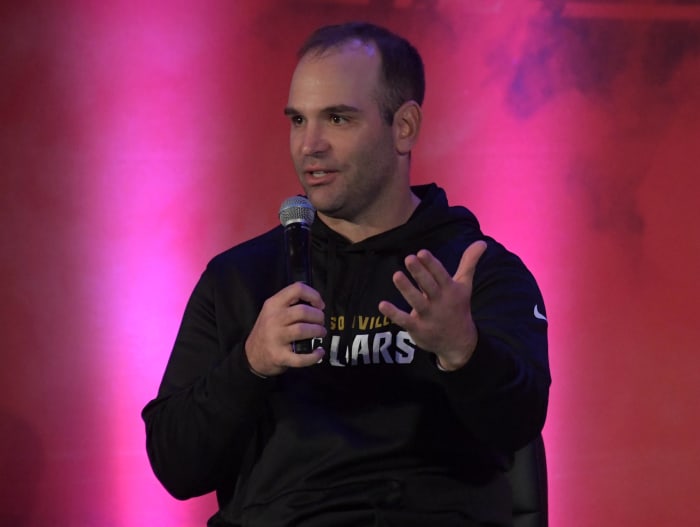 Kirby Lee-USA TODAY Sports
Sneakily avoiding a 2016-17 Browns disaster stretch and playing in a small market helped the Jaguars hide their ineptitude in plain sight. But their firing of GM David Caldwell may be more than three years too late. The Jags (1-10) lost 86 games in Caldwell's eight-plus-season tenure — tied with the Browns for the NFL high — and have tried multiple rebuilds. The exec who drafted Blake Bortles and extended him — a year after he and since-fired VP Tom Coughlin ignored Deshaun Watson and Patrick Mahomes — should not have been retained this long, even after the fluky 2017 AFC championship game trek. The Jags now have a longer road back.
JAGUARS GRADE: C-plus | NEXT: at Vikings (Sun.)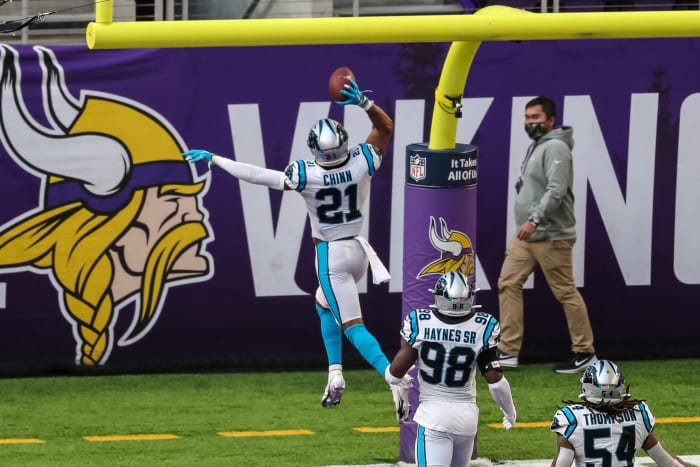 Brace Hemmelgarn-USA TODAY Sports
Prior to Chinn's game-changing scoring montage, no NFLer had returned two fumbles for touchdowns since 1948. The rookie became the third player in 101 NFL/APFA seasons to accomplish this and did it on back-to-back plays. Chinn's strip of Pro Bowler Dalvin Cook gave the Panthers (4-8) a 21-10 third-quarter lead. A second-round pick out of Division I-FCS Southern Illinois, Chinn had not scored a touchdown since high school. He added a Panthers-most 13 tackles Sunday. This Carolina season was never about playoff qualification; finding future starters was the goal. The Panthers have identified a potential Pro Bowler at safety. 
PANTHERS GRADE: B | NEXT: vs. Broncos (Sat., Dec. 13) 
12 of 32
Backup WRs help Vikings keep playoff hopes alive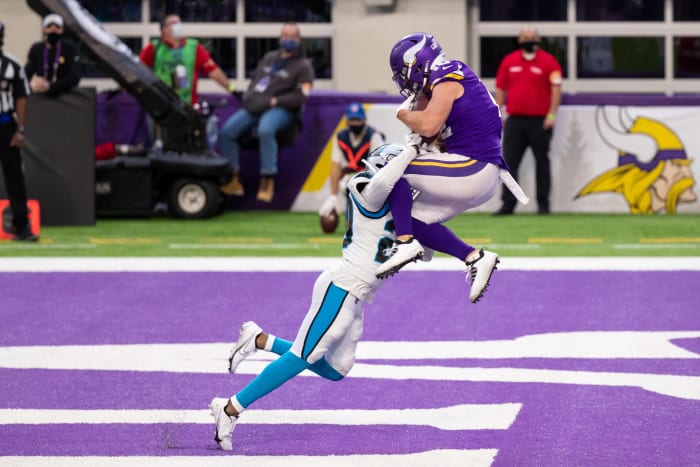 Brad Rempel-USA TODAY Sports
Since their failed Laquon Treadwell pick, the Vikings have featured fairly simple wide receiver hierarchies. Adam Thielen and Stefon Diggs hogged targets for years; this year's Vikings pass attack runs almost exclusively through Thielen and Justin Jefferson. But Chad Beebe and Bisi Johnson came through in Thielen's COVID-19-related absence, each hauling in seven passes for a combined 137 yards. Beebe caught three passes on Minnesota's game-winning drive, including the clincher that atoned for his dropped punt. The Vikings (5-6) are still in the NFC playoff race largely because their supporting-cast wideouts produced. 
VIKINGS GRADE: B-minus | NEXT: vs. Jaguars (Sun.)
13 of 32
Jones injury could re-sink Giants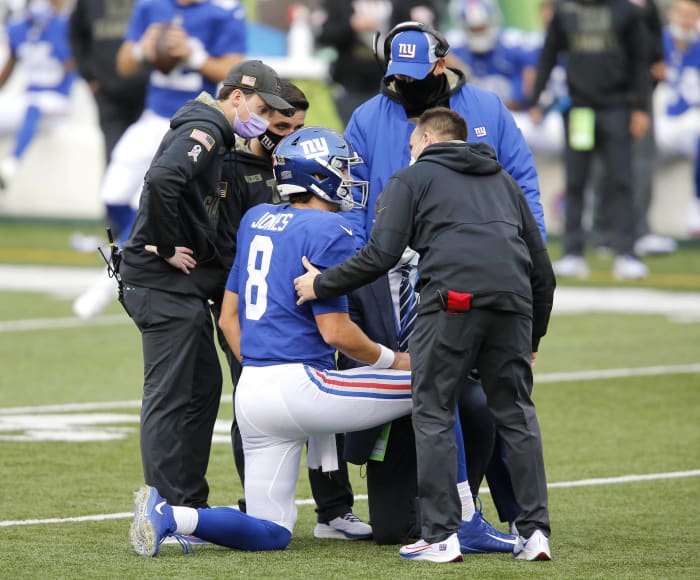 Joseph Maiorana-USA TODAY Sports
Justifiably buried after their second 1-7 start in three years, the Giants have won three straight and lead the NFC East. Daniel Jones has not thrown an interception or lost a fumble (his top NFL skill to date) during the streak. But the reportedly serious hamstring injury the second-year quarterback suffered points to this Giants run pausing. Despite Colt McCoy's 11 years of experience, the Giants (4-7) aggressively avoided allowing their backup to do much after Jones' injury. Their next four opponents — the Seahawks, Cardinals, Browns and Ravens — are a combined 27-15. The Giants have not beaten a winning team in nearly two years.
GIANTS GRADE: B-minus | NEXT: at Seahawks (Sun.)
14 of 32
Bengals special teams nearly enables victory theft
Sam Greene via Imagn Content Services, LLC
Even when Jones played, the Bengals were not out of Sunday's game. And they were in great position to attempt a game-winning field goal — prior to Jabaal Sheard stripping recent practice squad QB Brandon Allen — thanks to special teams contributions. Brandon Wilson's 103-yard kick return marked his second return TD in two years, and it allowed Cincinnati (2-8-1) to avoid playing from two scores down. Punt returner Alex Erickson's 29-yard punt return moved the Bengals to midfield for their ultimately failed final drive. Despite Joe Burrow's injury ending Cincy's 2020 relevance, this was a respectable effort.
BENGALS GRADE: C-plus | NEXT: at Dolphins (Sun.)
15 of 32
Inexplicable meltdown
Dale Zanine-USA TODAY Sports
Facing a usually welcoming Falcons pass defense, the Raiders (6-5) lost 43-6. Derek Carr lost three fumbles and threw a pick-six. This implosion came after he went toe-to-toe with Patrick Mahomes and traveled to Georgia with a top-five QBR figure. Carr faced multi-angle pressure when he threw a pass right to Falcons linebacker Deion Jones, and replacement right tackle Brandon Parker was no match for second-year UDFA Jacob Tuioti-Mariner on a first-half sack-strip sequence. Josh Jacobs added a career-low 27 rushing yards. After two straight losses, the Raiders' playoff viability is on the line.
RAIDERS GRADE: F | NEXT: at Jets (Sun.)
Dale Zanine-USA TODAY Sports
Raheem Morris is a woeful closeout effort against the Lions away from being 5-1 as Atlanta's interim head coach. His defense stormed through a Raiders offense that had no trouble carving up the Chiefs. Two undrafted players — Tuioti-Mariner, defensive end LaRoy Reynolds — stripped Carr — and two fifth-round picks — breakout linebacker Foyesade Oloukon and journeyman D-end Steven Means — forced the Raider fumbles. Morris has undoubtedly improved Atlanta's defense, and this "Raiders in crisis"-inducing showing will be recalled during his coaching interviews with the Falcons (4-7) and elsewhere.
FALCONS GRADE: A | NEXT: vs. Saints (Sun.)
17 of 32
Dolphins rebuild includes a kicker as well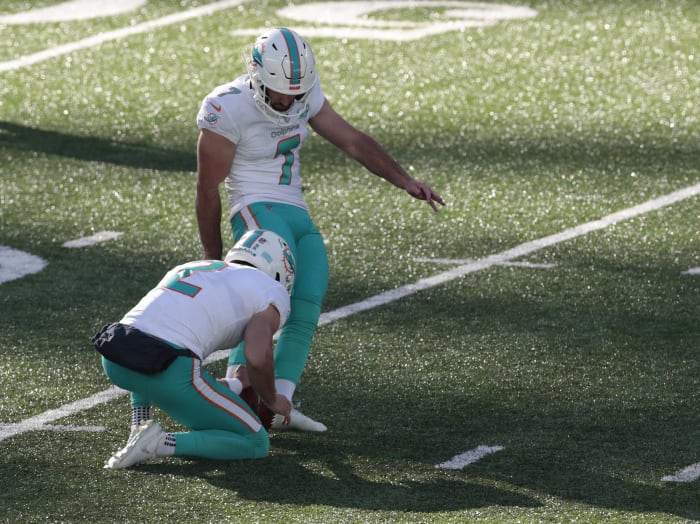 Vincent Carchietta-USA TODAY Sports
The Dolphins' quicker-than-expected playoff push featured a forgettable sweep over the Jets. Included in Sunday's slightly less memorable rematch: two more Jason Sanders 50-plus-yard field goals. The third-year kicker has solidified himself as Miami's next long-term field goal man, exiting Week 12 an NFL-best 8-for-8 on 50-plus yard attempts. On a day when the Dolphins (7-4) scored just two touchdowns against a long-disinterested Jets team despite intercepting Sam Darnold twice, their ascending kicker again showed — albeit to small regional regional pockets of viewers — his Pro Bowl-level form.
DOLPHINS GRADE: B | NEXT: vs. Bengals (Sun.)
18 of 32
Jets mess now includes play-calling confusion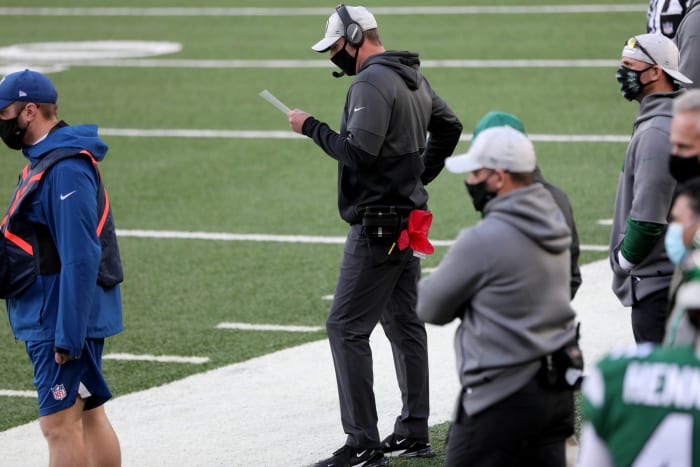 Kevin Wexler-USA TODAY Sports
Adam Gase and offensive coordinator Dowell Loggains will be out of the picture when Trevor Lawrence decides if he wants to play for the Jets (0-11) — if they clinch their pursuit of the No. 1 overall pick — but the team's play-calling mini-controversy is not a good organizational look. Gase was reportedly set to retake play-calling responsibilities from Loggains but denied doing so — even though it appeared the lava-seated head coach was calling them. This is largely immaterial, given the timing, but the odd lack of transparency here is another regrettable Jets headline they may need to explain to Lawrence and his agent.
JETS GRADE: D-minus | NEXT: vs. Raiders (Sun.)
19 of 32
RB2 leads Saints along free-ride win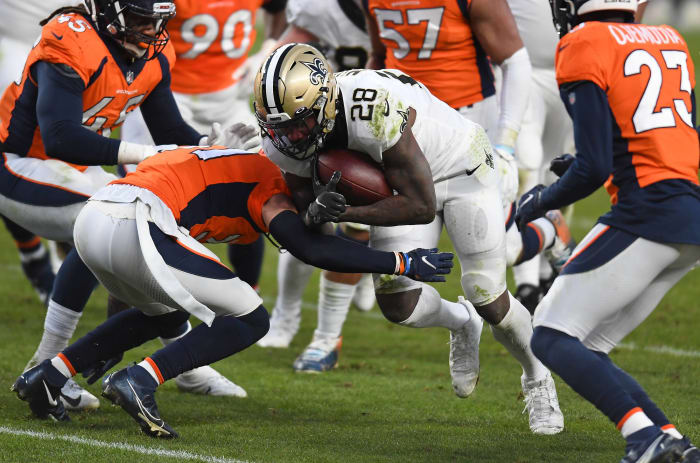 Ron Chenoy-USA TODAY Sports
Perhaps the easiest assignment an NFL team has faced in decades, the Saints predictably dispatched a Broncos team not allowed to deploy a true quarterback. New Orleans (9-2) used Latavius Murray frequently in this historic mismatch, and the former Raiders starter's 124 yards (and two TDs) were more than Alvin Kamara and Taysom Hill's combined outputs. Despite being a former sixth-round pick who is now 30, Murray is a valuable cog for the surging Saints. His 20 touches Sunday allowed the team to conserve Kamara for more important spots. (Though, the Saints could have used a practice squad back and been fine.)
SAINTS GRADE: A-minus | NEXT: at Falcons (Sun.)
20 of 32
NFL errs with Broncos-Saints farce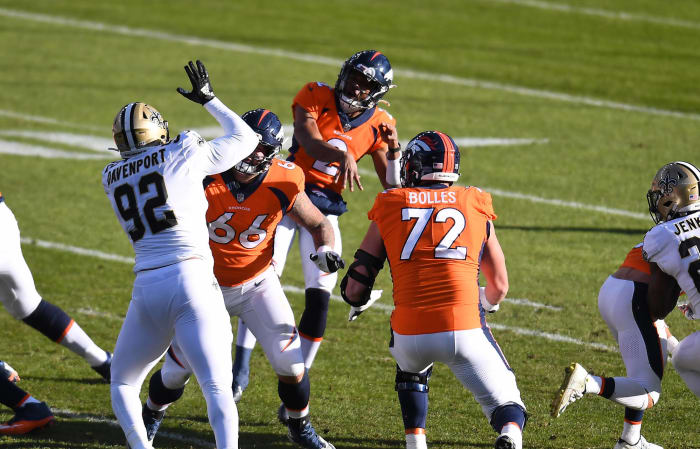 Ron Chenoy-USA TODAY Sports
This game may live on longer than any of this year's regular-season contests — as an encapsulation of the COVID-19-altered slate. The NFL's competitive integrity took a major hit Sunday. Practice squad wideout Kendall Hinton looked predictably awful on no practice reps at quarterback; it actually could have been worse than 1-for-9 with two INTs. The NFL put the ex-Wake Forest QB, who was moved to receiver in college, in a ridiculous spot. His outing lives in the Ryan Leaf section of the record book. The new playoff format allots one bye, and by not delaying New Orleans-Denver until Tuesday, the Saints received a free victory on their path to it.
BRONCOS GRADE: D-plus | NEXT: at Chiefs (Sun.)
21 of 32
Deebo helps 49ers stay in playoff race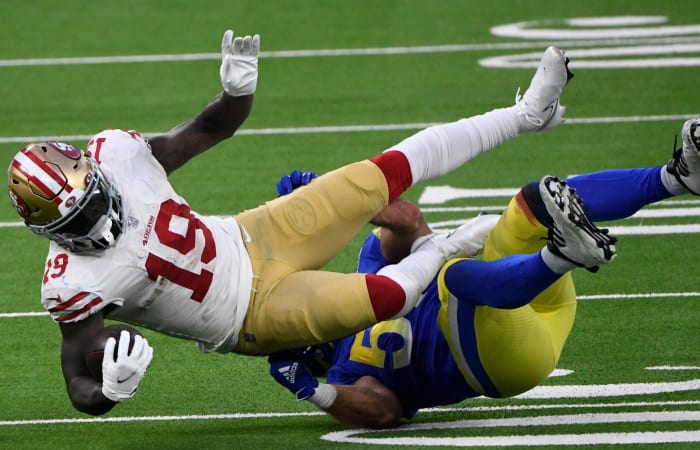 Robert Hanashiro-USA TODAY Sports
The 49ers smartly held out their twice-injured No. 1 wide receiver through their bye; they were rewarded with the best Deebo Samuel version this season. Showing the run-after-catch form that led to an impact rookie season, Samuel caught a career-high 11 passes (three, though, came via that forward-pitch statistical workaround). But against a Rams secondary that stifled D.K. Metcalf, Samuel thrived with 133 yards. Most of this did not involve Jalen Ramsey (nor Fox's Chris Myers acknowledging any of Greg Jennings' enthusiastic "Friday" references), Samuel showed his WR1 form and kept the slightly healthier 49ers (5-6) in fringe playoff territory.
49ERS GRADE: B-plus | NEXT: vs. Bills (Sun.)
22 of 32
Maddening Rams return to flawed form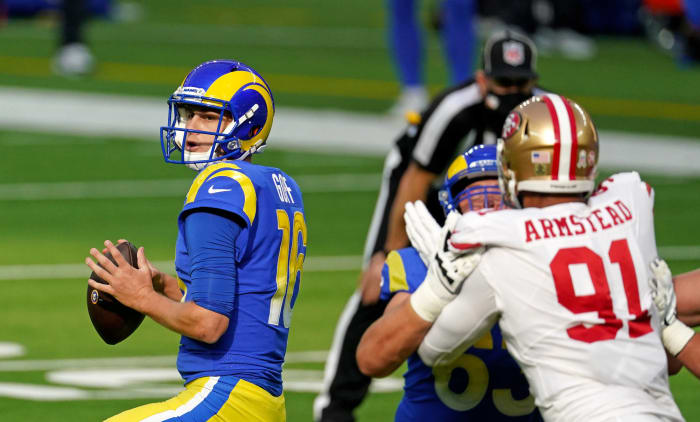 Kirby Lee-USA TODAY Sports
Six days after Jared Goff outdueled Tom Brady in a nationally televised game, the fifth-year QB showed the other side of his NFL existence that so frustrates Rams fans and deep-league fantasy GMs. Goff threw two INTs — one a pick-six to a defensive tackle (Javon Kinlaw) — and fumbled in Sunday's turnover frenzy (seven total). He then could not muster more than 19 yards on what would have been a game-winning Rams drive in the final minutes. This allowed the visitors to finish their upset and season sweep. Even with two elite defenders, the Rams — as Sunday again showed — still need to walk a tightrope to compete for a Super Bowl.
RAMS GRADE: C-minus | NEXT: at Cardinals (Sun.) 
23 of 32
Will 5-game swoon cost Matt Nagy his job?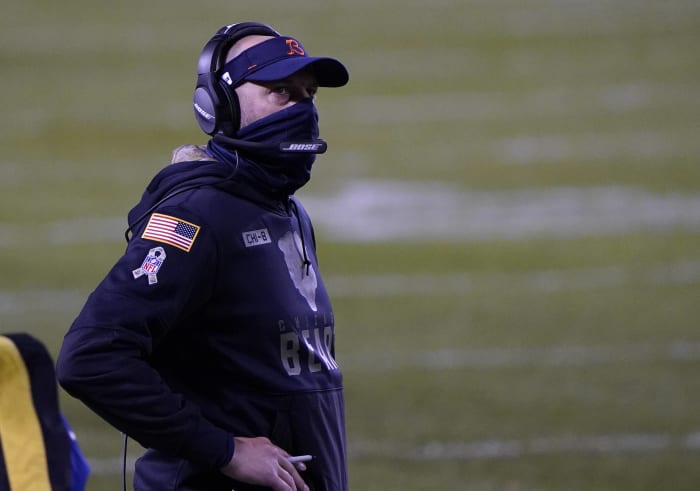 Mike Dinovo-USA TODAY Sports
Should Nagy be fired before seeing if his system can work again with a better quarterback? The 2018 Coach of the Year who played a key role in Alex Smith's best statistical season a year prior, Nagy has been tasked with steering a ship his quarterbacks are sinking. The Bears have lost five straight; they are the first post-merger team to follow a 5-1 start with a five-game skid. Chicago (5-6) would probably be unwise to cut bait on Nagy after three seasons, given his offense's 2018 success. But after another Mitchell Trubisky letdown — which followed a few Nick Foles uninspiring efforts — everything Bears needs to be about a 2021 QB plan.
BEARS GRADE: F | NEXT: vs. Lions (Sun.)
24 of 32
Second-best Packer Smith finally resurfaces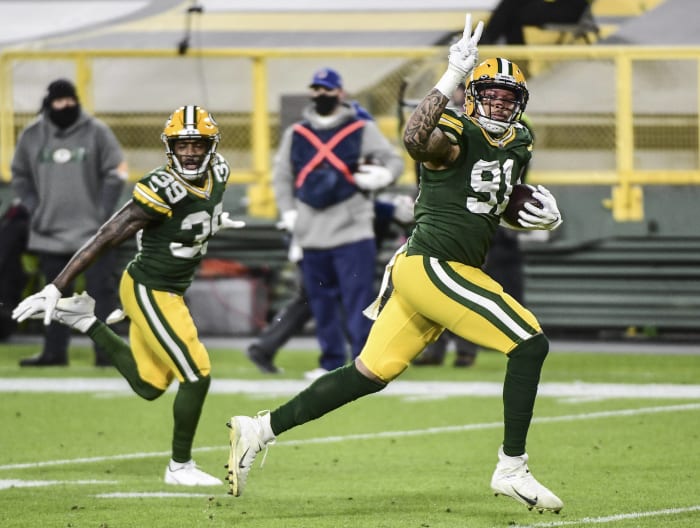 Benny Sieu-USA TODAY Sports
After disbanding a disappointing Clay Matthews-Nick Perry tandem, the Packers threw significant resources at repairing their edge rush last year. They signed Za'Darius Smith and Preston Smith and drafted Rashan Gary in Round 1. A year later, Green Bay's edge rush has mostly been a Za'Darius-reliant operation. But his sidekick finally re-emerged Sunday, crafting a scoop-and-score sequence and sacking Trubisky on a night Gary started over him for the first time. Green Bay (8-3) needs more from Gary and Preston Smith (five combined sacks), but its soft closing schedule will allow for some pre-playoffs experimentation.
PACKERS GRADE: A-plus | NEXT: vs. Eagles (Sun.)
25 of 32
Washington made wise WR investment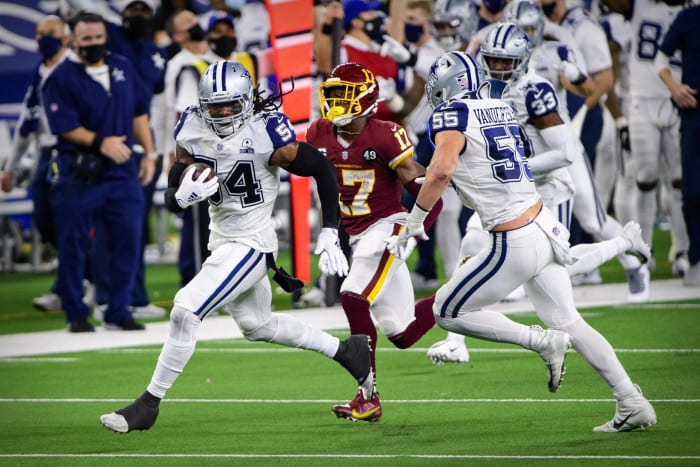 Jerome Miron-USA TODAY Sports
Terry McLaurin's Don Beebe-esque hustle play ended up triggering what could be the defining 20 minutes of NFC East football this season. As depressing as that sounds, McLaurin's sprint to prevent a Jaylon Smith pick-six preceded three unanswered Washington TDs. With the Giants perhaps down Daniel Jones for a while, this could be 4-7 Washington's division to lose. McLaurin's 92-yard effort bumped him to fourth in the NFL with 963 yards — 43 more than his rookie-season total. The 2019 third-round pick has accomplished this with three below-average QBs and should receive more acclaim than he does.
WASHINGTON GRADE: A | NEXT: at Steelers (Sun.)
26 of 32
Cowboys RB investment trending down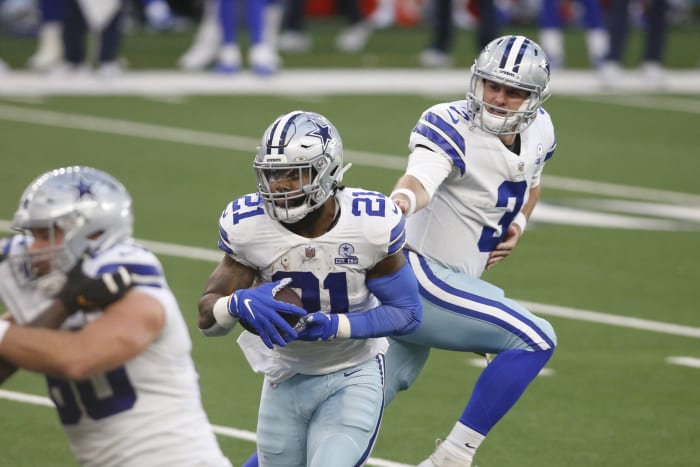 Tim Heitman-USA TODAY Sports
Ezekiel Elliott battled COVID-19 and is stuck in an offense that has lost multiple All-Pro linemen this year and used four quarterbacks. But Elliott's 2020 has been downright scary for a Cowboys team that gave in to his 2019 holdout — which ended with a six-year, $90 million ($50M guaranteed) extension. Elliott's fumble against Washington was his fifth giveaway (most among non-QBs) this season. He is averaging 64 yards per game — 20 south of his 2019 figure and more than 30 south of every other Zeke season. Elliott's contract is veering closer to other backfield cautionary-tale deals, like Le'Veon Bell's or David Johnson's, from the late 2010s.
COWBOYS GRADE: F | NEXT: at Ravens (Mon.)
27 of 32
Watson gives Texans hope to land top coach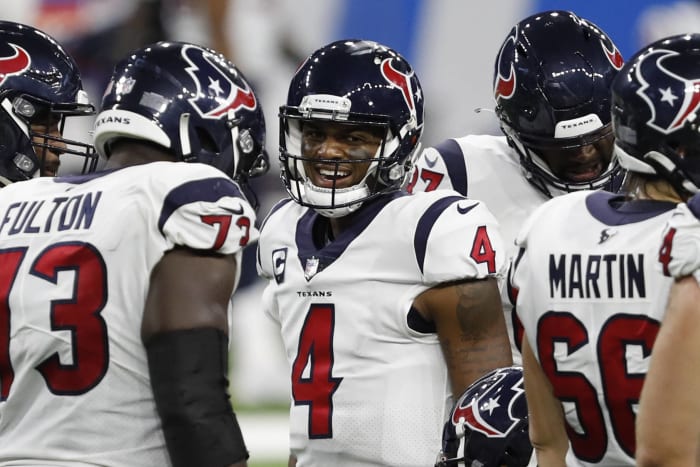 Raj Mehta-USA TODAY Sports
While the Texans front office situation bears monitoring, Deshaun Watson is perhaps the second-brightest young star at the quarterback position. Beyond Patrick Mahomes, what other active quarterback would objective observers take ahead of Watson for the next 10 years? Averaging an NFL-high 8.8 yards per attempt, the former Clemson superstar is carrying a suspect running back crew and a receiving corps lacking DeAndre Hopkins. He is still sizzling, as Thanksgiving observers noticed. The Texans (4-7) have the kind of quarterback coaches seek, and he will help the team present a better pitch to HC candidates than its recent history would suggest.
TEXANS GRADE: A-plus | NEXT: vs. Colts (Sun.)
28 of 32
Same as it ever was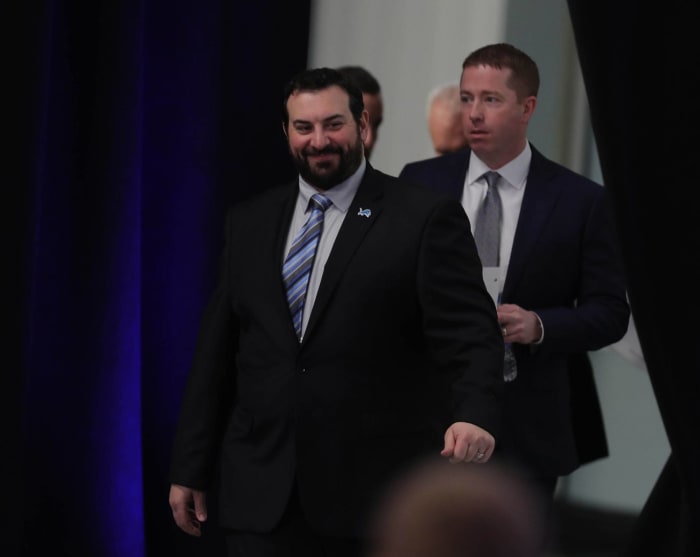 Kirthmon F. Dozier via Imagn Content Services, LLC
After a second straight blowout loss, the Lions (4-7) finally ended the Bob Quinn-Matt Patricia era. This marks another blow for The Patriot Way, with these ousters coming weeks after Bill O'Brien's. Unlike when the Lions fired Martin Mayhew in 2015 and replaced him months later, they do not have a Watson- or 2016 Matthew Stafford-type quarterback to pitch to candidates. Stafford will be 33 next year and may be closer to a start-over trade than playing for a third full-time GM. The bevy of veteran ex-Patriots on the Lions' roster now seems out of place. A full-on teardown could be coming for a roster without many building blocks under contract in 2021.
LIONS GRADE: F | NEXT: at Bears (Sun.)
29 of 32
Schedule points Seahawks to January home game
Joe Nicholson-USA TODAY Sports
After the Rams and Cardinals picked up their fourth and fifth losses, respectively, the door is wide open for a Seahawks surge. The 7-3 squad can solidify a playoff game in its home blues over the next month. After Monday's Eagles tilt, the Seahawks face the Giants, Jets and Washington. The East wing of the schedule did wonders for the Rams, who swept that woeful division, and the Cardinals are 2-0 against the inept quartet. The scrutiny Russell Wilson began to experience around midseason figures to dissipate soon.
MONDAY: at Eagles, 8:15 p.m. ET
30 of 32
Another Eagles O-line reshuffle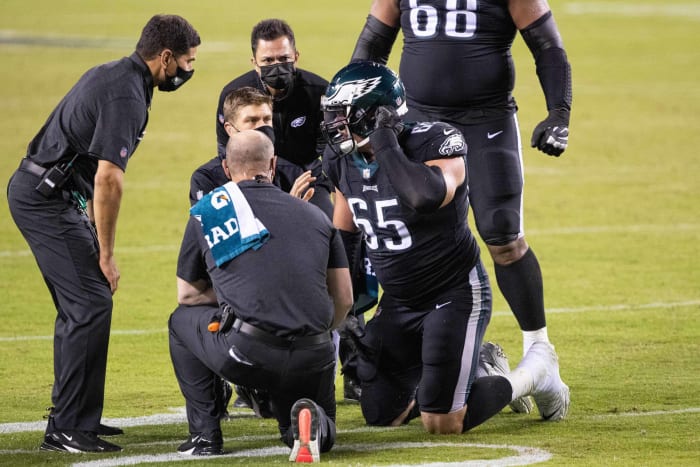 Bill Streicher-USA TODAY Sports
Carson Wentz's turnover binge has shown no signs of slowing down, and he will go into Monday night's game with a 10th different offensive line configuration this season. The Eagles are moving Jason Peters to a third position of 2020, this time from left tackle to right guard, and will start Matt Pryor at right tackle to replace the injured Lane Johnson. The Eagles (3-6-1) will use ex-rugby player Jordan Mailata at left tackle, regular starters Isaac Seumalo and Jason Kelce at left guard and center, respectively. Pro Football Focus rates Mailata 65tth among tackles and Pryor 66th among guards. This was a top-tier line as recently as 2019.
MONDAY: vs. Seahawks, 8:15 p.m. ET
31 of 32
Ravens situation should trigger Week 18
Ken Blaze-USA TODAY Sports
NFL teams this season can employ 69 players: 53 on the active roster, with 16-man practice squads. As of Monday morning, there are 23 players on the Ravens' reserve/COVID-19 list. Some non-coronavirus-positive players could be removed by game time, but others could be added. Willie Snead's positive test extended the Ravens' string of positives to eight days. This predicament is precisely why the NFL floated its Week 18 makeup date. Such a postponement would allow the Ravens outbreak to stabilize ahead of next week and give playoff teams a vital January week off. How is this not preferable to playing a game amid an uncontrolled COVID spread?
TUESDAY (for now): at Steelers, 8 p.m. ET
32 of 32
Mike Tomlin entering Coach of the Year homestretch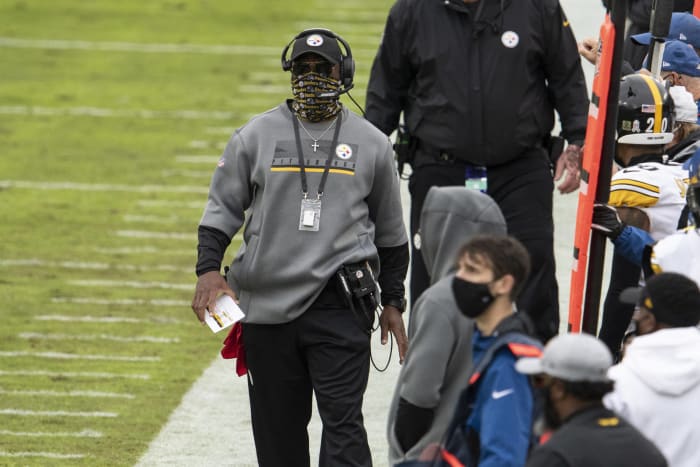 Tommy Gilligan-USA TODAY Sports
Tomlin was not voted Coach of the Year when he guided the Steelers to Super Bowl XLIII in his second season; the Falcons' Mike Smith was. Tomlin has not been so honored. The Steelers are 10-0 despite depending on a 38-year-old quarterback who underwent elbow surgery and a new-look receiving corps that came into 2020 picking up the pieces from the Antonio Brown debacle. The Steelers are now midway through their second COVID-induced delay. Tomlin managing the team through this and lifting Pittsburgh past Baltimore should lock in Coach of the Year acclaim — even if the Steelers fail to secure the AFC's top seed.
TUESDAY (for now): at Steelers, 8 p.m. ET