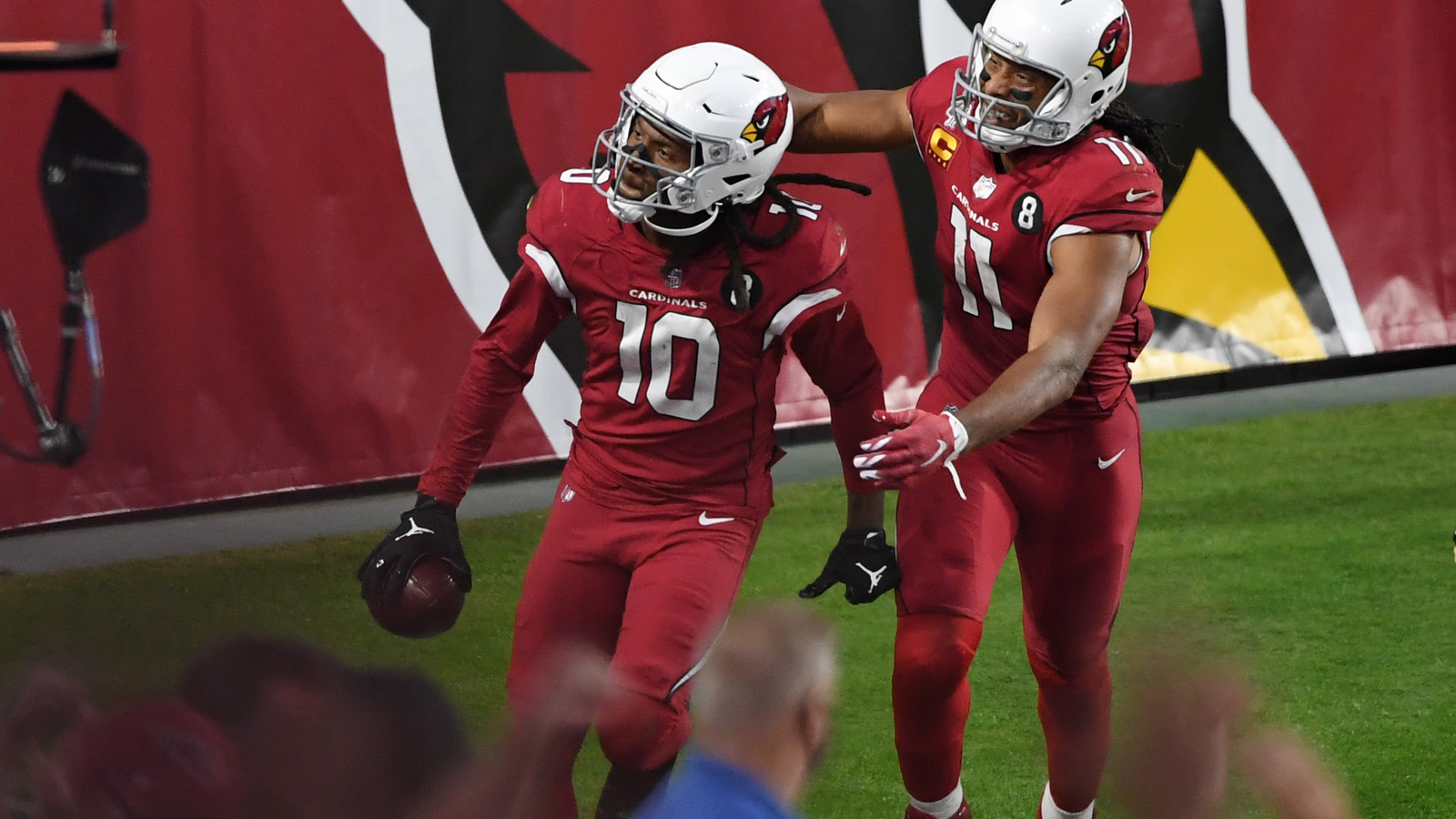 DeAndre Hopkins making one of this century's signature catches was easily Sunday's top NFL storyline, but the AFC's depth and the Seahawks' sudden issues also emerged as key Week 10 plot points. Here is a look at the league's 32 teams, along with grades for those that suited up Sunday.
1 of 32
Josh Allen continues rocky ascent
Michael Chow via Imagn Content Services, LLC
Allen leads the NFL in passing yards (2,871) and has accounted for 27 touchdowns (21 passing, five rushing, one receiving). He will make his first Pro Bowl and has the Bills on track for their first back-to-back playoff berths since Doug Flutie's late-1990s stay. But the third-year passer remains a work in progress. Allen's two INTs helped the Cardinals erase a 23-9 second-half deficit, but the Bills (7-3) should be entering their bye 8-2 after the pinpoint Allen-to-Stefon Diggs go-ahead TD punctuated a statement drive. Buffalo remains headed in the right direction, albeit with some detours.
BILLS GRADE: B | NEXT: vs. Chargers (Nov. 29)
2 of 32
Cardinals made a very good trade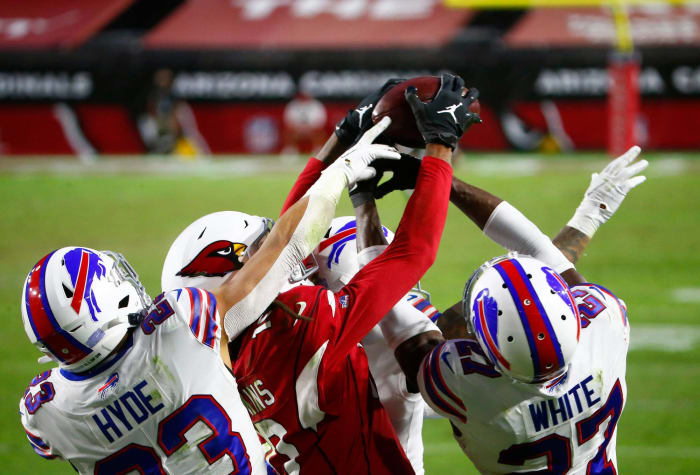 Patrick Breen/The Republic via Imagn Content Services, LLC
David Johnson is on IR. Second-round defensive tackle Ross Blacklock has six tackles and no QB hits. The Texans also have a 2021 fourth-round pick coming to them, but DeAndre Hopkins' game-winning TD further illustrates what Cardinals GM Steve Keim got away with in March. The 6-3 Cards' contested-catch maven outmaneuvering three Bills starters to catch Kyler Murray's last-seconds heave is easily this season's defining play. Hopkins' 861 yards rank second after Week 10; the 28-year-old star is on track for his fourth All-Pro nod. His "Full Megatron" moment may be the signature highlight if/when he is enshrined in the Hall of Fame.
CARDINALS GRADE: A-minus | NEXT: at Seahawks (Thu.)
3 of 32
Eagles loss opens door to 6-win playoff team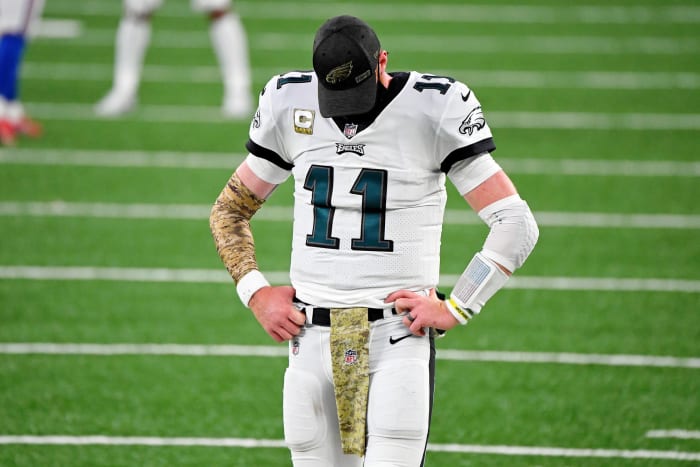 Robert Deutsch-USA TODAY Sports
Excepting 1982's nine-game season, the 2010 Seahawks and 2014 Panthers are the only sub-.500 teams to make the playoffs. This year's NFC bracket will add a third team to this ignominious category. The Eagles exited their bye with many of their skill-position players available — a rarity over the past two years — and lost by two scores to the Giants. Philly is 3-5-1 and has remaining games against the Browns, Seahawks, Packers, Saints and Cardinals. With the NFC East housing three seven-loss squads — in the first post-merger division to feature four minus-25 point differentials after Week 10 — it should not be ruled out the playoffs include a six-win team. 
EAGLES GRADE: D-plus | NEXT: at Browns (Sun.)
4 of 32
Williams, Giants' underrated D-line disrupt Eagles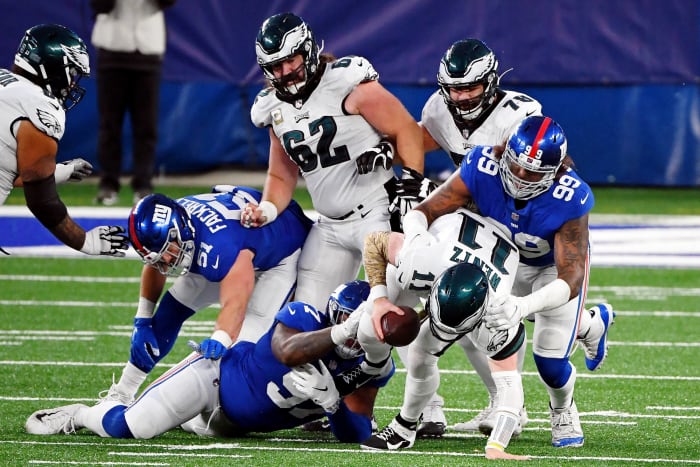 Robert Deutsch-USA TODAY Sports
From 2015-19, Leonard Williams' 101 QB hits ranked 12th in the NFL. His 17.5 sacks did not rank in the top 80. The Giants defensive lineman has five sacks this season but enjoyed an on-brand game, hitting Carson Wentz five times. While Williams was not credited with a sack, he did drop Wentz on a fourth-quarter two-point conversion try. En route to a likely extension from the Giants (3-7), the franchise-tagged D-lineman has 16 QB hits and leads one of the NFL's most underrated position groups. Williams, Dalvin Tomlinson, Dexter Lawrence and B.J. Hill disrupted Wentz and the NFL's hopes of all its playoff teams being above .500.
GIANTS GRADE: A-minus | NEXT: at Bengals (Nov. 29)
Bob Donnan-USA TODAY Sports
Jones joined Tony Dorsett (1983), Ahman Green (2003) and Derrick Henry (2018) as the only men in the NFL's 101-year history to run for a 98-yard touchdown. The Buccaneers (7-3) led just 20-17 when Tom Brady handed Jones the ball. They won 46-23, fully shaking off last week's historic humbling. Jones rushed for a career-high 192 yards, doing so behind a reconfigured Bucs O-line that featured center Ryan Jensen at guard and veteran A.Q. Shipley at center. The Bucs outgained the Panthers 544-187, holding the hosts to 35 yards after halftime, and showed they should still be viewed as a Super Bowl threat. 
BUCCANEERS GRADE: A | NEXT: vs. Rams (Mon.)
6 of 32
Panthers defense keeps giving QBs green light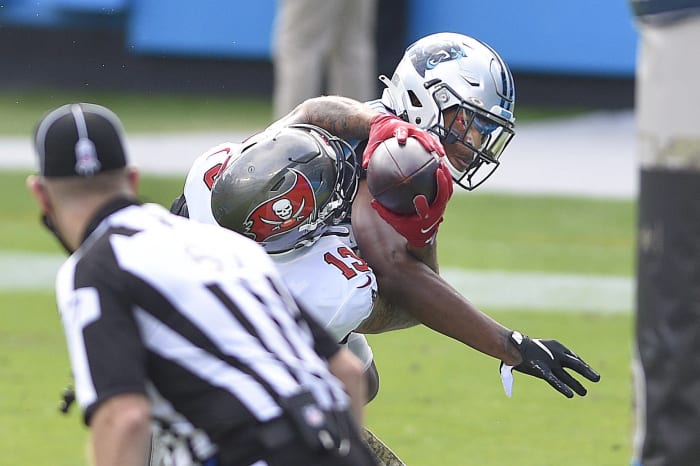 Bob Donnan-USA TODAY Sports
After exiting the first half in a 17-all tie, the Panthers (3-7) gained 35 yards upon returning. A week after the Saints muzzled Brady, the Hall of Fame-bound quarterback did whatever he wanted against a young Panthers defense. Said defense claimed to know the play that Jones took 98 yards to the house; that mattered little. After showing some early-season promise, the Panthers defense has fared poorly against Drew Brees (sans both starting wideouts), Matt Ryan, Patrick Mahomes and Brady. That is a gauntlet, but a five-game losing streak changed Carolina's stretch run to a 2021-and-beyond evaluation period.
PANTHERS GRADE: D | NEXT: vs. Lions (Sun.)
7 of 32
Texans do little against mediocre defense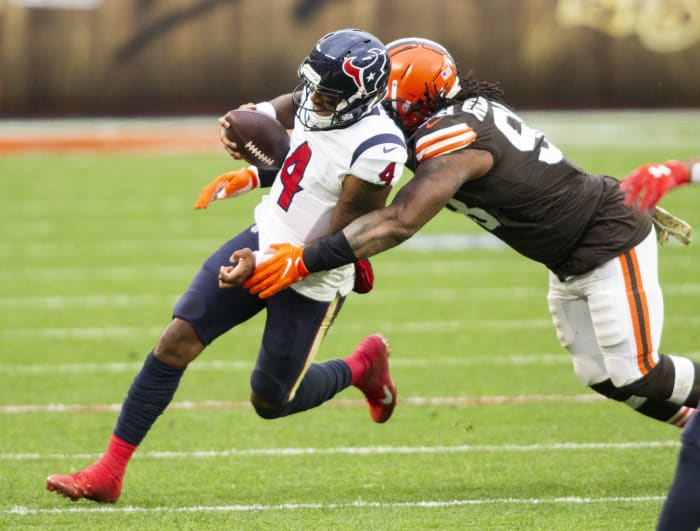 Scott Galvin-USA TODAY Sports
Next season, the Texans will have a new coach and a new offensive coordinator. Deshaun Watson and Co. will be learning a new system in 2021, making the second half of this season matter less from a results standpoint. But the Texans (2-7) do need to answer questions about who will be on next year's offense. Their seven-point dud in Cleveland offered little on that end. Although Lake Erie winds affected another November Browns game, the Texans had zero points for 54-plus minutes, rushed for 90 yards and saw none of their highly paid wideouts eclipse 50. Seven games to go.
TEXANS GRADE: D-plus | NEXT: vs. Patriots (Sun.)
8 of 32
Beyond fantasy calamity, Browns backfield soars
Scott Galvin-USA TODAY Sports
Nick Chubb channeling Brian Westbrook proved costly for fantasy GMs  and Browns bettors, but for reality purposes, Cleveland re-established its identity Sunday. Chubb and Kareem Hunt combined for 230 rushing yards, becoming the first Browns backs to eclipse 100 yards in the same game since Hall of Famer Leroy Kelly and Ernie Green in 1966. Chubb's four-game absence left the Browns (6-3) without a true strength offensively. His and ascending guard Wyatt Teller's return helped the Browns pick up key final-minutes first downs and give the cold-weather team an ideal strong suit as it guns for its first playoff berth in 18 years.
BROWNS GRADE: B-plus | NEXT: vs. Eagles (Sun.)
9 of 32
Washington defense disappoints in Detroit
Kirthmon F. Dozier via Imagn Content Services, LLC
Washington faces five sub-.500 teams in its final seven games, but its chances at an extraordinarily strange playoff pursuit took a hit Sunday. The visitors squandered Alex Smith's 390 passing yards amid a 14-point comeback, with Chase Young's curious decision to take three steps and shove Matthew Stafford post-pass setting up Matt Prater's game-winning field goal. Entering Sunday first in DVOA pass defense, Washington (2-7) allowed Stafford to drop a 3-0 TD-INT ratio — after being benched last week — and D'Andre Swift to compile 149 scrimmage yards. 
WASHINGTON GRADE: C-plus | NEXT: vs. Bengals (Sun.)
10 of 32
Overdue cap tip to long-range assassin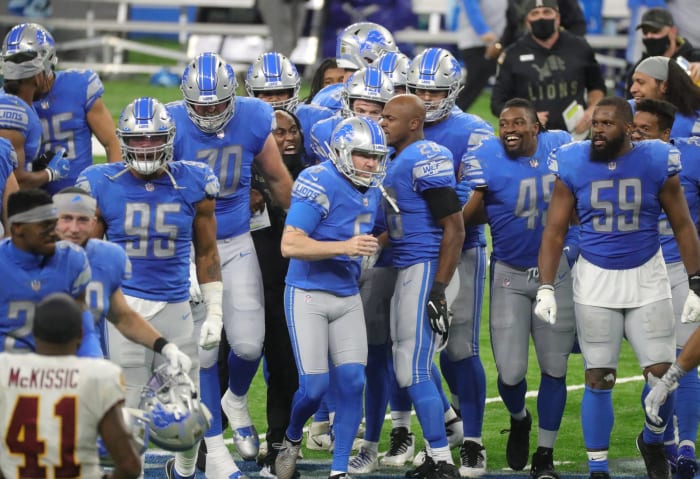 Kirthmon F. Dozier via Imagn Content Services, LLC
Matt Prater holds the NFL record for longest field goal (64 yards in 2013) and received a "Saturday Night Live" acknowledgement for a 59-yard game-tying boot two years prior. The 14th-year kicker still seems underrated. He added another notch to his all-time long-range kicking resume Sunday, nailing a game-winning 59-yarder to help the Lions (4-5) avoid overtime. Coming after a stretch of four straight games featuring a missed field goal, this marked Prater's seventh season with a field goal of at least 58 yards. Prater, 36, has done well to craft a second act in Detroit.
LIONS GRADE: B | NEXT: at Panthers (Sun.)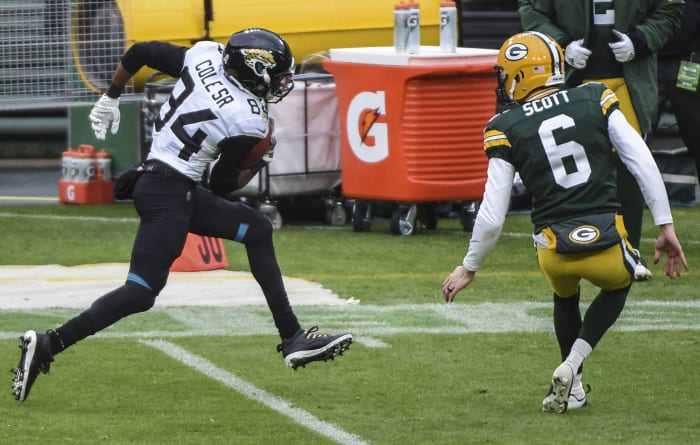 Benny Sieu-USA TODAY Sports
Despite entering the NFL undrafted out of Division III Kentucky Wesleyan, Keelan Cole played a key role as a rookie for an AFC championship game-bound Jaguars team missing Allen Robinson. Cole's stock plummeted over the next two seasons, but he has dropped two quality performances in a lost Jags season. Sunday, Cole set a franchise record with a 91-yard punt return — which created a tough visual for Packer punter J.K. Scott — and caught a TD pass. Cole is a free agent at season's end, and the Jags (1-8) drafted Laviska Shenault in Round 2. New management, however, may look fondly at games like these when determining future pieces. 
JAGUARS GRADE: C-plus | NEXT: vs. Steelers (Sun.)
12 of 32
Packer deep threat gradually emerging
Dan Powers/USA TODAY NETWORK-Wis via Imagn Content Services, LLC
Marquez Valdes-Scantling fell off the map last season, punishing the Packers (7-2) for not doing more to replace Randall Cobb. The third-year wideout has some drops on his 2020 resume, but he is making up for it and becoming a key piece for a slightly less Davante Adams-reliant receiving corps. Aaron Rodgers' 78-yard TD pass to Valdes-Scantling was his longest completion since 2014, and the pass' 54-yard aerial route marked the quarterback's NFL-leading 21st completion of at least 20 air yards this season. MVS (four catches, 149 yards) now has three 40-plus-yard TDs this season and provides a dimension defenses must account for outside of Adams.
PACKERS GRADE: B-minus | NEXT: at Colts (Sun.)
13 of 32
Wilson-reliant Seahawks suddenly stumbling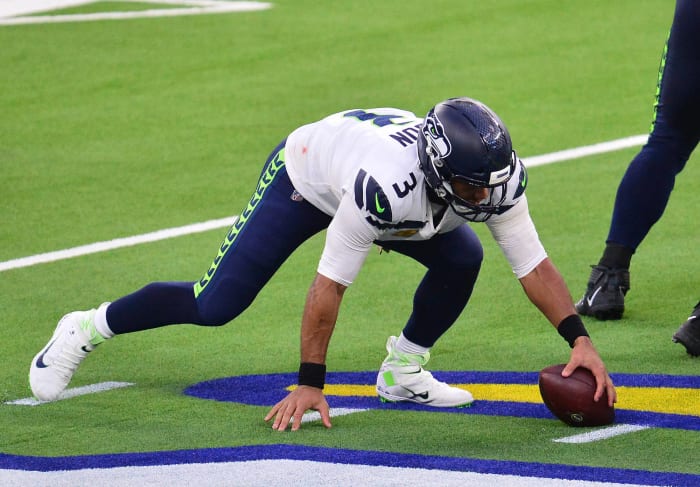 Gary A. Vasquez-USA TODAY Sports
The Seahawks (6-3) are 1-3 against teams with winning records, putting Russell Wilson's MVP hopes on life support. Seattle's superstar quarterback committed three more turnovers Sunday — including an end zone INT and another pick in Rams territory — took six sacks and now has 10 turnovers in the Seahawks' three losses. Wilson's 13 giveaways this season double as his most through nine games in his nine-year career. While the Chiefs, Saints, Buccaneers and pretty much every other Super Bowl contender have blueprints that better support their QBs, the Seahawks' formula of going as far as Wilson takes them is showing cracks.
SEAHAWKS GRADE: C-minus | NEXT: vs. Cardinals (Thu.)
14 of 32
Rams corners stop Seahawks wideouts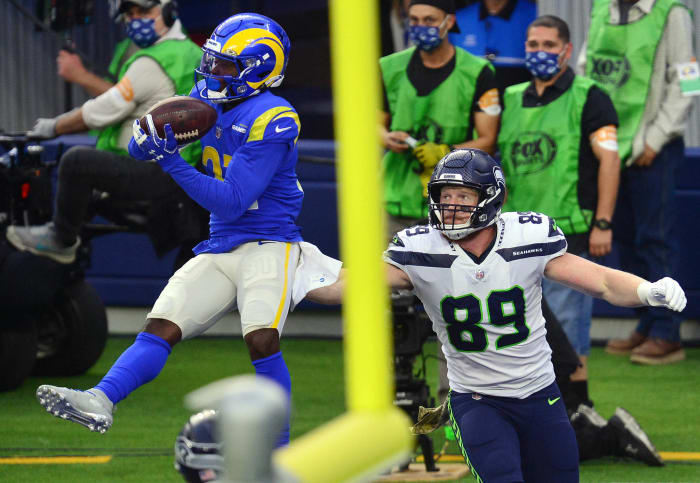 Gary A. Vasquez-USA TODAY Sports
With Jalen Ramsey doing the most to neutralize D.K. Metcalf, Wilson frequently looked to his other weapons. Ramsey wingman Darious Williams pounced, ending a Seahawks game-tying drive with an end zone INT and stepped in front of Greg Olsen for a second-half theft. Metcalf (28 yards) did not see a target until the final minute of the third quarter, and Tyler Lockett caught just five passes. The Rams' NFC East-buoyed record (6-3) no longer looks shaky, despite their Miami letdown, and holding the NFL's No. 1 scoring offense to 16 points represents another step forward for first-year defensive coordinator Brandon Staley's unit.
RAMS GRADE: A-minus | NEXT: at Buccaneers (Mon.)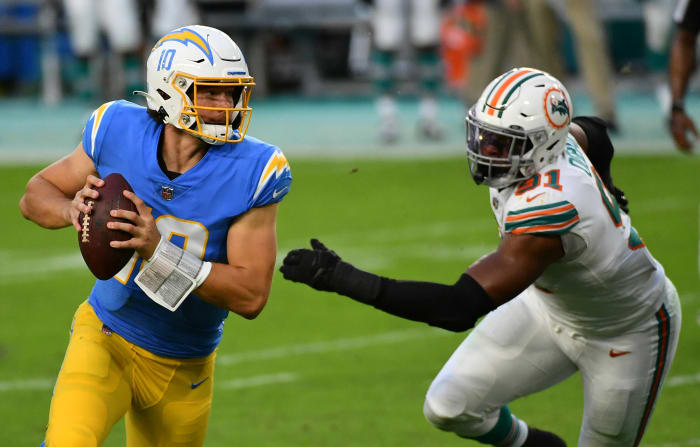 Jasen Vinlove-USA TODAY Sports
Although the Dolphins went with their long-rumored target — Tua Tagovailoa — at No. 5 overall, they were linked to Herbert for weeks ahead of the draft. The No. 6 overall pick endured his first slip-up in his Offensive Rookie of the Year campaign in Miami, marring the long-awaited Chargers blue-on-gold uniform's return to action. The Dolphins held Keenan Allen and Mike Williams to fewer than 60 combined yards, and 70% of Herbert's 187 passing yards came after catches. A costly interception to Xavien Howard headlined a rough day for the OROY favorite. But he and the Bolts (2-7) have a bounce-back opportunity next week.
CHARGERS GRADE: D-plus | NEXT: vs. Jets (Sun.)
16 of 32
Miami rebuild well ahead of schedule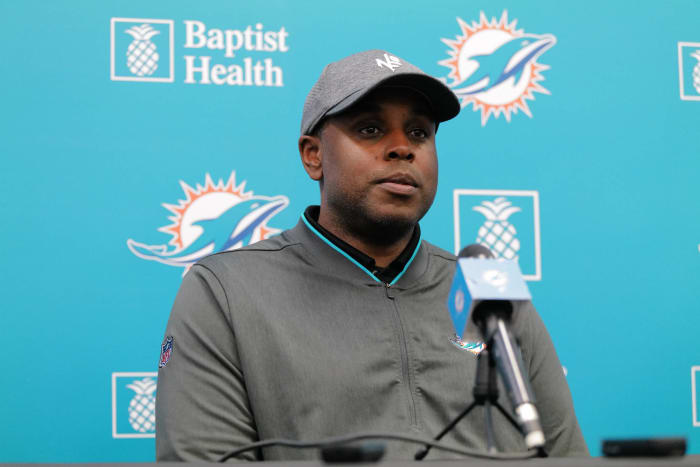 Mark Brown-Getty Images
The Dolphins' decision to give GM-in-name-only Chris Grier full autonomy in January 2019 produced a bottoming-out season ahead of a supposedly developmental 2020. Grier's plan has skipped a step. Grier's quarterback (Tua Tagovailoa) outplayed his flashier (thus far) draft classmate; the GM's handpicked coach (Brian Flores) keeps getting the most out of a middling defense, and offensive coordinator Chan Gailey has proven to be a quality hire after the Dolphins made Chad O'Shea a one-and-done. The Dolphins (6-3) are 3-0 with Tua and reside at perhaps the most promising point on their timeline since maybe Dan Marino's early 30s.
DOLPHINS GRADE: A-minus | NEXT: at Broncos (Sun.)
17 of 32
Chain gang rests during Bengals possessions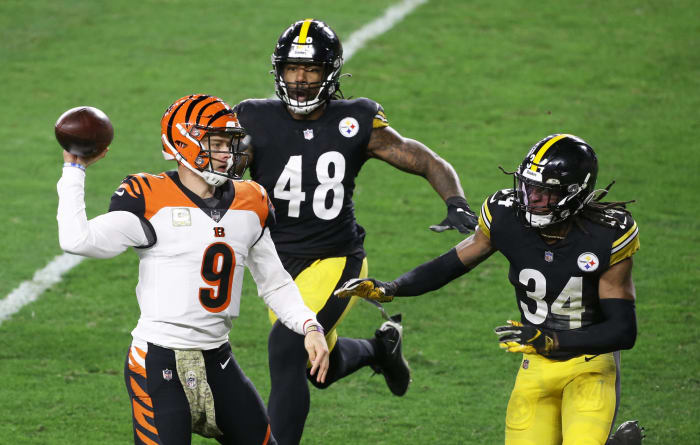 Charles LeClaire-USA TODAY Sports
A chasm has existed between the AFC North's Ohio teams and the division's non-orange bastions this season, with the Bengals and Browns having run into four combined blowouts against the Steelers and Ravens. The Steelers' rout of the Bengals (2-5-1) showcased this gap by featuring a 0-for-13 third-down showing from the visitors, who had moved the chains effectively in games prior to their bye. Joe Burrow finished 3-for-11 for 10 yards on third down against a Pittsburgh pass rush that sacked him four times and hit him on nine plays.
BENGALS GRADE: F | NEXT: at Washington (Sun.)
18 of 32
Big Ben surgical despite myriad issues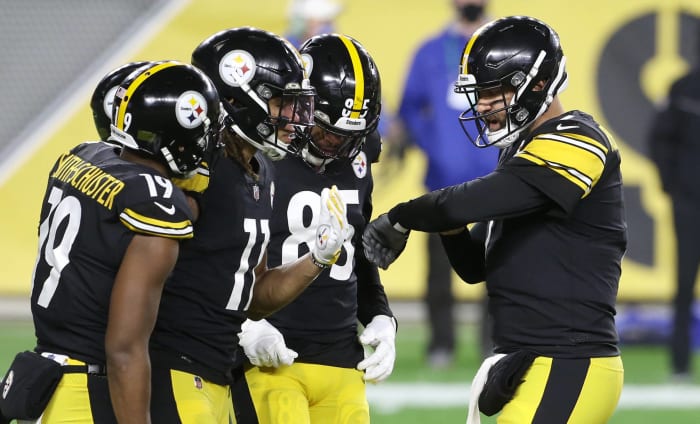 Charles LeClaire-USA TODAY Sports
Shelved on the Steelers' reserve/COVID-19 list all week — after suffering a knee injury against the Cowboys — Ben Roethlisberger carved up the Bengals for 333 yards and four touchdowns. The 38-year-old quarterback also battled elbow pain Sunday, which is notable given his season-ending elbow surgery last year, but was in top form to hit each of his top three wideouts (JuJu Smith-Schuster, Diontae Johnson, Chase Claypool) for scores. If Alex Smith did not surmount a life-threatening injury, Big Ben would be the runaway Comeback Player of the Year favorite after guiding the Steelers to their first 9-0 start.
STEELERS GRADE: A | NEXT: at Jaguars (Sun.)
19 of 32
Big-picture changes coming in Denver?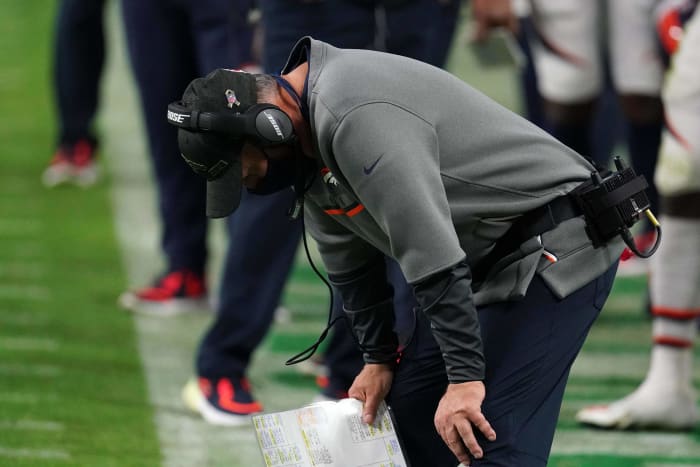 Kirby Lee-USA TODAY Sports
GM John Elway's Denver status and the Broncos' lack of an ownership presence provides unique job security. Drew Lock's four-INT outing further displayed the second-year passer's lack of development. The Broncos (3-6) showed little fight in their latest blowout loss, with the Raiders' 203-yard rushing day including ex-Bronco Devontae Booker outrushing his former team 81-66. Lock's future as 2021's Week 1 starter looks foggier, and a Vic Fangio third season no longer appears certain. Injuries and COVID-19 issues are hamstringing Fangio, who is a top defensive mind. But he cannot afford many more outings like this. 
BRONCOS GRADE: F | NEXT: vs. Dolphins (Sun.)
20 of 32
Maligned Raiders defense steps up
Kirby Lee-USA TODAY Sports
Entering Sunday 30th in defensive DVOA, the Raiders turned Sunday's game around thanks to one of their four interceptions. A holding call on Noah Fant negated a Lock go-ahead TD run at the end of the first half, and Nick Heath's end zone INT a play later essentially closed the door on a Broncos upset. The Raiders (6-3) dominated the Broncos in the second half — including a zero-yard Denver third quarter — after Heath's two-pick first half, to create a rare defense-enabled rout for a team that has struggled defensively for the umpteenth straight season. A nice step ahead of a tougher defensive assignment.
RAIDERS GRADE: A | NEXT: vs. Chiefs (Sun.)
21 of 32
Turnovers pose problem for short-staffed 49ers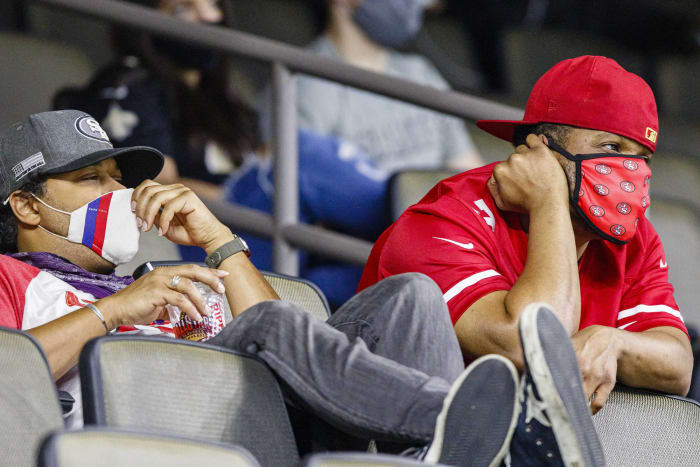 Dan Anderson/Zuma Press-Icon Sportswire
Last season, the 49ers and Saints treated fans to arguably the NFL's game of the year — a 48-46 49ers victory — in New Orleans. Not many 49ers starters remained from that thriller, with this year's team missing 10 first-stringers and a few of their immediate backups. The holdovers that did play were forced to battle uphill. The 49ers (4-6) muffed two punts, leading to two Saints touchdowns and the visitors' 10-0 lead evaporating, and Nick Mullens threw two interceptions. Since the NFL implemented bye weeks in 1990, not many teams have needed one more. 
49ERS GRADE: D | NEXT: at Rams (Nov. 29)
22 of 32
Jameis Winston's music about to play?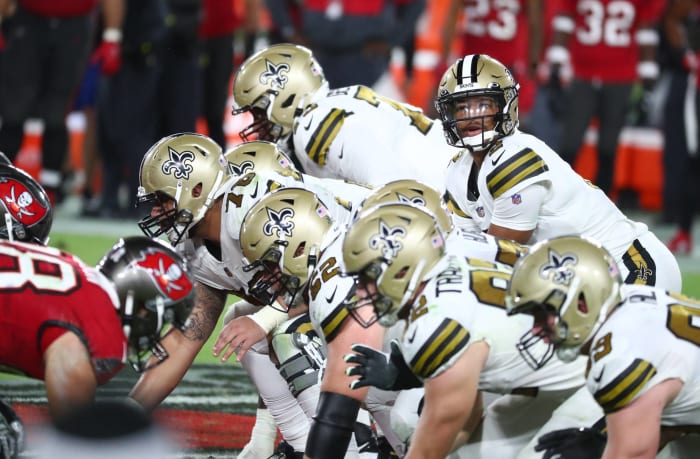 Kim Klement-USA TODAY Sports
Although the Saints possess one of the best quarterback depth charts in recent NFL history, any Drew Brees absence is obviously a concern. A Kentavious Street hit resulted in a rib injury for the league's all-time passing kingpin, and as of Monday morning, the Saints are bracing for Winston action. The Saints (7-2) managed without Brees, with Alvin Kamara carrying the Winston- and Taysom Hill-led offense Sunday, and do not play a team with a winning record again until Week 15. Teddy Bridgewater's 5-0 record last season aside, Winston has enjoyed less time in Sean Payton's system. And the Saints' path to a playoff bye is narrower this season.
SAINTS GRADE: B-plus | NEXT: vs. Falcons (Sun.)
23 of 32
Ravens O-line a shell of dominant version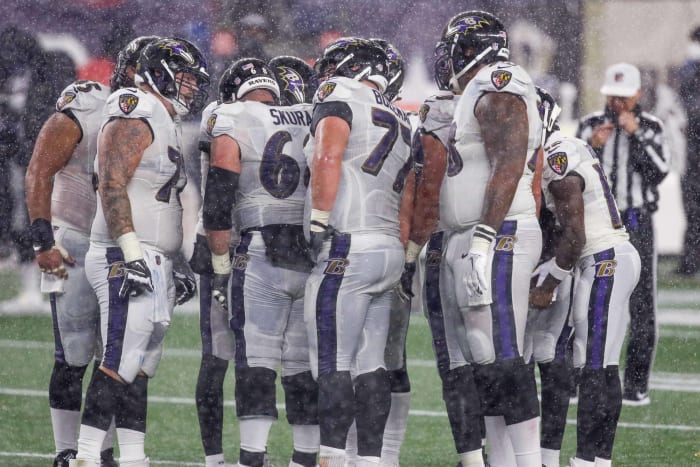 Paul Rutherford-USA TODAY Sports
Hopes the Ravens offense will resemble its 2019 version keep slipping away. All-Pro guard Marshal Yanda's retirement has hurt the team, which lost All-Pro left tackle Ronnie Stanley for the season. Sunday, the Ravens were without guard starter Tyre Phillips, benched free agent signing D.J. Fluker and lost premier blocking tight end Nick Boyle for the year. Two of Matt Skura's snaps missed their target at key junctures in New England, limiting comeback hopes. The Ravens dropped to 6-3 in a conference that has nine six-plus-win teams — marking the first time that has happened through 10 weeks since the merger, per the Elias Sports Bureau.
RAVENS GRADE: C-minus | NEXT: vs. Titans (Sun.)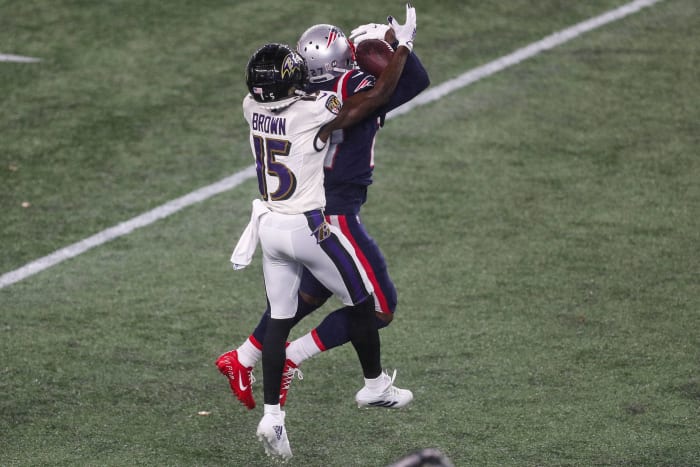 Paul Rutherford-USA TODAY Sports
In a down era for interceptions, the Patriots have an outlier thief. With Stephon Gilmore out for a third straight game, Jackson helped pick up the slack by intercepting a pass in his fifth straight contest. Jackson blanketed Marquise Brown and picked off a Lamar Jackson red zone offering. He allowed one catch Sunday and has an NFL-best six INTs. Gilmore may be in his final weeks as a Patriot, but the team has found something in Jackson — a 2018 UDFA. He has 14 career INTs, and his 11 passes defensed this season are a career high. The NFL's interception champion has not recorded more than eight picks since Tim Jennings' nine in 2012.
PATRIOTS GRADE: A-minus | NEXT: at Texans (Sun.)
25 of 32
One Colts receiver shows up to aid Rivers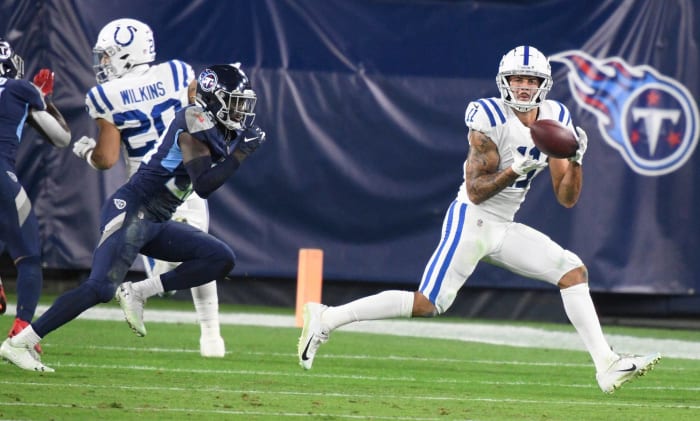 Andrew Nelles / Tennessean.com via Imagn Content Services, LLC
The Colts' hope of a T.Y. Hilton-Michael Pittman Jr.-Parris Campbell receiving trio helping Philip Rivers manage games has not panned out. Hilton has endured a brutal season, and Campbell has crossed into injury-prone territory in being out for perhaps the rest of the year. Pittman, however, came through for Rivers on Thursday by eluding the Titans on various in-breaking routes and totaling 122 scrimmage yards. The 6-foot-4 player showed versatility and run-after-reception chops that will help a Colts team (6-3) desperate for pass-catching reliability. 
COLTS GRADE: A | NEXT: vs. Packers (Sun.)
26 of 32
Titans GM's moves not exactly helping cause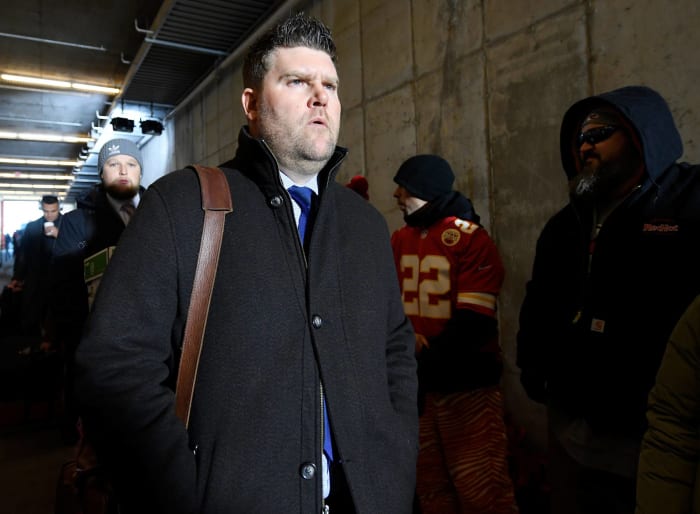 George Walker IV / Tennessean.com, Nashville Tennessean via Imagn Content Services, LLC
The Titans have not effectively built on their run to the Super Bowl precipice, with Thursday's 17-point Colts loss showing the Titans are not the team to beat in the AFC South. GM Jon Robinson has already cut mistake signings Vic Beasley and Johnathan Joseph, and Jadeveon Clowney — signed to a one-year, $13M deal — has not recorded a sack since Nov. 11, 2019. Robinson's first-round pick and Jack Conklin right tackle replacement (Isaiah Wilson) has not played yet, and Stephen Gostkowski has missed eight field goals — while making some key kicks. The Titans (6-3) have issues to overcome as they try to win the division for the first time since 2008.
TITANS GRADE: D-plus | NEXT: at Ravens (Sun.)
27 of 32
Vikings turn page up front
Benny Sieu-USA TODAY Sports
Given the near-league-wide dearth of starter-caliber O-linemen — especially in this unusual landscape — the Vikings' decision to waive Pat Elflein shows the team's confidence in its current blockers. It also will likely produce a few waiver claims for Elflein after Week 10 wraps up. The Vikings used Elflein as their starting center in 2017 and '18 and deployed him at guard last season and in Week 1. Minnesota (3-5) has seen second-round pick Ezra Cleveland's promotion to the starting lineup coincide with 163- and 206-yard Dalvin Cook rushing outings. Cleveland profiles as the Vikings' future left tackle, but for now, he will help at guard.
MONDAY: at Bears, 8:15 p.m. ET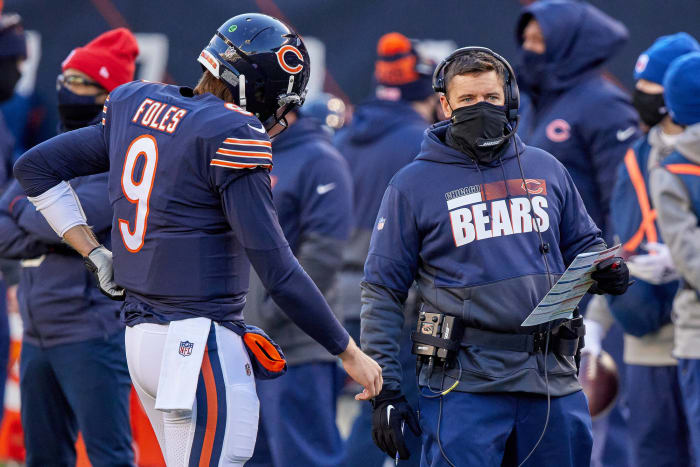 Robin Alam-Icon Sportswire
The Bears hired Matt Nagy to reshape their offense, and his play-calling helped the franchise snap a seven-year playoff drought in 2018. This season, neither Mitchell Trubisky nor Nick Foles have (somewhat predictably) been able to make the Bears (5-4) an above-average offense. In a somewhat desperate attempt to jump-start an offense that ranks 28th in DVOA, Nagy ceded the play-calling reins to first-year offensive coordinator Bill Lazor for Week 10. Neither of Lazor's stints as Dolphins and Bengals OC lasted more than two seasons, and his only above-average attack came in 2014 with Miami. He will play a key role in attempting to halt a three-game skid.
MONDAY: vs. Vikings, 8:15 p.m. ET
29 of 32
Astonishingly, Cowboys remain in playoff race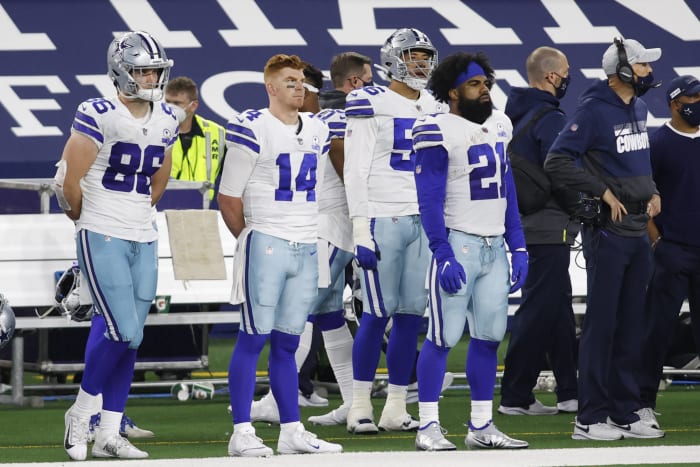 Tim Heitman-USA TODAY Sports
Whether you prefer the "Dumb and Dumber" line or the Alonzo Mourning GIF , applying such a sentiment to the Cowboys is appropriate. Everything is on the table in the NFC East. Washington is in both the Trevor Lawrence and division title races; the Eagles' schedule is ugly. The Cowboys (2-7) did not endure blowouts during their Ben DiNucci or Garrett Gilbert starts, and while Andy Dalton has yet to show his Cincinnati form, it is important to look at Dallas' schedule. One winning team (the Ravens, in Week 13) remains on the Cowboys' docket. The Eagles face five, the Giants four, Washington two. There IS a chance.
NEXT: at Vikings (Sun.)
30 of 32
Insert unfortunate Jets statistic
Chris Pedota, NorthJersey.com via Imagn Content Services, LLC
Although the Jets nearly stunned the Patriots, the three-point loss left them at minus-147 through nine games. They have a bit of work to do to catch the Lou Holtz-led 1976 team's minus-214 (in 14 games) mark, but these Jets (0-9) play five winning teams — the Dolphins, Raiders, Seahawks, Rams and Browns — in succession, with matchups against Justin Herbert and Bill Belichick sandwiching that stretch. Gang Green's 1996 Rich Kotite team was only minus-175. Adam Gase's sophomore effort is poised to top that. If he sets up Trevor Lawrence, it will be worth it. Though this not ending that way would be more Jets-ian.
NEXT: at Chargers (Sun.)
JAMIE GERMANO/ROCHESTER DEMOCRAT AND CHRONICLE via Imagn Content Services, LLC
The Chiefs have seen Frank Clark get off to another slow start — at least for a $20.8 million-per-year player. Clark fetched a first-round pick and change from the Chiefs after recording 13 sacks and 27 QB hits in 2018. After notching one sack in six games last season, Clark finished with eight — but his seven after Kansas City's bye and five in the playoffs helped the team win Super Bowl LIV. He has four through nine games this year, and the Chiefs — the only team to have two $20M-per-year D-linemen, with Clark and Chris Jones — rank 18th in pass-rush win rate. This is nitpicking, but the Chiefs (8-1) do have to catch the Steelers for the AFC's bye slot.
NEXT: at Raiders (Sun.)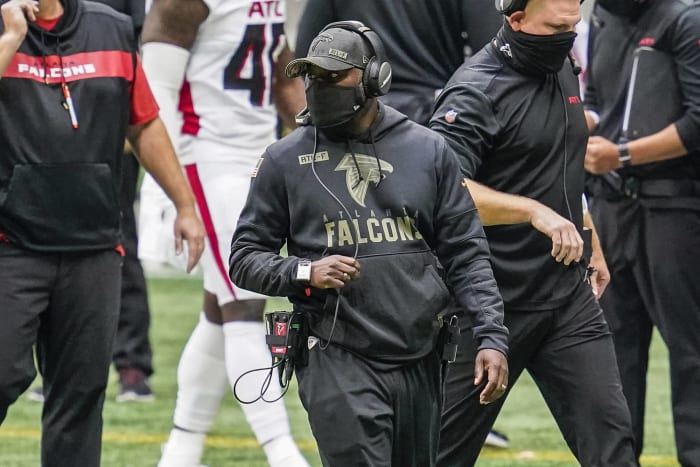 Dale Zanine-USA TODAY Sports
Dan Quinn giving Raheem Morris partial play-calling responsibilities last year helped produce a quality Falcons finish, and now that Morris is the team's interim head coach, this season has taken a better turn. The Falcons (3-6) have won two straight and are a collapse away from being 4-0 under Morris. The former Buccaneers head coach has a better quarterback supporting his defense this time around (Josh Freeman cratered during Morris' Tampa tenure) and has been an offensive and defensive assistant six Atlanta seasons. Another strong Falcons finish will thrust him onto the 2021 head-coaching radar.
NEXT: at Saints (Sun.)
We Thank To Our Readers For Your All Contributes. We Still Seek Your Support In Pandemic CoronaVirus.
Donate Bellow For Better Future
[charitable_donation_form campaign_id=57167]