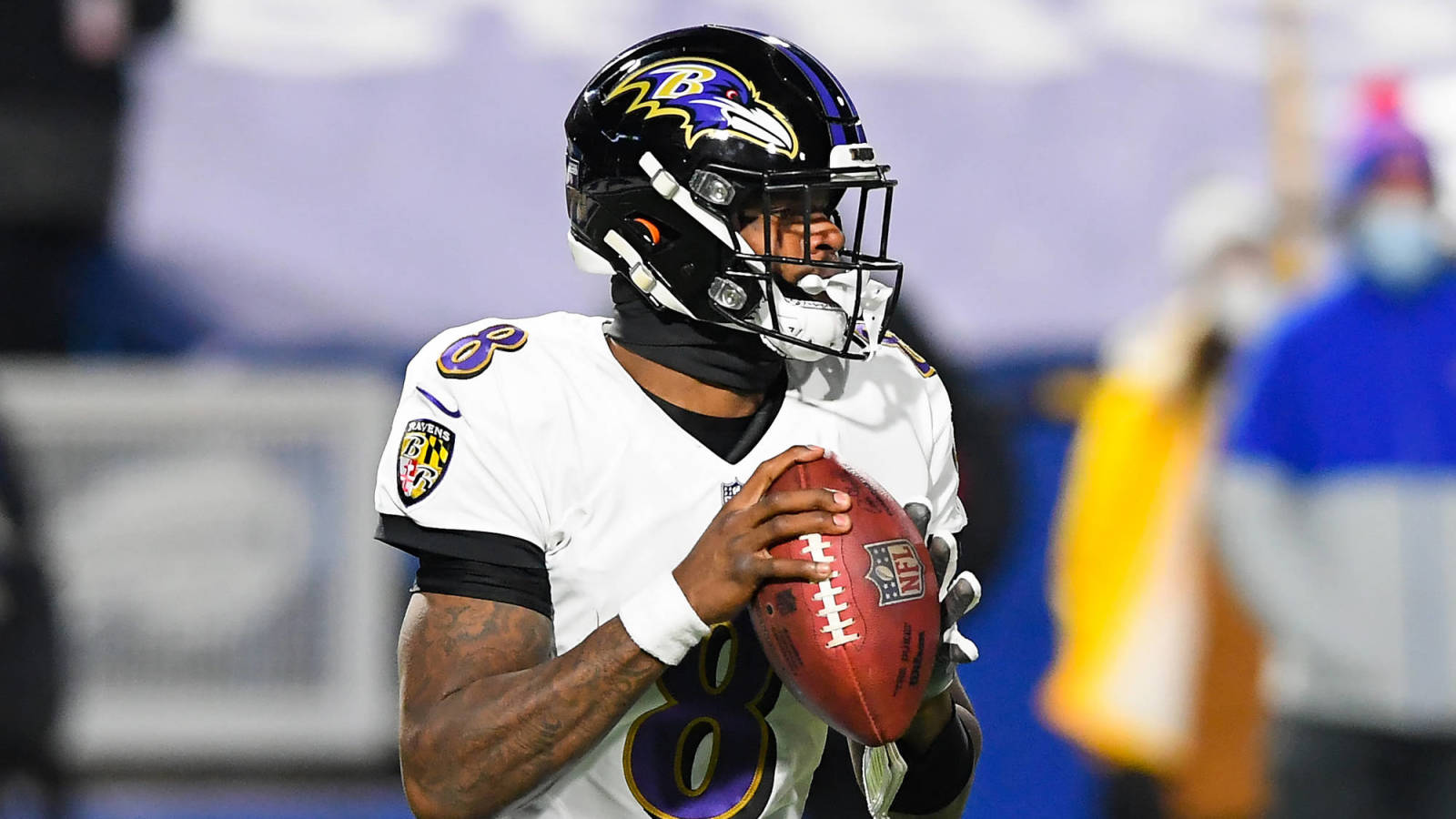 John Harbaugh said the Ravens will explore an extension with Lamar Jackson
either this year or next. It looks like the sides are already talking.
The former MVP quarterback and the Ravens have begun discussing a new deal, but Ben Volin of the Boston Globe notes the sides are far apart at this juncture. Jackson, who became extension-eligible in January, is due just a $1.77 million base salary in 2021. The Ravens will surely pick up his fifth-year option by May, locking him down through 2022.
Since taking the reins of Baltimore's offense midway through his rookie season, Jackson has played the centerpiece role in the Ravens' ascent in that time. The Ravens missed the playoffs from 2015-17, and while they have assembled high-end defenses during Jackson's years, his historically elite rushing talents and improvement as a passer have re-established Baltimore as an AFC power. However, some factors could work against a Jackson deal being done soon.
While it would make sense for Jackson to secure an extension ahead of making that low-end base salary this season, a few recent quarterback re-ups have gone quite poorly. Carson Wentz and Jared Goff both regressed after signing big-ticket extensions ahead of their fourth seasons. They are now on other teams, with the trades forcing the Eagles and Rams to eat record-setting dead-money sums. A clear Jackson peer, Deshaun Watson has requested a trade fewer than six months after signing a $39 million-per-year Texans extension. That development has to at least give teams pause. On the other end of this, the Cowboys' near-two-year run of negotiations with Dak Prescott has driven up the QB's price immensely.
Watson's deal would make sense as a floor for Jackson, even though the former has shown far more as a passer to this point. The imminent salary-cap reduction has long been expected to be a one-year blip, and the expected run of TV deals should do plenty to boost the 2022-and-beyond caps. Jackson and Josh Allen stand to benefit. And the Bills' talks with their quarterback, expected this year, will pertain to Jackson. Allen has not offered as much consistency as Jackson, although the Buffalo passer rocketed onto his 2018 draft classmate's level with a dominant 2020 season.
The Ravens have already extended two other cornerstone players — Ronnie Stanley and Marlon Humphrey — but they have a key issue at edge rusher to navigate soon. Matt Judon and Yannick Ngakoue are free agents; so are two key backups. Baltimore also has an extra year to negotiate with Jackson; the Ravens do not have that luxury with Mark Andrews, a third-round pick entering a contract year. Jackson, however, represents this puzzle's biggest piece. His talks with the Ravens will be a key NFL matter in the coming weeks/months.