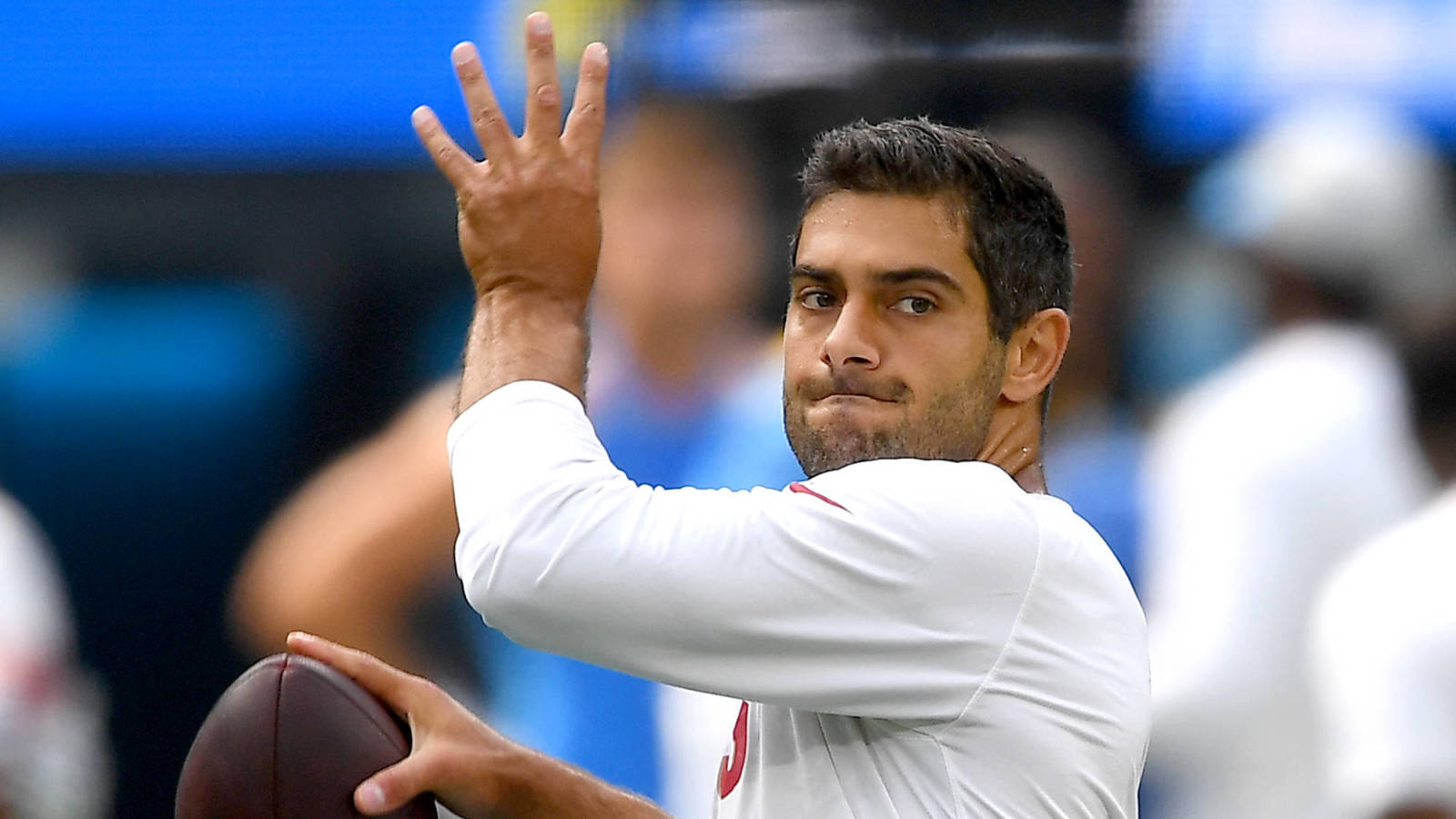 San Francisco 49ers head coach Kyle Shanahan would not name Jimmy Garoppolo the team's starting quarterback for Week 1 after Sunday's 15-10 preseason win over the Los Angeles Chargers.
However, Garoppolo told reporters after the game that he's not concerned about his starting status. 
"I think Kyle is always challenging us," Garoppolo said, according to Pro Football Talk's Michael David Smith. "He kind of knows us and knows how to push guys in certain ways. I'm not too worried about that. . . . There's just so many other things to worry about. I'll let the chips fall as they may."
Garoppolo started Sunday's game and went 3-of-6 for 15 yards, no touchdowns and an interception. Lance completed eight of 14 passes for 102 yards with two touchdowns and a pick.
After San Francisco's preseason opener against the Kansas City Chiefs, Shanahan acknowledged that Lance still has plenty to learn, saying he saw "some good and some bad" out of the rookie quarterback. 
Niners general manager John Lynch also said last week that he had been impressed with Lance this summer and admitted the rookie was making a solid push for the starting job. 
However, Shanahan has frequently said this summer that Garoppolo is the team's starting quarterback entering the 2021 season. Lynch also previously noted that the veteran was playing his best football at training camp following Lance's arrival.
It's not surprising the 49ers want to give Garoppolo another shot. It will allow Lance to take his time getting acclimated to the NFL and will also allow Garoppolo the chance to prove himself after several injury-riddled seasons. 
In Garoppolo's only healthy season with the Niners, he led the franchise to a Super Bowl. San Francisco will be hoping he can stay healthy and do so again in 2021.