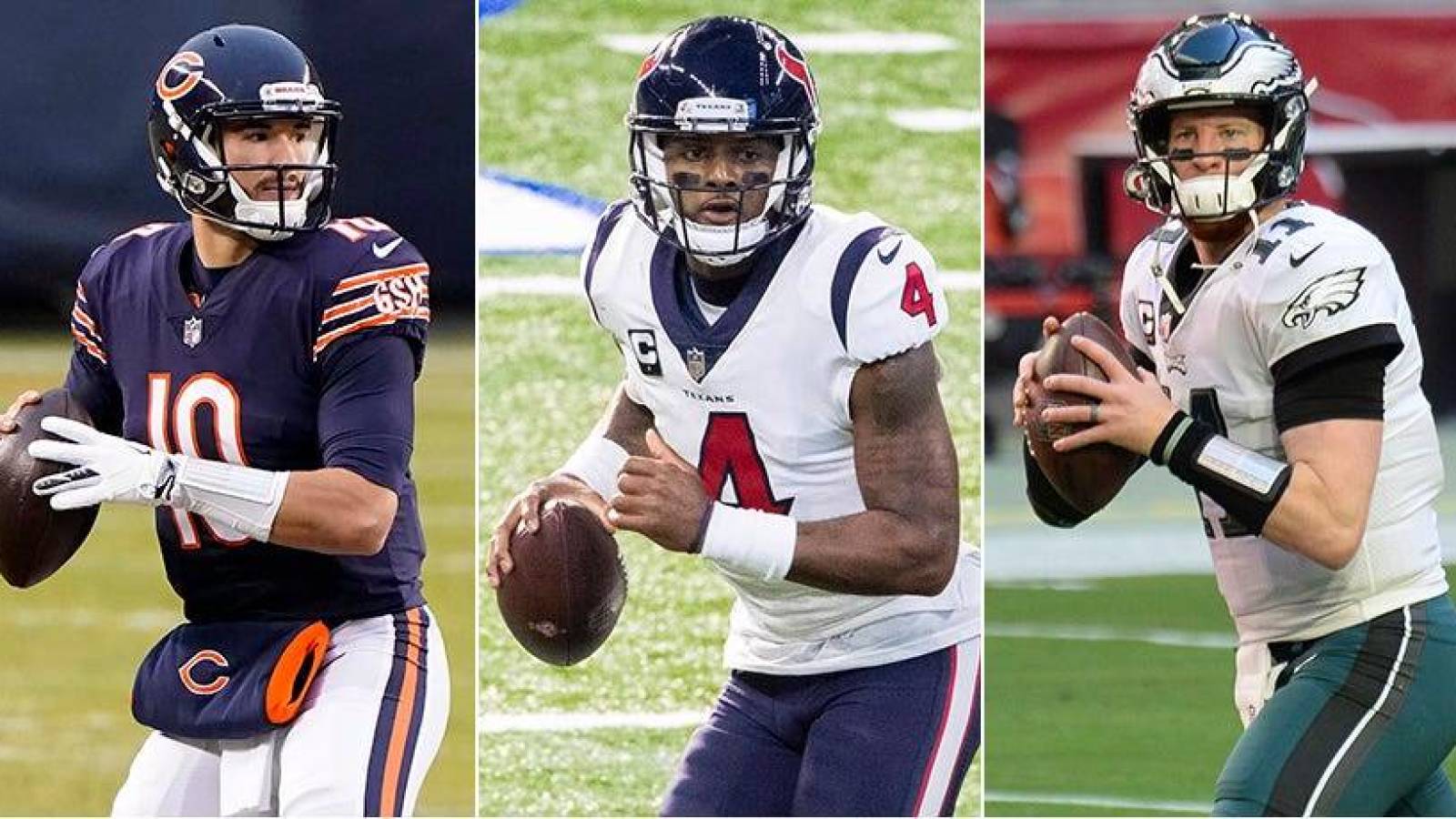 On the Carson Wentz trade, the Matthew Stafford-Jared Goff swap, ongoing chaos in Houston, ongoing QB drama in Chicago and early draft impressions. 
$.01–With just under a month until trades can officially get processed, the Philadelphia Eagles and Indianapolis Colts agreed to a major overhaul this week. The Eagles are sending what's left of Carson Wentz to Indianapolis in exchange for a third-round pick this year and a second-rounder in 2022 that could become a first-rounder if Wentz isn't terrible for the Colts. 
The Colts are banking that Wentz's struggles in 2020 were as much about the Eagles dysfunction as they were on the quarterback himself. The truth is much more likely that both Wentz and the Eagles share the blame in his spectacular fall from 2017 NFL MVP front-runner to turnover-plagued disaster in 2020. In between that time, Wentz tore up a knee, broke his back and lost whatever confidence both he and his teammates had in the No. 2 overall pick in the 2016 NFL draft. 
Wentz is quite the reclamation project for the Colts. Even though he's reuniting with coach Frank Reich, who guided him to his highest points in Philly in 2016-2017, it's not a certainty Wentz recaptures his loss of manly vigor. Stories keep leaking out about Wentz not being very popular with teammates or all that receptive to coaching. Where there's that much spiteful smoke, there's usually at least some veracity to the fire. There is tremendous pressure on the 28-year-old, oft-injured quarterback to step right in and be great again in Indianapolis. Wentz hasn't even been good since his back injury. Banking on the change of scenery to fix everything is a massive risk for Colts GM Chris Ballard.  
The Eagles didn't get the return they hoped for, failing to guarantee themselves even one first-round pick in return. Initial reports indicated they wouldn't take less than two first-round picks, but their own undermining of Wentz's value ruined any chance that even the biggest NFL sucker would pay that exorbitant price. 
Part of that undermining was drafting Jalen Hurts in the second round last year. Wentz obviously could not handle the stress of competition. Hurts played okay in his late-season audition but not well enough to ensure that he's the man for the job. Expect the Eagles to be prominent players in NFL free agency to land a veteran QB to compete with/mentor Hurts. Hopefully it works out better than it did with Wentz…
$.02–It's going to be very strange to watch the Detroit Lions and not see Matthew Stafford under center. Stafford has been the quarterback in Detroit since being the No. 1 overall pick in the 2009 NFL Draft, and he's re-written the team's passing record book.  
A new regime and over a decade of not achieving desired results have led to Stafford's departure from Detroit. The Lions and Rams agreed to swap former No. 1 overall picks, with the Lions sending Stafford to Los Angeles in exchange for Jared Goff and a slew of valuable draft picks.  
For Stafford, it's a fresh start with a chance to rewrite his career legacy. It's a change he requested, escaping the rebuild in Detroit and leaving on his own terms. The new Lions regime, which starts at the top with new owner Sheila Ford Hamp, smartly agreed to make it happen.  
Going to the Rams puts Stafford in instant position to record his first career playoff win. But it's not without some risk. He's not a natural fit for the offensive scheme Sean McVay runs as the Rams coach. Having covered the Lions for Stafford's entire career, I've seen his relative struggles at throwing shorter timing routes with proper accuracy and touch. Those throws are fundamental tenets of McVay's offense. It's going to require some adaptation on both parties to make it work. But Stafford's arm strength, confidence and willingness to throw to wideouts who aren't necessarily open could dramatically expand the options for McVay in the L.A. offense. 
The more limited Goff projects as the starter in Detroit, but that status is tenuous in the long-term. To help encourage the Lions to take on Goff's awful contract, the Rams sent two first-round picks (2022 and 2023) and a third-round pick with Goff to extricate themselves from his deal. It's a deal the Lions simply could not refuse, not at the dawn of an overdue overhaul.  
Detroit holds the No. 7 overall pick and then brings the added ammunition of having two first-round picks in the next two drafts. The Lions own 2022 first-rounder figures to be a high one, which makes it even more valuable. Finishing above last place in the NFC North and managing more than about six wins seems like pie-in-the-sky goals for the radical makeover in Detroit for the coming season. 
The new regime, headed by former Rams director of collegiate scouting Brad Holmes, figures to give Goff the chance to prove himself in 2021. The Lions OL is in decent shape but outside of Pro Bowl TE T.J. Hockenson, the receiving options are current;y miserable. Detroit's top four WRs from 2020 — Marvin Jones, Kenny Golladay, Danny Amendola and Mohamed Sanu — are all free agents. And after taking on Goff's contract and eating dead cap on Stafford's own massive contract, the Lions don't have the cap room to be free agent players. 
$.03–Deshaun Watson remains a member of the Houston Texans and that status doesn't appear poised to change anytime soon. Much to Watson's chagrin, the Texans continue to insist that the NFL's leading passer in 2020 is not going anywhere. 
Watson wants out of the growing dysfunction in Houston. It's hard to blame him. The more the Jack Easterby onion peels back, the more it stinks to high heaven what the Rasputin-like director of football operations and master of puppets is doing to the Texans. A perennial playoff contender that was often "just a QB away" finally gets the QB in Watson, only to see Easterby rain down fire and brimstone on everything positive the Texans had to offer.  
Presuming the Texans don't trade Watson, the dynamic young QB doesn't have any good options other than to play for a decimated roster under an unpopular regime. They hired David Culley, a fairly anonymous passing-game coordinator from the Ravens — not known for their passing offense — as the head coach, against Watson's preference for Chiefs OC Eric Beiniemy. J.J. Watt, the team's heart and soul for a decade, was granted his escape from Houston. The team's stark lack of draft capital (no first-round pick) and cap room leaves Houston with almost no flexibility or opportunity to improve around Watson. Free agents with any other option will avoid Easterby and the Texans like fish avoid the desert. It's that toxic right now.  
At some point the other NFL owners and commissioner Roger Goodell need to get involved and stop what's happening in Houston. It's rapidly approaching the level of the Ted Stepien-era Cleveland Cavaliers in the 1980s, a berserk mismanagement by the inept owner that required the NBA to intervene to save the franchise. Cal McNair and the Texans aren't there yet, but they're barreling at full speed towards that icy cliff. 
$.04–Chicago was in on the Stafford and Wentz sweepstakes but came away empty. And with Watson seemingly not available, the Bears are still in search of a franchise quarterback, a search that many fans will argue dates back to Sid Luckman's departure from the team in 1950. 
Mitchell Trubisky has proven he's not the answer. Trubisky is a pending free agent and a parting of the ways seems best for both parties. There's no point in staying together for the kids when the marriage doesn't have any offspring.  
Nick Foles sure didn't look like it either in his brief audition in 2020. No, he looked more like a journeyman backup on his fifth team in six seasons, no matter how badly the Bears wanted it to work. Trubisky largely outplayed him, and that's as much a reflection on Foles than any positive for Trubisky. 
Because the Bears are picking outside the normal realm for landing a franchise messiah at QB, their best bet is to be a big player on the free-agency market. There are two names I would love to see the Bears chase after as veteran reclamation projects: Jameis Winston and Cam Newton. Winston should stay in New Orleans, but Newton makes all kinds of sense for the Bears. 
I'm still a believer in Newton despite his misadventures in New England. Between his debilitating bout with COVID-19 and the expansion-team roster level, the Patriots fielded in 2020, Newton never had a chance to succeed. His ongoing shoulder issues are a definite concern, and it's led to his interceptions issue. The Bears need to sign Newton to a "prove-it" deal and then do everything they can to help Cam prove it. That includes either locking up WR Allen Robinson with the franchise tag or replacing him with the likes of Kenny Golladay and (yes, "and" not "or") Sammy Watkins. 
As for Trubisky… he's never been close to being worthy of the No. 2 overall pick, not even when the Bears traded up a spot to make it happen. But he's also not as dreadful as Bears fans and many in the national media have made him out to be. He's coming off a season where he quietly improved in many areas, from anticipatory throwing to ball placement when passing to a moving target. A team like the Bengals, whose QB cupboard behind Joe Burrow is as barren as the Siberian tundra, would be smart to bring in Trubisky as a backup with something to prove. 
$.05–The 2021 NFL Draft QB class
I'm still working through the draft class overall, but here are my early takes on some of the top names at quarterback:
Trevor Lawrence: Legit franchise messiah QB material and I think his athletic ability is underappreciated. He handles pressure well too. All the criticisms I read of him seem more nitpicky and looking to find fault than they are actual, viable flaws to his game. My biggest worry with Lawrence is that he's like Andrew Luck and never gets better than he is the day he walks into the NFL. Before the injuries robbed Luck of a long career, he was trumpeted as a future Hall of Famer even though he never really improved from Stanford to the NFL. That might be true of Lawrence too. Nice problem to have for Jacksonville…
Justin Fields: I would like Fields a lot more if he didn't needlessly hold the ball too long. While some of that is a function of the offense and the style Ohio State wanted from him, it's something Fields must improve to thrive in the NFL. His touch on deeper throws, his ability to maneuver in the pocket without getting frazzled, his mastery at creating and re-creating throwing angles, they're all NFL-ready to roll. Speeding up the internal clock and making better decisions on when to tuck and run are the primary beefs with Fields. I get a Justin Herbert vibe from him in terms of outcome; both were players who had enough questions about their games and their college careers to legitimately concern folks. Herbert's rookie season ameliorated all those concerns even on a team that fired its coach after the year. I won't be surprised if Fields has the same sort of NFL splash as Herbert.  
Zach Wilson: BYU's gunslinger can really throw the ball, that much is obvious. He's got the quick release and natural arm strength to make any throw asked of him. Wilson can throw on the move and makes great decisions outside the initial read, something that portends well for the NFL. In two of the games I watched recently (San Diego State and Coastal Carolina) I saw my biggest concern with Wilson: he has to see the receiver open before he unleashes the ball. Incredible arm talent allowed him to get away with that in college, but those windows and margin for error go away in the NFL. It's been my experience that QBs never fully shake this issue. Jay Cutler and Sam Bradford come to mind immediately as prominent top-10 picks who never ascended to NFL stardom in part because they couldn't thrive on anticipatory and timing throws. Wilson is a high-ceiling talent but I don't see him as a surefire bet to hit that ceiling.  
Trey Lance: Lance imprinted himself upon me in North Dakota State's FCS playoff run in the 2019 season. I caught three of their four games in real-time (Nicholls, Illinois State and the championship win over James Madison) and I really liked Lance's mastery of the Bison offense. He's got great arm strength and a good feel for when to use it. The play-action and bootleg game are perfect for a Shanahan/Kubiak tree offense. Probably. The sample size is so small and the level of competition — even against playoff teams in the FCS — is disturbingly scant. His one game in 2020 was awful. He looked like a guy trying to win the game on every single snap and he didn't wear it well. The tools are there for Lance to be everything the Bears hoped Trubisky would become. The flaws are enough that he could also never exceed what Trubisky actually became in Chicago. He's best-served going to a team that has no intention of playing him as a rookie and has a veteran QB coach or OC that can foster his development. 
Mac Jones: He gets his first-round run based off his incredible season at Alabama, but I really don't see it with Jones. It's easy to look awesome when throwing to receivers who are consistently wide open. Having said that, Jones delivers a very accurate ball and his timing and sense of ball placement are very good. He's smart in consistently choosing the best option, even under pressure. The arm is average and he needs a clean pocket or a runway to lead into to deliver deep throws, and he's not a threat to run. Jones strikes me as someone between the NFL level of Brady Quinn and Brandon Weeden, two players the Browns mistakenly saw as first-round talents and paid the price for overdrafting. Put Jones in the 90-150 overall range and the expectations won't smother his smart but limited game. Drafting him above that is asking for problems that aren't Jones' fault. 
I'm still working on the rest, but Jamie Newman, Ian Book and Kellen Mond — in that order — are where I'm at behind the top five. It wouldn't surprise me if all three pass Jones in my personal rankings. Kyle Trask, too.