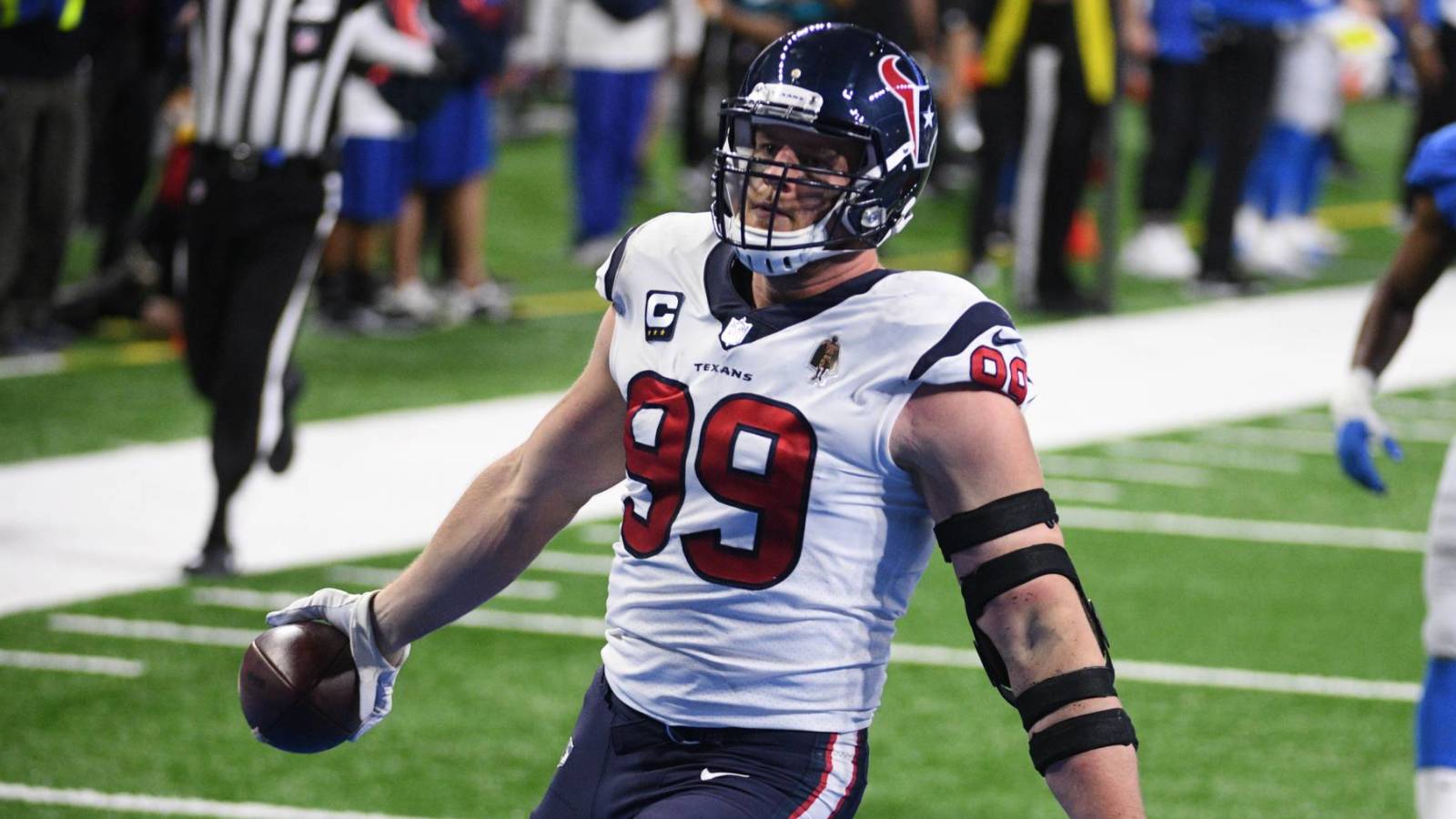 The Houston Texans released five-time All-Pro defensive end J.J. Watt on Friday at his request. Now the biggest question surrounding the 31-year-old is where he'll play in 2021. 
Watt has made it known in the past that he wants to play for a Super Bowl contender considering his time in the NFL is winding down and he has never won a championship. 
With that in mind, here are the five most likely landing spots for Watt, per BetOnline.ag.
Pittsburgh Steelers +150
The Pittsburgh Steelers are an obvious choice for Watt. His younger brothers T.J. and Derek Watt, both play for Mike Tomlin. Last season, the Watts became the first trio of brothers to play in the same NFL game. All of them spoke about the significance of that, which led to speculation that J.J. might want to join his brothers in the Steel City. 
However, the Steelers have some cap space issues that they need to work out. As it stands, the roster is projected to be over the salary cap next season, with veteran quarterback Ben Roethlisberger delivering a $41.25 million blow to the team's cap space in 2021. Roethlisberger said he'll restructure his contract, but that certainly won't be enough by itself to allow Pittsburgh to sign the oldest Watt brother. 
On top of the cap issues, the Steelers already have two solid defensive linemen in Stephon Tuitt and Cameron Heyward. Tuitt, who registered a career-high 11 sacks in 2020, is under contract through the 2022 season. Heyward, a four-time Pro Bowler, is under contract through the 2024 season. However, he does have an out after the 2022 campaign. 
Again, the Steelers don't have much cap space, but the retirements of Vance McDonald and Maurkice Pouncey give Pittsburgh some wiggle room if it wants to make something happen. 
Tampa Bay Buccaneers +200
Watt is in pursuit of a Super Bowl title. What better place to make that happen than Tampa Bay? Tom Brady proved that he can still compete with the best players in the league by leading the Buccaneers to a 31-9 win in Super Bowl LV over Patrick Mahomes and the Kansas City Chiefs. 
If he were to sign with the Bucs, Watt would join a defense that includes Devin White and Jason Pierre-Paul, with free agents Lavonte David and Shaquil Barrett players Tampa hopes to retain. He'd be a solid addition to a defense that didn't allow the Chiefs to score a touchdown in the Super Bowl. 
While a deal would make sense for both sides, Tampa's priority is to re-sign several free agents. However, it would be pretty difficult for Bucs general manager Jason Licht and head coach Bruce Arians to pass on Watt if he comes knocking on their door.
Green Bay Packers +500
Watt is a native of Wisconsin, so it's hard to imagine he'd pass up an opportunity to return home and play alongside Aaron Rodgers. The Packers are more enticing because they've played in the last two NFC Championship Games and are seemingly on the verge of returning to the Super Bowl. 
Green Bay could also use help at defensive end. Watt would easily replace either Dean Lowry or Tyler Lancaster and become one of the Packers' best defensive players.
The Packers don't currently have a lot of cap space but could free up some room by cutting several players. They'll also have more room if Aaron Jones, Corey Linsley, Jamaal Williams and Kevin King decide to sign with new teams in free agency. 
Baltimore Ravens +700
The Ravens are a solid option for Watt entering the 2021 season if he does not want to play with his brothers in Pittsburgh. If he played in Baltimore, he'd face his brothers twice per season and have the opportunity to compete for a championship. 
Baltimore has made the playoffs the past three seasons and is coming off Lamar Jackson's first playoff win as the franchise's starter. With the Ravens on the rise, it's no surprise they have solid odds to land Watt. 
If he signed with the Ravens, Watt would bolster a defensive line that includes Calais Campbell, Brandon Williams and potentially Yannick Ngakoue returning. 
Dallas Cowboys +1000
Watt spoke about his love for Texas in his farewell video to the Texans. If he loves the state that much, then maybe he'd consider continuing his career for the other Texas franchise. 
It's not a secret that the Cowboys could use some help on defense. Dallas finished toward the bottom of the league in sacks. If Watt joined the Cowboys, he'd create a dynamic duo with DeMarcus Lawrence, who had 6.5 sacks in 2020. 
While Jerry Jones would likely be willing to spend big to land Watt, Dallas still needs to figure out the Dak Prescott situation. Without a long-term deal, Prescott will likely play the 2021 campaign on the franchise tag. Still, this is a situation the Cowboys need to figure out quickly. If Prescott isn't locked up to a long-term deal, he could leave the franchise in 2022.