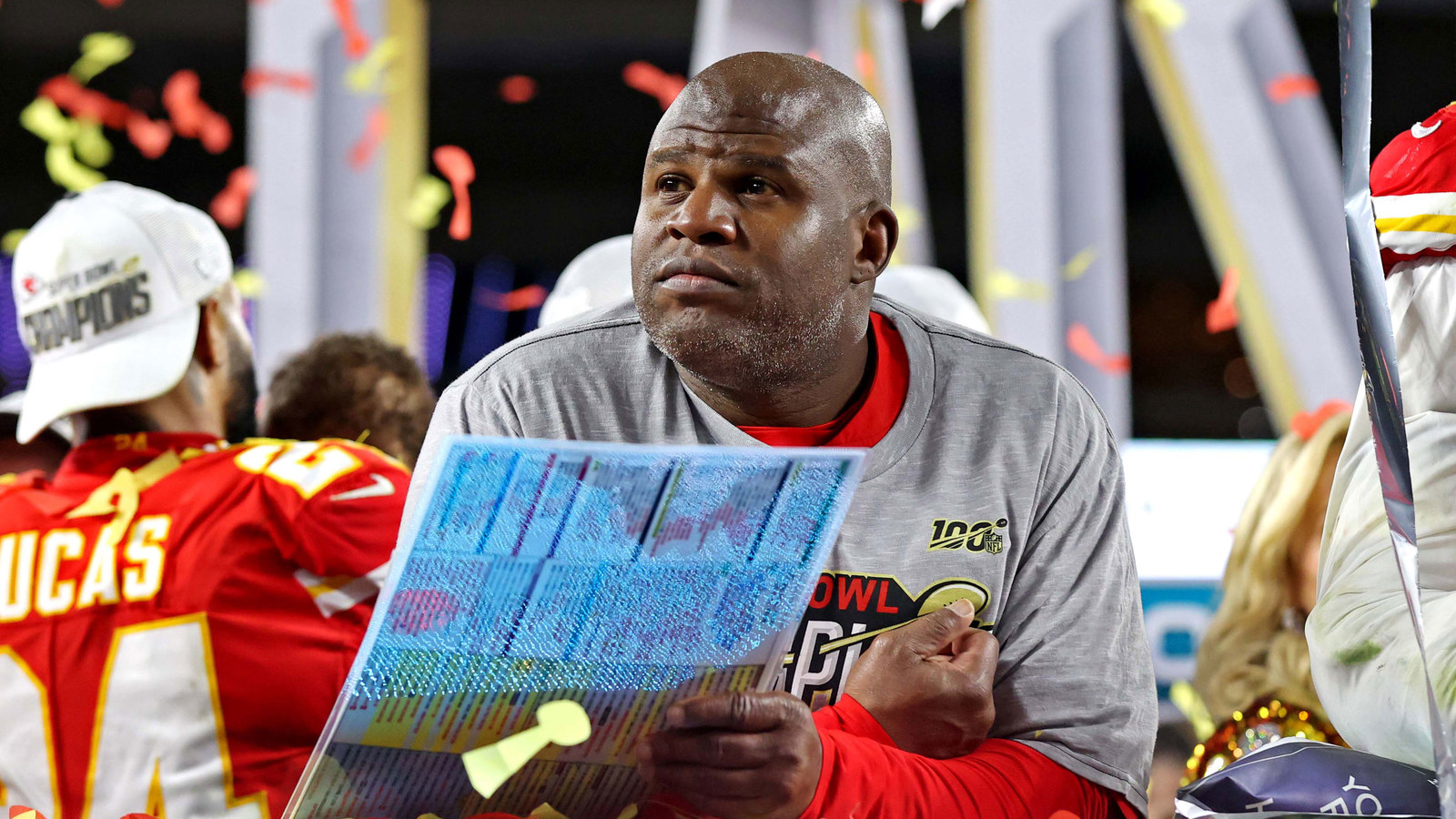 The NFL has two head-coaching vacancies and will likely have a handful more by season's end. Here are 25 coaches who will be either in the running to become first-time NFL head coaches next year or surface on the league's radar in the years to follow.

Kyle Terada-USA TODAY Sports
Formerly in head-coaching interview cycles, Austin has hovered off the radar over the past few years. But the former Detroit defensive coordinator's Pittsburgh arrival has coincided with the Steelers' defensive reawakening. During Austin's two Pittsburgh seasons, an offensive-oriented team transformed into a defense-powered operation. The Steelers secondary coach has also assisted Mike Tomlin with replay reviews, which were a persistent problem for the longtime Steelers head coach previously. Austin also coached the Lions to their modern-era defensive peak during his four Motor City seasons.
Matthew Emmons-USA TODAY Sports
After being on the interview circuit for two years, it seems certain the Chiefs offensive coordinator will be hired in 2021. The Chiefs have lost two Andy Reid-era OCs (Doug Pederson and Matt Nagy), and Bieniemy has a timing advantage. He took over as Reid's right-hand man in 2018, the same year Patrick Mahomes began to incinerate defenses and rocket the Chiefs to the top of the league. Bieniemy's knock is that he does not call plays. But he certainly has helped Reid design the Mahomes-led, Super Bowl-winning offense. That will be enough to get the former NFL running back a gig next year.
Brett Davis-USA TODAY Sports
Joe Burrow threw a Division I-FBS-record 60 touchdown passes in 2019, and the Panthers hired the LSU passing-game coordinator — not the Tigers OC — to run their offense. Brady has immediately made Carolina an intriguing offense, helping it stay afloat without Christian McCaffrey. The way the NFL has gone in recent years, the 31-year-old assistant will receive looks in 2021 and should be a head coach at some point in the early '20s. 
Timothy T. Ludwig-USA TODAY Sports
Part of the 2020 interview circuit, Daboll has an interesting profile. His previous stints as an offensive coordinator (with the 2009-10 Browns, '11 Dolphins and '12 Chiefs) went horribly. However, those teams' QBs: Brady Quinn/Colt McCoy, Matt Moore/Chad Henne, Quinn/Matt Cassel. Daboll's current passer is the best of the bunch. Daboll's first Josh Allen offense (2018) did not impress, but it lacked talent. The Bills have steadily climbed the ladder, however, as Allen progressed. How Buffalo responds to its October struggles could determine if teams will view Daboll as head coach material next year.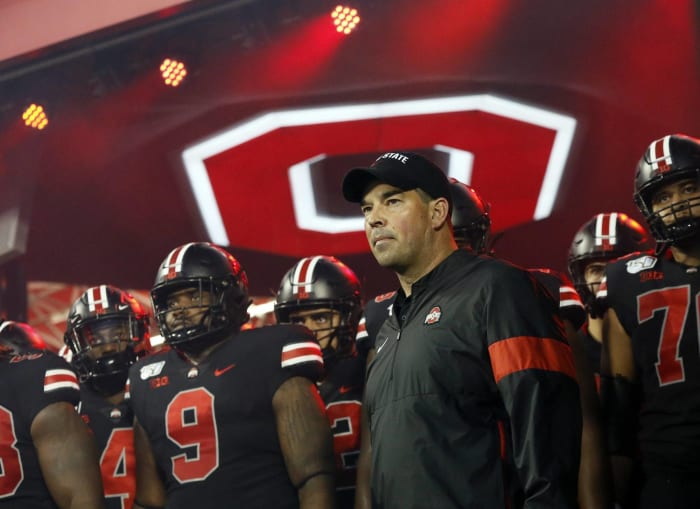 Adam Cairns/Dispatch via Imagn Content Services, LLC
Day leaving the 49ers for Columbus in 2017 produced monster stat lines for Buckeyes QBs. After J.T. Barrett returned to dominance in 2017, Dwayne Haskins threw 50 TD passes in his only season as a starter. Transfer Justin Fields then dropped a 41-3 TD-INT ratio in his first starter season in 2019 and is on track to follow Haskins as a high first-round pick. Day worked under Chip Kelly as QBs coach in Philly and San Francisco, and while that may not help him, continued success at Ohio State will undoubtedly garner the 41-year-old Big Ten leader NFL looks soon.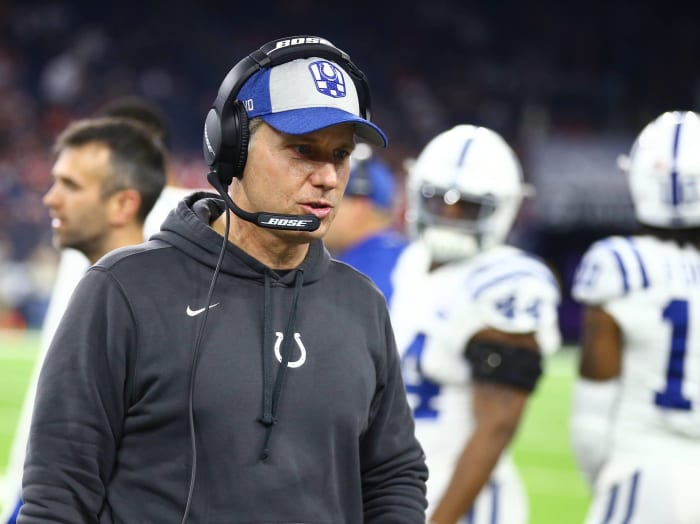 Mark J. Rebilas-USA TODAY Sports
Prior to Eberflus' 2018 arrival as a would-be Josh McDaniels assistant, the Colts had ranked outside the top 20 defensively in three straight seasons. They bottomed out at 30th in 2017. Despite not being gifted a Pro Bowler-laden unit in '18, the former Cowboys linebackers coach moved the Colts into the top 10 and helped them go from 1-5 to the playoffs. Their 2020 unit has more talent and has impressed as a top-five scoring defense thus far this season. An NFL assistant since 2009, Eberflus should be receiving interview requests in 2021.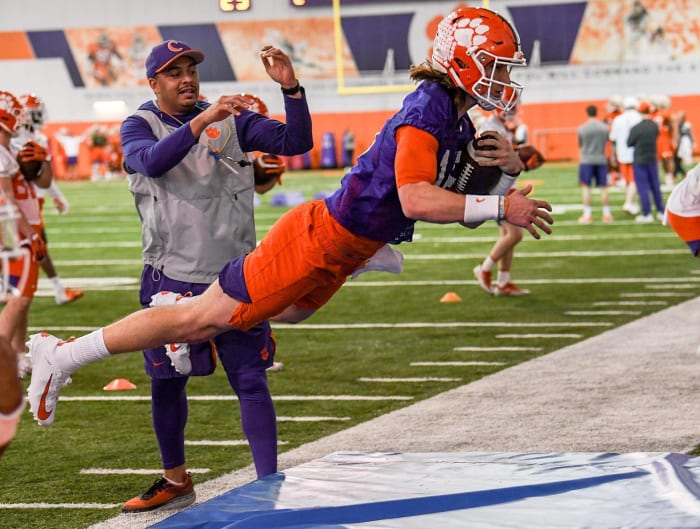 Ken Ruinard/staff, The Greenville News via Imagn Content Services, LLC
Clemson used co-offensive coordinators for most of Deshaun Watson's tenure and part of Trevor Lawrence's. Elliott previously shared the play-calling role with Jeff Scott, the Tigers co-OC from 2015-19, but is running the show solo in 2020. And Lawrence, despite his positive COVID-19 test, is a Heisman frontrunner. Elliott, 41, has been at Clemson since 2011, being onboard for the program's rise. He has not surfaced on NFL radars yet, but the 2020 season and perhaps beyond could provide a springboard for Dabo Swinney's play-caller.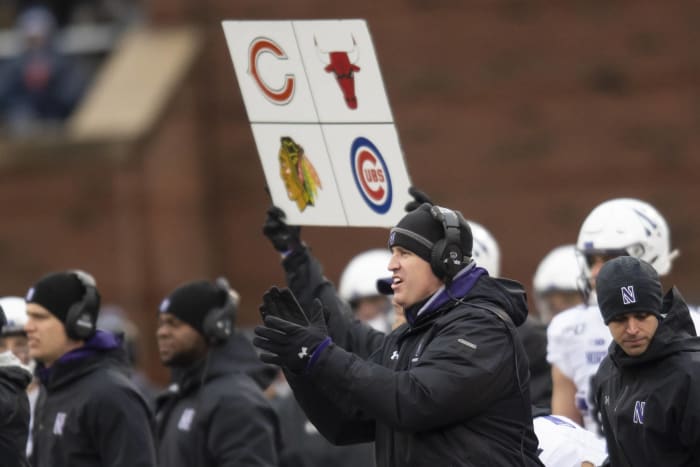 Patrick Gorski-USA TODAY Sports
From 1904-2007, Northwestern football amassed two nine-win seasons. Since Fitzgerald began his run as Wildcats head coach in 2008, the program has five such seasons. Fitzgerald, 45, has surfaced on the NFL radar in recent years. The Packers tried to interview him to replace Mike McCarthy, but the Northwestern alum did not bite. Although Fitzgerald has coached at Northwestern since 2001, the Big Ten presents an uphill battle for the academically geared school. This creates an achievement ceiling of sorts, which could push the respected HC to reconsider the pros.
Jordon Kelly-Icon Sportswire
It is easy to forget how bad the Saints pass defense was in the mid-2010s. They bottomed out by allowing a record 45 TD passes in 2015. In his fifth year as New Orleans' secondary coach, Glenn has helped the Saints change course. They have deployed an upper-echelon pass defense for the past four seasons, and young players like Marshon Lattimore and Marcus Williams have developed into elite cover men. The Bengals sought a 2019 interview with Glenn, but the Saints blocked it. With the NFL expanding its Rooney Rule to include coordinator jobs, the former NFL cornerback has a clear path to a 2021 DC gig. He may not stop there.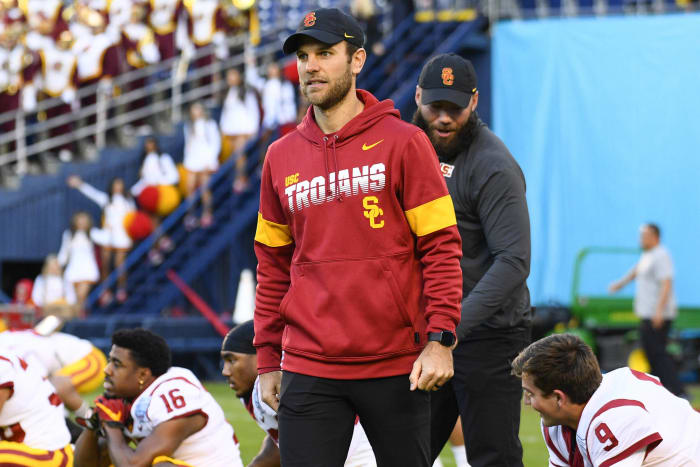 Brian Rothmuller-Icon Sportswire
After one season as USC's offensive coordinator, Harrell popped up on the NFL radar. The Eagles sought to interview him, but the 35-year-old assistant opted to stay in Los Angeles. A Mike Leach disciple after his time playing and coaching under the Air Raid innovator, Harrell has since been the OC at North Texas and USC. In Year 1 succeeding (technically) Kliff Kingsbury at USC, Harrell oversaw Kedon Slovis go from three-star recruit to a player who threw 30 TDs in just 10 full games as a true freshman. Given Kingsbury's success with Kyler Murray, Harrell will be on NFL radars again in 2021.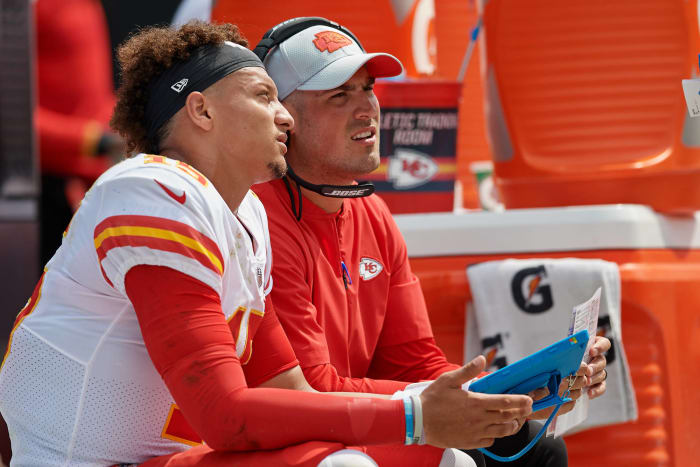 Robin Alam-Icon Sportswire
One of the best coaching trees in recent NFL history, Andy Reid will almost certainly see his third Chiefs-years offensive coordinator land a head-coaching job. Eric Bieniemy's impending exit opens the door for Kafka, an ex-Eagles backup QB and current Chiefs QBs coach. The Chiefs blocked Kafka from interviewing for the Eagles OC job this year, giving him the "passing-game coordinator" title in 2020. Kafka, 33, has been Kansas City's QBs coach since 2018. Given what has happened in K.C. since that promotion, Kafka will appear on coaching carousels soon.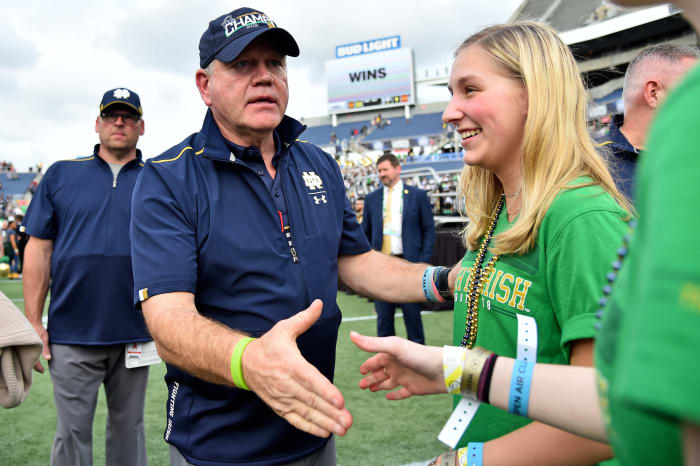 Jasen Vinlove-USA TODAY Sports
While Kelly has tremendous power at Notre Dame, having rebuilt the Fighting Irish into perennial contenders, he has made three job jumps since 2003. At 59, time is running out for the longtime college head coach to try his hand in the pros. He left the Division II level after 13 seasons at Grand Valley State, so a move out of South Bend should not be ruled out. That said, Kelly would need a great situation to leave Notre Dame, which has won 10-plus games four times in a five-season span for the first time since Lou Holtz's tenure.
Kim Klement-USA TODAY Sports
Like Charlie Weis, Josh McDaniels and Bill O'Brien, Leftwich might emerge as a head coach after being Tom Brady's offensive coordinator. Not on the radar prior to Brady's arrival, Leftwich was stuck with Josh Rosen and Jameis Winston in his first seasons as a play-caller. But the former first-round QB pick has Brady playing at a much higher level than he did in 2019, and the Bucs have barely had Pro Bowl wideouts Mike Evans and Chris Godwin healthy at the same time this season. How Leftwich incorporates Antonio Brown and manages the historic distractor will help shape how soon he gets HC looks.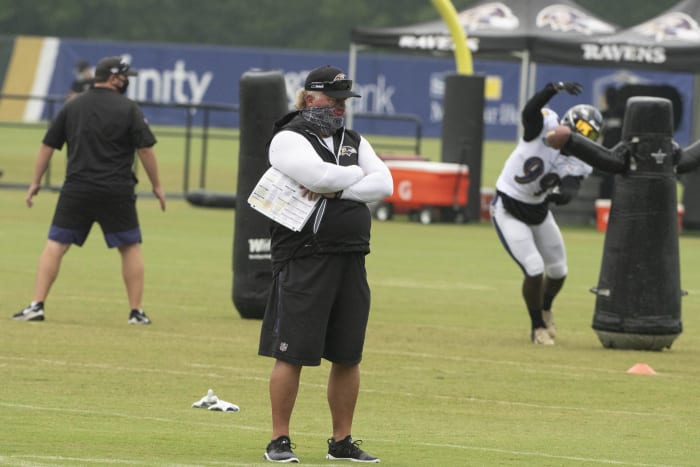 Tommy Gilligan-USA TODAY Sports
The Ravens have yet to prove they can win coming from behind with Lamar Jackson at quarterback. This places considerable pressure on Martindale's defenses to subdue opponents and allow Baltimore's formula to work. With the Ravens since their 2012 Super Bowl season, Martindale has overseen strong defenses in his two-plus years as D-coordinator. Last year's defense led the NFL despite lacking some front-seven pieces, and this year's defense has helped compensate for an uneven offense. Although Martindale sputtered as Broncos DC in 2010, he will hop back on the coaching carousel for 2021 interviews.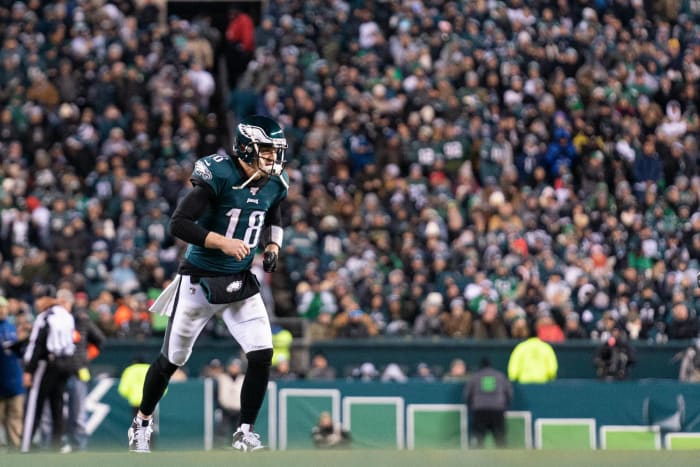 Bill Streicher-USA TODAY Sports
The NFL's oldest practice squad player, at 41, McCown is viewed as a future head coach — should he want such a gig. Currently working from home as an Eagles emergency QB, McCown is on his 10th team. He has started or been a backup in many systems and has impressed countless coaches. Already coaching his sons in high school, McCown seems to be on a path to make an impact on the NFL sidelines. Current boss Doug Pederson was a longtime NFL backup who became an NFL head coach after time on the sidelines at the high school level. A road map exists.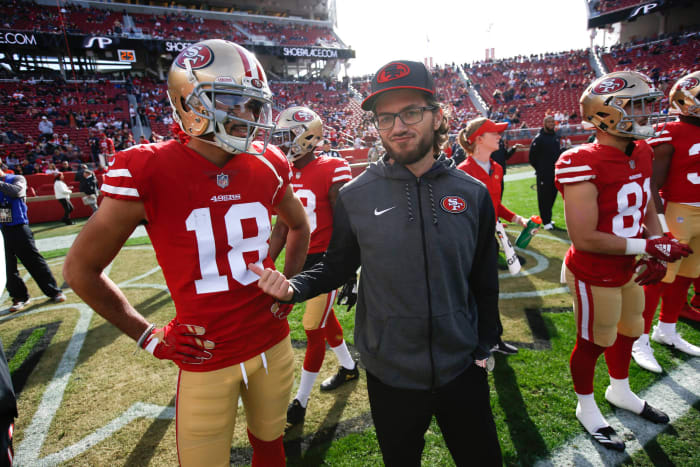 Michael Zagaris/San Francisco 49ers-Getty Images
For teams wanting in on the Kyle Shanahan offense, McDaniel might be the best bet. He has worked under Shanahan for 13 seasons since debuting as a Texans assistant in his early 20s. The 49ers continue to produce rushing success, churning out three 500-yard rushers in 2019 — when Raheem Mostert finished off his transformation from career special-teamer to RB1 with Terrell Davis-like zone-running dominance in the NFC title game — and have seen fifth-string back JaMycal Hasty have success this year. The 37-year-old run-game coordinator will be an offensive coordinator candidate soon and is on a path toward a top job.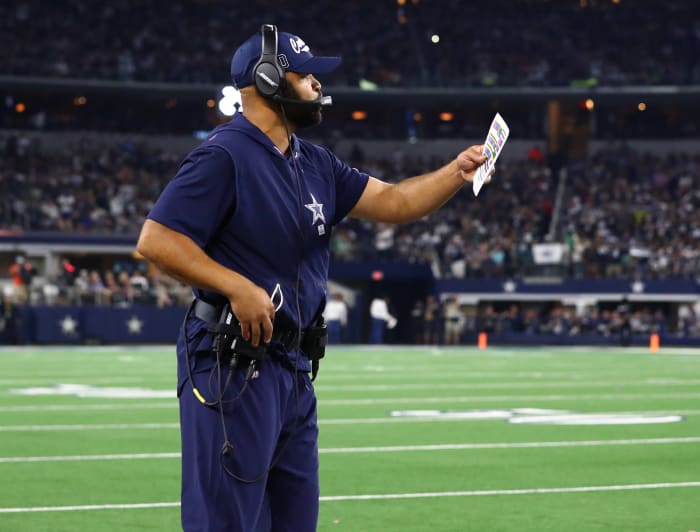 Matthew Emmons-USA TODAY Sports
Richard's career stops have featured some notable success. He served as the Legion of Boom's position coach in Seattle, shepherding that famed secondary to prominence from 2012-14 before taking over as Seahawks defensive coordinator from 2015-17. Seattle deployed a top-three scoring defense in two of Richard's three DC seasons and has declined since his 2018 exit. As Dallas' secondary coach, Richard turned Byron Jones from a decent safety to a top-tier boundary corner. While not with a team this season, Richard is just 41 and should have a near-future path back to head-coaching interviews.
Jason Getz-USA TODAY Sports
Sooner or later, an NFL team will make Riley an offer he cannot refuse. The Oklahoma coach comes up in NFL hiring news cycles each offseason, after he continues to form elite offenses and guide teams to the College Football Playoff. Riley coached Baker Mayfield and Kyler Murray to the Heisman Trophy and turned Jalen Hurts from demoted Alabama QB to Heisman runner-up. Riley has sufficient credentials to follow Kliff Kingsbury to the pros, and the 37-year-old coach figures to make that move at some point in the next few years.
Douglas DeFelice-USA TODAY Sports
This is a down-the-road projection, and it may be 10 or so years before Rivers considers such a path. But the Colts quarterback has a unique deal to be St. Michael Catholic (Ala.) High's head coach-in-waiting, and he plans to coach his sons — in sixth and third grade, respectively — at some point. Rivers has referred to being a high school coach as a dream, but after his third-grade son graduates high school, he should be monitored as a future NFL leader. The brash passer would be destined for the "mic'd up" hall of fame, alongside the likes of Jon Gruden and Sam Wyche, were this reality to ensue.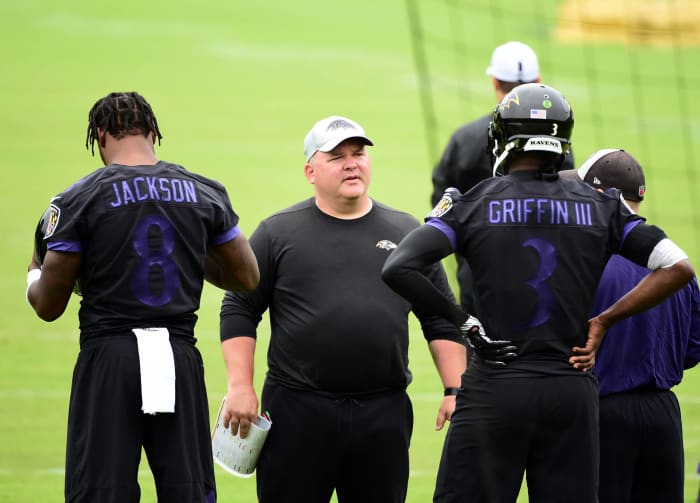 Evan Habeeb-USA TODAY Sports
Roman led the rejiggering efforts of three NFL offenses, first changing up the 49ers' attack after dual-threat quarterback Colin Kaepernick took the reins and then structuring the Bills offense around the mobile Tyrod Taylor. Roman doing the same with Lamar Jackson figures to be the tipping point. As QBs coach, Roman played a key role in changing the Ravens offense from a staid Joe Flacco attack to one built around Jackson's skill set. Fully weaponizing Jackson last season, en route to the young QB's unanimous MVP, granted Roman head-coaching interviews. He should be back on the circuit in 2021.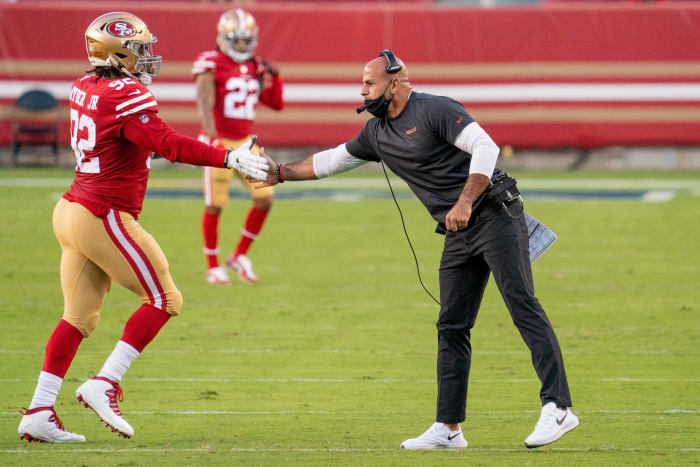 Kyle Terada-USA TODAY Sports
Saleh's 49ers defense rocketed from 24th to second in DVOA from 2018-19, leading to the enthusiastic defensive coordinator receiving head-coaching interviews. But Saleh's 2020 work may be more impressive. The 49ers entered Week 8 ranked eighth in defensive DVOA despite being without Nick Bosa, Richard Sherman, Dee Ford and several other starters and rotational players. The 49ers steering their damaged ship to the playoffs would validate Saleh's credentials further and open the door to a 2021 hire.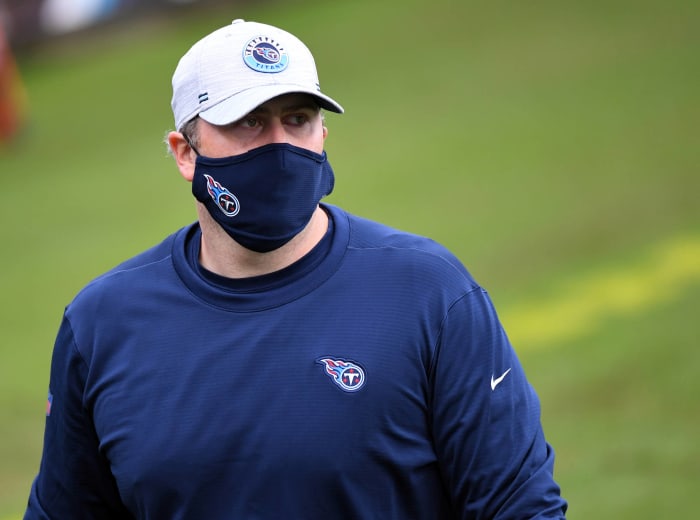 Christopher Hanewinckel-USA TODAY Sports
Beyond Bieniemy, this seems like the easiest hire to predict. Smith, Tennessee's second-year OC, both leading Ryan Tannehill's mid-career breakout and unleashing Derrick Henry have made the Titans a factor after they hovered off the competitive radar for most of the previous decade. Tannehill's 9.6 yards per attempt last year ranks in the top 10 all time for a season, and the injury-prone QB sitting at fourth in QBR — despite the Titans losing many players and practice time amid their COVID-19 outbreak — provides cake icing for an assistant who was coaching tight ends as recently as 2018.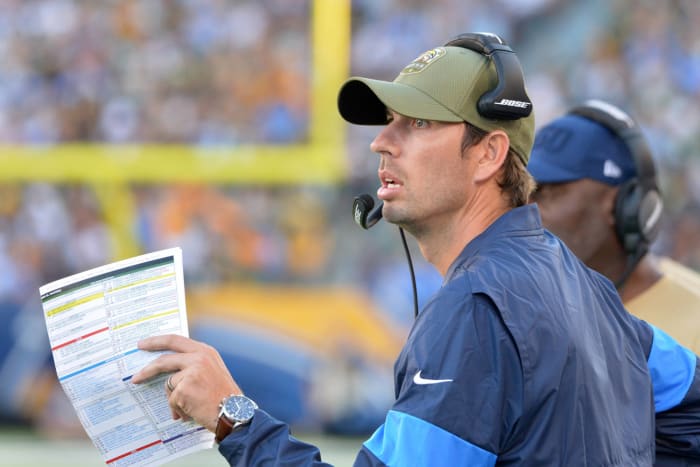 Jake Roth-USA TODAY Sports
Not yet on the head-coaching radar, Steichen could build a case quickly. Justin Herbert is now the Offensive Rookie of the Year favorite, going from a prospect who some thought would need to sit for a while and learn to an instant-impact starter. Named Chargers offensive coordinator via 2019 midseason promotion, Steichen is the rare OC to call plays for a team with an offensive-oriented head coach. Anthony Lynn leaving play-calling to his 35-year-old assistant will open the door to Steichen capitalizing on Herbert's success with a head-coaching job of his own.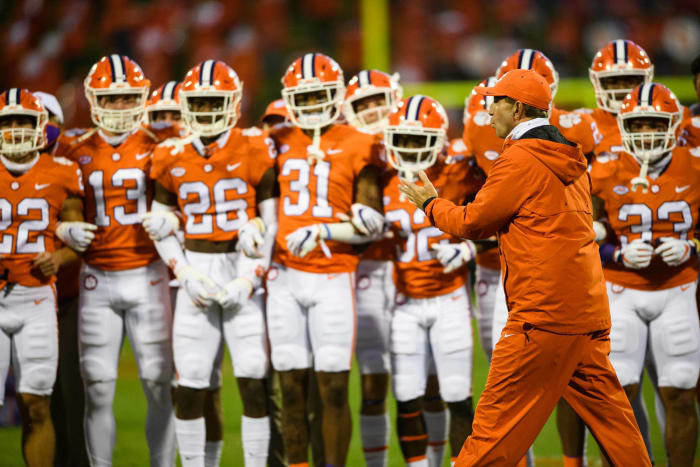 Ken Ruinard-USA TODAY Sports
College football mainstays have tried their hand at the NFL for decades. John McKay, Jimmy Johnson, Barry Switzer, Nick Saban and Chip Kelly did so — with mixed results. Matt Rhule just signed a seven-year Panthers contract after enjoying a fraction of Swinney's success. Swinney has orchestrated one of the sport's best 21st-century success stories, making Clemson a national power. The 13th-year Tigers coach may not be especially tempted right now, hovering as a major college football power broker, but at some point this will come up for the 50-year-old leader. He would have options.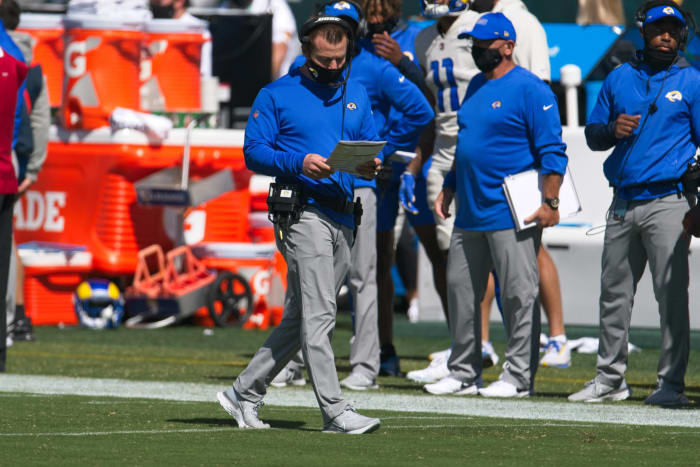 Andy Lewis-Icon Sportswire
Wade Phillips' defensive acumen creates pressure for his successors, but so far, the Rams' outside-the-box hire has helped their 2020 team. Coming to Los Angeles after stays under Vic Fangio as outside linebackers coach in Chicago and Denver, Staley has the look of someone who will be a head coach in the near future. This is only his fourth year in the NFL, however. Prior to his two-year Bears stay, the 37-year-old assistant was coaching at Division III John Carroll. While that school has an interesting NFL connection, teams may want to see at least two years of Staley as a D-coordinator before hiring him.
We Thank To Our Readers For Your All Contributes. We Still Seek Your Support In Pandemic CoronaVirus.
Donate Bellow For Better Future
[charitable_donation_form campaign_id=57167]