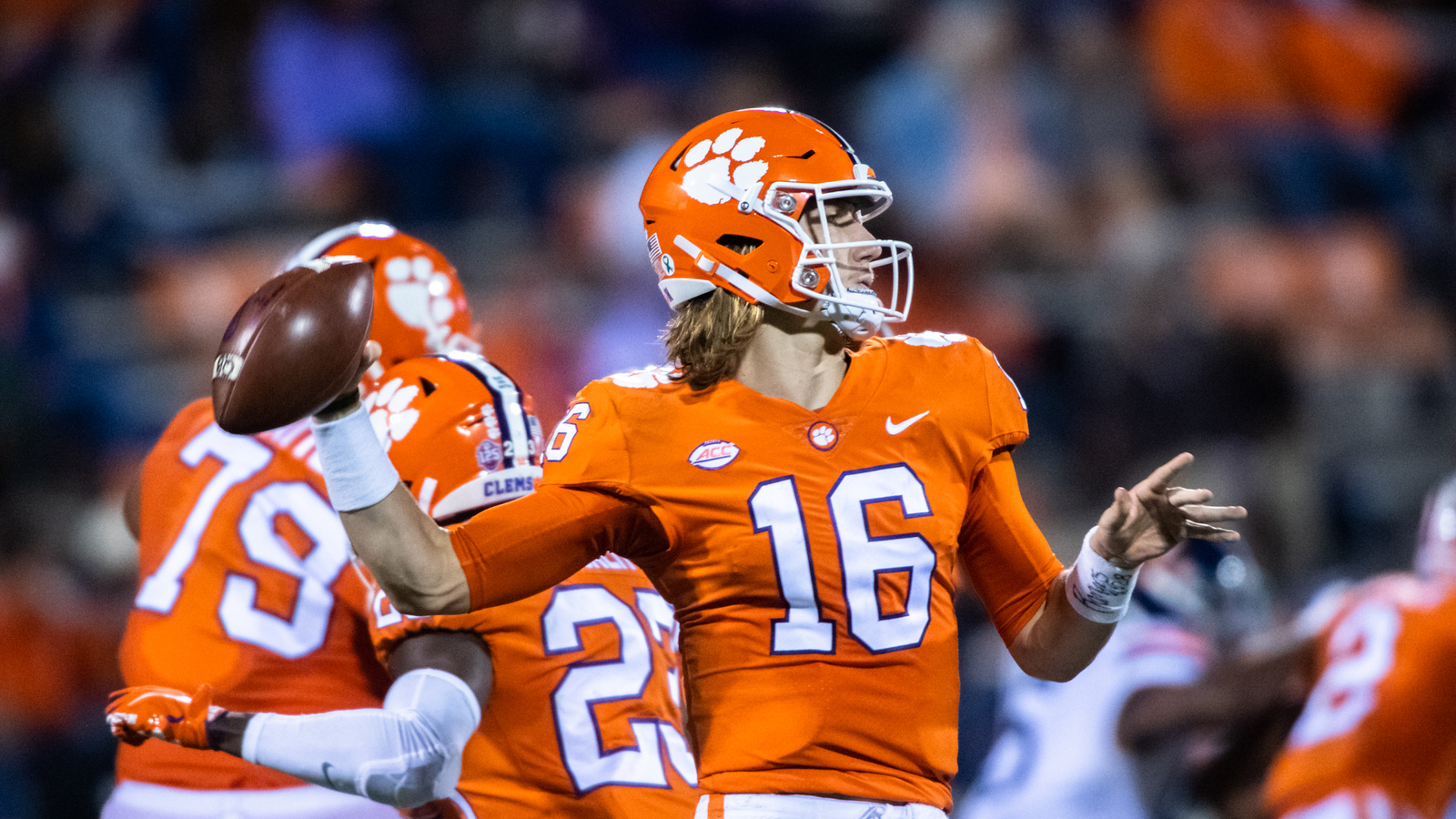 With five weeks of the NFL season in the books and many college football conferences underway, we're getting a slightly clearer picture for the 2021 NFL draft. With that in mind, here's a look at an early 2021 NFL first-round mock draft.
Ken Ruinard / USA Today Sports Images
It's fair to say that Sam Darnold hasn't gotten a fair shake with his coaching and supporting cast in New York, but the opportunity to select Lawrence would be too good to pass up for the Jets. Lawrence is a generational quarterback prospect with the talent to run any offense, and he's off to a blazing start in 2020, throwing for 848 yards and seven touchdowns through three games.
Troy Wayrynen / USA Today Sports Images
The Giants are starting two rookie tackles, and the development has been a slow go. Fixing the offensive line has been a long-term failure for the Giants front office, but Sewell has a chance to make significant strides in that regard as one of the top offensive line prospects in recent memory.
Matthew Emmons / USA Today Sports Images
Gardner Minshew's play has been inconsistent early this season, which probably isn't enough to prevent the Jaguars from selecting Fields. Fields threw for 3,272 yards and 41 touchdowns last year, while also running for 10 touchdowns.
Jesse Johnson / USA Today Sports Images
The Atlanta defense continues to be sub-par, and it might be time for a complete rebuild on that side of the ball. Parsons was a former top recruit and has dominated in two seasons with 191 tackles and 6.5 sacks. 
Derick E. Hingle / USA Today Sports Images
Washington has keeper at wideout in Terry McLaurin, but they need far more offensive help. Quarterback is certainly in play after the new coaching staff has apparently given up on 2019 first rounder Dwayne Haskins, but Washington has the defense to compete soon if they can find a veteran. Chase is an elite wideout prospect who was uncoverable last year with 84 catches for 1,780 yards and 20 touchdowns.
6 of 32
6. Miami Dolphins (via Texans): Gregory Rousseau, DE, Miami (FL)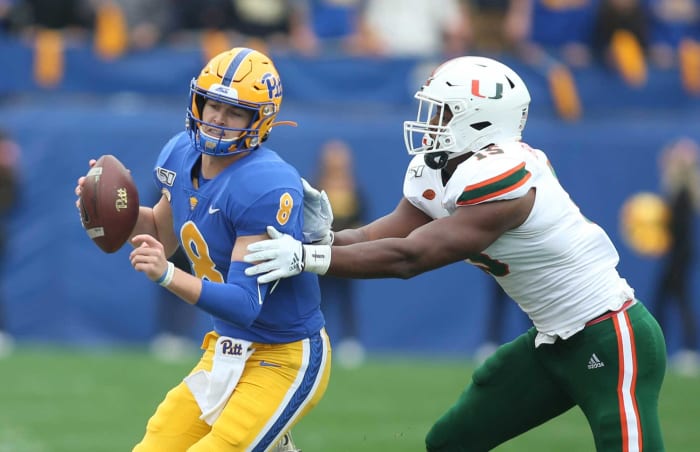 Charles LeClaire / USA Today Sports Images
Rousseau had an incredible 2019 season at Miami, recording 15.5 sacks and 54 tackles in 13 games. He could go down the road and join a Dolphins team that would welcome another edge rusher, even after signing Shaq Lawson and Kyle Van Noy during the offseason. Rousseau opted out of the 2020 college season.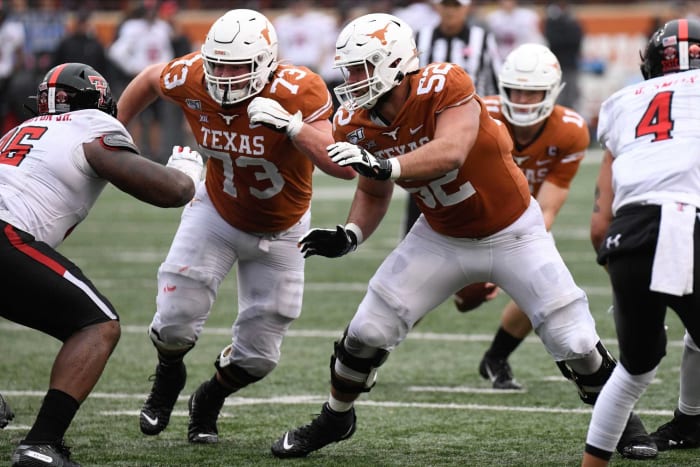 Scott Wachter / USA Today Sports Images
Cincinnati selected left tackle Jonah Williams in the first round last year, but he clearly isn't enough. Cosmi is a strong left tackle prospect at 6-foot-7, 300 pounds.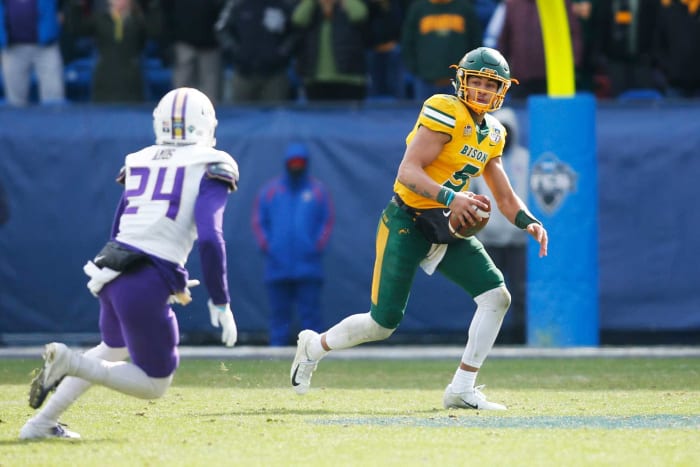 Tim Heitman / USA Today Sports Images
The Broncos continue to have quarterback issues, and it remains to be seen if Drew Lock is the answer. Lance shows enticing upside with great accuracy and running ability.
Wayne McGahee III / USA Today Sports Images
Detroit's defensive performance continues to be disappointing under Matt Patricia, and the personnel up front is a big issue. Williams had 44 tackles and five sacks for the Seminoles last season.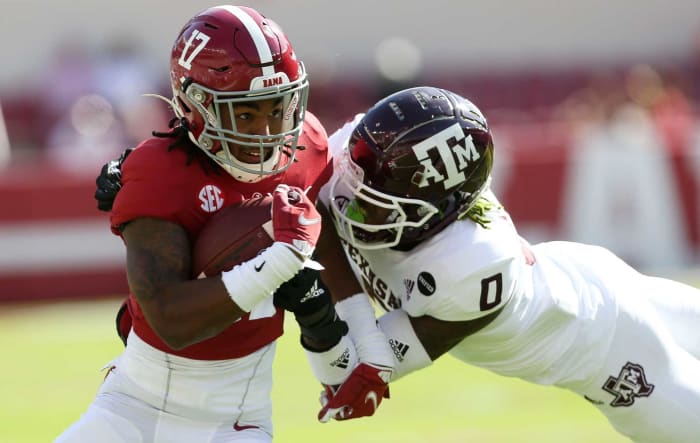 Gary Cosby Jr. / USA Today Sports Images
Miami has reason to be optimistic about the futures of DeVante Parker and Preston Williams at wideout, but more upside the position would also be welcome. Waddle stands below six feet, but he has blazing speed and is off to a great start with 13 catches for 276 yards and three scores in his first two games. He also has a history catching passes from Tua Tagovailoa at Alabama.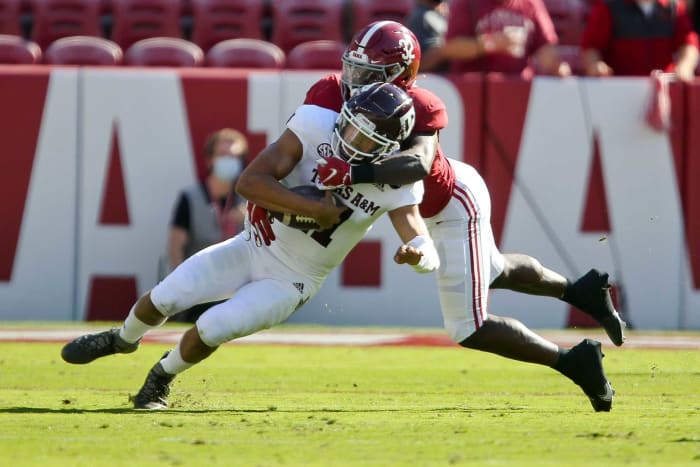 Gary Cosby Jr. / USA Today Sports Images
The microscope has been on Philadelphia's offensive issues early this season, but they also have major needs at linebacker. Moses missed 2019 with a knee injury but has regained most of his form this year.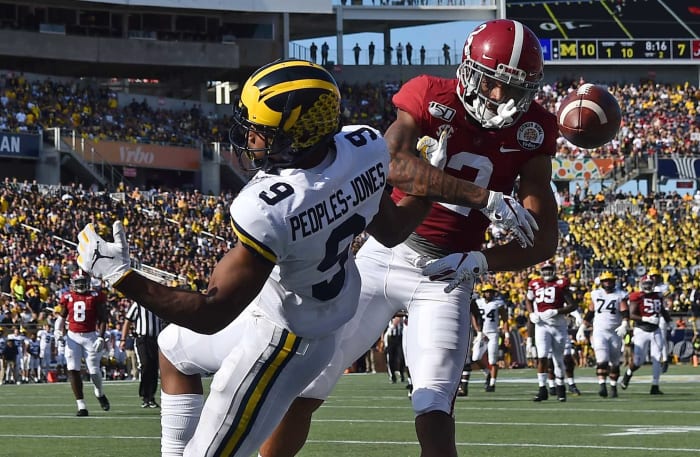 Jasen Vinlove / USA Today Sports Images
Carolina lost James Bradberry in the offseason and have had early trouble against the pass. Surtain's father has an 11-year career in the NFL, and the younger Surtain has similar upside.
Greg Bartram / USA Today Sports Images
Minnesota replaced their veteran corners with rookies this year, but the early returns haven't been great. If Jeff Gladney and Cameron Dantzler don't show improvement this year, Wade could be in play.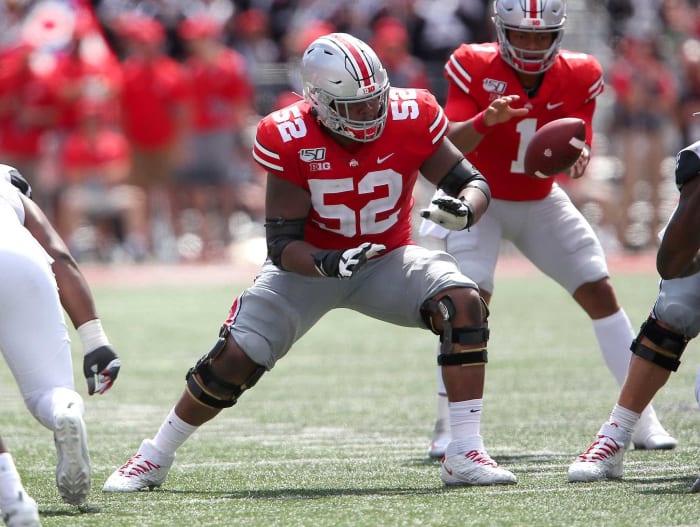 Joseph Maiorana / USA Today Sports Images
The Chargers have had injury issues on the interior of the offensive line this year, and would have a chance to shore up that area with an elite prospect in Davis. A former five-star recruit, Davis had an excellent 2019 season.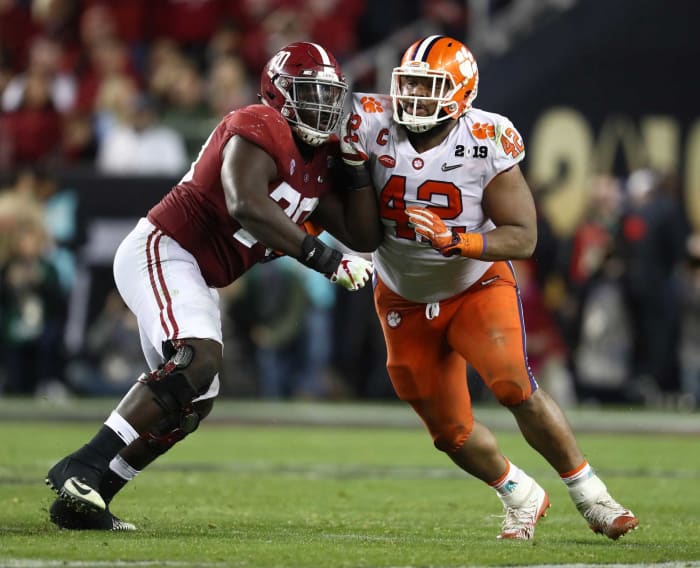 Matthew Emmons / USA Today Sports Images
Former first-round pick Kolton Miller's development hasn't been smooth at left tackle, while the Raiders have also been banged up with Richie Incognito and Trent Brown missing time on the offensive line. Adding more depth could be a priority in the offseason, and Leatherwood is a potentially dominant tackle in the NFL.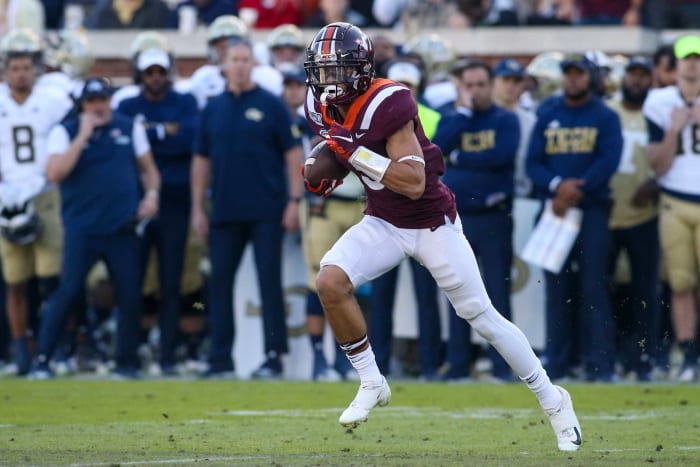 Brett Davis / USA Today Sports Images
Patrick Peterson is a pending free agent, and Arizona already has cornerback concerns. Farley opted out of the 2020 season as a potential first-round pick who had four interceptions last year.
17 of 32
17. San Francisco 49ers: Andre Cisco, S, Syracuse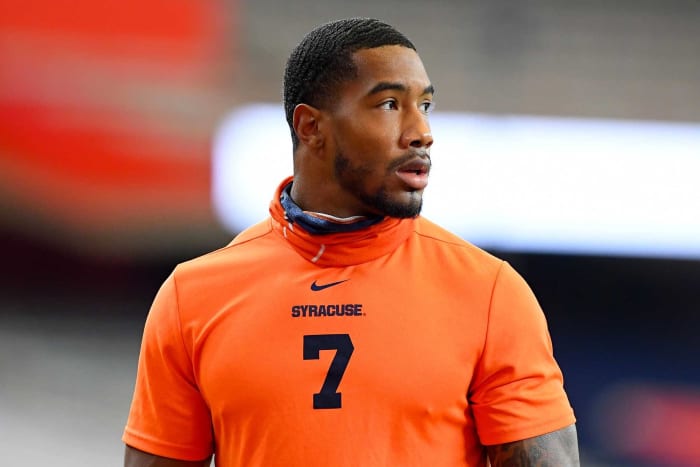 Rich Barnes / USA Today Sports Images
The 49ers secondary has been exposed more often this season with their pass rushers unable to create as much pressure. Cisco has seen plenty of playing time since 2018 ansd has 13 picks in 24 games.
John David Mercer / USA Today Sports Images
The Dallas defense has been a mess early this year, including some issues on the interior of the defensive line. Barmore is a giant at 6-foot-5, 310 pounds, and could vault up draft boards if he returns from a knee injury later this season.
Justin Ford / USA Today Sports Images
New England selected two tight ends in last year's draft, but a pass catcher with Pitts' ability could be too great of an opportunity for the team to pass up. The 6-foot-6 Pitts very well might push himself beyond the Patriots price range if his early pass continues, after catching six touchdowns in the first two games of the year.
Mickey Welsh / USA Today Sports Images
With Allen Robinson a pending free agent, Chicago could look at wideout this offseason. Smith had 1,256 yards and 14 touchdowns last season, and is off to another fine start this year.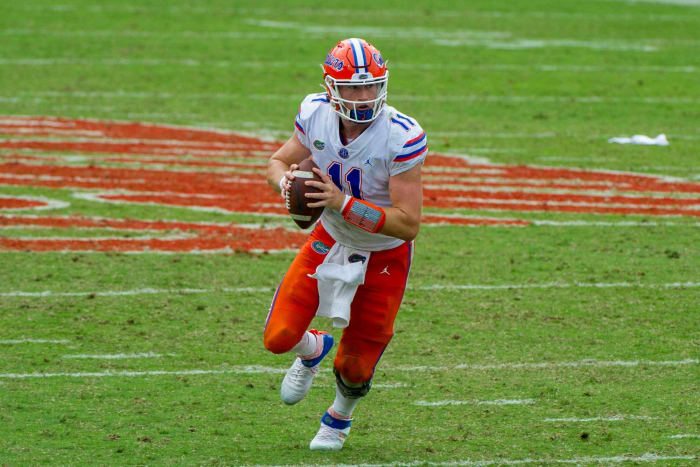 Justin Ford / USA Today Sports Images
The end is near for Drew Brees, so quarterback would almost certainly be in play for the Saints. No quarterback in college football has pushed further up draft boards early this season than Trask, who threw for 684 yards and 10 touchdowns in his first two games.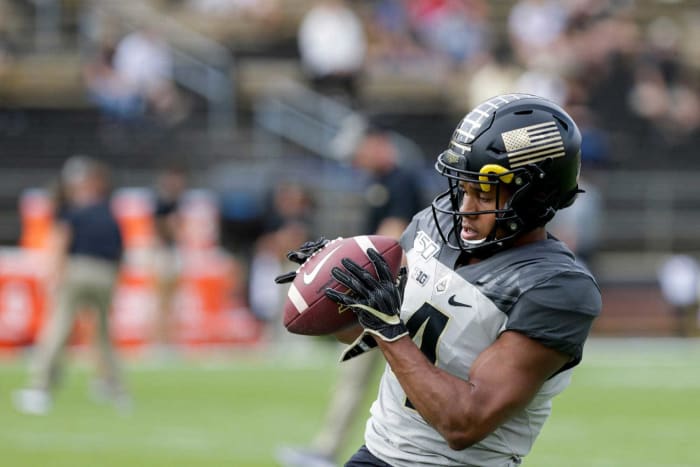 Nikos Frazier / USA Today Sports Images
Cleveland is certainly comfortable with Odell Beckham and Jarvis Landry, but they're lacking wideout depth. Moore is looking to rebound from an injury-shortened in 2019 season, but had 114 catches in 2018.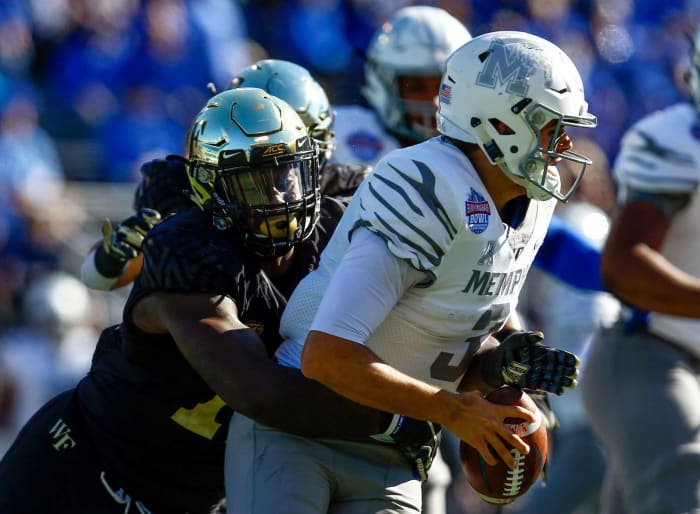 Butch Dill / USA Today Sports Images
Jadeveon Clowney signed a one-year deal with Tennessee before the season started, and the Titans will likely need to replace him after this year. Basham is coming off a great junior season, recording 10 sacks and 57 tackles, and has three sacks in his first three games early this year.
24 of 32
24. Jacksonville Jaguars (via Rams): Jayson Oweh, DE, Penn State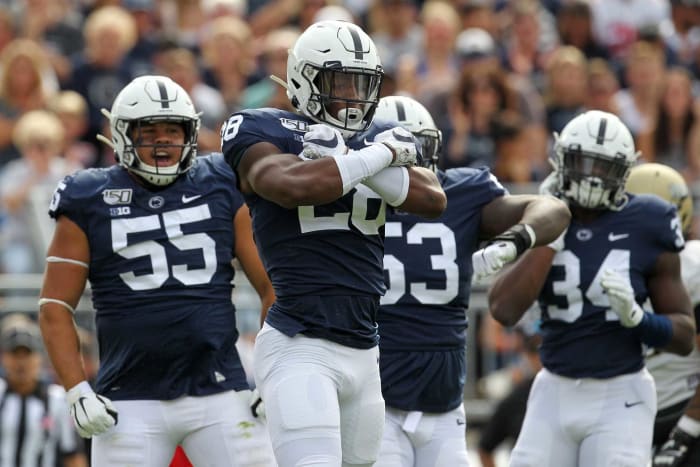 Matthew O'Haren / USA Today Sports Images
Josh Allen continues to develop well for the Jaguars, but their defensive line remains an area to build upon after trading Yannick Ngakoue. Oweh should get more playing time to increase his stock this year after recording five sacks last season.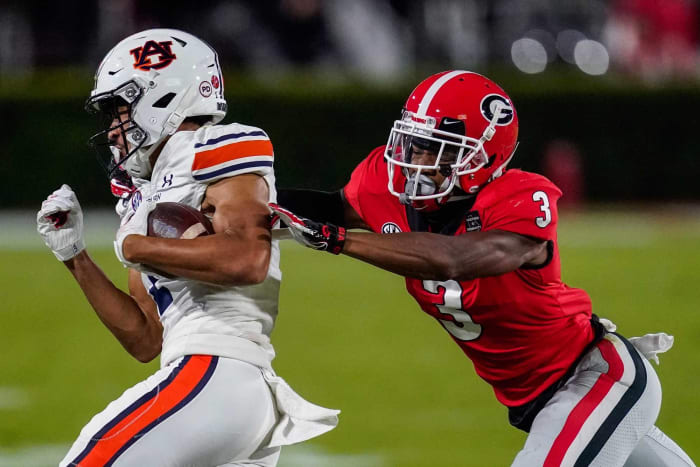 Dale Zanine / USA Today Sports Images
Tampa Bay's secondary continues to develop nicely, but could be in the market to add more depth in next year's draft. Campbell is a potential lockdown corner with plenty of size at 6-foot-2.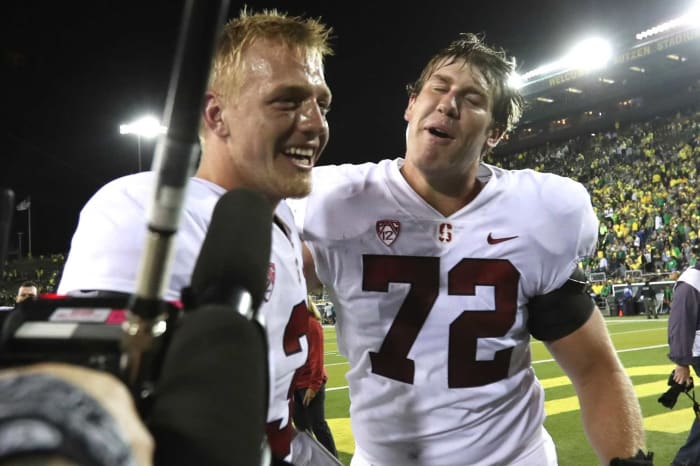 Jaime Valdez / USA Today Sports Images
The Steelers could be in the market for a tackle next offseason with Alejandro Villanueva a pending free agent. Walker is a strong prospect in a loaded tackle class in 2021.
Charles LeClaire / USA Today Sports Images
Ed Oliver continues to impress for the Bills, but they could still use more young talent on the defensive line. Twyman opted out of the 2020 season but recorded 10.5 sacks in 13 games last year.
Ken Ruinard / USA Today Sports Images
Left tackle Anthony Castonzo is in his 10th NFL season, and retirement could be a consideration. Carman started at left tackle for Clemson last year and continues to emerge as a top prospect.
29 of 32
29. New York Jets (via Seahawks): Dillon Radunz, OT, North Dakota State
Sam Wasson / Getty Images
Even after selecting Mekhi Becton in the first round this year, the Jets desperately need more offensive line help. Radunz hasn't faced top competition at North Dakota State but has a shot to be a first-round pick for his on-field performance, nonetheless. 
Alicia Devine / USA Today Sports Images
Cutting Earl Thomas just before the season left a void for the Ravens, and they've already had issues at safety early this year. Nasirildeen is a huge safety at 6-foot-4 with great speed and tackling ability, and could emerge in the late first round if he proves healthy after a torn ACL.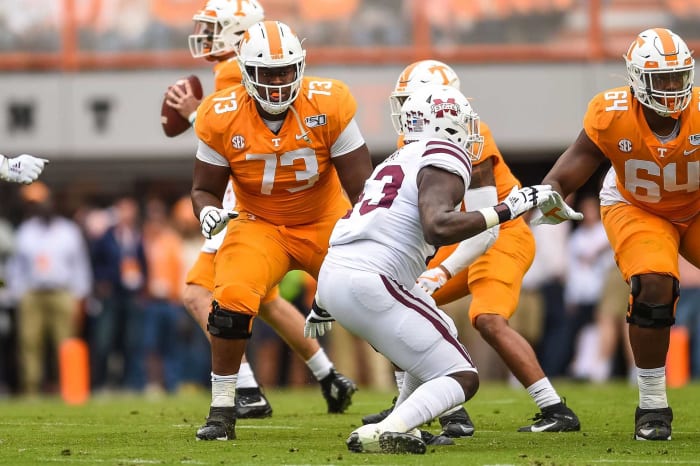 Bryan Lynn / USA Today Sports Images
All-world left tackle David Bakhtiari is a free agent after this season, and it's no sure thing the Packers re-sign him. Smith has returned from health issues to perform well for the Vols, and has experience at guard and tackle.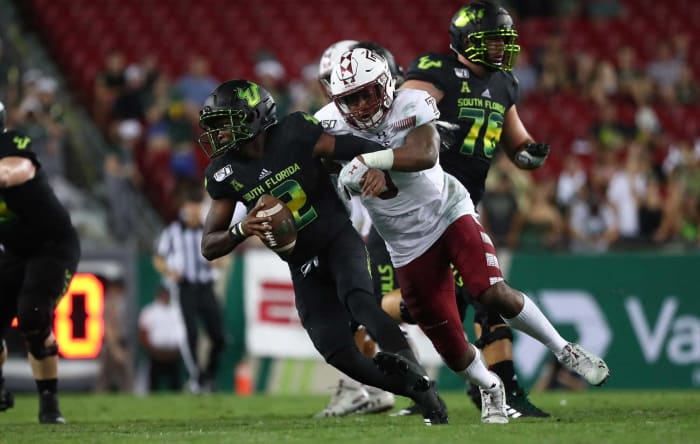 Kim Klement / USA Today Sports Images
The core of KC's defensive line is signed long term with Frank Clark and Chris Jones, but depth could become an issue with multiple free agents after this season. A transfer from Temple, Roche had 13 sacks last year and has two through three games early this year.
We Thank To Our Readers For Your All Contributes. We Still Seek Your Support In Pandemic CoronaVirus.
Just Donate For Better Future
[charitable_donation_form campaign_id=91340]