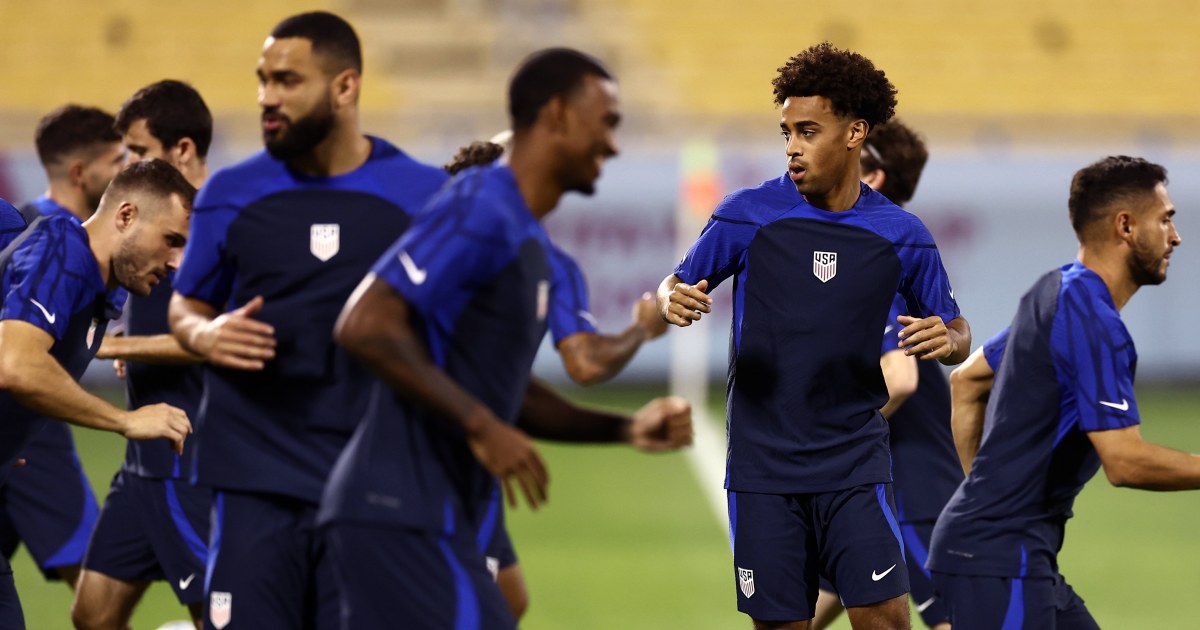 One last reminder: How to watch USA play Iran in World Cup
The United States' must-win match against Iran starts at 2 p.m. EST and will be shown on Fox, in Spanish on Telemundo and streamed on Peacock.
The U.S. mission at Al Thumama Stadium in Doha, Qatar, is simple: Win and advance to the final 16. A loss or draw will send the Americans home.
The Americans come into this final match of Group B play with draws against England and Wales.
Iran has lost to England but beaten Wales, putting Team Melli in second place going into this crucial match.
Iranian lawmakers hope for win — and national holiday
Iranian parliament members petitioned President Ebrahim Raisi to declare Wednesday a national holiday should Team Melli advance to World Cup knockout play with a win over the United States, the government-aligned Tasnim News Agency reported.
Such a national celebration would be a welcome relief for government officials, who want to take attention off ongoing human rights protests across the republic.
An Iranian victory over the United States guarantees qualification for the round of 16. An Iran-U.S. draw could also put Team Melli through, depending on the results of the England-Wales match, which will be played simultaneously. 
White House throws its support behind Team USA
Netherlands and Senegal advance to knockout round
Kalidou Koulibaly's 70th-minute goal gave Senegal a dramatic 2-1 victory over Ecuador to advance out of Group A.
Ecuador only needed a draw to advance and appeared to have that point in hand when Moises Caicedo scored an equalizer just three minutes before Koulibaly's tie-breaking goal.
Netherlands beat host Qatar, 2-0, and won Group A with two victories and a draw.
The Group A champs will play the second-place squad of Group B at 10 a.m. EST Saturday in the round of 16. Senegal will take on the top finisher of Group B at 2 p.m. Sunday.
The United States is playing 'ee-RON' and not 'eye-RAN'
An Iranian journalist called out U.S. player Tyler Adams for mispronouncing the name of America's upcoming soccer opponent and questioned how he could play for Team USA in the context of America's racial divide.
"My apologies on the mispronunciation of your country," Adams told reporters Monday after saying his side was playing "eye-RAN" as opposed to the preferred pronunciation of "ee-RON."
Adams, whose father is Black, acknowledged his home nation's ongoing racial reckoning but concluded that: "I think as long as you see progress, that's the most important thing."
Qatar official estimates World Cup worker deaths 'between 400 and 500'
DOHA, Qatar — A top Qatari official involved in the country's World Cup organization has put the number of worker deaths for the tournament "between 400 and 500," a drastically higher number than any other previously offered by Doha.
The comment by Hassan al-Thawadi, the secretary-general of Qatar's Supreme Committee for Delivery and Legacy, appeared to come off the cuff during an interview with British journalist Piers Morgan,  portions of which Morgan posted online.
It also threatened to reinvigorate criticism by human rights groups over the toll of hosting the Middle East's first World Cup for the migrant labor that built over $200 billion worth of stadiums, metro lines and new infrastructure needed for the tournament.
In the interview, the British journalist asks al-Thawadi: "What is the honest, realistic total do you think of migrant workers who died from — as a result of work they're doing for the World Cup in totality?"
"The estimate is around 400, between 400 and 500," al-Thawadi responds. "I don't have the exact number. That's something that's been discussed."
But that figure hasn't been discussed publicly by Qatari officials previously. Reports from the Supreme Committee dating from 2014 through the end of 2021 only include the number of deaths of workers involved in building and refurbishing the stadiums now hosting the World Cup.
Those released figures put the total number of deaths at 40. They include 37 from what the Qataris describe as nonwork incidents such as heart attacks and three from workplace incidents.
In a later statement, the Supreme Committee said al-Thawadi was referring to "national statistics covering the period of 2014-2020 for all work-related fatalities (414) nationwide in Qatar, covering all sectors and nationalities."
Blinken takes neutral stance on World Cup match
Secretary of State Antony Blinken insisted there are no "geopolitical aspects" to the massive U.S.-Iran soccer match that's likely to determine each side's World Cup fate.
"Let's let the game speak for itself," he said.
America's top diplomat even played it down the middle in naming the sport the two teams are playing later today at Al Thumama Stadium in Doha.
"When it comes to, to soccer or football, as it's sometimes more properly known, let's get, let's let the athletes do their thing," he said. "I'm looking forward to a very competitive match between the United States and Iran."
The United States must win to advance to the round of 16.
U.S. men's team trains in Doha ahead of Iran match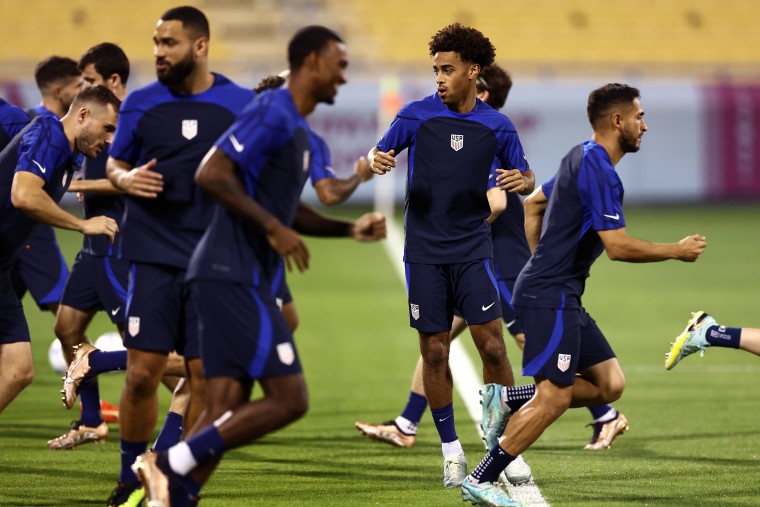 Protests have engulfed earlier matches this World Cup
Iranian soccer players appeared to have some sympathy for protesters as the team remained silent while the national anthem was played before its first World Cup match against England last week.
Players were criticized by Iranian officials back home for their apparent silent protest and went back to singing the anthem ahead of their next match against Wales — even as fans inside the stadium booed and whistled.
Then, over the weekend, the U.S. Soccer Federation briefly displayed Iran's flag on social media without the emblem of the Islamic Republic in support of protesters.
"We wanted to show our support for the women in Iran with our graphic for 24 hours," according to a U.S. Soccer statement.
That statement angered Iranian soccer and government officials who demanded that the Americans be thrown out of the tournament.
Second meeting between Iran and the U.S.
Tuesday's match marks just the second contest between the two sides in World Cup history. That previous game ended in a 2-1 Team Melli victory in France in 1998, which also kept the Americans from knockout play.
That 1998 game was played 17 years after 52 U.S. hostages were released by Iran following 444 days of captivity. The emotional scars of that crisis were still fresh in the minds of many Americans when the two sides met in Lyon.
Tuesday's match is also being played in the shadows of massive geopolitical events that have been unfolding thousands of miles away from the pitch in Al Khor.
Weeks of anti-government protests across Iran, led by women and students, have stunted public enthusiasm for the national soccer team.
The 1998 Team Melli victory over the United States sparked instant joy across Iran as fans flocked to the streets for celebrations.


Daily News Opener || US & UK News || UK News Updates
 Source link
AUTHOR :