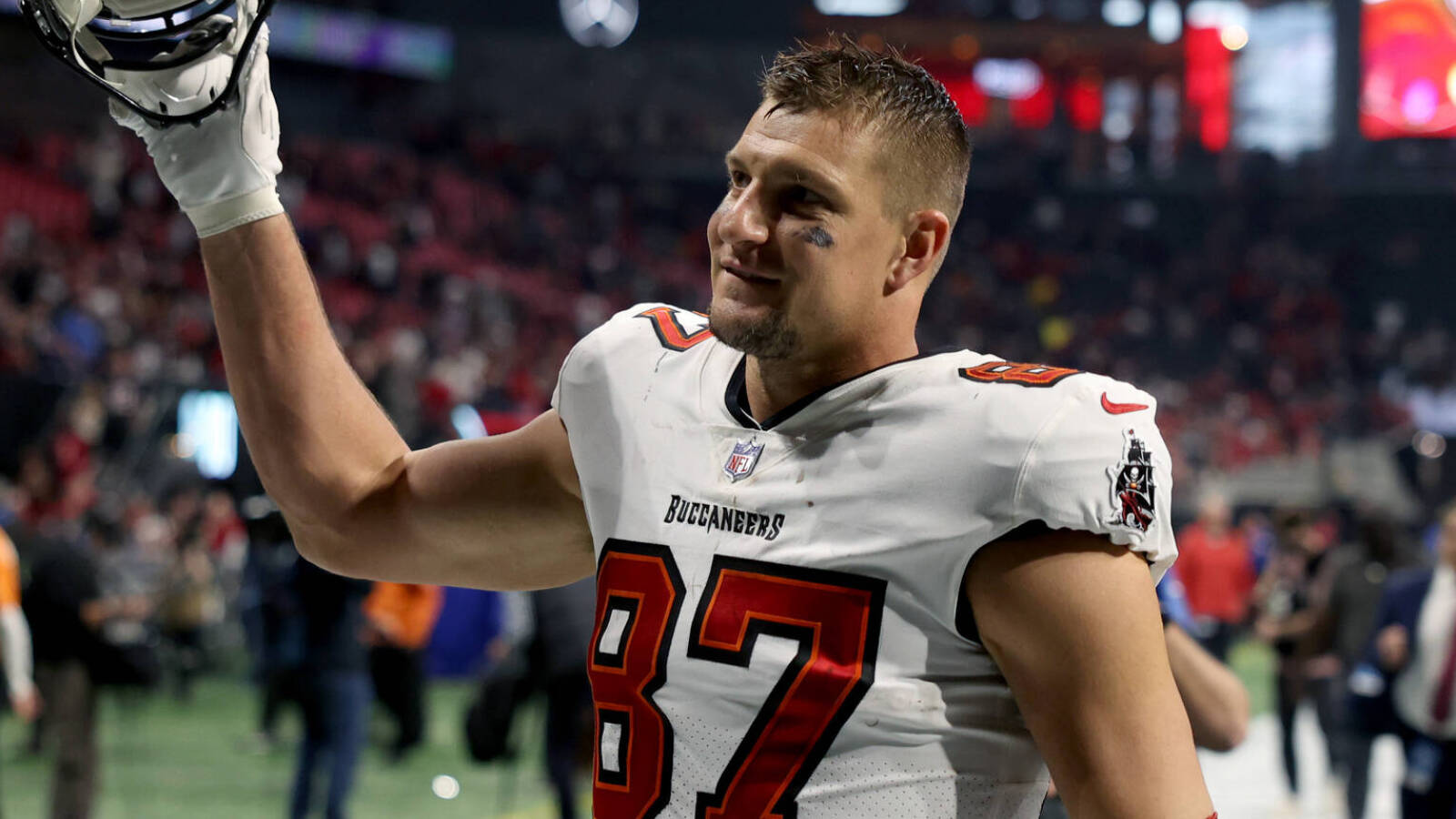 Future Hall of Fame tight end Rob Gronkowski is hanging up his cleats for the second time. The four-time Super Bowl champion announced the decision Tuesday after 11 career seasons. "Gronk" is one of the greatest tight ends to ever play. He holds multiple records such as the most career postseason touchdown receptions for a tight end (15) and most 100-yard receiving games in NFL history by a tight end (32). The four-time First-Time All-Pro is one of the best players of this era and proved that with being selected to the 2010's All-Decade Team. He was a cornerstone in New England for nine seasons before teaming back up with QB Tom Brady in Tampa Bay for his final two career seasons.
Gronkowski was Tom Brady's go-to target for about half of Brady's career. Whether it was in New England or Tampa Bay, No. 87 was always a key piece on the offense for Tom Brady. Who knows if Brady has seven rings without Gronkowski? So, how will Gronkowski's second retirement affect the entire NFC playoff picture in 2022? There are three teams head-and-shoulders above the rest in the NFC. The Super Bowl-champion Rams, the Green Bay Packers and Tampa Bay. 
The loss of Gronkowski is a big one. It takes away one of Brady's top targets and also means that the future Hall of Fame quarterback will have to rely more on his Pro Bowl receivers in Mike Evans and Chris Godwin. Tampa's defense is very solid , especially with new head coach Todd Bowles calling plays. But Tampa has presumably lost four important veterans now in Richard Sherman, Ndamukong Suh, Jason Pierre-Paul and Gronkowski. Don't forget about the loss of Bruce Arians. His leadership will be missed. However, Tom Brady, who was somewhat retired this offseason, is still the signal-caller. Tampa is a Super Bowl contender because No. 12 is back there. But losing Gronkowski doesn't help the situation. Expect them to still win the NFC South, but they appear to be the third-best team in the conference behind L.A. and Green Bay.
The Rams, aside from losing ironman left tackle Andrew Whitworth to retirement and receiver Robert Woods in a trade, has been able to keep nearly every single piece of their championship team. It remains to be seen if Odell Beckham Jr. will return. But signing Pro Bowl receiver Allen Robinson was a great move. Extending star receiver Cooper Kupp and restructuring future Hall of Fame DT Aaron Donald were key moves, too. This team has a very good shot at going back-to-back.
The Packers might be the quietest team in the league with how they operate. They draft and develop very well. The loss of All-Pro receiver Davante Adams hurts a whole lot. But with future Hall of Fame QB Aaron Rodgers leading the team, an underrated offensive attack and with a top-10 defense that is going to be even more elite in 2022, the Packers have a great shot at playing in Arizona next February too.
There are intriguing teams like the Philadelphia Eagles, Minnesota Vikings, Arizona Cardinals and New Orleans Saints that could pose a real threat, too. But the loss of Gronkowski hurts because Brady loses one of the most important teammates of his long career. The last time Brady didn't have his star tight end (2019), he was eliminated at home in the wild-card round by the Tennessee Titans. Tampa Bay will have to find that production somewhere else. If they cannot find it, the Super Bowl might be out of reach for them in 2022.