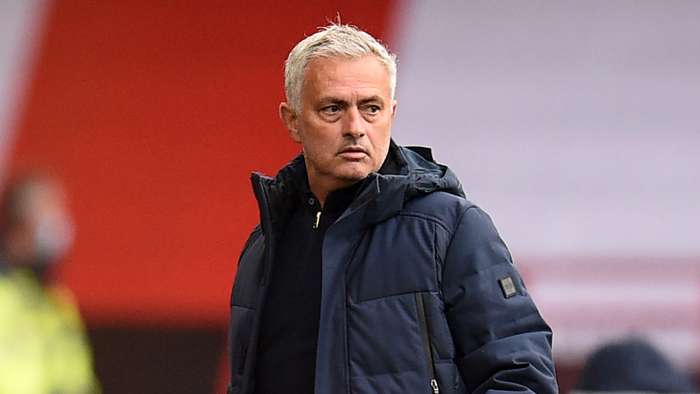 After another poor showing, this time against lowly Brighton and Hove Albion at the weekend, Tottenham Hotspur look very much as if they have shot their bolt. Spurs, of whom much was expected when football returned from the enforced COVID-19 break, are in 6th place in the table, languishing 11 points behind league leaders Manchester City.
Jose Mourinho, who is rated the 6th best manager in the EPL of all time based on silverware won, has to shoulder the blame. There is a reason that Chelsea sacked him, as did Manchester United, and maybe it's time that Daniel Levy, Chairman of Spurs, woke up to that reason and made it a hat trick of EPL sackings before all of the fans desert the club.
Losing Harry Kane to two separate ankle injuries in the 3-1 defeat by Liverpool recently was bad enough. The Spurs' talisman has been in such fine form this season, having scored or assisted in 23 of Tottenham's 34 goals scored in the current campaign. Against Brighton, not only was his goal-scoring and making capability sorely missed, the whole team seemed to lack any sort of get-up-and-go. It was like they had already given up before the game had even got underway.
Spurs' fans love the North London team for their attacking style of play for which they are famed. But under Mourinho, that style has been limited to counter attacks. Mourinho's preference has always been work with a solid defence. He likes to let the other side attack, soak up the pressure and score on the counter.
It is not what devoted fans want to see, and anyway, it is not achievable because of Tottenham's defensive frailties. Supporters would rather see their team score more goals than the opposition.
The Portuguese's surly attitude is his trademark, as is his ruthlessness with certain players as Dele Alli can certainly confirm. Granted, the gifted midfielder had a tendency to drift in and out of games of late, but one can't help feel that with the right manager, he would have been nurtured and encouraged to perform rather than just being shut out. It's exactly what Mourinho did to Paul Pogba back at Old Trafford.
Dele Alli not only scores goals, on his day; he is one of the best playmakers in Europe. It is exactly why ex-Spurs' manager Mauricio Pochettino was so anxious to have Alli join him at Paris Saint-German. However, while Jose Mourinho was had indicated he would be prepared to let the England midfielder go, Chairman, Daniel Levy was not.
The decision to not let Dele go seems to hinge on the fact that Lo Celso is still out with an injury. There was also some speculation that Levy would have been prepared to let the 24-year-old go if Cristian Eriksen could be tempted back into the fold. That didn't happen either.
Being so much out of favour with Mourinho, Dele Alli is now virtually certain of missing his chance to represent his country in the upcoming Europeans. Perhaps if Mourinho was to bring the attacking midfielder back into the starting line up and encourage rather than scold him, it might work better for everyone – the player, the team, and the manager.
One thing is for sure, and that is that Spurs' fans would like to see the back of the Portuguese, and the sooner, the better.