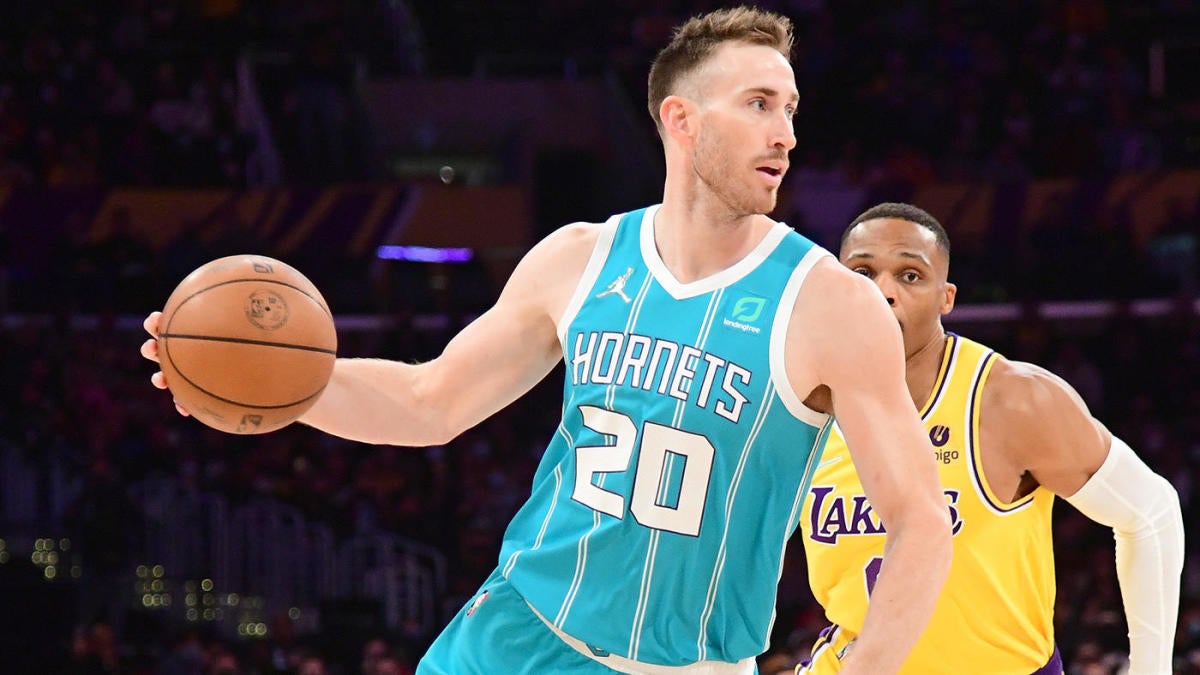 Give Michael Jordan: He's the most consistent figure in the history of basketball. He never lost in the NBA Finals. He never averaged fewer than 20 points per game. And he's never paid the luxury tax as owner of the Charlotte Hornets. Not even during the pre-2011 days when the tax was significantly less punitive. Nope. Jordan runs the Hornets as a business first and a basketball team second, and that informs quite a bit about how he's handling the 2022 offseason.
Prized forward Miles Bridges is set to hit restricted free agency this offseason, and according to Shams Charania, the Hornets are hesitant to match the max offer sheet he inevitably receives. In basketball terms, this makes very little sense. Every postseason elucidates both the NBA's shift toward a wing-based league and the league's desperate lack of skilled, athletic players between 6-7 and 6-9. If you're going to max anyone, you max the 23-year-old, 20-point-scoring forward with the athletic tools to become a defensive stopper. The max itself would be a fairly forgiving one, too. With just four years of experience, Bridges qualifies for only the lowest tier 25 percent max. If someone else signs him to the offer sheet and Charlotte matches, he could receive only five percent raises annually. When you factor in the new television deal that should kick in toward the end of this contract, Bridges might be significantly underpaid by the time it's over.
But Charlotte has nearly $100 million committed to Terry Rozier over the next four years. Bridges is going to get a max offer sheet from someone. P.J. Washington is a year away from a significant raise. In two years? LaMelo Ball gets his own max, and if he continues to develop at his current rate, it might be the heftier 30 percent max, thanks to the Derrick Rose Rule. Unless Jordan gets an ominous visit from the Ghost of Lotteries Yet to Come, his financial history suggests that he's going to draw a line somewhere to avoid risking the tax.
And that's where Gordon Hayward comes in. So desperate are the Hornets to shed money right now that reports have suggested a willingness to part with the No. 15 overall pick in order to move off the two years and $61.6 million remaining on Hayward's deal. Of course, if the Hornets want to move that deal without sacrificing such a valuable pick, there might just be a team that can accommodate them.
The Hornets have been linked to Russell Westbrook since the beginning of the offseason, and even with the draft coming up, Kevin O'Connor reported that Charlotte's interest in the former MVP and Jordan Brand pitchman is "real." As we've covered, any team willing to acquire Westbrook will likely do so for non-basketball reasons. Money is a non-basketball reason. While swapping Hayward and some extra salary ballast for Westbrook's $47 million contract might not save much next season, it has only a single season left. If the Lakers want to get off Westbrook badly enough, the Hornets can use them to offload any pesky, lingering long-term deals they want. They might even be able to score a bit of draft compensation for their troubles. 
The key to all of this is how interested the Lakers could be in Hayward. So let's break down that fit as perhaps the last remaining Westbrook deal on the table for the Lakers.
What does Gordon Hayward do well?
Fortunately for the Lakers, Hayward checks the most important box that Westbrook doesn't: shooting. Though his 3-point shooting was a tad inconsistent during his Utah days, he has largely excelled at making the sort of shots the Lakers are going to need their role players to make since joining the Celtics. 
| | | |
| --- | --- | --- |
| Hayward season | Catch-and-shoot 3-point percentage | Wide-open 3-point percentage |
| 2021-22 | 37.4% | 36.2% |
| 2019-20 | 45.3% | 43.8% |
| 2018-19 | 42.5% | 40.8% |
| 2017-18 | 35.8% | 37% |
Hayward's pull-up 3-point numbers aren't nearly as strong, but he's coming off a strong season in that regard, and just as importantly, he's steadily made those shots inside of the arc. Over the past three seasons, he's hit 47.9 percent of his pull-up 2s and 46.8 percent of his mid-range attempts. That is the kind of shot profile the Lakers need out of a third scorer in the postseason. There's rarely going to be much of a need for anyone aside from LeBron James to create 3-pointers off the dribble. The rest of the team needs to make the shots he creates and sink the ones the defense gives them. Hayward does both. He's a true three-level scorer with quite a bit of craft to mask his waning athleticism. His interior numbers remain strong, but he isn't finishing through contact as easily as he once did. Instead, he's honed an arrow of turnarounds, spin moves and hook shots to help him generate clean looks near the basket when he can't quite get there. 
Defenses know that Hayward can score from anywhere, and that empowers his playmaking. Though not the flashiest passer, he's an expert at leveraging his power as a scorer to bend defenses in his favor. On this play, he knows he doesn't have much hope one-on-one against Giannis Antetokounmpo, so he engages Khris Middleton as a help-defender to create a lane to the basket for Miles Bridges:
This sort of shot creation is most evident on 3-pointers, which Hayward creates much more easily for teammates than he does himself. He processes information so quickly and sees the court so well that when he drives into crowded paints or faces traps on the perimeter he's almost always going to be able to find whoever the defenses is leaving open to give him that extra attention:
These kinds of passes are among the benefits of being a former All-Star. Hayward is used to being a focal point of opposing game plans and he's figured out how to use that to his advantage. The difference between him and Westbrook is that he's perfectly aware that he isn't an All-Star anymore, and he's compensated for his diminished shot creation by growing into a very capable and attentive cutter. There's nothing particularly special about this cut. Hayward is being guarded by Devin Booker, and Booker knows that Washington is a shooter to be feared, so when the ball makes its way to Washington behind the arc, Hayward takes advantage of the instinctive step Booker takes toward the ball to sneak behind him for two easy points. Essentially, he was rewarded for paying attention:
Plays like that represent fairly easy offense, but Hayward is a strong bailout cutter as well. When Terry Rozier finds himself trapped on the baseline, Hayward understands the geometry of the floor well enough to know that the angle at which Andrew Wiggins is defending him isn't going to be conducive to cutting off the middle of the floor. So Hayward bolts inside, uses an arm to stave off Wiggins and takes advantage of all the energy the defense put into Rozier to get the Hornets two points:
And as a treat for James? Hayward scores plenty of points in the give-and-go, and LeBron loves running a quick two-man game out of transition. He and Hayward can swap roles in this dance pretty easily: 
All of this is to say that Hayward is a wonderful complementary offensive player and would thrive on a team with James and Anthony Davis. The bigger questions here are defensive, and while there are more negatives than positive at this stage in his career, he's not a complete liability on that end of the floor. His numbers in isolation have remained fairly strong even into his later years. Guards challenge him frequently knowing how much athleticism he's lost, but even in his weakened state, he's still quick enough to survive against most of them because he has such deceptive size and strength that he can still control the terms of engagement when they attack:. 
Size is a virtue unto itself defensively, and Hayward would likely play shooting guard in some lineup constructions. Such groups would tower over opponents, and Anthony Davis can cover for teammates with limited mobility. Hayward is primarily a help defender at this point in his career, and he plays that role fairly well. That doesn't make him an ideal partner for James, who even spent the 2020 championship season largely hiding on poor shooters in the corner so he could communicate coverages to his teammates and help near the rim, but it's value that Westbrook simply doesn't offer. You can scheme a defense with Hayward much more easily than you can with Westbrook simply because he's bigger and more attentive. 
Where does Gordon Hayward struggle?
Offensively, we can only really pick nits. He's never gotten to the rim all that much or drawn too many fouls. He's also not a particularly high-usage player anymore and has spent the past several seasons playing off multiple shot creators. That's probably a good thing for the minutes he'd share with James, but it also suggests he's less likely to solve their "how do we score when LeBron goes to the bench?" dilemma. 
Hayward has hardly played any minutes without either Rozier or LaMelo Ball over the past two years, and the results have been mixed. Charlotte's offense was comfortably above average in those situations a season ago. During the 2020-21 campaign? It ranked in the 46th percentile in terms of offensive efficiency, according to Cleaning the Glass. Those lineups all featured more shooting than most Lakers bench lineups are likely to. Hayward's pick-and-roll numbers have been pedestrian since he left Utah for Boston, but they aren't exactly a fair barometer of his ability in that respect because of the big men he's played with. Al Horford, Daniel Theis, Cody Zeller and Mason Plumlee don't jump. Davis changes everything for Hayward as a pick-and-roll playmaker, so it's hard to judge him too harshly there.
The real warts are on defense. Hayward is still quick enough for many guards, but he doesn't stand a chance against the league's fastest. Trae Young absolutely blows by Hayward on this play but just couldn't quite finish: 
These physical limitations essentially remove Hayward's margin for error. He has no ability to recover once a driver has beaten him. On this play, Norman Powell gets a step on him as Hayward is anticipating the screen. Hayward tries to recover but he's lost too much balance, so when Powell puts a shoulder into his chest, he's effectively knocked out of the play:
There aren't many guards who are going to pose these sorts of physical challenges to Hayward, but winning a championship means beating them. Stephen Curry and Ja Morant are in the Western Conference and they are going to hunt Hayward in the playoffs. They're likely going to do so in pick-and-roll, because this season, Hayward was completely unable to fight through screens:. 
Some of that is a strength disadvantage against big men. Some of it is a lack of speed. Some of it is poor scheme. Some of it is poor effort. This is not acceptable in high-leverage situations:
Effort is fixable, and it's rooted in team culture. James and Davis built a defense-first culture in 2020. It won the Lakers a championship. Get Hayward to buy in and there's plenty of room for improvement here, and having Davis increases the margin for error significantly. But switch-hunting is a major component of 2020's playoff defense, and Hayward, specifically, is a head virtually every opponent is going to want to mount above its fireplace. Getting his offense off the floor would be a major win, so opponents are going to do everything in their power to try to do it. There's a reasonable chance they succeed. 
And we can't talk about Hayward without talking about the injuries. In Utah, he was one of the NBA's most durable players. Ever since? Not so much. Here's an incomplete list of the injuries he's suffered as a Celtic and Hornet.
A fractured tibia and dislocated left ankle ended his 2017-18 season after just five minutes.
He played only 52 games in the 2019-20 season due largely to a fractured left hand. In the postseason, he sprained his right ankle and missed 12 more games.
Missed the end of the 2020-21 season due to a right foot sprain.
Sprained several ligaments in his left ankle last February and missed most of the remainder of the season. 
There's a definite injury risk in acquiring Hayward. Getting him through 82 games might mean deciding from the beginning that he can't play back-to-backs or that he must adhere to a minutes limit. That is for the training staff to determine. 
What would the rest of the deal look like?
As much as it would mean to Charlotte to get off Hayward's 2023-24 money, there is still a $17 million gap between he and Westbrook that needs to be accounted for in this deal. The Hornets have three hefty contracts that could conceivably do so:
Terry Rozier will make $21.5 million next season and is owed roughly $96 million through the 2025-26 season.
Kelly Oubre Jr. will make $12.6 million next season. His deal expires after that, and is guaranteed for only $5 million until June 30.
Mason Plumlee will make $8.1 million next season. His deal expires after that. It was originally only partially guaranteed, but the deal expired 10 days prior to the 2022 July moratorium, which was Tuesday.
If Charlotte's goal is purely to save money, Rozier would be the second player in the deal. Westbrook could be their escape hatch on that deal if they have buyer's remorse, but Rozier is also the best player of the three by far. He's a tremendous shooter who's lightning quick and has defended well in the past when not burdened by a significant role as an offensive creator. The Lakers would probably love to have him on the court. Whether they'd be willing to take on his deal for the long haul is another question. The added expense of absorbing him could easily scare the Lakers off using the taxpayer mid-level exception.
Oubre and Plumlee are more reasonable contracts, and they're useful players. Plumlee probably isn't a starting-caliber center on a playoff team, but DeAndre Jordan set a very, very low bar for the Lakers last season. Oubre never quite figured out Golden State's read-and-react system, but has done well in more traditional offenses. More importantly, he checks every box for a wing physically: tall, long, fast and sturdy. Every team in the NBA is going to spend this offseason trying to find its own Andrew Wiggins, a malleable lump of wing clay for them to mold into a high-level role player. Oubre could be such a player for somebody.
Were a deal to materialize, a combination of Oubre and Plumlee feels likelier than Rozier. The Hornets extended Rozier just 10 months ago, and he's coming off another strong season. In all likelihood, he's still viewed as a long-term member of the core. Oubre and Plumlee are much more replaceable. With first-round picks at No. 13 and No. 15, the Hornets could simply try to replace them with cost-controlled youngsters on Thursday. To the Lakers? They'd be valuable depth.
But this deal's viability ultimately comes down to just how badly Michael Jordan wants to save money. Trading for Westbrook doesn't do all that much of it this season. If there's a deal on the table that does? The Hornets probably take it. But if Charlotte wants to save money next season badly enough? Westbrook is the Hornets' ticket to doing so.
require.config({"baseUrl":"https://sportsfly.cbsistatic.com/fly-0262/bundles/sportsmediajs/js-build","config":{"version":{"fly/components/accordion":"1.0","fly/components/alert":"1.0","fly/components/base":"1.0","fly/components/carousel":"1.0","fly/components/dropdown":"1.0","fly/components/fixate":"1.0","fly/components/form-validate":"1.0","fly/components/image-gallery":"1.0","fly/components/iframe-messenger":"1.0","fly/components/load-more":"1.0","fly/components/load-more-article":"1.0","fly/components/load-more-scroll":"1.0","fly/components/loading":"1.0","fly/components/modal":"1.0","fly/components/modal-iframe":"1.0","fly/components/network-bar":"1.0","fly/components/poll":"1.0","fly/components/search-player":"1.0","fly/components/social-button":"1.0","fly/components/social-counts":"1.0","fly/components/social-links":"1.0","fly/components/tabs":"1.0","fly/components/video":"1.0","fly/libs/easy-xdm":"2.4.17.1","fly/libs/jquery.cookie":"1.2","fly/libs/jquery.throttle-debounce":"1.1","fly/libs/jquery.widget":"1.9.2","fly/libs/omniture.s-code":"1.0","fly/utils/jquery-mobile-init":"1.0","fly/libs/jquery.mobile":"1.3.2","fly/libs/backbone":"1.0.0","fly/libs/underscore":"1.5.1","fly/libs/jquery.easing":"1.3","fly/managers/ad":"2.0","fly/managers/components":"1.0","fly/managers/cookie":"1.0","fly/managers/debug":"1.0","fly/managers/geo":"1.0","fly/managers/gpt":"4.3","fly/managers/history":"2.0","fly/managers/madison":"1.0","fly/managers/social-authentication":"1.0","fly/utils/data-prefix":"1.0","fly/utils/data-selector":"1.0","fly/utils/function-natives":"1.0","fly/utils/guid":"1.0","fly/utils/log":"1.0","fly/utils/object-helper":"1.0","fly/utils/string-helper":"1.0","fly/utils/string-vars":"1.0","fly/utils/url-helper":"1.0","libs/jshashtable":"2.1","libs/select2":"3.5.1","libs/jsonp":"2.4.0","libs/jquery/mobile":"1.4.5","libs/modernizr.custom":"2.6.2","libs/velocity":"1.2.2","libs/dataTables":"1.10.6","libs/dataTables.fixedColumns":"3.0.4","libs/dataTables.fixedHeader":"2.1.2","libs/dateformat":"1.0.3","libs/waypoints/infinite":"3.1.1","libs/waypoints/inview":"3.1.1","libs/waypoints/jquery.waypoints":"3.1.1","libs/waypoints/sticky":"3.1.1","libs/jquery/dotdotdot":"1.6.1","libs/jquery/flexslider":"2.1","libs/jquery/lazyload":"1.9.3","libs/jquery/maskedinput":"1.3.1","libs/jquery/marquee":"1.3.1","libs/jquery/numberformatter":"1.2.3","libs/jquery/placeholder":"0.2.4","libs/jquery/scrollbar":"0.1.6","libs/jquery/tablesorter":"2.0.5","libs/jquery/touchswipe":"1.6.18","libs/jquery/ui/jquery.ui.core":"1.11.4","libs/jquery/ui/jquery.ui.draggable":"1.11.4","libs/jquery/ui/jquery.ui.mouse":"1.11.4","libs/jquery/ui/jquery.ui.position":"1.11.4","libs/jquery/ui/jquery.ui.slider":"1.11.4","libs/jquery/ui/jquery.ui.sortable":"1.11.4","libs/jquery/ui/jquery.ui.touch-punch":"0.2.3","libs/jquery/ui/jquery.ui.autocomplete":"1.11.4","libs/jquery/ui/jquery.ui.accordion":"1.11.4","libs/jquery/ui/jquery.ui.tabs":"1.11.4","libs/jquery/ui/jquery.ui.menu":"1.11.4","libs/jquery/ui/jquery.ui.dialog":"1.11.4","libs/jquery/ui/jquery.ui.resizable":"1.11.4","libs/jquery/ui/jquery.ui.button":"1.11.4","libs/jquery/ui/jquery.ui.tooltip":"1.11.4","libs/jquery/ui/jquery.ui.effects":"1.11.4","libs/jquery/ui/jquery.ui.datepicker":"1.11.4"}},"shim":{"liveconnection/managers/connection":{"deps":["liveconnection/libs/sockjs-0.3.4"]},"liveconnection/libs/sockjs-0.3.4":{"exports":"SockJS"},"libs/setValueFromArray":{"exports":"set"},"libs/getValueFromArray":{"exports":"get"},"fly/libs/jquery.mobile-1.3.2":["version!fly/utils/jquery-mobile-init"],"libs/backbone.marionette":{"deps":["jquery","version!fly/libs/underscore","version!fly/libs/backbone"],"exports":"Marionette"},"fly/libs/underscore-1.5.1":{"exports":"_"},"fly/libs/backbone-1.0.0":{"deps":["version!fly/libs/underscore","jquery"],"exports":"Backbone"},"libs/jquery/ui/jquery.ui.tabs-1.11.4":["jquery","version!libs/jquery/ui/jquery.ui.core","version!fly/libs/jquery.widget"],"libs/jquery/flexslider-2.1":["jquery"],"libs/dataTables.fixedColumns-3.0.4":["jquery","version!libs/dataTables"],"libs/dataTables.fixedHeader-2.1.2":["jquery","version!libs/dataTables"],"https://sports.cbsimg.net/js/CBSi/app/VideoPlayer/AdobePass-min.js":["https://sports.cbsimg.net/js/CBSi/util/Utils-min.js"]},"map":{"*":{"adobe-pass":"https://sports.cbsimg.net/js/CBSi/app/VideoPlayer/AdobePass-min.js","facebook":"https://connect.facebook.net/en_US/sdk.js","facebook-debug":"https://connect.facebook.net/en_US/all/debug.js","google":"https://apis.google.com/js/plusone.js","google-platform":"https://apis.google.com/js/client:platform.js","google-csa":"https://www.google.com/adsense/search/async-ads.js","google-javascript-api":"https://www.google.com/jsapi","google-client-api":"https://apis.google.com/js/api:client.js","gpt":"https://securepubads.g.doubleclick.net/tag/js/gpt.js","hlsjs":"https://cdnjs.cloudflare.com/ajax/libs/hls.js/1.0.7/hls.js","newsroom":"https://c2.taboola.com/nr/cbsinteractive-cbssports/newsroom.js","recaptcha":"https://www.google.com/recaptcha/api.js?onload=loadRecaptcha&render=explicit","recaptcha_ajax":"https://www.google.com/recaptcha/api/js/recaptcha_ajax.js","supreme-golf":"https://sgapps-staging.supremegolf.com/search/assets/js/bundle.js","taboola":"https://cdn.taboola.com/libtrc/cbsinteractive-cbssports/loader.js","twitter":"https://platform.twitter.com/widgets.js","video-avia":"https://vidtech.cbsinteractive.com/avia-js/1.14.0/player/avia.min.js","video-avia-ui":"https://vidtech.cbsinteractive.com/avia-js/1.14.0/plugins/ui/avia.ui.min.js","video-avia-gam":"https://vidtech.cbsinteractive.com/avia-js/1.14.0/plugins/gam/avia.gam.min.js","video-ima3":"https://imasdk.googleapis.com/js/sdkloader/ima3.js","video-ima3-dai":"https://imasdk.googleapis.com/js/sdkloader/ima3_dai.js","video-utils":"https://sports.cbsimg.net/js/CBSi/util/Utils-min.js","video-vast-tracking":"https://vidtech.cbsinteractive.com/sb55/vast-js/vtg-vast-client.js"}},"waitSeconds":300});