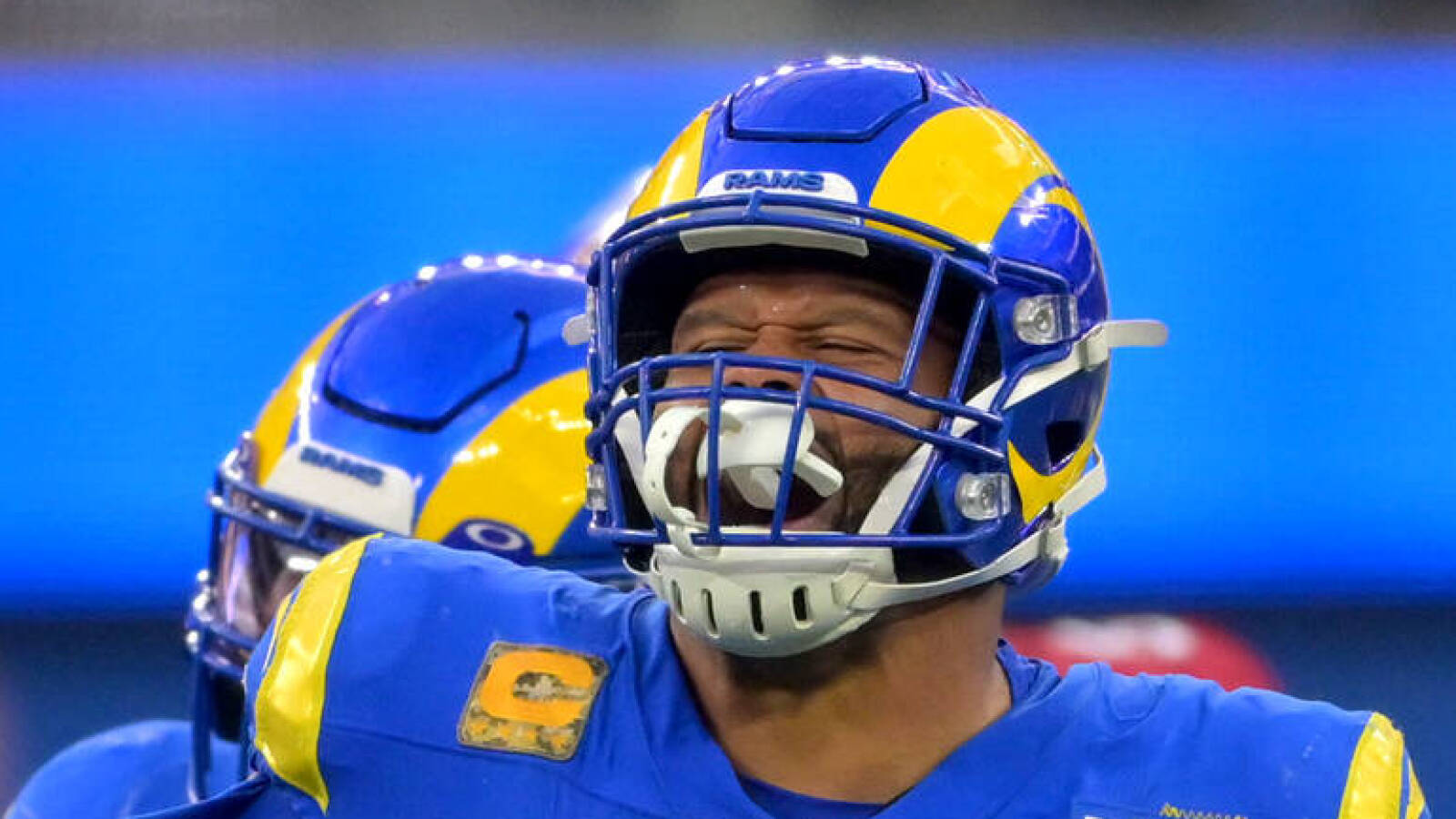 Although Kupp and Stafford have missed stretches of seasons before, Donald has been one of the league's most durable players.
The seven-time All-Pro has never missed a game due to injury; his only absences (two) came because of a 2017 holdout. 
Over the course of his second Rams contract, Donald became one of the greatest defenders in NFL history. He derailed the Bengals' final drive in Super Bowl LVI and may well have won MVP acclaim were ballots not required to be turned in before that drive.
Donald, 31, threatened retirement and sent the Rams a letter — amid contract negotiations — informing them of his intentions to walk away. The Rams came back to the table with an unprecedented offer — a straight raise with no new years added, making Donald the NFL's highest-paid defender again. 
Donald's $31.6M-per-year average dwarfs the rest of the D-tackle market; no other interior D-lineman makes more than $21M per annum. 
That deal has not started off well for the Rams, who have seen their run of good health in recent years deteriorate into a mess that has this team on course to be the worst defending Super Bowl champion in league history.
Donald's third Rams pact runs through 2024; he is set to count $26M against Los Angeles' cap next year. That money is guaranteed, though Donald's 2024 cash is not. 
This season, Donald's production has dipped a bit. The ninth-year defender has five sacks and 11 quarterback hits. While he still would have had time to move toward his seventh double-digit sack season, this injury will probably nix such an effort.
Kupp underwent ankle surgery and is expected to miss at least the next four games. Considering that timetable and the Rams' 3-8 record, it seems unlikely the All-Pro wideout will play again this year. 
Stafford has spent the past two weeks in concussion protocol, with a neck issue leading him back there after he left the Rams' Week 11 loss to the Saints early. 
Conflicting reports surfaced about Stafford returning this season, but the Rams are unsurprisingly considering punting on the rest of the veteran quarterback's 14th season and regrouping in 2023. Stafford's new deal runs through 2026.
The Rams squandered key seasons from their well-paid trio. Donald will turn 32 in May; Stafford will be 35 in February. Kupp is younger, but he will hit 30 in June. 
The team, which also placed Allen Robinson on IR on Tuesday because of a season-ending foot injury, may see its skeleton crew thin further in the weeks ahead. 
Although the 1982 49ers finished 3-6, a strike-shortened season impacted their first title defense, no defending Super Bowl champion has finished with fewer than six wins in a non-strike-shortened campaign; if the Rams are to be without Donald and Stafford the rest of the way, they might have a hard time making it to 6-11. 
The Lions hold the Rams' 2023 first-round pick.