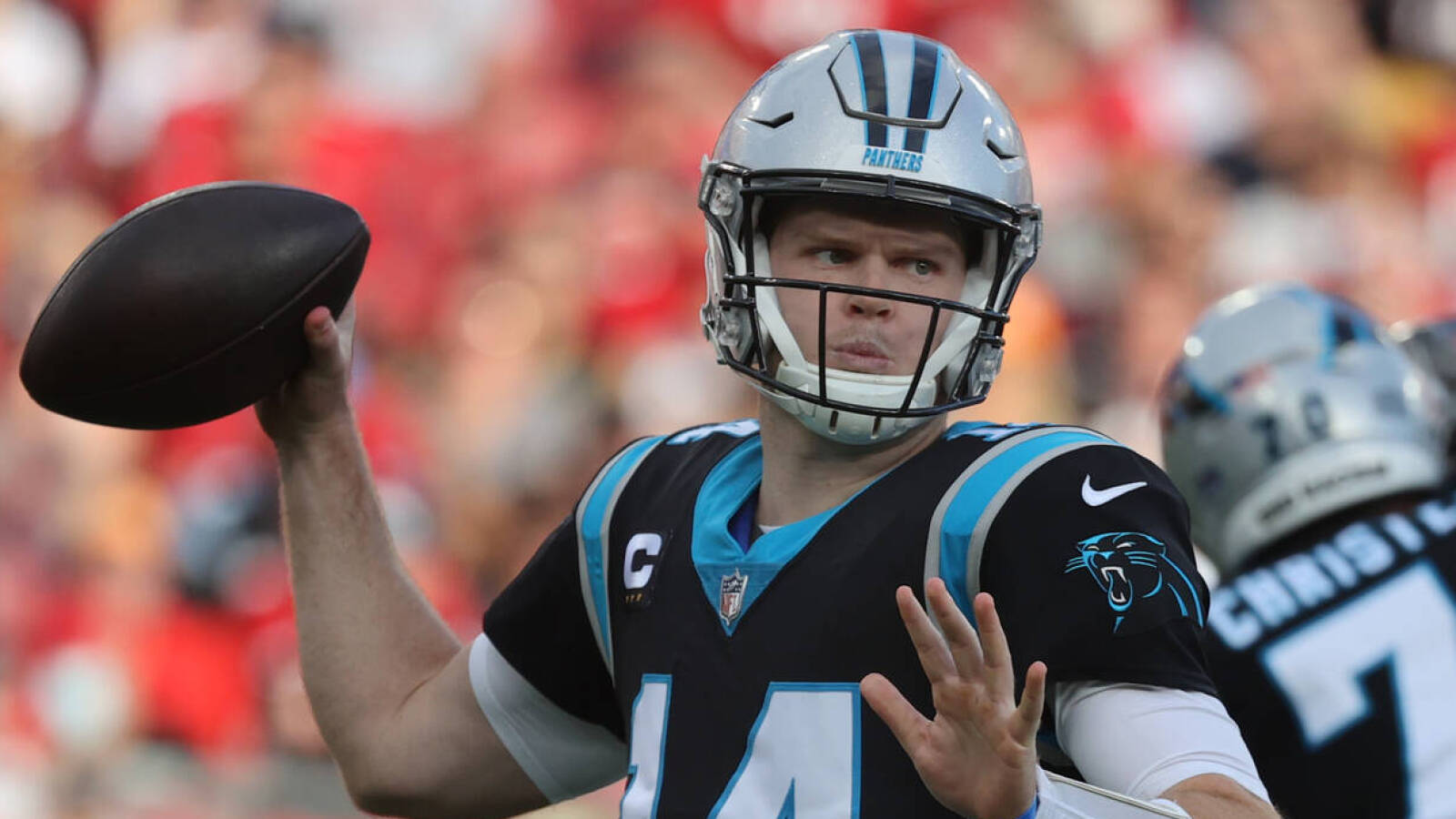 There was plenty of speculation before the 2022 NFL Draft that the Carolina Panthers would go shopping for their next quarterback, either through trade or on the free-agent market.
A few weeks since the draft, neither a trade nor a free agent acquisition has occurred in Carolina. 
Panthers' GM Scott Fitterer was a guest of Mike Florio on a recent episode of PFT PM, where he spoke about the team's quarterback position. According to Fitterer, the No. 1 spot is Sam Darnold's, but the former No. 3 overall pick must "own the position" if he hopes to keep it heading into Week 1. 
"Sam is the number one guy right now. He has every opportunity to take it and run with it. We hope he does well. We've seen improvement already under [offensive coordinator] Ben McAdoo. He's working hard; he's throwing the ball well," Fitterer said. "He's just got to take it and run with it. He's got to own the position. The one thing we're looking to do is stabilize the position," Fitterer said. "It's been up and down, up and down. We're bringing in Matt Corral; P.J. Walker's already here. We'll see how it goes. He's in the lead right now, but until someone really owns that position, gives us an opportunity to win, it will always be up for grabs."
Last season, Darnold's first year with the Panthers didn't go as planned. Darnold led the Panthers to three-straight wins, but Carolina went just 2-7 in his final nine starts of the season. 
Darnold finished with a 59.8 completion percentage, throwing for nine touchdowns and 13 interceptions. The 24-year-old also rushed for 222 yards and five touchdowns. He was sacked 35 times and lost four of nine fumbles.
Carolina acquired Darnold from the New York Jets in 2021 for three draft picks. 
Walker has played two seasons with the Panthers, brought in as an undrafted free agent after previously playing for Panthers head coach Matt Rhule at Temple University. The 27-year-old played in five games, starting one, for the Panthers last season. Walker completed 54.5 percent of his passes, throwing for a touchdown and three interceptions. Carolina won Walker's lone start against the Arizona Cardinals, 34-10. 
The Panthers traded up to draft Corral out of Ole Miss in the third round of the draft. 
In 13 games for the Rebels in his final season, Corral finished with a 67.9 completion percentage, throwing for 3,349 yards, 20 touchdowns, and five interceptions. In 37 career college games at Ole Miss, Corral had a 67.3 completion percentage with 8,287 passing yards, 57 touchdowns, and 23 interceptions.