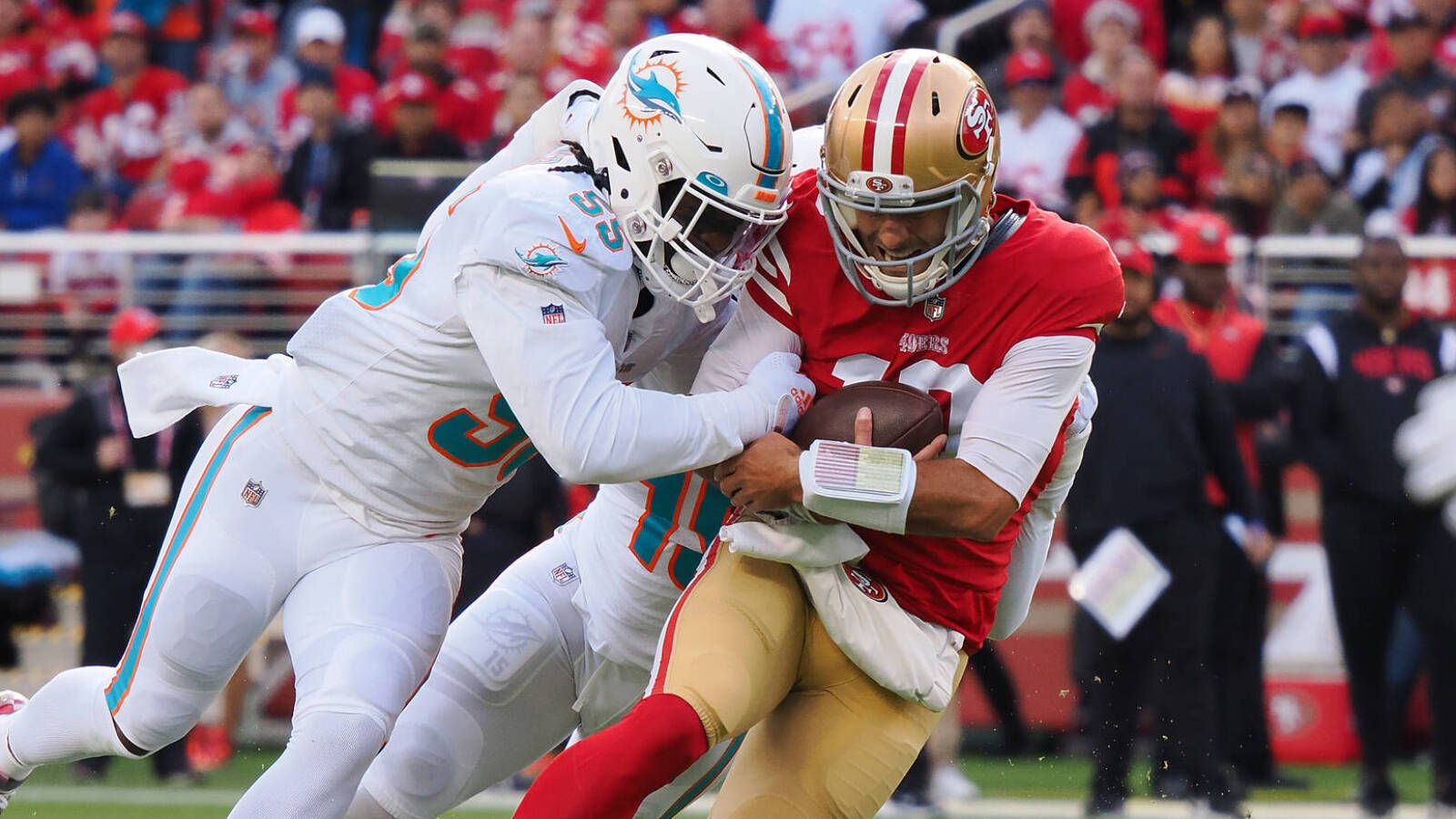 Per Oddschecker, the 49ers' odds of winning the Super Bowl dropped significantly with news of Garoppolo's season-ending injury. 
The team was at plus-600 at Bet MGM before the severity of Garoppolo's injury was confirmed by head coach Kyle Shanahan. Afterward, San Francisco's odds dipped to plus-1100.
Losing Garoppolo is a major blow to a team that received considerable buzz as a Super Bowl contender since trading for Christian McCaffery and its defense emerging as the best in football. 
In 60 games (including postseason), Garoppolo is 41-19 as a starter in San Francisco. This season, he went 6-3 and was 207-of-308 (67.2%) for 2,437 yards with 16 touchdowns and four interceptions.
He played what looked like his last game with the 49ers in the NFC Championship Game a season ago after the team made no secret of its desire to move on to the third-overall pick in the 2021 draft, Trey Lance. 
Garoppolo remained in San Francisco and backed up Lance the first two weeks of this season before Lance suffered a season-ending ankle injury, forcing Garoppolo back into the starting lineup.
As good as Garoppolo has been as a starter, one reason the 49ers traded up in the 2021 draft for Lance was because of Garoppolo's injury history. 
Since joining the 49ers, he's missed 25 games due to injury and played in last season's playoffs with a torn thumb ligament. (h/t Draft Sharks). In six seasons with the 49ers, Garoppolo has three season-ending injuries.
The team will turn to seventh-round draft pick (262nd overall) Brock Purdy with the team's top two quarterbacks out for the season.
He performed admirably in an extended appearance against the Miami Dolphins on Sunday. Purdy was 25-of-37 for 210 yards with two touchdowns and one interception. San Francisco won 33-17.
Purdy gets his first NFL start against Tom Brady and the Tampa Bay Buccaneers next Sunday at home, followed by a Thursday night game at Seattle with first place in the division possibly on the line.
While the team around him remains strong, it's tough to ask a rookie QB drafted with the last pick in the draft to lead a team to a Super Bowl victory, let alone imagine it happening.
At 8-4 and first in the NFC West, everything is still in front of the 49ers. With Garoppolo's injury, however, their best days may be in the rearview.