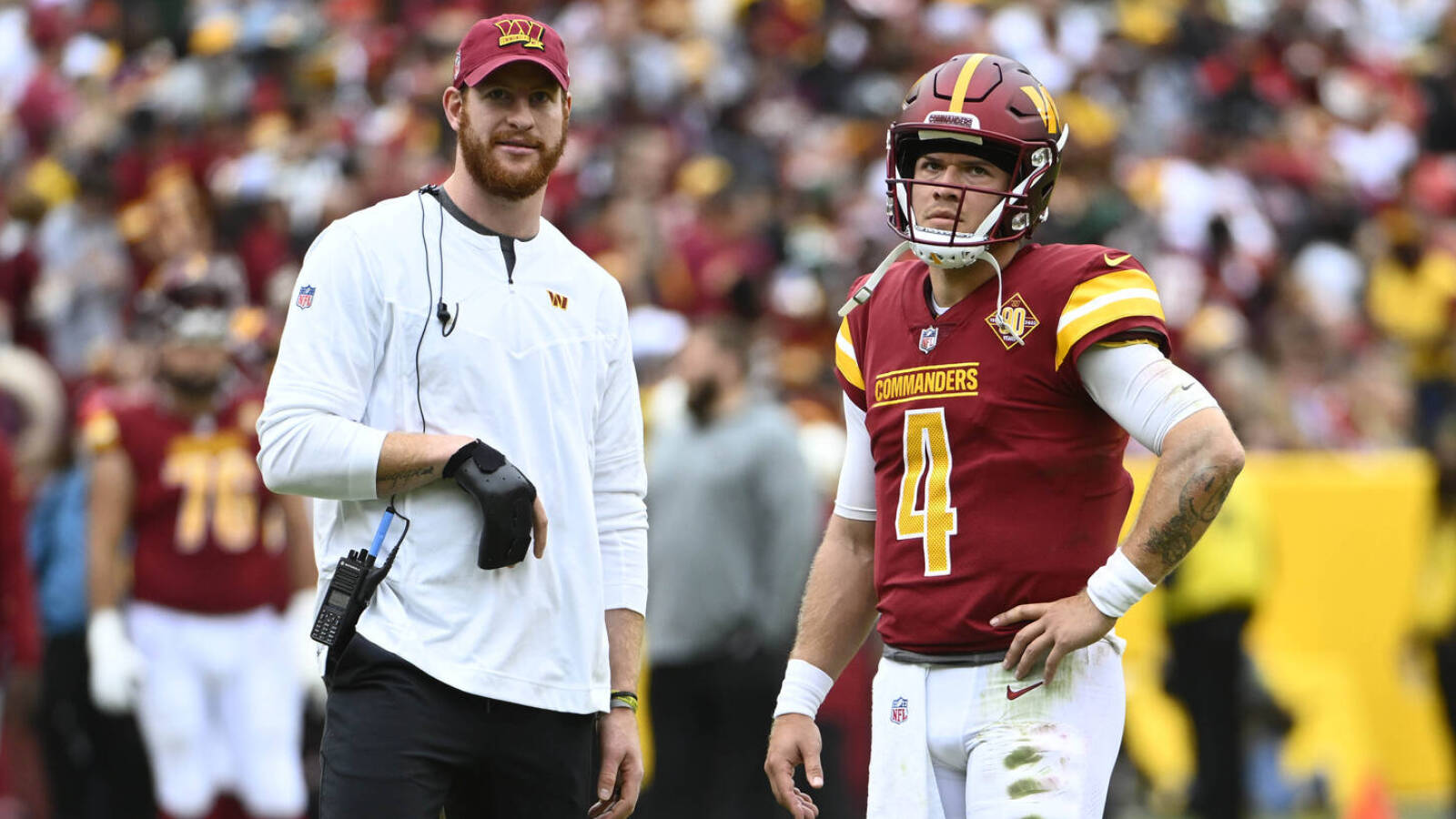 Taylor Heinicke has helped the Washington Commanders climb back into playoff contention, and it is going to create a dilemma for the coaching staff in the coming weeks. 
What makes it even more difficult is the decision might not actually matter.
Carson Wentz, who entered the season as the starter, is eligible to come off of injured reserve this week and is already back to lightly throwing the football as he continues to recover from a hand injury that has sidelined him for the past four weeks.
During his absence, Heinicke has helped guide the Commanders to a 3-1 record, including Monday's upset win over the previously unbeaten Philadelphia Eagles. Does head coach Ron Rivera stick with the hot hand? Or does he go back to his original starter for the season in Wentz when he is able to return?
Rivera refused to tip his hand on Monday, only saying he would discuss future quarterback options more at his weekly press conference on Tuesday.
The Washington Post's Barry Svrulga argued after Monday's game that the team can not go back to Wentz after the way Heinicke has played so far, while NFL.com pointed out the symbolism of Heinicke potentially taking Wentz's job against Wentz's former team. 
Heinicke, for his part, does not seem bothered by the discussion and is ready to roll with whatever decision the coaching staff makes. 
"If my number is called, I'll be ready to go in. Whatever decision they want to make, let's go. If I'm backing up Carson next week, great. I'm going to help him in any way that I can to get ready for that Texans game. The biggest thing for me is let's just go win. Let's keep winning whether it means playing or not."
What makes this decision so difficult, though, is the harsh reality that it may not really matter because there has been virtually no difference in the performance of the two quarterbacks this season. 
While the Commanders record with Heinicke has been better, and the team has seen a small bump in its overall scoring, the two quarterbacks have posted identical numbers individually. 
They have both completed 62 percent of their passes. 
Wentz has averaged 6.4 yards per pass attempt to 6.8 for Heinicke.
Wentz has 10 touchdown passes on 232 attempts (a 4.3 TD percentage) while Heinicke has five touchdowns on 121 attempts (a 4.1 TD percentage).
Neither quarterback has done a great job protecting the football, while Heinicke has been marginally worse. Wentz has been picked off six times on his attempts (2.6 INT%) while Heinicke has been picked on five of his attempts (a 3.3 INT%). Their passer ratings are also identical (84.1 for Wentz; 82.7 for Heinicke).
How do you make a decision based off of that? It's almost impossible. 
That's what makes it so difficult for Rivera. Neither quarterback has really stood out, and he now has to decide between sticking with the "hot" hand (who isn't all that hot), or going back to the guy who has been a scapegoat in each of his past three stops. If makes the switch back to Wentz and the team stops winning, he is going to make himself (and Wentz) quite a target for criticism.