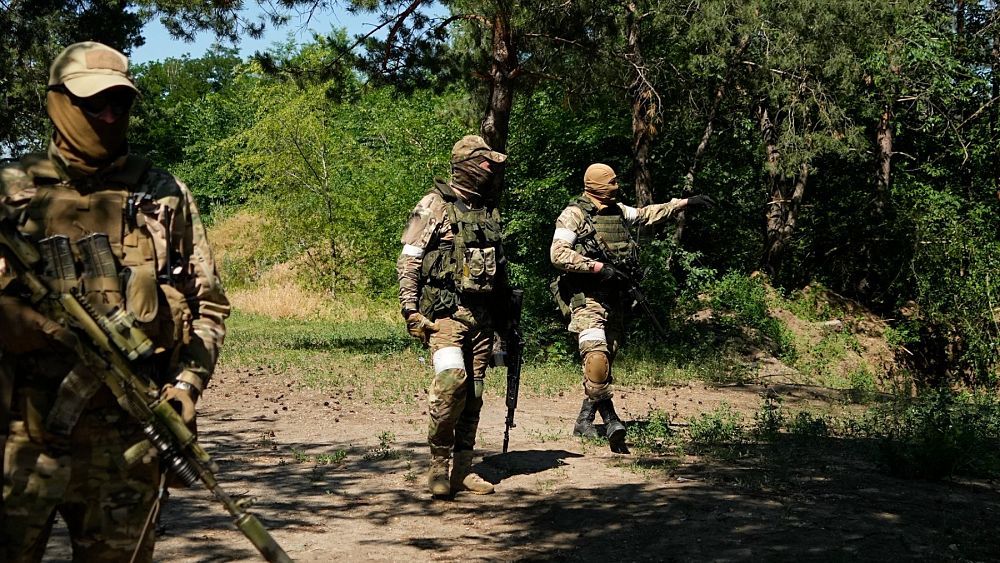 Fierce street-to-street fighting is ongoing in the key eastern city of Sievierodonetsk, with the Russian shelling hitting a nitrogen fertilizer plant sheltering hundreds of civilians, resulting in a large fire, Luhansk regional governor Serhiy Haidai said.
Outside of the Donbas, Ukrainian officials have reported that the army has made progress in repelling the Russian forces in the Kherson region, while the Ternopil region was bombarded overnight by the Russians.
Follow the latest developments in our live blog below, or watch our live coverage in the player above.
11:48
Sunday's key points:
Intense fighting continued in Sievierodonetsk, according to regional governor Serhiy Haidai, while the Ukrainian forces have repelled a Russian advance on Popasna on Saturday night.
Scholz, Macron and Draghi are planning to visit the Ukrainian capital and meet with President Volodymyr Zelenskyy ahead of the G7 summit.
European Commission President Ursula von der Leyen, visiting Kyiv, told President Zelenskyy that Brussels would finalise its assessment on Ukraine's eligibility for EU membership "by the end of next week".
Ukrainian and British officials warned that Russian forces are relying on Soviet-era missiles that are "highly inaccurate" and likely to cause significant civilian casualties, due to a lack of more precise modern weapons.
Russia on Saturday handed out its first passports to residents of Kherson and Melitopol in southern Ukraine.
Nearly 800 children have been killed or injured in Ukraine since the beginning of Russia's invasion, Ukrainian authorities said Saturday.
Kyiv insists it was ready for war after President Biden said Zelenskyy "didn't want to hear" US intelligence reports that Russia was planning to invade Ukraine.
Nine eastern flank countries have met in Bucharest to demand more help from NATO to counter the Russian threat.