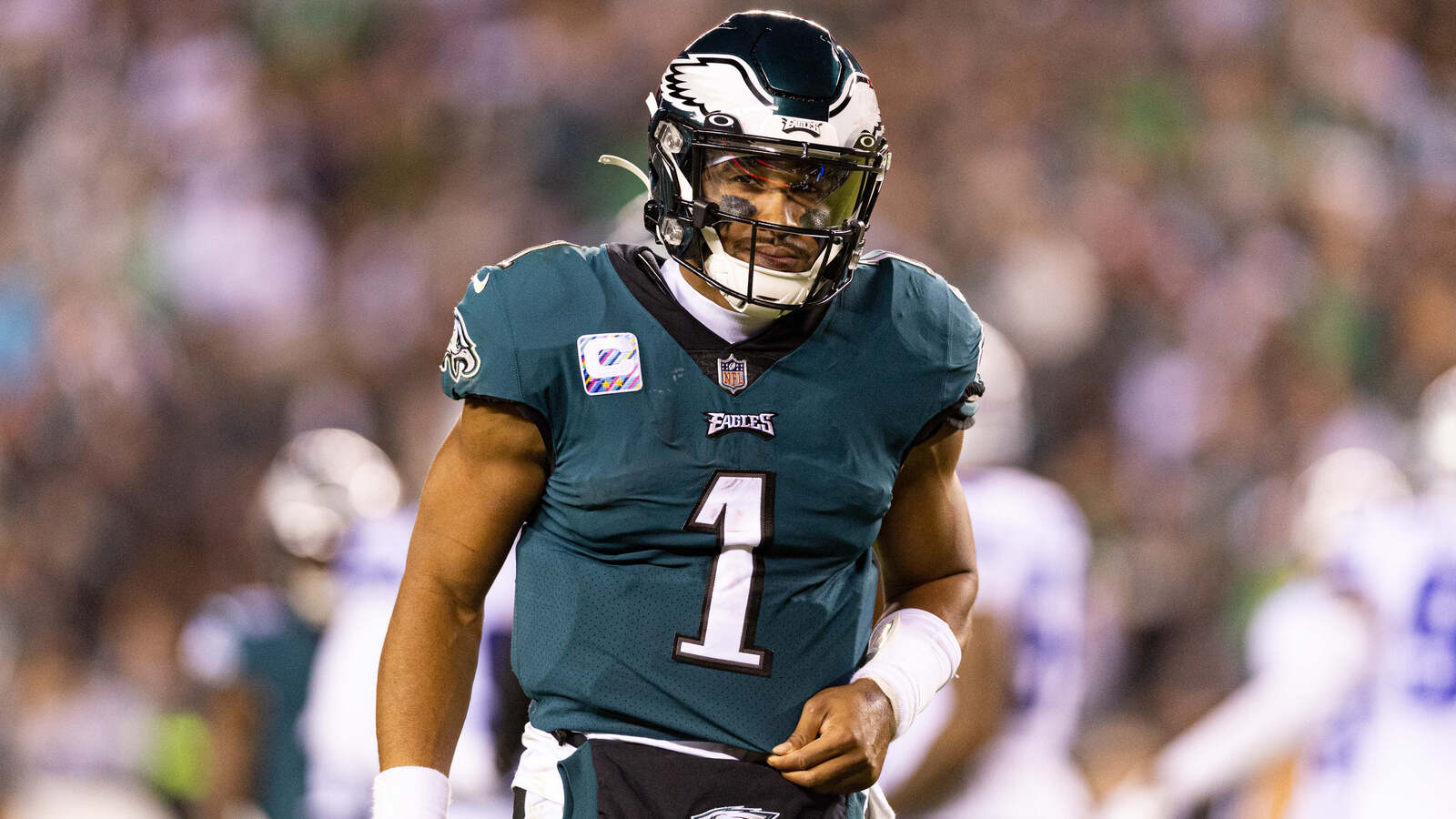 In his second full season as starting QB for the Philadelphia Eagles, Jalen Hurts is making a strong case for NFL MVP. After six weeks, oddsmakers give Hurts the second-best chance of winning the award, just behind the Bills' Josh Allen. 
Allen has thrown for 17 TDs and 1,980 yards through six games, leading the league in both categories. (The Chiefs' Patrick Mahomes also has 17 TD passes.) Mix in two rushing touchdowns, and it's easy to see why Allen is the frontrunner for MVP. Hurts' numbers aren't quite that good, but they're not far off.
Hurts has 12 touchdowns, six passing and six rushing, and 1,807 total yards. The Buffalo QB gets the edge here, but Hurts' 8.3 yards per attempt and 66.8 percent completion rate are almost identical to Allen's numbers. Allen also has two more interceptions and, more importantly, one more loss. The remaining schedule looks favorable for the Bills (5-1) and Eagles (6-0), so both QBs could put up big numbers, but things change quickly in the NFL.
Per The Athletic, Mahomes and Baltimore's Lamar Jackson each had better odds to win MVP than Hurts a month ago. Since then, Mahomes hasn't found a consistent receiver and Jackson hasn't played well in his past three games. Like Hurts, Jackson is an electric player who can beat you rushing or passing. Jackson won the MVP three years ago, and his early 2019 numbers compare favorably to Hurts' 2022 campaign.
If Hurts can maintain his level of play, he could be the first Eagle to win NFL MVP since QB Norm Van Brocklin in 1960. Donovan McNabb came close in 2000, but he finished second to Marshall Faulk.
In 2022, Hurts is not only making a strong case for NFL MVP but one to become the Eagles' franchise quarterback for years to come.