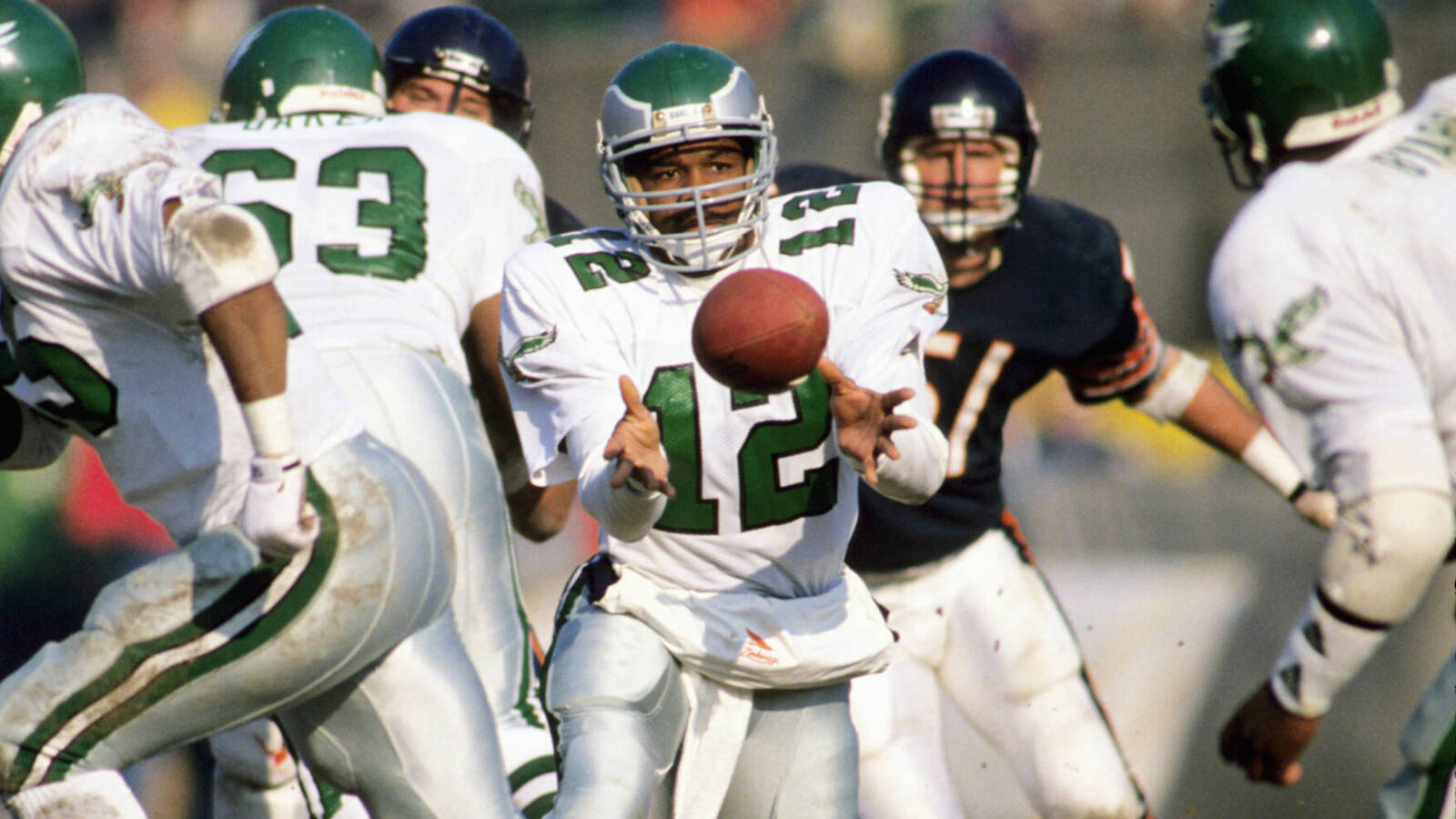 Throughout the latter half of the 20th century, the Philadelphia Eagles seemed determined to find every way possible to squander talent. They show up multiple times in this piece as our heartbreak dynasty countdown kicks into high gear with the top 40.
There are two kinds of teams that appear on this countdown: those that lost a Super Bowl, and those that never reached one to begin with. The Super Bowl losers that appear this low on the list — think the 1980 Eagles or 2003 Panthers — are more one-shot wonders than anything else. They were good teams that put together one unexpected run to the title game but simply couldn't win the final contest. To rank this low with a Super Bowl loss means you don't have a lot of other highlights to point out; you're resting on the laurels of one really good season and just padding it with a divisional loss or two.
At this point in the list, the teams that never made the Super Bowl are often more interesting, teams like Buddy Ryan's Eagles or Warren Moon's Oilers, who kept themselves in the mix year after year only to repeatedly face plant before they could get too deep into the postseason. The best heartbreak teams combine the peak Super Bowl losses with a long run of extended success, but then, they don't get shoved this far down the rankings. It's much more pick-and-choose down here.
That being said, every heartbreak team deserves its moment in the sun, because every team finds its own ways to let the fans down. Let's get to today's 10 teams.
The Series So Far:
Part I: Nos. 41-44 and Methodology.
No. 40: 2008-2012 Atlanta Falcons
Total Heartbreak Points: 425.9
Playoff Points: 123.6
Win-Loss Points: 186.9
DVOA Points: 115.5
Record: 56-24 (.700)
Playoff Record: 1-4 (one NFCCG loss; one divisional loss; two wild-card losses)
Average DVOA: 12.6%
Head Coach: Mike Smith
Key Players: QB Matt Ryan, RB Michael Turner, WR Roddy White, TE Tony Gonzalez, OT Tyson Clabo, DE John Abraham
Neither of the two Atlanta Super Bowl losers end up making the main list, as the Falcons were simply not good enough for long enough around those defeats to develop a true heartbreak dynasty. The 28-3 game against the Patriots in 2016 only connects with 2017 before Dan Quinn's teams started falling apart. The 1998 Dirty Birds were a one-year fluke. Those two seasons are the two most painful in Falcons history, but they're islands of pain surrounded mostly by irrelevance.
Instead, the most painful Falcons run slides right between them as Atlanta picked itself back up from the twin Michael Vick and Bobby Petrino disasters. Vick's illegal dogfighting scandal in 2007 had blown up anything the Falcons had been building beforehand. Petrino's abandonment of the team in mid-December to take the Arkansas job capped off what was, until recently, the most embarrassing college-to-pro jump in coaching history.
The Falcons needed a complete reset both on and off the field, and they got it with head coach Mike Smith and rookie quarterback Matt Ryan. Smith was named the Sporting News' Coach of the Year three times in these five seasons. His 56 wins in his first five years as a coach is second only to George Seifert all-time. Ryan was a star right off the bat. His 1,012 DYAR as a rookie was the record at the time and has only been passed once since (by Dak Prescott). Together, they took a team that was supposed to be rebuilding from these franchise-altering disasters straight to the playoffs in their first year together. Then they fought through injuries to put together another winning record in 2009, the first time the Falcons had ever had back-to-back winning seasons.
For the first time in, well, ever, the Falcons were relevant on a year-to-year basis. They were only team in the NFC to have five winning seasons every year from 2008 to 2012. Only the Patriots had a better winning percentage. DVOA never had them as the best team in the league, but they were in the top 10 from 2010 to 2012. That's when Smith's defense finally started pulling its own weight, with John Abraham regularly recording double-digit sacks. They were contenders, if not favorites.
This entry really strings on two seasons. Wild-card losses don't rack up that many points, even when they're 24-2 embarrassments like 2011. But 2010 and 2012 are two of the five most heartbreaking seasons in Falcons history. Atlanta earned the bye week in 2010 and came out rested to face a Packers team they had beaten earlier in the year. It was utter domination, a blowout in the Georgia Dome, with Aaron Rodgers torching the Falcons for 366 yards and three touchdowns on their way to a 48-21 thrashing. The 27-point loss is still the worst loss by a top seed in the divisional round.
By DVOA, the 2012 Falcons weren't as good as the 2010 model, but they were the ones who found postseason success. Once again, they went 13-3 in the regular season. Once again, they clinched the top seed in the NFC. They nearly blew the divisional game against the Seahawks, losing a 20-point fourth-quarter lead, but won with a late field goal. That meant they could then blow a 17-point lead to the 49ers in the ensuing NFC Championship Game! Despite nearly 400 passing yards from Matt Ryan and a heroic performance by a second-year player named Julio Jones, the Falcons were shut out in the second half and had to watch as Vernon Davis and Frank Gore shredded their defense. To this day, many Falcons fans will argue that NaVorro Bowman should have been called for pass interference on a fourth down late in the fourth quarter, which would have put the ball inside the 10-yard line with the Falcons needing a touchdown to win. But they didn't get the call, they didn't get the ball, and they didn't get the win.
They didn't get any more sustained success, either. An injury-plagued season in 2013 sent them tumbling to 4-12, and Smith was fired after things didn't get any better the next season. The core of the offense would stick together under Dan Quinn, but that's a different story of misery and woe, with too much mediocrity in between to connect it to the Smith years.