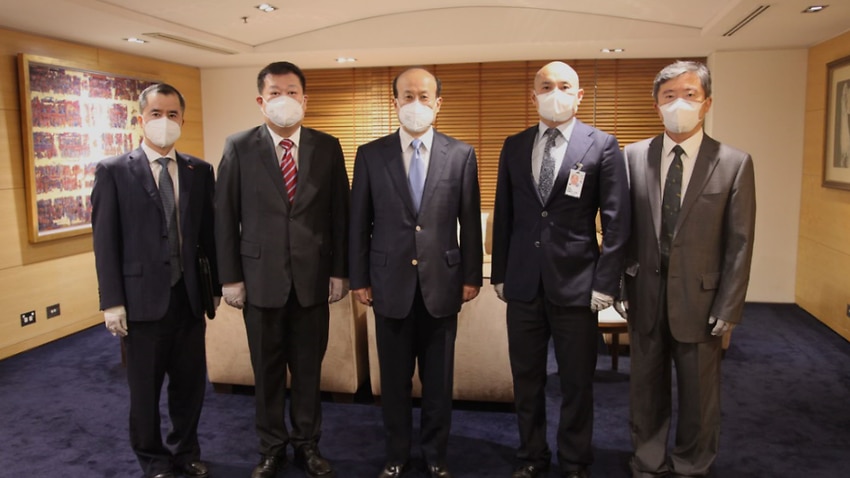 Mr Xiao replaces former ambassador Cheng Jingye whose tenure had been marked by poignant criticisms made against Canberra's handling of the relationship.
During Mr Cheng's leadership, this included the Chinese embassy issuing a list of 14 grievances with Australia, which it claimed were reportedly "poisoning bilateral relations".
Among the concerns were Australia's foreign investment rules, banning Huawei from Australia's 5G network and the push for an inquiry into the origins of COVID-19.  
The extraordinary leaking of the complaints in November 2020, reflecting the severe deterioration in diplomatic ties with Canberra, alongside Beijing's refusal to communicate with senior ministers.
Mr Xiao's statement speaks of the need to "increase engagement and communication, enhance mutual understanding and trust" with the Australian government.
It also calls to "eliminate misunderstanding and suspicion, promote mutually beneficial exchanges and cooperation in all areas between the two sides."
In a statement, a spokesperson for Foreign Minister Marise Payne said: "The Australian Government welcomes the new Chinese Ambassador-designate to Australia and looks forward to engaging with him."
Mr Xiao is a former Chinese ambassador to Indonesia and Hungary and has also held diplomatic roles in Ethiopia, the US and the Philippines.
He also spent two years as Beijing's deputy representative for the Ministry of Foreign Affairs for the Korean Peninsula. 
His arrival in the country also follows attempts by the Australian government to bolster its defence capability in the region.
The AUKUS defence pact with the United States and the United Kingdom, and stronger engagement with the QUAD alliance of the US, India and Japan both prompted fury from Beijing.
While the Australian government has refrained from singling out China, it has consistently pointed to the increasingly tense strategic environment.
Prime Minister Scott Morrison told the Davos Economic Forum last week the world was becoming "fragmented and contested particularly here in the Indo-Pacific, which has become the world's strategic centre of gravity". 
Mr Morrison also pointed to concerns over "economic coercion" in the speech, amid continued concerns of trade disruptions enforced by Beijing.
Mr Xiao's statement also addressed this strategic competition.
"Our world is undergoing profound changes unseen in a century," he said.
"The development of the China-Australia relations is also at a critical juncture, facing many difficulties and challenges as well as enormous opportunities and potentials." 
His statement also recognised this year marks the 50th anniversary of China-Australia diplomatic relations.
Mr Xiao, the 15th person to have served as Chinese ambassador in Australia, said the Chinese side believes a "sound and steady China-Australia relationship serves the fundamental interests of the two countries" and contributes to "stability of the Asia-Pacific region".
He called on both sides to engage in "mutual respect, equality, inclusiveness and mutual learning" saying this would help ensure "China-Australia relations will keep moving forward and make further progress."
Source link