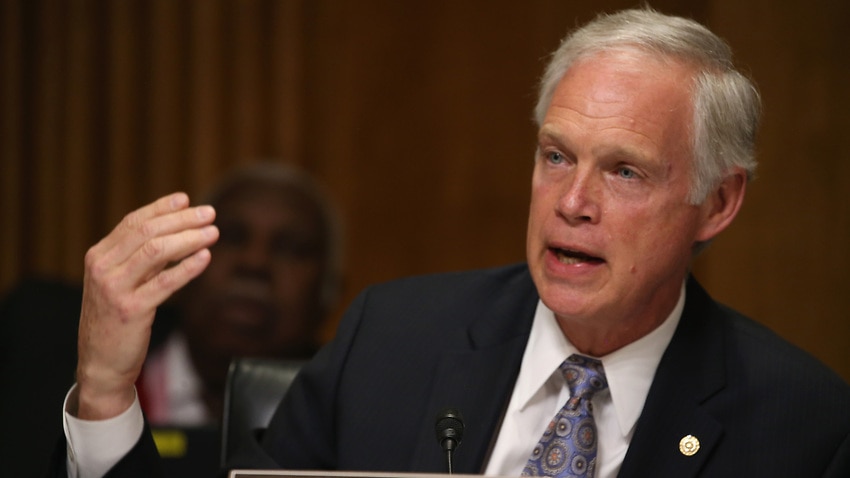 A Republican US senator reportedly attended an Oktoberfest dinner in Wisconsin while awaiting his COVID-19 test result, which later came back positive.
Senator Ron Johnson, who revealed his positive result on Saturday, defended his attendance at the event in an interview with The Capital Times.
The Republican Party dinner took place on Friday night after President Donald Trump and First Lady Melania Trump had been diagnosed with the coronavirus.
Mr Johnson told the Wisconsin newspaper he only removed his mask when he spoke at the event, at which point he was at least four metres away from others. He said he didn't stick around after his speech.
"I'm not sick," he told The Capital Times. "I have no symptoms. I certainly didn't anticipate testing positive, so there was no reason to quarantine." 
He said he suspected the virus came from a staffer.
Despite his diagnosis, the Capital Times report also quoted Mr Johnson as saying he continues to oppose mask-wearing mandates and prefers "individual responsibility". 
"He did say today that he continues to oppose mask mandates," spokesman Ben Voelkel later said. 
It comes as the senator's battleground state of Wisconsin registered a record increase of 3,000 new COVID-19 cases on Thursday, fanning fears that the sheer number of new patients could overwhelm hospitals.
Wisconsin Governor Tony Evers issued an emergency order easing licensing rules in a bid to bolster the number of healthcare workers able to deal with the mounting crisis.
"Our emergency department has had several instances in the past week where it was past capacity and needed to place patients in beds in the hallways," Bellin Health, which runs a hospital in Green Bay, Wisconsin, said in a statement. 
Dr Ryan Westergaard, chief medical officer at the Wisconsin Department of Health Services, said the state's outbreak started in younger people and spread through the community.
"Public gatherings of any kind are dangerous right now, more so than they have been at any time during this epidemic," he told CNN on Thursday.
Mr Johnson is one of three Republican senators to test positive to COVID-19 following the president's diagnosis, along with Senators Mike Lee and Thom Tillis, threatening the confirmation of Judge Amy Coney Barrett to the Supreme Court. 
Both Mr Lee and Mr Tillis, who sit on the Senate Judiciary Committee, tested positive for the virus on Friday, days after attending the White House event where the president nominated Ms Barrett. Mr Johnson did not attend the event, nor does he sit on the committee. 
Senate majority leader Mitch McConnell on Saturday announced the Senate would not meet as planned next week, but that Republicans would press ahead to confirm Ms Barrett to the Supreme Court. 
"The Senate's floor schedule will not interrupt the thorough, fair and historically supported confirmation process previously laid out," Mr. McConnell, a Republican of Kentucky, said in a statement. 
Other prominent Republican figures who have tested positive for the coronavirus following Mr Trump's diagnosis include campaign manager Bill Stepien, former White House aide Kellyanne Conway and former New Jersey governor Chris Christie.
With Reuters.
People in Australia must stay at least 1.5 metres away from others. Check your jurisdiction's restrictions on gathering limits.
If you are experiencing cold or flu symptoms, stay home and arrange a test by calling your doctor or contact the Coronavirus Health Information Hotline on 1800 020 080. News and information is available in 63 languages at https://sbs.com.au/coronavirus
Please check the relevant guidelines for your state or territory: NSW,Victoria, Queensland, Western Australia, South Australia, Northern Territory, ACT, Tasmania
We Thank To Our Readers For Your All Contributes. We Still Seek Your Support In Pandemic CoronaVirus.
Just Donate For Better Future
[charitable_donation_form campaign_id=91340]