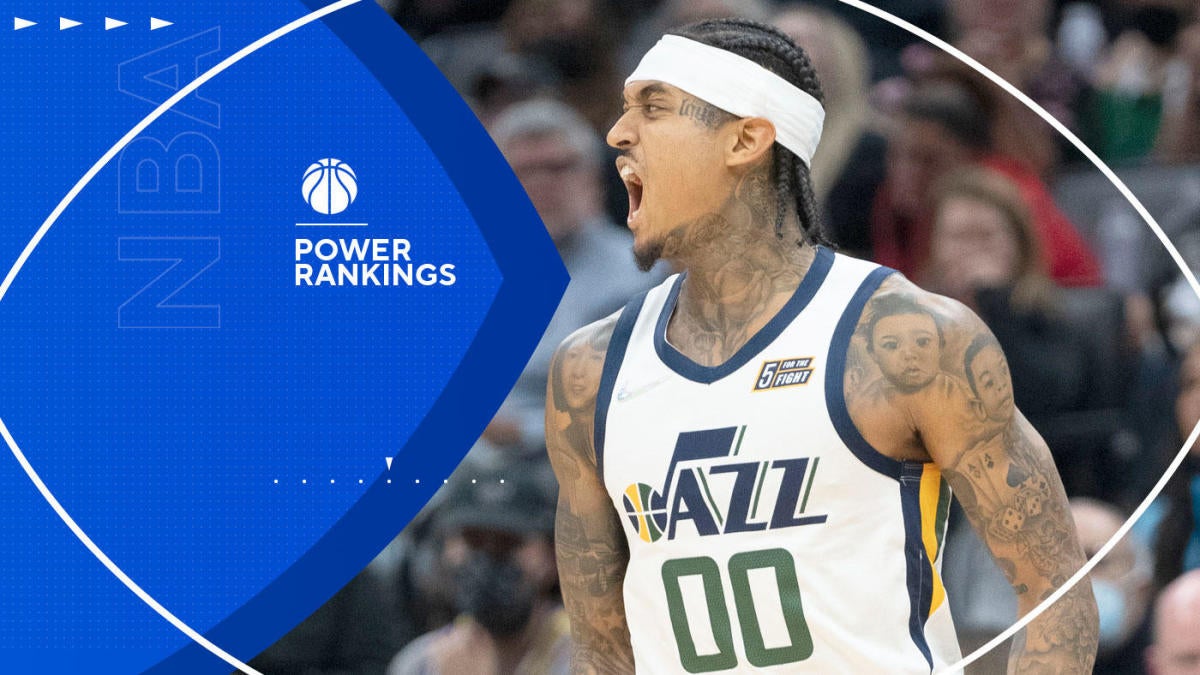 1


Jazz

Utah has picked up where it left off last season, bulldozing through its first three opponents of the season with a plus-14 net rating. The scoring has been beautifully spread, with five players averaging 14 points or more. Rudy Gobert has been an absolute monster, putting up 19 points and 19 rebounds per game while getting to the free throw line a ton. Donovan Mitchell has been in a shooting slump to start the season and the Jazz are still smashing opponents — not a good sign for the rest of the league.
3
3-0

2


Warriors

"Strength in numbers" is officially back, as the Warriors have managed to do something they didn't do a lot of last season — win games even when Steph Curry doesn't go ballistic. Don't get me wrong, Curry's been phenomenal with averages of 29 points, 8.3 rebounds and 6.3 assists on 40 percent 3-point shooting, but Andrew Wiggins, Jordan Poole and Damion Lee are all putting up over 14 points per game to help the cause, in addition to Draymond Green's facilitating. So far the defense looks good too, which makes you think this hot Warriors start should be sustainable.
5
4-0

3


Bulls

Undefeated is undefeated, but critics will be quick to point out that the four wins have come against some of the worst teams in the league, record-wise. The defense has been good, partly due to their opponents, but the Chicago offense hasn't been as dynamic as expected. Zach LaVine and DeMar DeRozan are both averaging over 22 points per game, but Nikola Vucevic has yet to find the range from distance to start the season. We'll learn a lot more about the Bulls in their upcoming stretch against stiffer competition.
13
4-0

4


Heat

The Heat have a thin roster, but they've looked great to start the season with wins over the Bucks, Magic and Nets. Their only loss was to the Pacers in overtime with Kyle Lowry out of the lineup. Tyler Herro has cooled a bit after a hot start, but is still averaging 21 points per game, while Jimmy Butler and Bam Adebayo have put forth their usual brilliance on both ends. Four games into the season and the Heat lead the league in defensive efficiency — pretty impressive considering they had the Bucks and Nets on the early schedule.
4
3-1

5


Hornets

We knew the Hornets would be fun, but we didn't know if it would translate to winning. So far it has, with their only loss coming in overtime to the Celtics. Charlotte made a statement by going into Brooklyn and beating the Nets by 16 points without Terry Rozier, and it holds the NBA's second-best offensive rating at 114.8. Miles Bridges has been a revelation thus far, averaging 26.2 points and eight rebounds per game on 53/40/91 shooting splits. LaMelo Ball has looked great out of the gates as well, putting up 19.6 points, six assists and 5.6 rebounds per game on 46 percent 3-point shooting.
13
4-1

6


Knicks

The Knicks have looked great outside of an odd blip in a loss to the Magic, with the revamped offense putting up 113.1 points per 100 possessions while leading the league in 3-pointers per game. All-Star Julius Randle, leading the team with 25.5 points, 11.3 rebounds and 6.5 assists per game so far this season, has shown no ill-effects from the addition of Kemba Walker and Evan Fournier, who have combined to go 29 for 60 (48 percent) from 3-point range. If the offense can keep this up and the defense can approach last season's efficiency, this is going to be a very dangerous team.
7
3-1

7


Hawks

Atlanta has wins over the Mavs, Pistons and Pelicans to start the season, with its only loss coming at the hands of the pesky Cavs. Nate McMillan is going to need some time to figure out his rotations with such a deep and talented roster, but Trae Young has been doing his thing with 26.5 points and 9.3 assists per game. Cam Reddish is making his case for more minutes, averaging 15.3 points per game on 50 percent 3-point shooting.
1
3-1

8


Timberwolves

So far, so good for the Wolves, who proved they can beat the bad teams (Rockets, Pelicans) as well as the good (Bucks). Their defense, much maligned given their history and roster construction, has been among the league's best to start the season, while their three-headed monster of Karl-Anthony Towns, Anthony Edwards and D'Angelo Russell has been enough to carry the offense.
16
3-1

9


Bucks

The Bucks have been missing key players in every game this season, with Jrue Holiday easing his way back from heel and ankle injuries. Giannis Antetokounmpo has been phenomenal, averaging 27.6 points, 11.6 rebounds, 6.6 assists and two blocks per game, but he just hasn't gotten enough help, particularly since Khris Middleton is shooting 25 percent from 3-point range. Bobby Portis, Rodney Hood and Semi Ojeleye have finally gotten onto the court and Holiday is presumably on the way, so Milwaukee could look much better soon.
8
3-2

10


Wizards

What a start for the Wizards, whose depth allowed them to pick up one of their three wins without the services of Bradley Beal, who has shot 16 percent from 3-point range with more turnovers than assists in the three games he's played. New additions Spencer Dinwiddie, Kyle Kuzma and Montrezl Harrell have carried the load offensively, with Dinwiddie putting up a team-leading 19.8 points per game on 50 percent 3-point shooting.
11
3-1

11


Cavaliers

Something has gotten into the Cavs' defense. After allowing 132 and 123 points, respectively, in two losses to start the season, they allowed an average of just 87 points in wins over the Hawks, Nuggets and Clippers. A big reason for that is rookie Evan Mobley, whose rim protection and versatility have left spectators' jaws agape over the first five games of his NBA career while putting up 8.6 rebounds and two blocks per game. He's no slouch on offense either, averaging 13.8 points and 2.2 assists while shooting 90 percent from the free throw line. Cleveland was 25th in defense last season, so their recent stinginess has certainly come as a surprise.
15
3-2

12


Kings

The Kings' only losses were to undefeated teams, with their two wins coming on the road against tough Western Conference opponents. Harrison Barnes played hero in Wednesday night's buzzer-beating win in Phoenix, continuing a hot start in which he's averaged 26.8 points and 10 rebounds on blistering 51.5 percent 3-point shooting. Rookie Davion Mitchell's defense has been impressive, but the Kings still find themselves toward the bottom of the league in that department to start the season.
10
2-2

13


Trail Blazers

The only close game Portland has played was an opening-night loss to the Kings. Since then the Blazers won by 29, lost by 30 and won by 20, so it's hard to get a gauge on what this team really looks like. Damian Lillard has not been himself to start the year, averaging 17.8 points on 33 percent field goals and 17 percent from 3-point range … yikes. CJ McCollum has picked up the slack, however, putting up 26.8 points per game on 49/48/90 shooting splits. Nassir Little has given them a nice boost off the bench and more recently as a replacement for the injured Norm Powell in the starting lineup, putting up 9.3 points and five rebounds per game on 40 percent 3-point shooting.
1
2-2

14


Grizzlies

The good news? The Grizzlies have the best offensive rating in the NBA. The bad news? The Grizzlies have the worst defensive rating in the NBA. Those are odd early results for Memphis, which presumably made a defense-for-offense swap by replacing Jonas Valanciunas with Steven Adams, who has averaged 10.8 points and 11.5 rebounds to start the season. Ja Morant has been nothing short of spectacular, putting up an NBA-best 30.5 points to go with 8.5 assists per game on 56/46/81 shooting splits. Desmond Bane has filled in admirably for the injured Dillon Brooks, putting up 19.3 points per game on 50/40/88 splits.
6
2-2

15


Nuggets

Denver came out of the gates hot, beating the Suns and Spurs, then suffered a bad home defeat to the Cavs and lost to Utah in a game where Nikola Jokic only played 15 minutes before suffering a knee injury. Luckily it appears not to be serious, since it goes without saying that the Nuggets need Jokic to have another MVP-caliber season if they're going to contend with Jamal Murray still rehabbing his knee. A healthy Will Barton has been a pleasant sight, as he's put up 16.3 points per game on 52 percent field goals and 42 percent 3-pointers so far this season while Michael Porter Jr. works through a shooting slump.
6
2-2

16


Mavericks

Vociferous cries for Jason Kidd's head circulated throughout NBA Twitter after the Mavericks' opening-night loss to the Hawks, but they bounced back with wins over the Raptors and Rockets. The offense has been the subject of much criticism so far, putting up just 101.3 points per 100 possessions, which seems almost impossible for a team led by Luka Doncic. Kristaps Porzingis has endured a rough start to the season offensively, averaging 12.7 points on 30/24/73 shooting splits in the team's first three games. Jalen Brunson has been excellent off the bench, putting up 11 points, six assists and 4.3 rebounds per game on 46 percent 3-point shooting.
6
2-1

17


76ers

The Ben Simmons situation doesn't appear to be any closer to a resolution, and the 76ers have missed him on the court thus far. Joel Embiid has been hampered by a knee injury that has held him to relatively pedestrian numbers compared to his MVP-caliber performance last season. Perhaps not surprisingly, the defense has suffered with Simmons out of the lineup, allowing three more points per 100 possessions than last season — and that includes a game against the offensively-challenged Pelicans and Thunder.
6
2-2

18


Nets

For the Nets to be elite without Kyrie Irving, they need Kevin Durant and James Harden to be great. Durant has held up his end, averaging nearly 30 points, 10 rebounds and five assists per game on 55 percent shooting. Harden? Not so much. He's put up 16.6 points per game on 36 percent shooting, and has attempted just three free throws per game after averaging nearly triple that in his final full season in Houston. Whether it's the new points of emphasis from the officials, Hardens' lingering hamstring issue or some combination of both, the Nets offense simply isn't as dynamic if James Harden isn't being James Harden. If someone told you Brooklyn would have the league's third-worst offense after five games, you'd tell them to lay off the crazy pills. But here we are.
16
2-3

19


Raptors

Toronto's defense has been as-advertised with incredible length, strength, speed and versatility, but the offense has expectedly struggled. The good news is that Pascal Siakam has resumed full practices and could rejoin the team ahead of his mid-to-late November timeline, which should improve Toronto's half-court offense. OG Anunoby and Fred VanVleet have been their most reliable scorers, with rookie Scottie Barnes having an outstanding start to his career, averaging 17 points and 8.2 rebounds per game on 54 percent shooting. Offseason addition Precious Achiuwa has also been impressive, averaging a double-double in less than 27 minutes per game.
—
2-3

20


Lakers

It's important to stress how early it is, but all of the fears about this Lakers roster have come to fruition early. The defense has been bad, 25th in the league to be exact. The Lakers have a minus-7.6 net rating with LeBron James, Anthony Davis and Russell Westbrook on the floor together. And with LeBron out of the game with an ankle injury, the Lakers blew a 26-point lead and lost to the then-winless Thunder. In addition to James, the Lakers are missing Talen Horton-Tucker, Kendrick Nunn and Trevor Ariza, so there's hope that things will get better when they all return, and a soft upcoming schedule could help get some wins on the board.
15
2-3

21


Celtics

Boston has had players in and out of the lineup to start the year — what else is new? Jayson Tatum and Jaylen Brown have led the way offensively, each averaging over 24 points per game, while Al Horford and Dennis Schroder seem to be acclimating themselves well to their new squad. Given their composition, the fact that Boston is 22nd in the league defensively is a bit of a shock, and we'll see if that starts to improve over the course of the season.
6
2-3

22


Clippers

The Clippers defense has maintained without Kawhi Leonard, but the offense has fallen off a cliff. Their razor-thin margin for error on that end was on display in Wednesday's home loss to the Cavs, when Paul George was held to 12 points on 6-for-20 shooting and the Clippers could only muster 79 points for the game. Reggie Jackson has struggled shooting the ball, and they're going to need much more from Eric Bledsoe, Luke Kennard and Terance Mann, especially if Marcus Morris continues to miss time.
10
1-3

23


Pacers

The Pacers haven't played as poorly as their record would indicate, losing each of their first two games of the season by a single point. The defense has been the problem so far, something that Rick Carlisle will need to fix soon. The eventual return of Caris LeVert and TJ Warren will help diversify the offense and add depth, taking some of the pressure off Malcolm Brogdon and Domantas Sabonis, who have done the heavy lifting to start the season. Chris Duarte is an early Rookie of the Year favorite, averaging 18.6 points on 42 percent 3-point shooting.
6
1-4

24


Suns

So much for continuity. Despite having virtually the same roster that went to the Finals, the Suns have lost to the Nuggets, Blazers and Kings, with their only win coming against the Lakers, who aren't exactly a juggernaut at this point in the season. There's no way to sugarcoat it — things have been ugly for Phoenix. It has the league's fourth-worst net rating at minus-9.5 and the 28th-ranked defense. Chris Paul and Devin Booker have both struggled from the field, while Mikal Bridges has been a bright spot with 16.5 points per game on 47 percent 3-point shooting. It's hard to believe the Suns won't turn it around soon, but it's surely not the start they wanted or expected.
21
1-3

25


Spurs

San Antonio kicks off its semi-rebuild with a 1-3 record, taking care of the Magic before losses to three top-tier teams in the Nuggets, Bucks and Lakers. The Spurs are shooting more 3-pointers than last season, but their percentage has dropped along the way. The offense has been widespread, with seven players averaging double figures thus far, led by Keldon Johnson's 18.3 points per game. Dejounte Murray put up a massive triple-double with 21 points, 15 assists and 12 rebounds in the loss to the Lakers, but he's struggled shooting the ball to start the season.
2
1-3

26


Rockets

At least for now, it does not appear that the Rockets are the worst team in the league, as some felt they might be. They beat the Thunder, had an early lead on the Celtics, then played a close game with the Mavericks on Tuesday. Kevin Porter Jr. has gone through expected growing pains as the full-time starting point guard, averaging more turnovers than assists, but he has shot 39 percent from 3-point range. No. 2 overall pick Jalen Green has also been impressive, hitting 40 percent from deep, including a franchise rookie record eight 3s against the Celtics. Christian Wood has carried over his momentum from last season, averaging 20.8 points and 12.3 rebounds on 46 percent 3-point shooting to start the season.
3
1-3

27


Pelicans

The Pelicans simply have not been able to put the ball in the basket early in the season without Zion Williamson in the fold. Brandon Ingram has done all he can, averaging 25.6 points on 48/48/75 shooting splits to go along with 7.6 rebounds and 4.6 assists, but New Orleans has gotten next to nothing offensively out of its bench, managing a league-worst 20.6 points per game. Jonas Valanciunas is averaging 17 points and 15 rebounds per game, but has shot uncharacteristically poorly from the field to start the season.
2
1-4

28


Thunder

The Thunder only have one win, but boy was it a fun one. They erased a 26-point deficit and overcame a couple of late turnovers to hold off the stunned Lakers, who were without LeBron James. The 123-point offensive explosion was just what they needed, after failing to crack the century mark in three of their first four games. Shai Gilgeous-Alexander has been the only consistent source of offense, putting up 23.4 points, 4.8 rebounds and 4.2 assists per game despite increased defensive attention, while rookie Josh Giddey looks good early with averages of 10.8 points, 6.2 rebounds and 5.6 assists on 39 percent 3-point shooting.
—
1-4

29


Magic

The Magic's early numbers support those who projected them to be the worst team in the NBA this season. Their minus-14.3 net rating is the worst in the league, as they've struggled on both ends of the floor with an extremely inexperienced roster. Jamahl Mosley's crew beat a very good Knicks team for his first head-coaching win, so that's something to be proud of, but victories are going to be few and far between this year. Cole Anthony is off to a solid start to his sophomore season, while rookie Franz Wagner has impressed with 13.6 points per game on 42 percent 3-point shooting.
1
1-4

30


Pistons

The Pistons have yet to pick up their first win, losing to the Hawks and twice to the Bulls. The offense has been ugly, to say the least, generating a league-worst 91 points per 100 possessions thus far. The silver lining is that No. 1 overall pick Cade Cunningham has yet to make his debut, and he should help in terms of scoring and facilitating once he gets on the court. In his absence, Saddiq Bey leads the team with 18 points per game, while Jerami Grant has made just 36 percent of his field goals.
3
0-3
require.config({"baseUrl":"https://sportsfly.cbsistatic.com/fly-092/bundles/sportsmediajs/js-build","config":{"version":{"fly/components/accordion":"1.0","fly/components/alert":"1.0","fly/components/base":"1.0","fly/components/carousel":"1.0","fly/components/dropdown":"1.0","fly/components/fixate":"1.0","fly/components/form-validate":"1.0","fly/components/image-gallery":"1.0","fly/components/iframe-messenger":"1.0","fly/components/load-more":"1.0","fly/components/load-more-article":"1.0","fly/components/load-more-scroll":"1.0","fly/components/loading":"1.0","fly/components/modal":"1.0","fly/components/modal-iframe":"1.0","fly/components/network-bar":"1.0","fly/components/poll":"1.0","fly/components/search-player":"1.0","fly/components/social-button":"1.0","fly/components/social-counts":"1.0","fly/components/social-links":"1.0","fly/components/tabs":"1.0","fly/components/video":"1.0","fly/libs/easy-xdm":"2.4.17.1","fly/libs/jquery.cookie":"1.2","fly/libs/jquery.throttle-debounce":"1.1","fly/libs/jquery.widget":"1.9.2","fly/libs/omniture.s-code":"1.0","fly/utils/jquery-mobile-init":"1.0","fly/libs/jquery.mobile":"1.3.2","fly/libs/backbone":"1.0.0","fly/libs/underscore":"1.5.1","fly/libs/jquery.easing":"1.3","fly/managers/ad":"2.0","fly/managers/components":"1.0","fly/managers/cookie":"1.0","fly/managers/debug":"1.0","fly/managers/geo":"1.0","fly/managers/gpt":"4.3","fly/managers/history":"2.0","fly/managers/madison":"1.0","fly/managers/social-authentication":"1.0","fly/utils/data-prefix":"1.0","fly/utils/data-selector":"1.0","fly/utils/function-natives":"1.0","fly/utils/guid":"1.0","fly/utils/log":"1.0","fly/utils/object-helper":"1.0","fly/utils/string-helper":"1.0","fly/utils/string-vars":"1.0","fly/utils/url-helper":"1.0","libs/jshashtable":"2.1","libs/select2":"3.5.1","libs/jsonp":"2.4.0","libs/jquery/mobile":"1.4.5","libs/modernizr.custom":"2.6.2","libs/velocity":"1.2.2","libs/dataTables":"1.10.6","libs/dataTables.fixedColumns":"3.0.4","libs/dataTables.fixedHeader":"2.1.2","libs/dateformat":"1.0.3","libs/waypoints/infinite":"3.1.1","libs/waypoints/inview":"3.1.1","libs/waypoints/jquery.waypoints":"3.1.1","libs/waypoints/sticky":"3.1.1","libs/jquery/dotdotdot":"1.6.1","libs/jquery/flexslider":"2.1","libs/jquery/lazyload":"1.9.3","libs/jquery/maskedinput":"1.3.1","libs/jquery/marquee":"1.3.1","libs/jquery/numberformatter":"1.2.3","libs/jquery/placeholder":"0.2.4","libs/jquery/scrollbar":"0.1.6","libs/jquery/tablesorter":"2.0.5","libs/jquery/touchswipe":"1.6.18","libs/jquery/ui/jquery.ui.core":"1.11.4","libs/jquery/ui/jquery.ui.draggable":"1.11.4","libs/jquery/ui/jquery.ui.mouse":"1.11.4","libs/jquery/ui/jquery.ui.position":"1.11.4","libs/jquery/ui/jquery.ui.slider":"1.11.4","libs/jquery/ui/jquery.ui.sortable":"1.11.4","libs/jquery/ui/jquery.ui.touch-punch":"0.2.3","libs/jquery/ui/jquery.ui.autocomplete":"1.11.4","libs/jquery/ui/jquery.ui.accordion":"1.11.4","libs/jquery/ui/jquery.ui.tabs":"1.11.4","libs/jquery/ui/jquery.ui.menu":"1.11.4","libs/jquery/ui/jquery.ui.dialog":"1.11.4","libs/jquery/ui/jquery.ui.resizable":"1.11.4","libs/jquery/ui/jquery.ui.button":"1.11.4","libs/jquery/ui/jquery.ui.tooltip":"1.11.4","libs/jquery/ui/jquery.ui.effects":"1.11.4","libs/jquery/ui/jquery.ui.datepicker":"1.11.4"}},"shim":{"liveconnection/managers/connection":{"deps":["liveconnection/libs/sockjs-0.3.4"]},"liveconnection/libs/sockjs-0.3.4":{"exports":"SockJS"},"libs/setValueFromArray":{"exports":"set"},"libs/getValueFromArray":{"exports":"get"},"fly/libs/jquery.mobile-1.3.2":["version!fly/utils/jquery-mobile-init"],"libs/backbone.marionette":{"deps":["jquery","version!fly/libs/underscore","version!fly/libs/backbone"],"exports":"Marionette"},"fly/libs/underscore-1.5.1":{"exports":"_"},"fly/libs/backbone-1.0.0":{"deps":["version!fly/libs/underscore","jquery"],"exports":"Backbone"},"libs/jquery/ui/jquery.ui.tabs-1.11.4":["jquery","version!libs/jquery/ui/jquery.ui.core","version!fly/libs/jquery.widget"],"libs/jquery/flexslider-2.1":["jquery"],"libs/dataTables.fixedColumns-3.0.4":["jquery","version!libs/dataTables"],"libs/dataTables.fixedHeader-2.1.2":["jquery","version!libs/dataTables"],"https://sports.cbsimg.net/js/CBSi/app/VideoPlayer/AdobePass-min.js":["https://sports.cbsimg.net/js/CBSi/util/Utils-min.js"]},"map":{"*":{"adobe-pass":"https://sports.cbsimg.net/js/CBSi/app/VideoPlayer/AdobePass-min.js","facebook":"https://connect.facebook.net/en_US/sdk.js","facebook-debug":"https://connect.facebook.net/en_US/all/debug.js","google":"https://apis.google.com/js/plusone.js","google-platform":"https://apis.google.com/js/client:platform.js","google-csa":"https://www.google.com/adsense/search/async-ads.js","google-javascript-api":"https://www.google.com/jsapi","google-client-api":"https://apis.google.com/js/api:client.js","gpt":"https://securepubads.g.doubleclick.net/tag/js/gpt.js","newsroom":"https://c2.taboola.com/nr/cbsinteractive-cbssports/newsroom.js","recaptcha":"https://www.google.com/recaptcha/api.js?onload=loadRecaptcha&render=explicit","recaptcha_ajax":"https://www.google.com/recaptcha/api/js/recaptcha_ajax.js","supreme-golf":"https://sgapps-staging.supremegolf.com/search/assets/js/bundle.js","taboola":"https://cdn.taboola.com/libtrc/cbsinteractive-cbssports/loader.js","twitter":"https://platform.twitter.com/widgets.js","video-avia":"https://vidtech.cbsinteractive.com/avia-js/1.9.0/player/avia.min.js","video-avia-cvui":"https://vidtech.cbsinteractive.com/avia-js/1.9.0/legacy/cvui/cvui.min.js","video-cvp":"https://vidtech.cbsinteractive.com/cvp/1.2.2/cvp.min.js","video-cvui":"https://vidtech.cbsinteractive.com/cvp/1.2.2/cvui.min.js","video-ima3":"https://imasdk.googleapis.com/js/sdkloader/ima3.js","video-ima3-dai":"https://imasdk.googleapis.com/js/sdkloader/ima3_dai.js","video-utils":"https://sports.cbsimg.net/js/CBSi/util/Utils-min.js","video-vast-tracking":"https://vidtech.cbsinteractive.com/sb55/vast-js/vtg-vast-client.js"}},"waitSeconds":300});