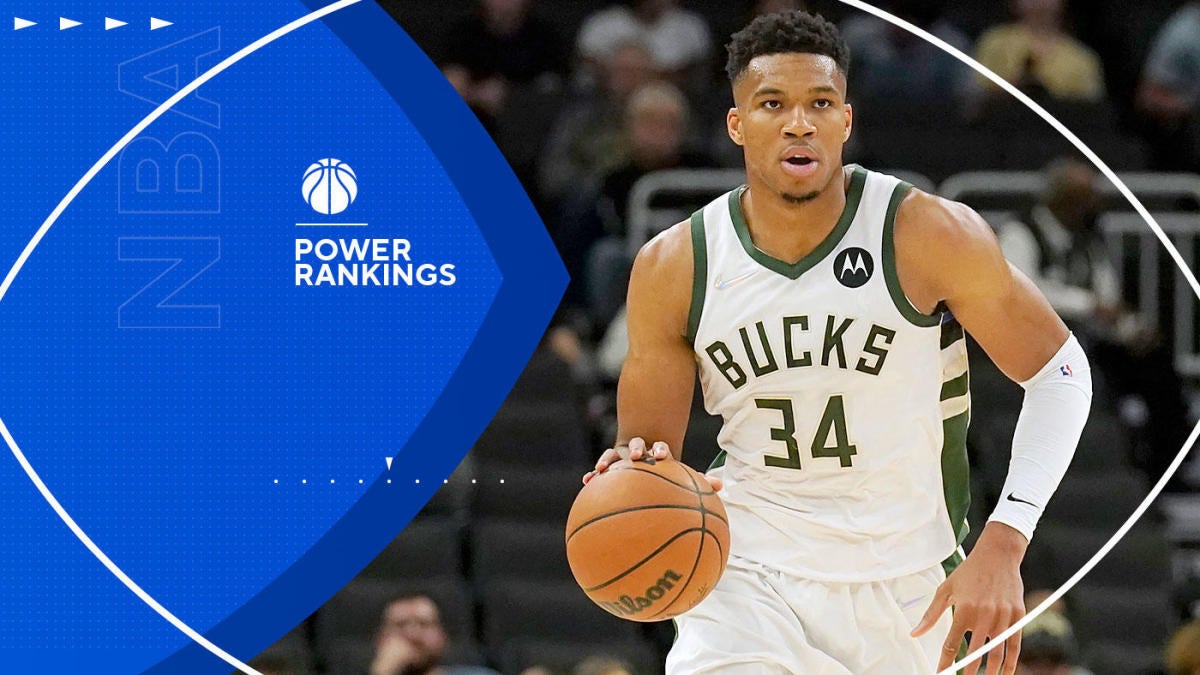 1


Bucks

The champs are here. While the other East powers have their focus and chemistry divided by player absences, the Bucks return with confidence and cohesion, poised for another spectacular regular season. As if he wasn't scary enough, Giannis Antetokounmpo shot 69 percent from the field and went 4 for 6 from 3-point range in the preseason. It's hard to argue against Milwaukee being the best team heading into the 2021-22 season.
1
0-0

2


Nets

Just a couple of months ago, it seemed like nothing could stop the Nets from being the presumptive NBA title favorite. So much for that. With a healthy Kevin Durant and James Harden, Brooklyn still has enough firepower to win the championship, but with Kyrie Irving out indefinitely, we need to see how it all works before preemptively crowning them. The off-court headache and the on-court absence is enough to drop the Nets from the top spot, but they could easily regain it with a hot start to the season.
1
0-0

3


Suns

Phoenix should be even more formidable this season with another year of experience for its young players and improved chemistry between Chris Paul and Devin Booker. Although they couldn't reach a deal with Deandre Ayton, Mikal Bridges is locked up for the foreseeable future, and both are poised to take the next step in their development. The Suns had the league's third-best net rating last season, and there's no reason to think they won't be right there again in 2021-22.
—
0-0

4


Jazz

People tend to write the Jazz off due to some bad playoff losses, which is fair, but they have all the makings of another regular-season juggernaut. The only noticeable absence from last season's run is Derrick Favors, whose 15 minutes per game will likely be divvied up between Hassan Whiteside, Jeff Green and Eric Paschall. Donovan Mitchell put up career numbers last season, and should have an even bigger chip on his shoulder after being overlooked in the MVP race and All-NBA selections.
—
0-0

5


Lakers

The last thing a veteran team like the Lakers is going to worry about is the preseason, but ONE win would have been nice. LeBron James and Russell Westbrook have both stressed patience as the team tries to jell, and if those two and Anthony Davis are healthy, this is going to be a very good regular-season team. It's a small red flag that Westbrook averaged fewer than 10 points and had more turnovers than assists in four preseason games, but we'll chalk that up to early-season rust and jitters. For now, at least.
—
0-0

6


Hawks

Atlanta must be brimming with confidence after the way it finished last season, and Trae Young has officially made the leap to superstar status. Beyond him, the Hawks are one of the deepest teams in the league, which can sometimes be a problem if guys start to get unhappy with playing time. It will be Nate McMillan's job to negotiate that, but the talent is certainly there to finish as a top-four seed in the East.
2
0-0

7


Warriors

Despite some significant roster changes, the Warriors carried over success from the end of last season into the preseason, and they're now 20-5 over their last 25 games, excluding the two play-in losses. Stephen Curry dropped 41 points in 30 minutes in Golden State's final tune-up before the regular season, and appears ready to pick up where he left off. The most interesting story out of camp is Jordan Poole, who looked great in the preseason and will keep Klay Thompson's spot in the starting lineup warm for him while the team awaits his return.
1
0-0

8


Heat

Miami has a rock-solid group of veterans and one of the best coaches in the league, which should equate to a lot of wins. It will certainly help if Tyler Herro, who lit the preseason on fire, continues his stellar play off the bench. Depth will be one of the Heat's main issues this season, as things get a little rough after the top six, but if anyone can make it work, it's Erik Spoelstra.
1
0-0

9


Nuggets

Jamal Murray is out, but Nikola Jokic is the MVP. Denver went 13-5 after Murray's season-ending ACL injury and made it to the second round of the playoffs, so it wouldn't be wise to doubt what Jokic, Michael Malone and Co. are capable of doing. Murray's absence will obviously hurt the offense, but the Nuggets were better defensively last season with Monte Morris and PJ Dozier on the court, so that could help make up some of the difference.
3
0-0

10


Mavericks

The Mavericks didn't make a ton of structural changes this offseason, so they're essentially banking on Luka Doncic being an MVP candidate and getting a full, healthy season from Kristaps Porzingis. If both those things happen, the Mavs could be one of the best teams in the West given the injury landscape. If Porzingis gets hurt or the discontent starts to rise, however, things could go south quickly under new head coach Jason Kidd.
—
0-0

11


76ers

This team could look vastly different in February, but as of now we have to assume that even if Ben Simmons plays, the chemistry isn't exactly going to be pristine. Because of that, Philly starts the season ranked lower than it might eventually finish if the Simmons situation smooths over or it's able to make an advantageous trade. Joel Embiid is so good that even without Simmons this is still a strong team, but you have to worry about the league's second-ranked defense potentially being without a Defensive Player of the Year finalist.
2
0-0

12


Clippers

With Kawhi Leonard's status up in the air, it will be up to Paul George to take on primary scoring and playmaking duties, which he's proved capable of doing in the past. Head coach Ty Lue will also need Reggie Jackson, Nicolas Batum and Terance Mann to carry over their strong postseason performances, while players like Luke Kennard and Ivica Zubac carry larger responsibilities. The Clippers found success with small lineups en route to the first conference finals appearance in franchise history, but those may not be as workable without Leonard as a linchpin.
1
0-0

13


Knicks

Did the Knicks overachieve last season? Probably. Are they still a very good team? Absolutely. Kemba Walker and Evan Fournier add two things New York desperately needed last season — shooting and playmaking — and should take some of the offensive burden off Julius Randle and Derrick Rose. The question is whether the Knicks can maintain the league's third-best defense with Walker and Fournier getting significant minutes, but if there's one thing Tom Thibodeau knows, it's defense.
—
0-0

14


Trail Blazers

The Damian Lillard drama appears to be in the rearview mirror for now, so the Blazers enter the season hoping to duplicate the dominant offense they displayed last season, but also add at least a little bit of defense to the mix. Having Jusuf Nurkic healthy will be a big help in that department, as will the additions of Larry Nance Jr. and Tony Snell. First-year head coach Chauncey Billups has significant pressure on him, as the entire league has their eyes on Lillard and his potential dissatisfaction if the team gets off to a slow start.
6
0-0

15


Celtics

The Celtics are a hard team to peg until we see them in action, but on paper they have the makings of a top-five defense with the additions of Al Horford, Jason Richardson and Dennis Schroder. Their offense will rely on the continued emergence of Jayson Tatum and Jaylen Brown, while Robert Williams could provide a nice boost if he can stay healthy and out of foul trouble. First-year head coach Ime Udoka has been a highly regarded assistant for years, so it will be interesting to see what he can do with this group.
1
0-0

16


Bulls

For all the talk of the Bulls' lack of defense, they led the NBA in defensive rating during the preseason — whatever that's worth. Patrick Williams played in the last preseason game, a great sign for a team that needs him as a lockdown perimeter defender, but really the story will be just how good this offense can perform behind Zach LaVine, Nikola Vucevic, DeMar DeRozan and Lonzo Ball. The front office is hoping it's enough to land firmly in playoff position, but the East is extremely competitive this season. Billy Donovan has his work cut out for him.
—
0-0

17


Pacers

Indiana has a lot of good NBA players, and that's usually a recipe for Rick Carlisle to produce a solid playoff team. The wild card will be TJ Warren, who received an encouraging scan on his injured left foot, but he's still weeks away from a return. With Caris LeVert also out for at least the first week of the season, the Pacers will rely on Domantas Sabonis, Malcolm Brogdon and Myles Turner to keep them afloat.
—
0-0

18


Hornets

The Hornets are the definition of a League Pass All-Star this season, with an exciting, run-and-gun offense led by LaMelo Ball, Gordon Hayward, Terry Rozier and Miles Bridges. Whether that will translate to wins remains to be seen, but it will sure be fun to watch. The additions of Mason Plumlee, Kelly Oubre Jr. and rookie James Bouknight have the potential to raise the team's ceiling, and at the very least they should compete for a second-straight play-in spot.
1
0-0

19


Raptors

One of the hardest teams in the NBA to predict, the Raptors have the ceiling of a middle playoff seed and the floor of a tanking lottery-ball vacuum. Their length, strength and speed on the defensive end is truly intimidating with the additions of Precious Achiuwa and rookie Scottie Barnes, but offense might be an issue without Kyle Lowry leading the way. Ultimately the season could hinge on whether OG Anunoby takes another step forward into the fringe All-Star range, which is more than possible given his trajectory so far.
4
0-0

20


Grizzlies

Swapping Jonas Valanciunas for Steven Adams should improve the already-stout Grizzlies defense, but offensively they're banking on continued improvement from Ja Morant — who was a dynamo in his first playoff appearance — and a breakout, healthy season from Jaren Jackson Jr., who looked good in the preseason. It could be tough sledding offensively for the first few weeks with Dillon Brooks out due to a broken hand, but Taylor Jenkins has a deep roster at his disposal to try to fill the gaps.
2
0-0

21


Wizards

The Wizards replaced Russell Westbrook with several solid NBA players, and we'll see what they can do around Bradley Beal. First-year head coach Wes Unseld Jr. will probably need the first few weeks to shore up his rotations, but there's potential for a playoff run with this group that now features Spencer Dinwiddie, Montrezl Harrell and Kyle Kuzma, among others.
1
0-0

22


Kings

The Kings had one of the worst defenses in NBA history last season, but they did improve after the All-Star break and added defensive-minded rookie Davion Mitchell to the backcourt. De'Aaron Fox averaged 25 points and seven assists per game last season, and Tyrese Haliburton was one of the most efficient offensive players in the league, so Sacramento's offense should be strong. The Kings' ceiling is limited, however, until they prove they can get some stops.
1
0-0

23


Spurs

Another team that's difficult to predict, you tend to lean on Gregg Popovich's pedigree to convince you that the Spurs could have play-in potential. That being said, they're going to need young players like Dejounte Murray, Derrick White, Keldon Johnson and Lonnie Walker IV to step up offensively, now that DeMar DeRozan is out of the picture. San Antonio shot significantly more 3-pointers during the preseason, suggesting a shift toward modernity that could lead to more dynamism.
1
0-0

24


Timberwolves

Wolves optimists will look at the team's 16-25 record under Chris Finch to end the season (they were 7-24 when he took over) and a healthy Karl-Anthony Towns, D'Angelo Russell and Anthony Edwards entering 2021-22. Wolves pessimists will note that the team had the league's third-worst defensive rating, and that adding Patrick Beverley isn't enough to solve their issues on that end. We'll have to see it play out, but it's hard to see Minnesota making a huge leap into the postseason, with the play-in likely a more realistic target.
1
0-0

25


Pelicans

Zion Williamson's surprise foot surgery puts a damper on the excitement for the Pelicans' season, and has significantly dropped them in the opening night rankings. Brandon Ingram and offseason acquisition Jonas Valanciunas will have all the responsibility they can handle offensively, while new head coach Willie Green tries to improve on the team's 23rd-ranked defense from a season ago. Rookie Trey Murphy III looked great in Summer League and the preseason, and could play a bigger role than expected to start the season.
4
0-0

26


Cavaliers

The Cavs have an exciting young core with Collin Sexton, Darius Garland, Evan Mobley, Isaac Okoro and Jarrett Allen, but those players (minus Mobley) finished with the third-worst offensive rating in the league last season. Garland seems ready to make a leap and Lauri Markkanen is an intriguing reclamation project, but winning consistently is going to be difficult with such an inexperienced team.
—
0-0

27


Pistons

The Pistons only won 20 games last season, but had a similar net rating to the 31-win Kings. They were competitive in most games and should be again this season with vets like Jerami Grant, Kelly Olynyk and Cory Joseph flanking their young core, led by No. 1 overall pick Cade Cunningham. Winning is certainly not the priority for Detroit this season, but it should still be fun to watch on a nightly basis.
—
0-0

28


Thunder

Let's not forget that the Thunder were 16-19 with Shai Gilgeous-Alexander before the tankathon began in earnest. The top of the lottery is likely the goal again this season with one of the youngest rosters in the league, and we'll see if they need to end up benching SGA and Lu Dort to make that happen. No. 6 overall pick Josh Giddey looked good to end the preseason, so he'll be a fun player to track as the season goes on.
—
0-0

29


Rockets

Another League Pass team, the Rockets begin this season without the James Harden mess hanging over their heads and a trio of bright young prospects in Christian Wood, Jalen Green and Kevin Porter Jr. The fact that they drafted four teenagers should tell you that a playoff appearance is probably out of the question this season, but this should be an exciting team that leads to equal parts joy and frustration for head coach Stephen Silas.
—
0-0

30


Magic

The Magic had the second-worst offensive rating in the league last season — and they played most of the year with Nikola Vucevic, Evan Fournier and Aaron Gordon, who are all gone now. It's going to be rough this season on that end, and first-year head coach Jamahl Mosley has his work cut out for him. Players to watch include rookies Jalen Suggs and Franz Wagner and young big men Wendell Carter Jr. and Mo Bamba. Without Jonathan Isaac and Markelle Fultz to open the season, Orlando gets the last spot in the Power Rankings.
—
0-0
require.config({"baseUrl":"https://sportsfly.cbsistatic.com/fly-083/bundles/sportsmediajs/js-build","config":{"version":{"fly/components/accordion":"1.0","fly/components/alert":"1.0","fly/components/base":"1.0","fly/components/carousel":"1.0","fly/components/dropdown":"1.0","fly/components/fixate":"1.0","fly/components/form-validate":"1.0","fly/components/image-gallery":"1.0","fly/components/iframe-messenger":"1.0","fly/components/load-more":"1.0","fly/components/load-more-article":"1.0","fly/components/load-more-scroll":"1.0","fly/components/loading":"1.0","fly/components/modal":"1.0","fly/components/modal-iframe":"1.0","fly/components/network-bar":"1.0","fly/components/poll":"1.0","fly/components/search-player":"1.0","fly/components/social-button":"1.0","fly/components/social-counts":"1.0","fly/components/social-links":"1.0","fly/components/tabs":"1.0","fly/components/video":"1.0","fly/libs/easy-xdm":"2.4.17.1","fly/libs/jquery.cookie":"1.2","fly/libs/jquery.throttle-debounce":"1.1","fly/libs/jquery.widget":"1.9.2","fly/libs/omniture.s-code":"1.0","fly/utils/jquery-mobile-init":"1.0","fly/libs/jquery.mobile":"1.3.2","fly/libs/backbone":"1.0.0","fly/libs/underscore":"1.5.1","fly/libs/jquery.easing":"1.3","fly/managers/ad":"2.0","fly/managers/components":"1.0","fly/managers/cookie":"1.0","fly/managers/debug":"1.0","fly/managers/geo":"1.0","fly/managers/gpt":"4.3","fly/managers/history":"2.0","fly/managers/madison":"1.0","fly/managers/social-authentication":"1.0","fly/utils/data-prefix":"1.0","fly/utils/data-selector":"1.0","fly/utils/function-natives":"1.0","fly/utils/guid":"1.0","fly/utils/log":"1.0","fly/utils/object-helper":"1.0","fly/utils/string-helper":"1.0","fly/utils/string-vars":"1.0","fly/utils/url-helper":"1.0","libs/jshashtable":"2.1","libs/select2":"3.5.1","libs/jsonp":"2.4.0","libs/jquery/mobile":"1.4.5","libs/modernizr.custom":"2.6.2","libs/velocity":"1.2.2","libs/dataTables":"1.10.6","libs/dataTables.fixedColumns":"3.0.4","libs/dataTables.fixedHeader":"2.1.2","libs/dateformat":"1.0.3","libs/waypoints/infinite":"3.1.1","libs/waypoints/inview":"3.1.1","libs/waypoints/jquery.waypoints":"3.1.1","libs/waypoints/sticky":"3.1.1","libs/jquery/dotdotdot":"1.6.1","libs/jquery/flexslider":"2.1","libs/jquery/lazyload":"1.9.3","libs/jquery/maskedinput":"1.3.1","libs/jquery/marquee":"1.3.1","libs/jquery/numberformatter":"1.2.3","libs/jquery/placeholder":"0.2.4","libs/jquery/scrollbar":"0.1.6","libs/jquery/tablesorter":"2.0.5","libs/jquery/touchswipe":"1.6.18","libs/jquery/ui/jquery.ui.core":"1.11.4","libs/jquery/ui/jquery.ui.draggable":"1.11.4","libs/jquery/ui/jquery.ui.mouse":"1.11.4","libs/jquery/ui/jquery.ui.position":"1.11.4","libs/jquery/ui/jquery.ui.slider":"1.11.4","libs/jquery/ui/jquery.ui.sortable":"1.11.4","libs/jquery/ui/jquery.ui.touch-punch":"0.2.3","libs/jquery/ui/jquery.ui.autocomplete":"1.11.4","libs/jquery/ui/jquery.ui.accordion":"1.11.4","libs/jquery/ui/jquery.ui.tabs":"1.11.4","libs/jquery/ui/jquery.ui.menu":"1.11.4","libs/jquery/ui/jquery.ui.dialog":"1.11.4","libs/jquery/ui/jquery.ui.resizable":"1.11.4","libs/jquery/ui/jquery.ui.button":"1.11.4","libs/jquery/ui/jquery.ui.tooltip":"1.11.4","libs/jquery/ui/jquery.ui.effects":"1.11.4","libs/jquery/ui/jquery.ui.datepicker":"1.11.4"}},"shim":{"liveconnection/managers/connection":{"deps":["liveconnection/libs/sockjs-0.3.4"]},"liveconnection/libs/sockjs-0.3.4":{"exports":"SockJS"},"libs/setValueFromArray":{"exports":"set"},"libs/getValueFromArray":{"exports":"get"},"fly/libs/jquery.mobile-1.3.2":["version!fly/utils/jquery-mobile-init"],"libs/backbone.marionette":{"deps":["jquery","version!fly/libs/underscore","version!fly/libs/backbone"],"exports":"Marionette"},"fly/libs/underscore-1.5.1":{"exports":"_"},"fly/libs/backbone-1.0.0":{"deps":["version!fly/libs/underscore","jquery"],"exports":"Backbone"},"libs/jquery/ui/jquery.ui.tabs-1.11.4":["jquery","version!libs/jquery/ui/jquery.ui.core","version!fly/libs/jquery.widget"],"libs/jquery/flexslider-2.1":["jquery"],"libs/dataTables.fixedColumns-3.0.4":["jquery","version!libs/dataTables"],"libs/dataTables.fixedHeader-2.1.2":["jquery","version!libs/dataTables"],"https://sports.cbsimg.net/js/CBSi/app/VideoPlayer/AdobePass-min.js":["https://sports.cbsimg.net/js/CBSi/util/Utils-min.js"]},"map":{"*":{"adobe-pass":"https://sports.cbsimg.net/js/CBSi/app/VideoPlayer/AdobePass-min.js","facebook":"https://connect.facebook.net/en_US/sdk.js","facebook-debug":"https://connect.facebook.net/en_US/all/debug.js","google":"https://apis.google.com/js/plusone.js","google-platform":"https://apis.google.com/js/client:platform.js","google-csa":"https://www.google.com/adsense/search/async-ads.js","google-javascript-api":"https://www.google.com/jsapi","google-client-api":"https://apis.google.com/js/api:client.js","gpt":"https://securepubads.g.doubleclick.net/tag/js/gpt.js","newsroom":"https://c2.taboola.com/nr/cbsinteractive-cbssports/newsroom.js","recaptcha":"https://www.google.com/recaptcha/api.js?onload=loadRecaptcha&render=explicit","recaptcha_ajax":"https://www.google.com/recaptcha/api/js/recaptcha_ajax.js","supreme-golf":"https://sgapps-staging.supremegolf.com/search/assets/js/bundle.js","taboola":"https://cdn.taboola.com/libtrc/cbsinteractive-cbssports/loader.js","twitter":"https://platform.twitter.com/widgets.js","video-avia":"https://vidtech.cbsinteractive.com/avia-js/1.9.0/player/avia.min.js","video-avia-cvui":"https://vidtech.cbsinteractive.com/avia-js/1.9.0/legacy/cvui/cvui.min.js","video-cvp":"https://vidtech.cbsinteractive.com/cvp/1.2.2/cvp.min.js","video-cvui":"https://vidtech.cbsinteractive.com/cvp/1.2.2/cvui.min.js","video-ima3":"https://imasdk.googleapis.com/js/sdkloader/ima3.js","video-ima3-dai":"https://imasdk.googleapis.com/js/sdkloader/ima3_dai.js","video-utils":"https://sports.cbsimg.net/js/CBSi/util/Utils-min.js","video-vast-tracking":"https://vidtech.cbsinteractive.com/sb55/vast-js/vtg-vast-client.js"}},"waitSeconds":300});