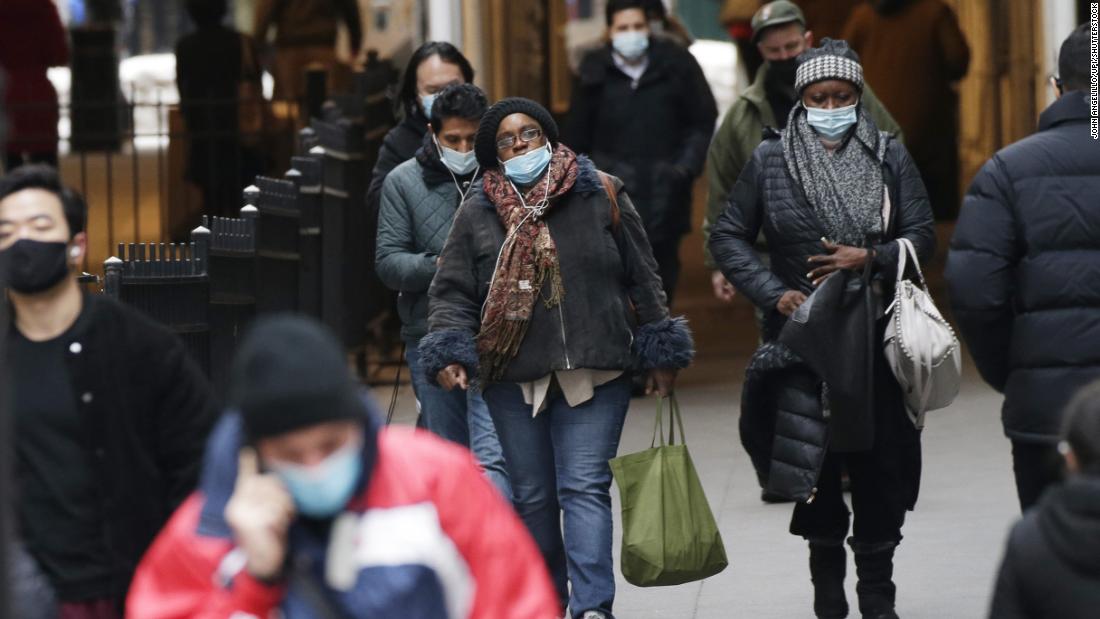 And for several weeks, Covid-19 cases and hospitalizations were trending downward, with several local and state leaders reporting some of the lowest numbers they've seen in months.
In California, Los Angeles County health officials announced the daily test positivity rate is the lowest it's ever been. In New York, Gov. Andrew Cuomo said
last week
that Covid-19 hospitalizations had dropped to the lowest levels since December 12. And West Virginia Gov. Jim Justice announced Monday that for the first time since November the state had gone a full day without reporting a virus-related death.
Despite the progress, Covid-19 numbers in the US are still alarmingly high. And they could quickly climb even higher if Americans let up now, one expert told CNN on Monday.
If Americans relax too early, Covid-19 numbers are "going to reverse and go up," he added.
A concerning trend has already begun.
"With these new statistics I am really worried about reports that more states are rolling back the exact public health measures we have recommended to protect people from Covid-19," Walensky said.
"This capacity increase is an initial step where we will watch and see to ensure we don't see a corresponding increase in cases," the governor said in a statement.
"We need to balance protecting public health with leading the state to a robust economic recovery," Pennsylvania Gov. Tom Wolf said in a statement. "We are lifting mitigation efforts only when we believe it is safe to do so."
What's at stake: thousands of lives
But now is an especially crucial time for Americans to stay cautious and practice safety measures, the CDC director warned.
"Please hear me clearly," Walensky said. At this level of cases with variants spreading, we stand to completely lose the hard-earned ground we have gained. These variants are a very real threat to our people and our progress."
Continuing to wear face masks, maintaining social distance, practicing good hand hygiene and avoiding crowds could all help prevent that, experts have said.
"Really what's at stake here, by taking off that mask, by dining indoors, is really thousands of people's lives," Emanuel said. "That just doesn't seem like a very big burden to save other people's lives and maybe even your own life."
Some leaders expecting first J&J doses as early as Tuesday
As the country works to vaccinate as many people as possible, local and state leaders are expecting their first doses of the Johnson & Johnson vaccine this week.
Three Federal Emergency Management Agency vaccination sites in Texas are expected to receive about 24,000 doses of the Johnson & Johnson vaccine Tuesday, according to Lara Anton, press officer for the Texas Department of State Health Services. It's unclear if the doses will also be administered Tuesday.
More than 200,000 Johnson & Johnson doses are expected to be available to the state for next week's allocation, Anton said.
In Houston, Mayor Sylvester Turner said he expects the first delivery of the Johnson & Johnson vaccine Tuesday.
"It certainly will be the best option for our transient populations," he said of the one-dose vaccine. "For example, our homeless population, which is very difficult to get back for their second shot."
The authorization of the vaccine will "make it easier for the state to reach its vaccination goals as more people become eligible in the weeks to come," said Dr. Eric France, the chief medical officer for the Colorado Department of Public Health and Environment.
Ohio Gov. Mike DeWine announced the state will receive more than 96,000 doses of the vaccine this week, boosting the state's total number of doses expected this week to more than 448,000.
Because of the additional doses, DeWine said the state will be expanding its vaccine eligibility to Phase 1C on March 4: individuals who are living with Type 1 diabetes, are pregnant, are bone marrow transplant recipients or living with ALS, as well as people working in childcare services, funeral services and law enforcement and corrections officers.
The state will also start its Phase 2 on the same day, lowering age eligibility to people 60 or older.
CNN's Jen Christensen, Jamie Gumbrecht, Gisela Crespo, Kristina Sgueglia and Rebekah Riess contributed to this report.
Source link