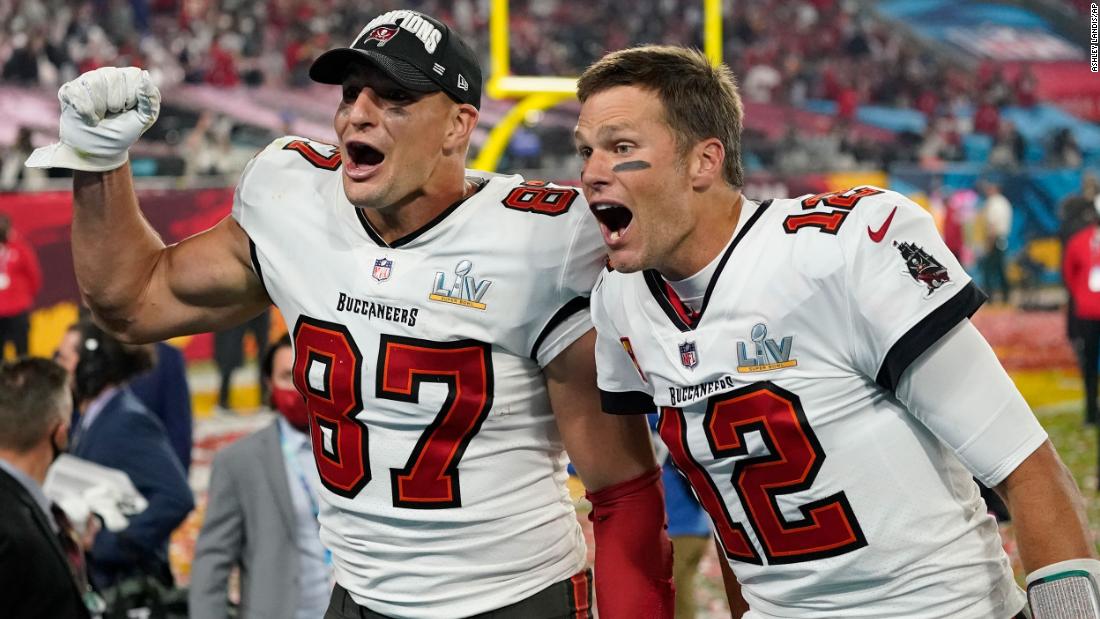 Celebrating at Disney World, "working off fumes" after only a few hours sleep, Gronk spoke to CNN's Andy Scholes about a partnership that has now broken the record, held by Joe Montana and Jerry Rice, for the most touchdowns in NFL playoff history.
"It's pretty crazy, but that record needed to be broken for sure," he said.
"The record got broken in the Super Bowl. And it's just unbelievable to have that connection with him.
"It has taken a lot of work, you know, since I got in the league my rookie year just to be on the same page as him. And it just feels amazing, you know, to have that, to know that we got that trust in each other. And any time we hit the field that we're ready to go."
The enduring duo has lifted trophies together at the New England Patriots, and now the Tampa Bay Buccaneers, but the question is how long can the prolific pair continue to win championships, with the much acclaimed GOAT Brady on his seventh Super Bowl victory?
"Yeah, I don't know," Gronk said. "Tom's probably going to go to like 55 years old if he could. I'm a year-to-year guy.
"I feel like Tom would sign another 50-year contract if he could, while I'm just doing one year at a time."
READ: For the first time, women have won the Super Bowl as coaches
VISIT: CNN.com/sport for more news, features and videos
After taking a year off from the sport, Gronkowski returned in April 2020 joining a new team beset with unique challenges in a football season upended by the pandemic.
"This thing started in August and it was all about sacrifice and commitment to each other," Bucs coach Bruce Arians told CNN Sport.
"We had to beat the virus before we beat another team. And I can't say enough about our guys' commitment to each other.
"This is one of the closest teams I've ever been on and we couldn't eat together, we couldn't talk to each other. For them to care this much about each other … the bonding experience somehow happened, and I'm still trying to figure out how."
For Gronk, a Super Bowl win with Tampa has been a career fourth, but after flirting with the idea of retirement, he says it will be remembered — just like his enduring bromance with Brady — as one of a kind.
"This one has its own special place, just coming out of retirement, going down to Tampa Bay and winning the Super Bowl.
"This one definitely has its own special place in my heart. It's up there, man. It's up there. It was a special, special year, a special journey. And it's going to be a story for the ages."